As a Czech native who has lived just an hour from Prague for the majority of my life, this city holds a special place in my heart. Prague is a tourist centre buzzing with life and filled with foreigners, but it's something altogether different for Czech people: a home.
Prague is the capital of our country, the centre of our history, and the home of many influential figures, from the Holy Roman Emperor, Charles IV, to the famous novelist, Franz Kafka. With its cobblestone streets, magnificent buildings, traditional Czech meals, and a nostalgic atmosphere, being in Prague feels like walking through a European fairytale.
I've visited Prague more times than I can count, whether it was enjoying the gorgeous Christmas markets while drinking mulled wine, gaping at the grandiosity of the Prague Castle on school excursions, or going to see friends who've moved to Prague for their studies.
When I was younger, I used to visit Prague with my parents. We always parked our car somewhere, went shopping, enjoyed the atmosphere of the Czech capital for a bit and headed home. Because of this, Prague was always a broken puzzle in my mind – I knew certain places, but I could never connect how they were positioned in relation to each other. Only when I grew older and explored Prague on my own did I start putting the pieces together. Suddenly, I knew how to get from the Old Town Square to the main train station, I recognised the streets that led from the Charles Bridge to the Prague Astronomical Clock, and I knew my way around on the subway.
A collapsed puzzle rearranged itself as I explored further. Prague was no longer a few places existing on their own in the vastness of the universe – it was a city. A city where everything connected and coexisted. Every single puzzle piece had its own place and together, they all created a mesmerising picture. That was when I fell in love with Prague.
Prague has got so many amazing places to offer no matter what you're in the mood for – restaurants, museums, shopping centres, theatres, historical landmarks… I could go on and on. Whether you'd like to visit the Prague Castle and learn about its history, have a look at the oldest astronomical clock in the world at the Old Town Square, or have an artist paint you a portrait at the Charles Bridge, Prague is full of opportunities that will suit everyone's taste. This city located at the very heart of Europe is a cultural and historical haven.
If it was a meal, it'd be so rich in flavour you'd have to take breaks during eating so as not to overwhelm yourself with too much at once. That's what I love the most about Prague – it's so rich in experiences, people and architecture that you can honestly never get bored.
Wenceslas Square, Lesser Town, Lucerna Music Bar, John Lennon Wall and many more places await you in Prague. So let's take a closer look at them!
Visit Prague Castle: The Largest Ancient Castle in the World
Yes, you heard me right. The Prague Castle (Pražský hrad in Czech) is the largest ancient castle in the world. Built in the 9th century, this castle has been the home of many Roman Emperors, Kings of Bohemia, and Czechoslovak and Czech presidents. The castle complex covers almost 70 thousand square metres.
I can attest to its grandiosity myself – I've visited many times. I've walked through the complex while making notes for history exams and I've watched Changing of the Guard behind the castle gates. Visited by over 1.8 million people each year, the Prague Castle really is something to behold.
What's more, there are the Bohemian Crown Jewels (české korunovační klenoty in Czech), kept at the St. Vitus Cathedral in the castle complex. These jewels hold a special historical value for the Czech Republic. They include the Crown of Saint Wenceslas, St. Wenceslas' sword, the gold reliquary cross, the royal orb and the royal sceptre. The public can come and have a look at the jewels once every 8 years or so. They're not on display otherwise because they're so precious.
The Crown of Saint Wenceslas was made for Charles IV himself in 1347 and used for his coronation. The crown is so ancient now that it's actually the fourth oldest crown in all of Europe!
Be Mesmerised By St. Vitus Cathedral
Speaking of Czech Crown Jewels, the building that keeps them safe is St. Vitus Cathedral (Katedrála svatého Víta in Czech) located on the grounds of the Prague Castle. Crown Jewels aren't the only important things that can be found in the cathedral – there are many tombs of Holy Roman Emperors and Bohemian Kings as well.
The cathedral was built in the Gothic style, which is quite obvious as soon as you lay your eyes on it. The high windows, the bell-shaped columns and many more architectural clues tell it all. Just looking up and trying to focus on the highest point of the cathedral can make your head spin because of its magnificent height. Just to give you a taste, the main tower is about 103 metres high! Each time I find myself standing next to the cathedral, I get overwhelmed by what humans are capable of building.
One of the most popular parts of the St. Vitus Cathedral is St. Wenceslas Chapel (Kaple svatého Václava in Czech). There's a small door with seven locks inside the chapel that leads to the Czech Crown Jewels. No wonder they built the door inside this particular chapel – St. Wenceslas is the patron saint of Czechia, making him one of the most important figures for the Czech nation.
The chapel is generally not open to the public, but you can still view it from inside the cathedral. It contains relics of St. Wenceslas and it's truly beautiful to behold.
The Best Viewpoint is at Petřín Lookout Tower
I remember visiting the Petřín Lookout Tower (Petřínská rozhledna in Czech) with my family as if it was yesterday. Walking up and up, step by step, the wind blowing on my face, the adrenalin coursing through my veins.
The Petřín Lookout Tower is the perfect place to go if you're in the mood for something slightly out of your comfort zone that rewards you with a fantastic view. Walking up the steps and holding onto the railings can get a little scary, but the destination is definitely worth the effort. You'll be rewarded with a beautiful view of Prague from the Petřín hill and a breath of fresh air.
The tower is open in its structure and therefore similar to the Eiffel Tower. It's 63.5 metres high, but the height from which you observe Prague when you reach the top is actually much more extreme. Why?
Let's not forget the tower was built on top of a hill. It takes about half an hour to walk up the hill itself, so definitely save at least two hours for this whole trip if you want to spend some time at the top of the tower and enjoy the view.
There's an exhibition area on the lower level of the Petřín Lookout Tower, which means you might get lucky and discover an interesting exhibition during your trip as well. The last time I was there, the area was turned into a mirror haze!
And yes, I did absolutely get lost. The mirrors outsmarted me.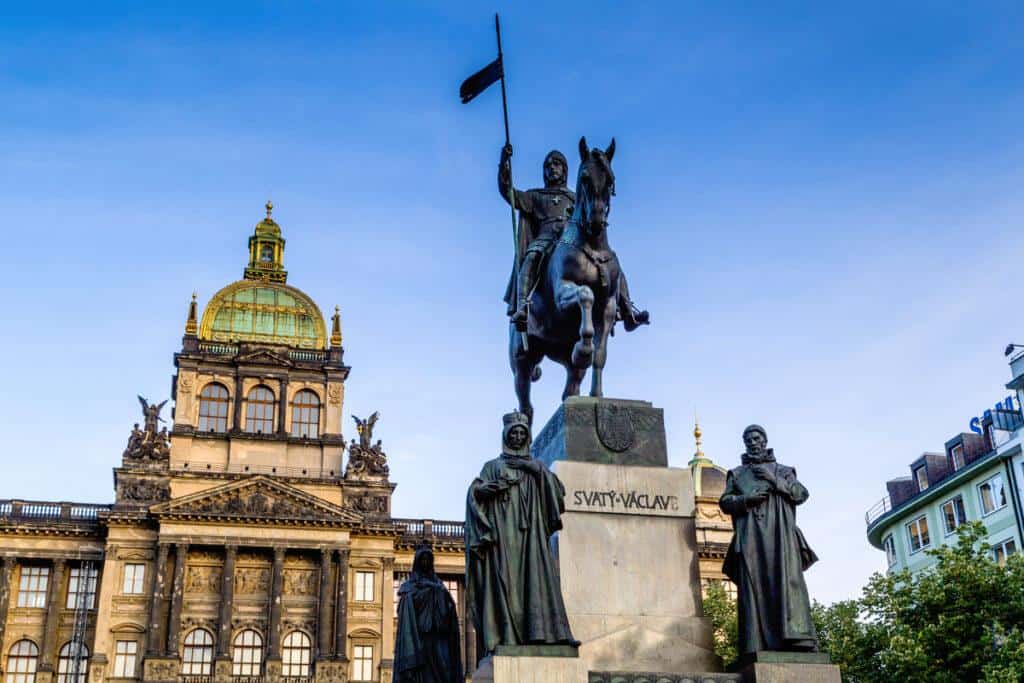 Find the Statue of Saint Wenceslas at Wenceslas Square
Basically every time I'm in Prague, I find myself on the Wenceslas Square (Václavské náměstí in Czech). It's very close to the main train station, which makes it a great first landmark to visit if you've reached the Czech capital by train, and it's full of shops and restaurants. I always stop at my favourite bookshop, Luxor, to purchase a book or two. If you don't speak Czech, don't fret – there's a small corner of the bookshop where you can buy various books in English.
The main landmark at Wenceslas Square is not a bookshop (although I'd be open to the idea), though – it's the Statue of Saint Wenceslas. It's hard to describe the cultural relevance of this statue containing St Wenceslas (Svatý Václav in Czech) on top of a horse. Countless demonstrations have taken place below this statue, be it during the Nazi regime, when the Communist government was in power, or in the 21st century. The Wenceslas Square is a place of leisure on most days and a place of political activism on others.
If you'd like to visit a restaurant, grab a cup of coffee from Starbucks or find a nice seat to relax, the Wenceslas Square is definitely a great place to do just that. And the beautiful building of the National Museum is right behind the Statue of Saint Wenceslas!
Walk Across the Charles Bridge
The Charles Bridge (Karlův most in Czech) is not only a convenient way of getting from the Old Town Square to the Prague Castle but it's also a major tourist attraction in Prague. I dare say it's one of the most important structures in the Czech Republic because of its historical relevance.
Being a UNESCO World Heritage Site, the bridge dates back to 1357 when the Holy Roman Emperor Charles IV built it. This stone bridge crossing the river Vltava isn't just an ordinary bridge – it actually hides many secrets, one of them being the fact that the bridge was built using eggs.
Yes, that's right. I stared at my middle school teacher in shock when she told us, but it's actually true. Charles IV ordered people to use egg yolks while making the bridge. An interesting choice of building material, that's for sure.
Nowadays, the Charles Bridge is famous for its bustling atmosphere. There are always many artists who are keen to draw a portrait of you, vendors, and tourists taking pictures. Come to think of it, I've never seen the bridge empty. It is possible, however, you have to go there at very early hours of the morning. It can make for some amazing photos.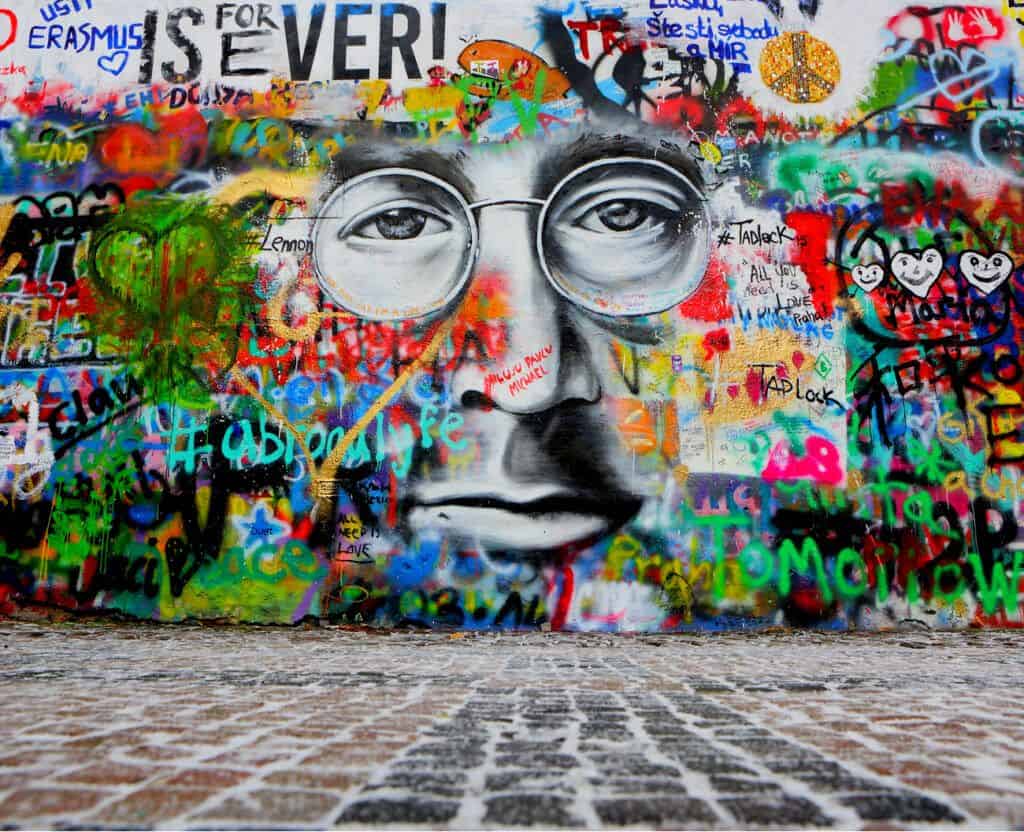 Take a Selfie With the John Lennon Wall
The John Lennon Wall (Lennonova zeď in Czech) is just a short walk from the Charles Bridge. There are usually some tourists taking selfies with the wall, as well as Czech people hanging around and chatting with friends.
Well, and then there's me, a Czech person acting like a tourist and taking photos of my mum posing next to John Lennon's head just two years ago. The Lennon Wall was so beautiful we just had to snap as many pictures as possible!
The wall is filled with graffiti and pictures related to John Lennon. There are also lyrics written by the Beatles. The whole wall is extremely colourful and beautiful to look at, and perfect for a mini-photoshoot. I've had it as my profile picture for years.
Just saying.
Walk Down the Streets of the Lesser Town
The Lesser Town (Malá strana in Czech – it literally means "Little Side") is one of the most historic districts in Prague. It's right next to the Charles Bridge and it's also very close to the Prague Castle, which makes it an incredibly convenient destination.
The reason the Lesser Town is worth visiting is its architecture and atmosphere. If you're looking for a district that gives off that medieval European fairytale-like vibe, the Lesser Town is your place to go. Many respected and well-known Czech figures have lived in this neighbourhood, including a writer Jan Neruda who frequently wrote about the Lesser Town in his work.
When it comes to buildings worth exploring in this district, the Church of Our Lady Victorious is a go-to for anyone interested in history. The church is the home of a famous and very precious wooden statue called Infant Jesus of Prague, which is regarded as very holy by the Catholic Church in Europe.
And if that's not enough churches for you, you can also visit St. Nicholas Church in the very same district. Both places have serene and calm atmosphere and both buildings are so gorgeous and monumental that it blows my mind each time I see them in person.
When you walk down the streets of the Lesser Town, it's like you've been transported back in time. And if that's not Europe in its very essence, I don't know what is.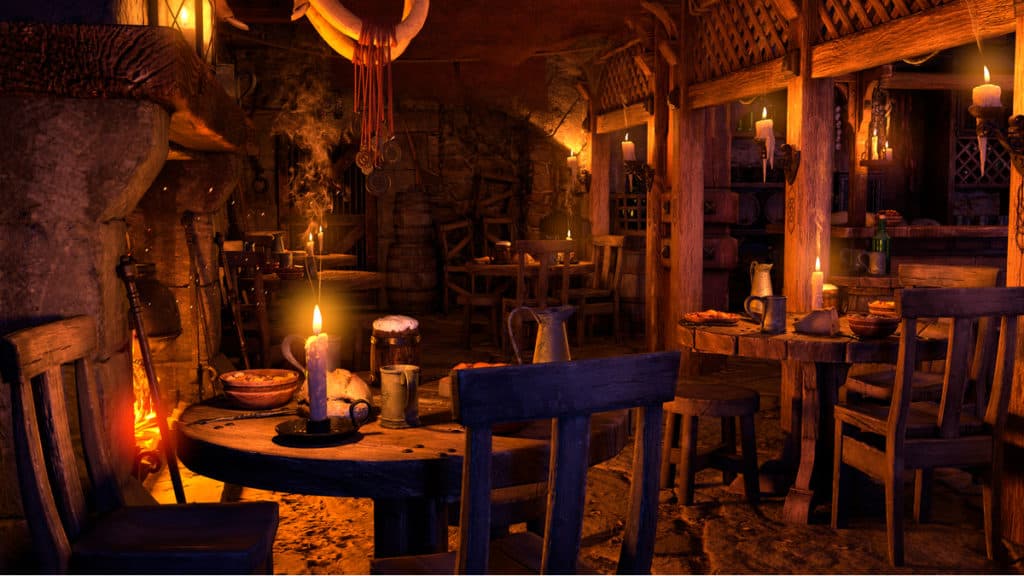 Enjoy a Medieval Dinner With Unlimited Drinks
Since everything in Prague is so full of history, there's no better way to enrich your experience than to actually transport yourself into the medieval times.
With Get Your Guide, you can book a 3-hour experience in a beautiful medieval tavern where you'll be immersed in the historic European atmosphere. You can get a 3 or 5-course meal and pick the food you prefer out of six different menus.
And do you know what's even better? Unlimited drinks. Beer, wine, soft drinks, whatever you fancy – unlimited supply. While you enjoy your delicious meal, you have the chance to watch a medieval show full of swordsmen, belly dancers and more. Just like the old times!
If you're visiting Prague because of its historic allure, there's no better way to spend the evening in the city. Personally, going to places that make you feel like you've just used a time-machine is an amazing experience.
The experience costs around 1100 CZK (circa €43) per person.
Check Out Prague's Astronomical Clock
One of the most interesting historical landmarks in the city is definitely the Prague Astronomical Clock (Pražský orloj in Czech) located at the Old Town Square (Staroměstské náměstí in Czech). This attraction isn't popular only among tourists – Czech people love visiting and having a look at the clock as well.
Attached to the Old Town Hall, the clock is the oldest astronomical clock that still operates in the whole world! And it's not just a tiny clock, either – it's huge. A whole crowd can watch it and analyse its details at the same time.
The clock is surrounded by various statues and figures, such as the four figures that move at certain times. They represent what the general public considered abhorrent at the time of making the clock (1410) – greed, vanity, lust and death.
Pretty bleak, eh? Well, if you don't want to dig too deep into the negative aspects of the clock, why not just enjoy watching how it operates? It's crazy to think the clock has been working for more than six hundred years. Just looking at it makes me feel strangely young and appreciative of what the generations that came before us built.
Old Town Square is located between the Charles Bridge and the Wenceslas Square, so you can't miss it if you're planning to check out any of those two landmarks. I highly recommend visiting Old Town Square during Christmas if you can – there's always a beautiful Christmas market full of Christmas lights, delicious mulled wine, traditional Czech food and many vendors. A huge Christmas tree is also set up each year.
To be honest, visiting Prague in the Christmas period is a great idea in general. The city turns even more magical than it already is, especially when it snows.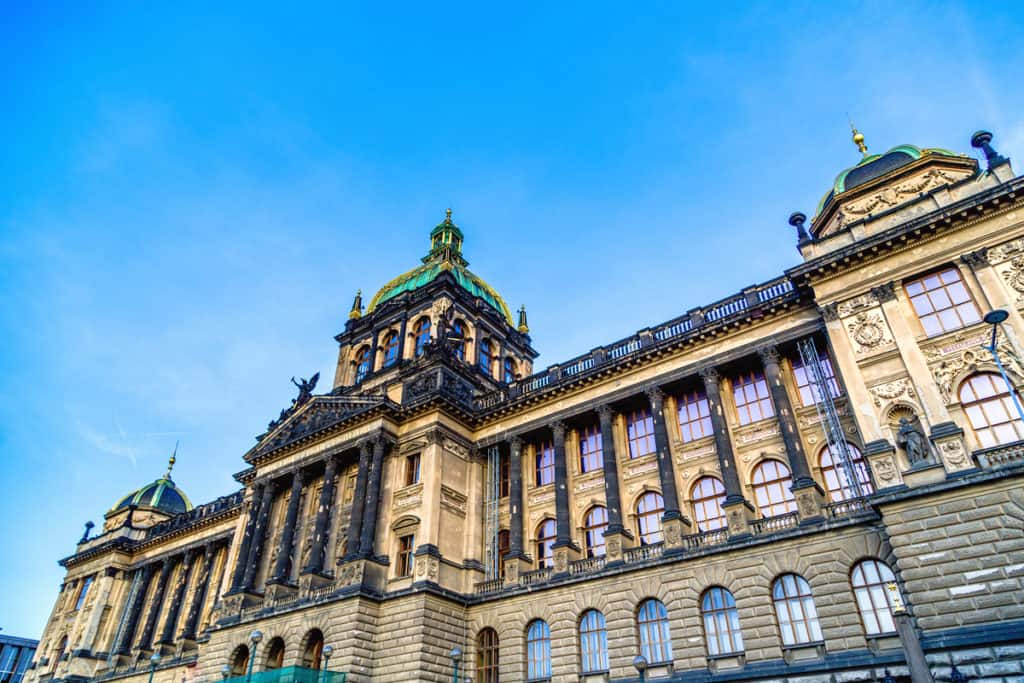 Visit the National Museum
Anyone who's enthusiastic about museums will have an amazing time in Prague. The city is full of exciting museums – Mucha Museum, Museum of Senses, Kafka Museum… I couldn't count them all on my fingers if I tried.
The most prominent museum of them all is of course the National Museum, which you can find just behind the Statue of Saint Wenceslas on Wenceslas Square. There are more than one building belonging to the National Museum, however, this Historical Building is the one every Czech person thinks of when National Museum is mentioned. The official website of the National Museum says:
"The Historical Building of the National Museum at the head of Wenceslas Square declared a national cultural monument in 1962. It forms a significant architectural contrast with the New Building. The Historical Building underwent a major reconstruction and was re-opened on 28 October 2018 — the day of he 100th anniversary of the Czechoslovak Republic. In November 2019, both buildings were connected by an underground corridor with a unique multimedia exhibition."
This means you can easily walk from one building to another and enjoy everything this site has to offer, including the corridor itself! The collections include so much interesting art, such as the Asian Cultures Collection or the Collection of Non-European Ethnography.
When it comes to the entrance fee, it differs based on what building and exhibition you'd like to visit. However, be prepared to pay up to 300 CZK (about €12).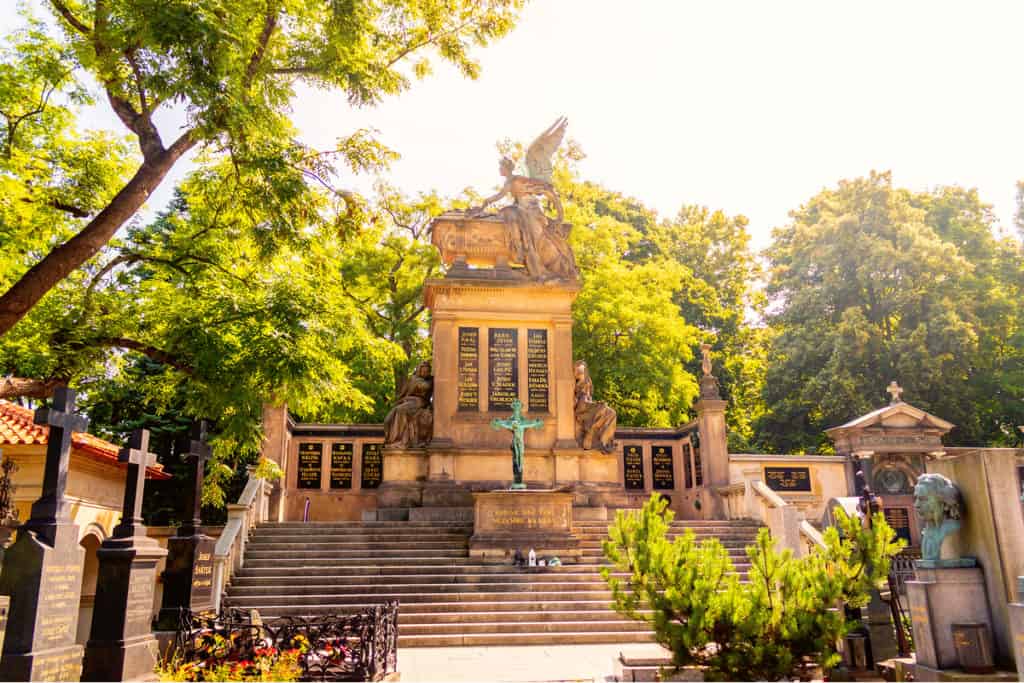 Experience the Peaceful Atmosphere ofVyšehrad
Vyšehrad, which literally means "upper castle", is an area in Prague that's a little bit further away from all the hustle and bustle of the city centre. It wouldn't be Prague if this place wasn't rich in history – Vyšehrad is essentially a fort that was built in the 10th century. It contains many valuable historical artifacts as well as the Vyšehrad cemetery where you can find graves of many important Czech figures, especially artists such as the writer Karel Čapek or the music composer Bedřich Smetana.
Vyšehrad is a great place to visit not only for its historical value but also for its peaceful atmosphere. On weekdays, Vyšehrad isn't very busy, which means you can enjoy the solitude and quietness of the place. I find this really helpful after I've spent the whole day in the loud city centre of Prague – a place to gather my thoughts, to relax and to enjoy the beautiful view of the Vltava river.
There's a park where you can take a slow walk or sit down and read a book. If you're in Prague on New Year's Eve, though, the place turns into something completely different – many Czech people come here to celebrate together. The peacefulness vanishes and is exchanged by laughter and music.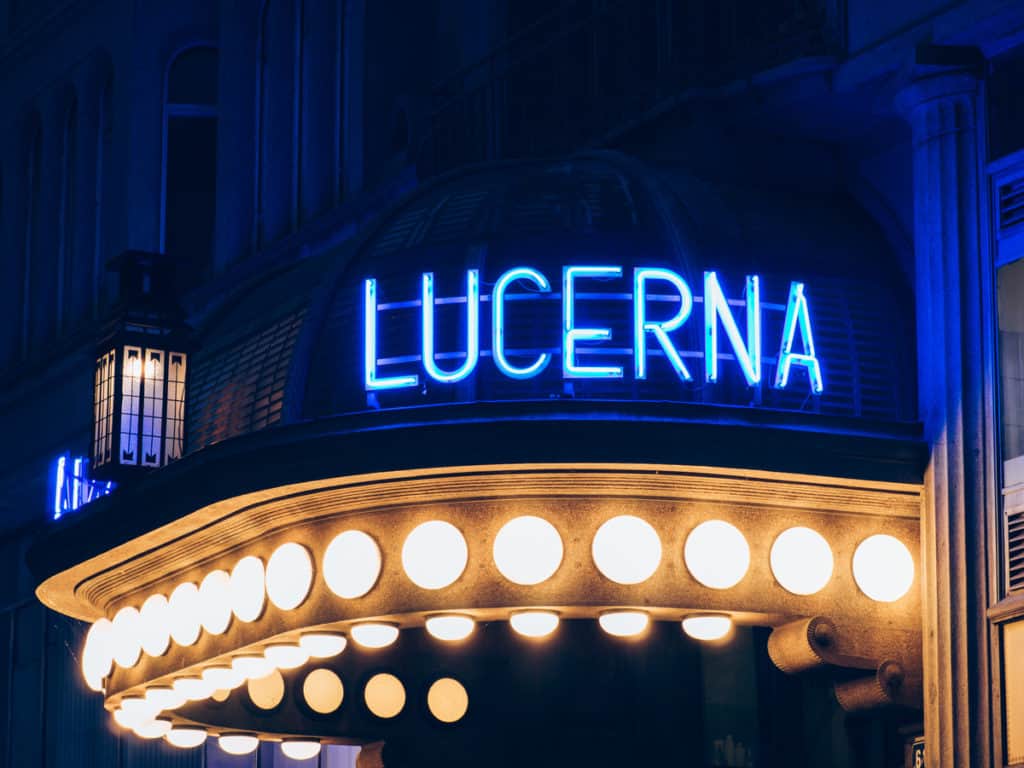 Have Fun at Lucerna Music Bar
Lucerna Music Bar is one of the most famous concert clubs in the Czech Republic. Lucerna literally means "lantern" and the place has played an important role when it comes to the exposure of Czech music bands in recent history. The bar can be found inside the Lucerna palace, which is a building built by the grandfather of our arguably most popular former president, Václav Havel.
If you're a big fan of music or even if you're just looking for a place to have fun in Prague, the Lucerna Music Bar is definitely high on my list of recommendations. It's where the Prague International Jazz Festival takes place and it's also where the Václav Havel Tribute Concert happened after Havel's death in 2011.
Apart from live music, there are also discos taking place regularly. Because the bar so close to the Wenceslas Square, you're bound to find many tourists and international travellers in the bar, which might make for a more interesting experience if you're looking to meet new people and learn about different cultures.
Lucerna Palace itself houses many restaurants, cafés and shops, so it's a good place to go even if you're not in the mood to visit the Lucerna Music Bar.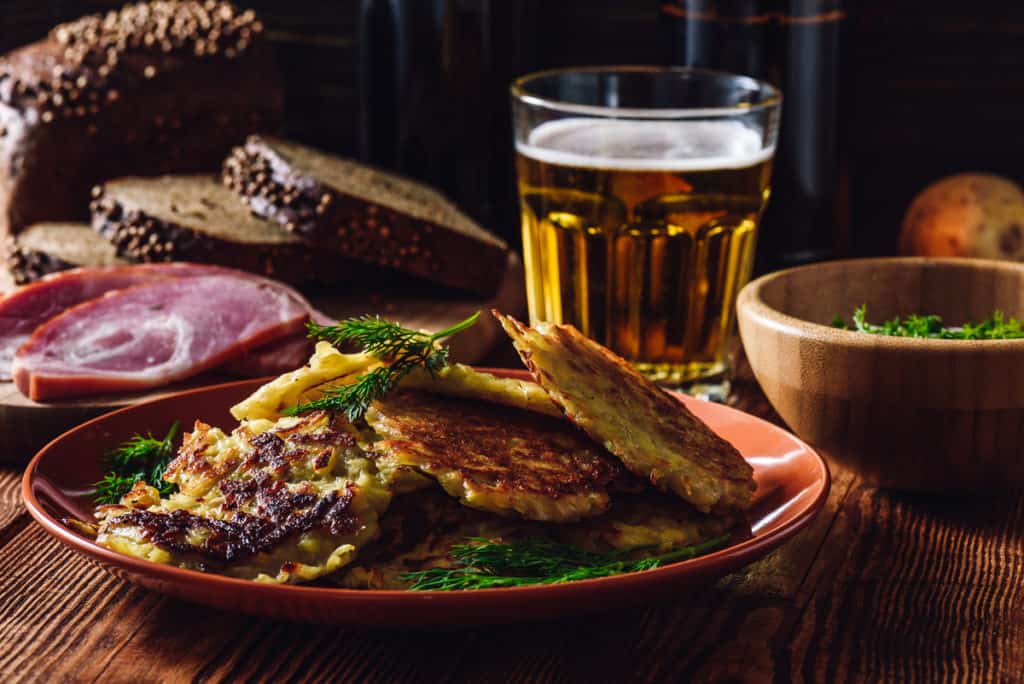 Learn How to Cook Traditional Czech Dishes
The Czech cuisine is extremely specific. In Czechia, we regularly make all kinds of dishes that you wouldn't get the chance to eat anywhere else. What's more, our food is delicious! Okay, I know I'm probably a tiny bit biased, but I grew up eating all this food so you'll just have to take my word for it. Just thinking of having a langoš makes my mouth water.
Or… you can take a cooking class in Prague and see for yourself! There are plenty of various experiences in the city and attending a Czech cooking class is definitely one of those I would highly recommend. Get Your Guide allows you to book such a class and learn how to make traditional Czech dishes, for example dumplings, apple strudel and goulash. And trust me, this is just the beginning of Czech cuisine.
Before the class, you get to visit a Farmers' Market with a guide, after which you go to the studio and prepare a 3-course meal based on your preferences. And you get to eat it all at the end. That's lunch sorted!
This 3-hour cooking class lets you have a try at making potato pancakes (bramboráky in Czech), a traditional Easter cake (beránek in Czech) and more.
The cooking class costs around 3,500 CZK (circa €137) per person.
Take a Look at theŽižkov Television Tower
If you spend at least a few days in Prague, you're bound to see a very high tower on the horizon. You might ask yourself, "What is this ugly building doing here?" You wouldn't be the first one.
The Žižkov Television Tower has become a very prominent landmark in Prague even though it's quite new – it was built in 1992, which is basically yesterday in comparison to all the other buildings dating back to the 15th century. I often see it described as one of the ugliest buildings in the world and… well, it's not a lie.
The thing is, this tower isn't ugly because nobody cared to design it – it actually looks this way on purpose. The architect Václav Aulický and the engineer Jiří Kozák wanted it to be a great example of high-tech architecture, which is something many architects discuss nowadays (at least according to my Czech friend who studies Architecture in Prague). Apparently, the tower is supposed to be art.
Although I personally find the building extremely ugly, I think it's really interesting to have a proper look at it and discuss it with your friends and family – do you think it's art? Why? Why not? The Žižkov Television Tower definitely poses some intriguing questions to get the brain racing if nothing else.
Plus, you'll get to say you've seen one of the ugliest buildings in the world. That doesn't happen every day, eh?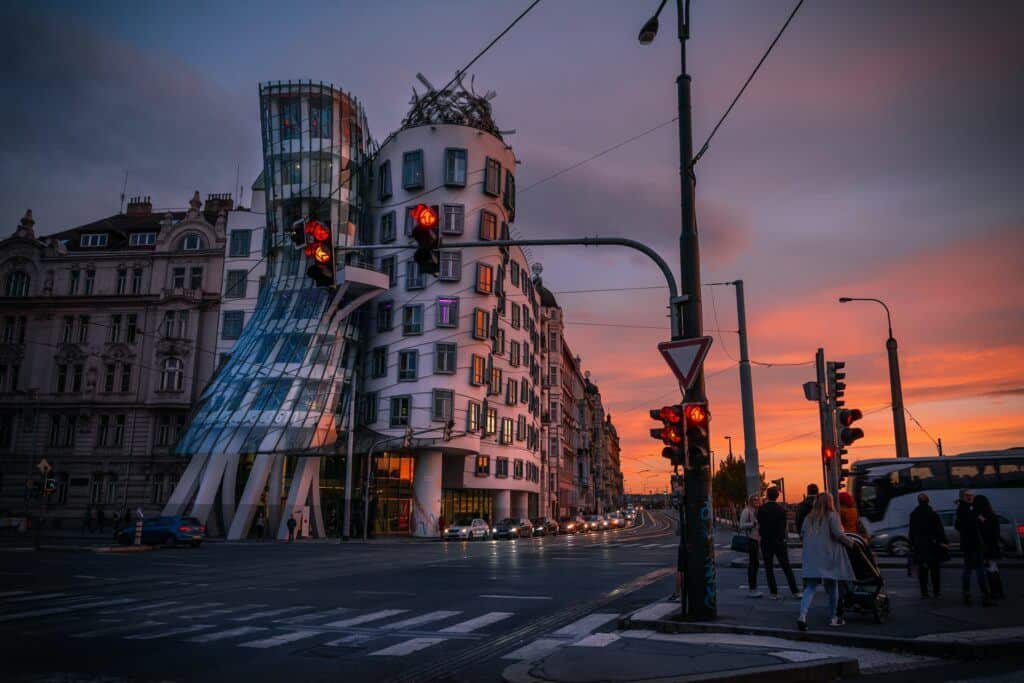 Grab a Drink in the Dancing House
The Dancing House (Tančící dům in Czech) is another interesting piece of architecture you can find in Prague. Surrounded by the Gothic and Baroque houses from the past, the Dancing House stands out and attracts many curious eyes.
The building has been designed in a deconstructivist style, which effectively means it has an extremely unusual shape. In my eyes, it's always looked like a ballerina with a big skirt, but you can check it out for yourself and make up your own mind. Let your imagination roam!
And why not ascend to the top of the Dancing House and have a drink at the Glass Bar? You'll enjoy a lovely view of Prague and you'll get to see what the structure looks like from the inside. I recommend visiting the Dancing House to anyone who'd like to have an unusual experience in Prague.
And That Was Prague!
There are so many things to do in Prague that this list could be practically endless. The city is the home of one tenth of the whole population in the Czech Republic and it really shows – there's nowhere as colourful, bustling and energetic as in Prague.
Prague is a lovely city to visit at any time of the year, but I personally prefer it during Christmas. That's when it truly changes into the perfect image of a European fairytale. Summer has its perks too, though. Sitting nearby Vltava and drinking with friends until the sun goes down late at night has its own magic.
One thing's for sure – no matter when you decide to visit Prague, you're bound to be mesmerised.
Related Articles on the Czech Republic

🇨🇿 The Cost of Travel in Prague: A Detailed Budget Breakdown