If the Greek Islands were a group of people, Mykonos would be the life of the party. Seamlessly combining bright and vibrant energy with a rich and storied history. Mykonos is an incredible island with so much to see, do, explore and discover.
Part of Greece's Cyclades Island chain, Mykonos is a smaller island located in the Aegean Sea. It is home to more than 10,000 inhabitants who live in towns and villages scattered across the 33.0 square mile (85.5 square kilometers) island. With a history dating back to the 11th century BC, Mykonos is an island that secretes mythology and legend around every turn.
Famous for its whitewashed buildings, brilliant blue seas, and golden sand beaches, Mykonos is nothing short of a paradise for travelers. It's where you'll find the perfect place to spend a day in the sun or navigate the cobblestone streets of small towns and villages. No matter where you choose to go or what you choose to do, you'll be amazed at just how much beauty surrounds you in Mykonos.
But that's not all Mykonos is known for. The Island is famous around the world for its outrageous and unparalleled nightlife and party scene. Across the island, in every town, and at every beach, you'll find hundreds of bars and clubs where you can drink, socialize and dance the night away. Whether under the stars or sitting around a pool, the party in Mykonos starts late and lasts well past dawn. Regularly welcoming top DJs and A-list celebrities, you never know who you'll bump into on the dance floors in Mykonos.
If you're not sure what to include on your Mykonos itinerary, you're in luck! I've done the research for you and have narrowed it down to the top 25 things to do in Mykonos. From authentic restaurants and charming towns to historic monuments and all-night beach clubs, this list has everything you could possibly want – and more!
Here are the 25 best things to see, do, eat, and experience in Mykonos, Greece.
Mykonos Town
Mykonos Town (or Chora) is the largest and main town on the island. A hub of activity and excitement, Mykonos Town is where you'll find some of the best restaurants and shops, as well as stunning views, cozy cafes, and lively bars.
A maze of winding alleys and twisting roads, Mykonos Town is the perfect place to get lost and simply wander. You'll be absolutely amazed by the beauty of this small but stylish town with its stark white buildings and iconic blue doors. Whether you choose to wander on your own or join a walking tour, you're going to want to carve out a chunk of time to explore Mykonos Town fully.
At night, I highly recommend you make your way to the historic and picturesque harbor where you can watch the sky turn vibrant shades of pink, purple, and yellow as the sun dips behind the horizon.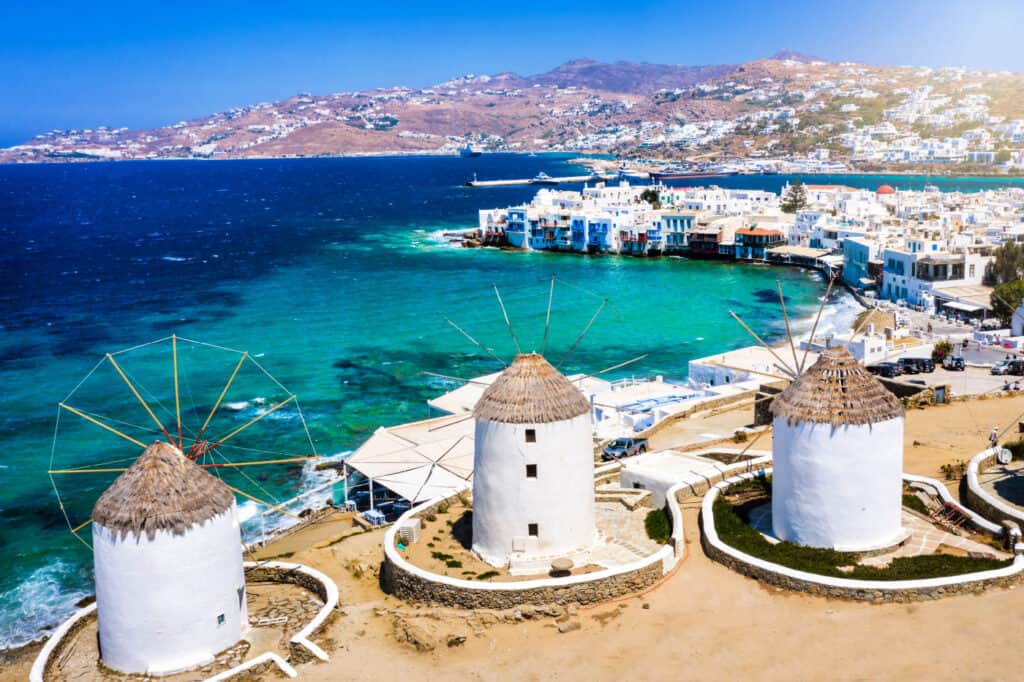 Visit the Windmills
Just outside of the town center is one of Mykonos' most iconic sites: its windmills! Not something you often associate with Greece, the windmills of Mykonos date back to the 16th century, when they were built by the Venetians to mill wheat. Today, only seven windmills are left, and they are a sight to behold.
The windmills are free to visit and will be the first things you see when you enter the harbor, and visible from many other vantage points throughout the island. Not only can you walk around these giants, but one has been transformed into a museum where you can learn more about their history and impact on the island.
Shutterbugs will also want to ensure the windmills have a place on their Mykonos itinerary. Photos of these glowing white giants are a must, but the site also offers incredible sea views and island panoramas.
Little Venice
Little Venice is the most famous neighborhood on the island of Mykonos. Located in Mykonos Town (AKA Chora), Little Venice is the ideal destination for travelers looking to take photos, enjoy an authentic Greek meal, or simply while away an afternoon sipping cocktails and people-watching.
This incredibly picturesque part of town is set along the southwest part of the harbor. It is a labyrinth of pedestrian-only streets and alleys that open into incredible views around every turn. With so much to see, do, eat, and experience, Little Venice is a small neighborhood that packs an incredibly big punch.
Little Venice is also one of my favorite places on the island to take photos. The dark paving stones sit in stark contrast to the whitewashed houses, giving this little neighborhood a breathtaking feel. You'll honestly feel like you've stepped into a fairy tale (or Mamma Mia) as you navigate this pretty and charming neighborhood.
Matogianni Street
For anyone looking to indulge in a little retail therapy, Matogianni is a must! This buzzing street is located at the heart of Mykonos Town. It is the longest and widest shopping street on the island and is where you'll find everything from souvenir shops and local boutiques to designer stores and international art galleries. Whether you're looking to add a little Mykonos to your wardrobe or are looking for a souvenir to remember your travels, you're guaranteed to find what you're looking for – and more – on Matogianni Street.
But it's not all fashion and style on Matogianni Street. This urbane center is also a great place to take a break and enjoy a delicious and refreshing cone – or cup – of gelato. Need a pick-me-up? Matogianni Street is also where you'll find a number of great restaurants and cafes. For cocktails and clubbing, head to Agra Bar, one of the island's most popular clubs with a signature cocktail list and world-class DJs.
Indulge in Greek Food
I am a firm believer that one of the best ways to get to know a destination is through its food. And, there's no better place to eat than Greece!
Greek food is incredibly fresh and flavorful. You'll find lots of seafood and vegetables, as well as cheese, spinach, citrus, and sweets. No matter what you choose, your tastebuds will be tantalized by every single bite.
Spanakopita, Baklava, Souvlaki, and Gyros, there are so many must-eats when visiting Mykonos. You'll honestly never run out of things to indulge in around this incredible island. While all of the above are great, I would be remiss not to mention Loukoumades, a honey-soaked donut-like dessert that will have you thinking you've died and gone to heaven. Sweet and sticky, this is one gluttonous pleasure you won't want to miss.
But for a truly unforgettable culinary experience, why not try your hand at making your own Greek food by joining a fun and authentic Greek cooking class?
180˚ Sunset Bar
For cool cocktails and unparalleled views, head to 180˚ Sunset Bar. This rooftop bar in Mykonos Town is located in the Mykonos Castle Panigirakis. As its name suggests, this bar offers 180˚ views from the harbor to the windmills to the sea. No matter where you look, you'll be blown away by the beauty of this charming Greek town.
Tease your tastebuds by tucking into the menu at 180˚ Sunset Bar, which highlights traditional Greek cuisine. Whether you choose the octopus carpaccio or the tuna tartar, your palette will be overcome by the flavors this menu can dish out.
Looking to add a little romance to your visit? Book a table at 180˚ Sunset Bar in time to watch the sunset. You'll be absolutely mesmerized by the colors taking over the sky as you sip a cocktail with your lover on the warm summer nights.
Archaeological Museum of Mykonos
Culture vultures take note. The Archaeological Museum of Mykonos is a quaint but incredible museum packed with history. Located in Mykonos Town, the Archaeological Museum of Mykonos is the perfect place to visit if you're keen to learn a little more about the history of this and the surrounding islands.
Small but mighty, this museum is home to a spectacular collection of recovered artifacts, some dating as far back as pre-history and the end of the Hellenistic Period. It is also where you can browse and take in a large collection of Greek vases and other ceramics that will surely take your breath away.
One of the oldest museums in Greece, a visit to the Archaeological Museum of Mykonos will you give a great sense of this country's rich and varied history.
Church of Panagia Paraportiani
Alongside the windmills of Mykonos, the Church of Panagia Paraportiani is one of the most iconic and photographed attractions on the island.
Tucked away in the Kastro neighborhood, the Church of Panagia Paraportiani is one of the most notable churches in the world. Bright and whitewashed, the construction of the original structure started back in the 15th century and wasn't completed for nearly 200 years. From the 17th century onwards, four additional structures were built on the site of the existing church to create the attraction we can see today.
One of 365 whitewashed churches on the island, getting to the Church of Panagia Paraportiani can be a bit of a challenge, but the reward is certainly worth the journey.
Maritime Museum
Founded in 1985, the Aegean Maritime Museum is a non-profit institution that celebrates Greece's long and complicated relationship with the sea. This small museum showcases thousands of artifacts, relics, and replicas that date from ancient Greece to today. As you browse around, you'll have the chance to see maps and coins, as well as statues, navigation tools, and important documents that outline historic trips and voyages.
The museum is also home to an impressive library with more than 5,000 volumes of books, manuscripts, and photographs depicting and describing maritime life. Whether you spend 30 minutes or 3 hours, a visit to the Aegean Maritime Museum will have you feeling like you've hopped aboard and are heading out to sea.
The Maritime Museum is only seven days a week from April to October. Hours vary throughout the day, so be sure to check their website before planning your visit. As of this writing, the entrance fee is 4 euros and totally worth every penny!
Hippie Fish
For a meal you won't soon forget, visit Hippie Fish.
First established in the 1960s, Hippie Fish is a Mykonos institution. It's been feeding and pleasing locals and tourists for more than 50 years with its incredible menu and unique cocktail list. Whether you're looking to indulge in freshly caught seafood, mouthwatering calamari, or sample the Aegean paella and Mykonos sausages, Hippie Fish has you covered!
One of the oldest, modern restaurants in Mykonos, Hippie Fish blends traditional elements with a contemporary experience. The chefs specialize in taking local ingredients and produce and turning them into world-class dishes. From seafood and vegetables to meat and desserts, you won't be disappointed with any of the offerings at Hippie Fish.
Not only is the food amazing, but the views are incredible. This charming restaurant has both indoor and outdoor spaces right on the beach in the southwest corner of Mykonos, overlooking the sea.
Day Trip to Delos
Delos is a small and uninhabited island located just off the coast of Mykonos. Accessible via ferry or tour, boats to Delos depart regularly from the Old Harbor, whisking you back to ancient Greece.
After a very enjoyable 30–45-minute boat ride across glimmering turquoise waters, you'll arrive on the shores of Delos. A scenic island shrouded in bushes, the island of Delos played an important role in Greek history and Mythology. Legend has it, Delos was the birthplace of Artemis as well as the Greek god, Apollo.
Today, Delos is a UNESCO World Heritage Site and museum that showcases archaeological relics and religious finds. On your full- or half-day trip to Delos, you'll wander amongst the temple ruins, taking in the history of the island with every step. You'll see the sacred lake and Temple of the Delians, as well as the Terrace of the Lions and the House of the Dionysus.
For a hassle-free visit to Delos, I highly recommend you book a guided tour. Not only will you learn all about the island, but you'll skip the lines giving you more time to enjoy Delos.
Paradise Beach
Mykonos is an island famous for its party scene. And, if you're looking for nightlife, there's no better place than Paradise Beach. A tourist hotspot since the 1980s, Paradise Beach is a spectacular golden sand beach with an array of bars and nightclubs to enjoy once the sun goes down. Whether you're looking for cocktails and clubs, or beers and bars, there's something for everyone at this Mykonos hotspot.
Paradise Beach Club is not only one of the most popular venues on the island, but it's regularly voted one of the best clubs in the world. Here you can party any day of the week while dancing to the music of world-class DJs.
The beach at Paradise Beach is also an attraction in itself. A haven for travelers and tourists, you won't find an authentic or local Greek atmosphere here, but you will be able to enjoy crystalline waters, incredible scuba diving, adrenaline-pumping watersports, as well as hours of uninterrupted sun.
Super Paradise
Right next to Paradise Beach is Super Paradise Beach. An expanse of pillow-soft sand, Super Paradise Beach is a vivid and vibrant destination that welcomes travelers and locals from all walks of life. More tranquil and relaxed than Paradise Beach, Super Paradise Beach is the perfect destination if you're looking to catch some rays and enjoy the views.
It's free to visit Super Paradise Beach, but if you want to set up on one of the many sunbeds be ready to shell anywhere between $80 to $150, depending on where you're sat.
Lively throughout the day, Super Paradise Beach really comes to life at night. The Super Paradise Beach Club is one of the best places to drink and dance the night away. At the Super Paradise Beach Club, you're likely to rub elbows with celebrities while you listen to world-famous musicians and DJs play their latest hits.
Why visit just one beach when you can visit them all? Enjoy a leisurely day cruise as you make your way from beach to beach along Mykonos' south coast.
Cavo Paradiso
For the ultimate night out in Mykonos, head to Cavo Paradiso. The most famous club on Paradise Beach, Cavo Paradiso is an internationally recognized party hub. It regularly welcomes world-famous DJs, like Steve Aoki and Armin Van Buuren, who get thousands of partiers dancing, singing, jumping, and screaming from 11 p.m. until dawn.
An absolutely stunning location, Cavo Paradiso sits high atop a cliff overlooking the sea. Most of the action takes place around the Mykonos-shaped pool, so you can enjoy the cool sea air as you sip your cocktails and dance from midnight until well after the sun come up. Honestly, I can't think of a better place to watch the sunrise than by the pool at Cavo Paradiso.
Only open on Tuesdays and Saturdays, book your visit in advance and get ready to dance until dawn at this world-class Mykonos institution.
Jackie O
Another epic party destination in Mykonos is Jackie O. Located just above the Super Paradise Beach Club, Jackie O's has everything: a restaurant, beach club, bar, and hotel. Whether you're looking to grab a bite and take in the view, or work on your tan before hitting the dance floor, you'll find it at Jackie O's!
Named for Jackie Kennedy-Onassis, a style icon, and historical figure, Jackie O's is one of the most fun places to visit in Mykonos. It is perfect for enjoying a sunset cocktail or hitting the dancefloor. Their menu features food and cocktails from around the world, which will excite your tastebuds and have you begging for more. And the nightly drag show is one of the best ways to spend a unique and fun evening.
M-Eating
M-Eating is, without a doubt, one of the best restaurants in Mykonos. This fine dining establishment combines a white-linen service with an outdoor terrace vibe. It sits tucked away on a tiny cobblestone street and is shrouded in soft, ambient lighting. For a night out, you won't find a more romantic atmosphere.
The menu at M-Eating showcases local ingredients, turning homegrown produce into masterpieces on plates. A feast for the eyes and the stomach, the chefs at M-Eating put in so much effort to please all the senses with their creations.
Choose from dishes like slow-cooked veal on eggplant puree. For dessert, you definitely can't go wrong by indulging in the sweet, sticky, and unforgettable Mykonos honey pie.
Agios Sostis Beach
Agios Sostis Beach is located on the north coast of Mykonos. Unlike Paradise and Super Paradise beaches on the south coast, Agios Sostis is a calm and quiet beach where you can while away an afternoon in the sun.
Nestled behind a sloping hill covered in scrub, Agios Sostis Beach is secluded and unspoiled. Its shoreline stretches more than 250 meters with crystal clear waters on one side and golden fluffy sand on the other. There are few amenities in the area, just a small village with a bar and tavern nearby, so you'll want to bring drinks, snacks, and other treats with you.
Getting to Agios Sostis Beach takes a bit of effort. There is no public transportation in the area, so you'll need to rent a car or moped to get here. But once there, the peace, calm and quiet are more than worth the journey.
Psarou Beach
Back on the island's south coast, Psarou Beach is a spectacular beach located a short drive from Mykonos Town. It is one of the most famous beaches on the island thanks to its sparkling turquoise waters, glistening yellow sand, and luxury beach bars, restaurants, and resorts.
Almost completely covered in sunbeds and umbrellas, Psarou Beach is the place to be if you want to lounge in the sun and work on your tan in a lively and vibrant atmosphere. With so many people milling about the beach, you never know who you'll bump into.
Psarou Beach is also home to one of the most popular beach bars and restaurants on the island. Nammos celebrates the Greek joie de vivre while serving upscale Mediterranean-inspired cuisine.
Nammos
As mentioned above, Nammos is one of the most famous restaurants and beach bars in Mykonos. It's been known to attract A-list celebrities, like Lady Gaga and Leonardo DiCaprio, who have been known to enjoy cocktails while sitting in paradise.
Specializing in Greek-Italian fusion, the Nammos' menu is second to none. Whether you choose to nosh on sushi, tear into some beef, or sip superb wines and champagne, the menu at Nammos will have your mouth watering at first glance.
At night, this hip-hop spot transforms from an elite seaside restaurant to a thriving and thumping club where you can enjoy a night full of music and dancing under the stars.
Undoubtedly delicious, it's important to note that there is a minimum spend when you visit Nammos, so be ready to throw down your card if you choose to visit this world-class Mediterranean fusion restaurant, bar, and club.
Ano Mera Village
For travelers looking for a break from the beach and the club, and who want to explore off-the-beaten-path, I can't recommend Ano Mera Village enough. One of the oldest villages on Mykonos, Ano Mera is a quiet locale located at the heart of the island. Tucked away from the beach, this village is rarely visited by tourists, which helps it maintain its authentic Greek atmosphere and charm.
Nearly 10 kilometers from Mykonos Town, Ano Mera will make you feel like you're a million miles away. Here you'll be able to immerse yourself in the charms and beauty of Greece without the hustle and bustle of tourists and cruisers.
The second largest settlement on the island, Ano Mera is a must for history buffs. Here you'll find the Church of Panagia Tourliani, which dates back to the 16th century, as well as Gyzi Castle and the Paleokastro Monastery. The town also has a number of charming cafes and delicious restaurants – everything you could possibly want on a day out.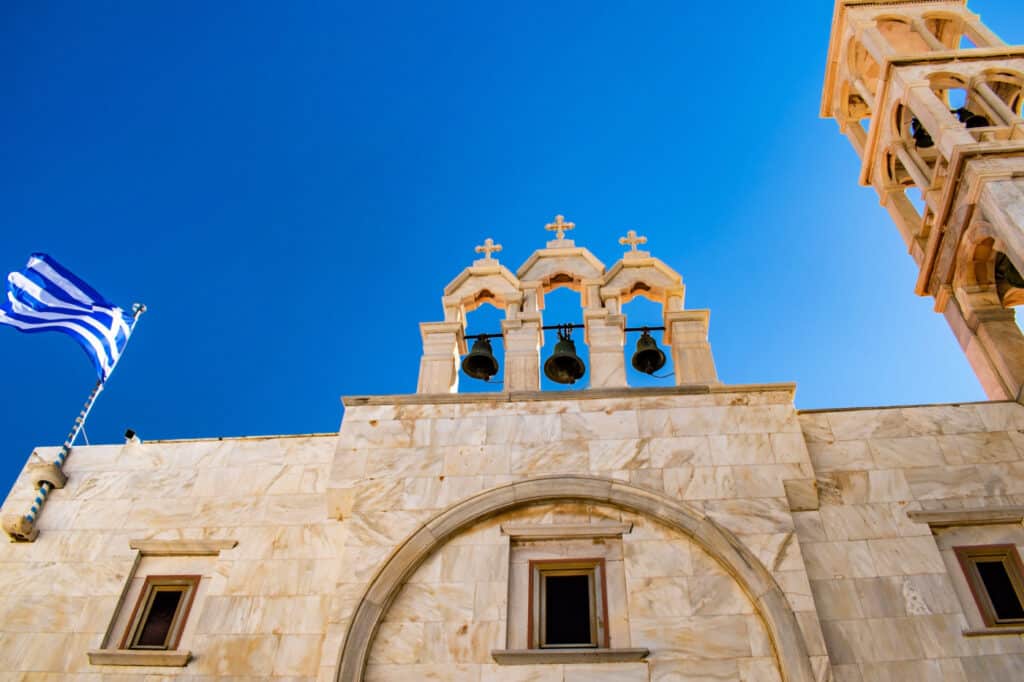 Monastery of Panagia Tourliani
A must-see in Ano Mera is the Monastery of Panagia Tourliani. This whitewashed church, one of 365 on the island, dates back to the 16th century. Recently restored, the Monastery of Panagia Tourliani boasts an impressive design both inside and out. You'll be blown away by the design, detail, and décor that have gone into this nearly 500-year-old structure. The Monastery is also home to a small museum that showcases artifacts including holy coins, photos, books, and more.
Surrounded by a stunning courtyard, the Monastery of Panagia Tourliani is a fantastic place to take a moment of quiet reflection before continuing on your Mykonos adventure.
Mykonos Vioma Organic Farm
Established in 1994, Mykonos Vioma Organic Farm is an organic farm dedicated to the history and traditions of winemaking. It's one of the best, most unique things to do in Mykonos and a must for foodies and wine fans.
Set in the historic monastery vineyard of Maou, this vineyard serves an authentic vine-to-table experience. Here you'll learn all about the conditions and traditions of winemaking, as well as the modern twist this farm takes in playing classical music to help their grapes mature.
After exploring the lands, tuck into some of their delicious and fresh products, like locally produced cheese, ham, sweets, and of course, wine.
Agrari Beach
Popular with locals, Agrari Beach is located on the central south coast of Mykonos. It is less busy and crowded than other beaches on the island, making it the perfect destination for anyone looking to rest, relax and soak up some rays.
Long and sandy, Agrari Beach has pebbly sand and shimmering turquoise shores. The waters here are known to be chillier than other parts of the island, giving you the perfect place for a refreshing dip after a day in the hot sun. With sunbeds and umbrellas on one end and nothing on the other, Agrari Beach is a welcoming environment for all styles of travelers.
Thanks to its long shores and secluded location, Agrari Beach is also a popular attraction for nudists and those looking for a clothing-optional outdoor activity.
Elia Beach
The longest beach on the island, Elia Beach is a haven for surfers and watersport enthusiasts. Its calm and clear waters create the perfect conditions for waterskiing and parasailing as well as wakeboarding and wake surfing. There are also shops along the shore where you can rent boats and jet skis, perfect for taking off to explore the cove and beyond. If you're looking to get your adrenaline pumping and hit the water, Elia Beach is the place for you.
A spectacular bay with fine sand and glistening waters, Elia Beach is less crowded than those closer to Mykonos, but it still offers a great party atmosphere. In the summer, this beach attracts DJs and large parties
Like Agrari Beach above, Elia Beach is popular with nudists. So, don't be shocked if you see someone walking by in next to nothing, or nothing at all.
Armenistis Lighthouse
Armenistis Lighthouse is a spectacular site that pays tribute to history. It is nestled on the northern coast of the island and offers unbeatable views of the sea. Perched on a hilltop high above the water, the Armenistis Lighthouse is a great place to visit if you're traveling alone, as a couple, or with a couple of kids in tow.
Built in 1891, the whitewashed Armenistis Lighthouse stands out in stark contrast to the surrounding landscape and the cobalt blue skies. It serves as a proud reminder of the island's rich maritime history and is a symbol of Mykonos. Although a bit run down, the lighthouse still functions to this day and flashes a bright white signal every 10 seconds.
Popular with photographers and sunset seekers, Armenistis Lighthouse is a great place to visit if you're looking for that iconic pic for the 'gram.
Learn all about the history of the Armenistis Lighthouse on a guided tour.