Marseille is not like anywhere else in the world. Travelers tend to visit the other gorgeous hotspots on the sprawling Cote D'Azur coastline but often skip over Marseille. It has a fascinating maritime past; It is gritty, underground, and rough around the edges. The streets are cocooned by street art, by voices demanding to be heard, and by artists bursting with creative energy.
France's second-biggest city never stops moving. A new contender for the coolest European city, having served as the European Capital of Culture in 2013, it has eclectic museums and wonderful Byzantine churches. The locals are famed for their relaxed French approach. As the city is on-trend for cultural creativity, backdropped by the history of seafaring tradition.
Its colorful, multi-ethnic heritage makes Marseille a fascinating place to visit. Considered a bridge between Europe and North Africa, with a sizable population from Algeria, Marseille is a unique city. Read on for an extensive guide and itinerary list of what to do in Marseille.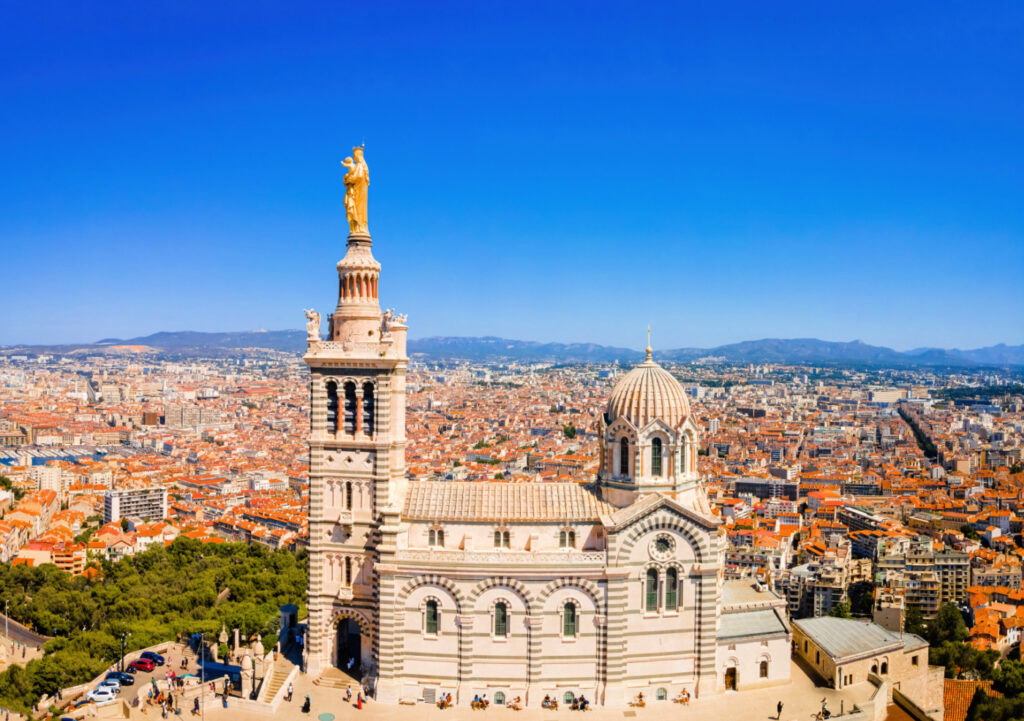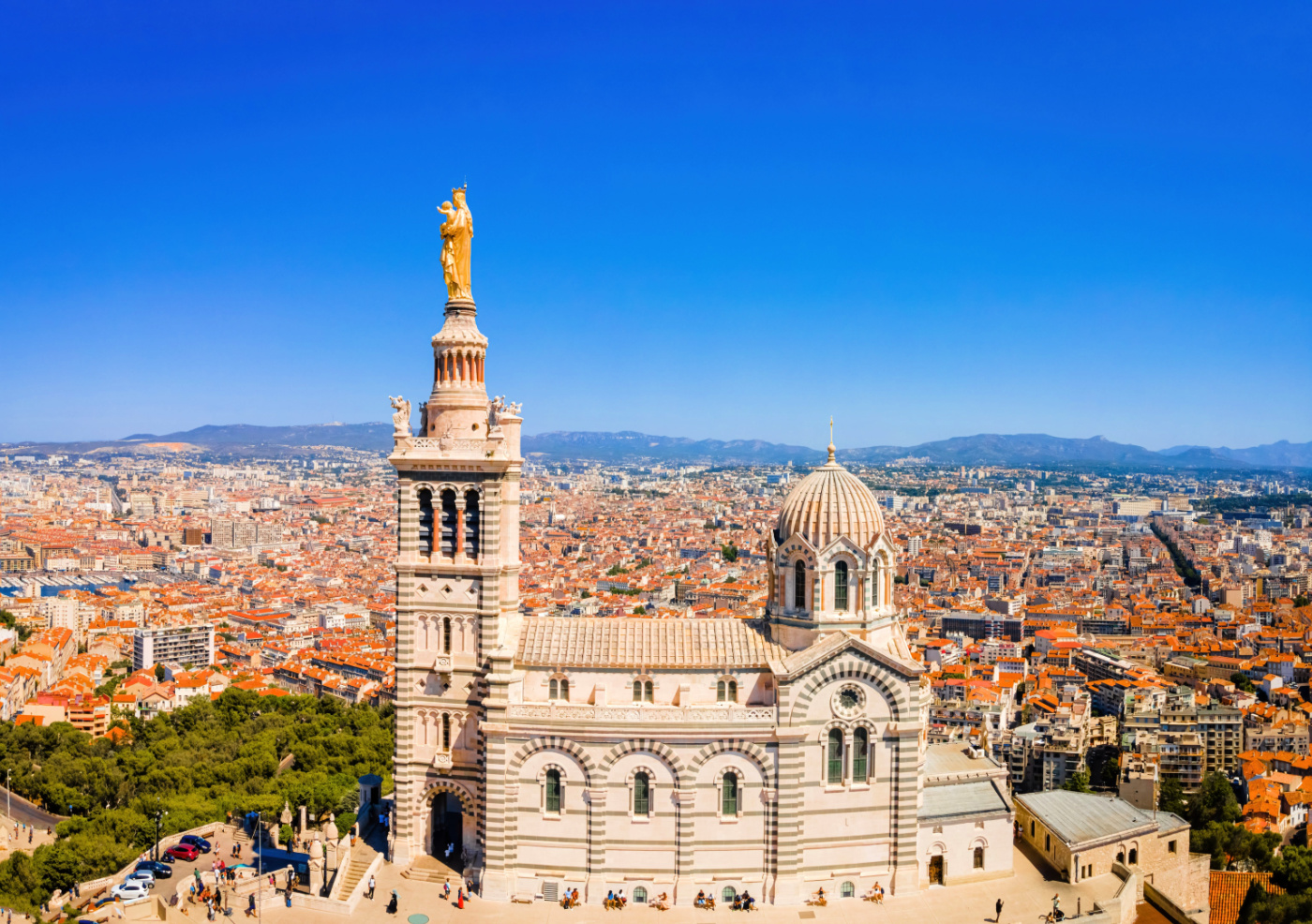 Visit Basilique Notre-Dame de la Garde
A stiff hike up an elevated hill and some stairs are well-justified for visiting the Notre-Dame de la Garde, Marseille's prized landmark. Opulent in gold, the site's grounds offer a bird's eye view of the city's red rooftops and its harbor, as well as the Cote D'Azur coastline.
The site was used as an observation point during the Middle Ages, and subsequently, it was the location of a pilgrimage chapel. Inside, it is quite quirky: nautical frames of a maritime past, all decked in gold. Since its onset, it has remained a beacon of faith, with a colossal gilded Madonna crowing the belfry, which you can see from every point in the city. The magnificent church is designed in Neo-Byzantine style with supporting gilded mosaic cupolas. Its spectacular terrace is a wonderful lookout point after visiting the interior.
Circle Around Vieux Port
The Vieux Port, which is considered the crux of the coastal city, represents the inception of Marseille. It is where the city began as a Greek port around 600 BC. The iconic area is located in the west, close to Canabière boulevard.
A circular stroll around the bustling harbor immerses visitors in the sights and sounds of a thriving port. A focal point for tourists, the Vieux Port has many dining spots for authentic local cuisine. Seafood restaurants line the strip and bars are teeming with locals sipping glasses of wine. La Caravelle, a bar located on the second floor with water views, is particularly charming for this very activity.
The Vieux Port upholds the Mediterranean ambiance with fishing boats in its port. On the east side, a timely fish market opens every morning. Visitors are afforded charming views of the serene blue waters and a refreshing sea breeze.
Walk Under the Mirror Pavilion (On Vieux Port)
An upside-down mirror was established on the harborside in a push to gentrify the city and leave behind its gritty image of the past. It is now one of the city's most popular attractions. It not only presents a respite from the 30c degrees heat, but it also provides some entertainment. Who doesn't want to see an upside-down version of themselves? Marvel at this fun structure on the stroll around the Vieux Port, or on the way to the museum which is right around the corner.
Hunt for Vintage Gold in the Quartier des Créateurs
In Noailles' creative backstreets, there is a gold mine for vintage items. Lilou Vintage is an establishment perfect for finding 70s pieces and 50s glamour, it can be found in Sepia Swing. Fledging artists and up-and-coming designers sell their makings at affordable prices. There are Lovely second-hand boutiques too, for furniture, clothing, art, and vinyl. Shops are very laidback on opening times (that's just how it is, welcome to Europe) but most open in the afternoon and close around 7 pm. Shops are shut on Sundays and Mondays.
The plentiful Quartier des Créateurscircles the outer lanes of Cours Julien, a vibrant district full of interesting people. Some say it's unrefined, some say it's edgy, and I agree with the latter. Eclectic and vibrant, the Quartier des Créateursis rich and abundant due to its multicultural heritage.
The bobos, the Bourgeois Bohemian families,live in this district. Nonetheless, it is a wonderful place to people-watch. Grab a book and a coffee then go listen to buskers, or watch the graffiti artists work their magic! Families eat on tables circling the square, making it full of life. Stumble upon the weekly art market on Wednesdays. Or you can even watch a film at the local indie cinema and feast on all different types of cuisines, yes the Quartier des Créateurs is a delightful place to visit.
Stop By Chez Yassine for Authentic Tunisian Food
A truly hidden gem, Chez Yassine is a favorite eatery amongst locals in Marseille. From Ojja stew with merguez sausage, to couscous with lamb, and chicken or vegetarian dishes, it is a wonderful spot to try authentic and aromatic North African dishes. Pair with a sugary minty tea or their zingy homemade lemonade.
In classic French style, menus are written on a chalkboard and placed proudly outside the establishment. The restaurant symbolizes the bustling Noailles neighborhoods. Prices are reasonable and the staff is welcoming. This particular restaurant deserves a mention as it is the perfect lunch dining spot in between a walk around the Noailles and Cours Julien neighborhoods.
Hike in the Calanques
Between Marseille and Cassis is the Parc National des Calanques, a splendid site of rocks and sea. Majestic limestone rock walls with coves fill the site, hence its name. Calanques are infused with pools of mesmerizing turquoise salt water.
It is a place for outdoorsy people: swimming, kayaking, rock climbing, and hiking are wonderful activities to do here. Its efficient and organized system of trails allows visitors to appreciate the pristine environment and coastal views. You can opt for a boat cruise or take a yacht through the fjords. The largest Calanques, Port-Miou, En-Vau, and Port-Pin can be reached by car or ferry from Marseille. It is even possible to take a guided tour or arrange a private boat trip.
Spend Time at the Frische de la Belle Mai
La Frische de La Belle Mai is a cultural arts center in a converted tobacco factory. There is something for everyone! A bookshop to spend hours reading titles and blurbs as well as an artsy coffee shop that sells alternative milk café au lait. Watch out for the skateboarders in the everyday skate part on the ground floor.
On Monday nights they hold a farmer's market, so if you are staying more than a few days, I would recommend buying fresh items and preparing your evening meal. If you don't want to cook but just eat, Les Grades Tables in La Frische is a restaurant that serves sustainable meals with plenty of vegan options.
Families and friends join together to watch the sunset on the roof, often with DJs playing a set. I must add that mobility might be an issue as there are lots of steps and no lifts. And because it's a residential area, everything closes early to avoid disturbing neighboring buildings.
Take a Train to Ensuès La Redonne
Marseille's magic is built upon the fact that a car is not necessary for an exploration of the Cote d'Azur. Hop on a train to a neighboring village, such as the beautiful Ensuès La Redonne commune. Holidaymakers have been using this form of transportation to arrive smoothly at quaint beach towns since 1915. Sit on the carriage's left side to admire the wonderful views of the Cote Bleue from Gare St Charles.
Disembark from the train to arrive at a dazzling blue view. Ensuès La Redonne is a preservation area: almost 80% of the land is covered by arid scrubland and pines. It boasts a magnificent bay, its authentic charm making its presence as the tiny boats line the seashore. To connect with nature, hiking and cycling are both wonderful activities to partake in and explore Provence's tracks and trails. The diversity of climate in the southeast of France has blessed the region with an abundance of fresh produce that can be sampled. Enjoy a Mediterranean seafood dining experience paired with rosé, or indulge in a sumptuous entrée of apricots, fougasse, ratatouille, and goat's cheese. Its coastline is of exceptional beauty, and one that I will never forget.
Learn Something New at the Museum of Civilizations of Europe and the Mediterranean
There is rich heritage illuminated inside the contemporary museum. Follow the footpath between the glass wall of the cube-shaped building to reach the main section of the site. At night the building is lit an impressive blue. A vast and diverse collection, the museum is a complex of three entire sites.
The museum offers a range of activities such as galleries, lectures, and film screenings. The recently renovated part is ultra-modern and displays permanent collections as well as temporary exhibits, and it also has a gourmet restaurant. Another section is located in the vaulted rooms of Fort Saint-Jean, which includes a lush Mediterranean garden. The third side is the Conservation Centre – which offers a behind-the-scenes look into the work of the museum.
Get lost in Le Panier
Le Panier was an important location where the ancient Greeks settled upon. Steep streets are vibrantly colored with art-ridden walls. From linen-laundry filled back alleys to low-key cafes and teahouses, Le Panier is the historic center and cultural heart of the city. It is also Marseille's oldest quarter.
The streets are steep, narrow, winding, and filled with pastel buildings. They offer a glimpse into the vibrant personality of the city. Quasi-open-air museums see the sentiments and beautiful imagery of Marseille's street artists, be sure to check out the depiction of the Panier district on the back alleys!
Discover local artisan boutiques, gourmet food shops, and art galleries. Once a working-class neighborhood, Le Panier is now a gentrified residential neighborhood, but the quintessentially French terraced houses with shuttered windows provide a wonderful insight into its charm.
Marvel at the Cathedral de la Major
In the northwest corner of Le Panier, this Cathedral stands majestic and overlooks the harbor. It is an ornate Neo-Byzantine structure with soaring twin towers and a 70-meter-high dome. Striking as it appears, Louis-Napoléon Bonaparte commissioned the construction in 1852 and it was later completed in 1893, and it was the largest church built in France during the 19th century. Its dimensions are similar in scale to St Peter's Basilica. The lavish interior is decorated with Carrara marble, the same material used to adorn the Florentine Duomo. An impressive range of statues can be found to marvel at in the sanctuary.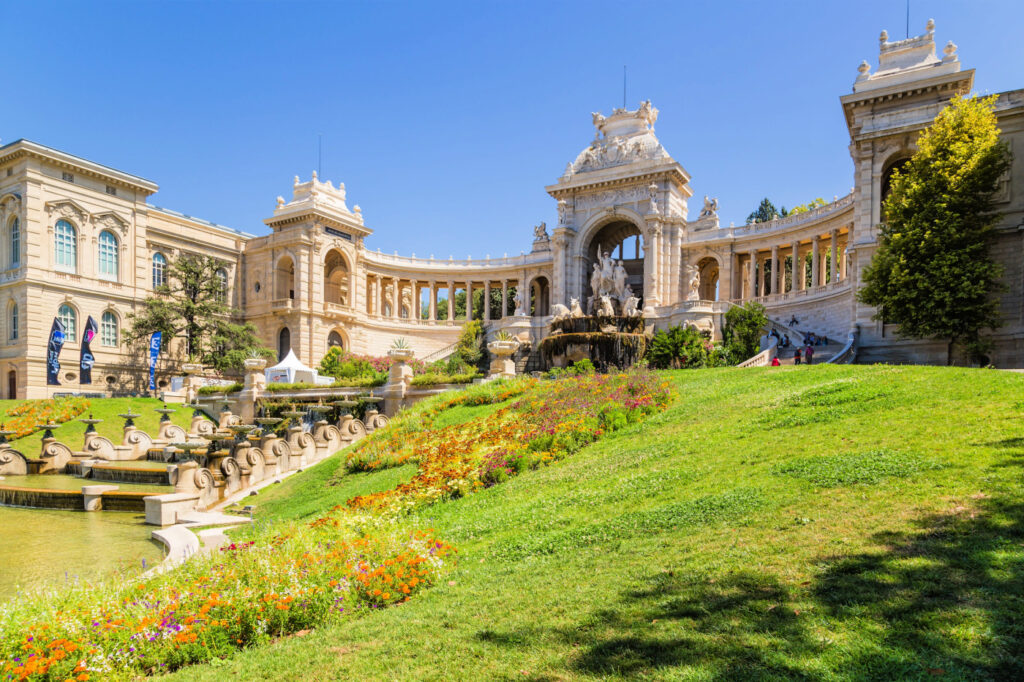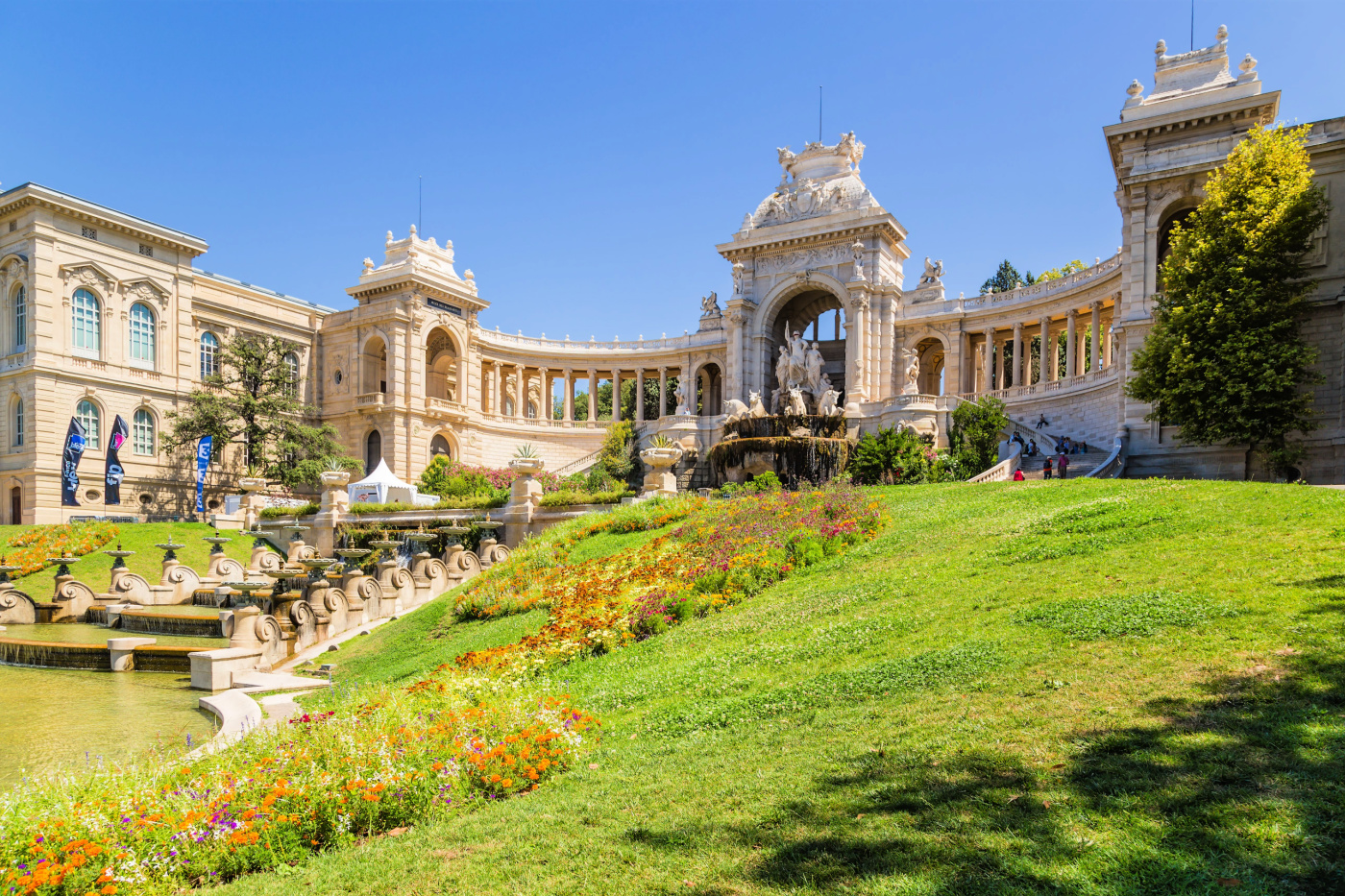 Have a Nap on the Grass at Palais Longchamp
During a cholera epidemic in the 1800s, the city leaders had to find a clean water supply for the city. Aqueducts were built to bring clean water into the city from the River Durance. The complex plan took over 52 miles and years were spent working on the urban project. To celebrate, the splendid Palais Longchamp was built to commemorate the achievement.
This was one of my favorite places to visit when in Marseille, to unwind and lay on the grass and marvel at the city below me during a beautiful spring day. It is also a great spot for families! A family of four can easily spend an entire day here, visiting the small Natural History Museum, botanical gardens, observatory, and many playgrounds.
There is a café at the top of the steps, where you can get an ice cream or even a beer to share with friends. I opted for something I never had before: Café a la Nutella which was delicious! It was an espresso macchiato made on a bed of Nutella. Yum!
Take Part in a Street Art Walking Tour
The unpolished look will not appeal to everyone. But if you are seeking to explore an untouched, gritty and vibrant area, the backstreets around Cours Julien are a true insight into this abstract cityscape. The street art sprawls across walls, shop shutters, and doorways turning them into colorful canvases. As if the city transforms into an open-air gallery. Take a walking tour to discover more about the artists behind the enigmatic names and works. Click this link for an adventure-filled tour, and here for a classic walking tour around the city streets.
Sample Marseille's Favourite Dish: Bouillabaisse
Your trip to Marseille would not be complete without sampling Bouillabaisse, which is essentially a decadent fish stew. A culinary delight among foodies across the globe, even though it has humble origins. Created by some fishermen who just couldn't sell the rockfish, (Racasse) they caught at the market, they creatively added other unique fish types (sea robin, European conger, John Dory, crab sometimes) into a pot and let it simmer for hours.
The name Bouillabaisse comes from two Provençal words meaning simmer and boil. Enjoy a Michelin-star dish at Le Petit Nice. Or for more of an authentic, down-to-earth option, head to Chez Fonfon on Rue du Vallon des Auffes. The aromatic dish remains a favorite in the city it was created, Marseillans are indeed proud of what they have prepared.
Cité Radieuse – Le Corbusier architecture
Take a trip down an off-the-beaten-path to the Cite Radieuse, a completely self-contained village. This architectural giant has a built-in school, doctor's surgery, restaurant, and shops with countless apartments. Due to World War II's halting of commerce and trade, as well as the effectual shortage of housing and social necessities, the renowned French architect, Corbusier, came up with a cunning plan to solve the city's problem by creating a "city within a city".
It is a place for architecture and culture buffs, if desired, a free guided tour in English can be provided. The roof is completely accessible and it offers views of the pool and the surrounding city. Wander in a bookshop or have a bite to eat in one of the inner city's restaurants before you leave the unique cultural attraction. Listed as a UNESCO world heritage site, it is a real architectural highlight playing with lights, perspectives, and colors.
Marseille's Own Alcatraz: Chateau d'IF
Take a boat from the boasting Vieux Port, a short ride to the photogenic island fortress. Chateau d'IF has been immortalized in Alexandre Dumas' classic The Count of Monte Cristo. The fortress was built by King Francois I in the 16th century. Shortly after it was converted into a prison for incarcerating convicts.
The Frioul Islands archipelago is also a nature conservation area of protected coves, turquoise Mediterranean sea, sandy creeks, cliffs, and pristine beaches. Its Mediterranean climate and bountiful sunshine allow rare floral species to flourish.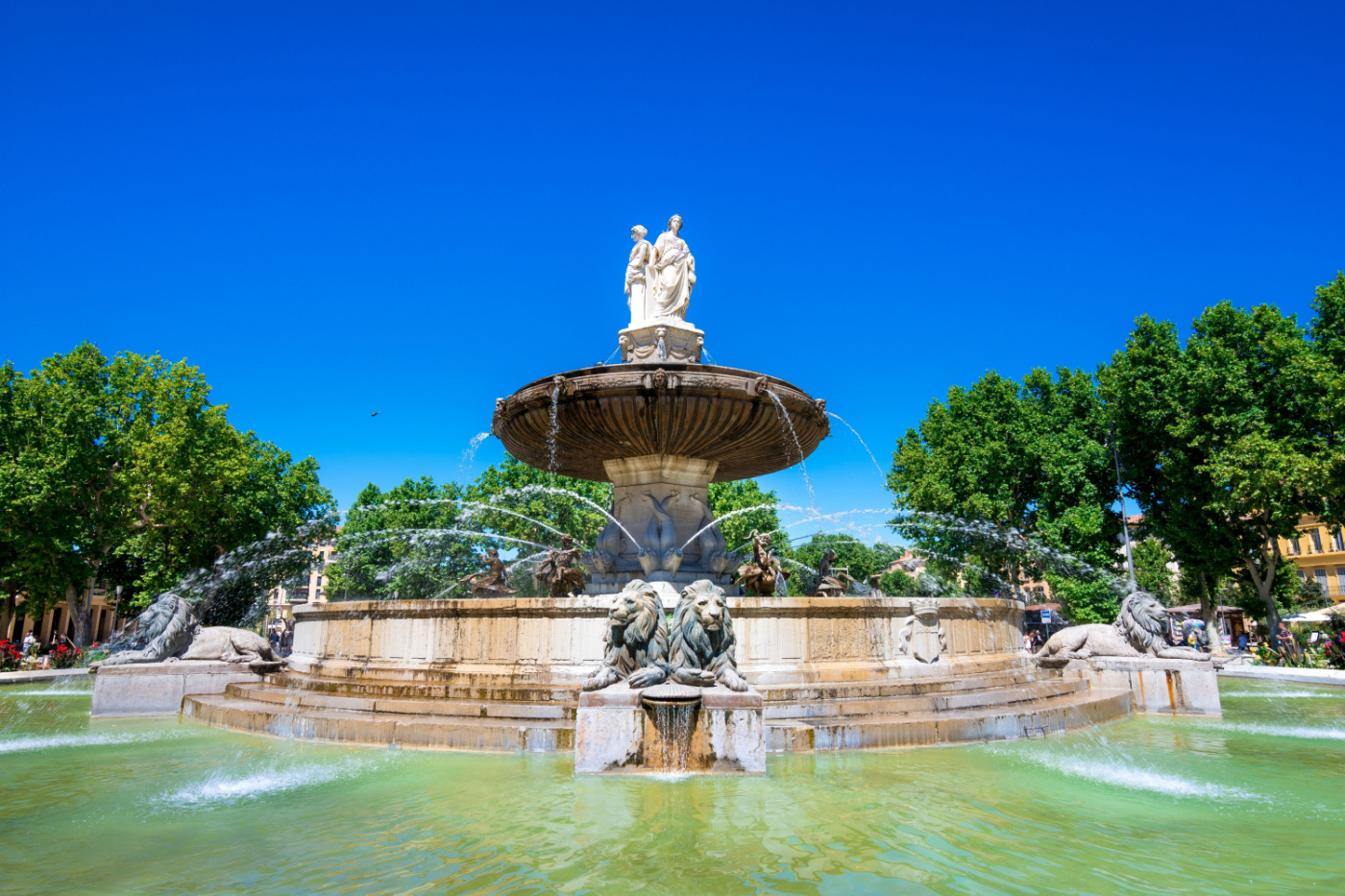 Venture to Aix-en-Provence for a Day Trip
The cultured town of Aix-en-Provence was the painter Cezanne's birthplace. For a day, take an educational trip to his studio and home, to learn more about the inspiring artist. It has a reputation as a center for artistry and intellectualism that long predates the post-impressionist giant.
The statue of Good King Rene beneath the plane of trees at Cours Mirabeau enshrines the 15th-century origins of the town's good name. With Baroque mansions and ochre-washed streets, Aix affords a breath of relief from the urban hustle of its larger neighbor. It is also here where you can find a perfect example of a French high street. Relax at one of their many terraced cafes or bars, or have a glass of vin rouge. You must try the sweet honey, flavored by the region's lavender. Find encouragement and creativity just like Cezanne at the lovely La Terrain des Peintres (Painter's Park).
Drink Pastis
Pastis is the Marseillan drink. It is a French spirit that is flavored with anise. Marketed by Paul Ricard in 1932, it has since then been popular to have as an Aperitif, at all hours of the day. Three Pastis brands compete for the favored blend, however, Ricard remains the city's chosen to make.
If you are a fan of licorice, you will enjoy Pastis as it has a sweet, rooted flavor. The exact spices used are star anise, fennel, and dried licorice root. Your glass will be served with a jug of cold water as the alcoholic drink is usually enjoyed diluted with water or you can drink it neat, but be prepared that it is quite strong-flavored. It will quickly turn milky cream in color.
Pastis is savored mostly in the summertime as it is a perfect drink for cooling off and staying hydrated. Stroll by any café or bar and you will see countless Marseillans leisurely drinking Pastis on a terraced table, peacefully enjoying life.
Explore the Walkways of Fort St Jean
Louis XIV built Fort St Jean in 1660 at the entrance to the port, although previous to the Sainthood it had been a military outpost since the 12th century. In recent history, the fortress was politically reinforced as a conflict space as it was occupied by Germans in World War II. At present, it has been completely renovated with winding walkways connecting the fort to the Le Panier neighborhood.
Exploring the ancient nooks and crannies takes no more than an hour, but I suggest you take pauses on the quaint benches to marvel at the historic port lined with boats in front of you. These benches provide a point for reflection and contemplation if needed, and they are also great for snapping a photograph! Note that the ramps connecting the walkways are quite steep.
Treat Yourself with Savon de Marseille Soap
As a gift for loved ones or a souvenir to take home, treat yourself to Marseille's incredible commodity: the iconic Savon de Marseille soap. It is a traditional hard soap, made from a 600-year-old recipe with vegetable oils and seawater from the Mediterranean. The versatile body and face wash is pH neutral, has no additives, and is biodegradable. Look for the Savon de Marseille cube mark, denoting a genuine product from an audited Savonnerie, which guarantees an authentic product. Its color is green if made with olive oil, and cream if made from palm oil.
If you want to learn more about the fascinating soap-making process, visit Fer À Cheval soap factory which is 15 minutes away from Vieux Port and Saint Charles Station. This particular soap factory embodies Marseille's heritage, respecting and perpetuating craftsmanship expertise that has been passed down from generations of soap makers. It is the oldest and largest soap factory in Marseille still in operation, listed as a Historical Monument like Chateau d'IF and Fort Saint-Jean.
In the Mood for Shopping? Head to La Joliette District
La Joliette district is the dedicated high-end market of Marseille. The area welcomes tourists heading to Corsica and Sardinia by cruise, who would like to spend some cash before sauntering off to their next destination. Interestingly, it is the largest Southern European regeneration zones and is one of the coolest places to see in the summer.
Les Terrasses du Port is a mall of high street names and high fashion labels. The space transforms into an ice rink in the winter, where you can sip hot spiced mulled wine whilst you take in the festive illuminations. When the climate is warm, you can laze in one of the restaurants that overlook the port, for example, Les Docks Village is a repurposed industrial portside building. Whether it is shopping for unique presents or simply ogling shop fronts, La Joliette is a wonderful place for shopping with a sea view.
Take a Dip in La Plage de Maldormé
Close to the swanky 5* Hotel and Michelin-star restaurant Le Petit Nice, you can take the stairs to the right to descend into a unique cove. The sweet pebble beach is protected from the wind by the picturesque houses circling the bay. As it is a popular spot among young Marseillans, some beachgoers climb from rock to rock to find their own private boulder to lie on. Head down early to secure your spot before the masses populate this secluded spot.
Spread your towel out and jump into the clear blue waters when the sun gets too hot. The turquoise-blue Mediterranean sea will restore your senses. Perfect for couples seeking a romantic rendezvous, or for friends wanting a relaxing day spent at the seafront, Plage de Maldormé is the beach in Marseille I would most recommend.
Drink and Dine at Les Réformés Rooftop Bar
Open from 12.30 pm to 1 am, Monday to Sunday (it stays open an extra hour on Saturday), Les Réformés rooftop bar is my top recommendation for a place to sit for a nibble and a drink on a clear day. The intimate seating outside affords spectacular views of Marseille's cityscape as well as La Bonne Mere guarding over the populated city.
The restaurant bar is located on the roof of the Ciné Artplexe on La Canabière boulevard in the heart of the French Quarter. It is named after its next-door neighbor, a twin-spired 19th-century church (Église St Vincent de Paul, or 'Le Réformés). The menu features seasonal French cuisine, offering yummy small plates! When I dined there, I had a plate of escargots (snails) which were deliciously drenched in olive oil and garlic.
If that does not pique your interest, medium-rare veal with a sunchoke cream and pan-fried shiitakes paired with a mouth-watering jus, all prepared by Chef Victor Thoueil are sure to excite your palate. To entice you even further, Les Réformés has weekly live jazz or DJs on rotation. What more could you want?