Famous for its lobster and history, Maine is every foodie's, history buff's, and nature lover's dream location!
Funnily enough, though Maine is widely known for its lobster industry, with over 90% of the country's lobster coming from Maine, the state is the largest producer of blueberries in the United States. Throughout the state, it's not hard to find restaurants featuring local and fresh ingredients that make savoring each bite as easy as breathing air.
But between stuffing your mouth with blueberries or lobster, check out what else Maine is known for—its rocky coastline, pristine forests, and lighthouses dot the shoreline. Offering plenty of recreational activities like hiking, whale watching, camping, fishing, and swimming, it's not hard to bask in the great outdoors in Maine.
Between eating your heart out, hiking up the summit of mountains, or learning about the impactful role Maine has played in the history of the United States, it's not hard to find worthwhile activities to take up in Maine. And in this article, I will show you the best attractions and activities to consider when visiting Maine so you can get packing and on your way to the Pine Tree State, that's covered in 89% of unspoiled forest, waiting to be explored!
Full of outdoor recreational activities, history, fresh seafood, and quaint small towns, there are plenty of noteworthy and worthwhile things to do in Maine. Whether it be hiking at Acadia National Park, one of the top ten most visited parks in the U.S., or making a reservation to write at the iconic horror novelist Stephen King's House, you'll make memories you'll cherish forever in the rugged, quaint, and scenic state of Maine!
Go Hiking At Acadia National Park
Stretching across 47,000 acres, Acadia National Park is an Atlantic coast recreation area focused mainly on Mount Desert Island in Maine.
The land is a national treasure with rocky beaches, glacier-scoured granite peaks like Cadillac Mountain, woodlands, and boisterous wildlife like whales, moose, seabirds, and bears. Nearby is a popular getaway bayside town, Bar Harbor, to stop by after exploring this significant step into the wilderness.
As part of the top ten most visited parks in the United States, welcoming over three million visitors annually, Acadia National Park is full of popular attractions such as hiking, biking, walking, scenic drives, snowshoeing, cross-country skiing, or even traveling by horse-drawn carriage.
Take your pick at this stunning step into the great outdoors!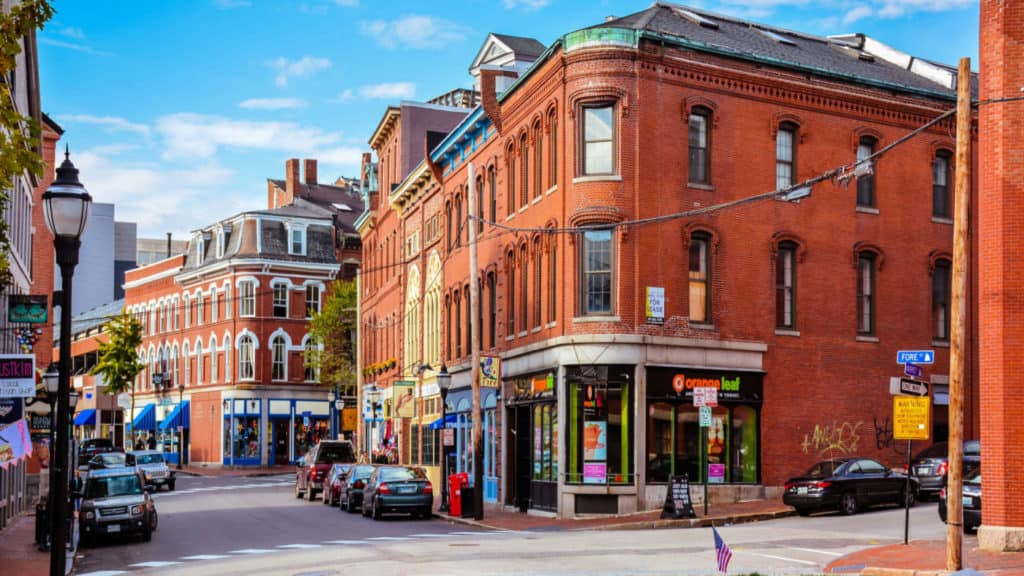 Spend A Day Or Two In Portland
A famous city in Maine, Portland is settled on the peninsula that reaches Casco Bay. Its waterfront location features working fishing wharves, converted warehouses, seafood restaurants, and eclectic shops. Nearby is a public park atop a bluff with mountain and river scenery and historic neighbors filled with Victorian-era homes, including the Victoria Mansion Museum.
Ranked one of the top places to live in the United States, in Maine, the small-town charm combined with city living and refreshing coastal scenery make it a great place to live and an even better place to visit!
Walk through the historic downtown district, collect pebbles on the beach shores, eat at award-winning restaurants, take in various art forms at the many different art galleries, or learn the history of the ornate museums and Victorian homes.
Or get a taste of the famous foodie city on this guided Old Port culinary walking tour, taking you to Portland's top local joints to meet culinary artisans, drink iconic Maine craft beer, and learn the culinary history of Port City.
The options are endless in the great city of Portland, Maine!
Visit The Famous World Traveler Signpost
Referred to as "Maine's Famous Signpost," the World Traveler Signpost points you in the direction of several world places, but it may not be what you may initially assume.
The signpost may point to China, Peru, Paris, Norway, Sweden, and Denmark, but it's not pointing to the countries we all know. Instead, the World Traveler Signpost is pointing to towns in Maine!
Paris, Maine, home to a population of 5,187 compared to Paris, France's 2.24 million, adopted the name "Paris" in 1793 in an act of appreciation for the help given by France to the colonists in the American Revolution.
Continuing, named in 1795, the town of Poland, Maine, took its name when Austria, Prussia, and Russia partitioned its European namesake. Finally, the town of Denmark, Maine, was established in 1807 when the British Royal Navy attacked Copenhagen, the same navy that attacked Portland in 1775.
The landmark has its historical significance and a bit of humor added for fun stories to write home about, along with sky-high tales of becoming a "world traveler" and exploring the world after your vacation in Maine!
Join A Whale-Watching Cruise
Every nature lover's dream, Maine, is bountiful with nature and wildlife. One of the top things to do in Maine is hop on a whale-watching cruise to observe some of the world's largest mammals.
The waters off the coast of Maine welcome various whale breeds, including pilot, finback, minke, and humpback. Summer is the best time to visit Maine to go whale watching, as the infamous Maine fog can otherwise hinder the view to see these spectacular marine animals any other time of the year.
However, from spring to early fall, large groups of migratory whales travel through the cold waters of the Gulf of Maine, extending from Nova Scotia and Canada to Cape Cod in Massachusetts.
The whale-watching season kicks off in April, but make sure to book a trip in the summer when the chance of fog is less likely to keep your views of these marvelous animals open!
Stroll Along Marginal Way
One of New England's most popular and beloved scenic coastal walks, Marginal Way's name refers to the "margin" between land and sea.
Located near downtown Ogunquit, Maine, this coastal walk features a slender 1 ¼ mile-long refreshing cliff walk on a scenic winding path that edges along the Atlantic at spine-tingling heights. Thundering seawater crashes against the rocks to spray over tide pools as surfers and divers scour the waters below.
Marginal Way finishes at Perkins Cove, a cute coastal village famous for lobster fishing—meaning fresh lobster isn't hard to come by for a scrumptious lunch or dinner after your stroll through Marginal Way!
Write At Stephen King's House
Home to the iconic horror novelist, the Stephen & Tabitha King Foundation is a Victorian mansion featuring wrought-iron bats and spiders on the gate in downtown Bangor.
Stephen King was born in Maine and inspired by Maine's foggy cliff sides, using his home state to help construct many of his top novels. The Victorian mansion has since been approved to become a writer's retreat and an archive of the famed author's work.
Only five writers can stay at a time at the Stephen & Tabitha King Foundation, so reserve your spot! If you're not a writer, King's mansion is located directly off the street, making it easy to drive or stroll by to take in the spooky architecture and home of the horror-genre icon Stephen King.
Reconnect To The Earth At The Coastal Maine Botanical Gardens
Named one of Maine's top attractions, the Coastal Maine Botanical Gardens in Boothbay, Maine, is one of the most distinguished botanical gardens in the United States and the largest botanical garden in New England.
Featuring tidal saltwater frontage, dramatic landscapes, unique gardens, and limitless potential on over 300 acres, the gardens captivate all that journey to explore its compelling displays and over 100,000 diverse plants. On 17 acres of its acreage, the gardens are dedicated to presenting native plants of Maine for locals and tourists to take in.
Another iconic feature of the Coastal Maine Botanical Gardens is the Giant Trolls. Designed by Danish artist Thomas Dambo, these magical, mammoth recycled-wood troll sculptures are hidden throughout the wooded areas and hold secrets waiting to be uncovered.
Disconnect from the world and reconnect to the earth at the Coastal Maine Botanical Gardens, full of magic and adventure.
Afterwards, consider joining this Boothbay Harbor Cruise to experience the home of the Coastal Maine Botanical Gardens. View marine life, two significant lighthouses, islands, and seals, and learn how lobsters are caught to be sold to local restaurants for a step into Maine's famous lobster industry and its history.
Adventure The Historic Monhegan Island
A thriving fishing village and historic artists' colony throughout the 1800s, Monhegan Island is a small rocky island in Mid-Coast Maine that attracts thousands of tourists annually.
Don't expect to find any paved roads or shopping malls here! A step back in time, this hideaway was first visited by European explorers in the early 1600s, one of whom was Captain John Smith in 1614.
Starting as a British fishing camp, the Plymouth Colony eventually settled, and then a trading post was constructed to trade with local Native American tribes.
Monhegan Island spans 300 acres with wild lands that hone nine miles of hiking trails. The group that owns the island, Monhegan Associates, was created by Thomas Edison's son, Theodore Edison, who spent many summers on the island.
To this day, no cars are allowed on Monhegan Island. The only way to get around is by foot, and to reach this historic island, you need to hitch a boat ride to Monhegan Harbor.
Either way, there's plenty to explore on the island, from historic buildings and art galleries to the Monhegan Lighthouse built in 1824 to the bountiful wildlife-watching opportunities to spot whales, seals, migrating birds, and rare wildflowers.
Go Camping At Baxter State Park
Preserved as a state park in Northeast Piscataquis, Baxter State Park is a bountiful area of unspoiled wilderness that borders the Katahdin Woods and Water National Monument.
A paradise for active goers, hikers, and boaters, visitors to this state park can hike the tallest mountain in Maine, Mount Katahdin, which acts as the northern terminus of the Appalachian Trail. Or, if you're not interested in pursuing a strenuous hike up the summit of Mount Katahdin, there are plenty of other hikes to try that are less challenging and still incredibly rewarding.
The campgrounds make it easy to step away from the hustle and bustle of city life to replace it with fresh air and a step into the wilderness. During your stay or visit to Baxter State Park, you can hop on one of the many recreational activities.
Take the canoe out to fish or adventure the calm lakes surrounded by mountain and tree-lined backdrops. Then, go on a rewarding hike or bask in the scenic views at the campground. Either way, Baxter State Park is a breath of fresh air that soothes the soul with its magnanimous scenery and vibrant nature, making it a rewarding trip.
Visit a Distinguished Historic Home: The Victoria Mansion
Also known as the Morse-Libby House, the Victoria Mansion is a historical landmark representing American residential architecture.
Located in downtown Portland, Maine, the mansion was established between 1858-1860 as a summer home for Ruggles Sylvester Morse and his wife, Olive.
Architect Henry Austin designed the house and the interior by Gustave Harter, one of the most influential designs in the United States in the late 19th century. The Victoria Mansion is the only remaining design by Henry Austin still intact.
In the present day, this home is believed to be one of the finest examples of the Italian Villa style in America. The Victoria Mansion was strategically placed near the city's earliest gas and sewer lines, making the home a model of elegance and modernism with hot and cold running water, gas lights, flush toilets, and central heating.
Opened to the public as a museum in 1941, the Victoria Mansion contains over 90% of the original interiors as well as original paintings by the Italian-born artist Giuseppe Guidicini, who mastered the trompe l'oeil ("fool the eye") style so that many surfaces in the house appear to be three-dimensional. Visitors to this historic home can also find numerous historic photographs and other historical content from 1893.
Explore The Casco Bay Islands
Off the shore of Casco Bay in Portland, Maine, the Casco Bay Islands combined include over 200 islands, some populated, others not.
Some islands feature small towns and villages that have remained strong for generations. These islands, like Peaks and Long Island, offer a unique experience to take in the secluded small-town life with a slowed-town pace removed from the bustle of city life in Portland.
These islands are perfect for history buffs, from relaxing meals to soothing walks and bicycle rides. For example, peak's Island features summer retreats built by veterans in the 19th century, the Eight Maine hall (a museum and lodge), and the Fifth Maine regiment hall (a museum).
Or kayaking tours that take visitors to the granite Fort Gorges, built on rocky Hog island in 1858.
Take your pick of the Casco Bay Islands and go on an adventure of the islands off the coast of Portland!
Step Back In Time At The Wadsworth-Longfellow House
Another popular attraction in Portland, Maine, the Wadsworth-Longfellow House, is a historic house and museum listed as a National Historic Landmark and on the National Register of Historic Places.
Maine's first house museum opened to the public. This historic place has been home to the three generations of a family that contributed heavily to cultural, political, and literary life in the United States. General Peleg Wadsworth built the house in 1785-1786.
His grandson, Henry Wadsworth Longfellow, grew up in the house and became one of the most famous men of his time as a national literary figure, world-famous personality, linguist, traveler, romantic, and commanding figure.
The Wadsworth-Longfellow House preserves the original household items and artifacts of the Wadsworth and Longfellow families through three generations, illustrating changing styles, attitudes, and technology over the 19th century.
The architecture of this historic home is also significant, as it was the first wholly brick dwelling in Portland and remains the oldest standing structure on the Portland peninsula.
Visiting the Wadsworth-Longfellow House, you can stroll through the secluded Colonial Revival style garden, an oasis of green and quiet in downtown Portland that was once the farmyard for the Wadsworth Longfellow family. Then, head inside the Wadsworth-Longfellow House to tour and learn more about its historical significance.
Sink Into Art At The Ogunquit Museum of American Art
Housing over 3,000 pieces in its permanent collection, the Ogunquit Museum of American Art collects, preserves, and exhibits modern and contemporary American art.
The museum is closely connected to two of America's earliest art colonies that heavily contributed to the beginnings of American modernism. The Ogunquit Museum of American Art's permanent collection features drawings, photographs, prints, sculptures, and paintings from the late 1800s to the present day.
This treasure of a museum and its impressive grounds spotlight the rich history of artists and art colonies to sink in history and art.
Only a short walk from Perkins Cove, the Ogunquit Museum of American Art and its three acres of sculpture gardens offer a serene setting that overlooks Narrow Cove and the Atlantic Ocean.
Stay At Historic Lodges At Borestone Mountain Audubon Sanctuary
Stretching across 1,600 acres, the Borestone Mountain Audubon Sanctuary, located in Maine's Hundred Mile Wilderness region, offers a significant leap into nature and the great outdoors.
Here, you can find three crystalline ponds: Sunrise, Midday, and Sunset, panoramic views, a rare older forest, and exposed granite crags. On the shore of Sunrise Pond are a trailside Visitor Center with historical information, interactive displays, and guides on the area.
The historic Adirondack-style lodges are located at Borestone Mountain Audubon Sanctuary on the shores of Sunset Pond, only accessible by boat or foot. These lodges are open for renting groups of up to 24 people. Nearby trails to the entrance of the park avail family-friendly opportunities to adventure the great outdoors of the sanctuary and up to the summit of Borestone Mountain.
Follow The Steps Of The Giant's Stairs
Located in Harpswell, Maine, the Giant's Stairs is an iconic landmark of the area.
Named after its intriguing geological history, this notable piece of land that has become a popular scenic hiking trail is every geologist's dream. The coastline goes back 500 million years, where layers of mud formed the original sedimentary rock and deposits of minerals that eventually crystallized into garnet and quartz.
Then, an intrusive volcanic dike was formed thanks to hot magma from deep below flowing into the surface.
The scenic trail of the Giant's Stairs features coastline views of eastern Casco Bay and dramatic scenery worthy of more than a few pictures. The stairs of the trail are likened to blocks of dark rock and are set with flaky coastal rocks that descend into the crashing waves of the sea.
Thankfully, the trail is appropriately marked and makes for an easy, family-friendly hike to bask in the beauty of Maine.
Bask In The Views At Penobscot Narrows Bridge & Observatory
The crown jewel of coastal Maine, the Penobscot Narrows Bridge and Observatory presents 360-degree views of the Maine countryside, the Penobscot River and Bay, and the far-off western mountains.
The Penobscot Narrows Bridge and Observatory attracts tourists, writers, engineers, architects, and history buffs worldwide. The stunning vistas and historical significance of the structure, which has won awards for its innovative design, offer a uniqueness that has placed it as one of the top attractions to visit in Maine.
As a nod to its neighbor, Fort Knox, the observatory's entryway and its iron gate have been designed to replicate its historic and established neighbor. The Penobscot Narrows Bridge and Observatory is one of only four bridge observatories in the world, with the observatory standing as the tallest public-occupied structure in Maine and the highest bridge observatory in the world.
Spend The Day, Or Weekend, In Kittery
Home to the Portsmouth Naval Shipyard on Seavey's Island, Kittery, Maine, is a charming historic seaside town and popular tourist destination known for its outlet stores, the seaside district of Kittery Point, fresh seafood, Badger's Island, its thriving art scene, and part of the Isles of Shoals.
Honing a 400-year-old history of European settlement, Kittery is the oldest incorporated town in the state, dating back to 1623 as a fishery. There are plenty of historical buildings to check out during your visit to this historic town, including Fort McClary, which played a crucial role in five American wars from the Revolution to World War I.
At the Kittery Historical & Naval Museum, you can learn more critical details on the town's role as a European settlement and its spotlight on naval activity in the region. You can check out Kittery's Portsmouth Naval Shipyard, the oldest continuously-used naval shipyard in the country, founded in 1800, to learn more about Kittery's significant maritime history.
But for more activities, this hipster small-town haven has many boutiques, art galleries, gourmet eateries, museums, and local markets to explore in between learning about local history. For more outdoor activities, head to Seaside Beach at Kittery Point, the various state parks nearby, or stroll down the coastline to enter nature!
Hike The Historic Witherle Woods
Honing a rich military history, Witherle Woods in Castine, Maine, is full of groomed cross-country skiing trails in the winter, hiking trails, and pleasant views of Penobscot Bay year-round.
With more than 6.5 miles of trails that wind through changing forests of the coastal preserve, Witherle Woods is great for outdoor fun!
For the history buffs, take a walk back in time to discover the site in Witherle Woods where American and British troops battled for our nation's independence. And history doesn't stop there in these woods! Witherle Woods goes back in its role in history as far as the colonial times when the French used the area as a trading post, mission, and fort.
As you traverse Witherle woods, embrace the natural scenery of red and white spruce and balsam fir as you embark through the footsteps of history.
Getaway To Swan's Island
Located in Hancock County, Maine, Swan's Island is an island town named after Colonel James Swan of Fife, Scotland, who purchased the island and surrounding area in the 18th century.
The perfect getaway from the stresses of life, this island town is full of relaxation, small-town living, and outdoor activities, like hiking, fishing, swimming, and kayaking, to take up. Other points of interest to check out on Swan's Island include Burnt Coat Harbor Lighthouse, Swan's Island Lobster & Marine Museum, Swan's Island Historical Society Museum, and Swan's Island Library.
If visiting during the summer, take a dip in the refreshing waters of Fine Sand Beach or Quarry Pond. Fine Sand Beach is perfect for sun tanning, swimming, walking, and sea glass hunting, making for an ideal souvenir to take home with you!
Check Your Balance On The Wiggly Bridge
Popularly known as the world's smallest suspension bridge, Wiggly Bridge in York, Maine, is limited to foot traffic only and does get wiggly when crossed, so hold on tight!
Constructed in the 1930s, the steel structure juts out of the ground into an arched wooden deck that stretches 75 feet between two petite green towers. In local lore, it is claimed that the bridge got its name from a perceptive group of Girl Scouts, though no one is sure how the small bridge got its name.
On the other end of the Wiggly Bridge is Steedman Woods, a nature reserve offering a pleasant reprieve and plenty of shaded hiking trails to soak in the aroma of wild roses and the salty estuary.
Romantics Unite At The Wedding Cake House
Previously termed the "most photographed house in the state," the Wedding Cake House, formally known as the George W. Bourne House, is an iconic historic house and landmark in Kennebunk, Maine.
Built in 1825, the historic home was given to George W. Bourne as a wedding present. The "icing" on the home was added 26 years after the happy couple moved in after a fire destroyed the barn and connecting structure. This addition was inspired by the Cathedral in Milan, the era when the Gothic decoration style became incredibly popular.
Whether simply driving, strolling by, or taking part in a tour, the Wedding Cake House is an architectural and historical phenomenon of magic and romance, full of history, love, and beauty, that can inspire all who visit!
Step Into The Wilderness at Buckle Island
An uninhabited island in Maine, Buckle Island is full of surprising and intriguing works of art left by visitors over the years.
At the start of the walk into Buckle Island's serene escape, a green door will be situated masterfully between two trees. A step through that door unlocks a bridge between light and dark, from dense foliage to the boundless openness of Buckle Island's forest. Throughout the island are plenty of natural pieces of art and mementos left behind for others to follow or to find entertainment.
Take A Picture At The Monument For America's First Mile
A historical monument marking the beginning of the longest north-south road in the United States, America's First Mile, can be found in Fort Kent, Maine.
Established in 1926, U.S. Route 1 was fused by combining a patchwork of regional highways into one national thoroughfare. This route runs from Fort Kente, Maine, to Key West, Florida, traversing 2,369 miles.
The granite monument and accompanying plaza for America's First Mile are established in a spot overlooking the bridge that crosses the St. John River to Claire, New Brunswick.