Jamaica is a tropical paradise in the Caribbean Sea. It is a playground for travelers that offers spectacular natural attractions, golden sand beaches, glistening turquoise waters, and a wealth of plants and animals.
Add to that a vibrant and lively nightlife, a legendary music scene, and incredible local cuisine, and it is no wonder Jamaica is such a popular destination for travelers of all ages and budgets.
The third largest island of the Greater Antilles and the Caribbean, Jamaica stretches 4,240 square miles (10,990 square kilometers). From coast to coast, its laid-back culture and attitude, and friendly people welcome you to experience the very best that this island has to offer.
Whether you're looking for a relaxing vacation, an adrenaline-pumping adventure, a feast for the senses, or a raucous night on the town, I've got you covered. With this guide, I'll help you navigate the best things to see, do and eat in Jamaica, including popular attractions and off-the-beaten-track options.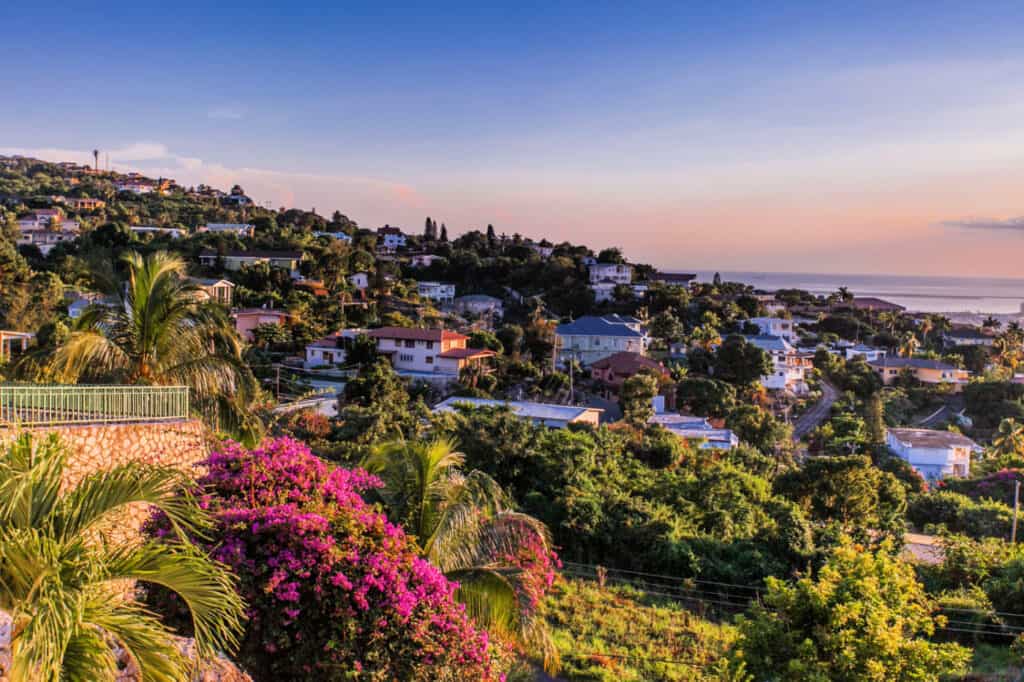 Explore the Streets of Kingston
The largest city and capital of Jamaica, Kingston is a bustling and vibrant city that is well worth a place on your Caribbean itinerary. Located on the southeastern coast of the island, Jamaica is known for its lively nightlife, mesmerizing music, and taste bud tantalizing food.
Add to that world-class museums and art galleries, lush nature and mountains, and white sand beaches, and it's no wonder Jamaica is one of the most popular island destinations in the Americas.
The most popular tourist attractions in Kingston are the Bob Marley Museum and Devon House, two great places to explore and immerse yourself in the island's rich history. For music fans, a visit to the Trench Town Culture Yard Museum, the birthplace of reggae music, is a must!
Other can't miss attractions are the National Gallery and Natural History Museum. Filled with spectacular exhibits and interesting displays, these two institutions will help you dive deep into the history and culture of this unique island.
Following a day out, head uptown for unbeatable nightlife. Whether you want to dance the night away, sip a few drinks, or make a new friend, this area of the city is packed with clubs, bars, and restaurants that will help you enjoy an unforgettable night in the capital.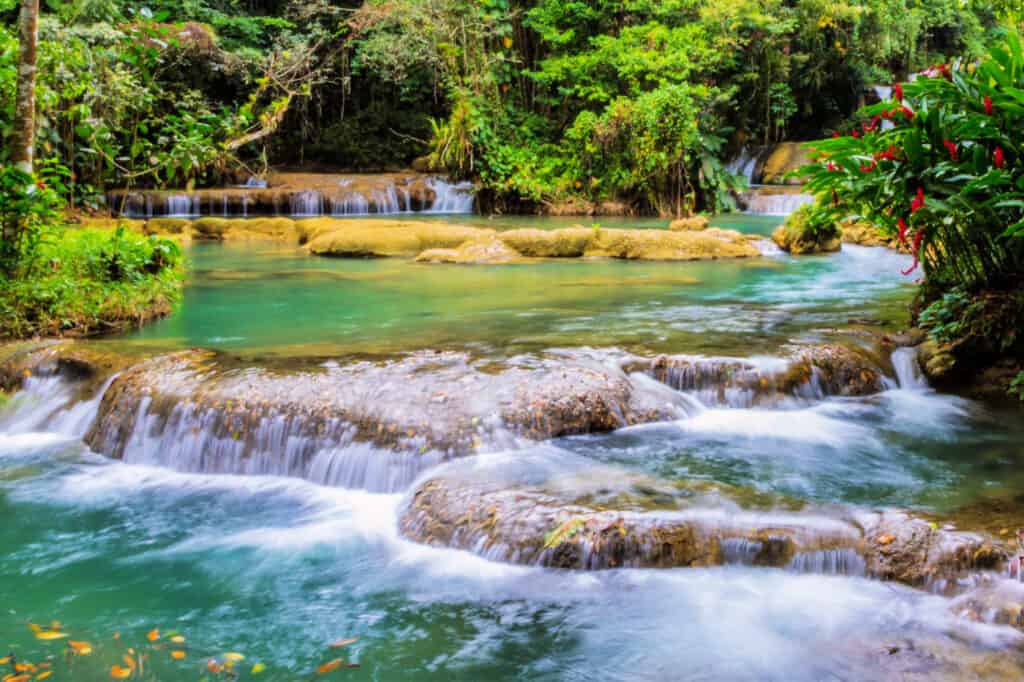 Float down the Black River on a Safari Boat Tour
Black River is a stunning natural paradise on the south coast of the island. It is a unique ecosystem that is home to more than 100 species of birds and is one of the few places on the island where you can see crocodiles swimming in their natural habitat.
Black River Safari Boat Tours typically last for one hour and along the way, you'll learn about the history of the area as well as the exotic animals that call this river home.
A great way to spend a relaxing day, you'll truly feel like you've left the hustle and bustle of the city behind as you cruise down this tranquil river.
A short drive from Black River is YS Falls. Jamaica's largest cascading waterfalls, YS Falls are a spectacular sight. Some of the seven waterfall chutes flow into peaceful and natural pools, where you can enjoy a refreshing dip on a hot day. YS Falls is a great destination for nature lovers and adventure seekers who will love taking in the view while swimming, relaxing, or ziplining and river tubing.
If you're looking to visit Black River and YS Falls in one go, I recommend you take a guided safari tour, which includes lunch and a boat ride, and leaves plenty of time to swim and relax. You can check availability for this popular tour below (it does sell out occasionally):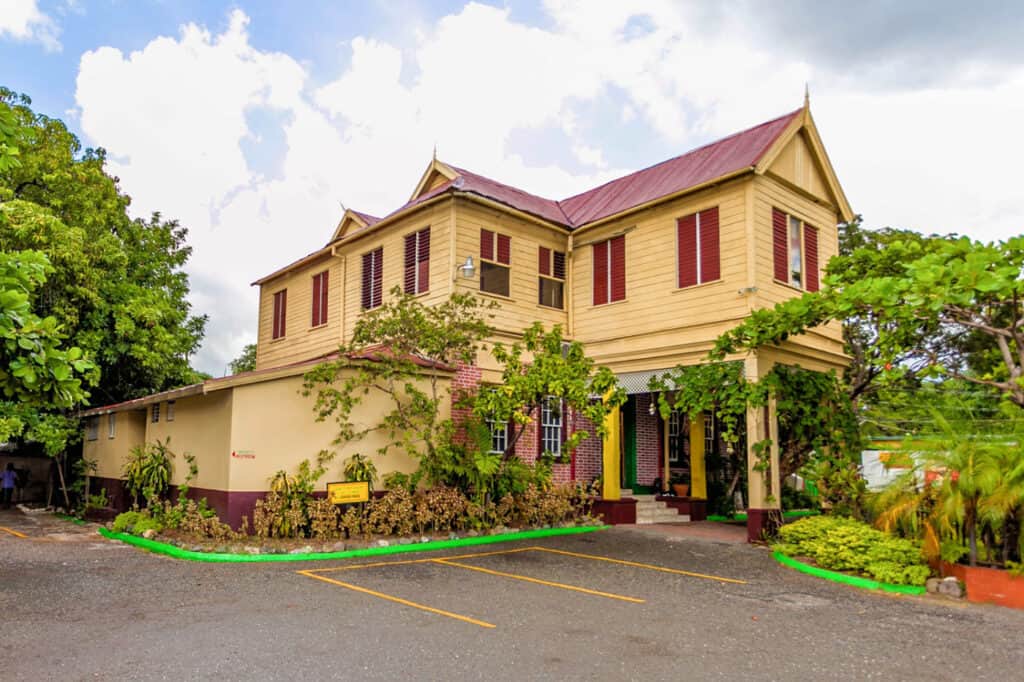 Visit the Bob Marley Museum
Bob Marley is, without a doubt, the most famous person to come from Jamaica. The revolutionary reggae musician captivated the ears of music lovers around the world until he died in 1981. In the more than 40 years since his passing, Marley's music continues to play and bring smiles to people's faces throughout North America and beyond.
The Bob Marley Museum is one of the most popular things to do in Jamaica. The museum is set in Marley's former home on Hope Road. The two-story wooden home is mostly the same as when Marley lived there from 1975-1981, and today lets visitors experience the life and legacy of the musician.
Explore the home and you'll see gold and platinum records lining the wall as well as press clippings from his final tour. You'll also have the chance to browse exhibits featuring memorabilia, and his instruments, as well as see photos from throughout his life.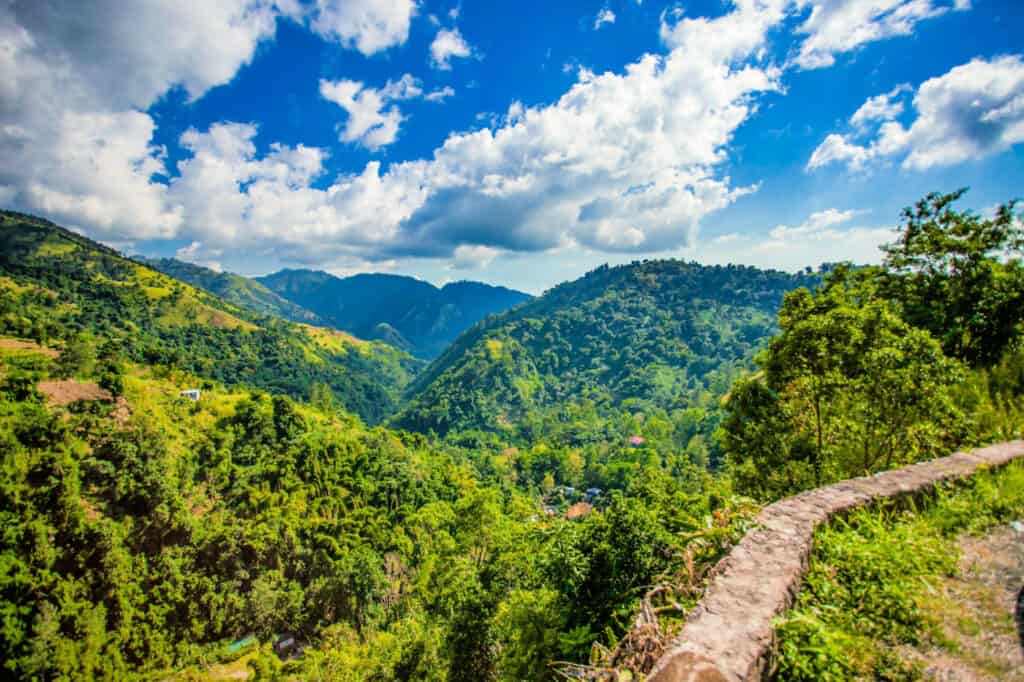 Hike the Blue and John Crow Mountains
At 7,402 feet (2,256 meters) tall, Blue Mountains is home to the highest peak in Jamaica. Located just south of the capital, Blue Mountains is one of the best things to do in Jamaica if you love to hike, experience nature, or want an unbeatable view of the island.
The Blue Mountain Peak Trail is a twisting and turning trek that takes hikers from the base of the mountain through an otherworldly rainforest. Surrounded by lush vegetation, you'll cover nearly 5.8 miles (9.3 kilometers) of steep terrain as you make your way to the top of the mountain. Once at the summit, you'll be rewarded with the most amazing views of the island and magnificent scenery.
Also, home to the Jamaica Blue Mountain Coffee plantation, Blue Mountains is a great destination for coffee lovers. I can't think of a better way to kick off a day in the hills than with a trip to sip a cup of Blue Mountains coffee.
Another must-visit for nature lovers is John Crow Mountains. In fact, the Blue and John Crow Mountains is a designated UNESCO World Heritage Site. The John Crow Mountains are where you can enjoy some of the most spectacular views of untouched nature.
As you hike up to an elevation of 3,750 feet (1,143 meters) breathe in the crisp clean air while surrounded by lush, rainforest terrain. As you make your way to the top, make sure to keep your eye peeled because you never know what animals will cross your path.
In addition to hiking, John Crow Mountains offer a wide variety of activities from mountain climbing and swimming to exploring coffee plantations. Whether you're looking to get your adrenaline pumping or enjoy a relaxing afternoon, there's something for everyone in the John Crow Mountains.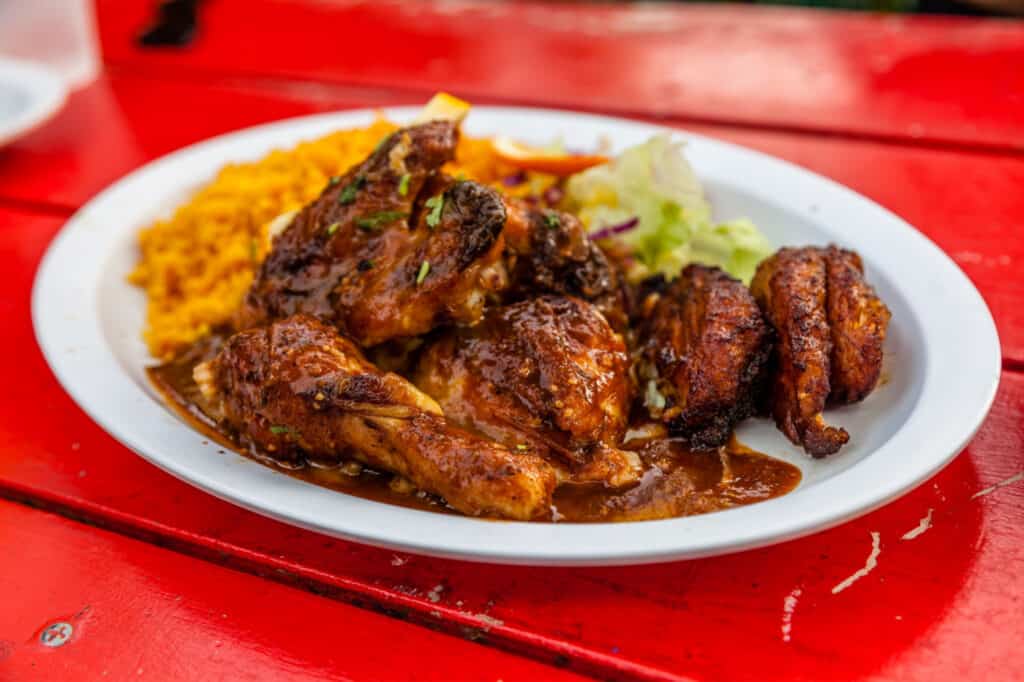 Dine on Jerk Chicken
No trip to Jamaica is complete without sampling the local fare. And there's nothing that screams Jamaica more than delicious and spicy jerk chicken.
One of the most famous foods on the island, jerk chicken is popular with locals and tourists alike. It can be found almost everywhere on the island – from posh restaurants to street-side stalls. Coated in spices and cooked over a grill, jerk chicken (or seafood or pork) is a unique dish that envelops you with its smoky and warm flavors and strong marinade.
When you're ready to try jerk chicken, I can't recommend Scotchies enough. With locations in Montego Bay and Ocho Rios, Scotchies is famous for serving family-style Jerk Chicken drenched in delicious jerk sauce.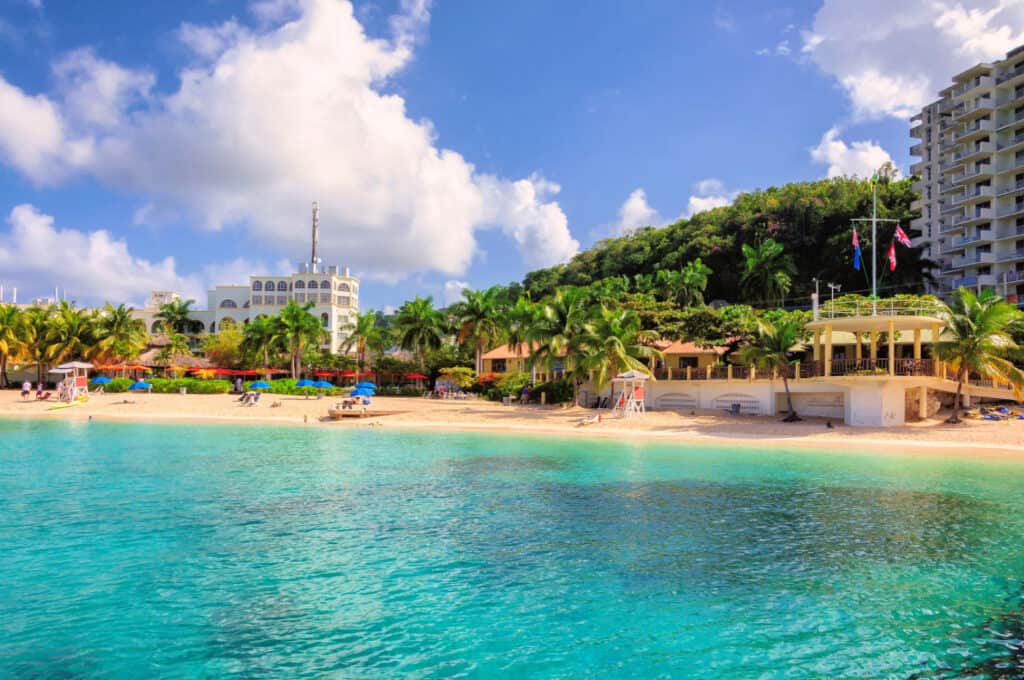 Discover Montego Bay
Known as Jamaica's most energetic city, Montego Bay has everything that you need for a fantastic vacation – whether you're looking to party all night long or are looking to relax on the beach with your family.
Home to less than 83,000 people, Montego Bay is a charming city where you can eat incredible Jamaican food, lounge on white sand beaches, and snorkel coral reefs in the protected waters of the Montego Bay Marine Park.
A haven for nightlife, Montego Bay is also home to the Hip Strip, a lively and vibrant street where you'll find boisterous bars, world-class restaurants, and unique shops and cafes. Dance the night away to reggae music as you sip cool cocktails and enjoy action-packed beaches.
A great way to experience the best of Montego Bay is on a reggae catamaran cruise. 
As you sail along the brilliant blue waters of the Caribbean Sea, enjoy the sights and sounds of Montego Bay. On this three-hour cruise, you'll go snorkeling, visit Margaritaville, and indulge in local fruits, drinks, pastries, and more. Check availability for your travel dates using the widget below: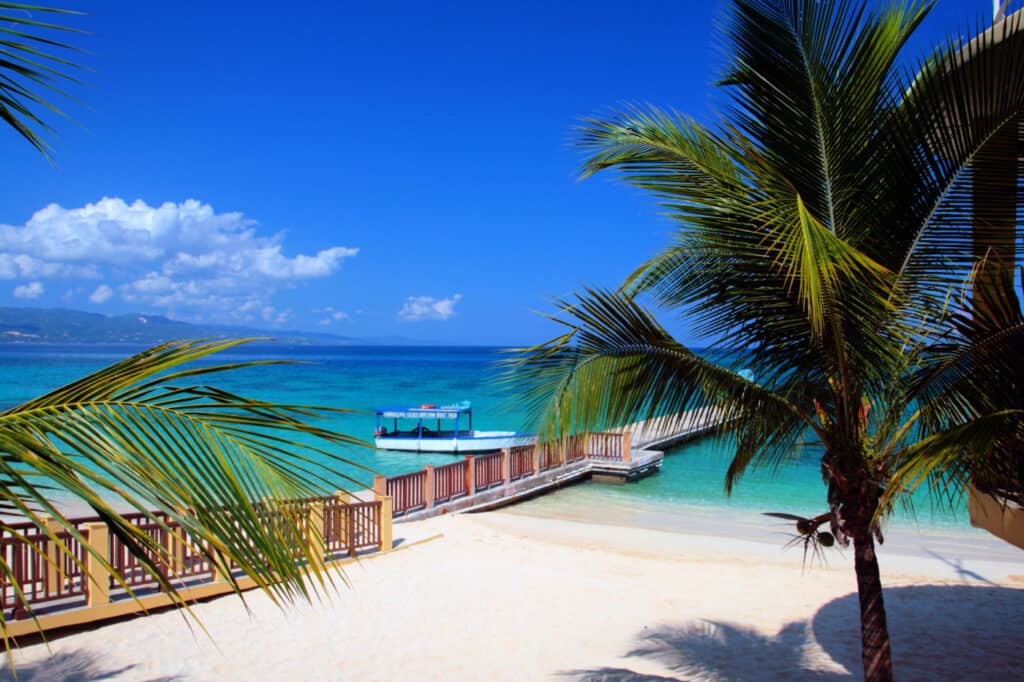 Relax at Doctor's Cave Beach
Doctor's Cave Beach in Montego Bay is, without a doubt, one of the best beaches in Jamaica. A strip of brilliant white sand with crystal clear waters, Doctor's Cave Beach is the place to visit if you want to relax in paradise and enjoy postcard-perfect views.
Not only is this beach absolutely amazing, but it also comes with an interesting history. In 1920, a famous British osteopath visited the beach and declared that its waters had special healing powers. After his announcement, tourists flocked to the area to see if they could also benefit from swimming in its waters.
While Doctor's Cave Beach might not be able to cure all that ails you, spending a day here will definitely make all your stress melt away. There is a small fee of $6 to visit the beach, but it's well worth it.
Explore Negril
A former fishing village, Negril is an energetic and vivacious town in Western Jamaica. It is known for its serene strips of golden sand, glistening turquoise waters, and lush coconut palms. The small town, home to a population of fewer than 7,000 people, attracts a younger crowd thanks to its natural sights, delicious food, and entertaining nightlife.
The Negril Cliffs are a must for any adventure seeker visiting Jamaica. Set on the town's West End, these limestone cliffs soar more than 40 feet (15 meters) above the sea. If you're looking to get your adrenaline pumping, there are spots along the cliff where you can launch yourself down into the waters below.
For the faint of heart, you can always take in the undeniable beauty of Negril from the fluffy sands of Seven Mile Beach.
This full-day tour is the perfect way to see the best of Negril. It will take you to all the town's most popular places, like Rick's Café, Time Square, and the above-mentioned Seven Mile Beach. From souvenirs to sunsets, this is a trip you won't want to miss.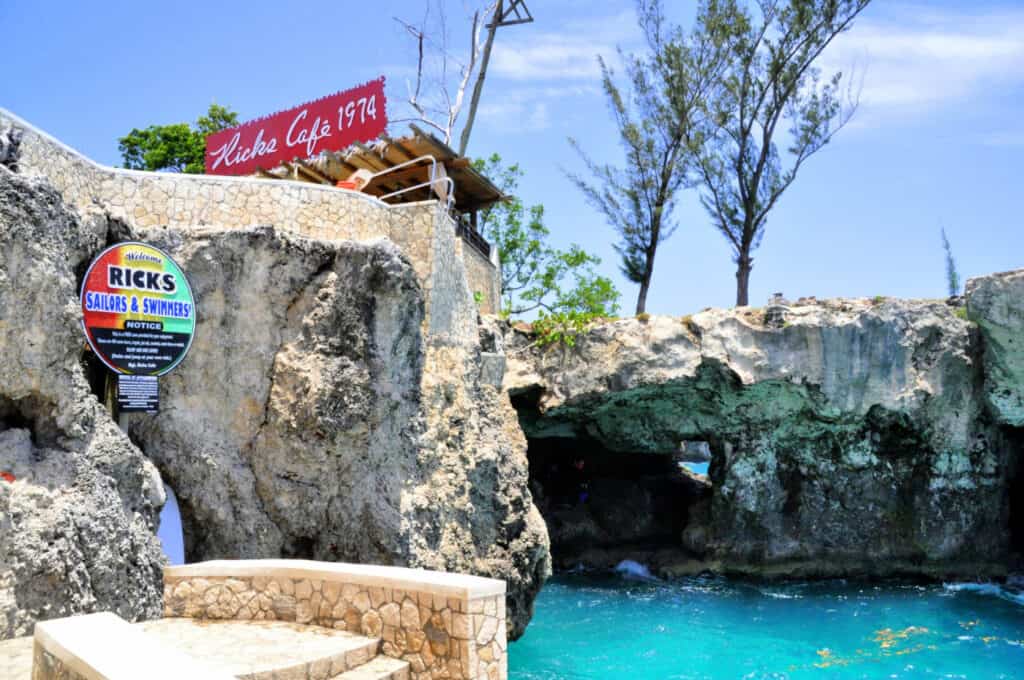 Have a Drink and Watch the Sunset at Rick's Café
Rick's Café is a Negril institution. One of the most famous bars and restaurants on the island, Rick's Café is one of the most popular tourist attractions and best things to do in Jamaica. It serves delicious local dishes and a wicked punch that's not to be missed.
While the food and drinks at Rick's are great, that's not the only reason people come to visit. Rick's Café is most famous for its incredible cliffside location which boasts some of the most amazing sunset views on the island. From your seat, you'll be astounded at the brilliant colors that light up the sky as the sun dips behind the horizon.
If you manage to arrive before sunset, you'll be treated to another entirely different show. Every night, people of all ages and fitness levels will jump from the highest cliff beside the cafe into the sea below. An adrenaline rush for anyone taking part and watching, a visit to Rick's Café is a must for so many reasons.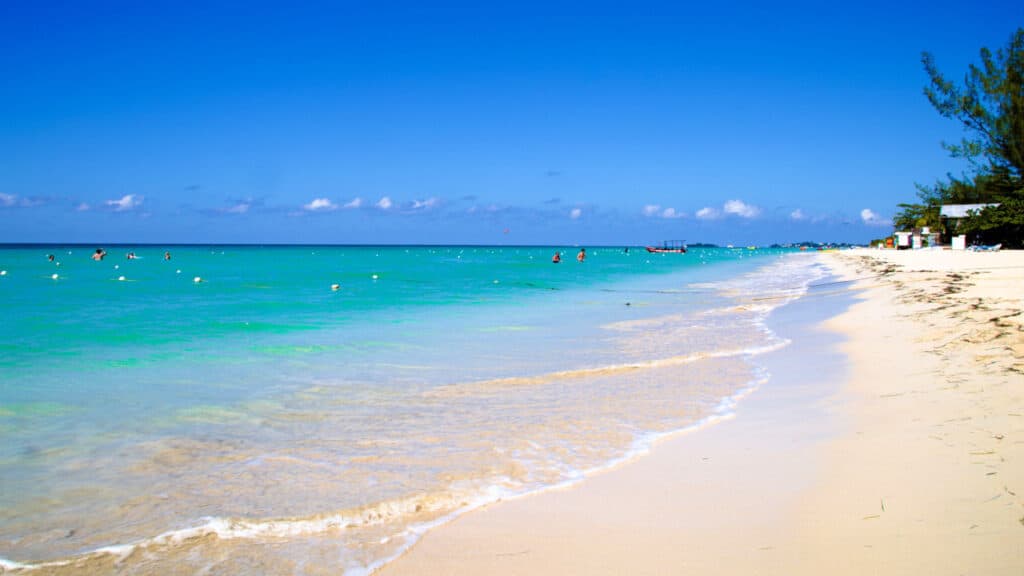 Unwind at Seven Mile Beach
Seven Mile Beach (or Negril Beach) is one of the most beautiful stretches of sand on the island. Brilliant white sand and shining aqua waters extend from Bloody Bay to Long Bay. Tucked within a grove of coconut palms, the sands at Seven Mile Beach are the perfect place to while away an afternoon and relax and unwind.
Snorkelers and scuba divers take note, Seven Mile Beach is also a fantastic place to explore what lies beneath. The crystal-clear waters of Seven Mile Beach are perfect for peeping fishes and taking in brightly colored coral reefs and marine life.
Unlike some other beaches on the island, there's no fee to take in the beauty of Seven Mile Beach. So, whether you choose to lounge on the sand or explore beneath the waves, you'll be able to enjoy the best of Seven Mile Beach without breaking the bank.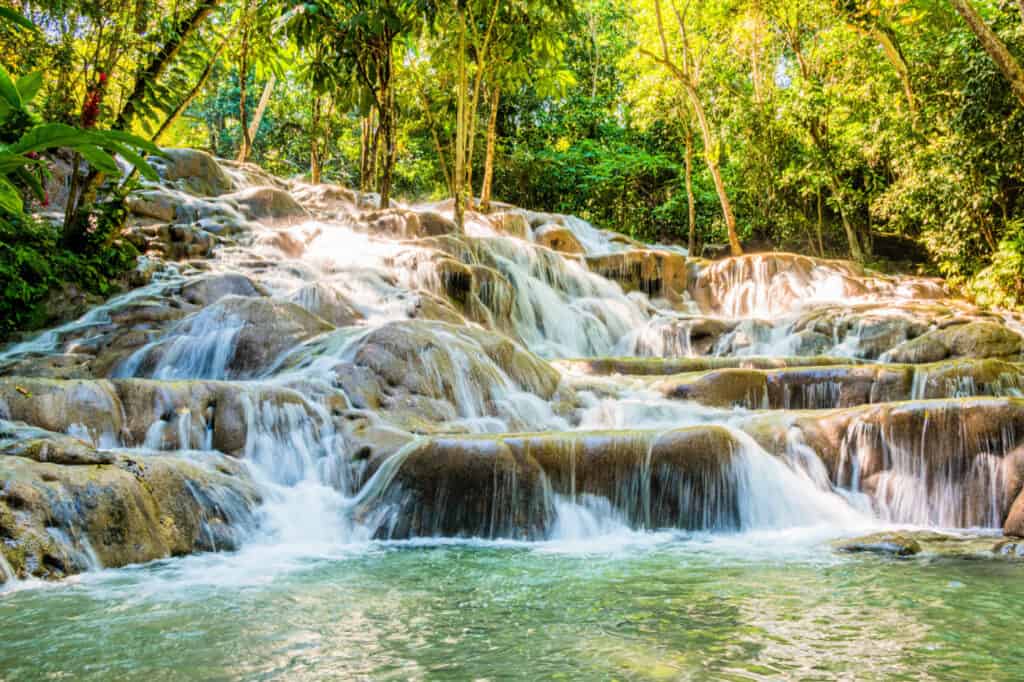 Climb the Rocks at Dunn's River Falls and Park
A visit to Dunn's River Falls and Park is a must for anyone. One of the best things to do in Jamaica, Dunn's River Falls and Park is 600 feet (180 meters) of terraced waterfalls surrounded by lush tropical jungle. Incredibly picturesque chutes of water tumble over limestone rocks and ledges into the sea.
Not only is Dunn's River a stunning sight to take in, but it's an incredibly fun day of adventure as you can climb up the tiers to the top of the falls. At the bottom, cool off in the pools of refreshing spring water.
I recommend you pack a pair of water shoes for your day at Dunn's River Falls and Park. They'll be a huge help when you're climbing up and over the rocks and streams.
Tours to Dunn's River Falls and Park are available from almost every corner of the island. For the best tour, I really like this one, which combines a visit to Dunn's River with Nine Miles and an optional Lagoon Tour.
Get Your Adrenaline Fix at Mystic Mountain
For something completely different, consider a visit to Mystic Mountain. Located near Ocho Rios, Mystic Mountain is an adventure park surrounded by the Jamaican rainforest. Whether you want to fly through the treetops on a zipline, take in the views from the Sky Explorer, or lounge in the infinity pool, there's something for everyone at Mystic Mountain.
Ever wanted to bobsled through the jungle? Well, you're in luck! At Mystic Mountain, you can strap yourself into a single-person roller coaster and fly along the tracks through the forest.
After you've got your heart pumping, why not enjoy more of Mystic Mountain by taking a guided nature walk or exploring the butterfly and hummingbird gardens?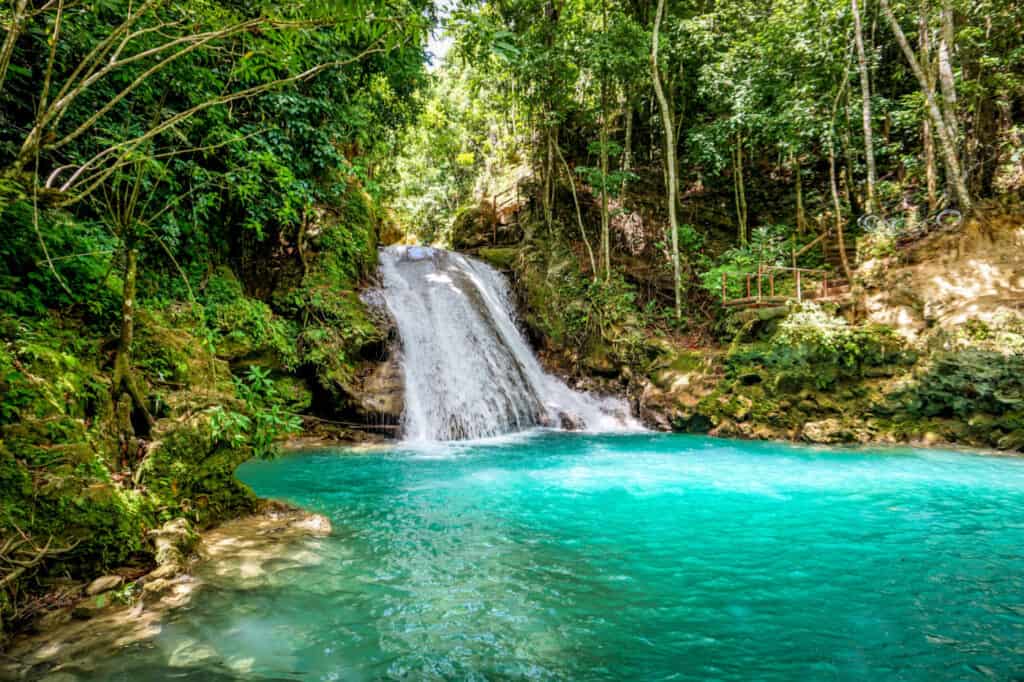 Be Amazed By the Blue Hole
Located high in the rainforest is a series of picturesque waterholes and cascading waterfalls. An absolutely stunning sight, the waterholes glow against the forest backdrop thanks to their brilliant blue and turquoise waters. A popular place to swim, explore and relax, it is no wonder the Blue Hole is one of the best things to do in Jamaica.
You can visit the Blue Hole on your own, but I highly suggest that you hire a guide. Your guide will take you through the area, help you explore the falls, and encourage you as you jump off cliffs into cool and refreshing pools below.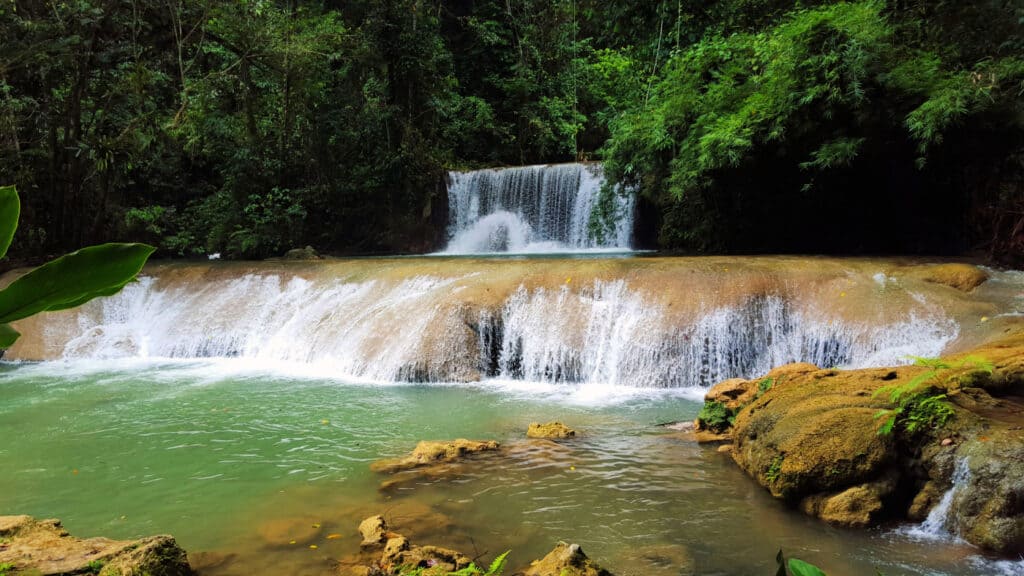 Take a Guided Hike to Mayfield Falls
Just over an hour outside of Negril is Mayfield Falls. Tucked away in the mountains, Mayfield Falls is an incredible natural attraction that has two beautiful waterfalls and 21 natural pools for you to swim, float and relax in. Looking for a bit more adventure?
At Mayfield Falls you'll be able to wade through cool pools, climb up and over boulders, jump off cliffs and even explore an underwater cave – that is, if you're brave enough. Surrounded by lush ferns, tropical flowers, and rainforest plants, you'll be shocked that you can find something this stunning so close to town.
A must for animal lovers, Mayfield Falls is also a great place to see a variety of colorful butterflies and birds in their natural habitat. As you walk around the area, keep your eyes peeled because you never know what stunning creatures will fly overhead.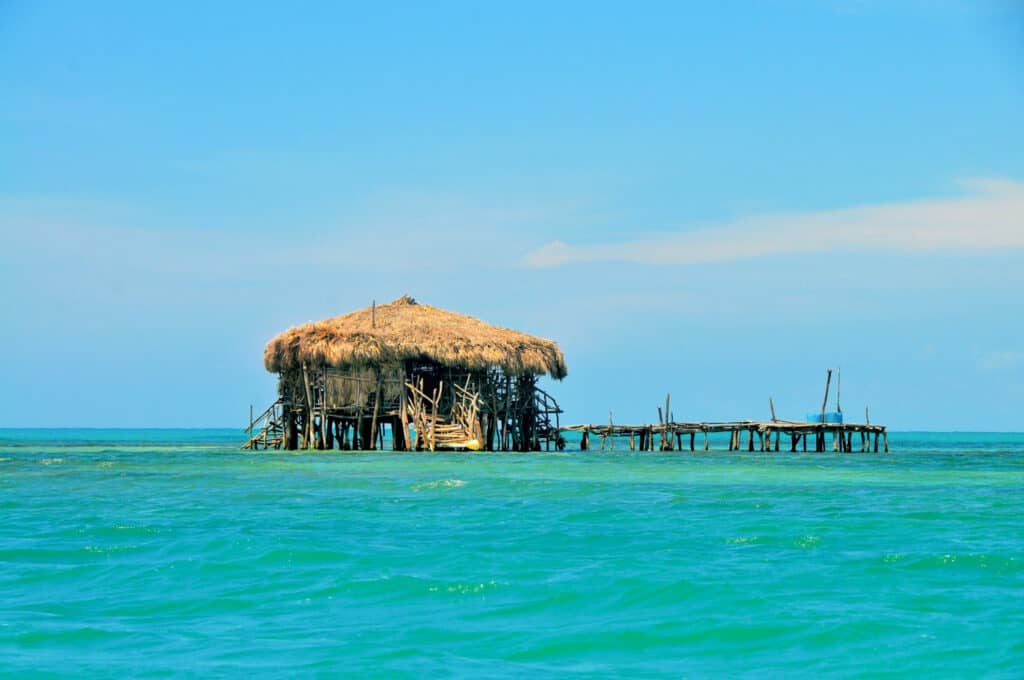 Sip a Red Stripe at Floyd's Pelican Bar
Cool down after a day of adventures (or lounging on the beach) by popping over to Floyd's Pelican Bar. One of the best things to do in Jamaica, Floyd's Pelican Bar is a ramshackle hut with ocean views as far as the eye can see. It is a lively and fun place to enjoy a drink or two and have a chat with locals and tourists alike.
One of the most unique things about Floyd's Pelican Bar is its location. This wooden structure sits perched atop stilts nearly 1 mile (1.6 kilometers) offshore, out in the middle of the Caribbean Sea, and the only way to get there is by boat. Thankfully, boats leave often from several ports around Jamaica, including Black River, Treasure Beach, and Parotee Point, so you won't have to wait too long to get there.
No trip to Jamaica can be considered complete without sipping a Red Stripe at Floyd's Pelican Bar.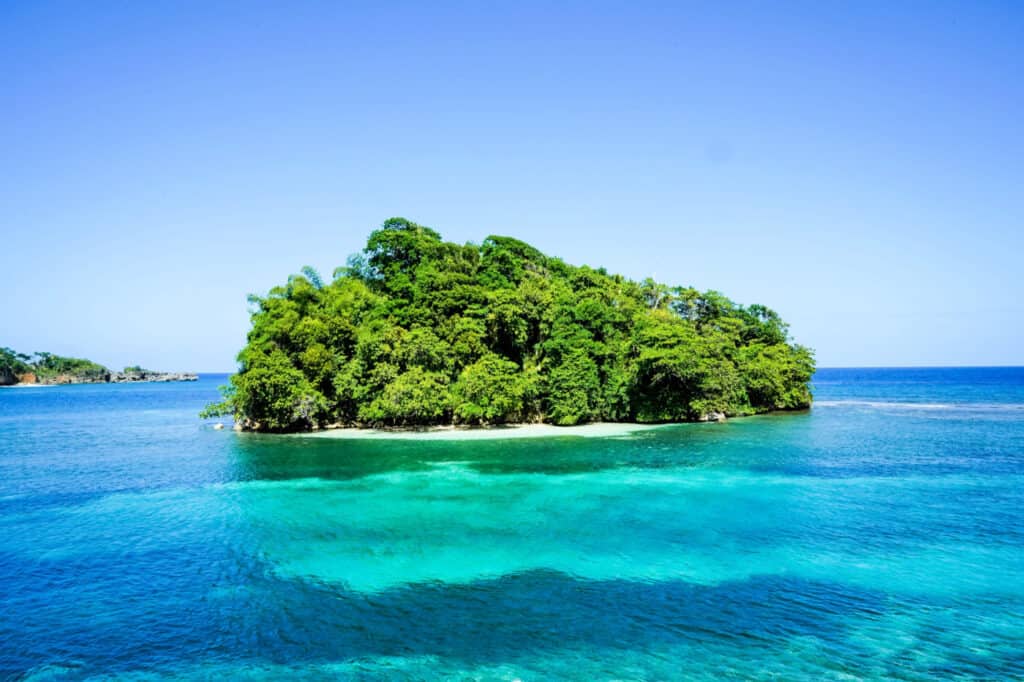 Spend a Day in Port Antonio
A serene haven, Port Antonio is a charming seaside town on the country's northeastern coast. It is a popular destination for eco-tourists and travelers, as well as hikers and trekkers, thanks to its proximity to the Blue Mountains.
From your base in Port Antonio, you can easily climb into the hills and immerse yourself in all the tropical and natural wonders Jamaica has to offer.
Less commercial than other resort towns around the island, Port Antonio exudes charm. Its most popular attractions include Fort George, an 18th-century British stronghold, and Frenchman's Cove, a river flush with fish that flows out into the sea.
But to really experience Port Antonio, I recommend you get off the beaten path. Experience Daniel's River, a freshwater river that ebbs and flows through a natural rock gorge and cascades into a series of pools.
Raft the Rio Grande and take in all the beautiful sights. Take a tour to reach the falls or explore the colorful coral reefs that live beneath the waves.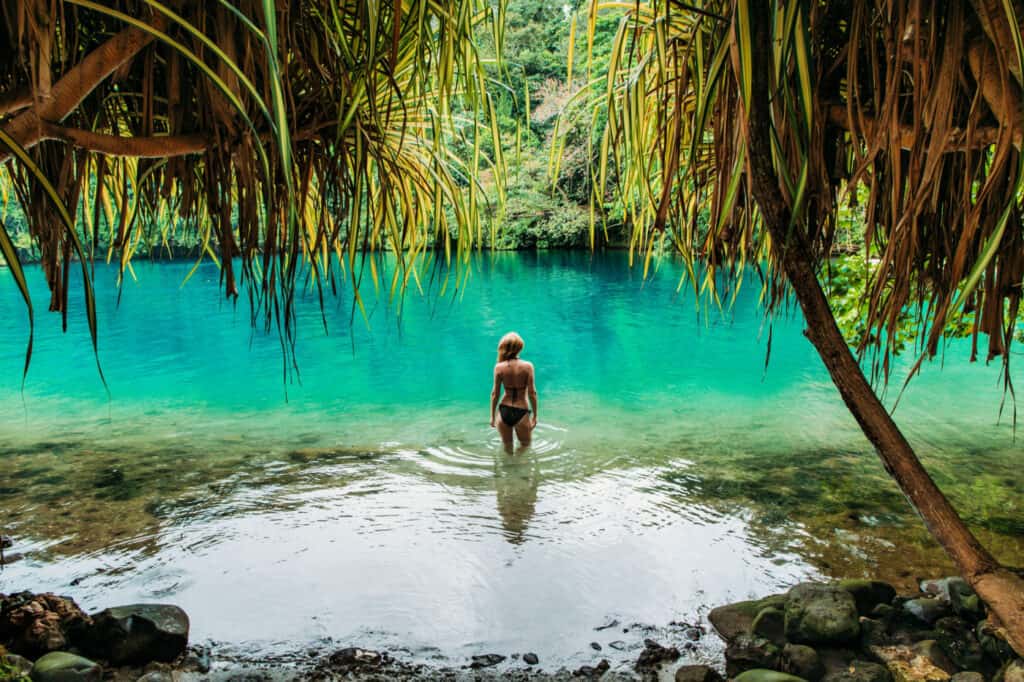 Go for a Swim in the Blue Lagoon
Another can't-miss in Port Antonio is the spectacular Blue Lagoon. A short journey from town, the Blue Lagoon is one of the most beautiful sights in Jamaica. It is a massive body of crystal clear water that appears in various shades of blue, green, jade, and turquoise depending on the time of day.
From the lagoon's sandy shores, you'll be blown away by the vibrant hues this natural wonder takes on.
The Blue Lagoon is also one of the best places to take a dip in Jamaica. Fed by freshwater springs, you'll absolutely adore cooling off in the crisp and refreshing waters of the lagoon.
Entrance to the Blue Lagoon is free, so there's really no reason why you shouldn't add this incredible site to your Jamaica travel itinerary.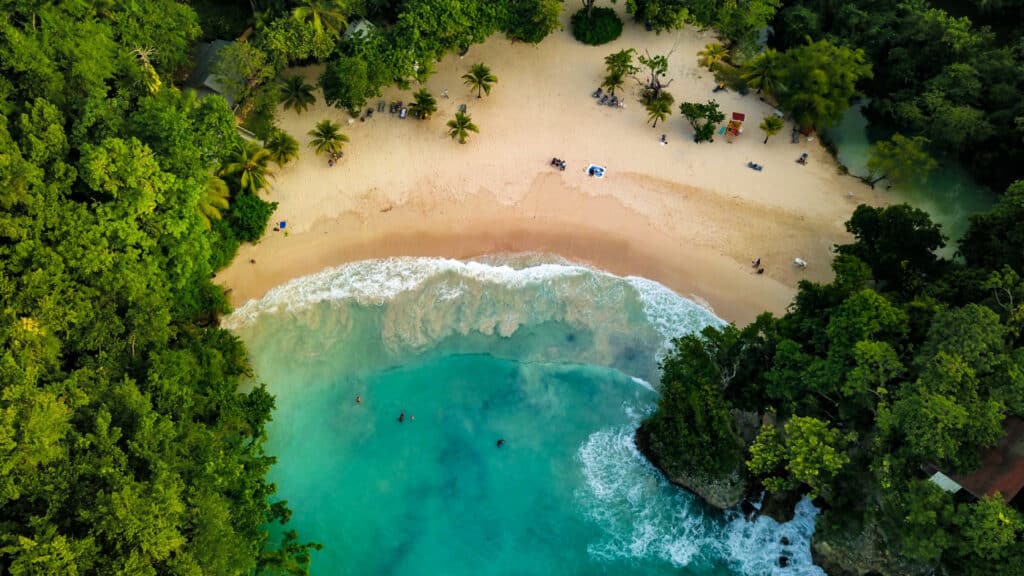 Be Charmed by Frenchman's Cove
As mentioned above, Frenchman's Cove is one of the most popular things to do in and around Port Antonio, Jamaica. It is a stunning beach with golden, pillowy sand that stretches out into crystal clear, turquoise waters.
Nestled between the mountains and the jungle, Frenchman's Cove is where the river and sea collide. Whether you want to relax on the sand, swim in the ocean, or swing out over the waves, you'll love spending a day at Frenchman's Cove.
There is a small fee to access Frenchman's Cove, but the grounds are well kept and there are a variety of amenities onsite, like bars and restaurants.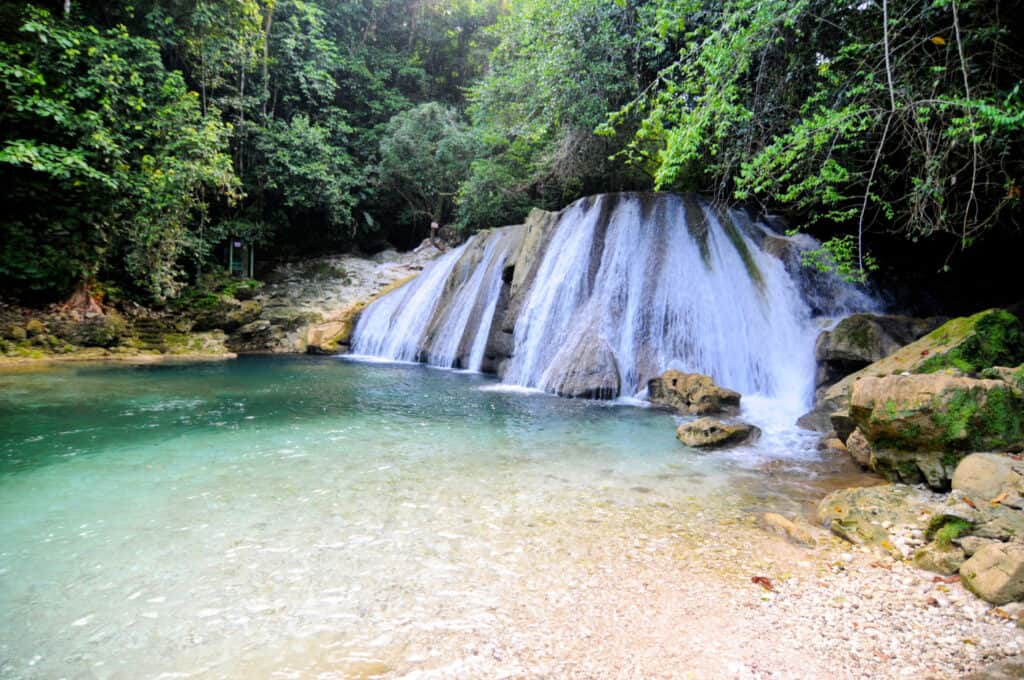 Hike to Reach Falls
Yet another waterfall on this list – you're right! The waterfalls throughout Jamaica are incredible and each is more unique than the last. That's why I recommend you try and visit as many as you can.
A definite must-see if Reach Falls is just outside of Port Antonio. This hidden gem is found off the beaten track and is, without a doubt, one of the prettiest and most peaceful waterfalls in Jamaica.
Start your Reach Falls adventure by taking a gentle hike through the rainforest. Follow the twisting and turning trail through the mountain to the top of the falls.
There, with a lifeguard on duty, you can get up close and personal with Reach Falls by jumping in, swimming in the waters, and standing under the chute letting the waters cascade over you. For those looking for adventure, you can dive deep and explore the underwater caves.
Surrounded by lush jungle and emerald-colored ferns, you'll have the chance to see as many as 20 varieties of bright and colorful birds, including yellow-billed parrots, while you enjoy this amazing Jamaican natural wonder.
Take a Raft Down the Rio Grande River
Sit back, relax and enjoy an afternoon of floating down the Rio Grande. Surrounded by tropical forests, your expert guide will pole you along the clear waters of the Rio Grande River. As they navigate the river's twists, turns, and gentle rapids, your guide will share stories and legends, bringing the history of the area to life.
Mid-journey, you'll stop off at a restaurant where you can sample local dishes and cuisines. A tranquil afternoon on the water AND a good meal. Sign. Me. Up.
Less busy than the Martha Brae River, a float down the Rio Grande is a great choice if you're looking for a relaxing day away from the crowds.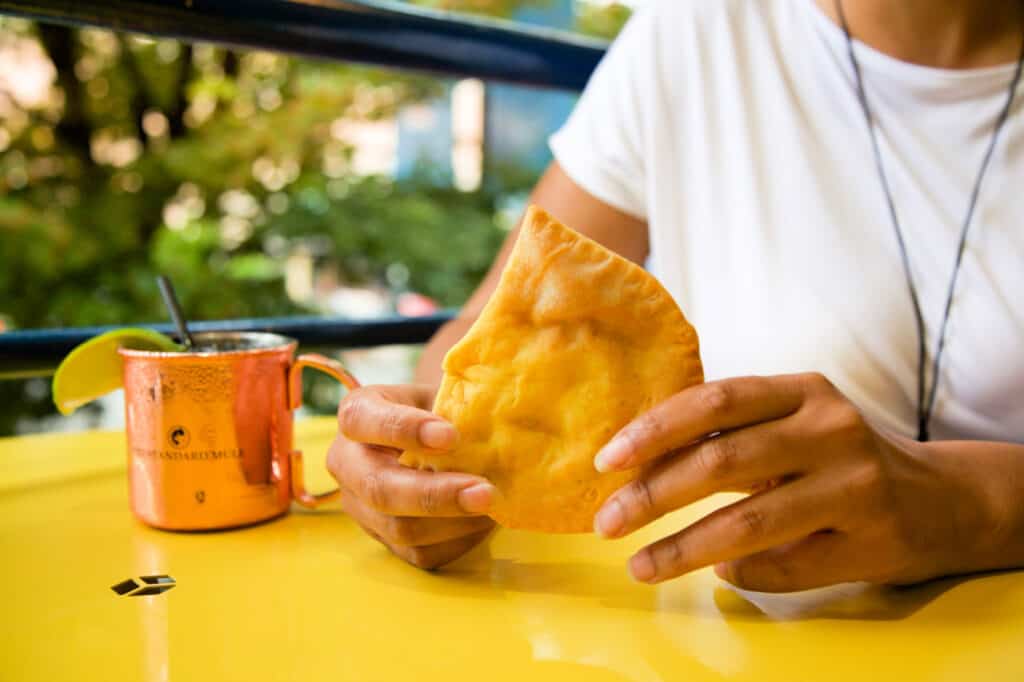 Snack on Jamaican Patties
Fuel up for your next adventure by tucking into one of Jamaica's most popular snacks: the Jamaican patty. You may have tried Jamaican patties before, but trust me when I say, there's nothing quite like eating one in the land from which they came.
Meat, cheese or seafood, vegetables and spices surrounded by a flaky shell, a Jamaican patty is the ideal snack to tantalize your taste buds and awaken your soul. Warm and delicious, you'll feel embodied by the Jamaican spirit as you bite into this incredibly flavorful treat. Perfect on-the-go or on the beach, a Jamaican patty is a must-eat when visiting this island nation.
Visit the Appleton Estate
Another culinary must for your Jamaican bucket list is a visit to Appleton Estate. Home to the world-famous Jamaican rum, Appleton Estate has been making the island's signature drink for more than 250 years.
A fun and interesting day out, a visit to the Appleton Estate includes a tour of the facility where you'll learn how the process of rum making has changed from the 18th century to today, and how the special barrels give the rum its unique taste.
Your expert guide will take you on a multi-sensory tour, giving you a deeper appreciation for the drink before capping off your visit with a tasting.
Once you've finished your tour and sampling, you can explore the lush and expansive estate grounds where sugar cane and other native plants sway in the warm Caribbean winds.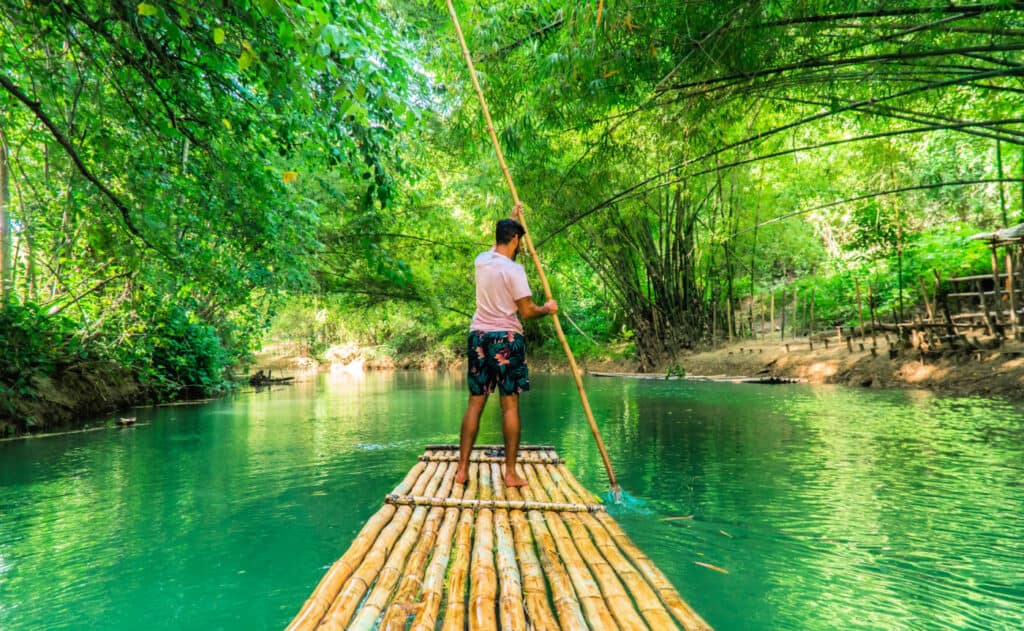 Glide Down the Martha Brae River
Martha Brae River is one of the most popular activities in Jamaica. A short trip from Montego Bay and Ocho Rios, Martha Brae is a spectacular river that stretches 20 miles (32 kilometers) through the tropical jungle.
The best way to experience the Martha Brae River and its surroundings is by gliding down the calm turquoise waters on a bamboo raft. Poled by a local guide, you'll not only be able to take in the sights from your comfortable seat but will learn about the history and culture of the area. Throughout the 90-minute tour, you'll have the chance to stop at shops where you can pick up souvenirs, crafts, and paintings by local artists.
Wrap up your excursion by enjoying a jungle-side picnic and hopping in the waters for a crisp and refreshing swim.
Light up the Night at the Luminous Lagoon
Last, but certainly not least, Jamaica's Luminous Lagoon is one of the top things to do in Jamaica. Tucked away on the island's north coast, the Luminous Lagoon is one of four places in the world where you can experience bioluminescence.
In the 19th century, scientists discovered unique microorganisms called dinoflagellates that lived in the brackish waters of the lagoon. When disturbed, these microorganisms emit a phosphorescent light that makes the lagoon look like it's glowing. An incredible sight to see from land, there's nothing quite like slipping into the Lagoon waters and swimming around in these magical, sparkling, and glowing waters.
The best way to experience the magic of the Luminous Lagoon is by taking a guided tour. Not only will you get to see the lagoon for yourself, but you'll learn the history and story behind this incredible natural wonder.