Nestled in the heart of rural England lies the picturesque region of the Cotswolds, a stunning area of natural beauty that stretches across six counties. The Cotswolds is a place of rolling hills, meandering streams, ancient woodlands, and charming gold-colored stone villages that look as though they have been plucked straight from the pages of a fairytale. It is a region that has captured the hearts of visitors for centuries, and for good reason.
I live in nearby Bristol, just a half an hour drive from the Cotswolds, so I know this region like the back of my hand. As a dedicated hiker, I regularly spend my weekends strolling through the Cotswolds hills and pausing only to take in yet another a phenomenal pub lunch. It's part of the reason why I decided to move to Bristol, actually — this cooler-than-cool city is perfectly placed for getting out in nature. The Cotswolds is easily the best place to do so.
The Cotswolds is renowned for its idyllic countryside, which is dotted with quaint towns and villages that are full of character and charm. The region's distinctive architecture is a defining feature of the area, with many of the buildings made from the locally quarried Cotswold stone that gives them their distinctive golden hue. I love wandering the winding streets of the most picturesque villages — in my opinion, these are Bourton-on-the-Water, Bibury, and Castle Combe — admiring the thatched cottages, ancient churches, and pretty gardens that are a hallmark of the region.
One of the many delights of the Cotswolds is the abundance of outdoor activities on offer. The region is crisscrossed by a network of walking and cycling routes that take visitors through some of the most beautiful countryside in England. There are also plenty of opportunities for horse riding, fishing, and golf, as well as more unusual activities such as hot air ballooning and gliding. With so much on offer, visitors of all ages and abilities will find plenty to keep them occupied.
For those seeking a cultural experience, the Cotswolds does not disappoint. The region is home to a wealth of historic sites, including grand stately homes, imposing castles, and ancient Roman settlements. One of the most impressive is Sudeley Castle, a stunning Tudor fortress that was once home to Queen Katherine Parr, the last wife of Henry VIII. Visitors can explore the castle's many rooms, stroll through the beautiful gardens, and even attend one of the many events and festivals that take place throughout the year.
Finally, the Cotswolds is a region that takes great pride in its food and drink, and visitors will be spoilt for choice when it comes to dining options. From cozy country pubs serving up hearty local fare, to Michelin-starred restaurants showcasing the very best of British cuisine, there is something to suit every taste and budget. And for those who want to take a taste of the Cotswolds home with them, there are plenty of local producers offering everything from artisanal cheeses and charcuterie to homemade jams and chutneys.
Visit the Oldest Town in England: Castle Combe
Castle Combe, nestled in the picturesque county of Wiltshire, is a hamlet that transports visitors back to the 16th century. Let's just say, it's no wonder that this idyllic location was chosen as a filming location for the hit Netflix series Bridgerton. Castle Combe offers a charming village experience complete with two pubs, a tea shop, and an honesty box cake shop that will leave visitors feeling as if they've stumbled upon a sweet treasure.
The name Castle Combe originates from the 12th-century Norman castle that once stood 600 meters north of the village. This, combined with the valley in which the village is situated, named a 'combe' in Old English, gives the hamlet its unique and historical name. The castle was later abandoned in the 14th century, replaced by a stunning manor house now known as the Manor House Hotel, a luxurious 5-star accommodation.
Many of the cottages in Castle Combe were built in the 15th century to house spinners and weavers who produced wool, which was the town's strongest commodity. The town's wool, sold in London and beyond, was famously known as 'Castlecombe' and added to the town's success as a medieval powerhouse.
At the heart of Castle Combe stands the medieval Market Cross, usually surrounded by stable horses greeting visitors. This structure has a unique rooftop, which may have been a solution to England's unpredictable weather. Originally, it would have been a Buttercross where shoppers could purchase milk, butter, and eggs.
Castle Combe is a must-visit destination for its stunning scenery on the bridge, which offers a perfect spot for photoshoots. During my visit, I found myself captivated by the backdrop of beautiful cottages. The hamlet's lack of tourist shops gives it an authentic, lived-in feel, surrounded by lush wooded hills. Find a spot close to the bridge, take in the stunning view of the weaver's cottages, and immerse yourself in the bountiful English charm of Castle Combe.
Walk the Cotswold Way
Experience the beauty of the UK's enchanting countryside, historic sites, and charming towns on the Cotswold Way, one of the country's most beautiful long-distance walks. Spanning 100 miles, the National Trail commences in the charming town of Chipping Camden, offering up breathtaking views along the way, and culminates in the vibrant city of Bath. The trail offers a delightful mix of places to eat and things to do, and is suitable for all levels of fitness.
Breaking the route into 15 sections, you will discover a myriad of treasures, including stunning beech woodlands and the world-renowned Copper's Hill, which hosts the annual cheese-rolling competition every May. Engraved circular stones located at both ends of the trail mark the beginning and end of your journey, making for a memorable experience.
While the trail is not overly strenuous, it does feature a number of hills, given its location in the Cotswolds. Whether you choose to take on the entire route over seven to ten days or opt for a shorter section, be sure not to overcommit to a super-tight schedule. Consider allowing more time than you think you will need to soak up the beauty of this enchanting landscape.
If you are keen to tackle the trail, take a look at my partner's in-depth guide to the Cotswold Way — he walked the entire path recently and had a fantastic time!
Take in the View at Broadway Tower
Nestled in the captivating Cotswolds, The Tower and Park is a family-owned treasure that offers visitors a glimpse of England's rich heritage. Located in Broadway Village atop Fish Hill, Broadway Tower is a must-see destination, standing tall at 1,024ft (312m) and offering unparalleled views that stretch across sixteen sprawling English counties.
During the 18th century, grand building projects and sophisticated landscaping were all the rage, with a particular focus on creating fanciful, romantic views. The Tower and Park was built on an important pre-medieval trading route, with the tower itself constructed for ornamental purposes. Known as a 'folly,' the tower is a mock medieval castle and serves as a stunningly beautiful 'ruin.'
The story of Broadway Tower is steeped in romance, adding an extra element of enchantment to the attraction. The wealthy landowner, who owned residences at nearby Spring Hill and Croome Court, constructed the tower as a testament to his enduring love for his second wife, Barbara St. John Bletsoe. This emblem of everlasting love makes The Tower and Park an ideal spot for couples and friends alike to spend a leisurely afternoon, enjoy a picnic, and take in the glorious setting.
As day turns to dusk, The Tower and Park takes on a new level of enchantment. Sunset illuminates the skies in a dreamy pink hue, casting a romantic glow over the park and tower, creating an atmosphere of pure perfection. Whether visiting during the day or at sunset, The Tower and Park is a must-see destination for anyone wishing to experience the magic of the Cotswolds.
Spend the Day in Cheltenham
The charming town of Cheltenham has been welcoming visitors for almost three hundred years, ever since the discovery of the first natural spring in 1716 led to the development of a vibrant Regency spa town. The town's architecture is a stunning embodiment of old-town England, featuring painted stucco facades and intricate stonework balconies that will take your breath away.
Spend your day exploring Cheltenham's vibrant streets, filled with unique shops, restaurants, and cafes. Begin your morning focusing on antiques and all things vintage, before diving into the bustling modern-day shopping scene, featuring all the local high street names. For those seeking designer labels, The Promenade boasts a range of high-end boutiques that cater to every style.
If you're feeling lucky, an afternoon at Cheltenham Racecourse is a must-visit attraction, renowned as one of the UK's most popular and well-known racecourses. With regular events and exclusive parties hosted at the Racecourse, be sure to check the calendar before attending.
Cheltenham is a destination that celebrates the arts, boasting an abundance of fantastic festivals annually, including horse racing and the internationally renowned four main festivals of Jazz, Science, Music, and Literature. From Poetry and Food and Drink to Cricket, Wine, and the popular family-friendly Wychwood Festival, there is truly something in Cheltenham for all to enjoy. So why not lose yourself in this charming town and discover all it has to offer.
Join the Pudding Club at The Three Ways House Hotel in Mickleton
Indulge your sweet tooth and immerse yourself in the tradition of British pudding at the Pudding Club, located in the charming Three Ways Hotel in Mickleton. This spot is perfect for those looking to satisfy their sweet cravings while enjoying a unique and unforgettable dining experience.
Built-in 1871 by a local doctor, the main building was converted into a hotel in 1985. The Pudding Club was also established that year to promote British pudding and to protest against nouvelle cuisine. Every Friday, up to sixty diners gather in a designated room at Randalls, the onsite hotel, to savor pudding and other British desserts. Before being served, a light main course is provided as a decoy before a parade of SEVEN traditional puddings is unleashed in a ceremony. Trust us, trying all seven puddings is a must, as not doing so is considered impolite.
The Pudding Club has a unique set of rules, which dictate that diners can only eat one portion of pudding at a time and must finish their current plate before ordering another. Guests who manage to devour all seven puddings by the end of the experience will receive a certificate, making for a fun and memorable souvenir to take home.
If you are a foodie who enjoys a unique dining experience and has a sweet tooth, the Pudding Club at the Three Ways Hotel is the perfect spot for you. So why not treat yourself to this indulgent experience and discover the wonder of British pudding for yourself?
Visit the Splendid Blenheim Palace
Blenheim Palace is a spectacular site to behold, boasting lavish interiors, sprawling grounds, and gardens. A testament to the rich history and cultural heritage of the region, it is the birthplace of Winston Churchill and has been featured in James Bond's Spectre. The interior of the palace is abundant with elegant halls and stately rooms, adorned with gold and antique, ostentatious furniture, making for a truly awe-inspiring experience.
Opulent, imposing, and grand, Blenheim Palace is the only non-royal residence in England to be called a palace. Visitors can choose to explore the palace and its grounds independently. The estate also hosts a range of events, including the Salon Privé auto show.
Spread across 2,000 acres, the stunning 'Capability' Brown Parkland is an attraction in its own right, as is the 90 acres of award-winning Formal Gardens. Take a ride on the miniature train to The Pleasure Gardens, a dedicated family area that features a huge hedge maze, adventure playground, and a spectacular butterfly house. The gardens are a testament to the vision of the master-landscaper, who constructed the Great Lake and planted thousands of trees.
At Christmas time, the property and its grounds are fantastically illuminated, making for a truly stunning experience. Blenheim Palace has retained its UNESCO World Heritage status since 1987, and it is easy to see why. So why not immerse yourself in the grandeur of this enchanting attraction and discover the magic of Blenheim Palace for yourself?
Attend the Charlbury Beer Festival
The Charlbury Beer Festival is a must-visit attraction for all beer lovers. Celebrating its twenty-first year, this festival is one of the largest independent, one-day beer festivals in England, organized entirely by volunteers, and consciously raises money for causes both in the developing world and local to the region.
Held around the month of June, this festival boasts around 50 real ales, a variety of craft beers, and a range of local ciders and perries that are an absolute delight for the taste buds. Visitors can also sample wine, gin, and Pimm's, a quintessentially British alcohol served in a can. In addition to the refreshing drinks, the festival also features live music, with the Culture Club tent hosting a varied program of performances and talks.
The festival is held at the Charlbury Cricket Club, which provides a glorious setting just across the road from Charlbury Station, boasting great transport links to Oxford, Chipping Norton, Reading, Witney, Worcester, and London. One of the highlights of the festival is the peculiar World Open Singles Aunt Sally Championship, adding an extra layer of excitement to the event.
Quietly Walk into Gloucester Cathedral
For a truly peaceful and awe-inspiring experience during your Cotswolds vacation, be sure to visit Gloucester Cathedral. This active place of worship is a testament to 1000 years of architectural styles, tracing its history from Norman through Perpendicular to the present day. The stonemasons continue to rejuvenate this magnificent place of worship.
Climb the tower for breathtaking views of the city of Gloucester and its neighboring hills. You'll also want to explore the Great East Window, a national treasure, and the Lady Chapel Houses, which feature some of the finest Arts and Crafts glass in England.
For an even more immersive experience, attend a live choral performance in the intimate hall of the church, where the music is illuminated and reverberated. Take a walk through the extraordinary medieval cloisters, which have also appeared in the Harry Potter franchise. Originally built to house the monks of the area, the cloisters provided space for living, sleeping, working, and meditating. The sunlight that pours through the intricate stained-glass windows is simply sublime and presents a great opportunity for photographers to capture the beauty of this historic site.
Note that Gloucester Cathedral is still an active place of worship, so be sure to plan your visit accordingly to avoid any disturbances.
Visit Roman Baths in Bath
With over 1.3 million visitors annually, the Roman Baths in Bath are a must-see attraction for any traveler exploring the Cotswolds. This historic site is a place to step back in time and witness the former England, with different ways of living and customs that were followed.
The Roman Baths consist of four main preserved features, including the Sacred Spring, the Roman Temple, the Roman Bath House, and a museum holding precious objects from Aquae Sulis, a Roman settlement. Unfortunately, taking a dip in the thermal waters is prohibited, but visitors can still admire the beauty of the natural springs and learn about their medicinal properties.
The Romans first built a temple in the valley of the River Avon around 60 CE, and the characteristic neoclassical Palladian buildings were built in the Georgian period to house the wealthy who were drawn to the natural springs. These two distinct features blend seamlessly to create the magnificent Bath, a city that is renowned for its vibrant independent retail sector and dreamy, stone-cobbled streets that are perfect for exploring and wandering.
As a lover of Bath and its baths, I highly recommend a visit to the Roman Baths during your Cotswolds getaway. It is a wonderful opportunity to immerse yourself in history, learn about the region's rich cultural heritage, and admire the breathtaking beauty of this unique site.
Cozy Up at the Pub
Going for a pint in the pub is a quintessentially British activity. Consume truffle fries with a glass of local cider. There is nowhere better to cozy up next to a roaring fire with a pale ale or locally brewed pint, than in the Cotswolds. There are plenty of historic 16th-century inns that speckle the country lanes, meaning you are never short of traditional pub venues.
I would recommend The Porch House at Stow-on-the-Wold – the ultimate pub for a Sunday roast. It is believed to be the oldest pub in Britain, dating back to 947! The inn is a Grade II listed building that offers a luxurious modern dining experience.
The Wild Rabbit in Kingham crafts culinary masterpieces in a relaxed setting. Their recent Michelin star has upped their prices, nonetheless, their menu is worth trying. It is carefully constructed from what products are in season in the area.
Stroll Across Hidcote Manor Gardens
The cottage gardens at Hidcote Manor are designed to perfection. A 'top ten' British garden that should not be missed, the use of topiary (a horticultural practice of clipping the foliage to create clearly defined shapes) is absolutely spectacular. The area is segmented into different outdoor spaces, each with its own character. Created by the American Lawrence Johnson, Hidcote is now owned and run by the National Trust.
The gardens have been wonderfully maintained in their original design, showcasing Johnston's dexterous skill. Alongside this, it is famed for its rare shrubs, impressive water features, wildflower areas and pools with plenty of benches to sit, ponder and take in the lovely tranquil atmosphere.
Even if you are not remotely interested in gardens, these particular grounds will indeed impress you. For a pre or post-refreshment, head to their garden café for a warm drink, or a home-cooked British dish. Do not forget your camera!
Relax at a World-Class Spa
The Cotswolds is synonymous with Old English wealth, as well as stunning views with a slower-paced lifestyle. Why not take advantage of this wonderful attribute and book a luxuriously relaxing day at a spa? Swim in pools fed by spring water and indulge in treatments using luxurious essential oils made from hedgerow herbs and wildflowers picked from neighboring manors.
It is indeed confirmed that you will find inner peace in a Cotswolds spa, helping you reconnect with your emotions. Some offer fresh air therapy, with glorious walking, biking and jogging trails on your doorstep. Many of the hotels of the Cotswolds combine the utopian setting to their advantage, offering first-class spas with a blend of relaxation, revitalization and fabulous scenery.
I certainly did when I visited Thyme, a village-like hotel. Its Meadow Spa has a spectacular outdoor swimming pool as well as a curated list of treatments offered. Meanwhile, Calcot Spa offers first-class massages, reflexology and Elemis facials.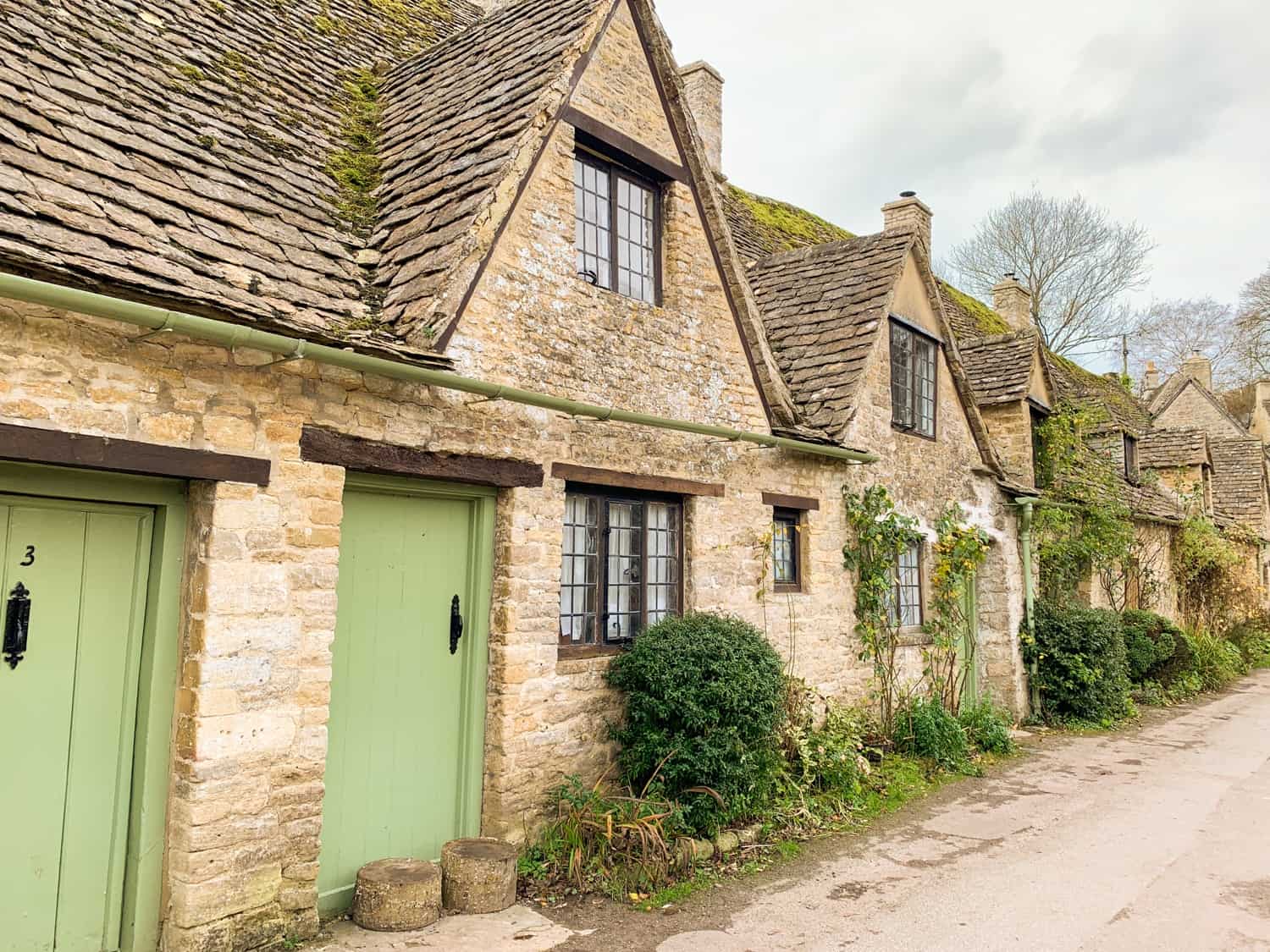 Stop in Bibury: The Most Beautiful Village in the Cotswolds
Known for the pinnacle of Cotswold scenes, Bibury has earned its positive reputation from the small row of weaver cottages set behind a wild meadow. The street of Arlington Row is one of the most photographed places in the Cotswolds. Built in the 14th century, get your iconic shots from a respectful distance, as the quaint buildings are privately owned homes.
As the sun begins to rise, mist rises from the water and the honey-colored cottages shimmer in the haze. It has been confirmed by William Morris that Bibury is 'the best village in England'. This quaint row of stone cottages is as 'Cotswolds' as you can find.
The River Coln meanders through Bibury, sandwiched between the main village street and an expanse of boggy water meadow named Rack Isle. And for your information, Bibury is pronounced "buy bury!"
Hike Up Cleeve Hill 
For a contrast to the typical green Cotswold scenery, hike up the bare Cleeve Hill, which includes a visit to the Belas Knap, a Neolithic burial mound. You can also visit the village of Winchcombe to finish off your walk which offers sweeping views of the landscape.
Cleeve Hill is located on Cheltenham's North-Eastern edge, on the way to Winchcombe, affording breathtaking views of the city and the surrounding area. Part of the Cotswold Way National Trail, at 330 meters above sea level, countless footpaths crisscross its 1,000 acres.
Cleeve Common is mostly an area of limestone grassland, achieving a nationally designated site of importance, as well as a Site of Special Scientific Interest) status. You can stop off at The Rising Sun and enjoy a beer or pub lunch in their lovely beer garden with an open vista. The viewpoint on the left, a local's favorite, is a great place to view astrological events such as comets and shooting stars. Cleeve Hill is a stunning lookout spot for English countryside views.
Buy Fresh Foods at Daylesford Organic 
From fresh seasonal vegetables to delicious artisanal bread, there is a wide selection of products sold at Daylesford Organic. The cheese room is abundantly stocked with British blue cheeses such as stilton, and other berry-filled cheddars. Cooking classes and spa treatments are also available.
Set amidst their working farm, their swanky produce establishment is somewhere to visit in the Cotswolds, to get a feel for the relaxed yet luxurious essence of this particular part of England. Also featuring a delicatessen counter, organic and biodynamic wines, as well as fresh and ready-made meals to heat up at home. As a sustainable enterprise, you can bring your own Tupperware to stock up on cupboard staples at their very own zero-waste pantry.
With a partner shop and café in Notting Hill, London, the Cotswolds' Daylesford is sweepingly larger and in turn, offers much more to browse and spend. Founded in 2002 by Lady Carole Bamford, it is now one of the most sustainable farms in the UK. Their meat, poultry, fruit and veg and dairy products are made onsite at the creamery.
Learn All About Motors at the Cotswold Motoring Museum 
The vintage motors at the Cotswold Motoring Museum gleam with glory. Visit for a fascinating look at motoring history through a fascinating collection of vehicles, toys and memorabilia. The collection is housed in a converted 17th-century water mill and features several showrooms across 7500 sq ft of exhibition space.
The number of rare vehicles and classic memorabilia is almost like venturing into a large antique shop, providing a nostalgic glimpse into life on the road the way it used to be. From the very first Land Rover to Lady Penelope's FAB1, this museum will give you a diverse and intimate insight into the British motor industry.
The 'Windrush Alley' exhibit is a must-see to learn about roads historically occupied with horse-drawn carriages and cars in the late 19th century, a transitional era of transport. Additionally, the excellent 'Time Road' exhibition allows you to discover how driving automobiles and the family dynamic have transformed through the decades, as the motors are brought to life by animated guides. Transport yourself back in time as you tag along the seven different galleries.
Check Out Oxford by Bike 
Oxford is a famous city bordering the Cotswolds district. It is synonymous with infamous spires and the world-renowned university. As the city covers relatively small ground, it is a wonderful area to explore by bike. 
You can drive along the River Thames and the River Cherwell that passes through the home of academia, as well as the pretty Oxford Canal. Cycle routes from Oxford lead you into the wonderful countryside where the vast field terrain enmesh with woodlands and historic edifices. As it is the Cotswolds, you'll indeed stumble upon three Areas of Outstanding Natural Beauty (AONBs) within riding distance of the city. 
You can opt to explore autonomously or book a tour here. The ride lasts three hours and features a tour of Oxford University, as well as a peek inside one of its colleges. The route also includes a leisurely cycle along the river Thames path. How exciting!
Venture into Hayles Fruit Farm 
A fruit farm covering roughly 100 acres of glorious countryside, Hayles Fruit Farm has been in operation since 1880, as the farm was originally planted in 1880 by Lord Sudeley and has been kept in the same family since the 1950s. Initially harvesting only apples and Cob nuts, it has massively grown into an abundance of fruits: pears, plums, strawberries, raspberries and gooseberries.
It is also a very active farm that encourages locals and visitors alike to PYO (pick your own) fields with a punnet (a box to keep all the fruits you've picked!) Visitors can also camp and fish on site, as well as dine a locally sourced meal at their cute café. Whether you're searching for an overnight stop en route to your Cotswolds experience, or for a suitable base from which to explore the AONB, Hayles Fruit Farm provides comfort for their free-spirited guests.
Should you wish to rest for a while, their tearoom is open daily from March to December, serving a range of warm and cold drinks and delicious snacks. Do be sure to sample their apple juice and cider before leaving.
Rest in the Westonbirt Arboretum 
With 1500 tree specimens from all over the world, Westonbirt Arboretum is one of the best arboretums in the country. An arboretum is a botanical garden devoted to trees. Whether you desire to wander about the grounds or explore the treetop walk away, there is something for everyone here at this whimsical place.
The arboretum is stunning whatever the season, however, autumn is its leading season as the shades of deep browns and reds are fore fronted in a kaleidoscope of colors. At Christmas time, become enchanted by the magic around Westonbirt, as the illuminated trail of trees awaits Santa's visit.
If you resonate with their mission, protect the site by becoming a member, ensuring over 100 tree species that are endangered in the wild are safeguarded for our sustainable future. As the trees are looked after and monitored at Westonbirt, the team on site is learning constantly how these wonderful trees adapt to environmental changes, and in turn sharing this necessary information with the international community to protect, preserve and enjoy these magnificent trees across the globe.
Discover the Cotswolds Distillery 
Nestled in the heart of the region, The Cotswolds Distillery has a dedication to producing the very best artisan whisky and gin, whilst honoring its local heritage. It is one of the smallest distilleries in England, nonetheless, it is perhaps one of the most beautiful in the country. Crafting delicious spirits, they have become award-winning since 2014.
Find out about the process of alcohol making on one of the engaging distillery tours (I learnt so much!) before sitting in front of a log fire for a robust yet highly enjoyable tasting session. Take a bottle of something home, and if you cannot get enough of their liquor, you can order a bottle online on their website.
Like many other establishments in the Cotswolds, have a glass or snack of something in their local Still House café. Trust me, you will not get hungry here, as you will be fed a locally-sourced menu including scrumptious sharing boards, freshly made sourdough pizzas and sumptuous cakes.