Culturally shocking, beautiful, intense, and vibrant are words that best describe Egypt, a country that has been the home of ancient pharaohs, great libraries, and dynasties of times gone by. Its long history means that coming across ageless gates, weathered mosques, and historical museums is a daily occurrence in Egypt.
It's easy to only think of temples and the Pyramids of Giza when you think of Egypt, and while these are just as spectacular as you've been told, there's a whole lot more to explore. The Red Sea is riddled with coral reefs and sandy white beaches that are the perfect spot for a mix of adventure and relaxation. Meanwhile, Aswan's feluccas and picturesque islets in the Nile will leave you in awe.
There are landscapes of every kind, from barren desert mountains and lush oasis in the Sahara Desert, to urban cities with a vibrant nightlife and small towns that still live by traditions that are thousands of years old.
If you've found yourself wondering what there is to do in Egypt, then you've come to the right place!
Go SCUBA Diving
The Red Sea is one of the best scuba diving spots in the world. From above the sea looks calm and serene, but dive under and there's a colorful array of tropical fish, eels, and bright networks of corals waiting to be discovered.
Keep a look out for some of the rarest species, some of which can only be seen in the Red Sea, like the masked pufferfish, the rusty parrotfish, falco hawkfish, and deadly species like the lionfish, the venomous stonefish, and scorpionfish!
There are various cities along the Red Sea where you can scuba dive, some of the most famous are Hurghada and Sharm el-Sheikh. However, I'd recommend skipping these resort cities and heading straight to the town of Dahab. It's a little touristy but it's very laid back and there are plenty of great diving spots, like the Blue Hole.
Did you know you don't even need to know how to swim to go on a diving expedition? It really is something that everyone can do! I went on a diving tour with Aqua Divers when I was there and absolutely loved it.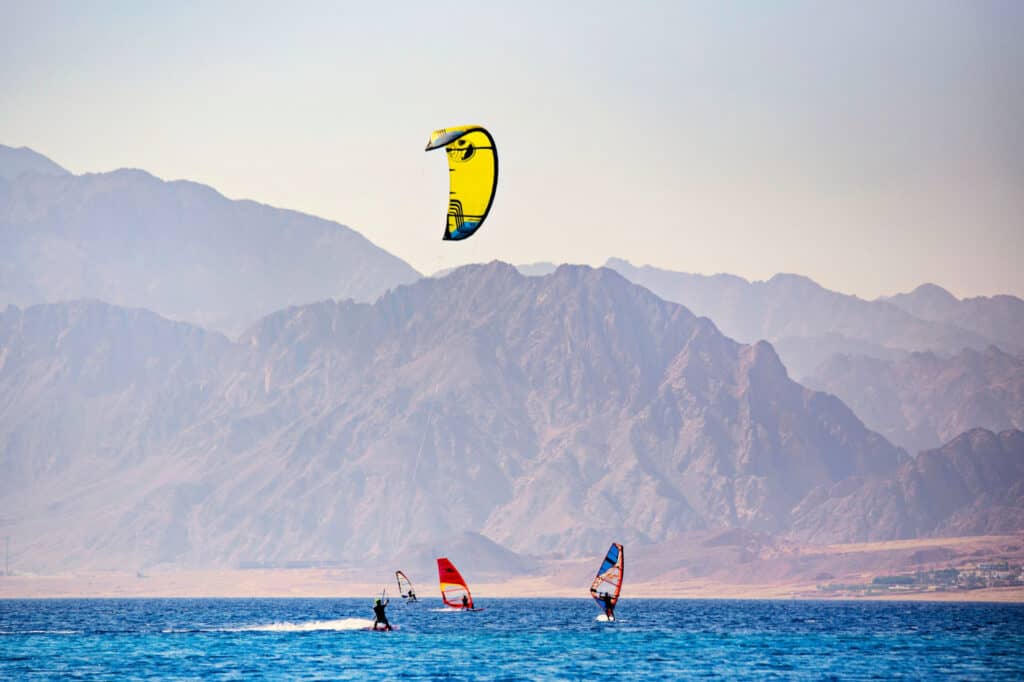 Try Out Windsurfing or Kitesurfing
While you're in Dahab, why not try out some more extreme sports too? If you head down to the Lagoon Beach, which is just 15 minutes' walk away from town, you'll find a long, sandy stretch of beach with crowds watching the windsurfers and kite surfers from the shore.
I didn't try it while I was there because I was a bit short on time, but I wish I had! There are loads of different tour companies in town, so ask around and find the most competitive prices. Bear in mind you should always haggle to get the price down for any tour you go on – you can probably knock off almost two thirds of the price!
Visit the Library of Alexandria
Once a greatly influential library of the ancient world, the Library of Alexandria was founded by Demetrius of Phaleron, a former Athenian politician, under the instruction of King Ptolemy I Soter around 295 BC.
The library contained books from near and far that covered all kinds of topics and were mostly written in Greek. One of the most important collections held in the library were the books of Aristotle. The Ptolemies had creative ways to get their hands on new books, and they'd even search ships that came into the harbor and confiscate any books they considered worthy of going to the library!
It's thought that the library came to hold some 700,000 books between the 2nd and 4th century. The old library had two main sites, one of which was thought to be accidentally burnt down by Julius Caesar during the civil war that broke out between Cleopatra and her brother Ptolemy XIII.
Alexandria's library is nothing like what it once was, but it's still impressive and it has a small museum, the Sadat Museum, within its walls with artifacts that explore the life and murder of Anwar Sadat. There are plenty of his personal artifacts, including written work of his, but the most impactful exhibit in the museum is the blood-stained military suit he was wearing on the day of his assassination in October of 1981.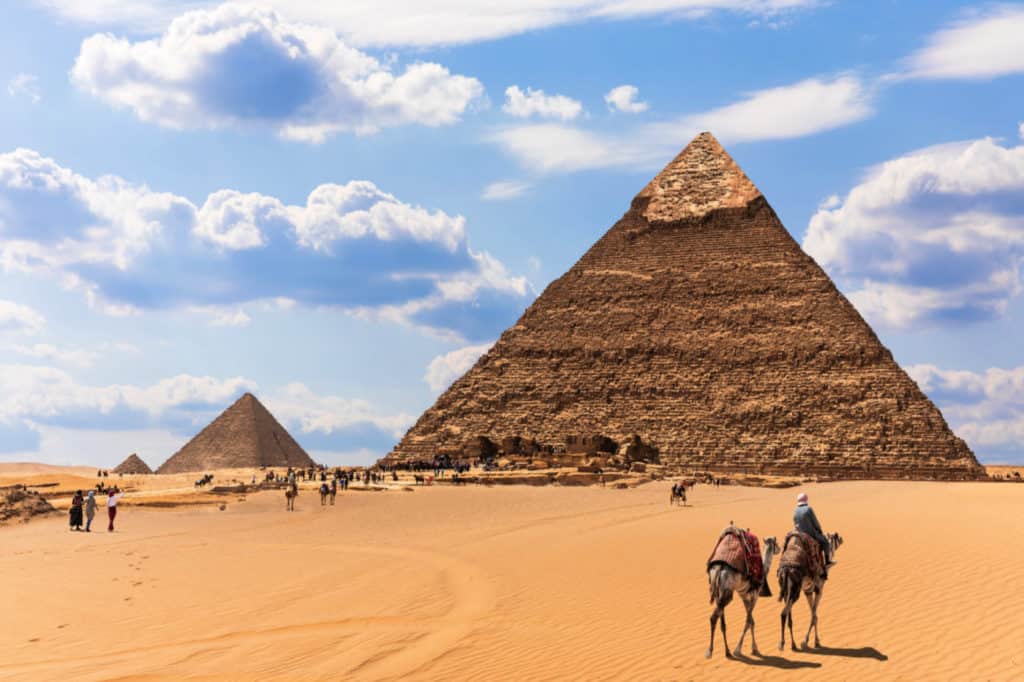 Take a Trip to the Pyramids of Giza
You can't write an Egypt travel article and not mention the Pyramids! If you haven't been to Egypt before, you probably think the pyramids are in Cairo, but they're actually about an hour outside of the capital in a city called Giza (hence their name).
It's estimated that the three enormous pyramids and the grand sphinx were built around 2550 BC. It was originally thought that the pyramids were built by slaves, but there's growing evidence to suggest that they were in fact constructed by laborers who saw their role in their construction as a great honor.
Bring your camera and take some iconic holiday snaps as you walk through the desert landscape from one pyramid to the next. The sheer size of these incredible structures will leave you in awe, and you'll find yourself scratching your head as you try to figure out how they were built.
I'd highly recommend getting there as early as you can to avoid the crowds and the hottest hours of the day. Bring lots of water and a hat! Also bear in mind that you'll likely be followed around by men offering you camel rides and others calling themselves official tour guides (be careful not to be scammed by fake tour guides).
If you want to take a tour of the Pyramids I'd suggest booking it through your hotel or online; here's one tour option.
Chill Out on the Beach
Egypt has some gorgeous beaches. It's not necessarily known as a beach destination, and there are areas where there are stunning beaches, but the region is more conservative so you can't wear a bikini, which makes it less appealing.
That said, the stretch of coast surrounding the Red Sea is a well-known beach destination, and the locals are more open. If you're looking for a resort holiday, head to Hurghda or Sharm el-Sheikh. Fancy spending some time in a trendy, somewhat hippie town? Then you'll love Dahab.
Personally, I love more quiet beach destinations. Luckily, there's a stunning stretch of coast along the Red Sea that seems like it was designed for travelers who are looking to escape the crowds. A bit further along the coast than the very local town of Nuweiba, there are clusters of camps on the sand where you can rent a little wooden shack just meters away from the turquoise sea.
Wake up on the beach and spend the day relaxing in a hammock reading, enjoying amazing food cooked at the camp, and going for refreshing dips in the sea. In Nuweiba, time seems to slow down, and unlike the rest of Egypt, it's quiet and uncrowded.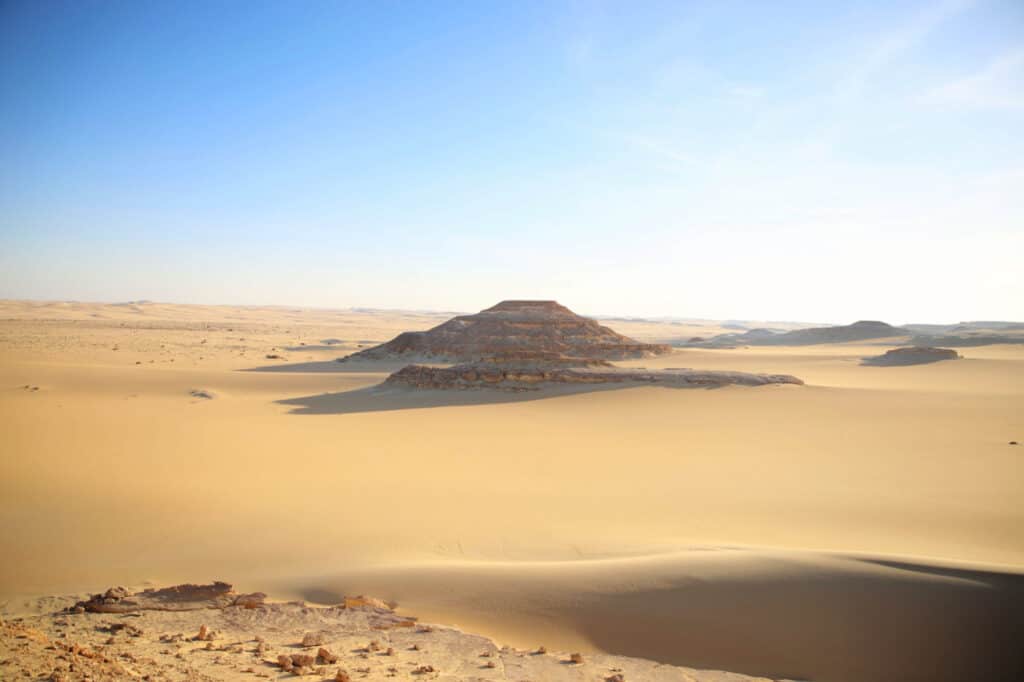 Camp in the Sahara Desert
Camping in the Sahara Desert is possibly the most unique experience you'll find in Egypt. There's something mesmerizing about spending the night somewhere so remote and secluded. The stillness and silence of the desert is intoxicating, and the vastness of the Sahara isn't something you can comprehend until you're in it.
To visit the desert first make your way to Siwa, a very traditional little town close to the Libyan border. Each day different tour companies take groups out on a desert adventure, starting with an exhilarating ride up and down the desert sand dunes in a speedy 4×4 and a couple of stops at hot springs in the desert.
In the afternoon you'll get to go surfing down sand dunes and watch the sunset over the desert before the group makes its way to the camp, where little tents perched in the sand and common spaces for eating and chilling await.
If you can time it so you're in the desert when the moon is full, it makes the experience even more magical. There will be other groups of travelers staying at the same camp, so it's a great chance to meet new people too. On the tour I went on, we all slept in tents, but there are some more glamorous tours available if you'd rather go glamping!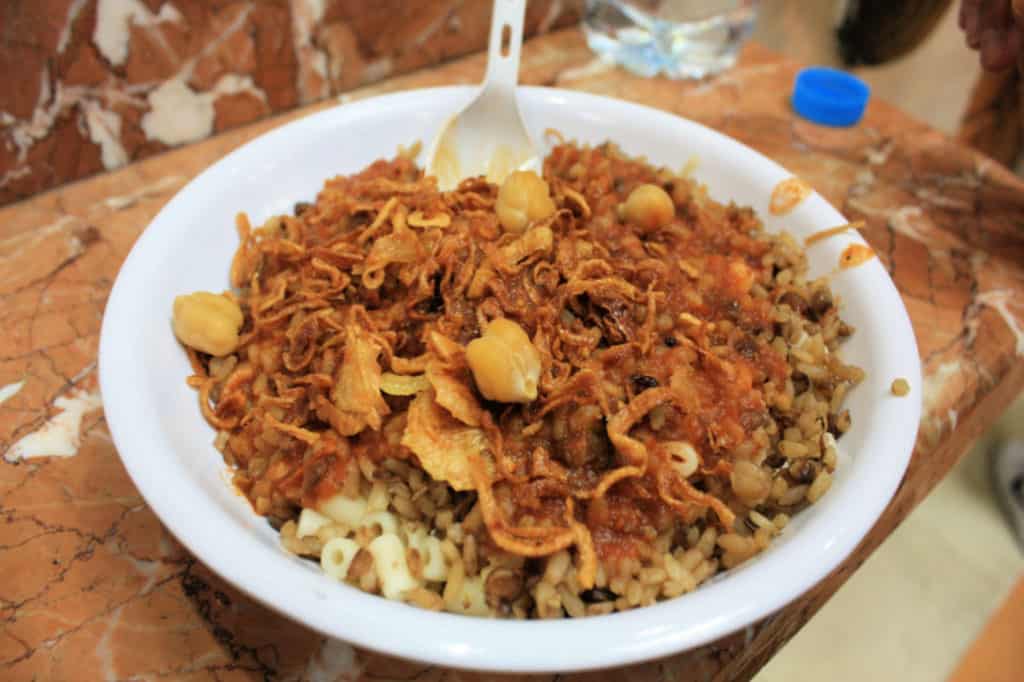 Try Koshari
One of Egypt's most famous and peculiar dishes is koshari. It's a heavy and hearty meal with loads of carbs! They mix pasta and rice into one dish, then put fried onions, chickpeas, and an assortment of toppings on top before covering it in a vinegary tomato sauce. It's simple and delicious.
If you're in Cairo, some of the best koshari spots are Sayed Hanady, Koshary El Tahrir, and Koshari Abou Tarek. The funny thing about koshari is every Egyptian claims their mum makes it the best!
Visit the Garbage City
Once you've filled up on koshari, head to the peculiar Garbage City, Manshiyat Naser, on the outskirts of the Mokattam Hills, that is essentially Cairo's recycling plant.
The streets and houses are filled with rubbish, and the people that live here process all the trash that is produced by the 10 million people living in Cairo as there isn't an efficient garbage collection system in the metropolitan area.
It's not one for the lighthearted, the smell throughout the neighborhood is definitely strong, but the place is fascinating and worth enduring the smell to discover. The inhabitants are known as the Zabbaleen (Garbage People) and they collect the city's rubbish by going door to door, then sort out the recyclable materials to sell.
As primitive as the system may appear, in Cairo, 90% of garbage is recycled, which is four times higher than the percentage achieved by most recycling companies in the West!
Explore Siwa's Old Town
Siwa was one of the most intriguing destinations I went to in Egypt. On the one hand, it was the most traditional and by far one of the most conservative towns I went to, yet at the same time, I felt completely safe and comfortable there.
Women aren't so easy to spot in Siwa, and when you see them out and about, they're wearing a full burqa, with even their eyes covered. There are also kids driving cars, toddlers leading carts pulled by donkeys, and a high proportion of albino Egyptians in the town. The locals speak Egyptian as a second language, and are a Berber-speaking community by origin.
Make sure you explore the ruins in the heart of the town – the old forts and mud houses are enchanting and telling of the local history.
Drink Aragi
Another treat Siwa has in store for you in its local alcohol, aragi. It's made from dates (the region is known for producing some of the best in the world), and it substitutes imported alcohol which can be hard to find and expensive.
It's made at home by locals, and you never know exactly what the percentage is, but be careful – it's strong! You'll have to ask around to find it, and it'll likely be sold to you in a repurposed plastic bottle. A few shots around a campfire and you'll be ready for bed.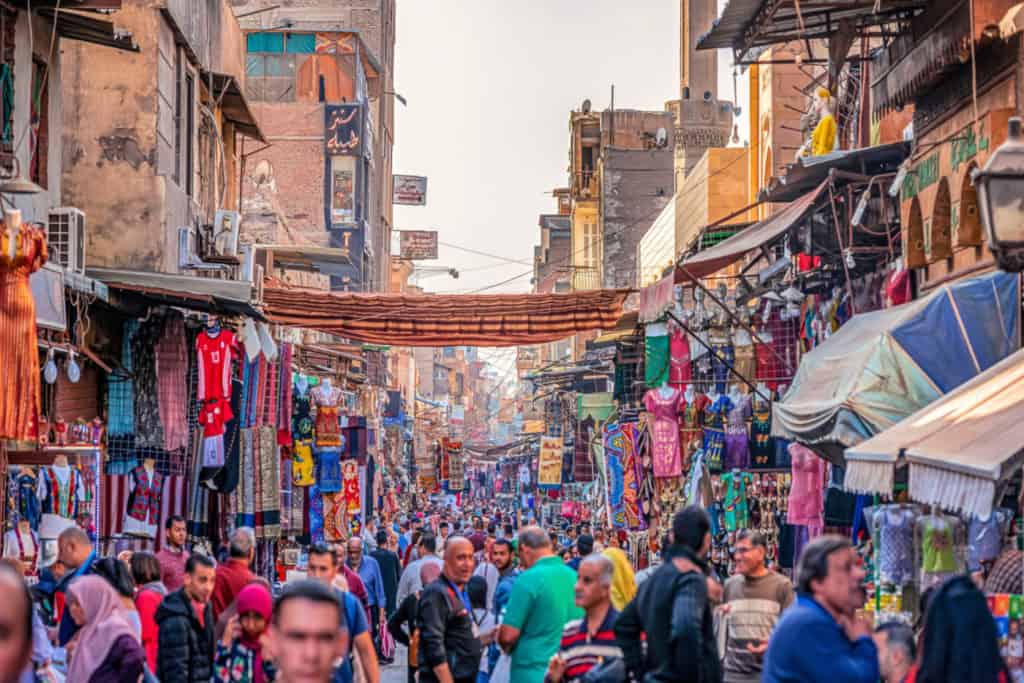 People Watch
Egypt is a chaotic, mysterious, and traditional country. Wherever you are, take some time to stop and observe people around you. One of my favorite things to do in Egypt is to sit at a cafe drinking a sweet cup of tea and watch the world go by.
You'll often spot women shopping, men smoking cigarettes and drinking tea at the cafes across the road, street vendors pushing their carts, and all sorts of other scenes that are completely ordinary in Egypt but feel very foreign for an outsider.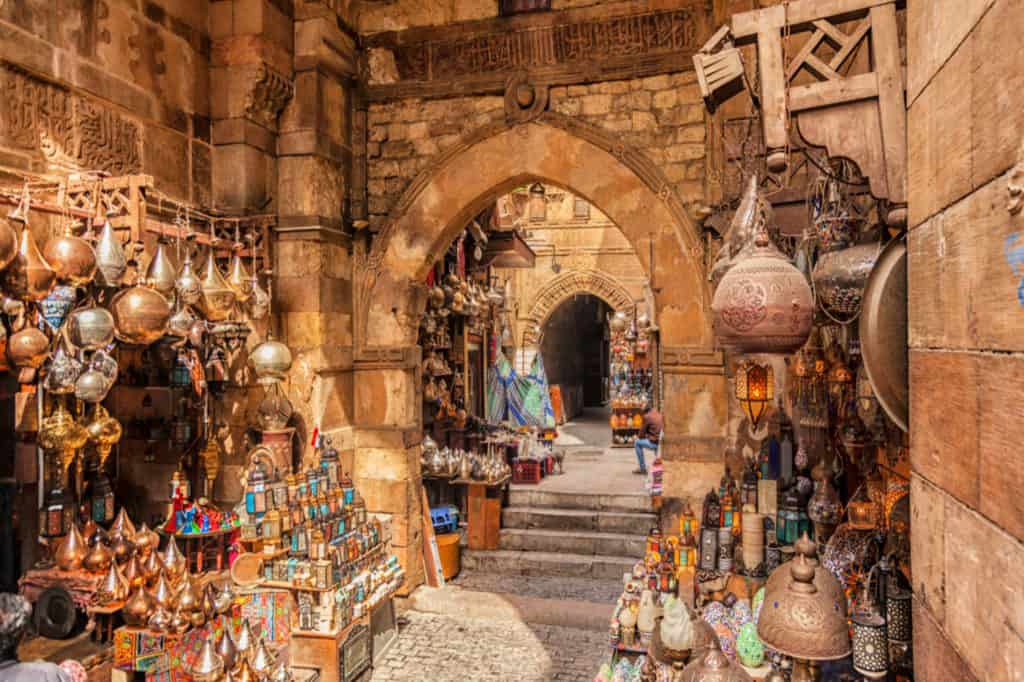 Go to a Local Market
Every city and town in Egypt has a local market, or an area of the city that is full of local shops and busy shoppers. In Alexandria, there are whole neighborhoods that have the feeling of a large outdoor market.
Curiously, in many cities across Egypt there are specific streets that sell one product. I remember finding it very strange walking through Alexandria and seeing rows of shops only selling curtains, books, or lamps.
In Cairo, you can visit the downtown neighborhood if you want a slightly less crowded shopping experience, there are lots of clothes shops as well as food stands dotted around the neighborhood. Although, the most famous market area in Cairo is definitely Moez Street. In Alexandria, head to Zanket el Setat if you want to shop like a local.
Markets in Egypt will overwhelm and delight all of your senses. They're also a great place to come and meet some local people and practice some Arabic. Bear in mind, you'll have to haggle for everything at the little shops and stalls, and knowing some of the Arabic numbers and expressions like "ma3andeesh floos" (which you can learn in this video) and translates to "I don't have any money", before you go will definitely come in handy.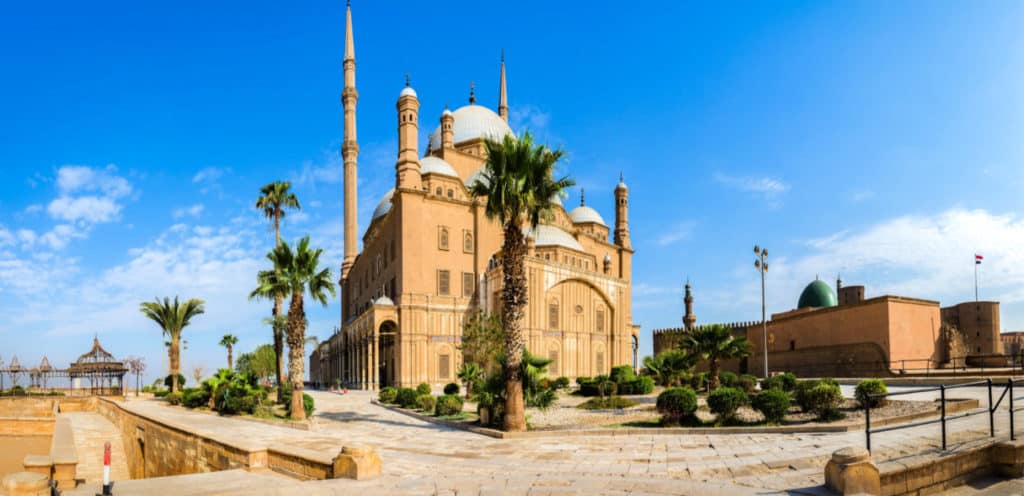 Spend the Morning at the Cairo Citadel
Cairo's old Citadel was built at the top of Mokattam Hill during the Middle Ages. It was named after the Citadel of Saladin after An-An-Nasir Salah ad-Din Yusuf ibn Ayyub (Saladin for short), a military strategist and later Sultan of Egypt who ordered the construction of the citadel in 1176.
The Citadel has lost its political and military importance, but it's still an impressive relic of Cairo's past. Over 700 years of Egyptian rulers called the Citadel home, and you can tick another UNESCO World Heritage Site off your list after your visit!
After Saladin overthrew the Fatimid Dynasty and established the Ayyubid Dynasty in its place, he envisioned that the citadel would serve as the epicenter for the Egyptian government and protect Cairo from the invading Crusaders.
Within the Citadel's murals, there are three different museums and a mosque, so it's worth putting aside a whole morning to give you enough time to explore the Citadel properly. The views of the city below are also incredible!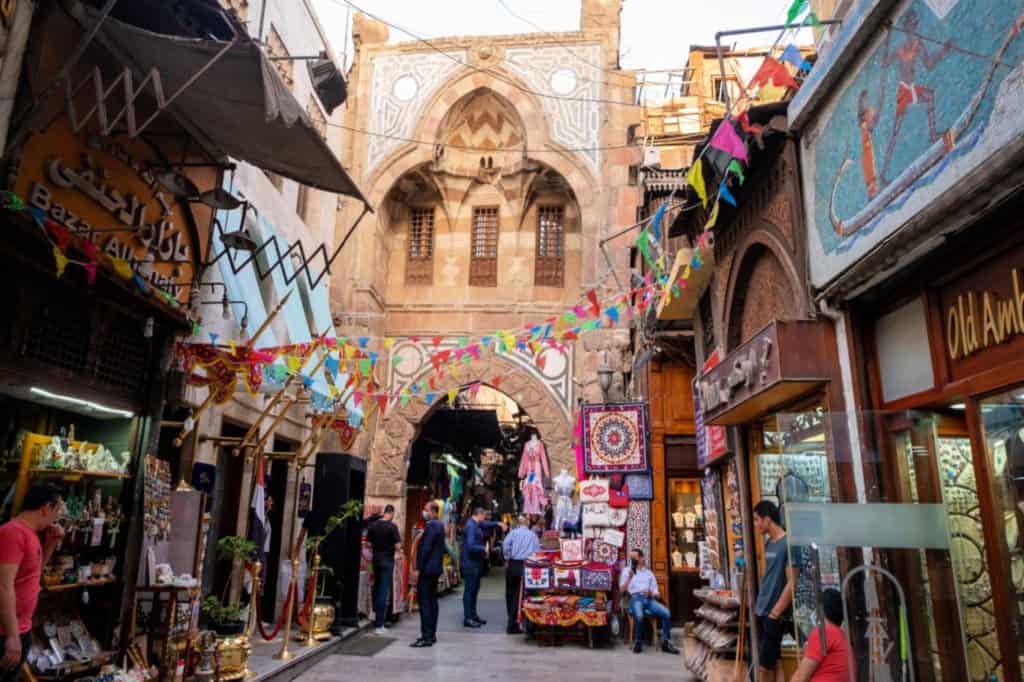 Shop for Local Souvenirs at Moez Street
Moez Street is a labyrinth of streets lined with street vendors, small shops, and some of the most impressive architecture in Cairo. The market's north entrance is at Bab el Fotouh and the south entrance is at the Tentmakers' Market.
It was named after the fourth Caliph of the Fatimid Dynasty who reigned from 953 to 975, Al Moez Ldin Allah Al Fatimi. Moez Street is home to the best medieval architecture in Cairo. You won't have time to go into every mosque and museum, but if you have to make a shortlist head to the Al Hakim Mosque that was built in 992 AD and the Ottoman era Sulayman Agha Al-silahdar mosque.
As you walk around Moez Street you'll be swept away by the large crowds of shoppers (there aren't many tourists around either which makes it feel more authentic!) and blown away by the smells and sights. It's the best place for souvenir shopping, and in most of the little shops, you can watch the artisans at work stitching leather bags, making wax candles, and embroidering elaborate tapestries.
There are also some very strange areas of Moez Street, as I wandered aimlessly down different streets, following my senses and intuition, I came to a narrow street ornamented with Christmas decorations where you could dress up in fancy dress and take pictures with the owners, who were dressed up too!
Moez Street is noisy, busy, enchanting, and peculiar. It's a must-do whilst you're in Cairo. Personally it's up there in my top five favorite things to do in Egypt because of how local it feels.
Go to Elephantine Island
A short boat ride away from Aswan, in the center of the Nile River there is a small island that still preserves much of the traditional architecture and ways of life of the Nubian people who live there. On the island, there is a colorful little village, the Nubian Village.
Aside from its picturesque charm, this quaint village is known for producing some of the finest crafts in the region. Watch the craftsmen at work carving intricate designs and threading beautiful jewelry.
Because it's so small and secluded, the village is very safe, so you can get a bit lost and wander without needing to worry. The locals are also extremely welcoming and friendly.
You can get there from Aswan on a public ferry (the cheapest option!) or take a Felucca ride to the island, but bear in mind that getting a Felucca will involve a lot of negotiating and you'll probably still get ripped off.
Small and sleepy, Elephantine Island is the perfect day trip when you're looking to explore in a slow and relaxed way.
Hike up Mount Sinai and go to St. Catherine's Monastery
At the bottom of the legendary Mount Sinai, there is a stunning little monastery, St. Catherine's Monastery. It's still inhabited by monks who wander around the grounds and lead a simple and traditional lifestyle.
You'll have to take a tour up Mount Sinai, they leave from the towns along the Red Sea, like Dahab and Hurghada. The bus will pick you up around 12am and you'll start hiking at around 3am. The reason you take off so early is so that you can catch the sunrise at the top of Mount Sinai.
You and your group will slowly trudge your way up the steep hill, stopping for tea and hot chocolate and the make-shift cafes along the way, before getting to the top as the sun begins to rise over the barren mountains that stretch out in the distance.
But Mount Sinai is more than just a fun hike, it is also believed to be the place where Moses received his Ten Commandments. It was originally called Jabal Musa, which means Mount Moses. Make sure you bring lots of extra layers on your hike, it's cold in the desert!
Spend a Day at the Hot Springs
The most famous hot springs in Egypt are in the town of Siwa. The laid-back and sleepy feel of the town makes it the perfect backdrop for a slow day at the hot springs. Aside from that, the water and mud are said to have incredible healing properties and they're great for your skin!
Sadly, I didn't find any secluded hot springs out in nature while I was there, but there are plenty of hot springs within different hotel grounds that you can get into for a small fee. There were hardly any people when I was there, so don't worry about it getting crowded.
Another great thing about the hot springs in Siwa is that they're open till late, so you can come and soak your worries away under the stars.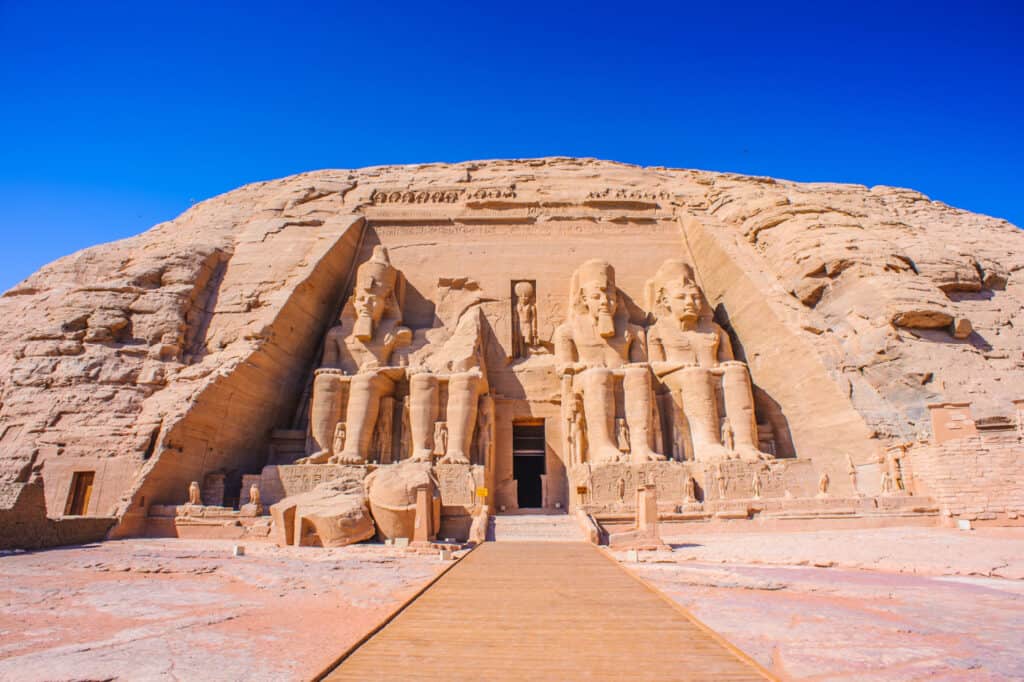 Visit the Iconic Abu Simbel Temples
Built by the Egyptian king Ramses II, the site has two different temples on it that were rediscovered in 1813 by Johann Burckhardt. Carved into the sandstone cliffs that rise up from the water along the Nile, each temple is a masterpiece and a mystery.
The more famous of the two temples is The Great Temple of Ramses II, which is believed to have been constructed between 1274 and 1244 BC. At the gate of the temple, there are four enormous, seated statues of Ramses II himself that protect the temple, as well as smaller standing statues of his family.
Once you walk into the temple, you'll enter a long hallway lined with murals that depict the pharaohs' life and more statues of standing pharaohs. One of the most famous scenes depicted on the walls is his victory at the Battle of Kadesh.
There are plenty of famous temples in Egypt, but this one left the greatest impression on me. It was also shocking to find out that the temples were almost lost during the 1960s as the water levels of the Nile rose, threatening to swallow the temples up completely. Luckily the temples were able to be relocated, a huge project which has preserved these stunning parts of history! If you're looking for a tour from Aswan, here's one option.
Hike in the Colored Canyons
Near Nuweiba, along the Red Sea, there are beautiful canyons carved into the barren desert mountains that stretch out beyond the town. The most famous canyon in the area is the Colored Canyons, which is some 30 meters deep and around 800 meters long.
The walls of the rock are different colors, mostly different shades of reds and oranges. Hike your way through the narrow passages of the canyon as they twist and turn this way and that, leading you deeper into the desert landscape with each step.
Because the region is very dry and hard to navigate, you'll need to visit the canyon as part of a tour. A local guide will take you into the mountains and tell you about the way of life of the Bedouin community, some of whom still call these mountains home.
Take a Belly Dance Lesson
Bellydance originated in Egypt and it's still a highly respected art form. Whilst it's mostly women that bellydance, plenty of Egyptian men know a move or two! Many celebrations are accompanied by a bellydancer, especially weddings.
It's a little complicated and you'll likely feel like you've got two left feet, but belly dancing can be really fun if you let loose and don't take yourself too seriously. Shake and shimmy your hips!
Another reason to learn a few moves is that at all the bars and clubs in Egypt they mostly play bellydance music, so you can surprise your new travel friends with your skills! Want to see the professionals do it before you give it a go? Then why not head on a Nile boat tour with a belly dance show? I loved this one.
Sit at a Cafe and Play Backgammon
Egyptians absolutely love spending hours on end drinking tea at a cafe. It's not so easy to get hold of alcohol in Egypt, and they don't sell it at normal cafes and restaurants, so cup after cup of sweet tea is something you'll have to get used to!
The great thing is there's always an atmosphere at the cafes in Egypt, big crowds of young Egyptians chat loudly and tables of elders smoke and play games.
One of my favorite pastimes in Egypt was playing backgammon at a cafe. In Cairo, most of the cafes have a pack of cards and a backgammon board you can borrow, so come with a friend or see if you can join some of the locals!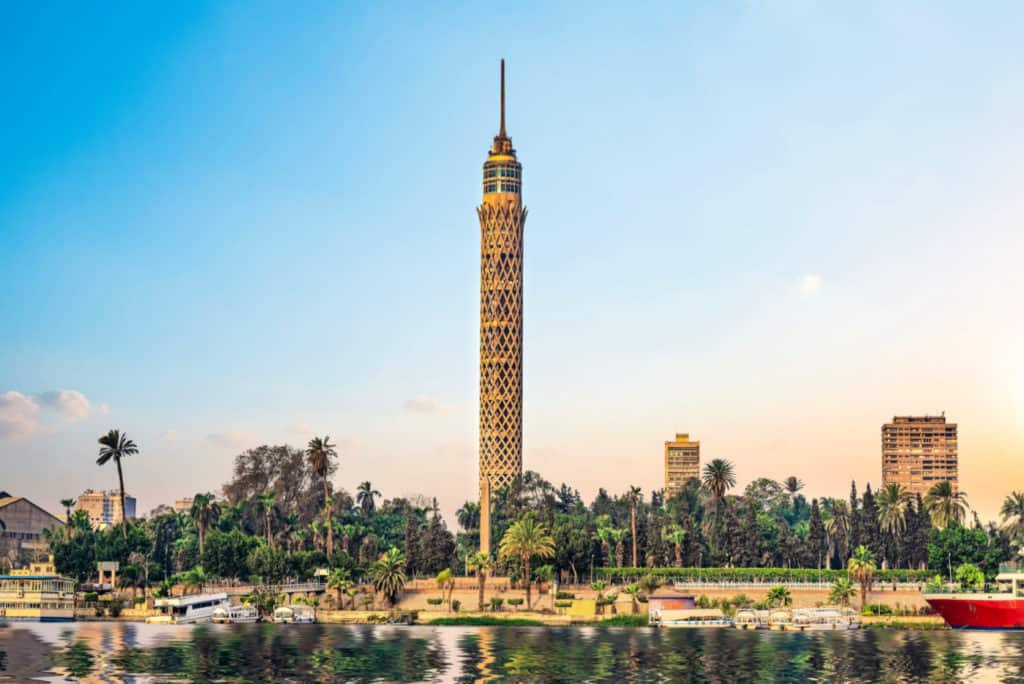 Visit Zamalek
If you make it to Cairo, it won't be long before the noisy streets and overly crowded venues start to feel a bit intense. It's often hard to hear the person next to you if you're walking in the city center because of all the cars beeping and the swarms of chatty locals.
When it all starts to feel a bit much, head to Zamalek (also known as Gezira Island). The neighborhood is one of the most modern in the city, though it's technically an island in the Nile. Unlike everywhere else in Cairo, it's quiet, tranquil, and a bit on the fancy side.
There are loads of boutique shops to explore, cute independent cafes you can drink and eat at, and even bars with live music! It's also safe to wander around, and there are plenty of things to see, plus the island isn't too big so it's very walkable.
Along the way you'll stroll past most of the city's embassies, which are grand and well protected. Make sure you go to the 614-foot-tall Cairo Tower that sits on the southern part of the island – you can climb to the top for a small fee, it's definitely worth it for the views! If you're a fan of art and culture, head to the Museum of Modern Egyptian Art and Cairo Opera House.
Decipher the Hieroglyphics at the Philae Temple
This hidden gem in Aswan is lesser known than the other major temples in the area, though no less impressive. One of my favorite things about the Philae Temple is the curious history behind it. You'd assume that it was built by an Egyptian pharaoh, but the temple was actually constructed by a Macedonian king from the Ptolemaic dynasty.
He was clever enough to disguise himself as an Egyptian, knowing that he would only be accepted by the locals if he worshiped Egyptian gods and built monuments and temples just like they did. And so, the Philae Temple was built as part of his scheme to trick the people of Aswan into accepting him as their ruler.
There are ancient hieroglyphs etched into the temple that have never been deciphered. One of them is dated to the 24th of August, 394 AD! The temple is on the Island of Philae, floating in the Nile just off the shores of Aswan. You'll have to take a boat to get there, but that just adds to the adventure.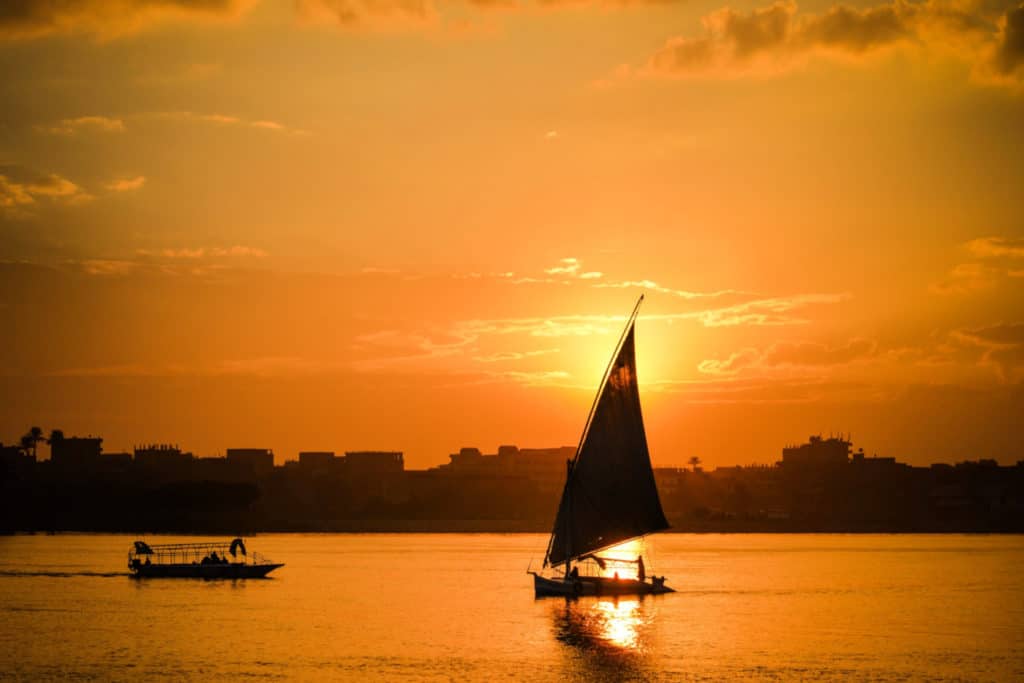 Read Your Book by the Nile
There's so much to do and see in the major travel destinations across Egypt, like Cairo, Luxor, Aswan, Alexandria, and the Red Sea, that your holiday can quickly become very busy, and you might find yourself losing sight of some desired rest!
Put your must-visit list down for a day, pack your book and a picnic, and go and read by the Nile. Aswan has some particularly pretty spots by the river where you can stretch out and spend the morning lazing under the sun. Watch the feluccas sailing by and admire the city and desert in the distance.
Stay till the sun goes down and marvel at the gorgeous tones of pink, orange, and red that light up the sky during the golden hour – you'll want to get your camera out! After a long day of doing nothing at all, you'll feel rejuvenated and ready to take on more sightseeing in the morning!
Go on a Hot Air Balloon Ride over Luxor
Soaring through the air in a little basket lifted by nothing but heat is exhilarating. Once the initial adrenaline of being lifted so high into the air wears off, I dare you to peer over the edge and look down at the city of Luxor below.
You'll have the best views from up above, making it an even more unforgettable experience. I went with this tour, and loved it! Bring your camera and take some of your most adventurous travel shots!
Explore the Valley of the Kings
The Valley of the Kings was the final resting place of pharaohs of the New Kingdom. Overall, there are 63 tombs that line the steep cliffs of the valley – one of the most famous is that of King Tutankhamun, which wasn't discovered until 1922.
Sadly. the tombs have fallen victim to grave robbers, who took many of the jewels and lucrative artifacts within these ancient tombs. But thankfully time hasn't worn away the hieroglyphs and brightly colored paintings that decorate the Valley of the Kings.
Visit Some of the Country's Lesser-Known Museums
Everybody has heard of the Egyptian Museum in Cairo, but there are plenty more museums across the country that house architectural relics, ancient artifacts, and offer a glimpse into Egypt's ancient and modern culture.
If you're in Aswan and you want to learn about the local community, the Nubia people, make your way to the fascinating Nubia Museum. It's housed in a modern museum and was established as part of the UNESCO International Campaign and opened to the public in 1997. There are more than 3,000 objects on display! Aswan is also home to the Crocodile Museum.
While you're in Alexandria, head to the National Museum of Alexandria that was inaugurated by the ex-president Hisni Mubarak himself back in 2003 and is housed in an elegant Georgian-style building. It spans the history of Egypt from the Coptic era, through the Islamic era, to the present day with a display of more than 1,500 artifacts. Another museum in Alexandria worth a mention is the Royal Jewelry Museum.
Unsurprisingly, Cairo is home to an array of fascinating museums. The Islamic Art Museum is perfect for those who wish to explore the country's history and culture through artwork. It was established in 1905 and now houses more than 100,000 exhibits (displayed 4,000 at a time). If you're interested in politics, don't miss the Gamal Abdel Nasser Museum which explores the life and career of the ex-president Nasser.
One of the most fascinating museums for those intrigued by architecture is Cairo's Gayer Anderson Museum, which spans across two adjoined buildings from the Ottoman period and has displays of the relics collected by Anderson during his travels across Egypt. Finally, I can't not mention the Umm Kulthum Museum and Agriculture Museum.
As you can see, there's loads to do in Egypt. I've skipped over some of the more famous sites, like the Luxor Temple, to give you a more local guide to Egypt, focusing on some of the lesser-known towns and unconventional ways to spend your time.
As you explore the country and slowly tick things off your list, you'll come to realize that Egypt has more on offer than temples and museums filled with the mummies of ancient pharaohs. It's got a diversity of natural wonders, a fascinating culture, and laid-back beach destinations that help put the country on the map too.