Copenhagen is a delightfully manageable city that attracts visitors interested in its culture, sights, world-famous restaurants, and its style of living. The Little Mermaid perched on her rock in the harbor and the multi-hued houses along the canal in Nyhavn are justly known as iconic images of this intriguing Danish city, but there's so much more.
I spent several days in Copenhagen as part of an exploration of Denmark and a broader multi-week trip throughout Scandinavia. Denmark is the smallest of the Nordic countries, but I found Copenhagen to be great fun and a worthy destination by itself for at least several days if not a week to take in its attractions and absorb its comfortable lifestyle referred to as "hygge".
The restaurant scene is one of the most exciting in the world. According to Visit Copenhagen, there are 14 restaurants in Copenhagen that were awarded Michelin stars in 2021, with two achieving three-star status including the famous Noma.
Copenhagen is strikingly contemporary with its leaders in design and its cutting-edge cuisine, but also has a reverence for the past with its Viking roots and innovative artists captured in its national museums of history and art, and through the long historical traditions of its royal family as evidenced through its many palaces and castles which have been home to its kings and queens.
A walk down the series of streets known as the Stroget passes world famous designers such as George Jensen Silver and Royal Copenhagen Porcelain and is a fun way to spend a day getting into the flow of the city and seeing its inhabitants and what they produce.
Although I am generally not a devotee of theme parks, Tivoli Gardens has an endearing, fantasy-land appeal that makes it a joy to wander through, particularly at night when its buildings and fountains are lit by lights and lanterns cast lovely reflections.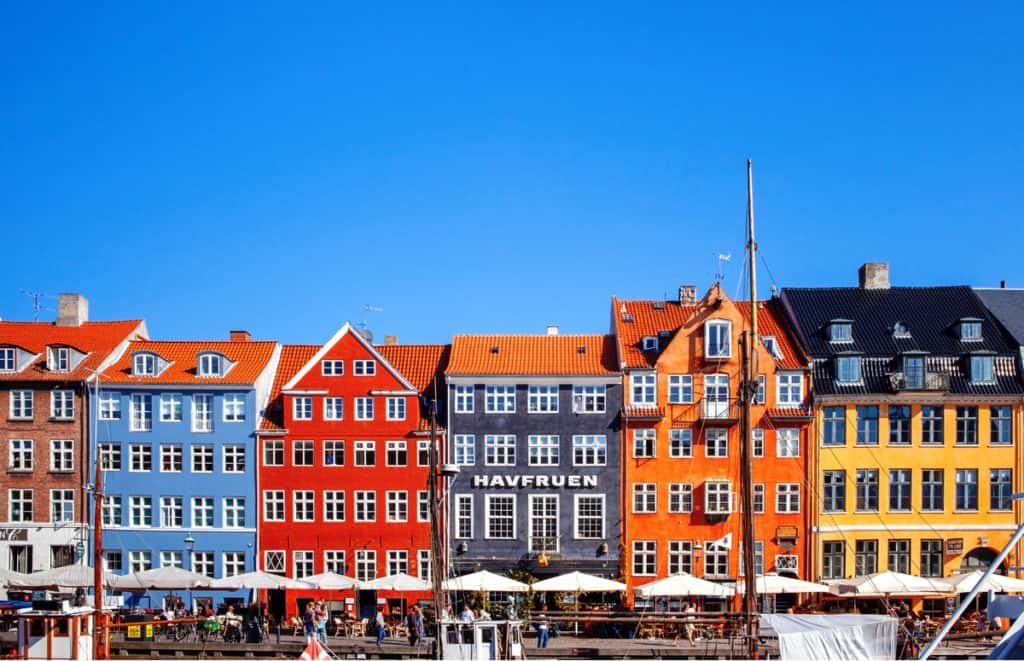 Copenhagen's Best Sights and Activities
From its walkable streets to its waterfront restaurants, its historic amusement park to its series of ornate palaces, Copenhagen offers a rich array of attractions to keep the visitor busy for days. Here is my take on the best that Copenhagen has to offer, to help you prioritize your activities based on the time you have available to visit.  
Visitors will find Copenhagen easy to navigate. The locals will largely speak English, and the public transportation system is excellent. If you would like to take advantage of local tour guides to help you experience the city's best in a shorter-time frame, consider a 2-hour Old Town Walking Tour priced at $40.29 per person that will take in many of the city's top sights. Those who prefer to coordinate their trip themselves may wish to purchase a Copenhagen City card which covers public transport plus admission fees for many of the top sights for a 1-5 day period starting at $65.30 per person.  
Nyhavn Seaport
Denmark's nautical past can still be experienced with a visit to the harbor area at Nyhavn, meaning New Harbor. This is my favorite area of the city to explore, have lunch and take in the colorful scene with the canal boats passing by and just enjoying the nautical ambiance.
This former fisherman's area has a wonderful collection of historic multi-colored merchant homes that have been converted into shops, cafes, and restaurants. Soak in the maritime environment where famed author Hans Christian Andersen once lived and wrote several of his stories. He resided at number 20 when he published his first volume of fairy tales.
While in Nyhavn, I recommend getting out on the water on one of the Canal Boat tours to see the city and its sites from a different perspective. Enjoy a one-hour Grand Tour with canal boat company Stromma for DKK 89.
Nyhavn is a great place to relax, eat and take in the sights and sounds at any time of year, but jazz enthusiasts should take special note that the Copenhagen Jazz Festival is held in Nyhavn each July.
Tivoli Gardens
Inspiration for a young Walt Disney, Tivoli Gardens is a fantasy land of rides, music, exotic pavilions and is especially magical at night when the place is illuminated by thousands of lights and lanterns that create a fairy land that is utterly charming to stroll through.
Tivoli was created in 1843 and boasts one of the world's oldest wooden coasters from 1914.  But even those who shy away from the rides will find much to enjoy.  There are carnival games and fountains, floral displays, gardens and puppet theaters, exotic architecture like the Moorish-style concert hall, musical events and even an Aquarium on site.  Summer Saturday nights offer fireworks, and every evening the place comes alive with its fantastic lighting.  An abundance of restaurants is on hand within the park to sate any hunger.  
Buy your ticket online and in advance so that you can skip the long queues for tickets. Entrance costs 155 DKK, or $22 (€21). It's well worth it.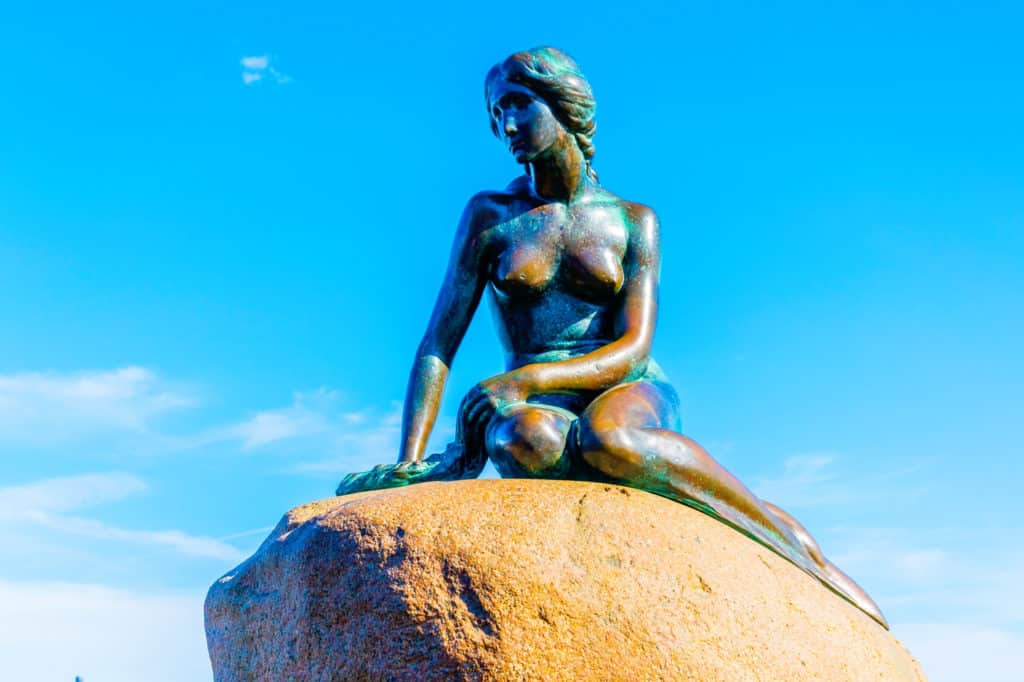 The Little Mermaid
The city's iconic sight, the Little Mermaid statue perches on a rock in Copenhagen's harbor. Inspired by the character from Hans Christian Andersen's fairytale, the bronze and granite Little Mermaid statue has graced Copenhagen's harbor front since 1913.
The statue was a gift to the city by Danish brewer Carl Jacobsen, who in 1909 saw a ballet based on her story and fell in love with the character. He commissioned sculptor Edvard Eriksen to create the work of art.
The Little Mermaid has unfortunately been vandalized numerous times over the years but has always been restored using the original mold from the sculptor to replace missing pieces. It remains a must-see attraction for the city, though some may be surprised at just how small the Mermaid is on her rock.
Royal Castles & Palaces
Lovers of striking royal castles will get more than their fill in Denmark's capital city.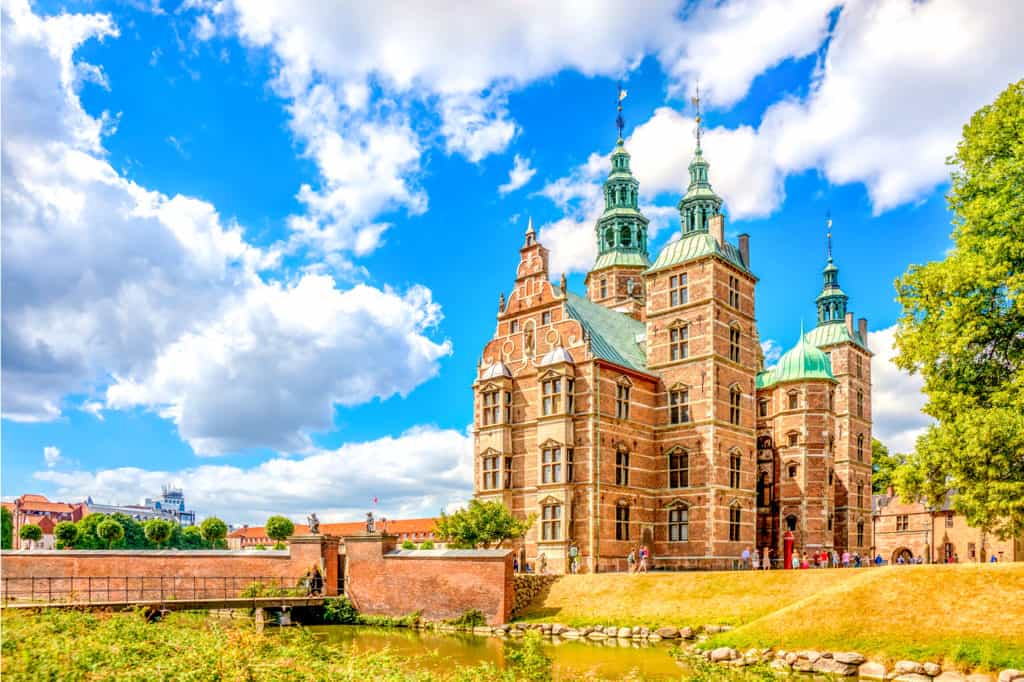 Rosenborg Castle
Containing a wealth of royal art treasures, Rosenborg Castle was completed in 1633 by King Christian IV. I love its look, from the majestic spires and cupolas to the attractive gabled architecture, and the Castle is set in its own beautiful parkland.
It houses Denmark's Crown Jewels, along with historic tapestries depicting battles fought between Denmark and Sweden, a Knights Hall with royal coronation thrones, portraits of Danish Queens and the Kings' private writing cabinet.
You can explore the castle on your own (tickets cost 120 Danish kroner for adults).
Save time for a stroll around the King's Gardens on the Castle grounds, with sculptures, flowers, and tree-lined walks plus a famous statue of Hans Christian Andersen.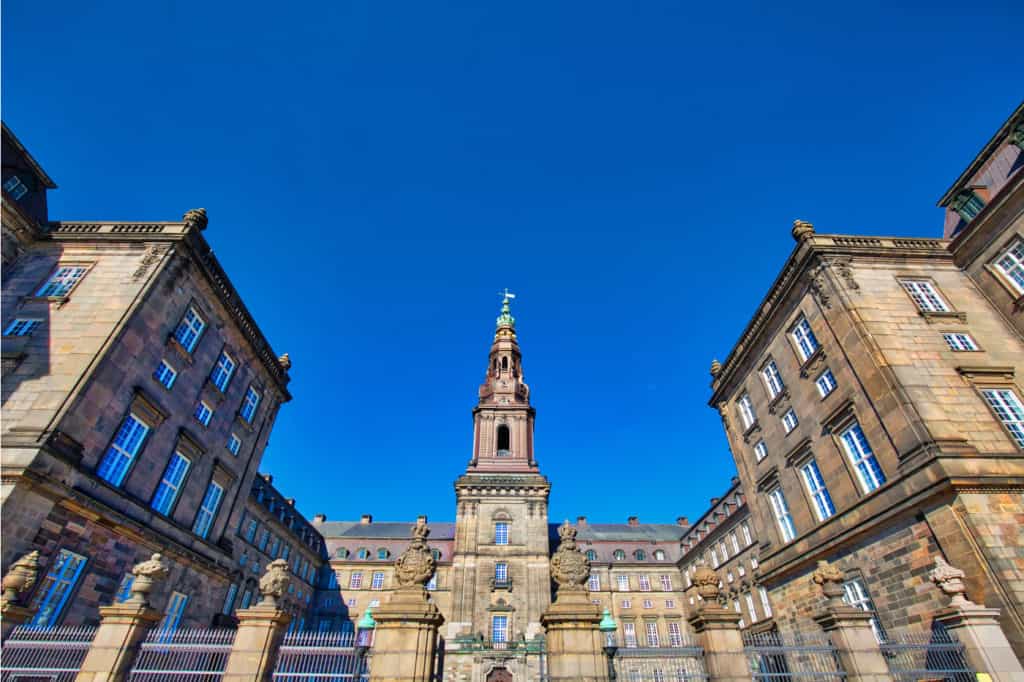 Christiansborg Castle
Christiansborg Castle is home to Denmark's parliament, its Prime Minister's office, and the Danish Supreme Court. The interior is suitably grand in keeping with its role in housing some of the most important governmental and judicial bodies for the country. The present Castle was completed only in 1928, but Danish royalty have ruled here for centuries. The Queen uses Christiansborg for official functions and receptions.
Visitor highlights include the Great Hall with colorful modern wall tapestries completed in 2000 illustrating 1,000 years of Danish history (look for the King and Queen represented as Adam and Eve, albeit clothed!), the royal reception rooms, ornate Queen's Library, and the royal kitchen. Ascend the Castle's tower for sweeping views over the city.
Adult tickets to gain entry to all the sights at Christiansborg cost 160 kroner. To get even more out of your visit, consider a 2.5 hour guided City Highlights tour that includes the Castle complex priced at $183.58 per person.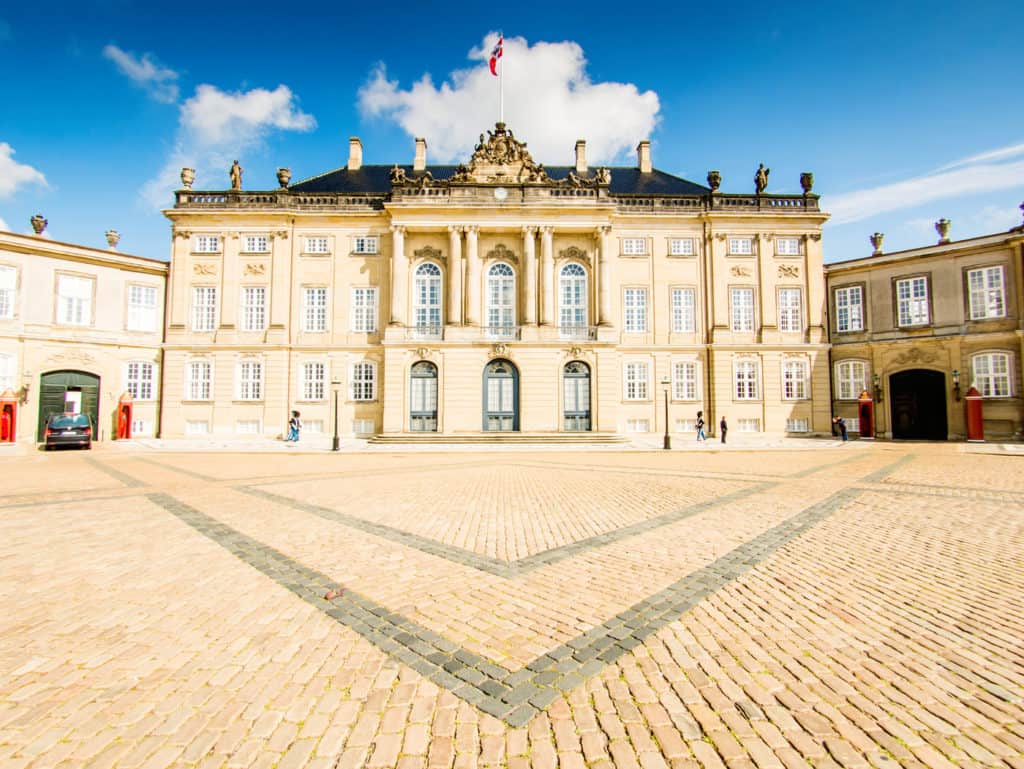 Amalienborg Palace
Four separate identical mansions from the 1750s gracefully form the Amalienborg Palace, where the current King and Queen of Denmark live. It is here that the daily changing of the guard ceremony takes place at noon. Depending on whether the Queen is in residence, the ceremony will change, with musical accompaniments if she is "at home" or a brisker non-musical walk when she is not.
The Amalienborg Museum allows visitors to see the private interiors of recent kings and queens and an exhibit on the monarchy today. Rooms are decorated in the style of the time of the ruling monarchs and the exhibits give insight into the life of the monarchy in Denmark.
Fascinating Museums
Denmark's ancient history and its artistic creations are on display in its best museums, from historical treasures to fine art to classical sculpture collections, there is sure to be something to intrigue you. These are particularly attractive options for sightseeing if one or more of your days in Copenhagen happen to be rainy or chilly, and the collections are an inviting way to get inside and learn more about the history and artistic creations of this small but dynamic country.
Ny Carlsberg Glyptotek
Opened in 1897, the Ny Carlsberg Glyptotek holds one of the world's biggest collections of Mediterranean antiquities and 19th-century art.
This great collection of ancient Egyptian, Greek and Roman antiquities assembled by beer magnate Carl Jacobsen also contains an impressive array of modern masters including many paintings by Gauguin, works by Cézanne, Van Gogh, Pissarro, Monet and Renoir, and the largest collection of Rodin sculptures outside of France.
One of the museum's most delightful features is the glass-domed conservatory, filled with palm trees and an attractive café. This is my favorite spot to take a rest and have something to eat while visiting the collection and would be particularly welcome during one of Copenhagen's cold winter days!
Standard tickets cost 115 Danish kroner for adults.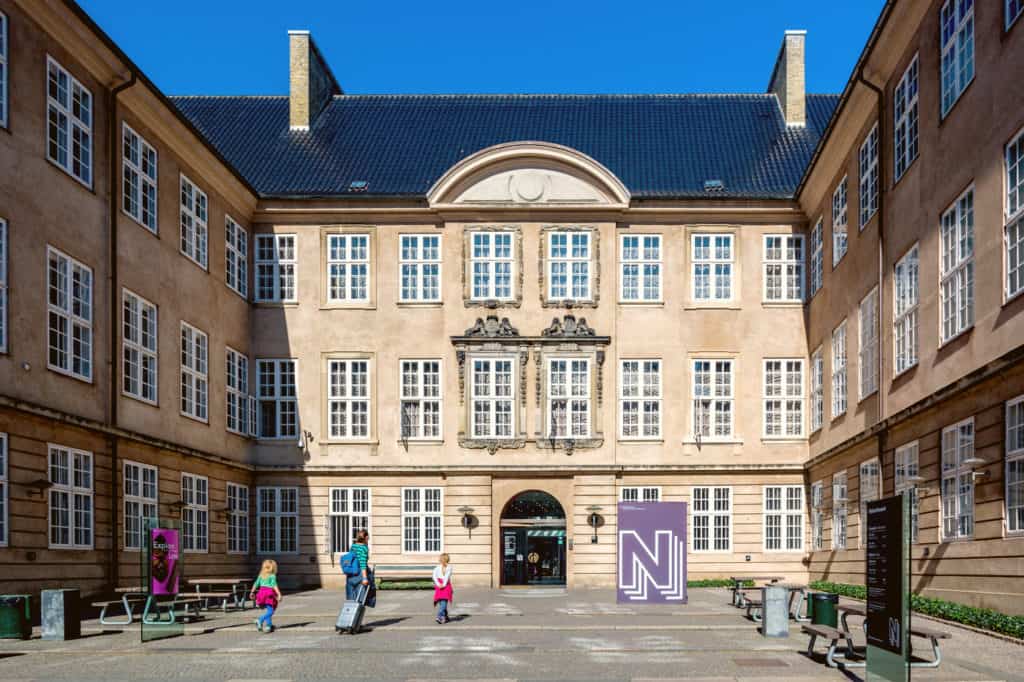 National Museum of Denmark
Denmark's rich history comes alive in the depth of exhibits at the National Museum of Denmark.
Denmark's National Museum has notable historical exhibitions, and one not to miss is the Danish Antiquity section, including prominent national treasures such as the more than 3,000 years old Sun Chariot. It's a Bronze Age statue of a horse pulling a gold disc representing the sun. According to Norse mythology, the sun made its way across the heavens towed by a divine horse.
You'll find anthropological collections related to the Norse and Inuit people of Greenland (which is an autonomous territory of Denmark), and an exhibition called Stories of Denmark, covering Danish history from 1660 to 2000. There is also an amazing Victorian apartment that appears virtually intact since 1890, a real time capsule as to how people lived before the turn of the 20th century. The apartment does have separate admission (50 Danish kroner) and opening hours from the main museum.
Tickets for adults for the main museum cost 100 Danish kroner per person.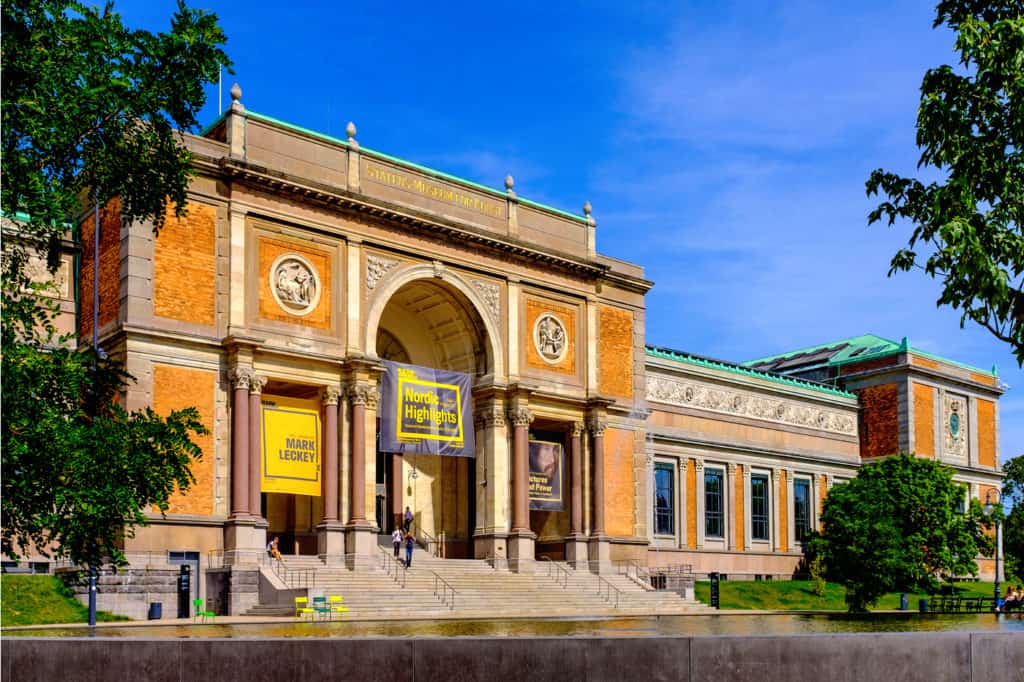 Copenhagen's National Gallery of Denmark
Art lovers like myself will make a point of visiting the National Gallery, the country's preeminent and largest art collection.
The National Gallery of Denmark (Statens Museum for Kunst) features outstanding collections of Danish Golden Age art, the country's most comprehensive collection of Danish contemporary art and one of the world's best collections of the painter Matisse.
The museum has impressive collections of Dutch and Flemish artists, including Rubens, Breughel, and Rembrandt. Other highlights include the Danish and Nordic art exhibitions spanning over 150 years, as well as paintings by the Dutch Masters, Edvard Munch, and Picasso among others.
Admission fee for the museum for adults is 120 DKK.
Vistas and Outlooks
To get a great overview of the city, check out some of the best overlooks.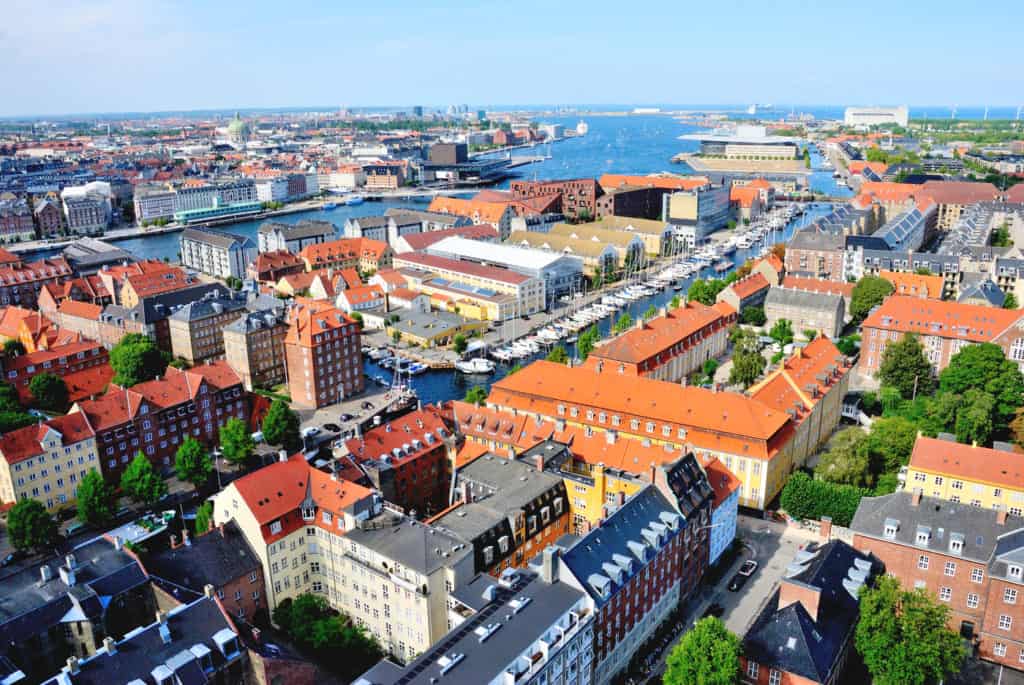 Church of our Savior
This church has an ornate spire that can be climbed for amazing views over the city. It takes a bit of stamina to ascend the 400 stairs, and a dash of courage as the last 150 are outside as they follow the twisting spire to the top vantage point.
The Church of Our Savior was built in the 1680s and opened in 1696. Inside, you'll find a carillon with 48 bells, a carved pipe organ built in 1698 and an ornate baroque altar that depicts a scene from the New Testament. But the church's most notable feature is its oak spire, which features an outdoor spiral staircase, iron railings and a gilded statue of Christ on a globe. The ticket cost for the tower is 65 DKK.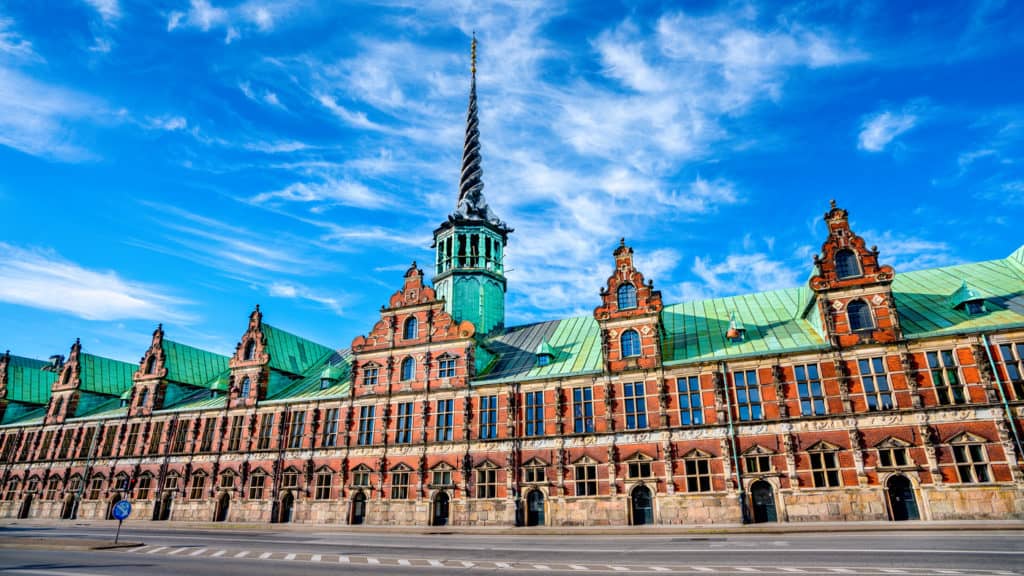 The Borsen Stock Exchange Spire
While we're on the subject of spires, my own favorite in Copenhagen is the fantastical twisting spire of the Borsen or stock exchange building, which is well worth a look on your strolls around the city, though it's not generally open to the public.
The exchange is topped by a spire formed from the entwined tails of four dragons! Built in the 17th-century reign of King Christian IV, the building is one of the finest examples of Dutch Renaissance architecture in Denmark.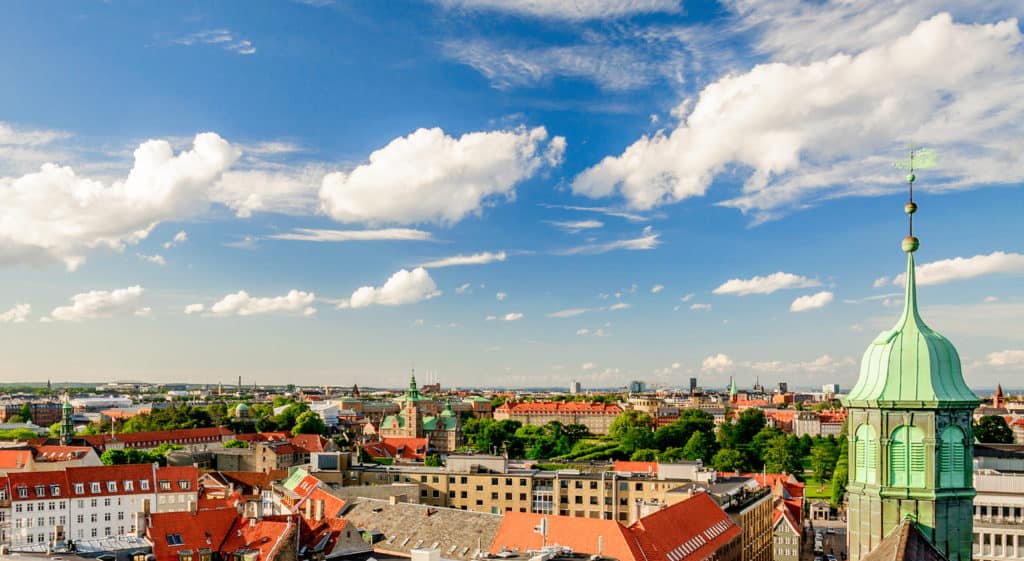 Round Tower
Rundetårn, meaning 'Round Tower' is not only a beautiful brick tower from the 17th century, but also the oldest functioning observatory in Europe, though now used by amateur astronomers and no longer by scientists.
King Christian IV built the tower during the height of Denmark's astronomical achievements, with the most famous Danish astronomer being Tycho Brahe. When Brahe died in 1601, the King wanted his research continued and so built the tower.
This circular building was built in 1642 and is ascended by means of a circular ramp rather than stairs. The length of your ascent depends on whether you follow the less steeply inclined outer section of the ramp or the more steeply pitched inner section. Or split the difference and walk up in the middle! Once you are at the top, you can enjoy striking 360-degree views over the cityscape of Copenhagen.
Adults can climb to the top of the Round Tower for 40 Danish kroner.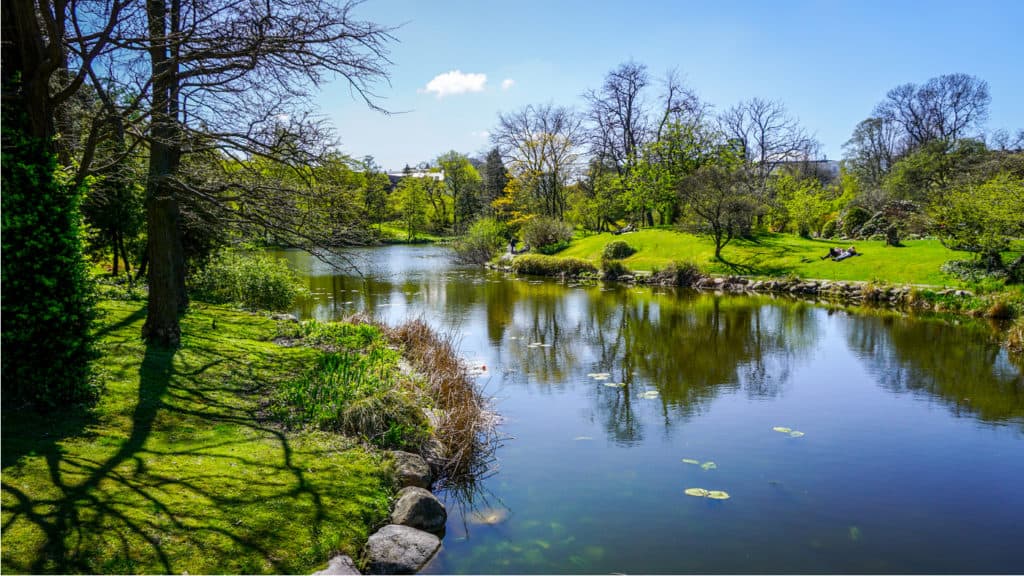 Botanical Gardens
For an enjoyable stroll through nature, I find that a walk through the city's Botanical Gardens can provide a soothing respite from the downtown scene. The Gardens have been in existence since 1870 and are home to more than 13,000 plant species.
The Gardens cover over 24 acres with 27 historical glasshouses dating from 1874 and amazing plants. Highlights include a rhododendron garden, rock gardens featuring plants native to Europe's mountainous regions, and the Palm House.
The Palm House features cast-iron spiral staircases leading to a walkway above the treetops. During the summer, visitors can also explore the garden's butterfly house.
Admission is free for the Botanical Gardens, except for the Palm House, which charges a fee of 60 DKK that also includes entrance to the Butterfly House.
Shopping and City Squares
Simply strolling through a city can reveal its character and its public gathering spaces. In Copenhagen, be sure to check out the series of pedestrian streets known as Stroget, for an enjoyable 1-kilometer stroll from the Town Hall Square on one end to the Kongens Nytorv square near the harbor. On the way, you'll pass iconic Danish design stores like Georg Jensen and Royal Copenhagen porcelain and several interesting and historic squares.
Strolling along Stroget
Your rambles start at Town Hall Square, with the Italianate architecture of the Town Hall and its ornate courtyard based on the City Hall in Siena, Italy. I enjoyed the Hans Christian Andersen statue here, with the author glancing upwards, half-opened book and walking stick in his hands.
Another fun curiosity is the Weather Girls atop the Richshuset building on Town Hall Square. These are golden statues of two girls who once indicated the weather by having one appear on a bicycle in good weather and another sporting an umbrella and walking her dog coming out when the weather turned intemperate. Even though the mechanism no longer works, it is still fun to spot the golden girls on high near Town Hall.
The Town Hall building itself was completed in 1905, and inside is the unique World Clock built by astro mechanic Jens Olsen at the cost of one million kroner. It displays not only local time, but also solar time, sunrises and sunsets, planet revolutions, the Gregorian calendar and other astronomical measurements as well as calculating the date of religious holidays! It was completed in 1955 and is considered the most accurate mechanical clock in the world, only outdone by atomic clocks. You can also climb the Town Hall tower for an expansive view.
Stroget is one of Europe's longest pedestrian streets, home to a wide range of shops both high end and more economical. It is just over a kilometer in length and runs from City Hall Square to Kongens Nytorv, the city's largest square and the harbor at Nyhavn.
When Strøget was turned into a pedestrian-only zone in 1962, this began a new way of thinking in Copenhagen's approach to civic life and urban transportation. With public acceptance of this initiative, the city began to prioritize pedestrian and bicycle access to the city instead of cars. This approach has become influential around the world.
Amager Square is a centerpiece of the Strøget pedestrian zone. At its heart is the Stork Fountain, which was a silver anniversary gift in 1894 to the former Crown Prince and his wife.
From Amagertorv look across the canal for views of Christiansborg Castle. Proceeding further, you reach Kongens Nytorv square with The Royal Danish Theatre and ultimately the harbor at Nyhavn at the far end of Stroget.
Old Square or Gammel Torv is another interesting historic square along the route. The Fountain of Charity in Old Square has been a source of controversy. Although the statue has been here since the 1600s, the two sculptural figures were controversial during the Victorian era, and the statue was placed high on a pedestal so that the pregnant nude woman and the young boy would not be so visible!
The Food Scene
Copenhagen has one of the most dynamic food scenes on earth, and part of your adventures there should include experiencing the food. Although it may not be possible to book far enough ahead to eat at one of its three-star Michelin restaurants, there are many other great restaurants to sample. In addition, there are other fun ways to get a feel for the local foods, from trying the famous smorrebrod sandwiches to visiting local markets or grabbing some savory street food and mingling with the locals.
Torvehallerne Food Market
Torvehallerne is a great market in which visitors and locals alike mingle to see where the renowned restaurants shop for their foods to prepare their famous dishes. I love to explore a great city's market to see what local produce is on display (and grab a snack along the way) and here is Copenhagen's contribution.
Originally opened in 1889, Torvehallerne is a food lover's dream. Browse the stalls of local farmers and growers and peruse the fruits and vegetables, fish, meat, and assorted goods at the various food stands. The market is open daily from 10 am until 6 pm on weekends and 7 pm on weekdays.
Reffen Street Food
Seek out this collection of outdoor food vendors to get a taste of the local and international foods on offer in the city. Reffen Street food market is the largest such market in the Nordic countries. You´ll find food from all over the world at over 40 stalls.
It is not only a street food market, but a place where locals come to hang out and join in games and activities. Grab a chair on the quay and watch harbor life or join one of the many events that takes place here as well. Closed during the winter months, Reffen offers a fun, creative way to taste local foods and meet area residents.
Copenhagen residents often take to their bikes to get around in this green city. You can follow their lead while also enjoying some Danish treats on this three-hour culinary bike tour priced at $92.82 per person. The tour provides the opportunity to do fun tastings at six different venues around the city. Or join a local chef on this 4-hour Culinary Experience Tour costing $139.52 per person. Here you'll learn more about why Nordic food is considered so innovative and have the chance to do tastings of a variety of different food and drink under the guidance of a knowledgeable chef.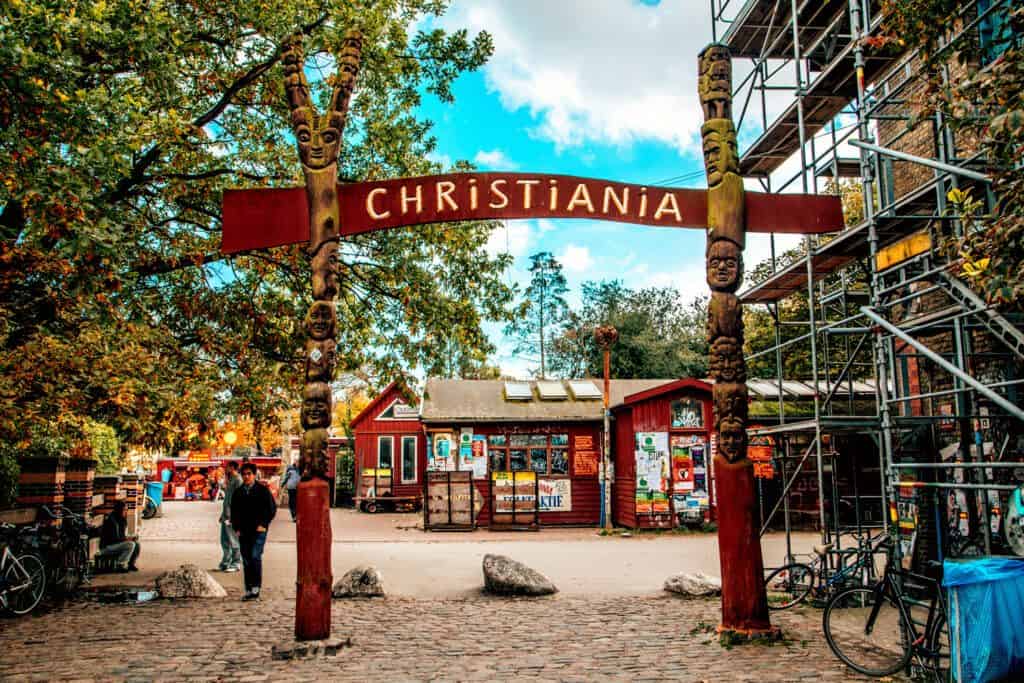 Christiania Freetown
For a totally different perspective on city life, a visit to the free city of Christiania is an interesting departure from the norm. Established in 1971, Christiania is an autonomous neighborhood recognized as a commune by Danish authorities. Its counterculture inhabitants took over abandoned military barracks and never left.
Although exploring Christiania may not be to everyone's tastes, it does offer a chance to see how one city has allowed its alternative lifestyle residents to plot their own course and live their own lives free from interference. Do follow the rules about no photographs and know that the local city police do not patrol within Christiania. Houses are not purchased but are applied for and given to accepted applicants.
Wander through the town and its graffiti-covered buildings, galleries and eateries and experience a community where cars are banned, horses run free and alternative substances are openly permitted. A 1.5 hour private guided tour costing $164.26 per person might be the best choice to experience this alternative lifestyle in practice, and to see and understand how these residents live.
Learn the meaning of Hygge
Copenhagen usually sits very high on the list of the world's happiest cities, and one of the most notable aspects of that is the feeling of comfort residents feel. To explore what aspects of the city contribute to this sense of comfort and well-being, consider taking this interesting 3.5 hour small group tour priced at $61.99 per person to get underneath the surface of Danish social culture. Here's your chance to visit a local neighborhood, visit a café and wander the cobbled streets with locals and learn more about how they live.
The variety of experiences Copenhagen offers warrants more than a couple days stay. From its royal roots to its modern design and scintillating local cuisine, the city rewards exploration and getting below the surface. Take the time to visit several of the majestic castles and palaces like Rosenborg and Christiansborg, but also search out other historic buildings like the Round Tower and look for the city's ornate spires on the Church of our Savior and the Borsen stock exchange building.
Apart from the shopping opportunities it presents, a walk down the Stroget is a great way to immerse yourself in city life while taking in some its historic squares. Start at the Town Hall in the morning after breakfast and if you take your time along the way, you'll be in Nyhavn just in time for lunch!
Take a canal boat tour to enjoy waterfront views, see the changing of the guard at Amalienborg Palace and dig deep into Danish history at the National Museum or learn more about Denamrk's own artistic heritage at the National Gallery. Of course, seek out the Little Mermaid, spend some time particularly at night wandering through Tivoli Gardens and wander the atmospheric Nyhavn area.
But beyond the most famous sights, I would recommend seeing more of Copenhagen by taking a tour of the alternative lifestyles in Christiania Freetown, a tour that lets you discover more about the concept of hygge or a culinary tour to learn about modern Danish eats. Add some extra time to your visit and you won't be disappointed!
Related Articles on Denmark

🇩🇰 The Cost of Visiting Copenhagen: A 2023 Budget Breakdown