Known for its outstanding and luscious landscapes, Colorado is every active goer's dream, with plenty of outdoor recreational activities to explore, ranging from hiking and horse riding to kayaking and rock climbing.
One of the Mountain States, the capital of Colorado is Denver and it stands as the most populous city in the state, full of world-class museums, historical landmarks, and renowned breweries. There are many popular cities and towns in Colorado full of popular attractions and exciting activities, like skiing in Vail, soaking in the hot springs in Glenwood Springs, and heading to Estes Park by Rocky Mountain National Park, where fans of The Shining can check out The Stanley Hotel that inspired Stephen King to make the iconic horror film.
Whether it be taking time to visit one of these recommended activities or reserving a weekend to explore a range of attractions in, say, Colorado Springs or Steamboat Springs, you won't regret it. Colorado is famous for its world-class accommodations and service. So don't be surprised if you plan a second trip to Colorado to take in more of the soaring mountain peaks, sparkling alpine lakes, luscious forests, and abundant wildlife in this stunning state.
Below are the top 25 things to do in Colorado, from hidden gems to famous tourist spots. Each attraction will create memorable, exciting, and fond moments to look back on.
Are you ready to experience the best 25 things to do in Colorado? From well-known activities like hiking Rocky National Park to hidden gems like Dinosaur National Monument, where you can touch history that dates back millions of years, below is the list of the best activities and attractions to consider when visiting Colorado.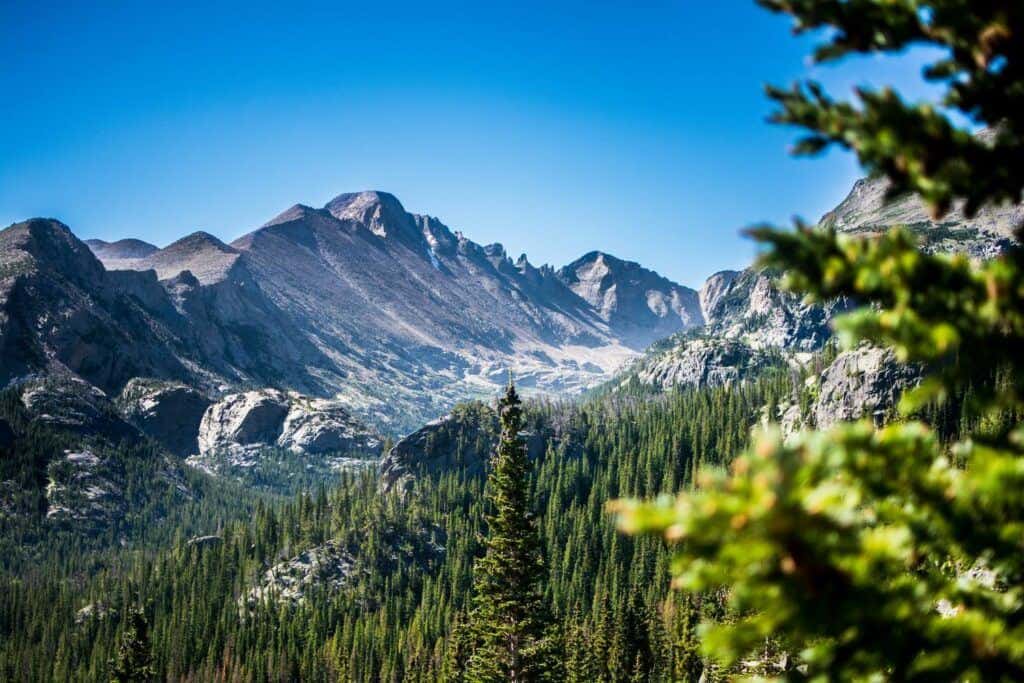 Hike At Rocky Mountain National Park
Debatably the most popular and well-known attraction in Colorado, Rocky Mountain National Park features alpine tundra, forest, and protected mountains in northeast Colorado.
Featuring some of the highest mountains in the continental United States, the park was established to protect natural and cultural resources. Having formed anywhere from 55-80 million years ago, the Rocky Mountains are home to 77 mountain peaks that reach over 12,000 feet in height along with the Continental Divide.
It wasn't until around 11,000 years ago that humans ventured to the lands of the Rocky Mountains. The land became the home of the Ute tribe, who favored the crystal lakes, green valleys, and tundra meadows. The Rocky Mountains welcomed the Ute tribe, French fur trappers, Spanish explorers, settlers, gold miners, speculators, Easterners, ranchers, homesteaders, and hunters.
Hiking at Rocky Mountain National Park to bask in its refreshing and spectral scenery is one of the most well-known activities in Colorado. Whether it be swimming in the crystal clear lakes, hiking steep inclines, or simply relishing in the views, visiting Rocky Mountain National Park is a must!
Bask In The Dramatic Views Of The Garden Of The Gods
A registered National Natural Landmark, the Garden of the Gods, is one of the most visited attractions in Colorado Springs. Boasting over 300 million years of geological history, this historical landmark holds an extensive background in earth's history. It is reputably known as the best of the best in Colorado and the United States!
With one-of-a-kind views that feature sandstone rock formations, luscious blue skies, and a remarkable backdrop of the snow-capped Pikes Peak. The Garden of the Gods is home to a plethora of geological and ecological finds opening up doors to opportunity. For example, it was at this location that a new species of dinosaur was discovered, and a subspecies of honey ants were found. And at this historical landmark, you can walk this ancient path of discovery and history yourself!
Witness the majestic jewels of Pikes Peak and the Garden Of The Gods on this guided tour. On this tour, guests will be able to admire the history of the Garden of the Gods, hike to the summit of Pikes Peak, and take in the memorable and scenic landscapes of the Rocky Mountains.
Navigate Along The Scenic Pikes Peak Highway
In Pike National Forest, Pike Peak is a prominent 14,115-foot fourteener famed across the world as the highest summit of the Rocky Mountains' Front Range.
Spanning 19 miles, Pikes Peak Highway is one of the most well-known highways, thanks to its remarkable beauty and scenery. Taking you up to the picturesque summit, the drive begins at an elevation of 7,400 feet and reaches up to 14,115 feet.
The most visited mountains in North America, this memorable landmark not only features stunning views, but also presents opportunities to witness the natural and bountiful habitat for elk, bighorn sheep, and yellow-bellied marmots.
Make sure to bring your camera and fill up on gas before you go because there are no gas stations on Pikes Peak Highway!
Horseback Riding In Durango
One of the best places to visit in Colorado, Durango offers plenty of opportunities for some of the best Colorado activities, which include outdoor sports, adventure, history, and cultural attractions. The city homes more than 2,500 preserved archeological sites, one national park, and 13 historic sites.
Colorado is renowned for its breathtaking sprawling valleys and high mountain tops, and what a perfect way to see it firsthand than on a horseback riding trip in Durango!
Countless trails allow guides to lead groups of riders through the wilderness of Colorado's terrain. In addition, Durango boasts plenty of top-notch ranches staffed with professional and friendly guides and bomb-proof horses for first-time riders.
Rock Climb The Flatirons
An iconic set of reddish-brown sandstone formations on the foothills of Boulder, Colorado, the Flatirons are this town's most famous landmark.
Used in logos and artwork throughout the town, the Flatirons illuminate Boulder's scenic views with its natural beauty. Though hiking around and up the Flatirons is an option, there is no better way to get up close to them than by climbing them!
The most popular multi-pitch rock climbing routes are found on the First and Third Flatirons, though the Third Flatiron is more popular than the First. Fun fact: the first recorded climb of the Third Flatiron was in 1919. And whether you're a beginner or an expert, there is no better way to experience this famous Boulder landmark than by hiking through the wooded wilderness to climb this encompassing natural formation!
Take In Ancient History At Mesa Verde National Park
In Mesa Verde, Colorado, Mesa Verde National Park is renowned for its well-preserved Ancestral Puebloan cliff dwellings, one of the most notable being the massive Cliff Palace. Some trails, such as Petroglyph Point Trail, allow hikers to take in historical rock carvings of the ancestral Puebloans.
The park protects and preserves the rich cultural heritage of the Ancestral Pueblo people, who built thriving communities on the mesa and in the cliffs of Mesa Verde for over 700 years. Designated by the United Nations as a cultural World Heritage Site, the Mesa Verde National Park is a place every person should experience once in their lifetime. There are over 4,700 archeological sites that include 600 cliff dwellings and the mesa-top sites of pueblos, pit houses, farming structures, and masonry towers.
Other points of interest include the Mesa Top Loop Road that winds along the archaeological sites, with plenty of scenic overlooks to bask in, such as the Sun Point Overlook. This overlook presents powerful panoramic canyon views to take in.
When visiting this park, visit the Chapin Mesa Archeological Museum. This museum preserves, collects, and exhibits the ancient Native American culture of the Ancestral Puebloans.
Step Back In Time At The Mining Ghost Town, Ashcroft
An old silver mining ghost town, Ashcroft, Colorado, is a National Register Historic Site and one of the most reputed preserved ghost towns in Colorado. The town has several historical buildings, including a hotel, a saloon, and a post office.
Two prospectors left the boomtown of Leadville in 1880 to find silver deposits. Within two weeks, the two prospectors established a Miner's Protective Association of 97 members along with a courthouse and laid out streets in the town they named Ashcroft. By 1883, Ashcroft honed a population of 2,000 people with two newspapers, a small smelter, a school, sawmills, and 20 saloons to become much more prominent than Aspen.
Unfortunately, as quickly as Ashcroft boomed, it became depleted, resulting in an eventual ghost-mining town. Finally, in 1974, the Aspen Historical Society received the first USFS permit to grant a historical society to interpret and preserve a ghost town.
Discover History At The Florissant Fossil Beds National Monument
Home to 34-million-year-old fossilized redwood tree stumps, the Florissant Fossil Beds National Monument, the Florissant Formation is situated all around Florissant in Teller County, Colorado.
This monument presents a giant step back in time to prehistoric Colorado. It is renowned for its exceptionally preserved and abundant plant and insect fossils found in mudstones and shales. As one of the richest fossil deposits in the world, the geologic heritage represents the late time period called the Eocene, holding clues of unexpected environments and life that existed during this period.
Encounter one of the biggest petrified tree stumps on the planet, named the Big Stump, on the self-guided hike of the Florissant Fossil Beds National Monument on multiple available trail loops, like the Ponderosa Loop and Geologic Trail.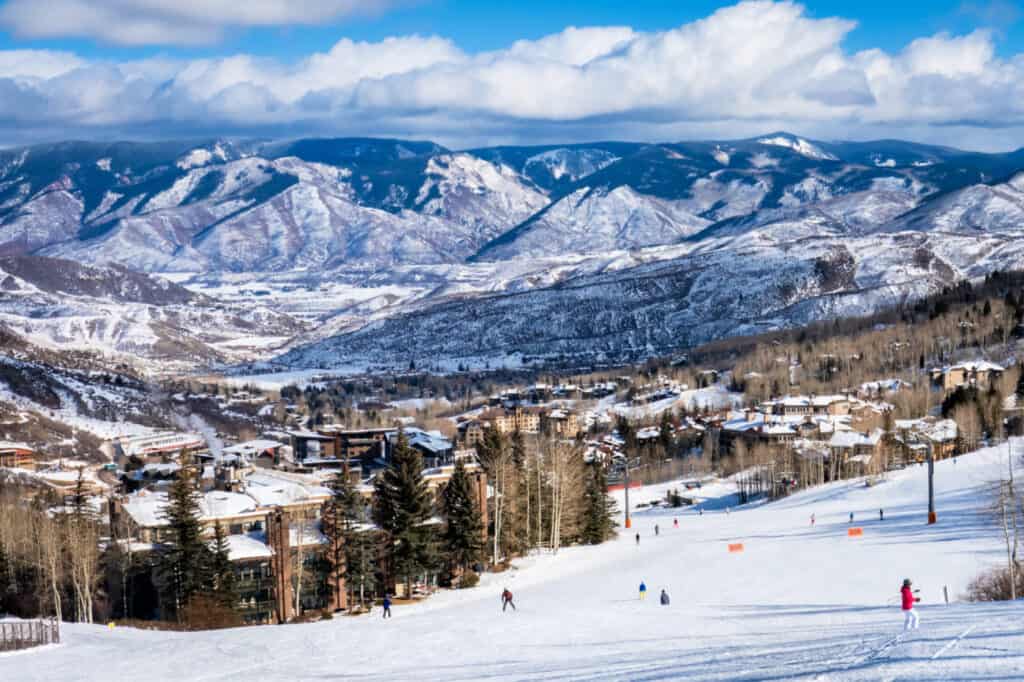 Go Skiing At The Aspen Snowmass Ski Resort
Located in the town of Snowmass Village close to Aspen, Colorado, Aspen Snowmass Ski Resort is situated with the key highlight of the largest of the four Aspen/Snowmass mountains, Snowmass.
Boasting unmatched hospitality and accommodations for passionate skiers, from the 5,500+ acres of terrain, acclaimed restaurants, and unmatched Ski & Snowboard Pros for guests to experience the best of the best and as one of the world's most famous and exciting ski resorts, taking time in your schedule to experience "The Power of Four" is a must!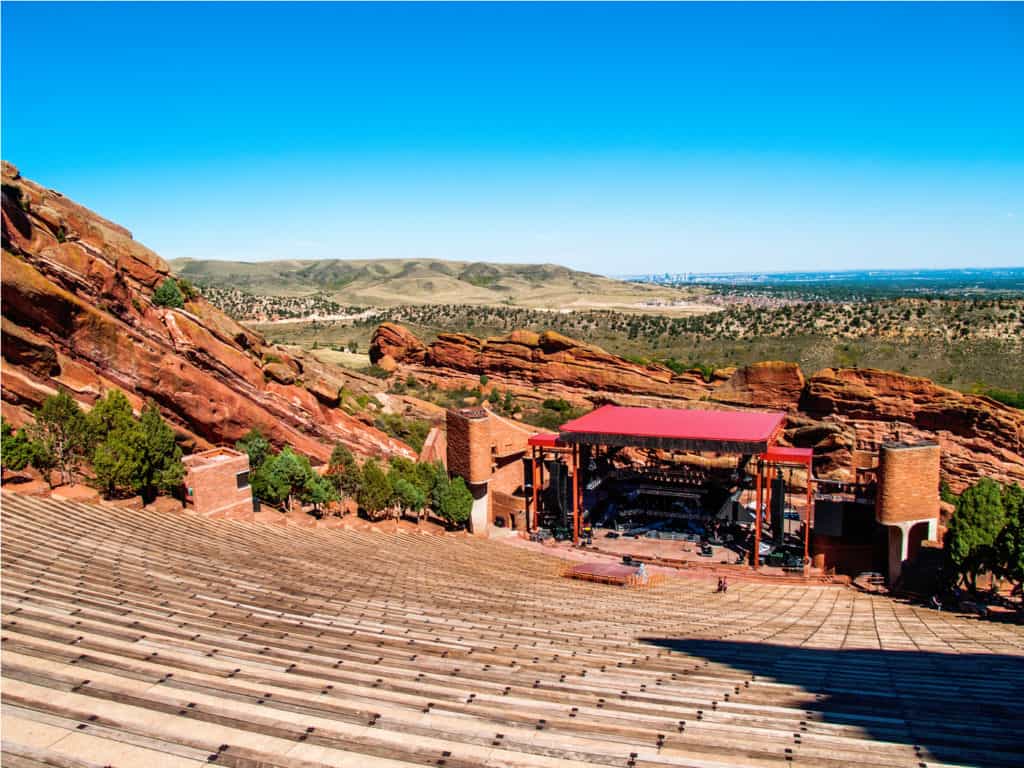 Buy Tickets To A Concert At The Red Rocks Park & Amphitheatre
Ten miles west of Denver and near Morrison, Colorado, the Red Rocks Park & Amphitheatre opened in 1941 and has since become an iconic concert venue hosting world-famous musicians like Stevie Nicks, The Beatles, and Louis Armstrong.
A designated National Historic Landmark, the open-air amphitheatre was built into a rock structure alongside towering red sandstone formations scattered around the park. Attending one of these concerts is one of the most spectacular things to do in the United States.
Termed "America's Best Amphitheatre" by Rolling Stone magazine, this acoustically remarkable sound experience tops any other concert you'll ever experience as the mountain breeze and inky sky settles over you surrounded by red sandstone.
If you're more of an active goer, there are plenty of options at Red Rocks Park! From mountain biking to hiking and horseback riding, taking time to adventure through the impressive geology and stunning nature filled with spectacular views is a worthwhile adventure!
Find Relaxation & Adventure In Glenwood Springs
Sitting in the rugged Rocky Mountains, Glenwood Springs is a resort city famous for its natural and relaxing hot springs surrounded by the vast White River National Forest. Glenwood Springs homes the world's largest hot-springs pool and world-class spa amenities, having drawn in wellness-seeking visitors since 1888.
This city has plenty of attractions to take on, including Glenwood Canyon, rich with wildlife and most notably known for Hanging Lake's striking turquoise waters. In Glenwood Caverns, explorers can adventure in ancient underground caves. For thrill-seekers, head to Glenwood Caverns Adventure Park for blood-pumping roller coasters and canyon swings that overlook the Colorado River.
Glenwood Springs is the place to visit if you're searching for a combination of relaxation and thrill.
Go Whitewater Rafting In Steamboat Springs
Featuring some of the most stunning scenery, Steamboat Springs is set near the Upper Colorado River, with the Rocky Mountains looming in the background.
Steamboat Springs is nestled at 7,000 feet elevation with spectacular mountain peaks, such as Storm Peak and Thunderhead Peak, dotting the background; a ranching community with an Old Wild West feel. However, Steamboat Springs isn't only famous for its whitewater rafting and quaint atmosphere, hot springs, and excellent mountain recreation. The town has preserved its history by maintaining its heritage and the ranching way of life for an authentic feel in this historic town.
The Colorado River is world-renowned for its epic whitewater rapids, featuring some of the most significant whitewater in North America. For beginners, the Upper Colorado Scenic Float heads through Little Gore Canyon, safe for kids ages 3+ up. This route makes for a family-friendly, relaxing, yet adventurous trip to soak in the spectacular surroundings for an unforgettable experience in Colorado.
Drive The Scenic Trail Ridge Road
The name for a 48-mile stretch of the U.S. Highway 34 that twists along the Rocky Mountain National Park from Estes Park, Colorado, Trail Ridge Road inspired awe before any motorist ever traveled it.
Driving up this scenic road gives drivers panoramic views of the Rockies and the vast wilderness of glorious Colorado. This scenic wonder road of the world, Trail Ridge Road presents opportunities for visitors to bask in thrilling views, witness rare wildlife sightings, and discover natural alpine wildflower displays.
A national designated All American Road, Trail Ridge Road is one of the top ten America Byways, though it is not for the faint of heart! The road clings to the side of sheer cliffs on an incredibly scenic route worth the trip.
Take In Preserved History At The Old Mining Camp, Telluride
Formerly known as Columbia, this location was once a rowdy mining camp that eventually became a town in 1879, changing its name to Telluride.
This historic mining town displays stunning scenery as a picturesque canyon and towering peaks dotting the background. The small town is the perfect quiet getaway from the hustle and bustle of life surrounded by the Rocky Mountains.
Telluride is a top ski destination, but once the snow melts, lush meadows, boisterous wildlife, and alpine lakes await exploring. Over 100 hiking trails are available for varying skill levels, some featuring turquoise lakes, rushing waterfalls, and impressive mountain tops. However, suppose you're not into hiking and like the possibility of getting your feet wet. In that case, kayaking or paddle boarding on the calm waters at Trout or Alta Lake is another active option.
Telluride is a National Historic Landmark District recommended for history buffs, so make sure to head into the preserved mining town to explore the shops and restaurants that maintain the Old West architecture.
Buy Tickets For A Train Ride On The Durango & Silverton Narrow Gauge Railroad
Snatching the vote as the #1 train in the USA 2021 & 2022 by USA Today, the Durango and Silverton Narrow Gauge Railroad is a National Historic Landmark that features western hospitality, unparalleled scenery, and authentic railroading history of its founding in 1880.
This magical train ride takes riders through the San Juan National Forest, featuring rushing waters of the Animas River, the Cascade Canyon, and the historic mining town of Silverton. The Durango and Silverton Narrow Gauge Railroad runs year-round, making it easy for travelers from all over to witness the change of seasons of the remote wilderness of Colorado's vibrant outdoors.
Make sure to book your reservations ahead of time! Availability tends to be limited as this train ride does not disappoint riders, manifesting outstanding scenery of the great outdoors of Colorado.
Ride The Estes Park Aerial Tramway
Opened to the public in 1955, the Estes Park Aerial Tramway has carried more than three million people to the summit of Prospect Mountain since its establishment.
Designed and built by Robert Heron, who created the first double chair lift in the United States, the tramway is still owned and operated by the Heron family to this day. And anyone looking to obtain a bird's eye view of Estes Park without having to hike can get it on the Estes Park Aerial Tramway!
The tramway safely whisks riders above the treetops until you reach the summit of Prospect Mountain. As one of the few European-style cable cars in the United States, riders of the tramway can spend as much time as they wish to photograph and soak in the unrivaled views and panoramic scenery.
Head Into Wine Country In Grand Junction
Home to 30 wineries and tasting rooms, Grand Junction serves up some of Colorado's best wines with the ultimate backdrop of red rock cliffs and majestic wilderness beauty.
One of the best wineries in Grand Junction, and debatably Colorado, The Winery allows guests to taste history in a converted carriage house filled with warmth and a menu designed to delight the senses. With over 40 years of experience, this winery has shown its mastery of great wine-making and hospitality, having been awarded the title "Best of the West". To find this top winery, head to downtown Grand Junction on historic Main Street in the heart of the cultural district.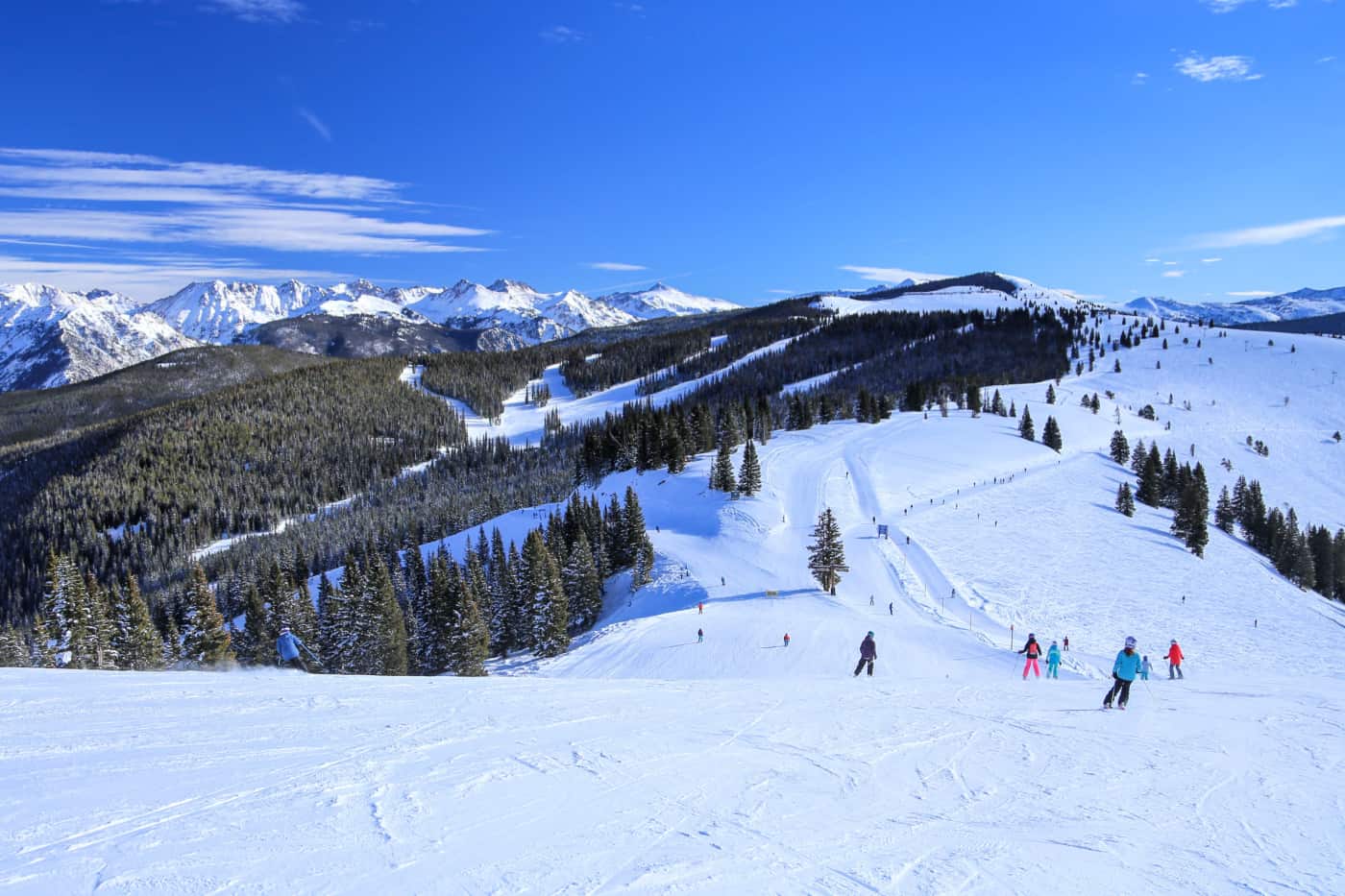 Go Snowboarding In Vail
One of the top destinations in Colorado, Vail is home to world-renowned skiing, luxurious accommodations, stunning mountain views, the finest resorts, diverse shops, top-notch restaurants, and more.
In Vail, the largest ski resort in the world is covered with more than 5,200 acres of developed ski and snowboard terrain to traverse as well as seven legendary Back Bowls that stretch seven miles. And if spending time skiing or snowboarding on some of the best terrain on the planet isn't for you, you should still visit Vail for its lifestyle and culture.
Traveling to Vail makes for a worthwhile vacation as this town boasts high-class entertainment and many events year-round, from athletic competitions to culinary events and film festivals. It's not hard to find world-renowned performers and musicians performing in these events and festivals in the summer or winter. The heated cobblestone streets, alpine-inspired architecture, and impeccable service always make for a memorable vacation.
Explore Millions Of Years Of History At Dinosaur National Monument
The Dinosaur National Monument preserves the spectacular preserved remains of embedded dinosaur fossils in the rock. This monument is located on the northwestern edge of Colorado, where a 2,500-foot gash called Yampa River Canyon winds through the red sandstone cliffs holding millions of years of history.
The petroglyphs present a step into earlier cultures and history only possible thanks to the desert, mountains, and untamed rivers that flow in deep canyons, supporting all ranges of life. At the Dinosaur National Monument, there are more than 1,500 dinosaur fossils for visitors to witness firsthand where dinosaurs once roamed. Touch dinosaur bones that date back millions of years to the Jurassic period. Or if you're feeling the itch to be active, the Dinosaur National Monument Park allows other recreational activities, including fishing, horseback riding, hiking, backcountry camping, and picnicking.
Drive Down The Million Dollar Highway
Arguably, the name for the Million Dollar Highway came from how much it cost to build the road, the amount of gold ore in the roadway's fill, or the symbolic price for the remarkable San Juan Mountain views.
Either way, on the Million Dollar Highway, take one of the most incredible drives in the world for an experience everyone should have once in their lifetime. The views are exceptional, with some of the best views imaginable!
When driving down the Million Dollar Highway, there are plenty of other attractions, including the three main towns, Ouray, Durango, and Silverton. Each town hosts its top attractions ranging from hiking, fishing, camping, biking, and eateries, which make them popular spots to experience at least once!
Tour The Largest Man-Made Structure, The Bishop Castle
Named after its constructor, Jim Bishop, Bishop Castle is an elaborate, unique, and intricate roadside attraction of central Colorado settled near the San Isabel National Forest.
The three-story castle was built stone by stone by one man, including the grand ballroom, soaring towers, fire-breathing dragon, and bridges with vistas. Jim Bishop's perseverance resulted in the most impressive and impactful monuments in the United States.
Visiting Bishop Castle is free of charge and an unforgettable experience filled with the loud testament of a man's dedication to sticking to his dream no matter what.
View Geological History At The Paint Mines Interpretive Park
A historic park full of chromic displays of colorful formations, the Paint Mines Interpretive Park in Calhan, Colorado, is filled with colorful clay, refreshing prairie winds, sandstone-capped spires, and vibrant wildlife.
With 750 acres of land, the Paint Mines Interpretive Park preserves evidence of human life that dates back 9,000 years. The unusual geological formations embedded in the hoodoos, gulches, spires, and meadows are some characteristics that personify the unique nature of the park.
The colorful formations that range from yellow and purple to red and gray were once mined by Native Americans who used the material for ceremonial pottery and pain. As you explore the stunning array of culture and preserved history, there is an opportunity to catch a glimpse of local wildlife, including coyote, mule deer, pronghorn antelope, and various bird species that make it a popular spot for bird watching.
For Movie Fans, Visit The Original Indiana Jones Bed & Breakfast
The actual scene location filmed in Indiana Jones and The Last Crusade, Indiana Jones Bed & Breakfast allows an opportunity for cinematic or Indiana Jones fans to see where some of the iconic movies were filmed.
Each of the four units of the home is given an Indiana Jones-themed name, such as The Crusaders, The Holy Grail, The Coronado, and The Cortez. In one of the units is a picture of Sean Connery sitting over the hearth for his legendary role in the films.
As a beloved hidden gem, visiting this home built in 1888 is the perfect opportunity for a unique activity to take on in Colorado!
Spend A Family Day At Tiny Town & Railroad
A miniature village near Morrison, Colorado, Tiny Town and Railroad features over 100 ⅙ scale buildings and a 15-gauge miniature railway.
The history between the establishment of this unique Colorado gem travels back to 1915 when the Denver-Leadville Stage Coach Station George Turner constructed Turnerville, the beginning of Tiny Town, to entertain his young daughter. Five years later, Turnerville grew large enough to be opened to the public. Unfortunately, after an initial boom, disaster after disaster struck Tiny Town until 1987, when the town was bought out and invested in to gain popularity again.
Visitors can take in Tiny Town's scale model of the Coney Island Boardwalk, picnic areas, and the mini village and hop on a mini train ride seated behind two authentic steam engines that take riders through parts of the resort that aren't accessible by foot. Perfect for the kids, this family-friendly Colorado attraction makes for an outstanding, memorable experience.
See The Tragic Fall Of The Castlewood Dam Ruins
At Castlewood Canyon State Park are the last remains of Castlewood Canyon Dam in Denver, Colorado.
On the short hike up, you will find a crumbling stone levee that once was a massive irrigation reservoir that failed in historic flooding in 1933. The fall of the dam resulted in an unleashed 15-foot wall of water on Denver that traveled over 40 miles.
After becoming a state park in 1964, the space expanded to almost 900 acres full of various hiking trails that flank both sides of the dam ruins. As a result, Castlewood Canyon State Park is an often overlooked state park great for hiking, exploring, and rock climbing, with scenery such as streams, homestead ruins, caves, and waterfalls to take in after witnessing the remains of the tragic fall of the Castlewood Dam.