It took just a week for me to fall in love with Colombia, and just three months for me to be sure I'd never find a country quite like it. It has a landscape made for adventure and a culture that lends to relaxation, the perfect balance.
There's an impressive range of different territories to explore too, from wild jungles to long stretches of the Caribbean coast, and lush mountain ranges.
I really believe there's nothing you can't do in Colombia. The culture is explosive and fun, the dancing is some of the best in the world, the hiking is fantastic, it has a fascinating history, and there's delicious food in every region.
If you're looking for a well-rounded country that offers a bit of everything, and is still super budget-friendly, then Colombia is for you.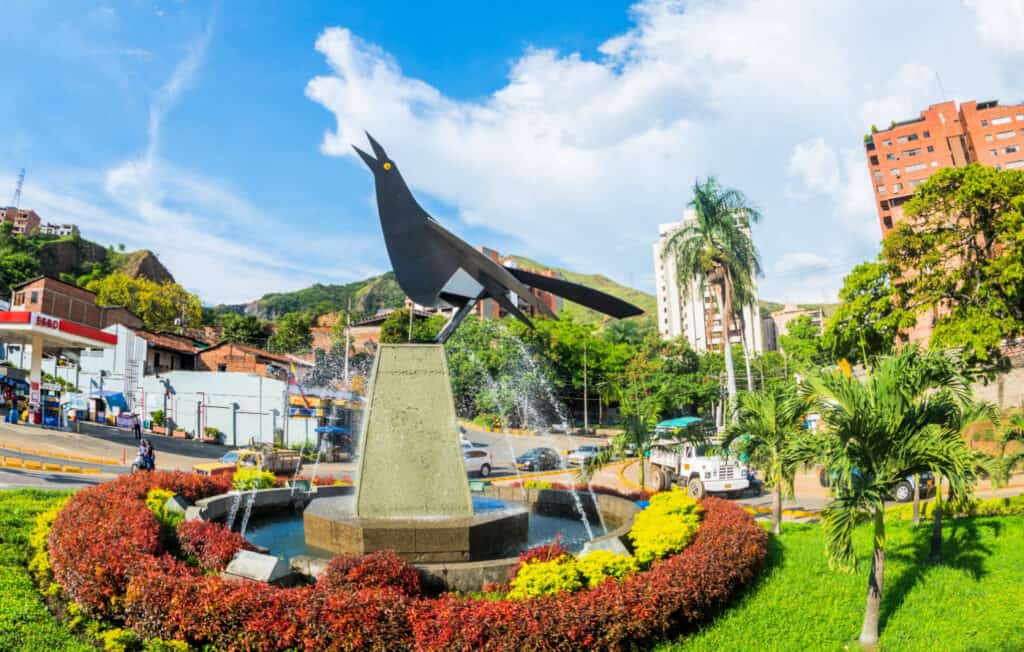 Go Salsa Dancing in Cali
Cali is a vibrant city in the South of Colombia that is famous as the "capital of salsa dance". Most people come and spend a few weeks in the city and take salsa classes. If you get the chance to go to a salsa club you'll find yourself in awe of the way the locals turn and swivel, effortlessly keeping up with the live music as their colorful dresses make shapes on the dance floor.
Join the locals and dance the weekend away! Don't worry if you're a beginner or you've got two left feet, Colombians are super friendly and they love helping visitors learn how to dance, so you'll pick it up in no time.
Fancy dancing in the open air? Then head to El Rincon de Heberth. Check out Punto Bare for live music, go to La Topa if you want to get swept up in the crowds, and try out MalaMaña to get a taste of a typical night out for a Caleño (the nickname given to people from Cali).
Visit Cascada La Sirena
If you're in Cali then there's a beautiful waterfall hidden in the Danubio Valley that you have to go and see. Admittedly it's not super easy to get to, and there are definitely simpler day trips you do from Cali. That said, if you're up for a bit of an adventure, the Cascada La Sirena is a gem few tourists ever see.
I took a local bus that went from Cali to a town near the waterfall, but then we were tricked into paying far too much for a Tuc-Tuc ride that took more than two hours. It was shaking so much I was worried the doors might fall off as it let us down a bumpy dust road that takes you into the valley. Honestly, I'd suggest renting a car for this one.
Once you get to the bottom of the dirt track you're at the starting point for your hike through a jungle-like landscape to the waterfall. But first, you'll need a guide. When I was there we were told we wouldn't be able to go without one of the guides waiting at the bottom of the path, but it only cost us a few dollars so we weren't too bothered. The hike is short (it takes about half an hour), but there are a few points where it gets a bit tricky.
Once you get to the waterfall it's all worth it. The water is bright blue and the fall feeds into a deep pool that is perfect for swimming in after a hot hike. Splash around and get some holiday pictures!
The other incredible thing about this region of Colombia is that there are countless species of hummingbirds, amphibians, and reptiles. Keep a lookout!
Go paragliding in San Gil
San Gil is a curious city in the province of Santander in Colombia that is known as the adventure capital of the country, so if you're an adrenaline seeker it's a must-visit. Something else that I remember strongly from my time here is that there are black vultures all over town, sorting through the rubbish bins and flying over the plazas.
My favorite thing that I did in San Gil, apart from sipping cafe de olla in the plaza and people-watching, was paragliding.
There are two popular choices for paragliding. The first is a lower-altitude flight that takes you up into the air above the Valley of Curiti. This flight is pretty short, lasting just 10-15 minutes, but if you're traveling with kids or you're not sure if you're going to like being suspended in the air from a giant kite, this is a great "try it out" option.
The more popular, and longer option, is a 45 minute flight over the breathtaking Chicamocha Canyon. I opted for this one and I have absolutely no regrets! The deep canyon and river below make it feel like you're even higher up! The views through the canyon and of the towering mountains in the distance are second to none.
There are numerous tourist offices around town, especially around Parque de la Libertad, so don't worry about booking in advance. Plus, if you arrive and book directly through one of the travel agencies you can haggle for a better price!
If paragliding isn't for you, check out one of the other adventure tours! There's rafting, bungee jumping, and rappelling in the area.
Spend a slow weekend in Barichara
Barichara is a stunning colonial town just down the road from San Gil. It's about an hour away on a local bus from the Terminalito Provincial (the terminal for all the nearby destinations). It's definitely a touristic town, but there's a good reason for that!
The cobblestone streets lined with pretty colonial houses and old-fashioned cars against a backdrop of lush green mountains make Barichara the cutest town in Colombia. The best way to explore Barichara is to simply stroll through the maze of streets and get a bit lost, but there are a few sights you can't miss!

Put the Catedral de la Inmaculada Concepción on the main square at the top of your list, then climb uphill through streets lined with pretty souvenir shops and cafes to the Capilla de Santa Barbara. This little chapel was one of my favorite spots in town, and just over 5 minutes walk from the El Mirador viewpoint, which overlooks the Suarez River and canyon.
If you've a day to spare and you like walking, I really recommend the Camino Real path to Guane. The path leaves from Barichara and takes you through the Santander mountains down to the also very charming village of Guane. The path there is old and stony, but very scenic and not too difficult.
Make sure you leave early in the morning if you want to miss the tropical mid-day sun! There's nothing along the way either so be sure to bring water and some snacks, you can grab lunch at Guane though (they even had a selection of vegetarian restaurants when I was there).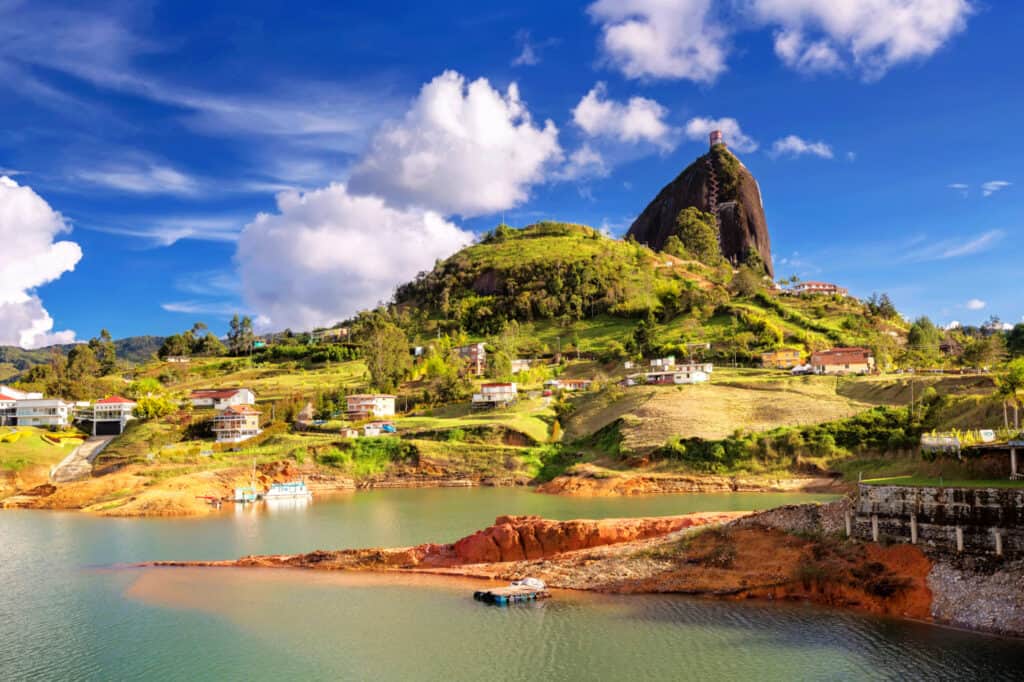 Climb the Peñón de Guatape
Just east of Medellin there's a colorful colonial town called Guatape. It's famous for the huge rock at the edge of its borders, called the Peñón de Guatape, the 11th biggest monolith in the World (though I'm pretty sure in Colombia they try to tell you it's the second largest…), that stands 650 feet tall.
The rock was once worshiped by the Tahamies Indians. There's a long crack that runs down the side of the rock, which has been taken advantage of to install a twisting set of 649 steps. It's not a pleasant climb to the top, but the views of the network of lakes and the small islands popping out of the water below are worth every thigh burning step!
Most people opt to take a day trip from Medellin to Guatape. They climb the rock, take a quick stroll around the town, and then head back. However, I spent two weeks staying at an Airbnb in Guatape and I really think it's worth spending a few days there.
There are delicious food restaurants around town, and you could spend hours just looking at the colorful 3D murals on the walls of the (almost over the top) multicolored houses.
Just outside of town there are awesome viewpoints to catch the sunset at, like the Mirador Alto de la Virgen.
One of the days I was there I hired a bike and went up into the mountains behind the town, I highly recommend it! It wasn't too arduous and I found a route that looped past the legendary Peñon de Guatape.
Under 3 hours bus ride away from Medellin's Terminal Norte (North Terminal) and with a transport cost of 14.000 COP (less than 4 dollars!), Guatape is a no-brainer if you visit Medellin.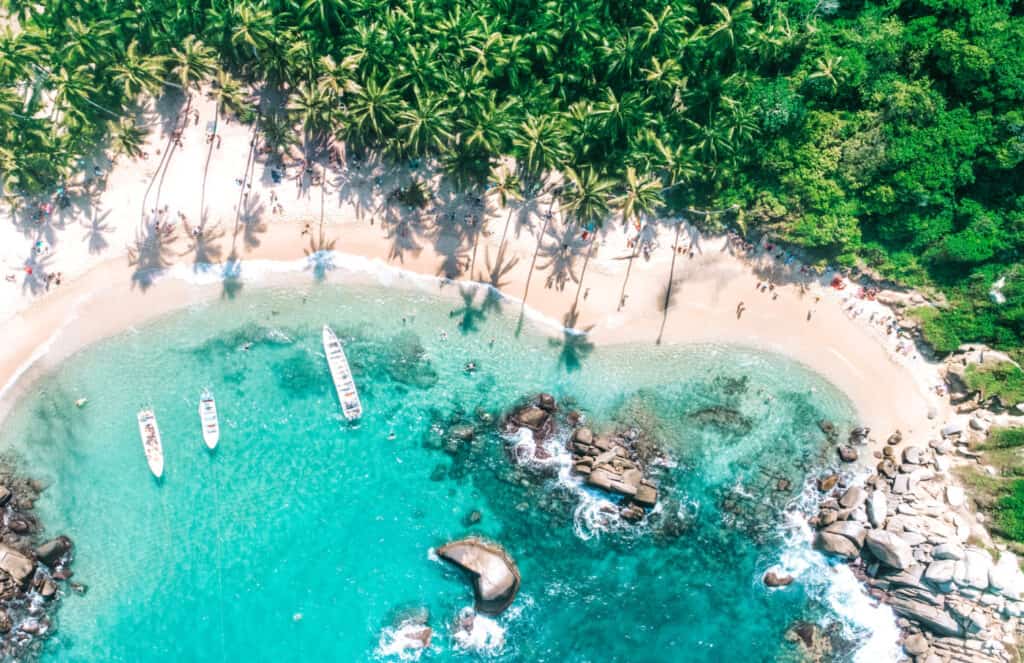 Spend a day and a night in Tayrona National Park
Tayrona National park is along the Caribbean coast in the very north of Colombia. The park is a legendary travel destination in Colombia, so don't expect to be off-grid in any way!
However, I entered through the Calabazo gate instead of the usual El Zaino entrance and I hiked through the jungle for hours before coming across anyone. It wasn't an easy trek though, and it did require getting a bit lost and making up paths – so if you're not a confident hiker stick to the popular routes.
Tayrona has picture-perfect tropical beaches, lush rainforests, epic views of the Sierra Nevada mountains, and an indigenous village in its core. Tayrona is a complete all-rounder.
The most popular beach is the breath-taking Cabo San Juan del Guia beach, but other options include Playa Brava, Playa Cristal, Arrecifes, La Piscina, and Castilletes, and Canaveral! Bear in mind you can't swim on all the beaches, and there are crocodiles about!
It's worth noting you'll need your passport when you pay for your ticket at the entrance, and there aren't any ATMs so bring lots of cash.
If you want to stay overnight, which I definitely recommend you do, you can rent tents on the beach or stay in one of the luxury cabin-style hotels. Another practicality you'll have to consider is how to get there! From Santa Marta (a nearby coastal city), you can catch a bus directly there from the Santa Marta Mercado or a coach from the Santa Marta Bus Terminal.
Wander the streets of Cartagena
Cartagena's historic center is vibrant, colorful, and full of history! The city is essentially divided into two by the old historic wall that wraps around the historic district. The areas outside of the wall aren't as pretty or safe as the old town, and the further you get away from the wall the more run down the city gets.
In colonial times, Cartagena was one of the most important ports under Spanish rule. The city's past is a tale of colonial riches, pirate invasions, and sieges. One of the most famous pirates to invade the city was Sir Francis Drake! Whilst the city wasn't always successful in evading the attacks, the 30-meter thick and 11 km-long walls around the city helped.
Now, Cartagena is idyllic and peaceful. There are women walking around the city center with traditional dresses on, and giant bowls of fruit on their heads. Be mindful when you take pictures, it's always best to ask for permission first and they might ask you to pay.
Must-see attractions in the historic center are the Puerta del Reloj, a 19th-century clock tower, Plaza de Bolivar, which is surrounded by spectacular colonial buildings; the Catedral de Cartagena, which was originally built in 1576 that was later bombarded by the legendary pirate Francis Drake; and the pretty Convento & Iglesia de San Pedro Claver founded early in the 17th century.
Once you've seen everything in the city center, hop on a boat to one of the little islands off shore. Both Islas Rosario (that is a little network of 28 islands just an hour's boat ride away) and Isla Baru have lush tropical beaches and great snorkeling! I booked a tour with Get Your Guide and it was the best. I'd really recommend it — you can check availability for it below:
I loved my time in Cartagena, and the only drawback was the ridiculously hot and humid Caribbean weather – but hey, that's the tropics!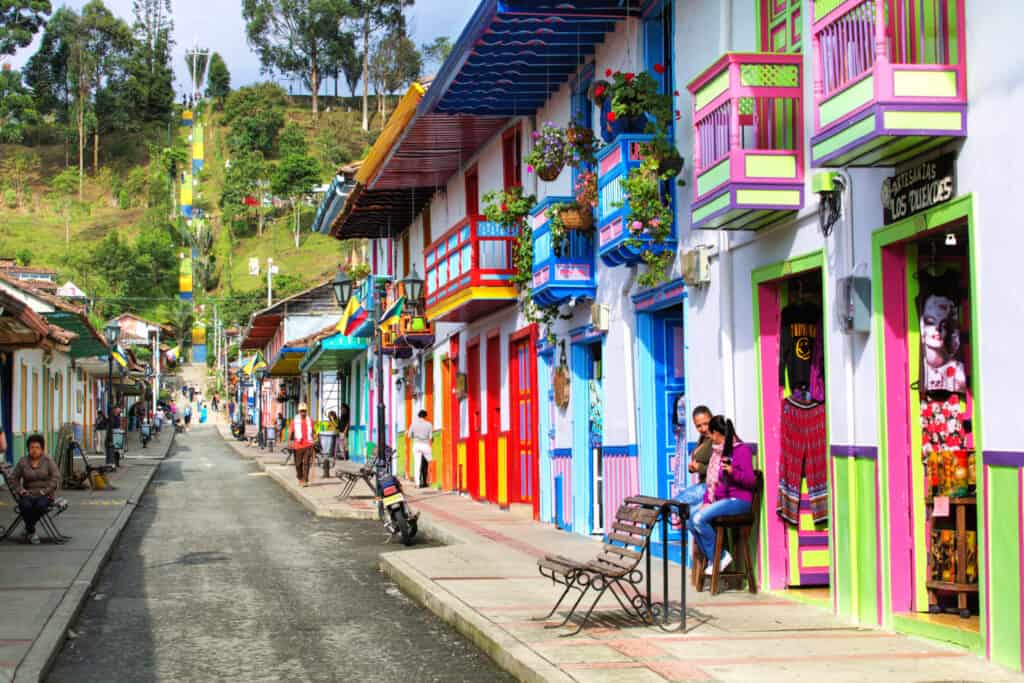 Visit the towns in the Coffee Region
Colombia's Coffe Region, called the Eje Cafetero, is riddled with rural culture and small town charm. It was one of my favorite places in the country, and I kept extending my stay! The three largest cities in the region are Pereira, Manizales, and Armenia, but to be honest I'd suggest making your way straight to the little villages in the area and just using the cities for bus connections.
The cutest coffee town is Salento, which is surrounded by stunning nature walks and family-owned coffee plantations. It's a sleepy town with plenty around it to explore and amazingly colorful colonial architecture.
Another of the towns nearby, Rio Sucio, isn't as quaint and cute, but it is known for its biennial event, the Carnival del Diablo which has a large parade of devils in the form of puppets! If you want to spend time in nature, then Santa Rosa de Cabal is a great choice. It's right by the Chorizo Santarosano hot springs, which are out-of-this-world pretty.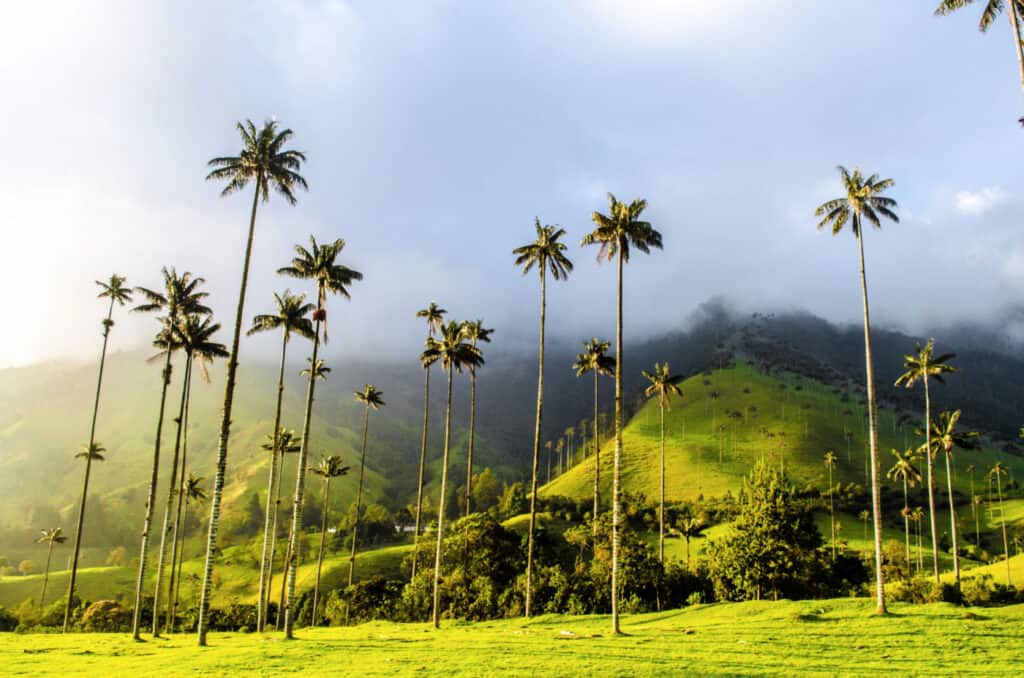 Hike through the Cocora Valley
The Cocora Valley is a unique valley in the Coffe Region that makes it onto the Instagram feed of many travelers. Dotted with tall wax palm trees, the lush, bright green mountains are a stunning setting for hiking.
Many travelers visit the Cocora Valley, so if you want to stay off the beaten track then it might not be the place for you. However, I'd argue that this stunning valley just 15 minutes by jeep away from Salento is worth putting your pride aside for!
There's a well marked and easy-to-follow trail through the valley that most visitors take – you can't miss it!
Try a Temazcal
Temazcals are a traditional ceremony that has been practiced by indigenous communities for centuries. It's thought that the practice dates back to the Mayans. In their essence they're not much different from a sweat lodge, but there's a spiritual intention behind each temezcal and the medicine men and women that lead the ceremony.
It's also very dark in a temezcal. Often the only thing you can see are the hot, steaming coals in the center of the dome. There can be anywhere between just 3, to as many as 20 people in a temezcal ceremony.
It's a beautiful practice to go to with an intention, whether that be releasing the past, expressing gratitude, or simply exploring something new.
Despite how ridiculous it can feel to be in these sorts of spaces and ceremonies, especially if you're not local – I really recommend letting yourself go and fully surrendering to the experience. Temezcals are a joy for the mind, body, and spirit!
Go to the Jungle
When I arrived in Colombia and started to look into going to the Amazon I was completely blown away by how expensive it was. Colombia itself is a very budget-friendly country, but trips into the Amazon for just a week were standing at around $2,000 to $3,000. But, I soon got talking to other travelers and locals and discovered that there were much cheaper and more adventurous ways to explore the Colombian Amazon.
You'll have to be a bit open to not knowing exactly what to expect if you want to travel to the Amazon on a budget, but I found that once I was actually in the Amazon everything was super easy to organize, you just have to take a leap of faith and go!
Leticia and Puerto Nariño are great gateway cities into the Amazon. From there, you can personally talk to local tour guides and arrange trips with them instead of going through a travel agency.
Bear in mind the Amazon Rainforest isn't a walk in the park, you're bound to be eaten by mosquitos and it's very likely that your clothes will always be damp because of the humidity, but the incredible flora and fauna you'll encounter, even within the Amazonian cities themselves, are completely out of this world.
As you walk through town you'll come across sloths hanging lazily from trees, cheeky monkeys getting up to mischief, and huge insects you've never seen before. A short boat ride through the Amazon River and you'll spot pink dolphins, crocodiles, and rather scary fish!
Avoid the mosquitos in Minca
Minca is a laid-back town with an alternative scene and lots of delicious veggie and vegan restaurants that are set in the hills of the Sierra Nevada Mountains of Santa Marta. The town has a relaxed atmosphere, but there's still loads to do.
One of my favorite experiences was hiking through the jungle and visiting the different waterfalls, like the collection of Pozo Azul waterfalls and Marinka waterfalls. The town is also famous for its diverse birdwatching, so make sure you keep your gaze up into the trees!
Bring lots of mosquito repellent – you don't want to be another tourist leaving Minca covered in mosquito bites!
Go to the Carnaval de Barranquilla
Barranquilla is the fourth largest city in Colombia and the birthplace of Shakira! To be completely honest, there's no point going unless you're there for the carnival. Once a year the city bursts into color and the streets are filled with the sound of cumbia, gaita, and porro music.
There are various parties each night, and during the day the parades go on for hours and hours. One long street is shut off for the parade, and everything from traditional costumes to completely whacky and rather nonsensical outfits make their way down the catwalk.
The carnival has been running since 1888 and this four-day festival is the second largest Carnival in the World, second only to Rio's notorious carnival. Each year, in late March, thousands of people flock to the city to dance til dawn and see this year's best costumes!

Make sure you book accommodation far in advance and check the area you're staying in because not everywhere in Barranquilla is safe. Also, be very wary of pickpockets at the carnival, they're everywhere!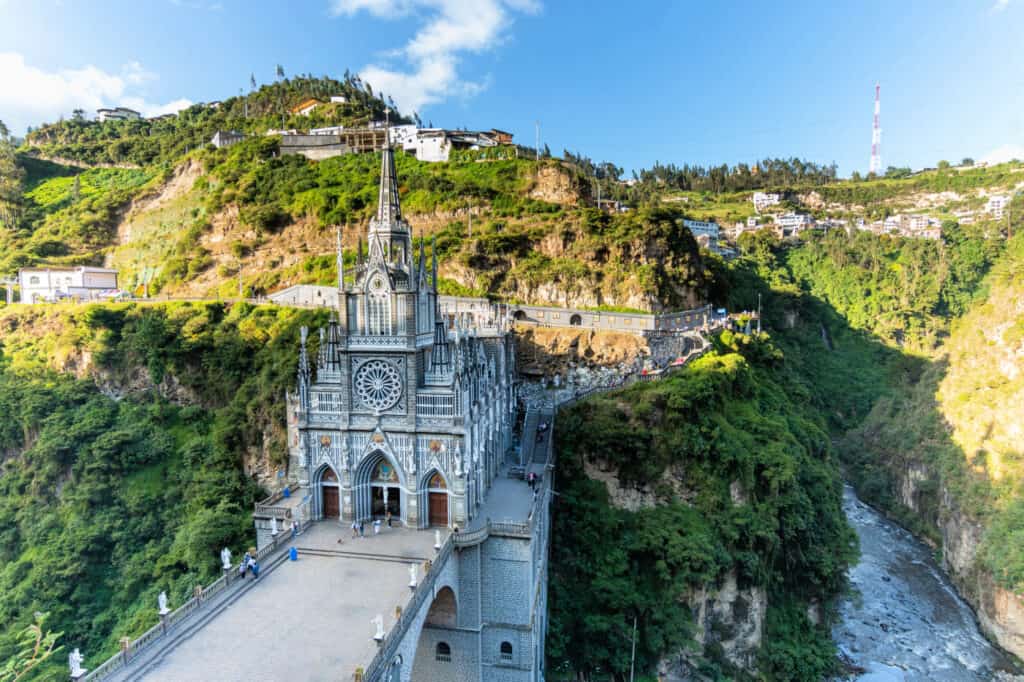 Stop at the Las Lajas Cathedral
Just outside of Ipiales, a small city right by the border crossing between Ecuador and Colombia, there is a stunning church called Las Lajas. Because of its location, few travelers make the time to stop and visit Las Lajas, but it really is worth it if you're near the border.
There are a few different legends about the church, but the most famous is that a mother and her deaf-mute daughter got stuck in a storm and took shelter behind a rock nearby where the daughter glimpsed Mary, then was suddenly cured of her condition. After, the church was built as a shrine on this site that is considered "miraculous" by many.
The church is built into the side of a steep canyon, connected to the other side by an impressive bridge that leads to the gates of the church. Both were built between 1916 and 1949 with parishioners' donations. Later, it was designated a minor basilica!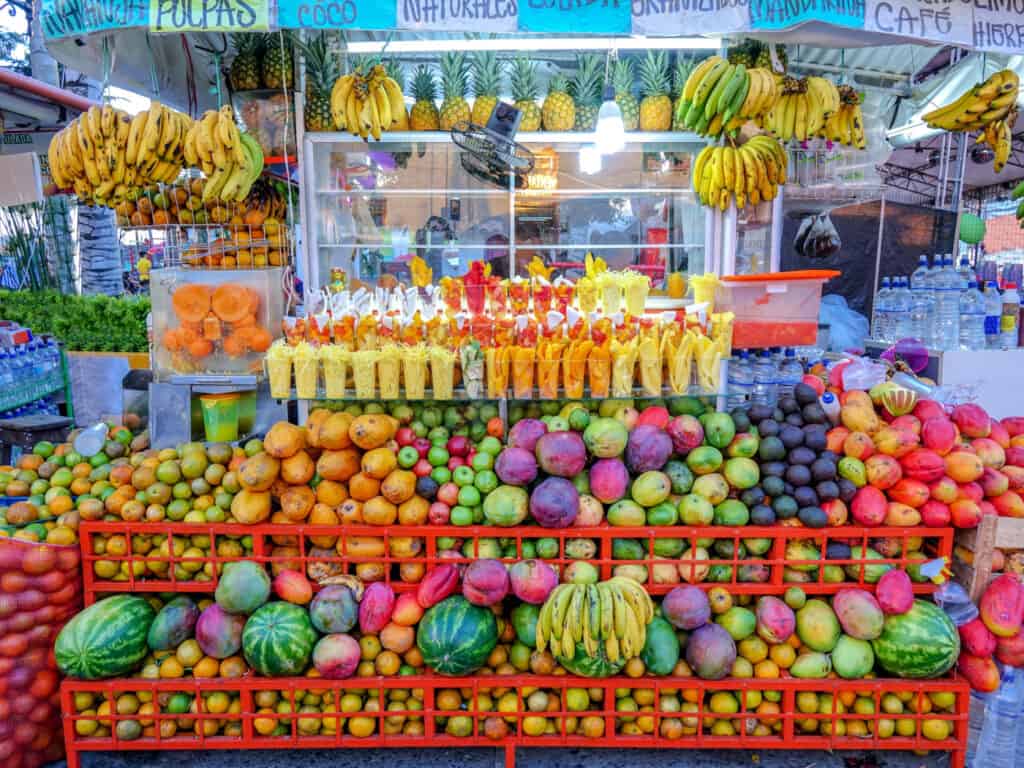 Practice your haggling skills
Haggling is a very foreign, and frankly uncomfortable, concept for most westerners. We aren't used to prices being "negotiable". But trust me, in Colombia they absolutely are! I haggled for everything from fruit at market stalls to bus tickets at the biggest terminals in cities like Bogota and Medellin.
Apart from fancy supermarkets with price tags, everything is negotiable in Colombia. And haggling can be really fun too, I always used to set myself challenges to see how much I could knock off the price of something!
Learn a few basic sentences in Spanish, like "Es demasiado caro", which means it's too expensive, or "No tengo dinero hermano", which translates to I don't have money brother (the term hermano is used between friends and acquaintances in Colombia) and you're away!
It's worth learning the numbers too. Unfortunately in Colombia, everything is in the thousands, one dollar is around 4,800 Colombian Pesos, so you can't get away with just learning the numbers up to one hundred!
Fill up on arepas and menús del día
One of my favorite things in Colombia was the food. Admittedly, it did get a bit repetitive after 3 months and it wasn't always super easy to find good vegetarian options – but if you eat meat there are loads of choices and even if you don't you can bet you'll be able to get a plate of beans, rice, fried plantain, and salad almost anywhere.
Some of the most famous dishes in Colombia are the Bandeja Paisa in the Medellin region, sancocho stew, and Fritanga (assorted bits of fried meat that are definitely an acquired taste).
The menu del dia (menu of the day) is always hearty and cheap, often costing around two dollars. You get soup, delicious fresh juice, and a main with most menus.
Another food you absolutely have to indulge in during your time in Colombia is Arepas. They're like pita bread made from corn flour and stuffed with avocado, cheese, butter, and any other topping you ask for! They go down incredibly with a cold beer and the spicy salsas on the side of every arepa cart. Make sure you try fried yuca before you leave too!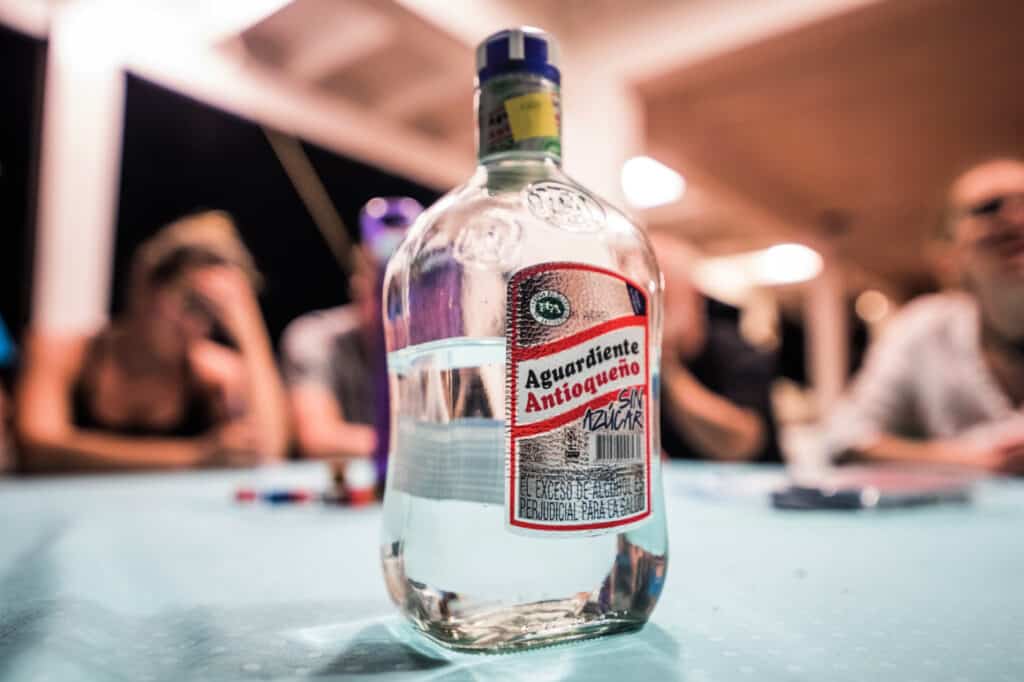 Get tipsy on aguardiente in Medellín
Aguardiente is Colombia's equivalent of tequila in Mexico. The locals love it, and although I wasn't a huge fan because it tastes a lot like licorice, you absolutely can't live the Colombian experience without getting tipsy drinking aguardiente at least once.
Curiously, it's often served with a plate of cane sugar that you can nibble on after each shot. As they say in Colombia, "Salud"!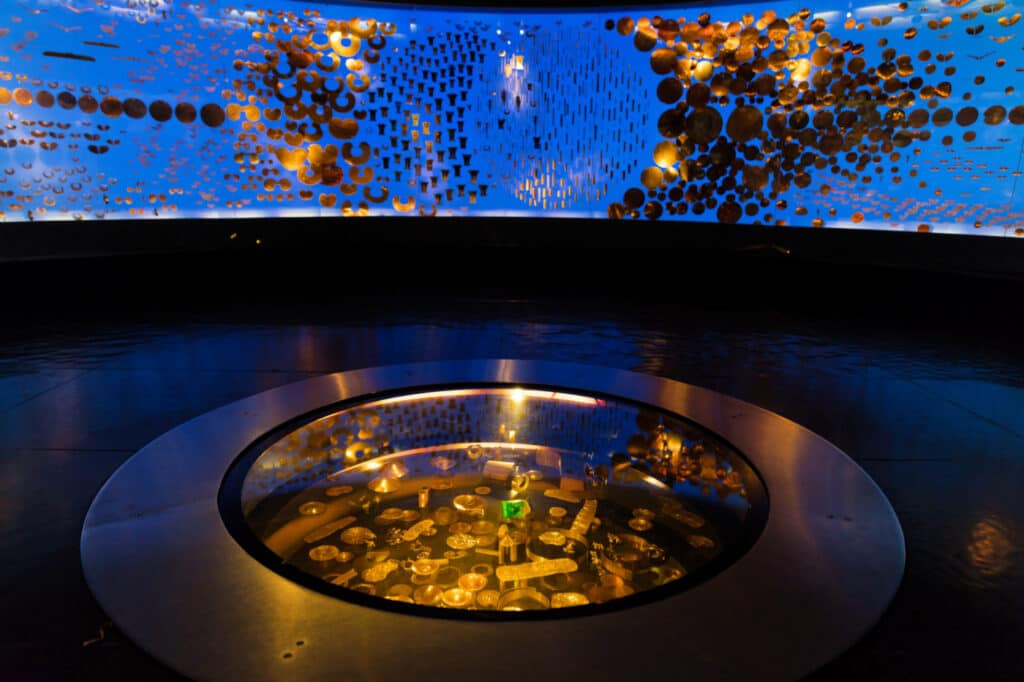 Visit the Museum of Gold
In the city center of Bogota, there's the country's most impressive museum, the Museum of Gold. In fact, in 2018 it was rated as one of the best museums on the planet, next to others like the Vatican museums and Pergamon Museum.
There are some 34,000 gold pieces in the museum, the majority of which belonged to the indigenous peoples of pre-colonial Colombia. Intricate and peculiar figures were carved into the metal and used in rituals and to represent the Gods in physical form. Unique pieces of jewelry were made to decorate their bodies, and now you can see them on display!
Two of the most iconic pieces on display are the figure of a Muisca indigenous man on a golden raft and a gold poporo quimbaya (a vessel made of pure gold that was used in indigenous rituals).
Sit at a plaza and sip on café de olla
Despite the fact that Colombia exports some of the finest coffee in the World, they actually don't drink particularly fancy coffee. One of the local favorites is "café de olla", a sweetened black coffee that you can get anywhere.
Street vendors walk around the squares with big flasks selling this sweet coffee for very little. It's an acquired taste, but it's extra good if you're sitting on a plaza watching the world go by or reading a book.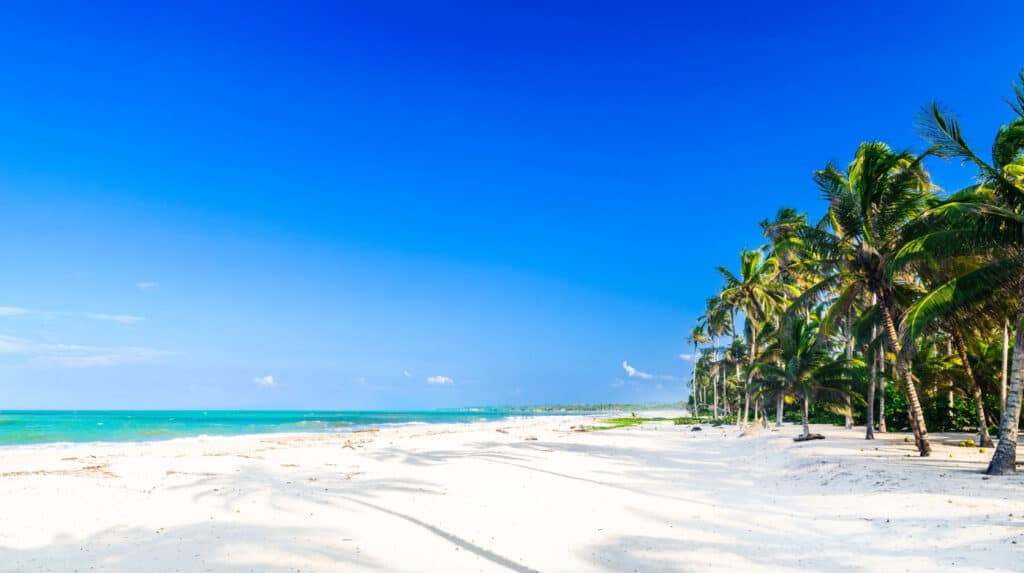 Sunbathe and go surfing in Palomino
Palomino is also along the northern Caribbean coast, not far from Tayrona National Park and Santa Marta. It's a small town with a rather hippy vibe. The beaches are picturesque and tropical, and there are toucans and parrots flying amongst the palm and mango trees.
If you just want to chill on the beach for a few days, and maybe try out some surfing, then this is the place for you. The main beach in town is the Playa Palomino, but be careful because the currents are strong so swimming isn't always such a great idea.
Go tubing down the river that joins up with the sea in the morning, then sip a fresh juice from one of the little beach shack "tienditas" (little shops) in the afternoon.