Berlin is a city that is alive.
From its inhabitants to its urban, gritty energy, it is a city that never stops. 'Poor but sexy' is how Berlin's hip mayor describes the city – it is a well-known fact that Berlin is edgier than most European cities.
Of course, Budapest is a cool city, and Lisbon is on the rise as a quirky, creative capital, but Berlin remains the champion of the hip European cities.
Its past is remembered clearly through how the city is historically divided geographically: East and West are now one united city with hints of the past division celebrated by breath-taking murals. Spaces that were once areas of detention are now transformed into essential, informative museum spaces with incredible architecture.
Berlin holds many impressive, sensual and poignant monuments that honour its shaded past. What most impressed me when visiting was the incredible street art that the city possesses. You can feel the history through the walls, the artwork and the messages that are shown. It is truly something to witness.
Berlin is a creative blend of history, modernism, edginess and organisation. When people visit Berlin, it is either a case of extreme dislike or extreme love and reverence for the city. It is because of its stark uniqueness and its steadfast approach to being a city moving through a traumatic time with an imperfect past. It is refreshing to visit a city that possesses a sensibility, yet a poised and bold stature.
Whatever you end up exploring on your three-day itinerary, just by walking through the city streets, you will get a chance to experience the city and its unconventional energy. 
Here are the best places to visit during your stay in the capital city of Germany –- from historical monuments and castles to modern architecture and clubs, Berlin has it all.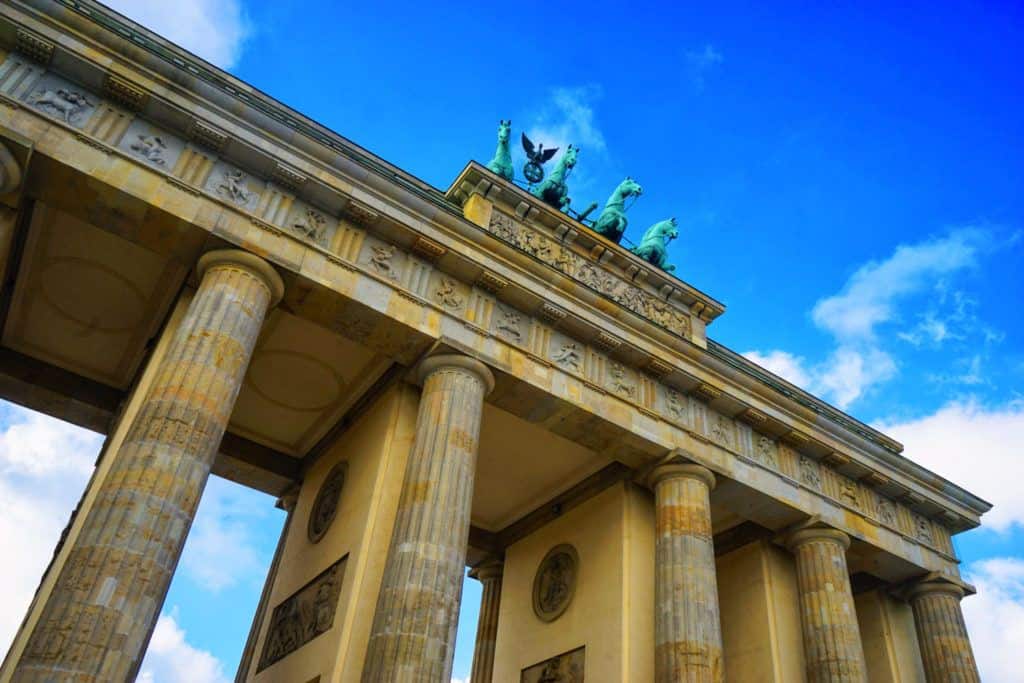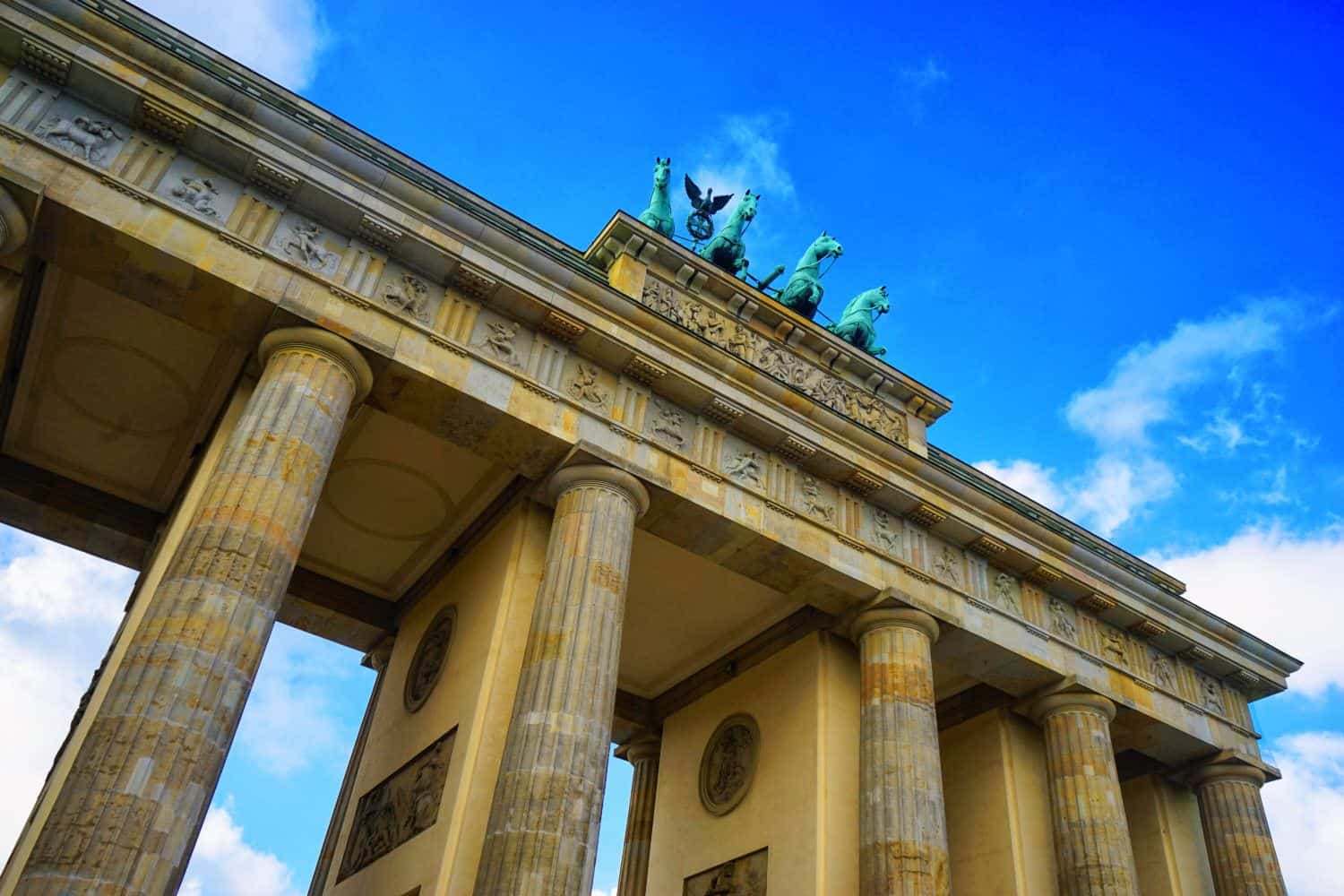 Walk Through the Brandenburg Gate
The Brandenburg Gate (Brandenburger Tor in German) is arguably the most important monument in all of Berlin. This neoclassical gate, which looks like an opening to Berlin's historic centre – commonly called Mitte (it means "middle") – has played a major role in Berlin's history and culture.
The monument was built by Frederick William II, a Prussian King, and it served as a part of the Berlin Customs Wall which surrounded the historical city until 1860. The wall wasn't meant to defend the city but rather facilitate taxing. If you want imports and exports to be checked efficiently, building a big wall is one way to do it, I suppose. The Prussian King thought so anyway.
In the past, Napoleon used the gate to show his victory in a procession after the Prussian defeat in 1806 and the Nazis also viewed the gate as their party symbol. After the Bandenburg Gate was one of the few structures that survived the destruction of Berlin in 1945, the city restored it.
The gate now holds a different meaning – it's a symbol of unity and peace in Europe. The gate's only one of the many ways Germans have transformed their tumultuous history into something better and worth cherishing.
Plus, the monument is gorgeous. As an important European symbol, it's definitely one of the landmarks you must see in Berlin.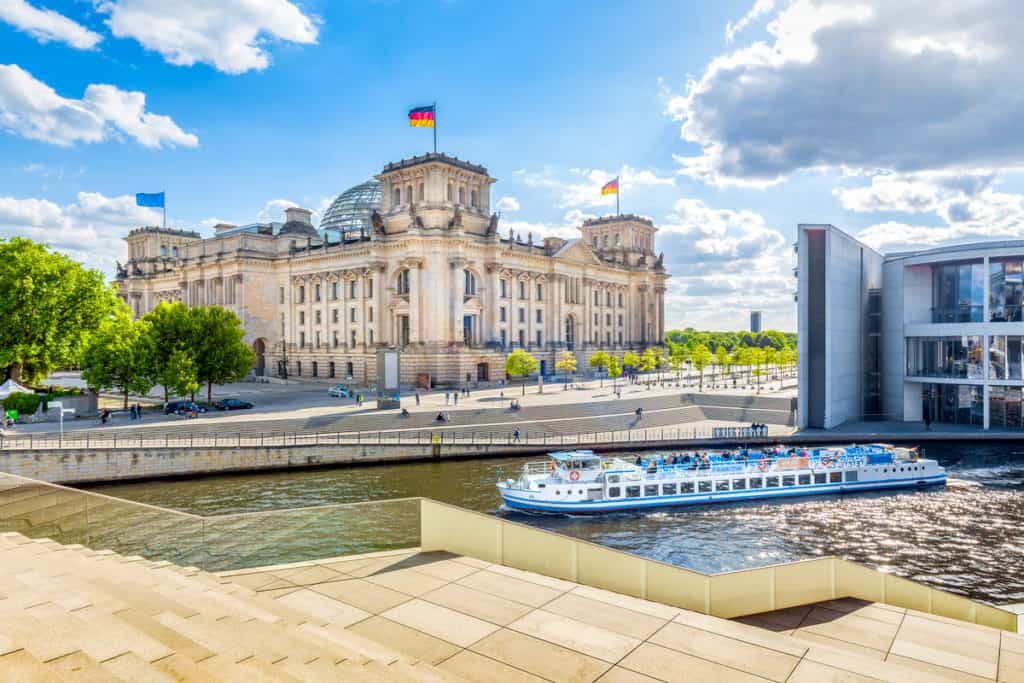 See the Reichstag Building
Just a short walk from the Brandenburg Gate, the Reichstag Building (Reichstagsgebäude in German) is the house of Germany's parliament – specifically, it's where Bundestag, the lower part of the parliament, resides.
There are many ways to describe this building, including monumental, immense and absolutely mind-blowing. Your choice.
Personally, I find the building to be a showcase of the beautiful European architecture that takes you back in time just looking at it. Reichstag Building is over 100 years old, but it feels much older when you're standing next to it and peering at it due to the power of its grandiosity.
The Reichstag Building was damaged in Battle of Berlin, being one of the primary targets. It holds happy memories too, though – it's where the official German reunification ceremony took place in 1990. Nowadays, the place is the second most visited attraction in all of Germany, making it a definite must-go on the list of places in Berlin. The building itself is gorgeous, but the glass dome in its very centre is what makes it truly memorable and interesting. Plus, the dome offers some amazing views of the city.
There are several options for making the most of your visit to the building. First, know that visitors can freely walk around the roof terrace and inside the glass dome; admission is totally free. Something that's on my Berlin wishlist for my next visit is sampling the rooftop breakfast at Käfer in the Reichstag Dome (€28) — fun fact: this is the world's only parliament building with a restaurant open to the public! And the food looks amazing. If that's not your thing, there's also an apéro (pre-dinner drinks and food) option at Käfer for €34.50 per person.
To dive a little deeper into your Germany history, consider spending the €15 to take a tour of the government district in addition to the Reichstag Building.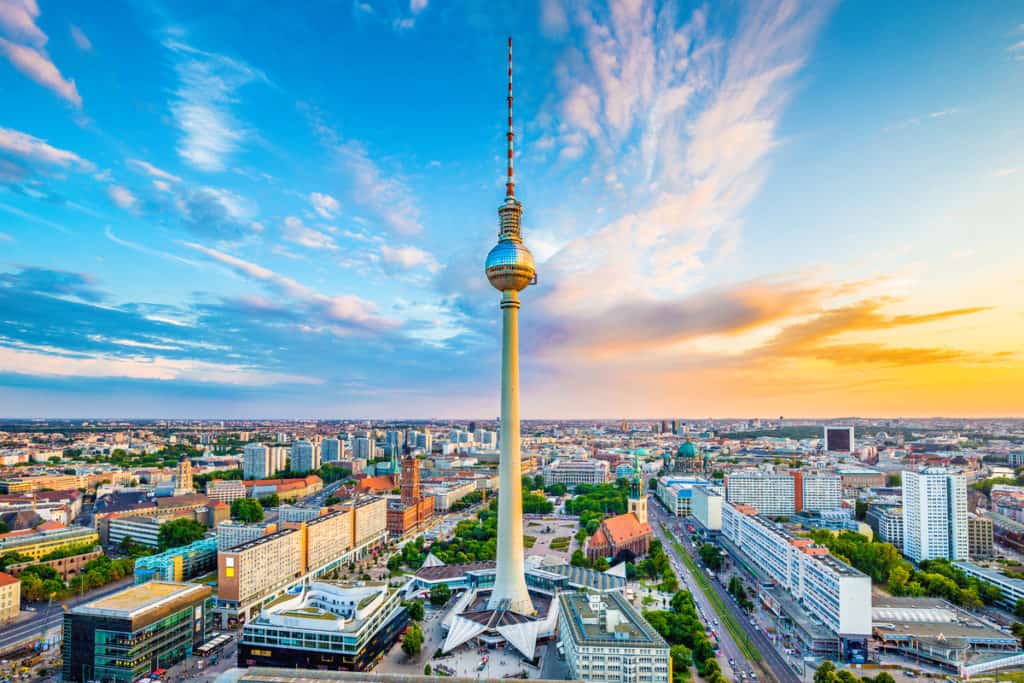 Take in the Best Views of Berlin From the Berlin Television Tower
Speaking of amazing views, the Berlin Television Tower (Berliner Fernsehturm in German) classifies as one of the tallest buildings in all of Europe and the number one tallest building in Germany. With its 368 metres, the view of Berlin from up there is truly something to behold. Honestly, it can make your head spin.
The Berlin Television Tower was actually built by communists in East Berlin back when Berlin was divided into two parts, separating West Germany from East Germany. It was a sign of the power of communism as well as the city itself. Nowadays, Berliner Fernsehturm has turned into a popular tourist attraction and one of the landmarks everyone visits when they stay in Berlin.
The best thing about the tower? There's a bar and a restaurant up there! You can enjoy a delicious meal while sitting in a restaurant that turns 360 degrees in the span of one hour. This means you get to see Berlin from every possible viewpoint.
Sign me up, please, I want to go again.
The price of tickets varies based on different factors, such as if you'd like to go to the observation deck or the restaurant. A skip-the-line ticket for the observation deck costs €24.50, whereas breakfast, lunch, and dinner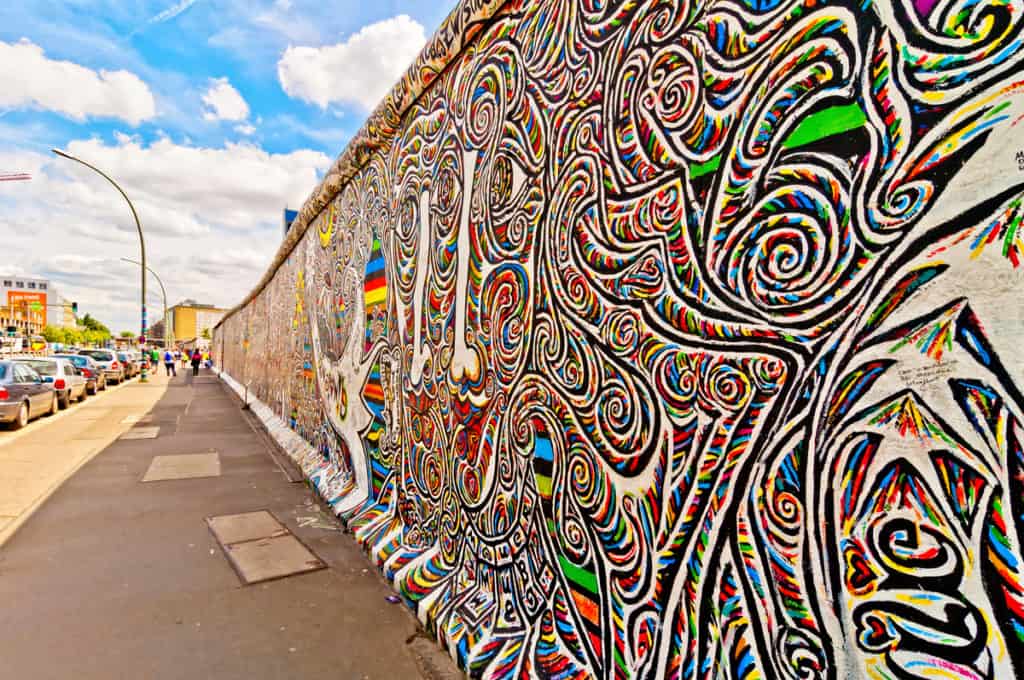 Explore the East Side Gallery and Learn About the Berlin Wall
After the Berlin Wall went down in 1989, some pieces of it still remained. Personally, there's no better way to learn about the Berlin Wall and its history than actually visiting the site. When you stand there and take in the sight, it automatically makes you feel closer to the lives of the people who lived in a divided city, many of whom tried to flee from communist East Germany over this very wall.
East Side Gallery is one of those places where the wall still stands. Germans took it upon themselves to make every single piece of history memorable, therefore it's not surprising to see colours upon colours on the Berlin Wall – murals, pictures, patterns, the wall is now not a symbol of division but rather one of life and diversity.
And that's basically what East Side Gallery is: 1300 metres of art brightening up its surroundings. If you'd like to know more information about the wall and the art itself, don't hesitate to reach out to some of the guides. They can answer your questions and they're fluent in many languages, so there should be no problem with communication!
Visiting the site is completely free.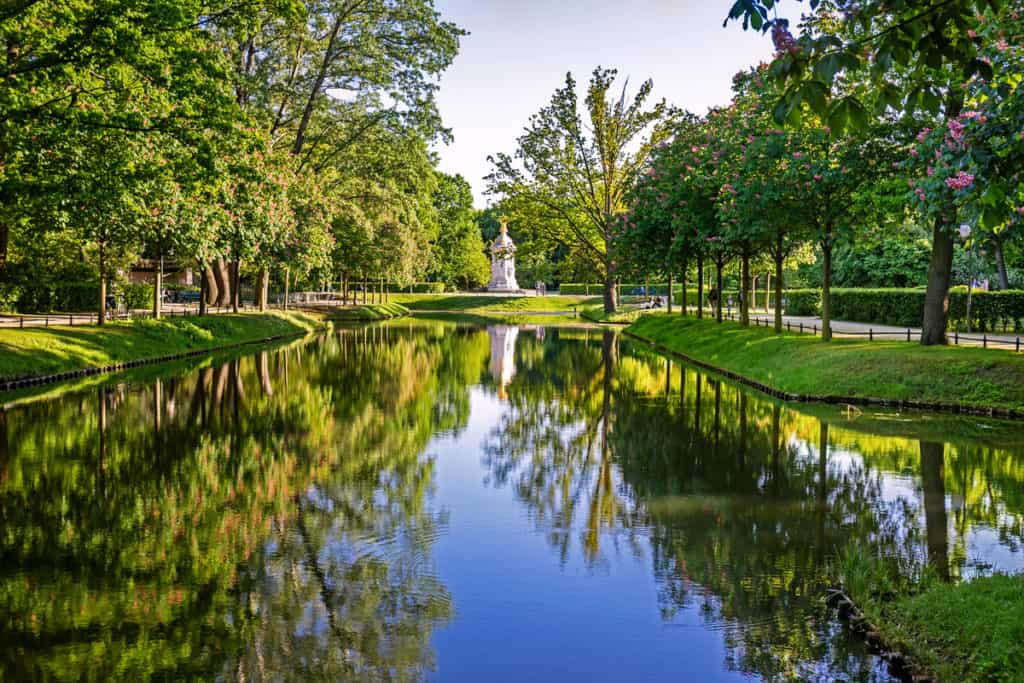 Relax in Tiergarten
If you live in a huge city, there's one thing you absolutely need – a huge park. When the city life gets a bit too much, who wouldn't want to head out into nature for some moment of peace and quiet?
Luckily for those who have found themselves in Berlin, you really don't need to go that far to find what you're looking for. Tiergarten is located in the vicinity of the historical city centre and it spreads out for 520 acres, making it an easy destination for anyone who'd like to spend some time in nature.
I still remember walking through the park and soaking in the peaceful atmosphere. Apart from trees and birdsong, there are also gardens, a playground and a zoo on the premises! Berlin Zoo lets you see animals such as giant pandas or penguins, which can really complete your experience. Especially if you have kids.
The zoo ticket costs 16 € per adult and 8 € per child. It's a bit more expensive if you want to include the aquarium in your experience, though. Tiergarten itself is free, of course! Don't hesitate to go for a stroll, relax underneath a tree or talk with your friends on a bench while enjoying the beauty of the park.
What's more, Bellevue Palace is located right next to the park, which means you can easily stumble upon a breath-taking piece of history during your trip there. This presidential residence was built in a neoclassical style, and it's truly beautiful.
It makes for some amazing pictures. Trust me on that one.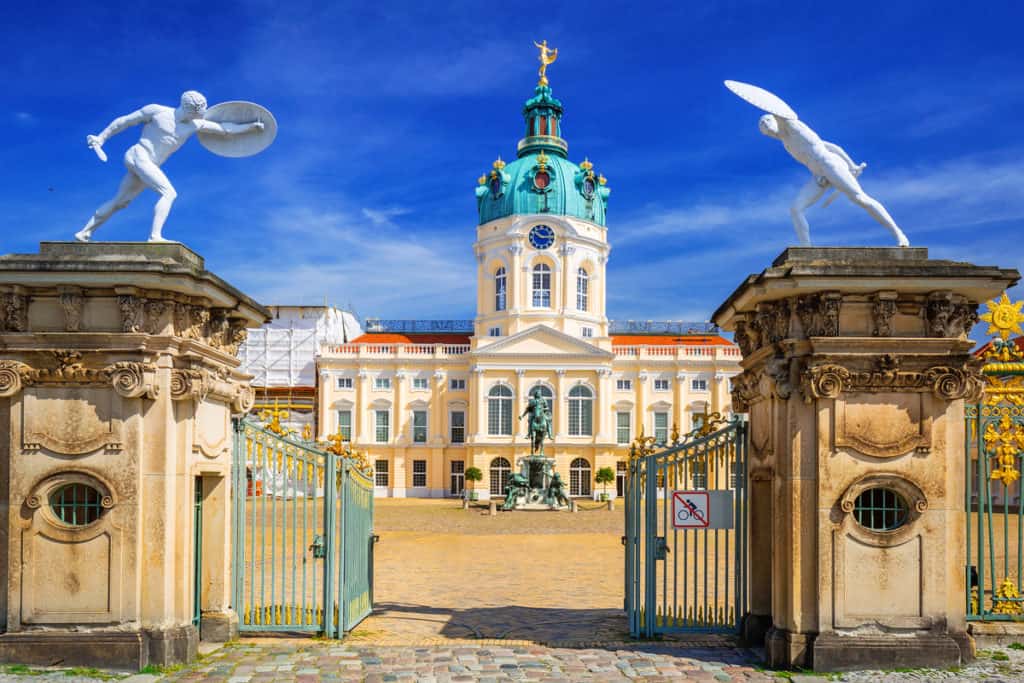 Take in the Beauty of Charlottenburg Palace
Bellevue Palace isn't the only gorgeous palace in Berlin. After all, it wouldn't be Europe if cities weren't full of ancient castles and buildings, am I right?
Charlottenburg Palace (Schloss Charlottenburg in German) can be found in a district that bears the very same name and that's actually quite far away from the historical city centre – all of Tiergarten separates them. If I were you, I would use some kind of public transport to get to the palace because whilst I was in Berlin, I walked it all on foot.
It's safe to say my legs weren't completely happy with the whole concept.
Seeing the Charlottenburg Palace was worth it, though. This baroque palace makes you feel like you're back in the 18th century, wondering what the royalty inside are doing right now. Only when I made my way to the gardens did I come back to my senses and realise there was no royalty present anymore – they've been replaced by a commotion of excited tourists who stroll the gardens and enjoy the view.
The gardens are honestly beautiful, and just like many other places in Europe, they're completely free. You only have to buy tickets if you'd like to visit the museum institutions such as the palace and New Pavilion, in which case the ticket costs 17 € per adult.
Charlottenburg Palace is the perfect place to go if you want to experience that ancient royal atmosphere and see just how vast and breath-taking the gardens are. And if you visit the museums, you're bound to learn something new about the history of the place.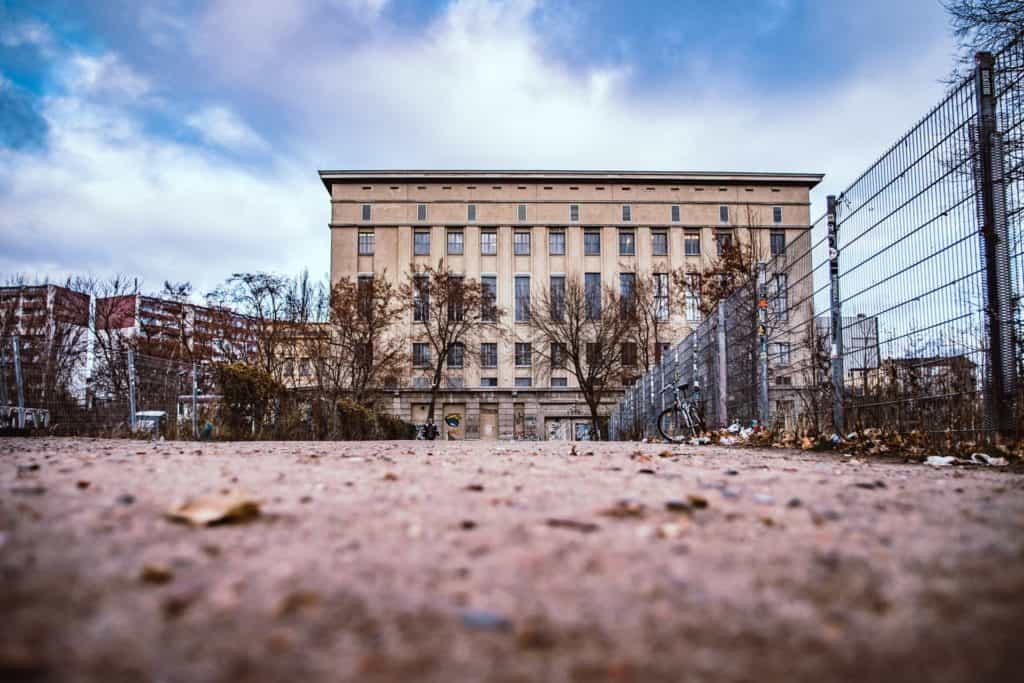 Dance in One of the World's Most Famous Nightclubs
Anyone a fan of nightclubs? I've got good news for you… Berlin is basically nightclub heaven! Honestly, the night scene in this city is insane. You'll always be able to find an amazing place to dance, that's for sure.
Berghain – also referred to as Panorama Bar – is one of the nightclubs that can blow your mind. It's largely focused on techno music and it's supposedly one of the most famous nightclubs in the world!
Everything about the club is cool, from the people who frequent it to the setting – Panorama Bar was built in a former power plant. While the focus of the club is on the gay community, anyone can enjoy the music on the main dance floor and have a blast.
If you go, be prepared for some crazy stuff, though. The club is known for its decadence so enter only at your own risk. The ticket prices vary so make sure you have some cash if you decide to visit.

Visit Museum Island
In many cities, museums are scattered throughout the streets. Not Berlin, though. The capital city of Germany has decided that it'll have a whole island filled with museums that are all gathered together in a big museum complex. If you were looking for a place that's filled with the most knowledge and wisdom in Berlin, the Museum Island (Museumsinsel in German) would probably hit the mark.
The island is a UNESCO World Heritage Site, and for a good reason. It contains the Pergamonmuseum, the Altes Museum, the Neues Museum, the Bode Museum, the Alte Nationalgalerie… and that's not even all of it. There are also other historical buildings such as the Berlin Cathedral and the Berlin Palace.
I don't know how about you, but I'm absolutely impressed by how many ancient buildings Germans have managed to put on this island. The intellectual and historical value of the place is mind-blowing.
Whether you'd like to check out the Collection of Classical Antiquities at the Pergamonmuseum, have a look at some amazing sculptures in the Bode Museum or visit the Berlin Cathedral, the Museum Island has so many things in store for you that you're bound to find something fascinating.
Plus, just walking on the island and being surrounded by all the buildings built by the Prussian rulers is an incredible experience in and of itself. I mean, what's even better than a world-class museum?
Yes, that's right. An island full of world-class museums.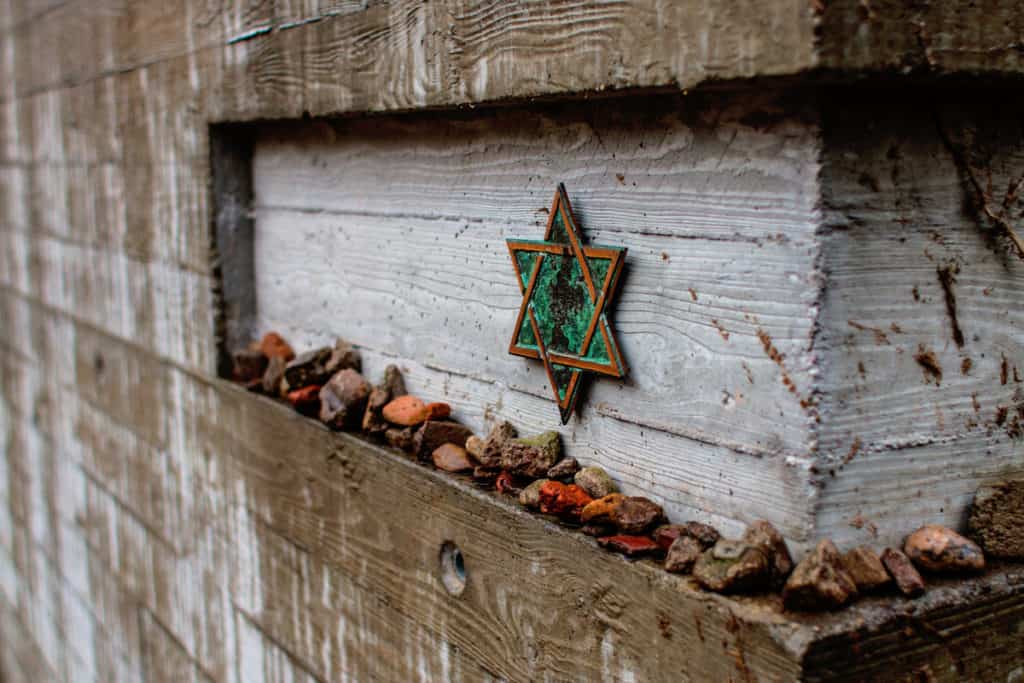 If someone offered me to go explore a backyard, I'm not sure I'd take them up on the offer. It's just a backyard, right? What's interesting about a backyard?
Well, Berlin has some great surprises in store for you. The city has over a dozen of hidden backyards that have been transformed into really cool spaces where the locals create, live and meet up. From street art to galleries, the Hidden Backyards Small-Group Walking Tour with Get Your Guide will let you see Berlin from a completely new perspective – that of a local.
Backyards suddenly sound much more exciting, don't they?
Honestly, I don't know a better way to truly get to know a city than to blend in as a local and learn what the city means to people who have lived in it for years. Exploring the Spandau suburb in Berlin's historical city centre is a great way to learn about the urban life of the Jewish community around the New Synagogue and to discover colourful and international spaces you had no idea existed.
This 2-hour tour costs 20 € per person.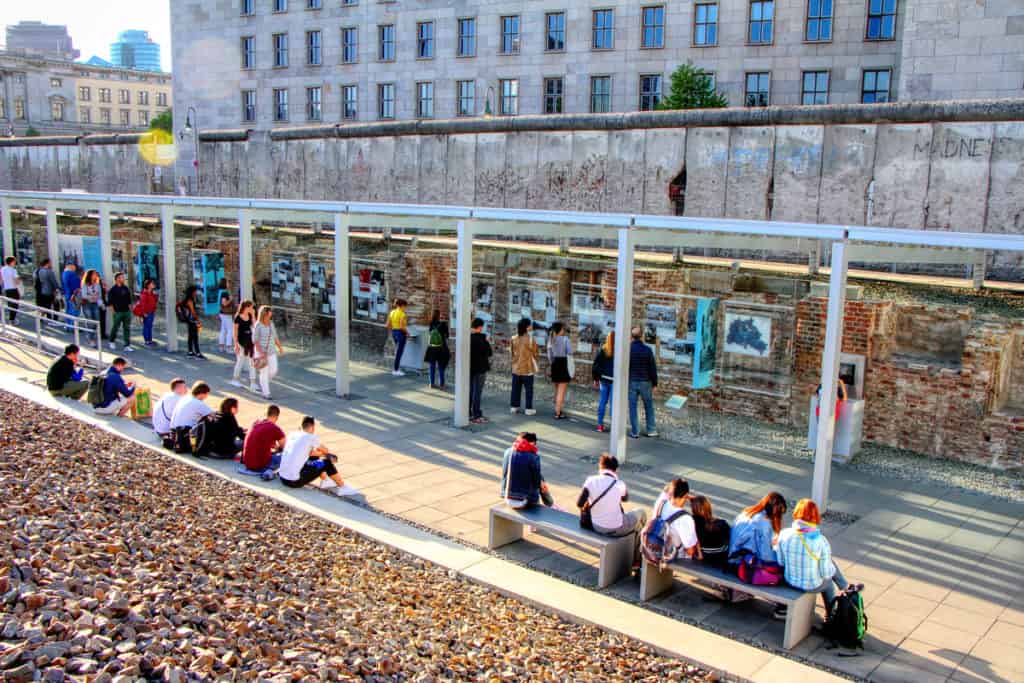 Visit the Topography of Terror
Topography of Terror is a history museum in Berlin that's built at the very same place where the headquarters of Gestapo and SS used to be during the Nazi regime. The museum has turned the location into a place of remembrance and documentation – during your visit, you get to learn about the horrors of Nazism and remember those affected by it.
The permanent exhibitions include a site tour of 15 different outdoor stations, display on propaganda and terror, and a showcase of the workings of Gestapo, SS and Reich Security Main Office. The last one is described by the official website thus:
"With the help of mostly photographic material on a "ribbon of panels" and documents (facsimiles) presented at subject-oriented lecterns, visitors are led through the major themes of the exhibition's five main segments: The National Socialist Takeover of Power (I); Institutions of Terror (SS and Police) (II); Terror, Persecution and Extermination on Reich Territory (III); SS and Reich Security Main Office in the Occupied Countries (IV); and The End of the War and the Postwar Era (V)."
Everything is divided into digestible segments, and you get to read about whichever parts you're most interested in during your visit. You can also book a guided tour if you'd like the experience to be even more informative.
Visiting Topography of Terrors without a guide is for free and it can shed some light on things about the Nazi regime you might not have known before.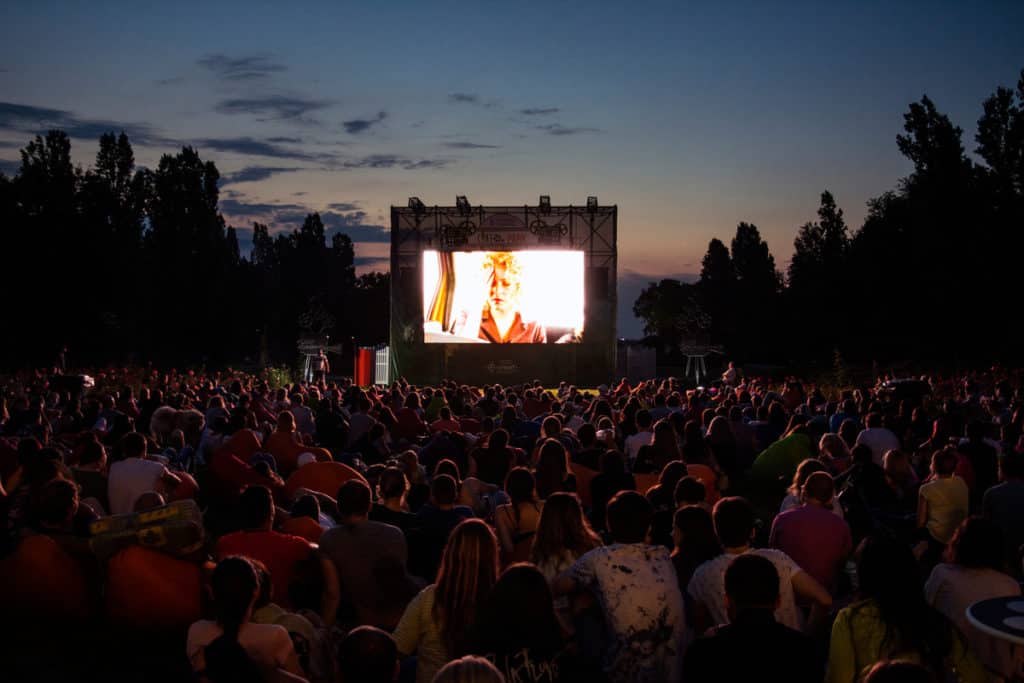 Watch a Movie at Freiluftkino Friedrichshain
If there's one thing I love more than going to the cinema, it's going to a cinema that has no limits. We're talking in terms of space now – Freiluftkino Friedrichshain is an open-air cinema that lets you enjoy a movie with your close ones while also breathing in the fresh air.
Visiting Freiluftkino is an especially great idea in the summer when the evenings are long and the temperature doesn't drop too much. I can't imagine a better evening than watching a movie in a comfortable lounge chair under the night sky. It's hard to beat that, isn't it?
The open-air cinema is known for airing famous and blockbuster films, often in English or with English subtitles. Always make sure to check the website before you go so that you have the means to understand the film if you don't speak German.
And if you'd like to visit an open-air cinema in a different Berlin location, I've got great news for you – you can! There are other Freiluftkinos in the city, such as Freiluftkino Kreuzberg or Freiluftkino Rehberge. You can decide which cinema to go to based on their locations or on what movies are aired each day.
In either case, you're bound to have a fun night under the stars!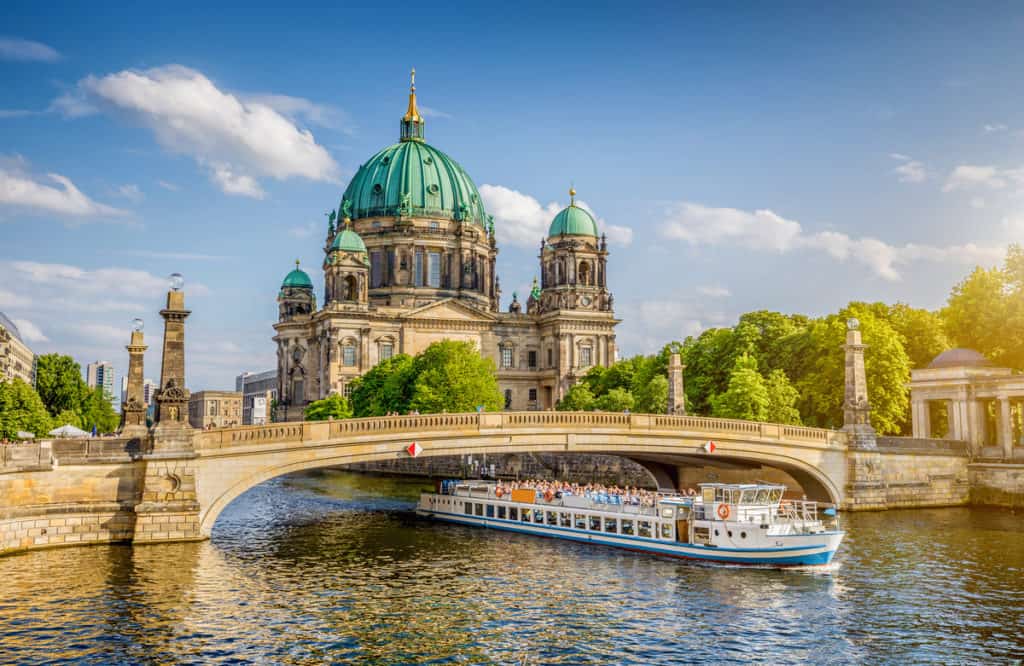 Enjoy a Sightseeing Tour From the Water
Walking down the streets of Berlin has its own beauty. If you'd like to explore the city in a different way, though, sight-seeing while sitting on a boat is an amazing idea! You can sit back, relax and let the boat take you places whilst a guide shares lots of interesting information with you.
With Get Your Guide, you can book a 1-hour boat tour that takes you down the river Spree in a glass-covered and heated seating area (which makes it an ideal winter trip). The audio guide contains 8 languages so you're free to choose which language you'd like to learn about Berlin in, and the boat takes you past many historical places such as the Berlin Cathedral or the Bellevue Palace.
I highly recommend taking a boat tour if you're pressed for time and would like to see as much of Berlin as possible in a short time window. It's also a lovely way of spending your afternoon if you enjoy boat rides and would like to see Berlin from a brand-new perspective. You can purchase food and drink onboard and turn the experience into a lunch as well!
This 1-hour city tour by boat starts at Friedrichstraße or Nikolaiviertel – it's up to you which one you choose – and it costs 17 € per person. Plus, it has guaranteed seating!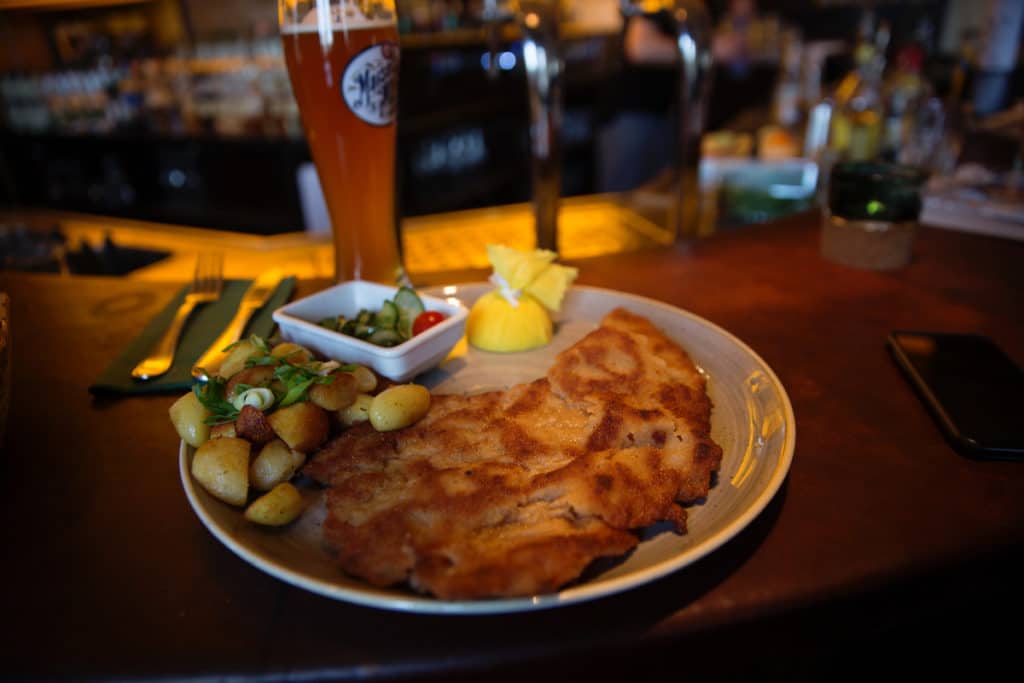 Sample German Cuisine at Schnitzelei Mitte
Let me tell you one thing about Germany: their food is absolutely delicious. I go to German Christmas markets every single year and I love the traditional food these places serve. Eating proper Würstchen (small sausages) with bread and ketchup is on our yearly itinerary when we visit Germany as a family.
Berlin is full of restaurants that offer traditional German food, and it would be a total shame not to visit one. Schnitzelei Mitte is one of the places I'd recommend if you're looking to taste German cuisine – they pride themselves on their Schnitzel, which is probably the most German food ever invented.
Schnitzel is basically meat wrapped up in eggs and breadcrumbs that's fried and often served alongside mashed potatoes. And yes, it's just as delicious as it sounds.
Schnitzelei Mitte offers dishes such as Wiener Schnitzel or Jägerschnitzel, as well as Pork Loin Steak. You certainly won't go hungry if you're a veggie, either. Vegetarian Cordon Bleu and Pasta with Chantarelles are on the menu for anyone who prefers a plant-based meal.
This elegant and traditional restaurant will let you explore German cuisine while drinking delicious craft beer and enjoying a nice time with your close ones. If that's not a proper German experience, I don't know what is.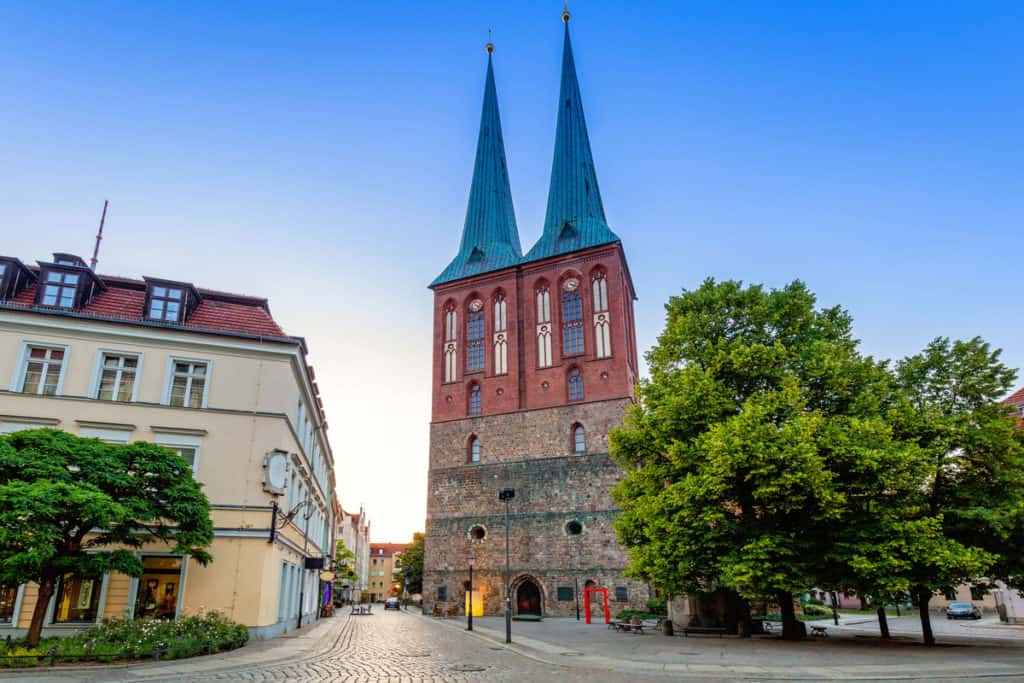 Stroll Down the Streets of Nikolaiviertel
Located in the historical city centre, Nikolaiviertel is one of the main reasons why Berlin Mitte is so worth the visit. This quarter full of merchant houses from the Middle Ages and cobbled streets makes you feel like you're in a medieval German fairytale.
What's more, Nikolaiviertel is where St. Nicholas Church (St. Nikolai-Kirche in German) can be found. Built in the first half of the 13th century, St. Nicholas Church is the oldest church in all of Berlin. It used to be Roman Catholic; however, it was turned into a Lutheran church after the Protestant Reformation in the 16th century. With its high towers and a medieval vibe, the building is definitely one of the main landmarks in the whole historical city centre.
Nikolaiviertel is the place to go if you want to discover what Berlin looked like centuries ago and see the nowadays very modern city from a historical point of view.
Go See a Theatre Play at Schabühne
Germany is well-known for its brilliant theatre scene. Having done theatre for 9 years myself, I have a deep appreciation for the style with which Germans write plays and act on the stage.
If you're interested in theatre and would like to check out what the German scene is like for yourself, Schaubühne in the Wilmersdorf district in Berlin is a great venue to do just that. That's because Schaubühne is a famous theatre, noting names such as Peter Stein and Thomas Ostermeier who's been the director since 1999.
The theatre performs many plays in German, of course, but no need to fret if you don't speak German – Schaubühne is known for its international repertoire. Directors from abroad are often associated with the venue and plays from international writers are regularly performed. Sometimes it's also possible to watch the performance with English subtitles, which is a great way to show international audience that they're welcome in Schaubühne as well.
Visiting the theatre makes for an entertaining evening after a long day spent strolling the streets of Berlin. And it also lets you explore Germany and its culture from a completely new perspective!
That's a win-win situation, if you ask me.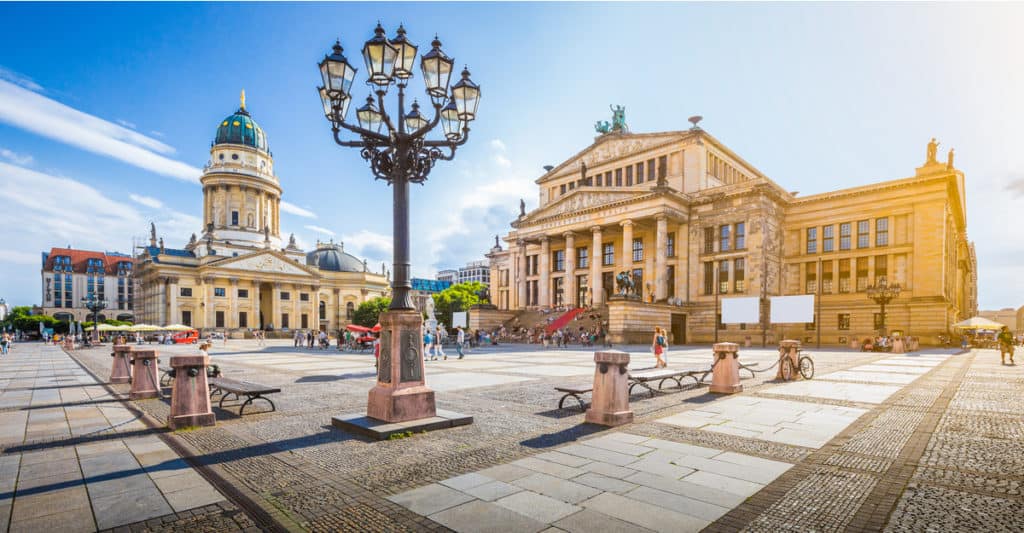 And That was Berlin!
Berlin is one of the most international European cities I've ever been to. You barely need any German language skills to get by because everyone speaks English so well, and the city is so large that you're always bound to find an exciting activity, no matter how long your stay is.
Bohemian clubs, cool hipster bars, environmentally friendly cafés, street art and millennial events are basically at every corner. Due to its international vibe, people in Berlin are generally very welcoming and open-minded, which makes your trip in Berlin an even better experience. Thanks to the friendly atmosphere, you'll never get lost – somebody will always speak English and help you out.
And if you're looking for that ancient European essence, Berlin won't disappoint. The historical city centre is gorgeous, especially the Museum Island and Nikolaiviertel.
The capital of Germany is the perfect mixture of history and modern life. So why not go and see it for yourself?
Related Articles on Germany

🇩🇪 The Cost of Travel in Germany: A 2023 Budget Breakdown
🧭 23 Things to Do in Frankfurt, Germany
🏰 The Absolute Best Things to Do in Munich, Germany
⛪️ The Absolute Best Things to Do in Cologne, Germany
💣 Exploring a Berlin Air Raid Shelter as a New Zealander