Anyone who loves nature and adventure will fall in love with Bend, Oregon. The town is known for its year-round outdoor lifestyle and pristine beauty. I started going there at a young age to ski Mt. Bachelor, and it was hard to stay away after that. The friendly people and scenic landscape make Bend special. I've often said that I think I could live there and never get bored. Once you read through all the incredible things to do, you'll quickly see why.
Bend sits at an elevation of 3,623 feet, making it a high desert climate where you can expect mostly sunny days and cool nights. The summers can be short, but temperatures can reach 80 degrees Fahrenheit (26 Celsius), making it great for river activities and lake swimming. Temperatures can get as low as 20 F (-6 C) in the winter, which is perfect for skiing and cozy cabins with roaring fires. No matter what time of year you go, you'll find plenty of activities to keep you busy, and you'll come away awe-inspired by the nature of the Pacific Northwest.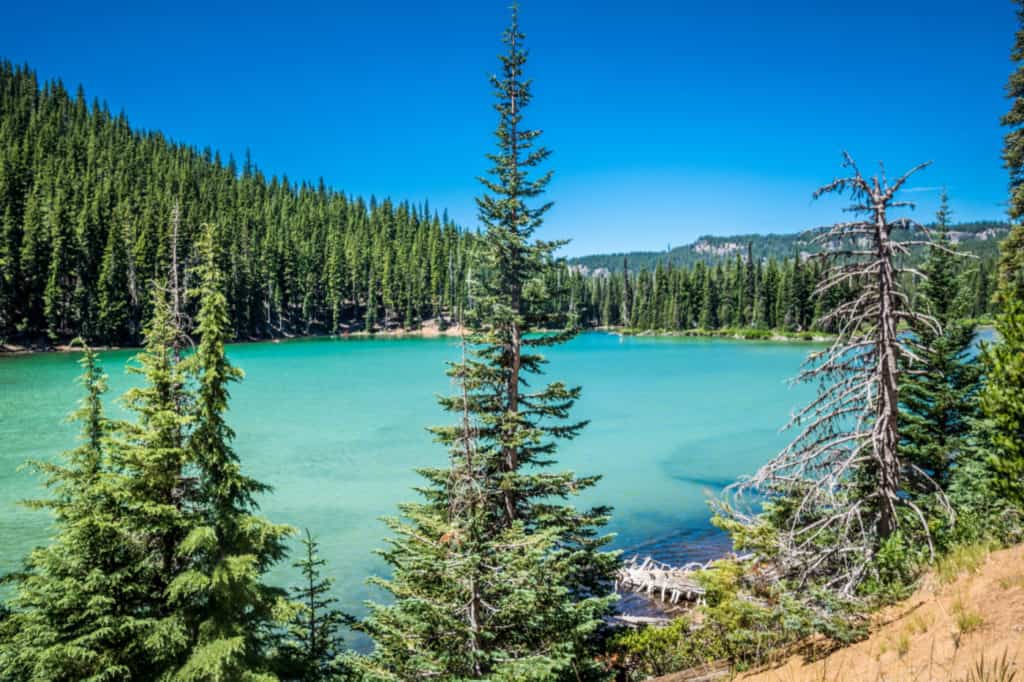 Drive the Cascade Lakes Scenic Byway
About 35 miles west of Bend, you'll find a beautiful chain of lakes and a 66-mile stretch of road known as the Cascade Lakes Scenic Byway. As you leave town, you'll climb and wind your way through a mountain and forest pass with views of the towering Cascades, alpine trees, and shimmering lakes.
There are endless activities to enjoy in the area, namely hiking the numerous trails, but kayaking, swimming, mountain biking, or fishing are also popular pastimes. You could easily spend all day enjoying this drive, simply stopping along the way to take in the views. Just be sure to have your camera ready.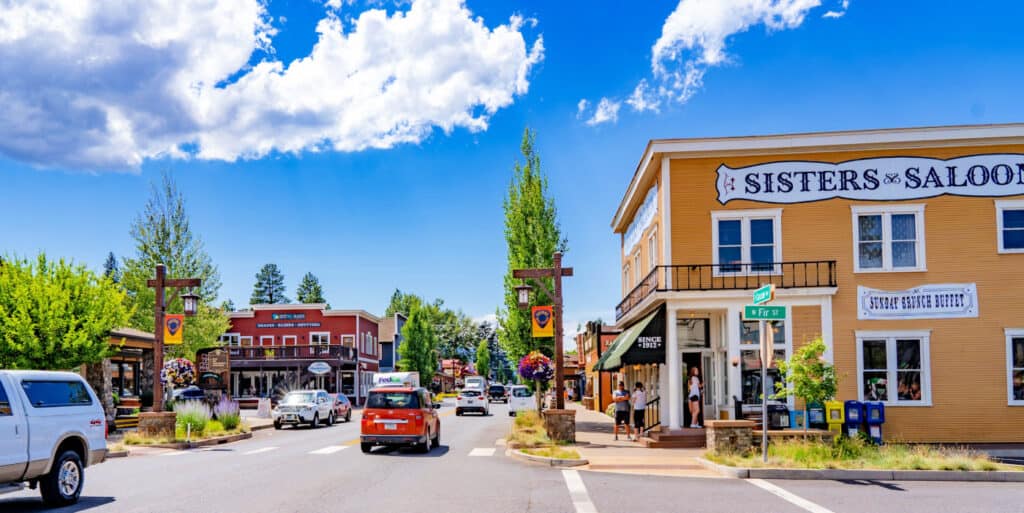 Visit the neighboring town of Sisters, Oregon
If you want a dose of the all-American northwest of the past, you don't want to miss a visit to Sisters. This small town has a charming atmosphere that feels part ski village, part wild west. You can bike there from Bend in under two hours, which many people do, and then continue onto Smith Rock National Park and make a loop back to Bend. That would be a full day of enjoyable biking. If you plan it right, you can grab a great lunch at Sisters Saloon and Ranch Grill where you'll find Northwest classics such as Columbia River Steelhead and creative burgers, including the Great Plains Bison burger.
The town takes its name from the nearby Three Sisters mountains and has inspiring art galleries, tasty restaurants, and cafes to enjoy. I love the charming 1880s storefronts and small-town atmosphere, and stopping at Fika Sisters Coffeehouse before or after a day of skiing was always a cozy and enjoyable treat.
Skiing (or playing!) on Mount Bachelor
Of course, this is a seasonal activity, but skiing on Mt. Bachelor is definitely worth your time if you visit Bend in the winter. It's the 6th largest ski resort in North America and having skied at quite a few places in the Pacific Northwest, I can attest to it being one of the best. Mt. Bachelor has a very resort-style feel with lively eateries and cafes, including Clearing Rock Bar in the West Village, serving craft beers.
The terrain is great for all ages, and there are so many excellent, groomed runs and trails that you never have to ski the same run twice. If you find yourself in Bend during the winter but aren't a skier, you can go snowmobiling, snowshoeing, sledding, or take a dog sled ride.
Mt. Bachelor is a dormant volcano and is part of the Cascade Range. So, even if you're visiting outside of ski season, it is a beautiful place to explore. Once the snow melts, the mountain transforms into a natural wonderland. Chairlifts can take you to incredible viewpoints, and you can bike, and hike on lush alpine trails. Starting in June, you can experience a thrilling 1,400-foot zipline, which is the steepest zip line in the northwest.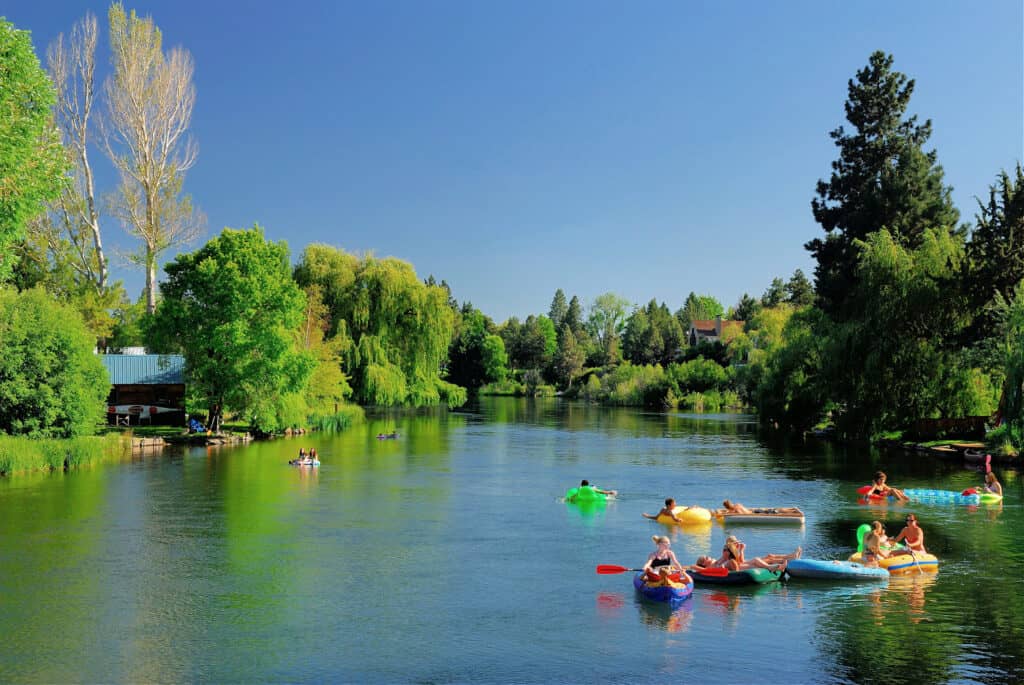 Float down the Deschutes River
The Deschutes River is a tributary of the much larger Columbia River, running roughly 50 miles in length, and provides endless fun to Bend locals and visitors. This mighty river is not only beautiful to look at but is also a playground for water enthusiasts. You can boat, fish, and even white-water raft and surf, but simply floating is perhaps the most peaceful way to experience the river.
Enjoy this much-loved activity with an innertube or any sturdy floating device. Canoes, kayaks, and stand-up paddleboards are favored options, and there are places in town where you can rent them. You can start at Riverbend Park and end at Drake Park, which typically takes 1-2 hours. The scenery along the way is lovely and green, and the crisp water is a refreshing way to cool off on a hot day.
The river is marked with difficulty levels, so tubers can decide if they want to brave a few rapids or get out and walk around. It's a good idea to wear a life jacket and water shoes as there are some strong currents, rocks, and areas of deep water.
Catch an Outdoor Concert
Outdoor concerts and a lively music scene fit in perfectly with Bend's atmosphere. The numerous days of clear blue skies bode well for musicians who come to play at one of the many summer concert venues in town and the fans who gather to see them.
Hayden Homes Amphitheater has welcomed artists such as Paul Simon, Willie Nelson, Norah Jones, Sheryl Crow, and the Dave Matthews Band. When watching a gig in this picturesque spot, you can dance on the cool grass and watch the sunset over the Deschutes River.
Keep your eyes peeled for music festivals, as Bend has been known to hold many over the years, such as the Four Peaks Music Festival. You can also find intimate live performances at the Clear Summer Nights series at the local Athletic Club, and many bars and restaurants showcase live music as well.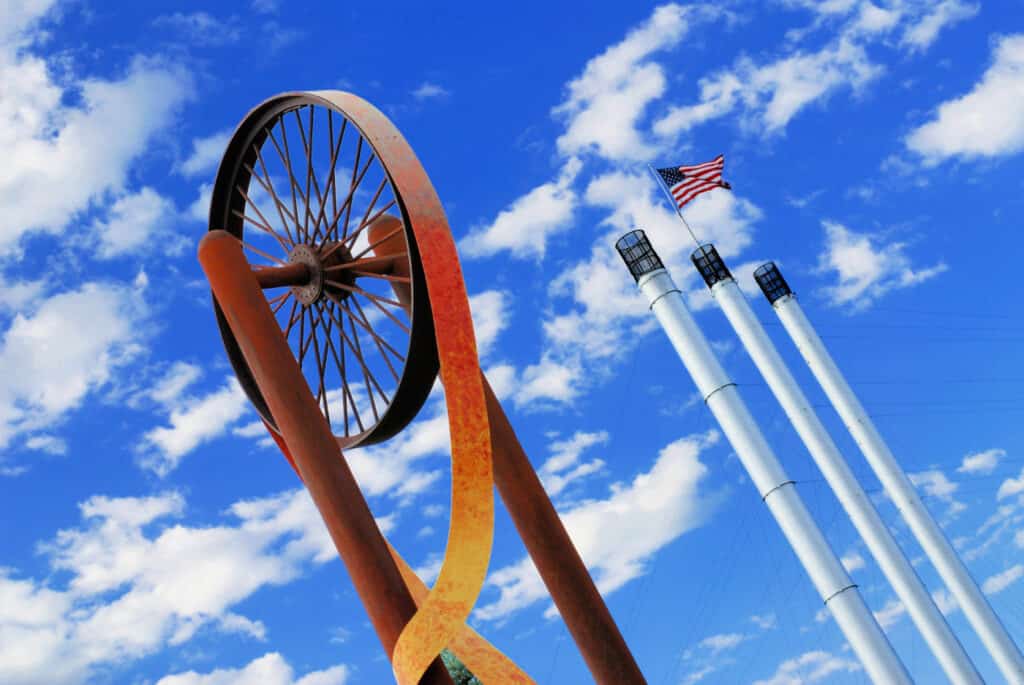 Explore the Old Mill District
At some point or other while visiting Bend, you are sure to find yourself in the Old Mill District. Along the banks of the Deschutes River and about a mile from downtown Bend, this area is a charming spot to grab a cup of coffee and wander through shops. Built around the remains of an old lumber mill and recognizable by the three tall smokestacks, paths lead you through rustic buildings that make up a mixture of boutiques shops, and chain retail stores. Be sure to pop into the REI to stock up on any outdoor clothing or gear you might need for your stay. Old Mill also has a Regal cinema playing a selection of the latest films.
Dining options are not extensive, but on a mild evening, you can find an outdoor table with river views to enjoy an al fresco meal. Also, be sure to stop into Va Piano Vineyards and Naked Winery to taste lovely selections of local wine.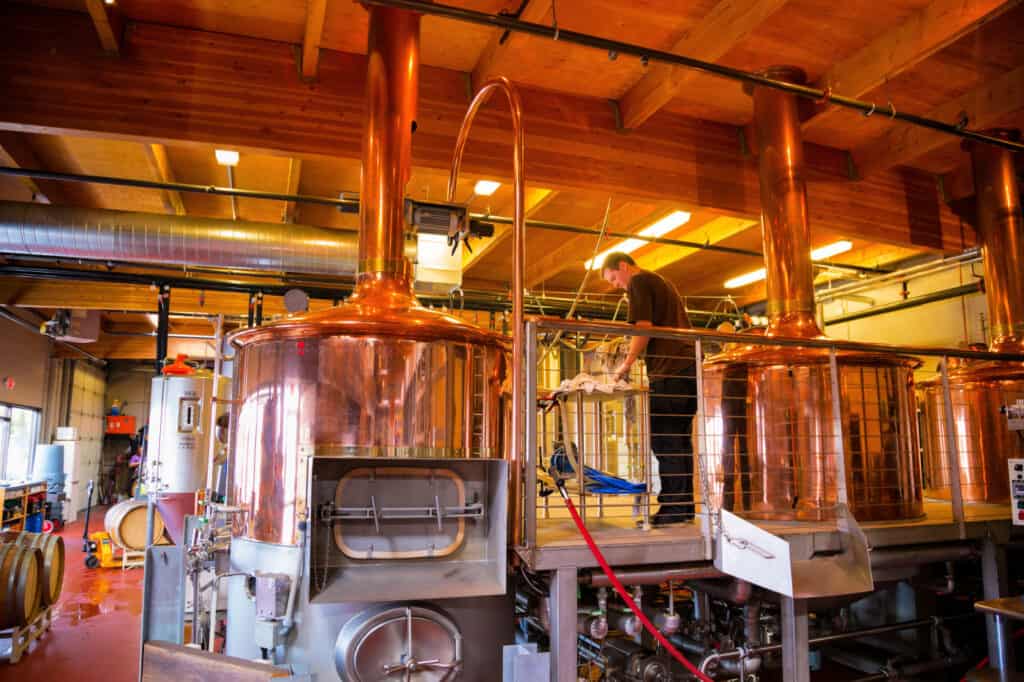 Join the Bend Ale Trail
If you like craft beer, you've come to the right place. Bend has a thriving beer scene – just like its big brother Portland, Oregon – and has even been nicknamed Beer Town USA. The best way to experience the vibrant breweries and unique flavors is through the popular Bend Ale Trail.
How does it work? You can pick up a passport at any of the participating breweries. There are 18 in total, and if you visit 10 of them you win a prize! You don't have to purchase anything to get a stamp. This is because they want to encourage people to drink responsibly.
If you visit all the breweries in one territory you win a commemorative taster cup. Those who complete all seven territories earn a handmade taster tray to display the collection.
Many breweries also serve excellent food and have outdoor patios to relax in, making them the perfect stop after an active day among the mountains, forest, lakes, and river.
Spend time in Downtown Bend
Downtown Bend is the character-filled heart of the city. Wall and Bond Street are the two main streets, with several other streets running through them. This lively town center is not only quaint and picturesque to walk around at any time of year, but you can enjoy tax-free shopping at the many retailers that line the streets.
This artsy town is not short of galleries, and you can experience an Art Walk on the first Friday of each month. If you're not there during that time, you can drop in and browse.
Downtown Bend is where you'll find plenty of options for lodging if you want to be in the center of things. You can also pick up any items you might need to rent for the activities you plan to enjoy during your stay.
Cafe culture is alive and well in Bend, so there is no shortage of great eateries in the downtown core. You'll find everything from coffee roasters to breweries and from Thai food to gelato.
Eat at Active Culture Cafe
Speaking of cafe culture, if you want to experience craft cocktails, local beers, great coffee, frozen yogurt, and delicious healthy food, you will not be disappointed with a stop at Active Culture. It has been voted the best vegan/vegetarian restaurant in Central Oregon and is especially popular for its creative bowls of hearty goodness. You can also order burritos, burgers, salads, bagel sandwiches, and soups. If you are a brunch fanatic like me, they also serve breakfast all day.
Active Culture is located just a few blocks from the downtown core, near Drake Park, and conveniently situated at the end of the city's river float route. There is also an Active Culture in nearby Sunriver.
Oxford Hotel
I can highly recommend staying at the Oxford Hotel in the heart of Bend. This boutique hotel encompasses the rustic, artsy vibe that Bend is best known for. They describe themselves as "eco-chic" and it seems to fit the bill just right. The hotel blends environmentally friendly practices with luxury and comfort, even in their restaurant, where you'll find exceptional dishes made from fresh, locally sourced ingredients.
What I liked best is that Oxford Hotel has the feel of a cozy cabin, but has the amenities of an upscale hotel. For example, the fitness room offers seventh-floor views and Peloton bikes, a jacuzzi, a steam room, and a sauna.
Being in the center of town certainly has its perks, and since Bend is a very dog-friendly town, it's great that the Oxford Hotel allows up to two pets per room.
Drake Park
If you're looking for walking trails and wide open spaces, Drake Park comprises a 13-acre stretch along the Deschutes River. Located near historical downtown Bend, this park is the perfect place to bring a picnic and relax among wildlife and greenery. It would be difficult to spend time in Bend and not find yourself walking through Drake Park at one point or another.
You can see squirrels, chipmunks, and lots of birds, especially on quiet mornings. There are Great Horned Owls that nest in the large trees, and some areas of the park are closed in May during their nesting season.
This is where locals walk their dogs or go for a morning jog, and where children run free and play soccer or frisbee. There is a half-mile stretch of public river access and a spot called Mirror Pond, where the river widens to create a lovely placid lake.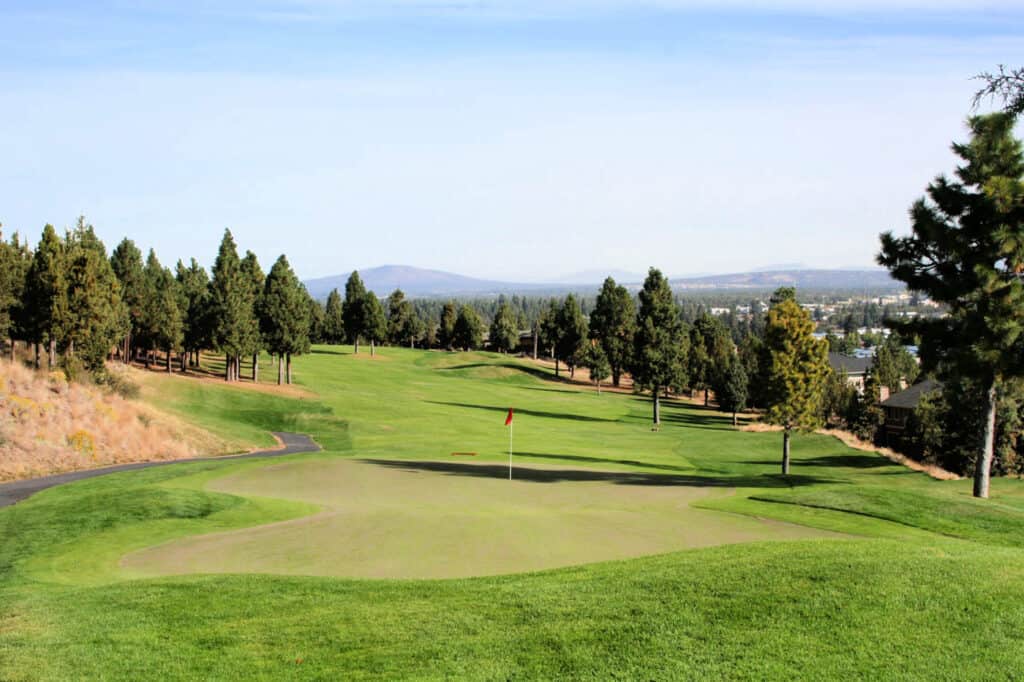 Play Golf
For a relatively small place, Bend has a surprising amount of golf courses. The dry, sunny climate means you can play golf all year round. Most people golf in the summer, but spring and autumn also make for excellent conditions.
You can choose from more than two dozen courses that range in skill level and price. The Tetherow golf course is perhaps the most well-known and is one of the best courses in Oregon. It's part of the Tetherow Lodge Hotel and estate, which is a four-star, 700-acre resort. Golfing here offers incredible views of the Cascade National Park, and discounts are available for guests of the resort.
You can also surround yourself with the ponderosa pines of Widgi Creek or play on a course that runs along the Deschutes River, called River's Edge. Both of these slightly challenging courses are right in town. You can also travel to nearby Sunriver to try your hand at their award-winning course Crosswater Club, go to Sisters to play a round at beautiful Aspen Lakes or try the courses at Black Butte Ranch.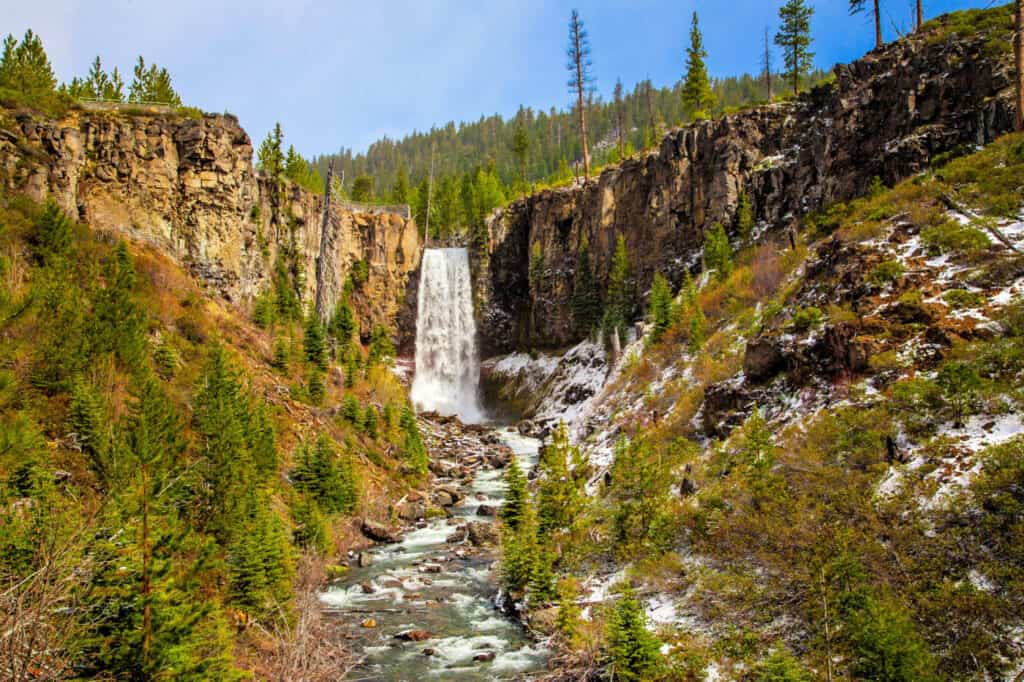 Visit Tumalo Falls
To see this majestic 97-foot (30-meter) waterfall, you travel about 13 miles west of Bend. You can drive there in about 20 minutes and park at the base of the falls. If you're short on time – or energy – you can see the falls from a small viewpoint here, but there is also an uphill walk to reach a closer viewing platform, which is worth the trek. It's about a half-mile to get to this higher vantage point.
If you're up for more walking in this beautiful dense wilderness, try the 7-mile loop that starts at the base of the falls and takes you around. The first section is often crowded, but if you continue around, it is much quieter. You will see lots of small waterfalls along the way.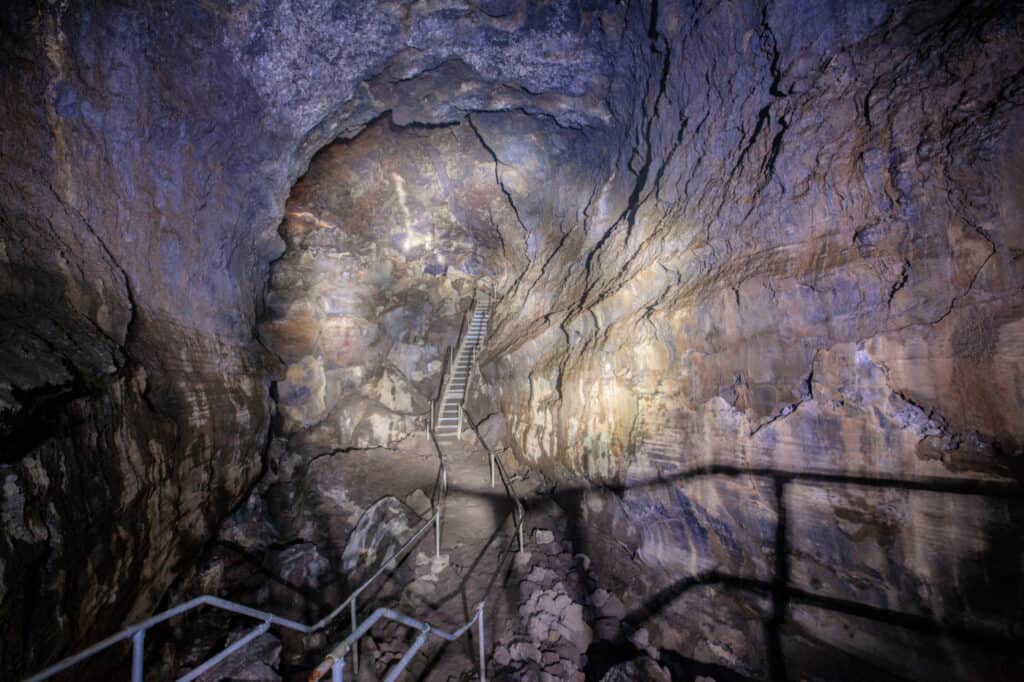 Go Spelunking
This isn't an adventure you come across in every town you visit. If you've never heard of it, spelunking is the exploration of caves. In the case of Bend, spelunking takes place in lava tube caves. Thanks to the high volume of volcanoes in the area, there is no shortage of caves to explore.
My favorite is Lava River Cave at Newberry National Volcanic Monument, but I'm not alone. If you want a quieter cave to explore, try Boyd Cave or Hidden Forest Cave. If it's your first time, starting at a place like Lava River Cave is a good idea, as there are rangers to talk you through what to expect and set some guidelines for your visit.
If you've never participated in spelunking before, here are a few tips: Take a high-powered flashlight or headlamp (your phone won't do). Some places rent lanterns, and it's a good idea to get one. Wear solid, close-toed shoes, not sandals, as the rocks can be sharp. The temperatures will drop a lot, so bring a sweater or jacket.
This is a great activity to do with kids. It's safe and just adventurous enough to give everyone a little adrenaline rush.
Go Hiking
Hiking is one of my favorite outdoor activities, and Bend has many great trails and areas for hiking. The landscape is so diverse that you'll need to decide if you want to hike through verdant mountain trails, around pristine alpine lakes, over dusty rock formations, or through craggy lava fields.
I'm partial to the snow-capped mountain views and evergreen forests that this part of the world is famous for. It's a massive bonus to pass one of the rushing rivers or sparkling lakes that comprise the area.
Some popular, easy hikes around Bend are the Deschutes River Trail and Pilot Butte. The river trail that runs through Bend is 11 miles long and ends at the Benham Falls Overlook, which is a nice climax to this stroll. Pilot Butte is a viewpoint that overlooks Bend. You'll find lots of locals and visitors on this 2-mile trail, but once you reach the viewpoint, you'll see why.
To venture outside of Bend for magnificent hiking, look for trails that suit your desire and ability in Three Sisters Wilderness and The Cascade Range, Newberry National Volcanic Monument, and Smith Rock State Park.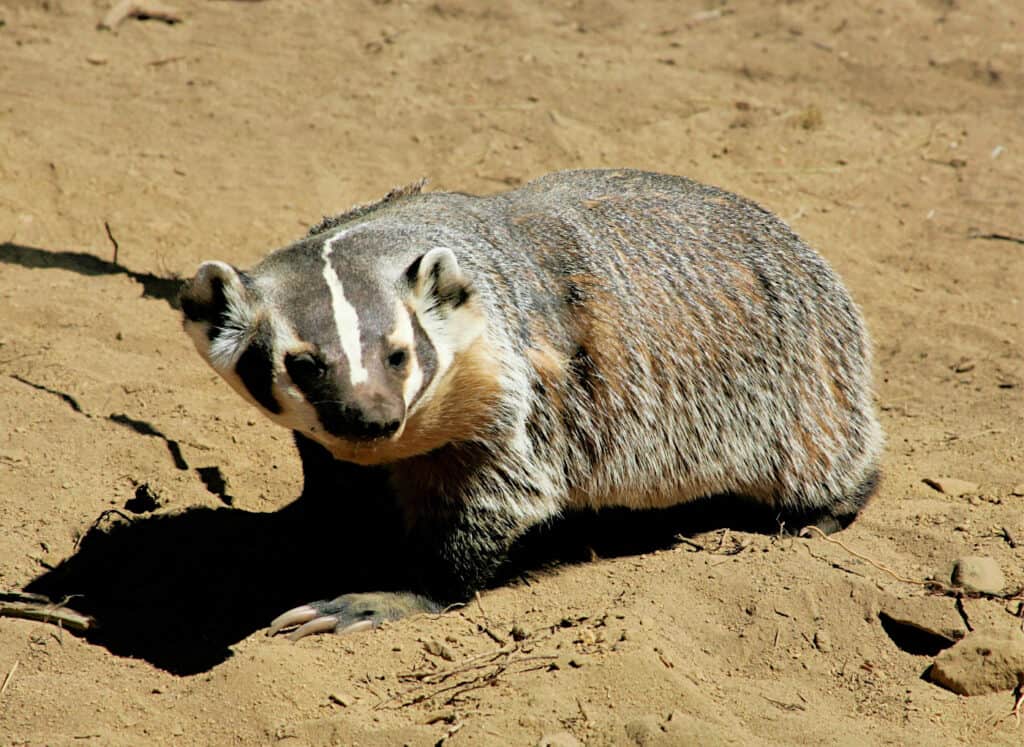 See an Animal Show at the High Desert Museum
Not your average museum, the High Desert Museum sits on 135 acres of forest and is filled with exhibits, experiential shows, and lectures about the native people, places, and wildlife. Located just 7 miles south of Bend, you can see fish, porcupines, reptiles, otters, and birds of prey up close.
All the animals at the museum have been rescued and cannot be released into the wild. Many have never learned to hunt or cannot fly and would not survive if released. They are well taken care of at the museum, and it is a privilege for guests to learn from them.
Check the museum schedule for events, or you can walk around and explore at your own pace. The exhibits, workshops, and lectures are always changing, so if you've been once, it likely won't be the same the next time you visit.
Enjoy lunch at the Rimrock Cafe where you can order coffee, sandwiches, wraps, and soups from a delicious menu.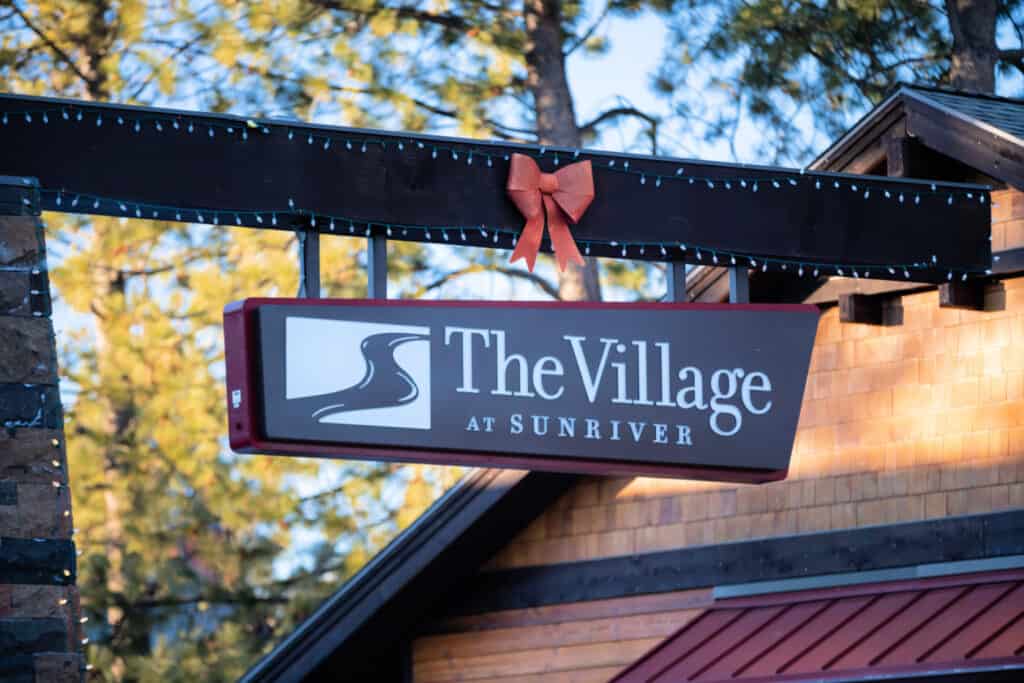 The Village at Sunriver
Although Sunriver is a destination in its own right, you can't talk about things to do in Bend without mentioning this loved resort town. Many people stay here to ski Mt. Bachelor, but there are spectacular year-round activities throughout this 3,300-acre community.
Only 20-minutes from Bend, you will arrive at this natural wonderland, where you can mountain bike, hike, go horseback riding, play golf or rejuvenate in a lovely spa.
If you have kids in tow, check out The Cove Aquatic Center and SHARC Aquatic Center, both featuring indoor and outdoor pools and fun water slides. It's also fun to visit the Oregon Observatory after dark. Because of Sunriver's elevation and clear, dark skies, you can get a good look at the stars and moon at night.
Badlands Wilderness Area
Besides being a place with a great name, the Badlands Wilderness Area is where people venture to take a scenic drive, go hiking, or fossil hunting. The rough and rocky landscape and extreme temperatures are where the name comes from.
This protected wilderness area is almost 30 acres in size and offers approximately 50 miles of trails to explore. The craggy, arid terrain was created by volcanic formations, erosion, and sediment. It's all super fascinating, whether you are into geology or not. So, if you're looking for some relatively flat hiking and interesting desert views, it's worth the 25-minute venture east to check out the Badlands.
Go Mountain Biking
As a hiker, I feel like I'm sometimes competing with mountain bikes for trail space. So, if you can't beat 'em, join 'em, right?
I find mountain biking a little intimidating, but if you've been wanting to try it, Bend is the place. There are so many trails to explore for all levels of experience. You also don't have to own a mountain bike since plenty of rentals are available in town.
The trails are well-maintained by The Central Oregon Trail Alliance, who do a fantastic job of developing, protecting, and enhancing the mountain biking experience for locals and visitors to Bend and the surrounding areas. They share a great trail map here, or you can head to Bend Trails to search for trails by region or ability and to see up-to-date conditions of the trails.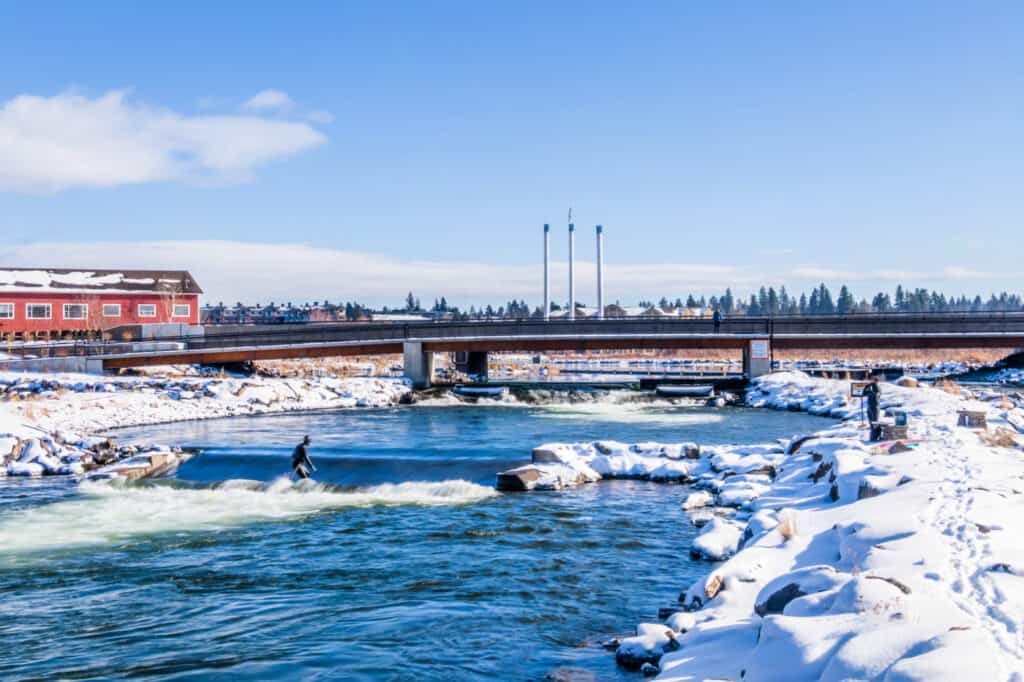 Ride the Rapids at Bend Whitewater Park
Bend Whitewater Park is a small area of the Deschutes River dedicated to boogie boarding, surfing, tubing, kayaking, or paddleboarding through white-water channels. Man-made chutes are monitored and adjusted to suit skill levels and can be a lot of fun. There are some rules you need to follow, and some people wear lifejackets and helmets, which seems like a good idea to me.
Perhaps the most unusual activity is river surfing, which is now one of the most popular Bend activities. Although I haven't tried it, I have watched others and can see how surfers of all abilities could enjoy this static surfing wave. The SW Colorado Avenue Bridge is a good place to check out the surfing scene.
Goody's Chocolate and Ice Cream Factory
This place brings back all sorts of childhood memories for me. I had to include it because I would never let someone visit Bend without stopping at Goody's.
This chocolate, candy, and ice cream parlor has a classic, feel-good vibe the moment you walk through the door. Maybe that also comes from the aroma of waffle cones and handmade candies, and the anticipation of the treat that is to come. It's no wonder it is a childhood favorite but trust me when I say that anyone with a sweet tooth will quickly make this a priority stop.
My favorite is the classic chocolate malt, but you can't go wrong with a sundae or banana split either. Goody's uses local, quality ingredients, and much of what they sell is made onsite. There is also a shop in Sunriver just in case you get a craving while you are visiting this nearby resort location.
Learn to fly fish
Fishing opportunities in Bend are endless. Not only can you fish year-round, but the pristine rivers, lakes, and creeks are full of rainbows, browns, brookies, bulls, steelhead, and other species.
Fly fishing is not something that can happen anywhere. Conditions need to be right, and Bend has been called one of the top ten fly fishing towns in the United States. I don't think there is a more peaceful sporting activity. So, if you've wanted to learn how to fly fish, give it a try while in Bend.
There are beginner classes that can last anywhere from 2 hours to 6 hours and usually include everything you'll need, so you don't have to worry about bringing any special equipment.
Dine at 5 Fusion
I love the combination of local ingredients with an Asian twist, which is what makes 5 Fusion so irresistible. They feature an extensive sushi and sake menu in a setting that feels refined yet relaxed.
The menu changes regularly, according to the seasons and the chef's mood, so be sure to ask about their chef's tasting menu when you make reservations. They have an affordable cocktail hour, which is a great time to order some small plates if you aren't up for a full meal. You can order everything from fresh oysters and scallops to Korean shortribs and exotic sushi rolls. When I think about the menu at 5 Fusion, I can only envision an explosion of flavor.
Relax with a visit to a Spa
No outdoor lifestyle would be complete without the ultimate relaxation after a day of active adventure in nature. This is why Bend is considered a spa destination that rivals many others.
Whether you are soothing your body after an active day on the slopes, or in search of peace and relaxation, a trip to the spa is always a good idea. It's the perfect escape for a celebration or romantic getaway, too. Bend has dozens of outstanding day spas offering everything from relaxing massages and soaking pools to cleansing body treatments and facials.
If you're like me and prefer spa treatments that use all organic products – even down to the purest nail polish, try Anjou Spa.
So, while you're making plans for your next vacation to Central Oregon, remember to schedule some time for bliss and relaxation.
Go on a Volcano Tour
When surrounded by natural beauty, I always try to take the time to learn a little about the environment I'm in. Volcanoes are such an important part of Central Oregon's topography, and much of what you will experience in the natural world around you wouldn't be there without them.
But if geology isn't necessarily your strong suit, it's best to learn from professionals. Get Your Guide offers a great Half-day Volcano Tour with a naturalist guide. You will have the opportunity to explore the belly of an ancient volcano, walk the shores of Paulina Lake, journey through the old-growth hemlock forest, and pass towering lava flows. If you want to explore the lava fields and know more about the fascinating natural and cultural history of the area, this tour is perfect and is suited to all abilities.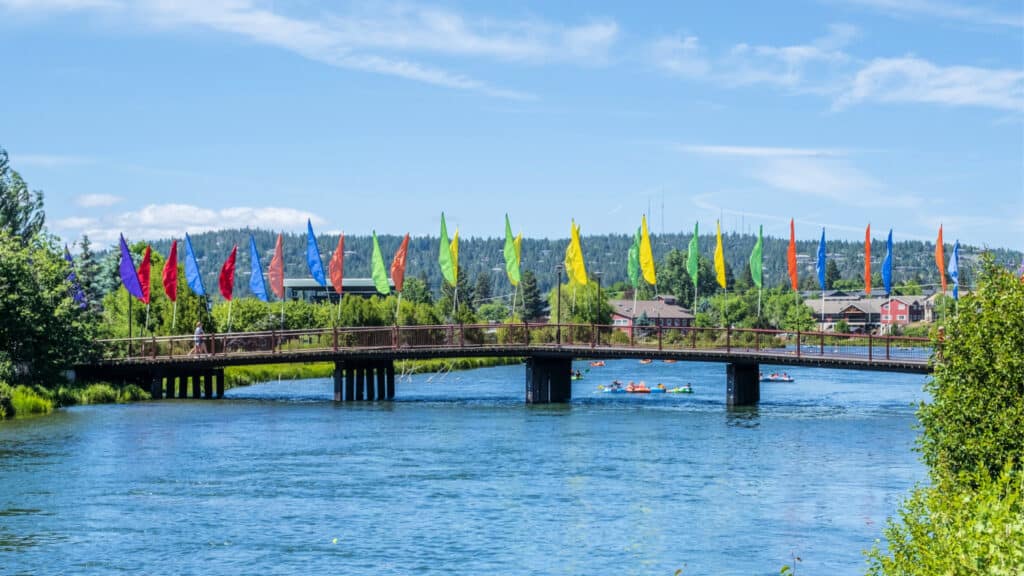 As you can see, there is no shortage of things to do in Bend. Imagine waking up to blue skies for a day of skiing, hiking, exploring, and taking in the beautiful scenery, and then finishing the day with a soak in the spa or a visit to a craft brewery. If you enjoy the outdoors and like to stay active, I do not doubt that you will be enamored by Central Oregon and especially the town of Bend. Consider visiting for a ski holiday, golf getaway, or spa and wellness retreat, and you won't be disappointed.