Facing out to the Caribbean Sea in Central America, Belize is a bridge between ancient Mayan life and Caribbean culture. The country features some spectacular Mayan ruins, remote sub-cultures and the sort of scenery you'd expect while on the banks of the Caribbean Sea.
Belize is teeming with natural beauty. You'll discover this at the many dive sites, reserves, and atolls, set along the world's second largest coral reef. You'll see it in the mountains, which harbor waterfalls, flooded caves, and big cats and colorful birds.
Add on colonial architecture and Mayan pyramids, and Belize is a feast for the eyes.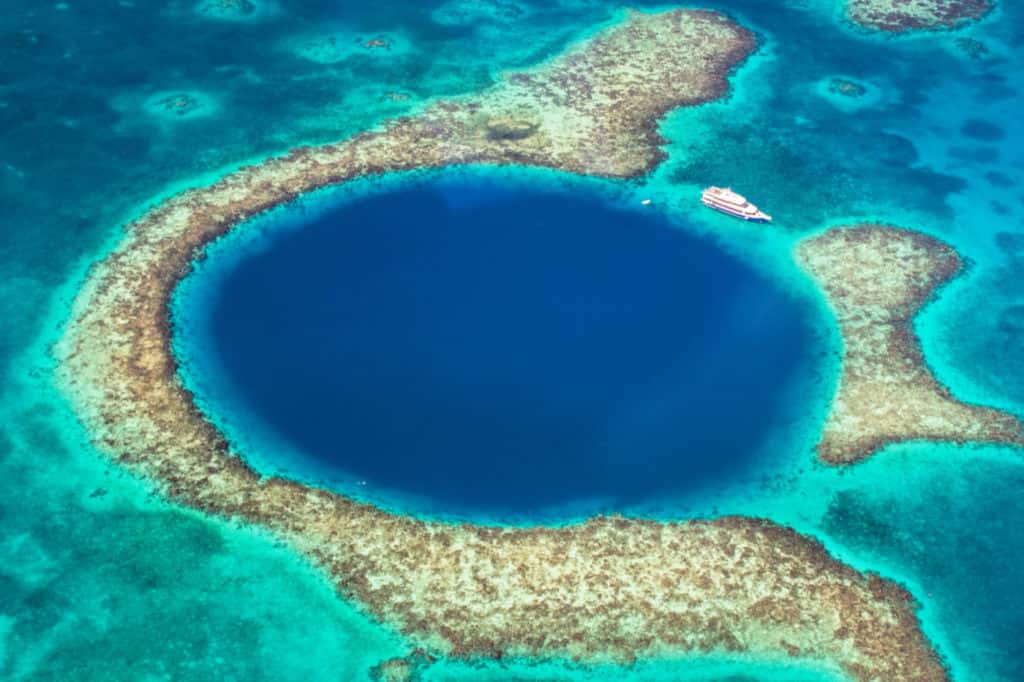 Go Diving at the Blue Hole
Truly, there is no experience more iconic than diving Belize's Blue Hole. Talk about an adventure unlike any other!
When viewed from above, you'll be left with no doubts in your mind over how the Blue Hole received its name. Looking like a portal to another world, this navy-blue circle is encapsulated by turquoise waters and bright green coral. Diving there is an item that's on many divers' bucket list, but snorkeling the eerie waters is just as enjoyable an experience.
The Blue Hole is found within the Belize Barrier Reef, the second longest reef in the world. It's officially an UNESCO World Heritage site and one of the most celebrated dive sites you'll come across; it's even visible from space!
It's believed to have been formed over 10,000 years ago, when the roof of a limestone cave collapsed, opening up a world of tunnels, stalactites, and adventures.
Now, I'm going to be honest with you here, the Blue Hole is, well, a hole. And because of that, you're not going to see an awful lot while you're beneath the surface. Coral can't grow in these dark waters, and fish tend to steer clear, too. And you can't dive to the bottom of the Blue Hole, as it's 400 ft (120 metres) in depth!
But what you will encounter is a dive site that truly meets the definition of unique. You'll encounter the remains of the limestone cave: stalactites and stalagmites, then dozens upon dozens of sharks. It's truly one of the coolest experiences you can have as a diver.
One final note on diving the Blue Hole: this is absolutely not a dive for beginners. You'll need your PADI Advanced Open Water qualification, as you'll be taken down to depths of 40 meters (130 feet), and your surroundings will be dark and dangerous. The Blue Hole has seen some of the highest numbers of fatalities of any dive site, and there's believed to be as many as 200 bodies resting at the bottom of it.
In other words, if you're feeling nervous or unconfident about the dive, I'd recommend snorkeling instead.
And snorkeling is definitely worth doing! Snorkelers can swim their way along the edge of the hole, checking out the corals and calcium deposits, plus the more varied marine life. You won't see the stalactites and stalagmites, but you'll see tons of fish, instead!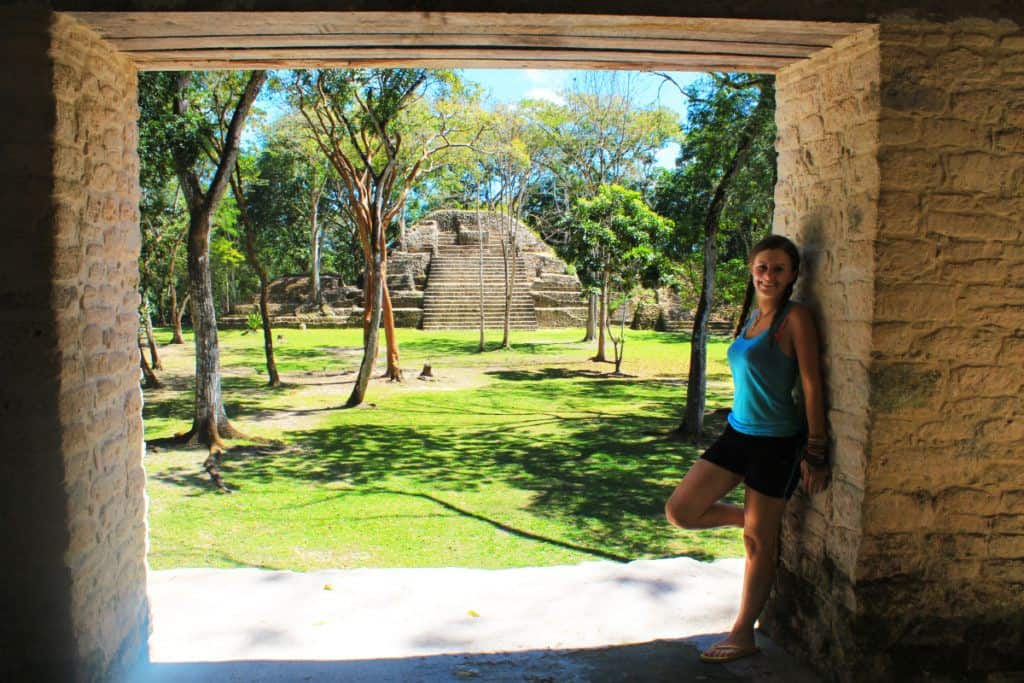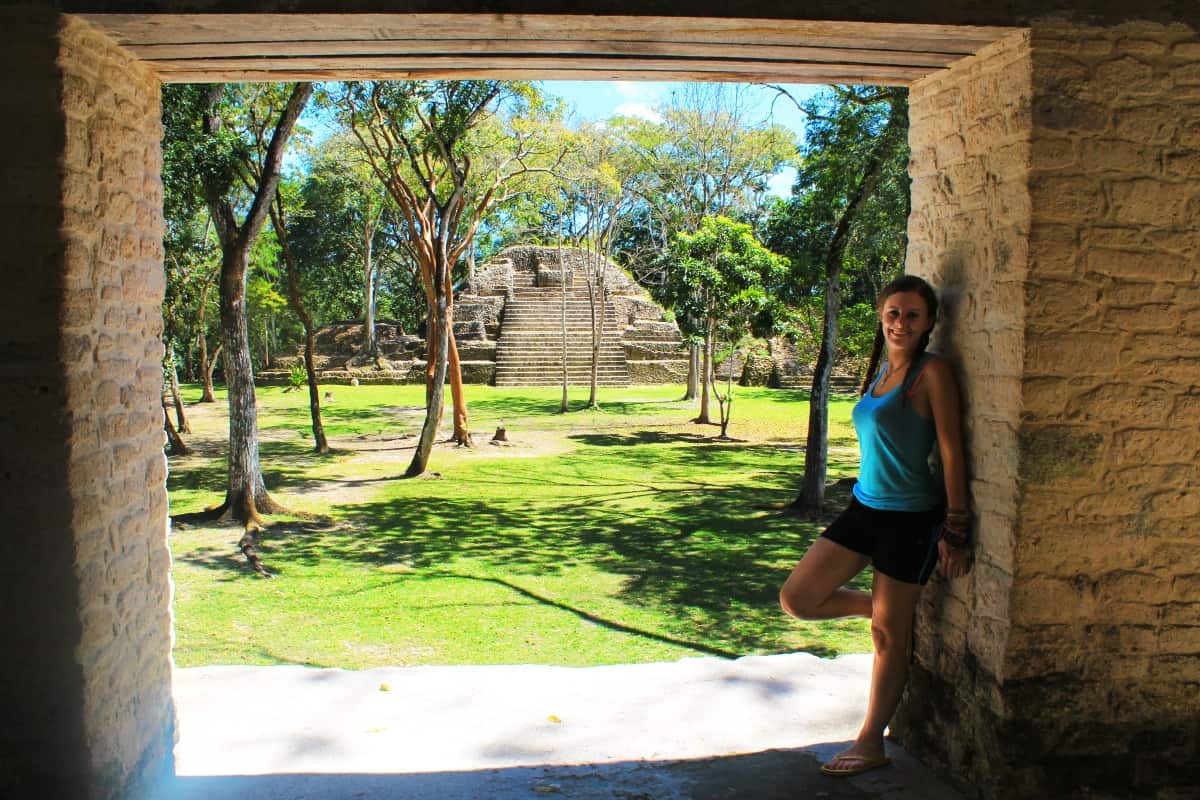 Spot Ancient Mayan Ruins
I'll hold my hands up here and confess to not being the biggest fan of archaeological sites while I travel. But that's exactly why you should listen up.
Because the ruins in Belize are absolutely mind-blowing! Let's face it: if a self-professed ruin-avoider like me is urging you to add these structures to your travel itinerary, you know they're going to be something special.
You'll find Mayan ruins blanketed across the entire country, but the most impressive ones are found within Cayo District — located in the west of the country. Base yourself in adorable San Ignacio while you explore these ancient structures, and you'll find yourself staying in a lovely small town that's full of great food, inexpensive accommodation, welcoming residents, and — surprisingly — so many butterflies.
The most impressive of the ruins in this part of the country is Xunantunich (pronounced shoo-nan-too-nitch). If you only have time to see one set of ruins while you're in Belize, you should make it this one.
At Xunantunich, you'll discover an incredible Mayan site that stands above the lush rainforests and mossy rock ridges. The name translates to Maiden of the Rock and is a known ceremonial hub. All up, there are over two dozen palaces and temples to explore with further excavation still occurring.
And as you wander the grounds, you'll most likely hear a dinosaur growling from the tree-tops.
A what?
Don't be alarmed: that horrifying sound is actually emanating from the howler monkeys that call this part of the country home. And if you've never encountered howler monkeys before, let's just say you're in for quite a treat! This is a video that my boyfriend took while we were exploring the complex:
Finish up your visit to Xunantunich with the stunning El Castillo: the Castle. At 130 feet (40m) tall, this Mayan ruin is the second-tallest structure in the country. What that means is that it offers up the best views of the surrounding countryside. You can even see into Guatemala from the top!
Other archaeological sites in the area include Cahal Pech, which was another one of my favorites. In this case, it was because it was so quiet! We had the entire complex to ourselves while we were there, and it made for such a magical experience.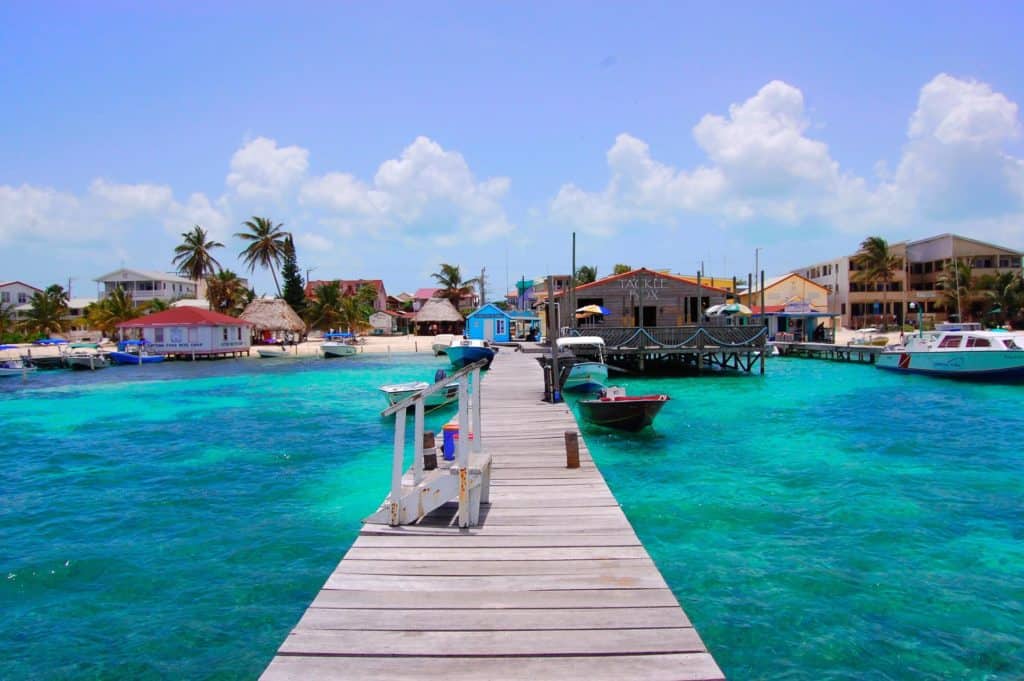 Explore Ambergris Caye
Belize is a splendid mix of nature, ruins, and beaches. After a taste of the first two, experience the third by spending a day or four on beautiful Ambergris Caye. Belize is home to a whopping 200 cayes (another word for island; it's pronounced key) and Ambergris the largest. It's the perfect place to kick back, eat fresh seafood, and admire the beachy views.
Ambergris Caye is 25 miles, or 40 km, in length and while you'll come across a few cars and trucks transporting goods around the island, the most common way to get around is on the back of a golf cart or by bicycle. This leans into the island's relaxed vibe, because who wouldn't include golf cart adventures in their idea of paradise?
The caye's main town, San Pedro, is a mix of colorful restaurants, roadside shacks, and local homes, with the odd upscale hotel thrown in. The narrow cobblestone streets are a delight to wander down and they add a sense of history to a town that now revolves mostly around tourism.
Although Ambergris Caye is an island, the beaches are thin so you'll never be more than a few steps from the sparkling water at all times. Secret Beach, is no longer an unknown and has become the best spot to sunbathe on the island.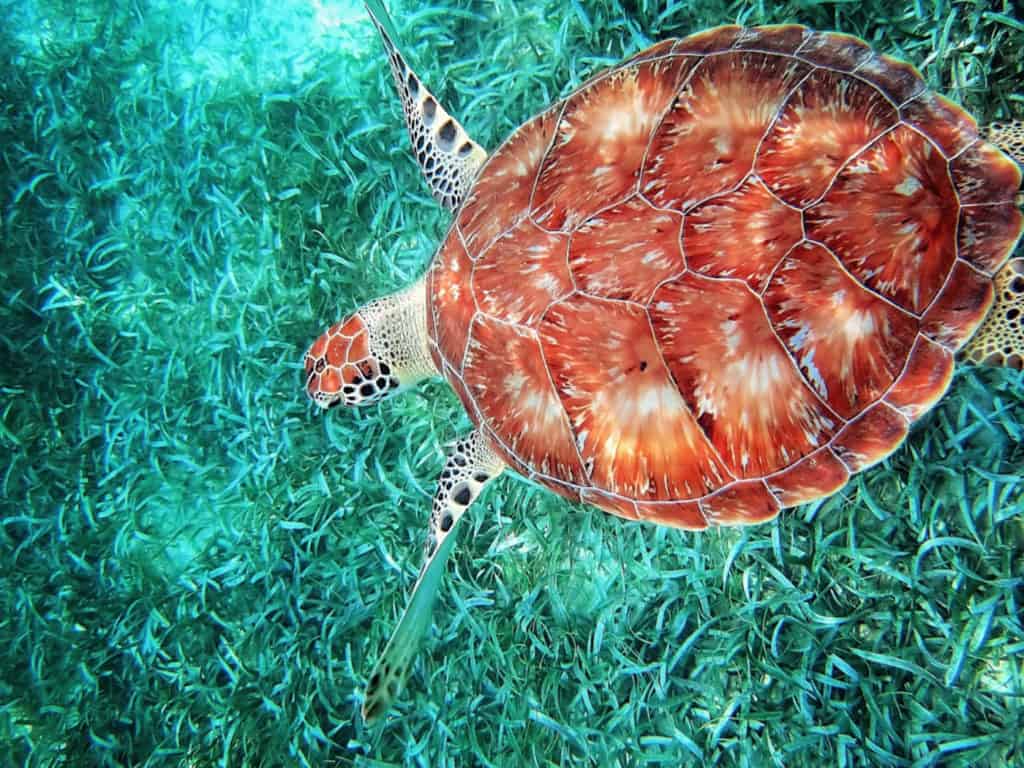 Visit Hol Chan Marine Reserve
Aside from soaking up the island vibes, the main reason why travelers make their way to Ambergris Caye is to visit the Hol Chan Marine Reserve. Hol Chan is located just off the coast of the island and is arguably the best of the seven marine reserves along the incredible Belize Barrier Reef.
The transparent waters of Hol Chan Marine Reserve even allows you to peer down to the reef from the comfort of your boat. But of course, you can't appreciate the true beauty of the reef without putting on your snorkel gear.
The reserve is split into four sections, the Seagrass Beds, the Mangroves, the Reef, and Shark Valley. The last two areas are the most popular, as they're home to vibrant coral reefs and the rich marine life that has boomed thanks to the reserve's protection.
Hol Chan Marine Reserve is located just four miles (6 km) south of Ambergris Caye. Unsurprisingly, it's the single most popular day trip from San Pedro, whether you're keen to snorkel or dive.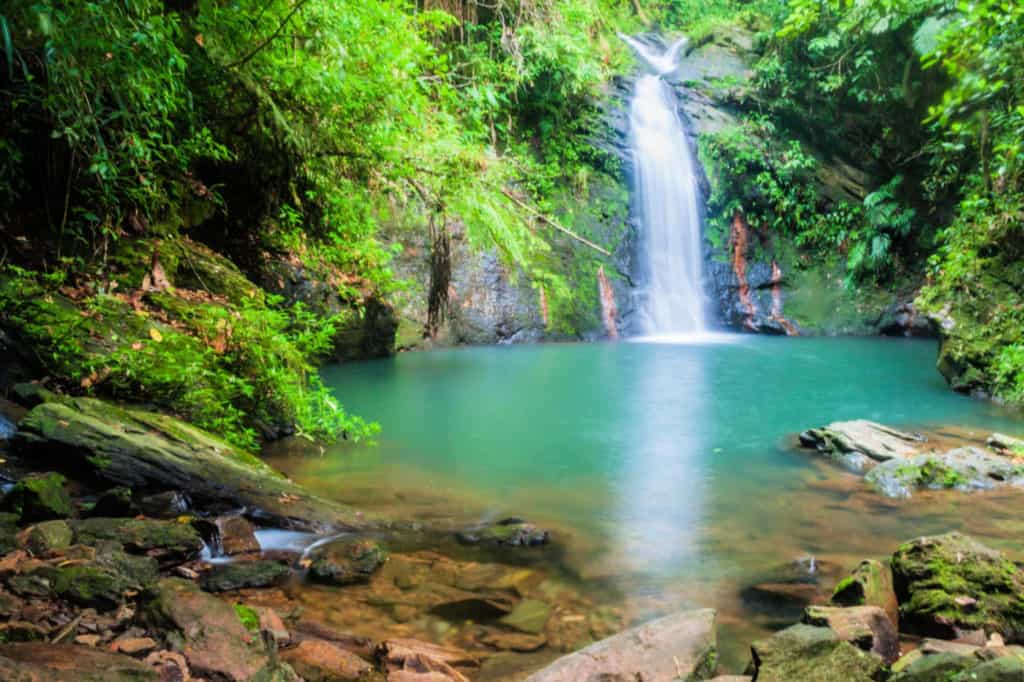 See Jaguars at Cocksomb Basin Wildlife Sanctuary
Life in Belize may seem to be all about the sun, sand and sea. But as you've seen with the Mayan ruins, there's so much to discover beyond the country's famous coastline. With a visit to the Cocksomb Basin Wildlife Sanctuary, not only will you have the chance to see jaguars in the wild, but also to hike up the nation's tallest mountain.
Cocksomb showcases some of the best wildlife in all of Belize. Home to over 300 species, from jaguars and pumas to monkeys and toucans, it's a rainforest that's packed to the brim with opportunities. There are a number of hiking trails, including the scenic Waterfall and Ben's Bluff trails, and you can even make your own chocolate at Che'il Chocolate Factory after your visit.
The idea of climbing Belize's Victoria Peak, the tallest in the country may seem daunting, but if you love your hiking, you may be down for the challenge. Although the mountain is only 3,675 feet (1,120m) in elevation, a trek to the summit can take anywhere from three to five days.
It's located in some fairly remote jungle, so you'll require a guide to get you to the peak. This means, at least, that you won't get lost on your journey to the summit. And when you make it to the top? You'll be greeted by some of the best views in the country.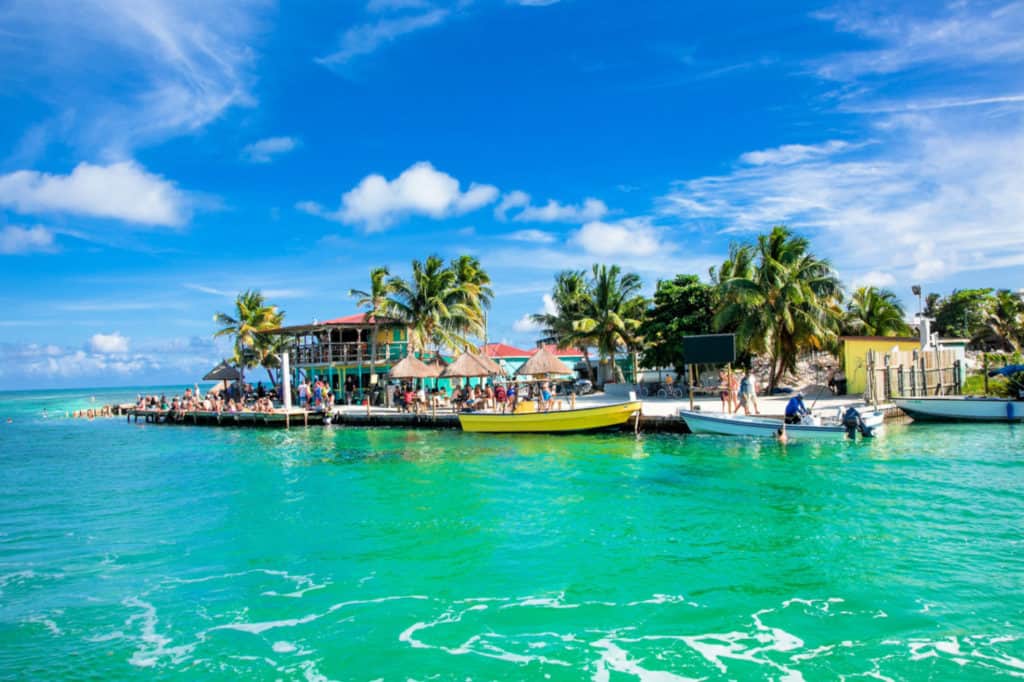 Let your Hair Down on Caye Caulker
If you've heard of just one destination in Belize, odds are: it's going to be Caye Caulker.
Located just south of Ambergris Caye, is a paradise for budget travelers and backpackers; not just because of the prices but because of the overall vibe of the island. Golf carts and bikes reign supreme here, and they'll guide you along the sand-swept streets to beaches and bars where the tunes roll into the evening.
Each afternoon everybody gathers on the Split: a concrete slab of rock outside one of the best bars (the Lazy Lizard Bar and Grill) on the island. It sounds unappealing, I know, but it's actually a hell of a lot of fun. There are travelers from all of the world gathered here, drinking cocktails, partying, and swimming in the warm ocean.
This funky island has embraced its low-key personality. Without major resorts and tourist traps, life here revolves around sipping ice-cold beer and watching the waves roll in. Accommodation here suits those on a lower budget, for sure, but the rustic nature of the experience goes hand in hand with Caye Caulker's M.O.
Sunbathe Along the Placencia Peninsula
Speaking of days at the beach, the 16-mile (26 km) Placencia Peninsula boasts some of Belize's best beaches. The turquoise waters and barrier reef are always inviting but some of the caye's beaches leave a little to be desired. If you want some wide open beaches and endless golden sand, then Placencia is the place for you.
Resorts are never late to the party, so beach lovers will find an abundance of oceanfront accommodation to make use of while in town. These will leave you just steps from the white sand that runs all the way to the emerald Caribbean Sea.
There are three main beaches along the Placencia Peninsula. It begins with Placencia Beach at the southern end. This is complemented by the village where you'll find cute guesthouses, local eats, and boutique shops. There is also an uninhabited nearby isle, for a unique beach day.
If you're traveling to Placencia in June, be sure to experience the mouthwatering Lobsterfest.
Afterwards, head north to Seine Bight and eventually Maya Beach. Both features vast swaths of wispy golden sand, postcard-worthy views, and colorful scenes beneath the surface.
Day Trip Over to Laughing Bird Caye National Park
When traveling along the Placencia Peninsula allocate some time to visiting the stunning Laughing Bird Caye National Park. Because of it's national park status, you won't see any private boats anchored off the island and everything is dedicated to the preservation of the island's beauty. It's just 45 minutes from the coast, and the park is only available for day tours, ensuring its remarkable tranquility remains, well, remarkable.
Just like the peninsula, you'll find sparkling white sand with the baby blue sea on one side and rows of coastal shrubs and towering palms on the other. It's a mere speck of land that is enveloped by the Caribbean Sea in all directions.
Due to the caye only being 1.4 acres in size, it'll take no more than a few minutes to see it all, yet you'll be in no rush to leave the powdery sand or take off the snorkel goggles after exploring this section of the Belize Barrier Reef.
There are no shops, so bring all you need, from drinks to snacks, but be sure to pack it all out. Tours will usually include gear and lunch.
Hike Through Mountain Pine Ridge Forest Reserve
Yep, it gets hot in Belize. The humidity and endless sunshine can get the best of even the most fervent of beachgoers. To switch things up, trade the humidity for some more temperate experiences and bid adieu to those pesky mosquitoes. A visit to the Mountain Pine Ridge Forest Reserve will take you from sea level up into the hills, where the additional elevation mitigates the humidity, cools you off, and presents you with marvelous views.
There are a handful of trails to check out and with free entrance to the park, the adventure won't be a hit on your budget. One of the most popular hikes is the Five Sisters Falls. This is a combination of five cascading waterfalls that combine into a single refreshing pool. But if you really want to swim, trek to Rio On Pools, where you'll find natural granite baths on which to put your feet up.
The hike, however, that best encapsulates with the forest reserve is the Rio Frio Cave and Nature Trail. It boasts one of Belize's most accessible caves, and two enormous 65-foot (20 m) rock entrances. Each entrance is connected by a vast tunnel that's a quarter mile (400 m) long ensuring you won't have to carry a torch.
See the Submerged Crocodile at Lamanai
On the banks of the New River Lagoon, Lamanai is a stunning Mayan site that spans almost a thousand acres. The word Lamanai means the submerged crocodile in Yucatec Mayan which forms the base of what makes this archaeological site so different from the rest.
For over 3,000 years, Lamanai was occupied, making it the longest-inhabited Mayan city, not just in Belize, but the world. Lamanai is now encased in dense jungle and a lagoon, making exploring it as fun as it is insightful. It all begins with a 60-minute ride up the river where you'll have potential encounters with crocodiles.
On arrival, you'll find temples and structures amongst the jungle. Then comes the discovery of ample artifacts and petroglyphs, depicting crocodiles along with iguanas, who are spotted regularly basking in the sunlight on the edge of the New River.
You'll also find pottery and ancient figurines, providing a greater picture of what life was like here up until the 16th century, when Spanish churches reveal the arrival of a new community.
Swim Around the Turneffe Islands Atoll
There's a long list of amazing swimming destinations in Belize. Each spot has something different to offer, whether that be a great blue hole, or untouched reefs. The Turneffe Islands Atoll is no different, as it places you inside a lagoon that is also home to over 200 coral islands.
Turneffe Islands Atoll is one of three along the Belize Barrier Reef. They're all magical in their own right, but Turneffe comes with on-site accommodation plus easy access from Caye Caulker, Ambergris Caye, and even Belize City. Thankfully, the access doesn't take away from the stunning scenery, and the life beneath the surface will quickly capture your attention.
The hundreds of atolls create a variety of marine landscapes and you'll be able to swim through creeks, crystalline flats, and more. Plus, with the crystal-clear water, visibility is exceptional. The numerous underwater worlds also provide a home to greater number of marine species and corals, including turtles, rays, reef sharks and dolphins.
To stay on the atoll, book a room at Turneffe Flats.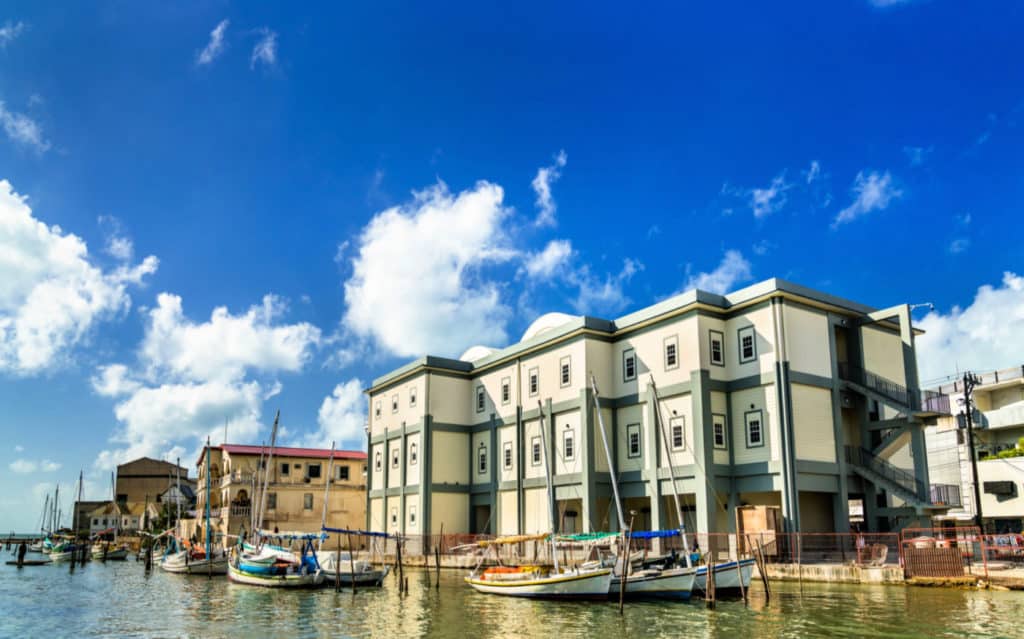 Head to Belize City
The beauty of Belize is that you can easily spend your whole trip outside of major cities, whether that's sleeping beside the Turneffe islands Atoll or along the Placencia Peninsula. But if you're willing to put paradise on hold for a day, Belize City harbors a fascinating history, colorful colonial-era buildings, and some attractions of its own.
Although no longer the capital, Belize City remains the nation's biggest city, and is home to the main airport and port that sees cruise ships arrive in great numbers. But just blocks behind the port, you'll find quaint narrow streets that tell tales for pre-tourism Belize. The Victorian-era buildings and cobblestone alleys bring you to hole-in-the-wall restaurants and local shops.
In Belize City, you'll also find Belize Zoo, which is home to almost 50 native species, including howler monkeys, jaguars, and toucans. Most of these have been rescued and are undergoing rehabilitation.
Other sites include the Old Belize Cultural and Historical Centre, the Museum of Belize, and the historic Belize Swing Bridge that connects the north and south districts.
Go Cave Tubing
Caves aren't in short supply around Belize. You'll visit quite a few without even trying as you explore the country's nature reserves and national parks. But did you know that you can go tubing in some of these vast caves?
Some caves feature rivers that connect the underground labyrinth of caverns and grottos. With the added benefit of leaving behind the Belizean heat, you can explore without even taking a single step.
Okay, I lied. Most cave tubing adventures will begin with a short hike through the rainforest while carrying everything you need. But once the rig is set up, you'll jump in and i promise, you won't have to walk again. Well, until you hike out.
In your group, each tube will be tied together, so you don't accidentally take a left instead of a right. As you'll be connected to your guide, you'll be able to learn all about the cave's significance as each had a role of ancient Mayan life.
On this cave tubing adventure, you'll visit Altun Ha, before tubing through a nearby cave before finishing with a thrilling zipline ride through the jungle canopy.
Sample the Local Cuisine
As you lounge on the beach or explore the towns and cities, you'll have ample opportunities to experience Belizean food. But what exactly should you try?
Belizean cuisine is similar to a lot of countries based around the Caribbean Sea, you'll find a lot of rice and bean-based meals with your choice of meat. However, they'll be served with the delightfully spicy recado, a sauce made from a native herb.
Other meal options include Cochinita pibil tacos that feature pork mixed with oranges and recado before being roasted in a hand-dug BBQ pit, tamales, and the always delicious seafood dish, ceviche.
For snacks, you'll be able to load up on delicious conch fritters but for something pure Belizean, try a fry jack. These are delicious golden pockets of tortilla dough filled with jam and honey (sweet) or beans and cheese (savory) and you must do what the locals do and add some Marie Sharp's hot sauce.
Pay a Visit to Altun Ha
You may visit Altun Ha as a part of your cave tubing experience, but the ancient Mayan site is worthy of its own trip. The historic site functioned as a vital trading post for centuries and features 13 well-preserved temples spread around a duo of beautiful plazas.
Just a brief drive from Belize City, Altun Ha means Water of the Rock in Yucatec Mayan. Of the 13 temples, the highlight is the Temple of Masonry Altars. This is the largest of the sites pyramids and dates back to the 7th century. Visitors are able to climb to the top of the pyramid for memorable panoramic views of Altun Ha and beyond.
Many amazing discoveries have occurred at Altun Ha. Just like Lamanai and its submerged crocodile art, these discoveries help set Altun Ha out from the rest. These include a crypt from the Mayan priest-king that was found in the Temple of the Green Tomb along with a gilded mask believed to be the Mayan Sun God. This was found at Jade head and is the biggest of its kind in Belize.
Spend a Day in Hopkins
You'll find Hopkins in Southern Belize and it's the perfect complement to the big city and exotic cayes. Hopkins has grown from its days as a small fishing village, yet its endearing charm is as strong as ever.
Visitors will discover a laid back Caribbean vibe mostly found on the far off islands. Hopkins is also a hotspot for eco-tourism while showcasing some of the wonderful Garifuna culture. The town began with the Garinagu people who fled Honduras and their culture is distinct from the rest of Belize.
By day you can explore the southern section of the Belize Barrier Reef. A visit to South Water Caye Marine Reserve comes with amazing snorkeling and scuba diving. Back on land, jump on a bike and explore the beautiful village.
At night you can experience Garifuna drumming and dancing which adds a vibrant atmosphere to the coastal town. Plus you must try some local delicacies such as Hudut, a fish coconut stew and Herba, a biscuit made from cassava root.
Ride a Chicken Bus
The best travel tales often stem from taking chances and trying experiences you never would think to do back home. Buses are rarely anyone's first choice for transportation, but when exploring Belize you must (at least once) place your bum on the seat of the very uncomfortable chicken bus.
The chicken bus is a regular sight all around Central America and are a common way for locals to get from A to B. So rather than fork out for a more relaxing tourist bus, experience life like a resident and jump on this colorful ramshackle vehicle.
After jumping on board, you may discover how the buses received their name. This is because locals have a tendency to carry livestock with them, most commonly chickens. So as you're venturing from one destination to another you may make friends with a clucking hen while enjoying the sights and sounds of Belize.
Explore Toledo
Speaking of experiencing Belize like a local, you can really depart from the tourist path with a visit to the nation's southernmost district. Toledo has even been given the nickname the Forgotten Land by locals and its remote location ensures you'll be one of just a few (if any) travelers in the area.
Time in Toledo will help you experience a side of Belize that hasn't been touched by tourism. The region is authentic, and with few tourist infrastructures it can be logistically difficult. But all efforts are rewarded with towns like Punta Gorda with features a simple way of life far removed from glamorous beachfront resorts.
As you explore you'll find families tending to their crop and locals washing clothes in the river and communal gatherings around the central marketplace. Beyond the towns are paradisiacal forests with wild rivers and tumbling waterfalls. Then there's Snake Cayes for kayaking, swimming and lazing on the sand with civilization in the rear view mirror.
Check Out the Museum of Belize
Life in Belize is lived outside. The array of sun, balmy weather and stunning nature ensures this. However, the Museum of Belize is one such indoor attraction that's worth the trip away from the caves, beaches and atolls.
The Museum of Belize preserves the stories of the nation from the early Mayan societies, to colonization and modern history. The museum opened in 2002 and replaced what was once a local prison.
Visitors will go on a journey through the centuries with carefully curated exhibits tying together all you've come to know about Mayan culture in Belize. Displaus include ancient pottery, and artifacts excavated from various archaeological sites.
Later, you'll discover historic coins, jades and old postcards guiding you through the 18th and 19th centuries plus a large exhibits on Belize's logging industries. Finish off with a visit to the museum's restored prison cell to learn more about the prominent brick building.
See the Largest Archaeological Site in Belize
To finish off our guide to the best things to do in Belize, the country's largest archaeological site. Set on the pristine Vaca Plateau, the Caracol Natural Monument Reservation features a vast Mayan city set within the larger Chiquibul National Park.
The impressive structures found around Caracol tell the story of an ancient city that was once bigger than modern day Belize City and was home to double the amount of people. The Caracol were great warriors who were known for the military victories, something you can explore on an altar stone that's been carved with historic events.
Despite this imposing might, Caracol has long been abandoned. Today, animals like howler monkeys rule the roost providing the monument with a wild aura. Beyond the site, you can also explore some of the largest limestone caves in Central America.