Bangkok is a rhythmic, pulsating capital city. Albeit the beat varies and can jar as much as it soothes. It's a world away from the flashy beaches of Koh Phi Phi or the eternal tranquility of Chiang Mai and for this, it's not everyone's cup of tea.
But Bangkok is like few places in South East Asia. It's a modern city draped in historical traditions. Bright lights of 21st century malls glisten as much as the neon signs from the '70s and the breathtaking temples show that Bangkok is both an ancient and contemporary metropolis. For few cities can effortlessly combine a Skytrain with tuk tuks.
Those traveling to Bangkok will need to quickly find the rhythm of the fast-paced city, or be left in the wake. Those that embrace the chaotic good will have avenues open up that lead to a magical world of street food, boisterous markets, art, culture and an intricate story that once placed Bangkok at the center of the world.
Soak it All In on Khao San Road
Khao San Road has been a constant companion throughout my adventures in Bangkok.
This lively thoroughfare has witnessed my evolution as a traveller over the past decade, from my first tentative steps onto its pavement in 2011 to my confident strides of 2023. To me, the iconic street remains an irresistible magnet. So much so that every time my partner, Dave, and I plan a return trip to Thailand, he rolls his eyes and says, "You're going to make me stay there again, aren't you?"
Why would I choose to stay anywhere else?
Khao San Road makes me feel alive.
By day, Khao San Road is a kaleidoscope of colors; a swirling blend of backpackers, locals, and market stalls offering street food and handmade crafts. But as the sun sets, Khao San Road transforms into a nocturnal wonderland. Neon lights flicker to life, casting an ethereal glow on the lively scene. Nightlife spills out onto the street, with bars and clubs beckoning revelers inside.
It's a popular backpacker haunt for a reason.
What makes Khao San Road truly special is its ability to evolve while retaining its core identity. Over the years, I've seen trendy cafes and quirky boutiques seamlessly blend with the timeless street vendors and budget hostels. It's a place where tradition and modernity dance together, creating a unique atmosphere that resonates with both seasoned travelers and first-time wanderers. Khao San Road is not just a street; it's a living, breathing entity that mirrors the dynamic spirit of Bangkok itself.
Yet, amid the chaos and constant flux, there's a comforting familiarity to Khao San Road. Vendors who've been there for years become friendly faces in the ever-shifting crowd. The street's vibrancy is not just in its visual spectacle but in the camaraderie it fosters. Whether I'm savoring a plate of street-side pad Thai, negotiating for a unique trinket, or simply people-watching from a roadside cafe, Khao San Road is a space where connections are made, stories unfold, and the spirit of adventure thrives.
One of my friends even married a woman he met on Khao San Road, on the first day of his round-the-world trip!
Khao San Road isn't just a street; it's a living testament to the magic that happens when cultures collide, and it's a reminder that, in the midst of chaos, there's a beauty that only Bangkok can unveil.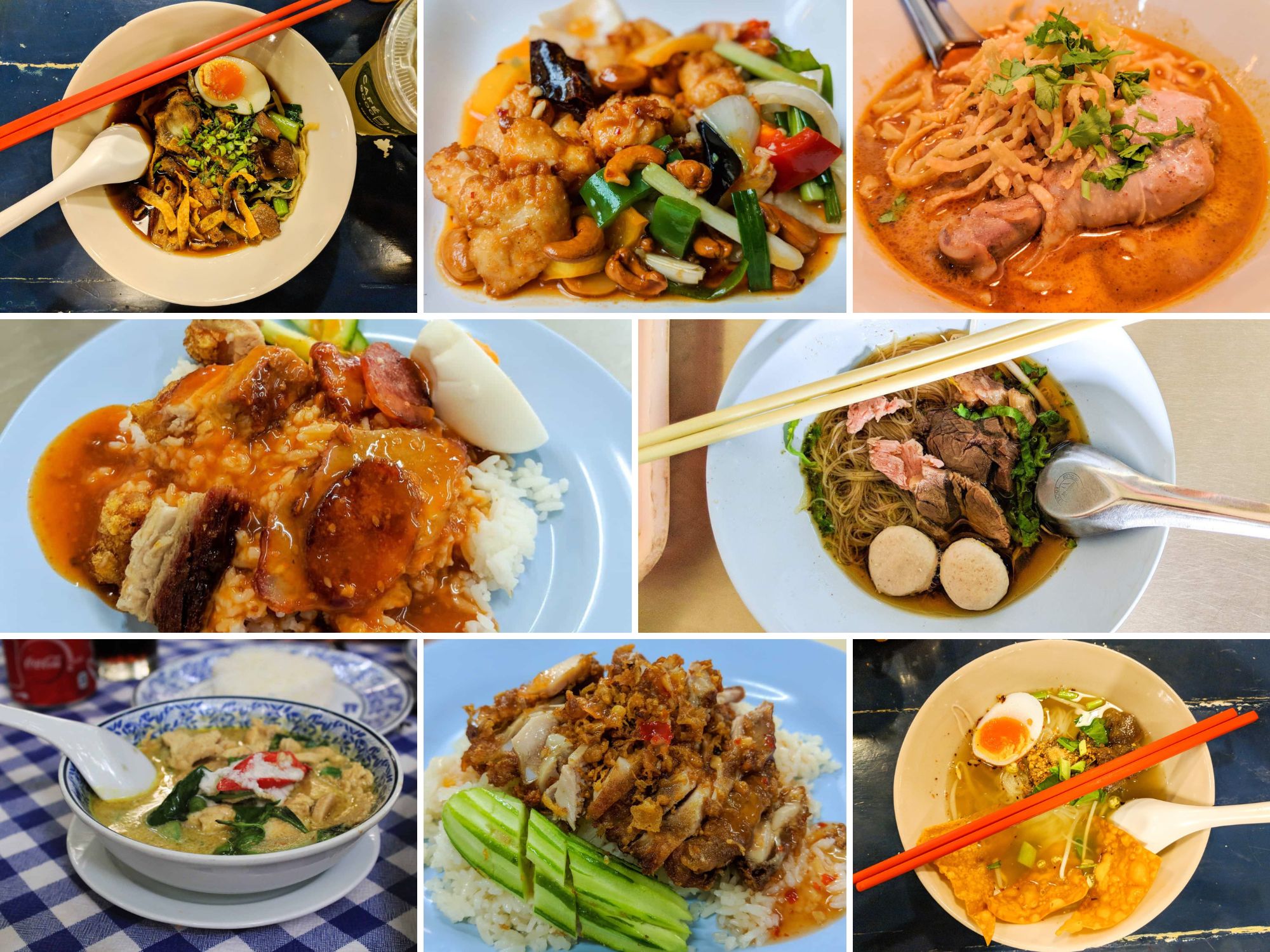 Eat the Street Food. All the Street Food
One of the pleasures of traveling through Thailand and South East Asia is the fresh and delicious cuisine. From pad Thai to pho, every day is an opportunity to wow your taste buds with zesty flavors and hot food that still hits the spot in equally hot weather.
But while each country has their own culinary scene and each city its own specialties, none matches the street food scene in Bangkok. The aromas float around every corner, greeting you with open arms as you explore the city. You never quite know what you'll stumble upon each day, making your experience ever more exciting and unpredictable.
Popular street food areas like along Soi Sukhumvit, Phetchaburi and Bang Khun Non, are like mini open-air food halls. You'll discover Bangkok's true culinary brilliance, from fried noodles and prismatic curries to endless barbecue skewers and deep fried treats.
For many locals, street food stalls are a way of life. You'll notice the blend of blend of blue and white-collar workers converging around a small kitchen and sitting down on the even smaller chairs. For travelers, this is a telling sign that the vendor is one to try.
Another way to experience the local street food scene is on this e-bike night tour. Eat like a local while learning about Bangkok's culture and history.
Explore the Grand Palace
Once the home to Thai kings, the royal courts and later the nation's government, the Grand Palace has played many roles over its life. But it's the stunning architecture and golden spires than shimmer under the Thai sun that make it a must-visit.
The Grand Palace was built under the rule of King Rama. The three-year construction was complete in 1785. It was then that the capital of Thailand was moved to Bangkok, from Thonburi. From many parts of the city, you can enjoy a dazzling view of the palace, with its enormous complex of temples, statues and bell-shaped towers on full display. As you approach the Grand Palace, much of that is covered by the thick walls that envelope it. But upon entering you'll be amazed by the sheer scale of the palace, its ornate architecture, gilded woodwork and the mix of red, white and gold.
One of the highlights of Grand Palace is What Phra Kaew. This is where you'll find the memorable emerald statue of Buddha. Like all temples and sacred places in Thailand, you should dress modestly with shoulders and knees covered.
Take the Canal Ferry
The Chao Phraya River is the main waterway through Bangkok. The bustling space is laden with boats, ferries and cruises taking goods, guests and everything in between up and down. So exploring the city on a boat is as easy as it is scenic. But an underrated (and cheap) way to see a different side to Bangkok is along its many canals.
Forget taking public transport or dealing with rush hour traffic through the heart of downtown. Take to the Saen Saep canal that runs through the center of the city. Public boats run up and down, forming another aspect of Bangkok's varied public transport system.
Along the canal you'll pass temples, such as the soaring Wat Saket, local markets and shops along with Khao San Road. Because it's popular among locals, it's an authentic way to get from A to B, while enjoying a pleasant cruise with the wind providing natural A/C.
Tickets can be purchased on board, and cost between 10 and 20 baht, depending on your destination.
Embark On a River Cruise
Exploring the immense Chao Phraya River is a must on any trip to Bangkok. For those traveling to the biggest city in the nation, it's a chance to witness Bangkok's impressive skyline while making your way between several waterfront communities, temples and attractions. There are many ways to do this, and in typical Thai fashion, budget travelers are well represented.
Just like the canals, there are public boats that run along the river in either direction, providing an inexpensive cruise between bustling markets, Thonburi, Grand Palace and north towards Khao San Road. There are also stops where you can connect to the BTS Skytrain creating an efficient network.
To make the most of the experience, start towards the north or south ends of the river. Because it has access to the Skytrain and is closer to downtown, it's usually easier to begin a Sathorn Pier. From there, jump on a boat heading to the right. As you make your way up the river, you'll be able to admire the many skyscrapers, golden wats located along the banks and the general chaotic excitement that is quintessential Bangkok.
There are 25 stops along the Chao Phraya River. Be sure to check the destinations of your specific line before boarding. The tourist boat (blue line) has an unlimited single day pass for 60 baht.
Cruise along the river at night, while enjoying a gourmet buffet and live music on this dinner cruise.
Check Out the Chatuchak Weekend Market
The Chatuchak Weekend Market is one of the largest of its kind on earth. Seeing around 400,000 visitors each Saturday and Sunday, the market boasts over 15,000 stalls strewn across an area the size of multiple football fields. Such is the sheer scale of Chatuchak, that you'll want to keep a map handy. Oh, and it's not the place to nurse a Khao San hangover.
Those who love to browse will have their work cut out as they meander along the packed aisles uncovering iconography, decor and endless jewelry. If you're looking for handcrafted mementos to remember your time here, then the hardest part will be picking just one. Remember to have your bartering hat on.
Khao San Road has its own market and stalls, but perhaps what makes Chatuchak the best in town is its mix of locals and travelers. It's not a place built for you, but for the wider community. Prices and quality also reflect this.
Between the rows of stalls is more street food, providing you with ample opportunities to fuel up on goods as you try to reach as many vendors as possible.
Visit Wat Arun
On the other side of the river from the Grand Palace is Wat Arun. It's one of the most popular stops for boats for reasons that quickly become clear. The temple is strikingly beautiful and dates back to the 17th century. It was on this site that a smaller temple, Wat Makok, stood before it crumbled after an invasion of Burmese and Chinese armies. Taksin, a local general, saw the ruined temple and vowed to replace it.
Now one of Thailand's most celebrated temples, Wat Arun, or the Temple of Dawn, is most known for its towering prang. This central spire stands proudly above the complex with four smaller prangs surrounding it. Each contains iconography of the guardian gods facing the four cardinal directions.
You can climb up the main spire along its steep (I mean steep) staircase. From above, you'll be rewarded with panoramic views of the Bangkok skyline. Despite being the Temple of Dawn, the best time to visit is at sunset, where the low sunlight sparkles against the temple's tiled facade.
Ride the Skytrain
Travelers love to rave about the fun of riding tuk tuks around Bangkok. They aren't wrong (if you can avoid the scams), but as someone who is a self-confessed public transport aficionado, there's so much to love about Bangkok's train network, especially the BTS Skytrain.
There are two lines in the Skytrain system, the Green and Dark Green. They run through the four of the most popular areas in Bangkok for travelers, which are Sukhumvit, Siam Square, Silom and Sathorm aka the CBD. The elevated train zips you through the heart of the city within air conditioned carriages that often come with great views to enjoy along the way.
As the Skytrain is automated, the system is very efficient with trains arriving every few minutes. So you can forget haggling for a tuk tuk on the side of the road. The Skytrain links up with the city's MRT (subway) on multiple occasions, but keep in mind that they are separate networks and require two different tickets.
See the Floating Market
When traveling, you'll come across attractions that have become so touristy that they have lost all semblance of their original state. The floating markets of Bangkok may be touristy, but they still offer a look into local life that flourished up until recent decades.
Seeing the floating markets is a vibrant, colorful and aromatic experience. Many travelers choose to venture 62 miles (100km) from Bangkok to the bustling Damnoen Saduak. But you can stay local and avoid the tourist trap by making your way to Khlong Lat Mayom or Taling Chan floating market.
At either market, you will discover how these unique markets came to be. With so many people living along the river, getting about on boat made the most sense. The advent of the canals only increased this, and the floating markets quickly became a part of local life.
If you had to pick one of the two local markets, you can't go wrong with Taling Chan. Although small, the lack of cheap souvenirs confirms its authenticity, and it's one of the best places in Bangkok to enjoy street (or is it water?) food. So bring an enormous appetite.
Take a Cooking Class
Thai cuisine is one of the most popular in the world. Whether you're having dinner with friends or ordering UberEATS, Thai is a common, can't-go-wrong choice. But as you travel around Bangkok, you'll quickly discover the range of fresh flavors that aren't replicated at your local restaurant. Whether it's the splash of palm sugar, the addition of lemongrass or kaffir lime leaves, be ready to experience Thai at its finest.
Having tried the street carts, markets and floating vendors, you'll be excited to learn the secrets of the local cuisine and be able to bring a taste of Thai back to your home kitchen. There's no better way to do this than to sign up for a cooking class.
This 4-hour masterclass begins with a visit to a local market on the back of a tuk tuk. Your chef will guide you around and help you choose the best produce to prepare four different meals. After returning to the kitchen, you'll discover how to create authentic Thai flavors before sitting down with the rest of the crew and enjoying your delicious creations.
Watch Live Muay Thai
The ancient art form of Muay Thai has captivated audiences from near and afar. You'll find fights all over Thailand from the sweaty bars in Patong all the way north to Chiang Mai. But one of the best things to do in Bangkok is to catch a live fight in one of the many local arenas.
Bangkok is the center of Muay Thai, with many high-level events hosted by the city on a regular basis. Some arenas are more tourist friendly than others, that may require more planning to enjoy. To keep things simple, a few arenas to check out include Rajadamnern and Lumpinee stadiums.
Lumpinee Stadium used to be the heart of the Muay Thai scene in Bangkok. But while the fights still make it a must-see, its new location leaves much to be desired. The stadium is out of downtown and with fights beginning at 6.30pm, you can often find yourself stuck in rush hour traffic. Still, to see the elite athletes go to work, it's worth the hassle.
Rajadamnern Stadium is much easier to access, and my tip for the place to watch Muay Thai in Bangkok. It's a 20-minute walk from Khao San Road, surrounded by street food vendors and ringside tickets cost only $60USD.
Meander Through Chinatown
Bangkok is vibrant and fluorescent. The prismatic city will have you reaching for the camera with great consistency. Chinatown is one of the best examples of Bangkok's chaotic, atmospheric and utterly charming personality. Not only is it a haven for photographers, but the foodies among us will be floating on a cloud.
Chinatown is within one of the oldest parts of Bangkok, Sampheng. Just blocks away from the river, the area has been a bustling port town for centuries, with junk boats floating up and down the river delivering goods from China. Today, the main road, Yaowarat meanders like a dragon for just under a mile. The street is lined by golden jewelry shops, the ever-present aromas of street food smoke and the tales of history.
It's one of the largest Chinatowns in the world and is well worth exploring before or after your journey down the Chao Phraya River. As you wander through the street, you'll find all the classic Thai street food. But the smells of seafood are more present here than anywhere else in Bangkok. Get your hands on some chewy octopus to nibble on as you go.
Explore Wat Saket
In a city of amazing temples, Wat Saket can often get lost among it all. But when traveling along the canals and through downtown, you'll regularly catch a glimpse of the impressive golden structure. It'll pique your interest and you'll inevitably change your itinerary to make room for a visit.
Instead, add it to your plans right here and now. Not only is the embellished temple a breathtaking building, but the walk to the top and the ensuing views make it a well-rounded experience. After paying around 50 baht to enter, you'll find yourself among a lush garden with a path guiding you towards a staircase. Slowly, you'll begin to climb up the steps, passing fountains, statues and even a historic gong along the way.
Soon you'll be above the trees with sweeping views of the city that grow grander with every step. At the top, you'll be met with a pleasant breeze and a platform that envelopes the temple providing 360-degree vistas. You can walk inside the ornate Wat Saket to discover its fascinating history.
Shop, Shop, and Shop Some More
Did you know that even locals can't wait to take a break from the hot Thai sun? This is why the ultra-modern malls like the white-tiled Terminal 21 and Siam Paragon are so popular among residents. Walk through the floor-to-ceiling glass doors and indulge in the finest sensations of cold a/c while shopping for local and international brands.
Malls like Terminal 21 contrast with the classic markets around Bangkok. It feels like a shopping complex straight out of Hong Kong, New York or Paris and yet it's far from a tourist trap. They're social hubs for Bangkok locals who can hang out and enjoy food courts serving delicious local eats. It's enough to have you questioning the merits of the fast food-laden food courts of back home.
It may not be the classic experience you had in mind, but they are no less a big part of what makes modern Bangkok tick. Such is the array of shops on offer, across the multi-story Terminal 21, you can easily spend a whole day browsing.
Spend a Day at the Park
Bangkok's Central Park, Lumpini Park, is the perfect spot to enjoy a day among nature. Covering over 140 acres, Lumpini Park is an oasis among the smoggy and loud city. From your spot on one of the many tranquil lawns, you'll be able to drown out the distant sounds of traffic and take in the splendid scenery.
Lumpini Park is within the Silom area of Bangkok, and you can easily reach it by taking the MRT or the Skytrain to Silom Station. The urban escape has a number of delightful walking trails that will take you through the trees and along the multiple lakes and ponds. Along the way, you'll find the beautiful Chinese Pavilion hovering over the water, with its reflection dancing across the surface.
You can hire boats to get out on the lake, which is a nice way to enjoy the sounds of nature with the distant skyscrapers hovering above like helicopter parents. Afterwards, find a nice shady spot on the manicured lawns to enjoy a peaceful afternoon with friends, or the chance for some quiet as you tuck into a book.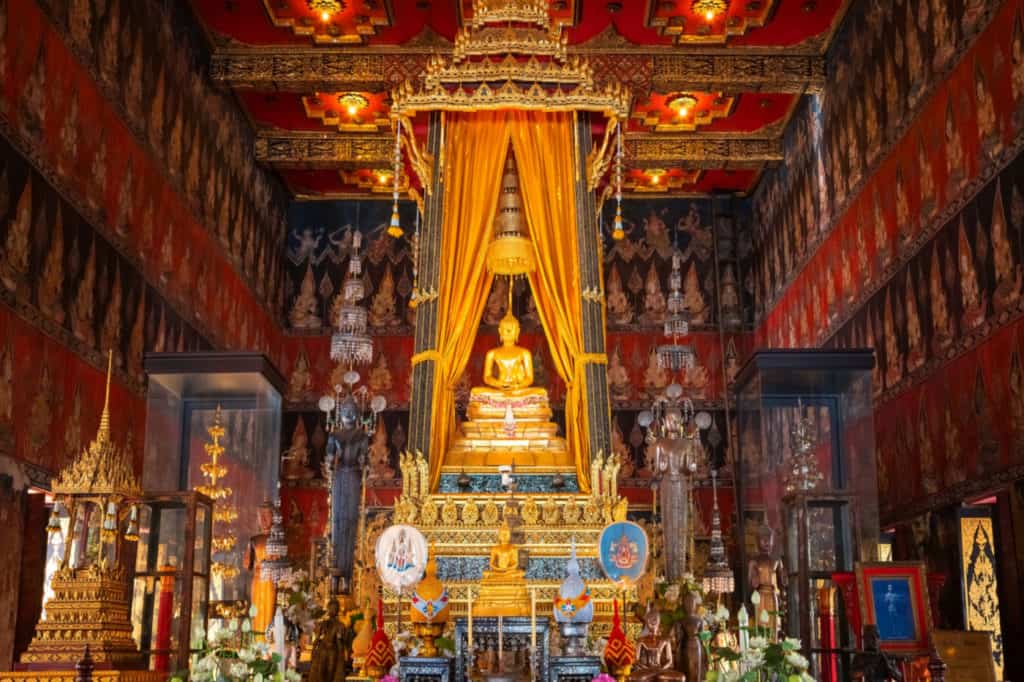 Visit the National Museum
Bangkok's rich history is on public display throughout the city, with the many temples and old streets being the best examples. But for a thorough take on Bangkok and Thai history, travelers should visit the National Museum. It harbors an extensive collection of artifacts and exhibits. Much of that is because until the 1970s, it was the only history museum in the country.
As you enter the museum, you'll be met with a with a wide range of themes. The museum explores Thai culture, its royal past and music while showcasing the largest collection of local art in Bangkok. In recent years, it has expanded to become more interactive with the addition of English interpretive signs. On Wednesdays and Thursdays at 9.30am, the National Museum also runs English tours for greater insight.
Some of the highlights of the museum include the embellish funeral chariots that once carried members of the royal family, along with a vast selection of old musical instruments.
Check Out the Jim Thompson House
Even without searching for it, you'll regularly stumble upon Bangkok's silk industry. However, it likely wouldn't exist in its current state without the work of an American spy. That may sound like a plot line for the next Jason Bourne film, but it's a true story.
Jim Thompson was a spy during World War II before playing a lead role in the resurgence of Thai's silk industry during the following decades. During this period, he lived within a beautiful and traditional Thai home that made use of rich teak wood.
He lived there up until his disappearance in 1967, a plot twist no one saw coming. Today, you can visit the gorgeous home and explore the ornate garden while learning about his fascinating life, the importance of the silk industry along with Thai architecture.
See the Giant Swing
In downtown Bangkok, there stands a towering scarlet frame alongside Wat Suthat. It's a beguiling piece of engineering that was created in the 18th century to form a part of Hindu ceremonies. The striking two-pronged structure contrasts with the surrounded orange and green and at 90 feet (27m) tall, it sticks out like a sore thumb.
Not long after the Giant Swing was formed, the swing itself was destroyed by lightning. But the ceremonies continued to take place as a way to celebrate the rice harvest that occurred each December. The ceremony saw the re-creation of the swing, with teams of three soaring high off the ground to catch a bag of silver with just their teeth. The dangerous event was banned in 1932 after a number of contestants met their end. Today, the Giant Swing will be a welcome addition to your photo album.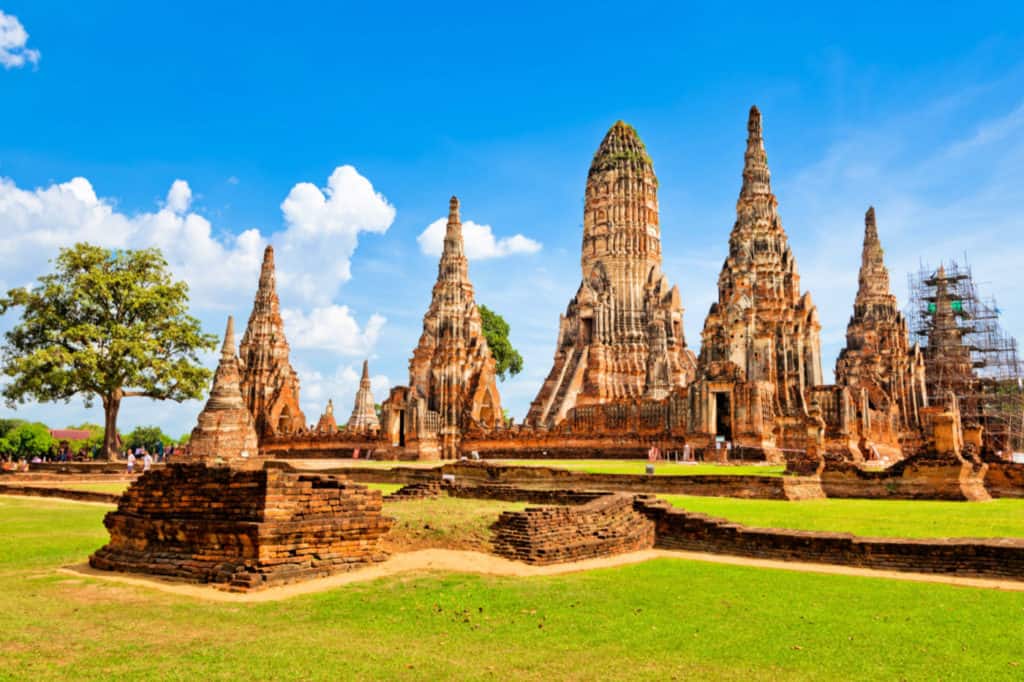 Take a trip to Ayutthaya
A UNESCO World Heritage Site, Ayutthaya is soaked with a rich past, yet seemingly forgotten from the annals of history. The ancient city is only an hour from Bangkok and makes for an interesting day trip from the Thai capital. Those with an interest in history and architecture will need no excuse to make their way here, with the destination worthy of multiple days if you have time.
It's hard to believe that Ayutthaya was once the most populous city on earth in the 17th century. The city was a vast trading hub that connected the East and West, while its 1 million inhabitants featured many merchants and esteemed families from around the world.
In 1767, Burmese armies brought an end to the dynasty across 14 months, essentially ridding Ayutthaya of all connections to its past. These include its most important treasures and documents. All that remains are the stoic monasteries and temples. It creates an eerie feeling, on par with Angkor Wat.
Explore the historic city on this full-day private guided tour.
Ride in a Tuk-Tuk
Tuk tuks are often high on the agenda for those traveling around South East Asia. The diminutive three-wheeled motorbikes are as adorable as they are fun. You'll find them zipping across Bangkok is startling numbers while also gathering around popular tourist spots such as the Grand Palace and either end of Khao San Road. So you'll have no shortage of opportunities to indulge in the fun. Not to mention, it is an efficient and relatively cheap way to get from A to B.
But spend enough time in Bangkok and you'll notice how readily tuk tuks play a part in local scams. There are a few things to be aware of before jumping on board. One, be certain of the price and destination before leaving, so keep your bargaining skills handy. Second, if there's even the slightest hint of your driver suggesting a stop along the way, simply say thanks, but no thanks.
The same goes for when tuk tuks approach as you're walking around Bangkok. These will lead you to venturing to multiple temples before stopping by a silk shop or another establishment to milk extra cash out of you. My naïve self once had to try on a suit.