As far as ski resorts go, Aspen is undoubtedly one of North America's premier ski locations, and it's not hard to see why. The former historic mining town has blossomed into one of the most visually beautiful towns in America, attracting a variety of visitors, from the world's most famous celebrities to incredible athletes.
With fantastic art galleries, dining spots, and accommodations, Aspen is a haven for social butterflies and culture enthusiasts. It is home to some of the world's most desirable hotels, exclusive members-only clubs and bars, and restaurants – each entirely unique.
But the heart of the city still lies in its mountains, which provide unrivaled skiing and snowboarding terrain during winter, and world-class hiking trails during summer. The entire town is surrounded by the Colorado Rockies, blanketed in iconic Aspen trees, which change color with the seasons. As you might expect, most of the best things to do in Aspen typically take place in the beautiful outdoors.
The region is an outdoor lover's paradise, surrounded by four monumental ski areas under one ski pass. While many think of the resort as a playground for the rich and famous, the town is a mecca for families and anyone who appreciates good food, sunny weather, and skiing.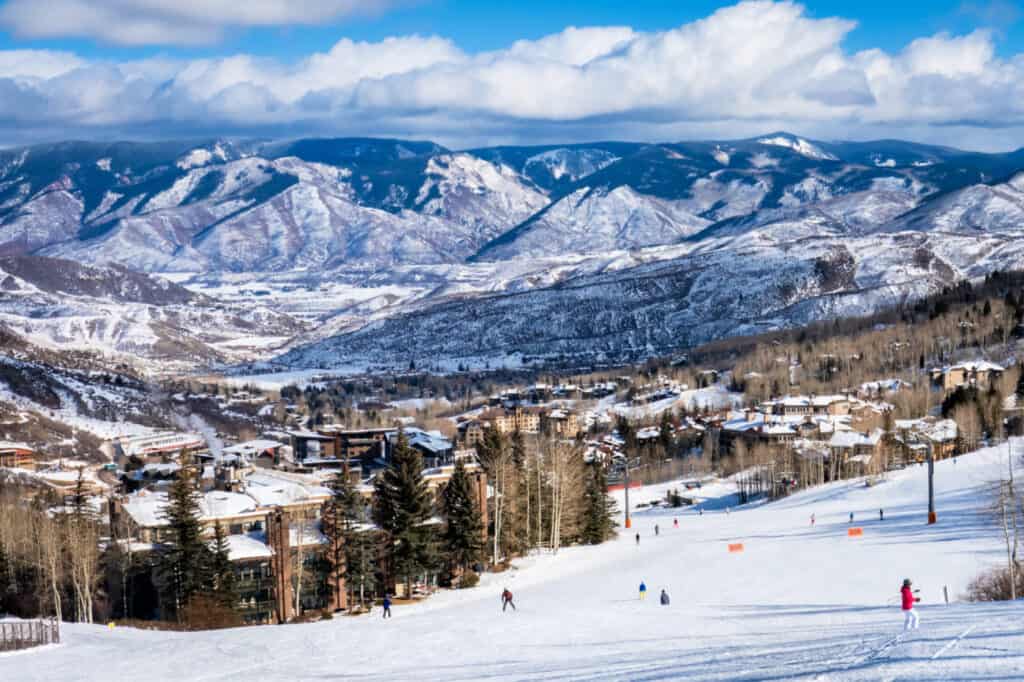 Why I Love Aspen / Things to Know Before You Go
If you're planning a Colorado ski trip, Aspen would definitely be the first place I recommend you visit. I've visited numerous ski resorts worldwide and can confidently say that Aspen is one of the best ski resorts in North America, if not the world.
With the Aspen Pitkin County Airport (ASE) just outside the border of the town, traveling to Aspen can be super convenient, yet pricey. This is one of the more expensive airports to fly into, with limited flights and airlines offering routes from Denver and across the country. Since it's in the mountains, it's also quick to close and cancel flights when the weather gets iffy.
Because of this, I recommend flying into Denver International Airport (DIA) and traveling by car or bus to Denver. There are a few shuttle companies that will drive the four-hour journey for you for a steep price. The first time I visited with my family, we rented a car from DIA for a day, drove it to Aspen, and returned it the following day at ASE. This was the perfect option for a large group of us, who would have otherwise spent hundreds of dollars each on the transit.
Another option is to take the Bustang – a bus service that runs from Denver through Colorado's ski resorts and drops you off in the nearby town of Glenwood Springs.
Once in Aspen, getting around is super easy, not to mention entirely FREE. You heard right – there are free shuttle buses that depart the main town square (Rubey Park) every 30 minutes to an hour and travel to Snowmass Village, Buttermilk Mountain, and Aspen Highlands.
One thing you should know about this town (and probably already guessed at) is that it's one of the more expensive ski resorts in America. Ski passes are costly, accommodation is hard to come by, and restaurants typically serve high-end food requiring you to dig relatively deep in your pockets.
I've found the resort to be on par with European resorts like St. Moritz and Zermatt when it comes to budgeting. That being said, every penny spent is entirely worth it when you're cruising down a well-groomed slope after a boozy lunch overlooking the Colorado Rockies!
My next piece of advice would be to plan your trip and book reservations well in advance. The resort fills up quickly during peak seasons, and finding accommodation or a restaurant that isn't fully booked during these times can be tricky. Don't leave it to the last minute!
Now that you know what to expect when you arrive, let's take a look at some of the best Aspen activities that the town has to offer:
Explore Downtown Aspen on Foot
The first thing I like to do when I visit any new town or city is to explore the center of downtown on foot. It is the best way to gather your bearings and get a feel for a place without missing the small details you would otherwise not spot when driving.
Aspen is no exception. With a small town center and walkable streets, it's easily one of the best towns to walk around. Downtown Aspen is organized in a convenient grid format, with gorgeous historic red-brick buildings lining the streets. There are a couple of pedestrian-only alleyways, which are dotted with boutique shops, high-end retailers, and restaurants and bars.
One thing you'll quickly notice is the sheer number of art and sculpture galleries in the town. Whether in the market for art or not, these galleries are great to browse through. If you're unsure where to start, why not join a walking tour like this historical one or this city highlights one?
Indulge in a treatment at the Yarrow Spa at Hotel Jerome
If you have the budget for a bit of a splurge, there is no better way to relax and recuperate than with a day at the Yarrow Spa at Hotel Jerome. Hotel Jerome is one of the town's most exclusive hotels, run and operated by Auberge Resorts Collection.
Yarrow offers a selection of treatments, from massages to facials to body treatments.
The spa is nothing short of spectacular, oozing with beauty through its sleek interiors, dim lighting, and relaxing atmosphere. The boutique spa arranges private treatments inspired by the elements and botanicals found in the surrounding Rocky Mountains, with delicious-smelling products selected from high-quality local ingredients as well as hand-blended herbal teas for you to enjoy on your arrival and after your treatments.
The spa is open daily from 10 am until 6 pm and asks guests to arrive 45 minutes before your booked treatment. However, this time won't be wasted, and you will be treated to a complimentary 30-minute foot soak while sipping on delicious healthy waters and teas to prepare you for your treatment.
Hike around the Maroon Bells
If you're anything like me, you're visiting Aspen for its highly acclaimed adventurous side. One of many hiking trails in the area, the trails around Maroon Bells are one of my personal favorites for many reasons.
The area is just a ten-mile drive from the town along the gorgeous Maroon Creek Road. The focal point of the hike is Maroon Lake, an alpine lake with pristine blue water. The best time of year to do these hikes are during spring, when the meadows around the lake are covered in a blanket of colorful wildflowers.
There are various hikes in the area, but the Maroon Lake Scenic Trail will take you directly to the gorgeous lake. The walk is relatively easy, with an elevation of between 9500 and 10000 feet and a distance of 1.3 miles in each direction.
For a more moderate hiking experience, venture towards Crater Lake, which begins at Maroon Lake, climbing through the aspens towards a second lake. The trail follows a scenic river and is best experienced during fall when the aspen trees are a hue of golden yellows.
Ski and Snowboard the Four Mountains
For most (myself included), a trip to Aspen would only be complete with a day on the slopes. In fact, most winter visitors flock to the resort to spend days on end summiting the alpine peaks and skiing down the groomers and backcountry runs.
Aspen is a legendary ski resort with over 5500 acres worth of terrain to explore. The area has a total of four different mountains or ski areas; Aspen Mountain (sometimes referred to as Ajax), Aspen Highlands, Buttermilk, and Snowmass. When you purchase a ski pass with the resort, you will be able to access all four mountains, making this one of the most extensive ski resort areas in the world.
Whether you're a seasoned professional or novice, Aspen is crawling with snow trails perfect for all skill levels. The resort has numerous ski rental shops and lessons, which usually take place at the Snowmass or Buttermilk Mountains.
The more advanced riders will enjoy Ajax, Aspen Highlands, and Snowmass, which offer slightly more progressive trails and runs for more confident skiers and snowboarders.
Aspen is also the host of the anticipated Aspen Winter X-Games, which takes place at a snow park created at the bottom of Buttermilk Mountain towards the end of winter. If you visit during this event, you'll likely run into a few famous athletes and could even watch your favorite band play live at one of the impressive outdoor stages.
Cozy up with some traditional fondue at French Alpine Bistro
French Alpine Bistro was the first restaurant I visited when I arrived at the ski resort, and it definitely did not disappoint. Hidden under a snowboarding shop in the center of town, French Alpine Bistro (also known as 'Creperie' by locals) is a traditional French restaurant that serves alpine-inspired food.
Other than crepes, the most iconic meal to order is the classic cheese fondue, which is served with fresh bread, gherkins, and crisp ripe apples for an Aspen twist. They also serve a traditional swiss raclette, which you cook at your table. Combined with a glass of gluhwein (mulled wine), you can't get much more alpine-inspired than this!
The restaurant is small and cozy, and the interiors are impeccable, with tons of eclectic decorative pieces hanging from the walls and scattering the tables.
Ride the Silver Queen Gondola to the top of Ajax Mountain
The Silver Queen Gondola is an iconic image that can be seen from just about anywhere in downtown Aspen. It's the main access point to the ski area of Aspen Mountain and dashes from Ajax Tavern to the top of the mountain.
The gondola runs 12,000 feet long, making it one of the longest single-stage gondolas in North America. It whisks you 3267 feet into the air to a mountain-top restaurant at 11,200 feet in just fourteen minutes.
Spend some time admiring the views from the top of the mountain, which boasts a mountain-top cafe and restaurant called Sundeck, where you can enjoy American, Mediterranean, and Asian cuisine in a casual bistro setting with panoramic mountain views. There is even a seasonal 'Beach Club' which plays live music when the ski day ends.
Whether you visit in winter, summer, or fall, a trip up this gondola is sure to provide spectacular views of the mountains and town.
Watch a live show at Belly Up Aspen
Attracting some of the world's most famous stars, celebrities, and business tycoons, it is no surprise that Aspen sees some top musicians playing in the small town throughout the year.
Belly Up is a small live-music theater located in the heart of town, which gives visitors a chance to watch ultra-famous artists across a wide variety of genres play in a low-key and closed setting. Over the past few years, artists like Chromeo, Deadmau5, Alesso, Steve Aoki, Flume, Ceelo Green, and Matisyahu have graced the intimate stage of Belly Up Aspen.
The venue is organized in the format of a traditional amphitheater, with a general standing area and space for one to book a private table. Of course, there are a couple of bars at the back of the venue, creating a mix between a club and a concert vibe. Make sure to get tickets well in advance, as these shows book up quickly!
Take a snowcat to Cloud Nine Alpine Bistro on Aspen Highlands
Ask any Aspen local what their recommendation is for an extraordinary restaurant experience, and they will direct you to Cloud Nine Alpine Bistro. The restaurant has become a legendary Aspen dining experience famed for its authentic alpine atmosphere, vibey après ski scene, and delicious food (try the fondue and apple strudel for the tastiest traditional meal).
Labeled by Vogue as 'Aspen's wildest après ski venue,' you can rest assured you'll have a good time at this restaurant after a day on the slopes. The restaurant is set in an unassuming building that used to be a ski patrol shack yet has been refurbished with tasteful interiors.
What makes the experience so unique is that it is set 10 thousand feet above sea level on Aspen Highlands mountain and is only accessible by snowcat, snowboarding, or skiing.
Every day during the peak winter season, the restaurant throws a rager of a party on the outdoor patio, which hundreds of skiers still donning their ski boots, helmets, and jackets visit. Don't be surprised if you ski in for lunch and leave as the sun sets, drenched in Moet…
Go ice skating at the Limelight Hotel
No matter which ski resort you visit, ice skating is one of the best activities in Aspen for those with kids. The Limelight Hotel Snowmass is a boutique hotel located at the base of Snowmass Mountain (just a short bus drive from the town of Aspen). The hotel could not be closer to the slopes, with ski-in and ski-out facilities, and features a new ice rink.
Visitors can rent a pair of ice skates, buy a cup of hot cocoa and enjoy a classic winter pastime activity surrounded by festive Christmas lights.
Attend an après ski event at the Aspen Art Museum
While a daytime visit to the Aspen Art Museum is a must, one of the best nights I had during my time in Aspen was at an après ski event at the museum. Set on the rooftop floor of the ultra-modern building, with panoramic views of the entire town and surrounding mountains, the museum hosts weekly après ski events during the month of March.
The events usually run from 3:30 pm until 5:30 pm and are free to attend. In fact, they even provide some complimentary snacks (which I missed out on) and discounts at the cafe.
The event includes a well-serviced bar, a DJ, and a high-quality sound system, blasting groove-worthy tunes throughout the rooftop space. I can't really think of a cooler setting for an après event than on top of a classy art museum.
Hike the Highland Bowl and ski down
If you've visited the ski resort before, you'll likely be familiar with the Highland Bowl hike. The hike is a skier and snowboarder's dream, offering the chance to hike to the top of a vast mountain bowl and ski down barely-touched terrain. After a snow day, you'll be able to see the lines of powder-seekers weaving their way up the mountain from a mile away.
The hike begins at the top of Aspen Highlands Mountains and is a known rite of passage for skiers and snowboarders. Depending on your fitness level, you can catch a snowcat ride from the top of the highest chair lift, which gives you a head start on the hike.
That being said, even with the help of the snowcat (which is an experience in itself, I might say), you will still have a pretty intense hike ahead of you. The hike took me about an hour to complete, likely because I wasn't fit enough for the high altitude, which reaches 12,392 feet above sea level at the peak. To put that into perspective, Mount Everest Base Camp is at 17,000 feet.
The terrain is pretty advanced from up here, with about eighteen named runs ranging from 35 to 48 degrees – making them the steepest descents in Colorado. As you might expect, the view from the top of the bowl is pretty spectacular, panning across from Aspen Mountain to Snowmass.
Watch a performance at Wheeler Opera House
The Wheeler Opera House has been Aspen's favorite music and performance venue since 1889, bringing a variety of singers, actors, comedians, and dancers to the town year-round. The building alone is enough to attract those interested in history and architecture, blending Romanesque Revival and Italianate architectural styles into an iconic corner building.
In fact, it was the first building in the area to be registered as a National Historic Place. The building has seen many phases and restoration efforts, but today, it houses a restaurant, retail space, and auditorium space.
Check the schedule while you're in town, and don't miss out on a performance at this iconic Opera House.
Wander around Ashcroft ghost town
Located just a few miles from Aspen up Castle Creek Road, there lies a deserted silver mining town known as Ashcroft. The town flourished with prosperity during the 1880s when silver deposits were found in the Castle Creek Valley.
The new mining opportunities drew in many prospectors and workers to a town that was pretty much built within a few months. Within two weeks of arriving, streets were laid out and buildings were marked for construction.
The town grew to a population of about 2000 people, with two newspapers, a school, sawmills, and about 20 saloons – it was bigger than the town of Aspen at the time.
About as fast as the town was founded, it was abandoned, as the mines, which were thought to have been overflowing with silver, were merely shallow deposits. The residents of Ashcroft left in a hurry to find opportunities elsewhere, leaving dozens of the town's buildings frozen in time.
Today, you can visit the site, which features a bunch of restored historical buildings, including a post office, saloon, and hotel, for a ghost tour or just to wander through.
Take a drive over Independence Pass
As you might expect from a mountain town, Aspen is surrounded by mountain passes, valley roads, and tunnels. The drive from Denver to Aspen alone is enough to stop for a few photographs.
However, one of the most attractive roads in the area, well worth a drive, is the Independence Pass. The pass is part of the Colorado State Highway 82, connecting Leadville with Aspen. Summiting over 12 thousand feet above sea level, the entire stretch of road provides unparalleled views of the Rocky Mountains and valleys beneath them.
It's a steep, narrow, and twisty 32-mile-long road and can take between 45 minutes and an hour and a half to drive in one direction, depending on how fast you drive and how often you stop to admire the views. It twists and turns around aspen tree groves and follows the Roaring Fork River.
The pass is usually closed during winter due to safety concerns, so check its open status before heading off on a road trip adventure.
Dine in a transparent igloo at Plato's Restaurant
For a unique experience like no other, visit Plato's restaurant to dine under the stars in a private and heated transparent igloo overlooking views of Aspen, Aspen Highlands, and Buttermilk Mountain.
The restaurant is located in Aspen Meadows and is open for all-day dining between 11 am and 9 pm. Dishes are prepared by an expert chef using local and sustainable ingredients, and it shows by the beautiful way each dish is plated.
While the food is to-die-for, my favorite part of the experience was the outdoor igloo dining, decked out with cozy faux fur chairs and decorated with romantic Christmas lights to create a winter wonderland-like experience.
Whether you visit for après ski, dinner, or lunch, don't miss out on the pastry chef's hot chocolate bombs.
Spend a night at The Little Nell
The Little Nell is, without a doubt, Aspen's premier luxury hotel and one of the town's only five-star, five-diamond hotels. It was built in 1989 on the site of a historic and quirky ski-bum bar of the same name. It's located at the base of the slope where the original Aspen mine shaft used to be and is the only hotel with full ski-in / ski-out access to Aspen Mountain.
For those who can afford it, the hotel offers nothing short of extraordinary service, luxurious amenities, and spacious rooms, accompanied by awe-inspiring mountain views and popular dining options.
The suits are sophisticatedly designed with a combination of modern and alpine interiors to match the laid-back atmosphere of Aspen.
As you might expect, the opulent hotel offers a range of dining options and amenities, including a pool and hot tub, a boutique shop, babysitting services, a pet menu, and a grocery service. Call the concierge for just about any matter, and they will be happy to assist.
Eat your heart out at high tea at the St. Regis
If there's one thing St. Regis Hotels are known for, it's their delectable high tea. Every afternoon, the Aspen hotel combines the English tradition of high tea with the Aspen après ski culture in a delicious and boozy assortment of food.
While a traditional high tea consists of drinking, well, tea, the Aspen St. Regis resort adds a twist of bubbles for a more laid-back and casual après-meets-high-tea experience. On trend, it is sometimes referred to as 'après Tea'.
High tea at the St. Regis is served in the elegant Shadow Mountain Lounge, which is the perfect venue to relax and unwind after a day on the slopes. Visitors can feast on a variety of savory snacks, sweet treats, and a curated selection of fine champagne.
Prepared by a Cordon Bleu-trained chef, you can expect the highest quality food, such as delicate pastries, tasty finger sandwiches, and decadent truffles made using the best of the best ingredients.
Grab a bite to eat at Clark's Oyster Bar
Clark's Oyster Bar might just be my favorite restaurant in the whole town. Set in the heart of downtown Aspen in a historic wooden single-story building, this cozy family-style restaurant does well to combine a casual yet elegant atmosphere.
The interiors blend low wooden beamed ceilings, a cozy wood-burning fireplace, large windows, and a relaxing blue hue aesthetic. We sat at the table right by the fire, which kept us toasty warm throughout our evening dining experience.
As the name suggests, Clark's Oyster Bar in Aspen offers a specially curated oyster and caviar menu (without the pretense you might expect). However, they also serve a variety of casual yet tasteful meals such as Crudo plates, crab cakes, mussels, linguini with clams, and a highly recommended clam chowder.
The food is simple yet packed with flavor and presented with impeccable style and class at Clark's Aspen. It is open for lunch, happy hour, and dinner, and attracts an eclectic bunch of visitors throughout the year.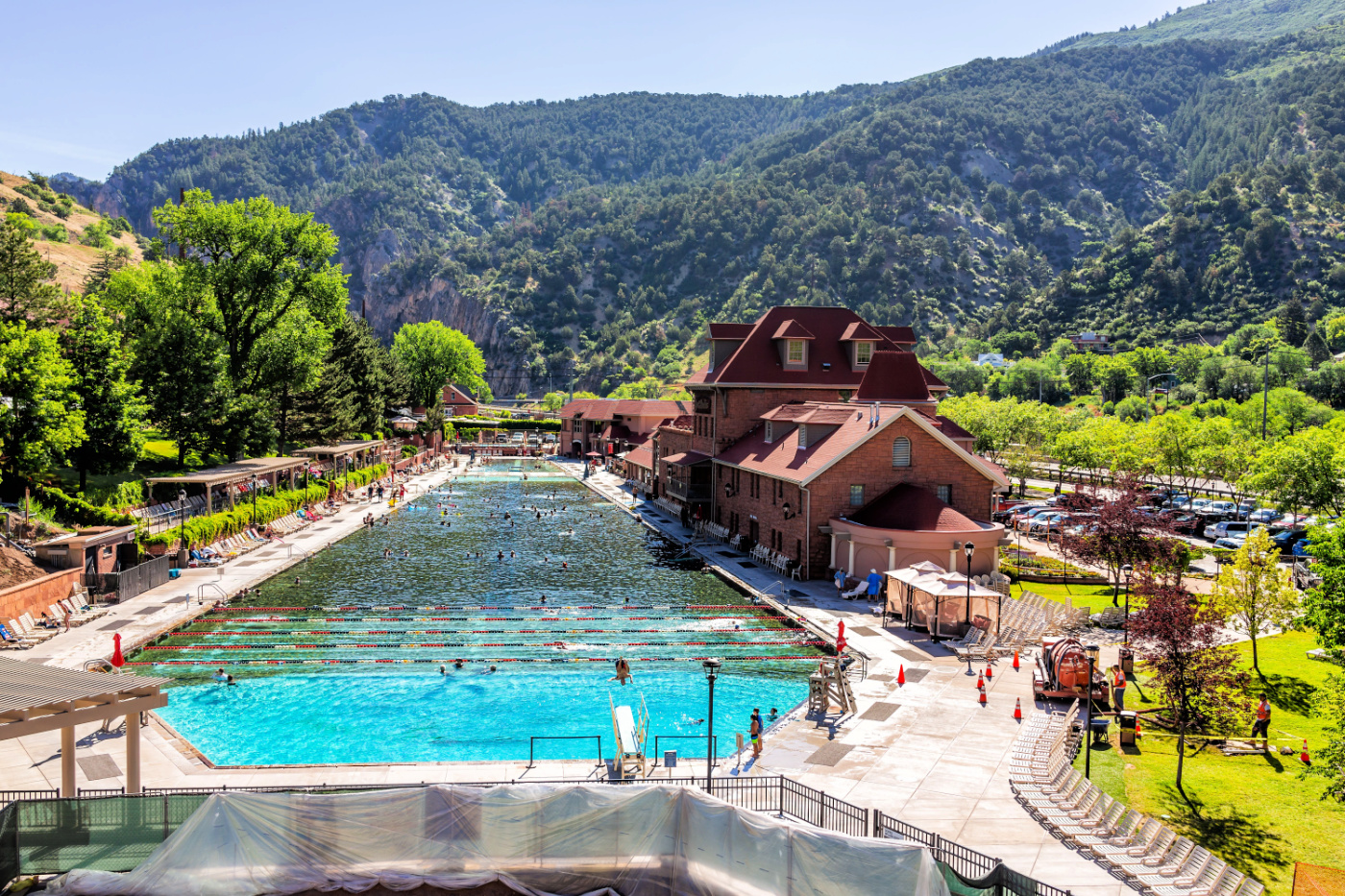 Treat yourself to a soak at the Glenwood Springs Hot Springs
Just a short drive from Aspen, Glenwood Springs is a neighboring town with a lot to offer those who give it the time of day. If you've seen what you need to see in Aspen and are looking for a day trip with a slice of adventure and relaxation, take a trip to the Glenwood Springs natural hot springs.
This small mining town is best known for its natural geothermal hot springs, of which there are three of. The most famous is the Glenwood Springs Hot Springs Resort, which is a historic attraction featuring the world's largest hot spring heated pool.
Iron Mountain Hot Springs is the most recent addition to the town, boasting 17 different soaking pools and a family pool set alongside the picturesque Colorado River.
Finally, Yampah Spa and Caves is one of the few places where you can experience a natural geothermal steam bath, which fills three underground caves that are dimly lit.
No matter which springs you choose to visit, you're in for a wellness retreat like no other.
Enjoy après ski festivities at Ajax Tavern
You can't spend a day on Aspen Mountain without passing the drumming beats blaring from Ajax Tavern at the base of the mountain. The tavern is located in The Little Nell Hotel, right at the bottom of the Silver Queen Gondola at Ajax Mountain.
The restaurant has an outdoor patio that gazes up towards the mountain, which is usually where the après ski festivities take place. If the restaurant is famous for anything, it's for this patio and stunning view, which draws you right in.
Every afternoon when the ski lifts close around 4 pm, the tavern comes alive with loud tunes and festive dancing, coupled with a whole lot of après drinking. I visited during springtime, so the patio was drenched in the sun during the busiest après ski hours, with patrons basking in the sunshine and catching a much-needed dose of Vitamin D.
Linger here with an Aperol spritz in your hand, with your ski boots unbuckled and jackets hanging around your waist for a vibey après ski atmosphere like no other.
Final Words
Aspen is celebrated for its incredible skiing terrain and après ski scene, combined with high-end cuisine, hotels, and boutique shopping. It is the heart and soul of Colorado's ski towns, with something to offer all types of visitors and travelers.
I fell in love with Aspen not for its exquisite beauty and charming atmosphere, but for the eclectic variety of people who visit the town and call it home. Whether you're Paris Hilton or a teenage ski bum passionate about snowboarding, the town welcomes you with open hearts and minds.
As a result, there are outdoor adventures, incredible restaurants, vibey après ski bars, and other incredible activities and things to do in Aspen that make the town worth spending some time in.