Colombia has quickly become one of the hottest destinations for travelers, and for good reason. From its stunning beaches to its historic cities, this is a country that offers something for everyone. Rising from the ashes as one of the most dangerous countries in the world, Colombia is now becoming a safe… or let me say "safer" haven for travelers.
I was lucky enough to travel throughout some of Colombia's major cities and regions. My travels in Colombia were nothing short of an adventure! From the lively cityscape of Bogota, I took a bus with many stops to reach the exuberant beaches of Cartagena and Santa Marta. Having spent over a month exploring this beautiful country, I was able to experience so much during my stay.
In today's world, Colombia is a popular destination for digital nomads, and while the majority of them are settling in the vibrant cities of Medellin and Bogota, I was able to explore some other places in the country.
If you're looking to immerse yourself in the beauty of South America, Tayrona National Park's stunning beaches are a great place to start. Or travel inland and visit Valle de Cocora – home to the world's tallest palm trees! Plus, don't miss out on a day trip to Guatape for its unique charm, or head towards Cartagena for an authentic Caribbean experience. Regardless if it is your first time exploring this continent or not, make sure you add these unforgettable destinations to your list!
Whichever destination you choose to explore in Colombia, you must be aware of the costs associated with traveling there. Although I didn't live in Colombia, I have an exceptional understanding of the cost associated with traveling there and I'm excited to tell you that it is very friendly on your pockets if you want it to be!
Coming from the States or Europe, you'll find Colombia to be incredibly affordable. The cost of transportation, accommodations, and food is much lower than what you would expect to pay in more developed countries.
So, let's break down the cost of travel in Colombia!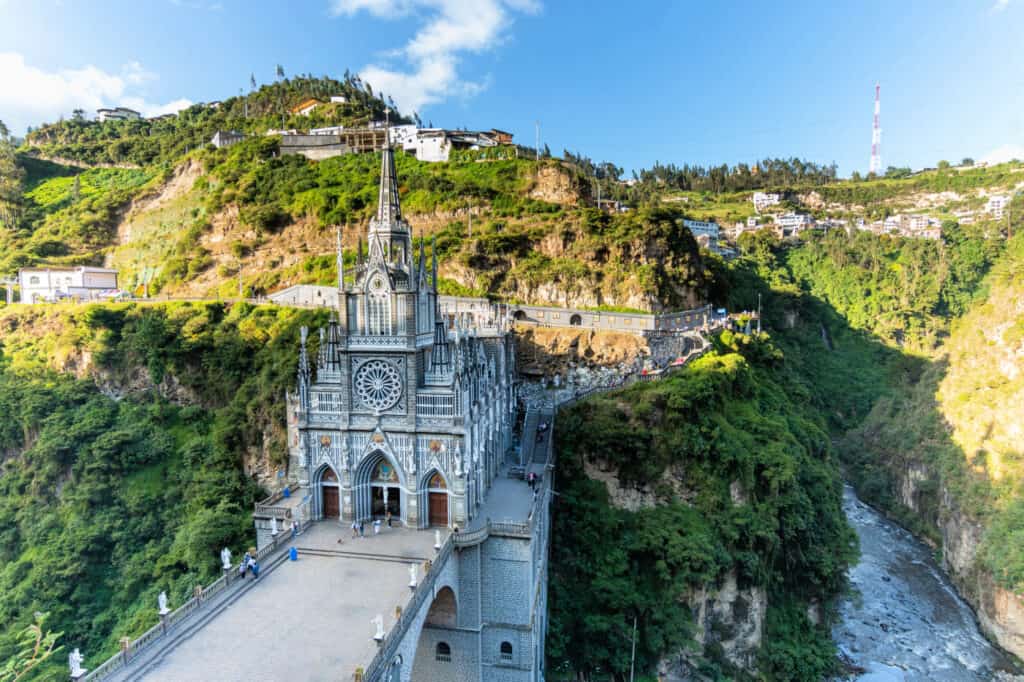 How to Save Money on Accommodation in Colombia
It is entirely possible to enjoy Colombia on any budget; no exaggeration! Enjoy a $7/night air-conditioned hostel in the capital city of Bogota to an extravagant and luxurious $300/night lodge tucked away within Minca's lush jungles. Seriously, whatever you need or want, you can find!
I hope you are pleasantly surprised by how reasonable accommodation prices can be while still maintaining great quality! In this post, my focus will primarily rest on achieving maximum value for your money.
It doesn't matter if you're a solo backpacker on a tight budget; and if you are, don't even stress, as that was me when I was in Colombia. So, I got you! Or maybe you're part of an adventurous couple looking for something other than dorms, or looking for luxurious experiences as a family. There is one thing that needs to be taken into consideration when it comes to traveling – value! That does not mean finding the cheapest option but rather getting more bang for your buck than other options at similar prices.
Boasting incredible value for the money, Colombia is an ideal destination to explore on a budget. To begin with, let me share my top tips on how to make your journey around this spectacular country as affordable as possible!
Maybe you're needing something to be free, no worries, because Colombia has got your back! Couchsurfing is here to provide you with free accommodation while in the country. It connects you with locals by giving access to their spare sofas and provides an exclusive peek into Colombian life beyond touristy places – all for absolutely no cost at all. With more than 100,000 hosts in this gorgeous country, there's guaranteed to be one perfect for any kind of traveler like yourself!
And if it makes you nervous, keep in mind some of my friends had the absolute BEST times couch surfing in Colombia because they were able to get off the gringo trail and experience the authentic culture. I'll go more into the gringo trail when we discuss transportation!
For those seeking more luxurious lodging, housesitting provides the solution. Instead of paying for accommodation, travelers tend to their host's home and pets while they are away on vacation. As such, you can expect these accommodations to be quite lavish! This strategy is particularly well suited to those with flexible travel plans since owners set the dates themselves.
Ultimately, if you're searching for free accommodation, WorldPackers in Colombia is an excellent choice. You can volunteer to help out locals and receive food and board in return! There are some truly extraordinary possibilities open on the site including assisting at a local surf school or contributing towards constructing an eco-sanctuary in the rainforest.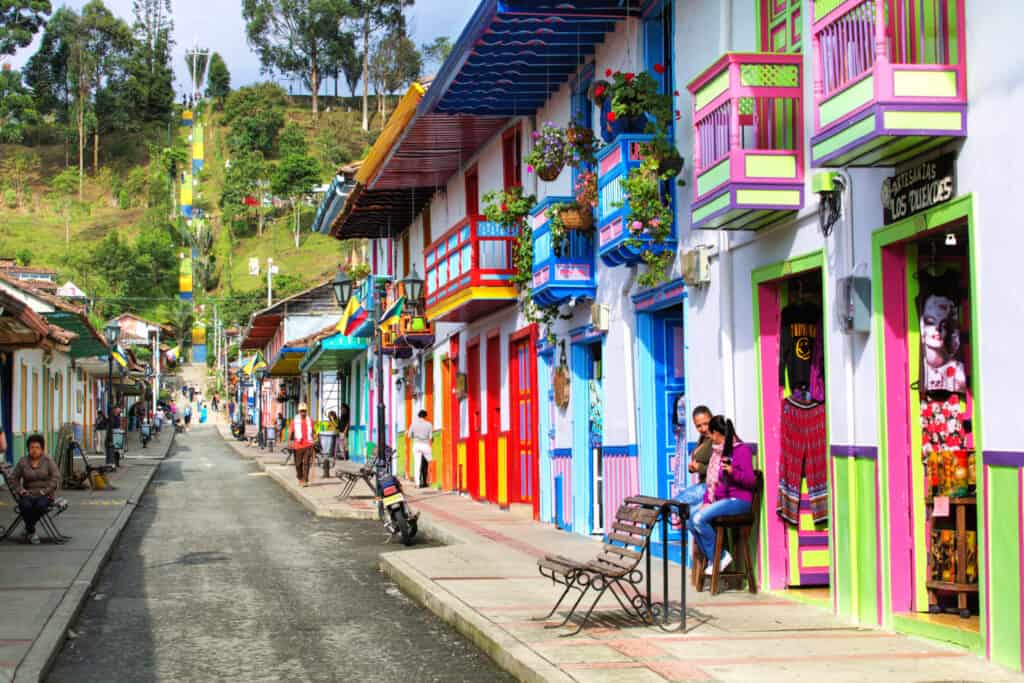 Okay, okay you are past the free accommodation stage and ready to start paying but still need to watch what you're spending. Do not worry, the costs of hostels in Colombia are very affordable for budget travelers! Depending on where you're staying, a bed will cost between $7-19 USD per night.
It's one of the most affordable ways to explore the country as well as a great way to meet fellow travelers. Hostels also offer plenty of additional perks such as free Wi-Fi, common areas for socializing, outdoor activities, and access to tours.
Throughout my whole month in Colombia, I stayed in hostels and it was so much fun. I was continuously impressed with the level of quality and the prices.
Additionally, there are lots of private rooms available if you want some more privacy or a higher standard. The cost is typically around $30-50/night depending on what type of room you're looking for.
So here are some of my favorites in the most popular cities.
In conclusion, you can anticipate spending approximately $10 – $20 a night for dorms in Colombia and slightly more for private rooms.
Are you someone who prefers to stay in a place with all the comforts and amenities that provide excellent value for money? If so, then I have got the perfect solution for you. On your visit to Colombia, why not split your trip between hostels and guesthouses? You'll be able to find top-rated hotels for an average of $60 per night and sometimes even less!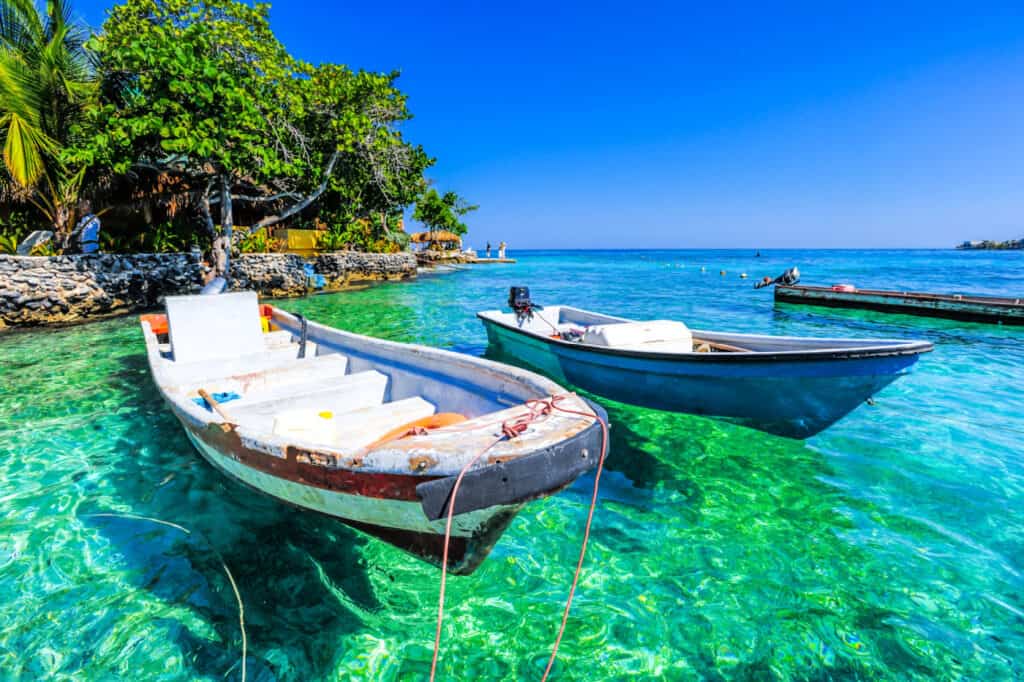 The Cost of Hotels in Colombia
As I explore the world, I am always looking for a deal with the finest accommodation that my wallet allows. Doing so may take me several hours of research, but it is worth it to guarantee a location with excellent staff, top-notch amenities, and an unbeatable price tag. It also doesn't hurt when it's aesthetically pleasing, ya know, for the gram'!
If you're looking for a hotel through Booking, bypass the "Our Top Picks" option as that is simply a list of hotels with maximum commission rates. Instead, select "Top Reviewed" to get an accurate overview of properties with excellent reviews from customers. That way, your stay will be pleasant and stress-free!
Luckily for you my type A personality benefits us both, I've gone ahead and selected my top stays in Colombia below!
Bogota: Lucitania Hotel Boutique
($50 a night for a double room) — Begin your time in Bogota with the highest-rated hotel around! Choose Lucitania Hotel Boutique and you'll be treated to a unique boutique hotel experience, with personalized service and comfortable rooms. The hotel is right in the heart of Chapinero, close to all the best restaurants, coffee shops, and bars.
Salento: Terrazas de Salento
($56 a night for a double room) — Want to stay in an enchanting and typical Colombian village? Then this is the place for you! At Terrazas de Salento, you'll be surrounded by beautiful nature as well as friendly locals. Plus, the hotel offers a delicious breakfast buffet every morning. Located right outside of the center of Salento, you'll be able to explore the village just by walking.
Medellin: Lettera Hotel
($85 a night for a queen room) — Located in the Poblado area of Medellin, Lettera Hotel offers a more luxurious stay. This modern hotel is outfitted with marble floors and rooms that are equipped with luxury amenities. Plus, there's a delicious restaurant on site and an outdoor pool to cool off in during warmer months. This is definitely the place you want to stay while in Medellin. Poblado has the absolute best restaurants, nightlife, and shopping.
Guatape: Sotavento Cabañas
($114 a night for a Cabana) — Staying in Guatape is not always on everyone's itinerary as it is usually just a day trip from Medellin. If you decide to stay overnight, then I would highly recommend Sotavento Cabañas. These cabanas are located on the lake with spectacular views of the surrounding mountains and a private beach area. You will also be served complimentary breakfast each morning and can enjoy a lovely poolside bar in the evening. It's a bit of a splurge for Colombia but it's well worth it!
Santa Marta: Casa Rosa Hotel Boutique
($50 a night for a double room) — This pop of pink hotel is located only 200 meters from the beach and provides comfortable, air conditioned rooms. Located in the center of town, you're within walking distance of restaurants, shops, and attractions. Plus, there's a lovely outdoor terrace where you can enjoy your morning coffee or an evening nightcap while taking in the views of Santa Marta.
Cartagena: Hotel Barlovento
($79 a night for a double room) — Hotel Barlovento is a boutique hotel featuring modern guest rooms. Each room is equipped with a private bathroom, air conditioning, and cable TV. Plus, there's an outdoor pool and restaurant on site! Located right in the heart of Cartagena, this hotel is close to everything you need and is the perfect escape from the hustle and bustle of the old town.
Cali: Magic Garden House
($26 a night for a king room) — Cali is the salsa capital of the world and Magic Garden House is ready to prove why it deserves this title! This relaxing sanctuary is hung with hammocks, surrounded by a lush garden, and just a 10-minute walk from the city center. An outdoor patio that gives you an incredible view of the city. Plus, each room is equipped with air conditioning and cable TV so you can relax in style.
These are just a few of the amazing places to stay in Colombia and with accommodation prices being so affordable, it's easy to see why Colombia is becoming such a popular destination for budget-conscious travelers.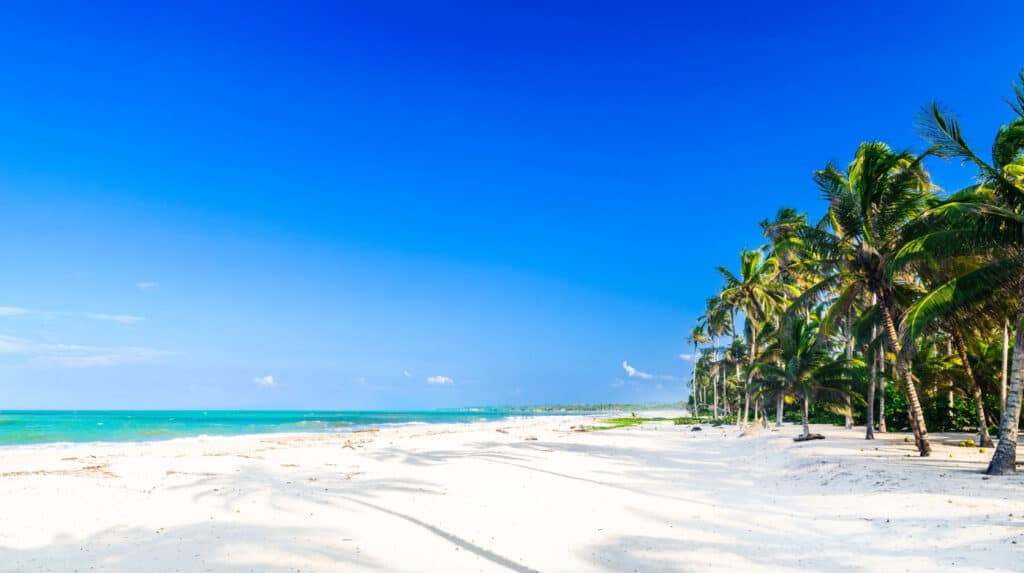 Cost of Transportation in Colombia
Traveling in Colombia is extremely easy and convenient and there are plenty of options available to you. The most popular ways to get around are by bus, taxis, and planes – all of which offer competitive rates and reliability.
It is a relatively large country so sometimes it makes the most sense to take planes and thankfully this is a budget friendly option. Flights in Colombia are surprisingly affordable and you can find some great deals if you book ahead of time. As an example, a ticket from Cartagena to Medellin, which would take around two hours on the plane, costs around $50 USD one way.
If you're looking for a unique adventure, then why not hop on the bus? Bus travel is by far the most popular mode of transportation in Colombia. From luxurious overnight buses crossing highways to small and rowdy chiva buses navigating through mountainous backroads, there's a bus going just about anywhere you want.
Bus tickets are often much cheaper than flights, but depending on the route and time of day you're traveling, it can take significantly longer to get from point A to B. For example, a bus ticket from Bogota to Medellin takes about 10 hours and usually costs around $20-$30 USD. But this allows you to make stops along the way and see some of the unique cities and towns Colombia has to offer.
When it comes to visiting Colombia, Expreso Brasilia, and Expreso Bolivariano are the best bus companies for tourists. Bolivariano might be slightly more luxurious and come with a higher price tag, but both of these options offer travelers safety as well as reliability.
MEDELLIN → BOGOTA: 85000 COP – $22.31 USD
MEDELLIN → CALI: 75000 COP – $19.69 USD
BOGOTA → SALENTO: 50000 COP – $15.00 USD
BOGOTA → CARTAGENA: 105000 COP – $27.56 USD
CARTAGENA → SANTA MARTA/TAYRONA NP: 48000 COP – $12.60 USD
It's so nice to know you can travel the country without breaking the bank.
Once you're in the cities you'll most likely be catching some form of a taxi and yes — Uber is available in Colombia… well kind of, technically it's illegal but everyone still uses it because it's the safest and cheapest option. Everyone just recommends memorizing your Uber driver's name in case you get pulled over and the cop wants to "confirm" you are friends. They will also usually ask you to sit in the front seat.
If you choose to grab the old school yellow taxis from the road the price is determined by the meter, but you should always negotiate with the driver to get a better deal and MAKE SURE the meter is on before leaving. A taxi shouldn't cost you more than $5 for a 10–15-minute ride.
Opting for a Colectivo (shared taxi) is an excellent way to save money and is also sometimes easier when you're in remote areas. You might come across a car, bus, or minibus and you can easily hail them anywhere in the country. There are fixed rates per ride and usually, these vehicles wait at popular destinations until they get the desired number of passengers anywhere from six to 12 years old.
One thing I really loved about Medellin is their train system, the Metro de Medellin. It's a really unique way to see some of the city's hidden gems and it only costs around 2,650 COP ($0.70 USD) for one ride or 10,000 COP ($2.50 USD).
It's safe and clean as Colombians really take pride in their public transportation as it's the only one in the whole country. It's the best way to get a good overview of the city but keep in mind it's still Colombia and pickpocketing does happen on public transportation.
Overall, whatever means of transportation you choose in Colombia you will be able to find something that fits your budget and needs. Just remember that safety always comes first, so make sure to do your research before leaving and don't take any unnecessary risks!
With adequate time to explore, taking the Gringo Trail is an ideal way to discover all of the nation's gems – it has become a popular route among travelers. This famed path starts in Bogota and offers stops in Medellin, Cali, Cartagena, Santa Marta, and Tayrona National Park. But depending on your route and length of stay, you may have to plan out a few side trips to really explore Colombia's hidden gems.
If you have time to spare, a two-week exploration of the area is ideal for seeing all of its attractions; however, if you are pressed for time, it's possible to experience the main highlights in just one week. If three weeks is your allotted time frame? Lucky you! You'll be able to take things more slowly and truly appreciate everything without feeling rushed.
So, what's the easiest way to journey on the Gringo Trail?
Colombia Hop is the perfect option for backpackers looking for a great trip at an affordable price. They require a minimum of 6-day Gringo Trail experience, and it will only cost you $219, but includes 10 stops with hop on/off passes and pick up/drop off from hostels, plus a Colombian guide to help show you around! Plus, you get free access to various sites along the route that other tour companies may miss out on. Truly amazing value – Colombia Hop won't disappoint!
The average cost of transportation is: $15 per day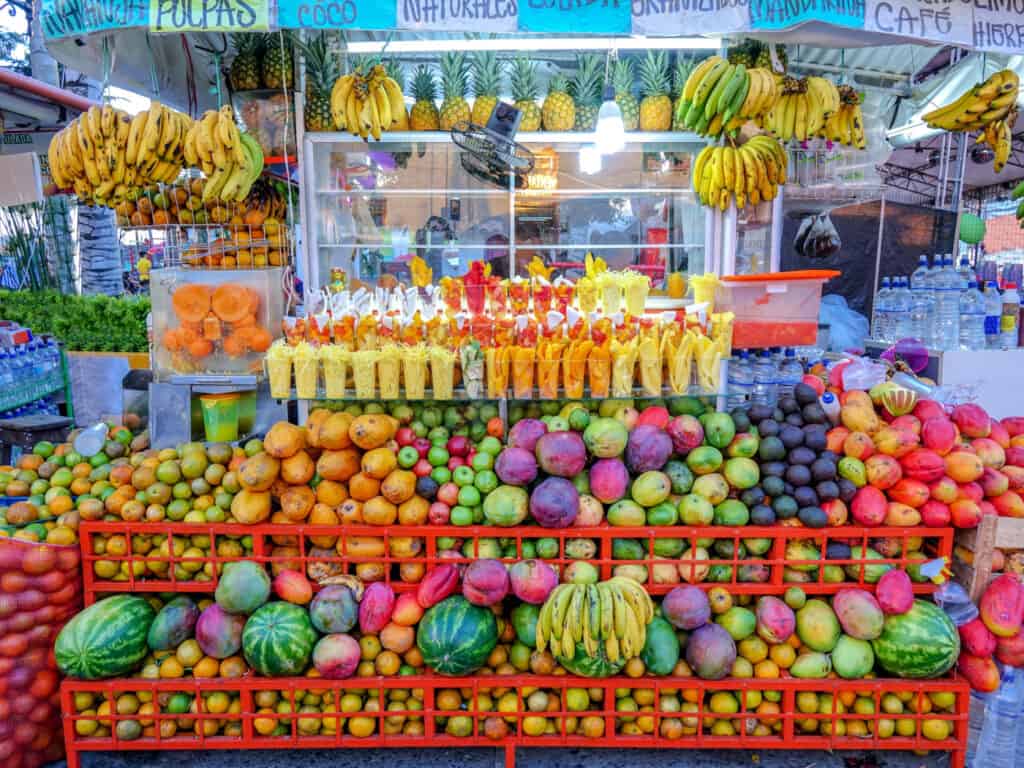 The Cost of Food in Colombia
So to be honest, Colombia doesn't have the most outstanding food in the world. You definitely will experience some great meals, but the typical dishes tend to be a bit bland for my liking. Prices range from cheap to expensive depending on the type of food you choose, but generally, a meal should cost no more than $10 per person.
Colombian cuisine consists mainly of rice and beans, fish, beef, or chicken, which are usually served with sides like yuca (cassava), plátano (plantain), and patacón (fried plantain). Other popular dishes include empanadas, tamales, sancocho de gallina and ajiaco. You can also find quite a bit of different influences in the food from neighboring countries such as Venezuela, Ecuador, and Peru.
If you want to go local, visit a street market or stand and get some empanadas which are fried pastries filled with cheese or meat for only $1.50 each. You can also find food stalls that sell filling meals such as grilled meats and rice for less than $5 USD per plate. The menu del dia's were my jam, which is a soup, a meat dish with rice and salad, and a juice for about $2.50.
If you're looking for a nice dining experience, traditional restaurants cost around $15-20 per person for an appetizer and main course. Fancy restaurants can be more expensive reaching up to $40-50 per person.
In terms of drinks, Colombia is well-known for its coffee and aguardiente (a type of alcoholic drink made from sugar cane). Personally, I find it disgusting, but Colombians love it. It tastes like licorice with alcohol, and even though I don't enjoy it, I highly recommend trying it for yourself.
A cup of espresso in a nice cafe will cost you around $2 while an aguardiente usually costs between $2-$3. If the aguardiente isn't your go-to, and trust me I understand, you can get a local beer for around $1.50
Overall, the cost of food and drinks in Colombia should not be a major expense as it is quite affordable compared to other countries in South America.
The average cost of food in Colombia is: $10 per day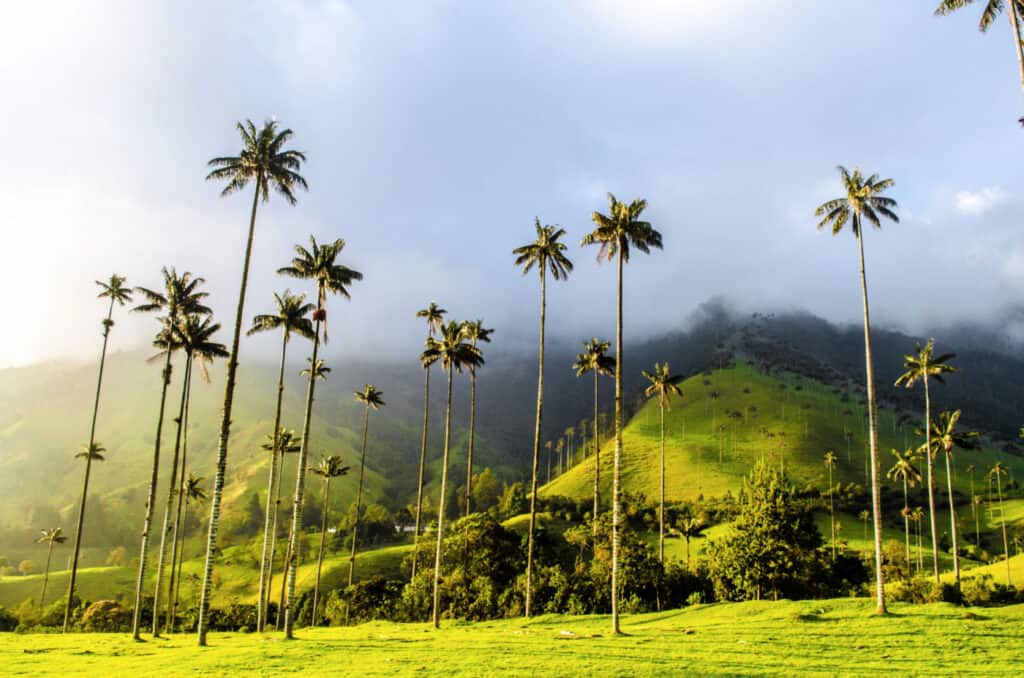 The Cost of A in Colombia
Regardless of what you enjoy doing, I assure you Colombia will have more than enough activities to keep you busy. Whether it's beach hopping in Tayrona National Park, trekking through the Sierra Nevada Mountains, or exploring colonial cities like Cartagena – Colombia has something to offer every type of traveler.
Fortunately, many of these activities are quite affordable and entry fees range from free to $15 USD (sometimes more if it's a special activity).
In Bogota, the main attraction would be La Candelaria – the old town of Bogota. It's filled with colonial-style buildings, and street art and has a bohemian vibe that is simply amazing. The entry fee to La Candelaria is free, but you will have to pay for certain sites like El Museo de Oro ($1.50) or the Botero Museum ($2) if you want to explore them.
If you are looking for something a bit more adventurous, head over to the Zipaquirá Salt Cathedral! It's an underground cathedral built into a salt mine and was one of my favorite spots in Colombia. The entry fee is less than $10 and includes access to the entire site.
In Salento, there are a few tours to take that will cost you anywhere from $10-$30 per person. My favorite is the Cocora Valley, which offers an incredible view of wax palms and a unique mountain hike – definitely worth it!
And one of my favorite tours in Colombia was the Comuna Trece Tour in Medellin. It's a graffiti and urban art tour with a knowledgeable guide that takes you through the backstreets of an area once considered one of the most dangerous places in Colombia. The tour is free, and you just tip the tour guide for their service. I recommend $5.
One of the more expensive entrance fees is to Tayrona National Park, which will cost you about $14 USD for one day. You will be able to spend the whole day trekking through the jungle and visiting different beaches. It's seriously stunning and was a huge highlight in my Colombia travels.
Lastly, my favorite activity and well worth the higher price is this day trip from Medellin to Guatape. This is a fun and exciting tour that includes a boat ride, breakfast and lunch, visiting an old village, and taking lots of pictures! The cost for the full-day trip is around $30 but it's worth every penny — check availability for the tour below, as it does sell out:
Overall, the cost of activities and entrance fees in Colombia varies greatly depending on what you want to do. Most attractions and activities are quite affordable, but some can be a bit pricy like the Guatape day trip or Tayrona National Park.
The average cost of activities in Colombia is: $15 per day (not including the more expensive tours)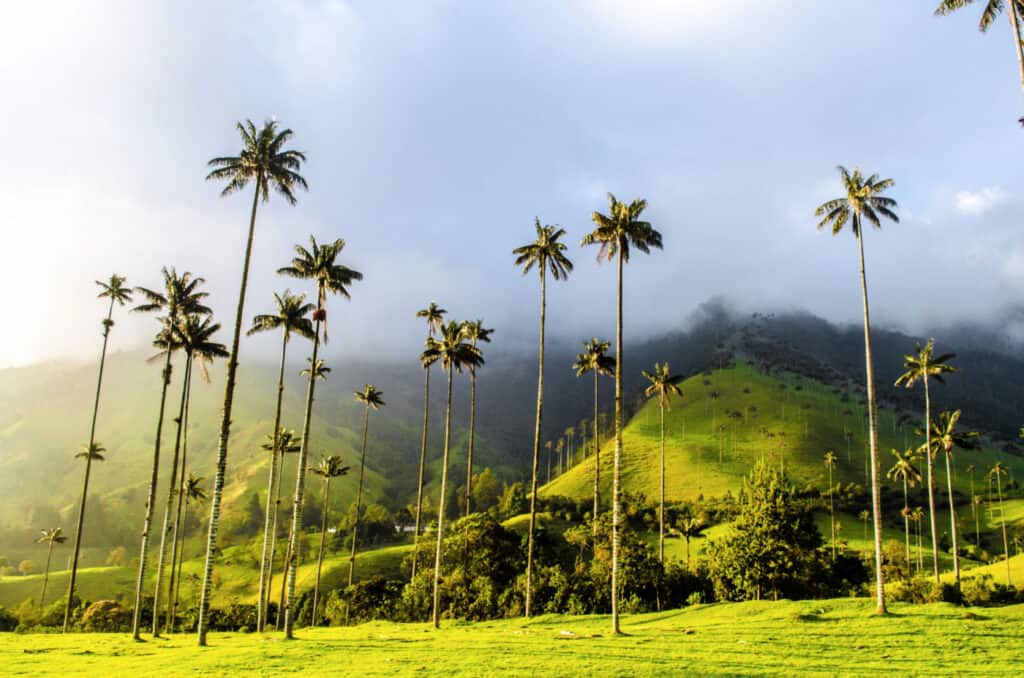 How Much Does It Cost to Travel in Colombia
Adding up expenses to travel is never enjoyable, and we've all been there when feeling overwhelmed by the numbers. But let's take a deep breath and face reality – it's time to tally up how much our journey to Colombia will cost us!
Here is a breakdown of a mid-range budget in Colombia.
Accommodation: $35 a day
Transportation: $15 a day
Food: $15 a day
Activities: $15 day
Total daily expenses for Colombia: $90
Not too shabby, eh? Colombia is an affordable destination if you budget and plan your trip accordingly. And there are tons of cheap accommodation options in each city, so you can save even more money by staying with locals or hostels. I personally stayed in a few hostels around Colombia for as low as $7 a night!
So, there you have it – an in-depth guide to what you can expect to spend on your next Colombian holiday!