After several months of little happening, my life was kicked into full gear with a fun and busy September.
I crammed so much into this month!
To start things off, I flew to Bilbao to take my first steps in the Basque country.
When I originally decided to walk the Camino, I went all in on the Camino Norte, the route that leads from the French border along the coastline to Santiago. Within weeks of booking my flights to Bilbao, though, close to the starting point of the Norte, I moved house.
And with a three-month trip looming on the horizon for the end of the year, I just couldn't justify paying rent on an expensive apartment to only spend six weeks of the next five months there.
I scaled back my plans and settled on walking the 321 km Camino Primitivo instead. It would take two weeks instead of five, but still looked like it would offer up a tough physical challenge.
Despite deciding to switch things up, I still had flights to Bilbao and I wasn't planning on changing them.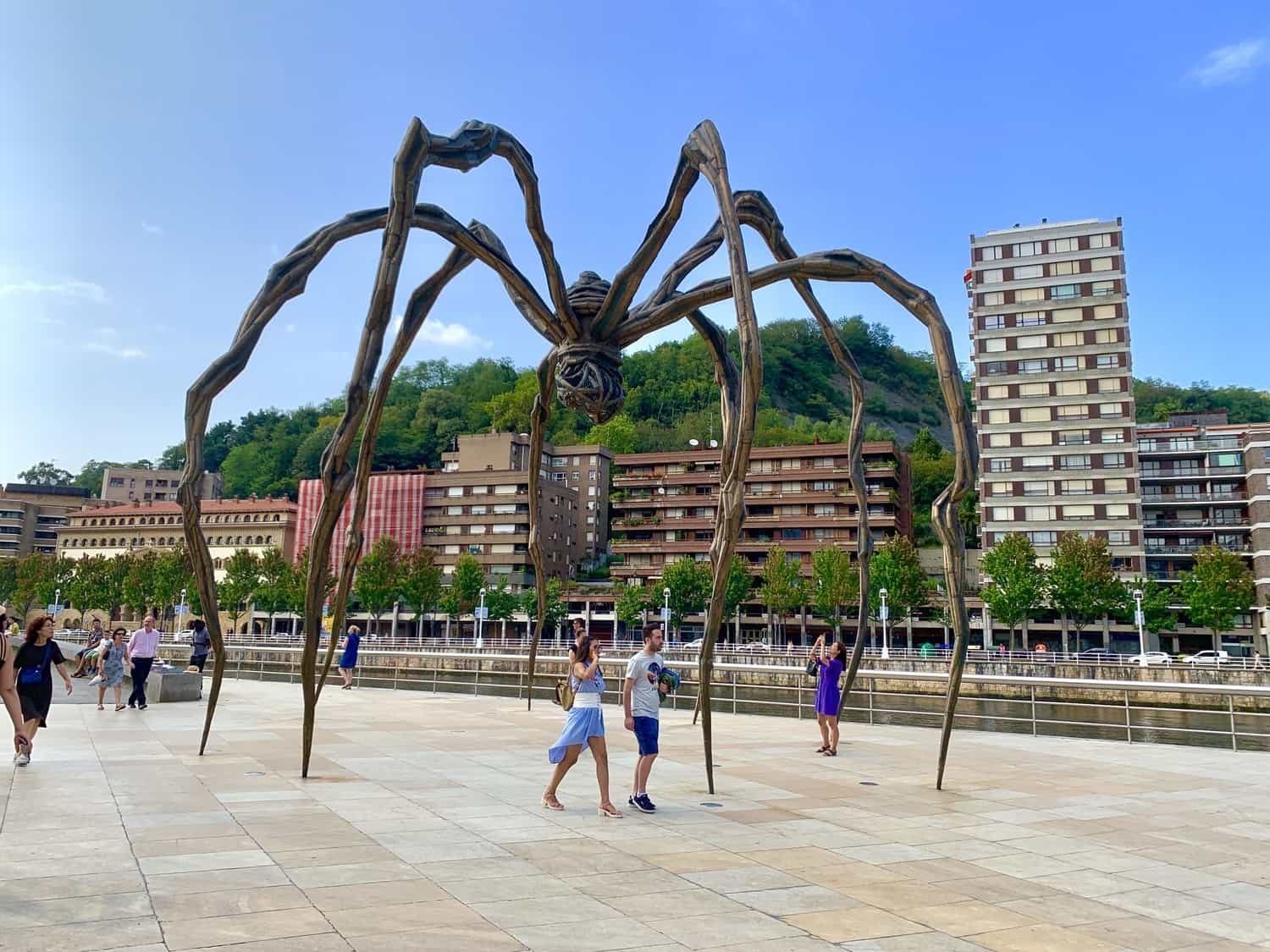 What's there to know about Bilbao?
Before I arrived, I knew of nothing but the famous Guggenheim museum.
Low expectations are always a recipe for success when it comes to me and travel, though, so of course I loved Bilbao. And sure, the Guggenheim was as cool as a contemporary art museum can get, but it was the rest of the city that drew me in.
The food scene was fantastic, the historic centre was picturesque as hell, and I loved walking alongside the river, snapping photos of the interesting architecture.
Dave and I could have stayed for a week, but unfortunately, we'd booked for just one night. We'll return another time and stay for much longer then.
Next up: San Sebastian!
San Sebastian was a place I'd been dreaming of visiting for years. Dave first swung through this foodie city in 2012 and had been talking it up to me ever since, convincing me it would be a destination I'd love. As San Sebastian has grown in popularity, it's become known as one of the best food experiences you can have in Europe. And if you're anything like me, that should be all you need to know in order to start planning a trip.
In San Sebastian, it's all about the pintxos.
Every restaurant is crammed full of them: small, tapas-like treats, usually served on bread with a toothpick stabbed through the centre. There are so many varieties of dishes and pretty much every bar, taverna, and restaurant you walk into will offer up their take for you try.
All you need to do is grab a plate, fill it with everything you want to try, and then pay far too much money for it all.
One of my favourite places to eat in London is Pix Pintxos, so I was already a fan of all things pintxos and excited to try them in their home environment.
Photos I'd seen of San Sebastian before arriving were nearly all taken from above, so within an hour of arriving, I was hiking up a hill to check out the beaches below.
Unfortunately, the good weather lasted until the end of the first day, then the storms rolled in and the rain kept falling. I made the most of it, though, wandering along the beach in the cool weather, drinking red wine in bars, and filling my stomach with pintxos.
I have to give a shoutout to my hostel in San Sebastian, as it was such a wonderful place to stay. A Room in the City was such a cool spot, with a rooftop bar, garden terrace, cosy lounge, and so many activities to join in with. It was one of the best hostels I've ever stayed in, but man, the price. I hinted above that San Sebastian was horrendously expensive, but I was still shocked to find us spending €100 a night!!!! for a private room in a hostel.
And the pintxos? Eh. They were better in Bilbao.
With our bank accounts drained, we hopped on a bus to Oviedo to start walking.
Oviedo was a bustling city, with a vibrant food scene and even better cider. The Spanish region of Asturias is famous for its cider, which is always poured from a great height and surprisingly tasty. I live in basically the best place in the world for cider — the Bristol Cider Shop sells hundreds of varieties, all made within 50 miles of the city — but I was still impressed by the Asturian version.
I'll be honest: I was nervous when Dave and I set out on the Camino, but those fears dissipated when we quickly made friends with two girls who were heading out of Oviedo at the same time as us.
What is there to write about the Camino that I haven't already shared here and here?
It was a life-changing experience for me, and I was surprised to find it ended up feeling so meaningful. Throughout the walk, I continually told Dave that I didn't think I'd venture on to another Camino, but by the time I'd finished, I was already planning my next one.
This walk was all about the incredible scenery, the solitude, the friendships, the challenges, the achievements, and when I entered Santiago for the first time, the sense of pride.
The Camino Frances in spring 2020? I'm seriously considering it.
And with that, it was time to board a flight back home to Bristol.
As much as I loved my time on the Camino, it was good to return home, too.
To reestablish a routine, dive back into work, and get back to a healthier lifestyle.
After the Camino, I found myself finally taking the plunge and signing up for a whole host of activities I've always wanted to try. Like rock climbing, which I loved and was also terrified by. Like yoga. Like pole dancing. Like coffee meet-ups with strangers.
And that was September!
Countries Visited: 2
Places Visited: 17
A Brea, A Fonsagrada, Berducedo, Bilbao, Bristol, Campiello, Cornellana, Grandas de Salime, La Espina, Lugo, Melide, O Cadavo, Oviedo, Paladin, San Romao, San Sebastian, Santiago de Compostela.
Highlights of the Month
Reaching the cathedral in Santiago: I really wasn't expecting this to feel so emotional, as I tend to have an apathetic heart of stone when it comes to religious or spiritual experiences.
It turns out I'm human after all.
It felt like a momentous occasion to arrive at the cathedral, and I continued to feel that way for the rest of my time in Santiago.
One of my favourite moments came from the morning after I finished walking. I grabbed a coffee and sat down in the square, watching the pilgrims wander in and exchange hugs and tears with the people they'd been walking with. I could have sat there all day.
Eating pulpo in Melide: So I wasn't impressed by the food on the Camino, but there was one experience that blew my mind. Of course it was eating pulpo in Melide!
I'm a big fan of all things octopus, and getting to sample it in Galicia, in Melide, in one of the best places in the world to eat it, was a life highlight. I thought I'd had delicious pulpo before, but it had nothing on the tender, flavourful version I sampled in Melide. It pretty much dissolved on my tongue!
Lowlights of the Month
I didn't like San Sebastian: This was a shocker. For a long time, I've believed that pintxos-hopping around San Sebastian would quickly become one of my European travel highlights. Turns out: nope!
This was my first experience with overtourism in Europe, and it was kind of awful. I've always managed to avoid it by visiting Barcelona and Venice in October; avoiding the centre of Lisbon during peak season.
San Sebastian, though, was something else.
It was so crowded that going for dinner felt like queueing to enter a concert. There were people everywhere to the point where it was hard to walk around and get into any restaurants. And honestly? The food sucked! All the pintxos tasted like they had been sitting around all day getting stale.
What a disappointment! I much preferred Bilbao.
I couldn't handle dorm room living: Part of the Camino experience involves sleeping in dorm rooms in albergues, suffering and walking on three hours of sleep.
I couldn't hack it, guys.
See, the problem is, ear plugs don't really work that well for me. I had some seriously hardcore ones — the best money can buy — but my ear canals are such skinny legends that they won't let anything in. It's painful to wear them. After three or four hours, I wake up in so much pain that I have to take them out.
And so, I barely slept. The snorers are out of control on the Camino, snorting and gurgling and waking themselves up as they choke on their tongues. I've never heard anything like it — it was nothing like regular dorm rooms in regular hostels around the world.
And the problem came from the early starts that are required on the Camino. Snorers are fine in hostels when you can just have a lie-in the next morning. But when your alarm is set for 5:30 a.m. and the snorers are starting up at 9 o'clock the night before, it's a sure-fire route to me losing my mind.
While my anxiety is non-existent these days, it only stays that way when I have control over my life. A lack of sleep is a huge trigger for me, and I spent the first week shaking and on the verge of a panic attack. In the end, I decided to pay for private rooms to keep my mental health in check.
My Next Steps
It's going to be all quiet on the travel front next month. I've got a huge three-month trip starting in November, so it's hard for me to justify jumping on a plane right now.
October, then, is going to be all about working my ass off, trying tons of new things in Bristol, and getting out of the house as much as possible. I've got lots of exciting plans for this month, and I can't wait to share them with you in my next summary!
What do you have planned for October?
[Photo of pintxos via: Nedrofly/Shutterstock]