What an incredible month! September was one of the best I've had for a long time.
Over the past four weeks, I visited Athens for the first time, chartered a yacht in Greece with a group of friends, dog-sat in beautiful Bologna, and day-tripped my way all over Emilia Romagna, which fast became one of my new favourite regions in Europe.
And yes, with both Greece and Italy on the itinerary for this month, there was a hell of a lot of great food thrown into the mix, too.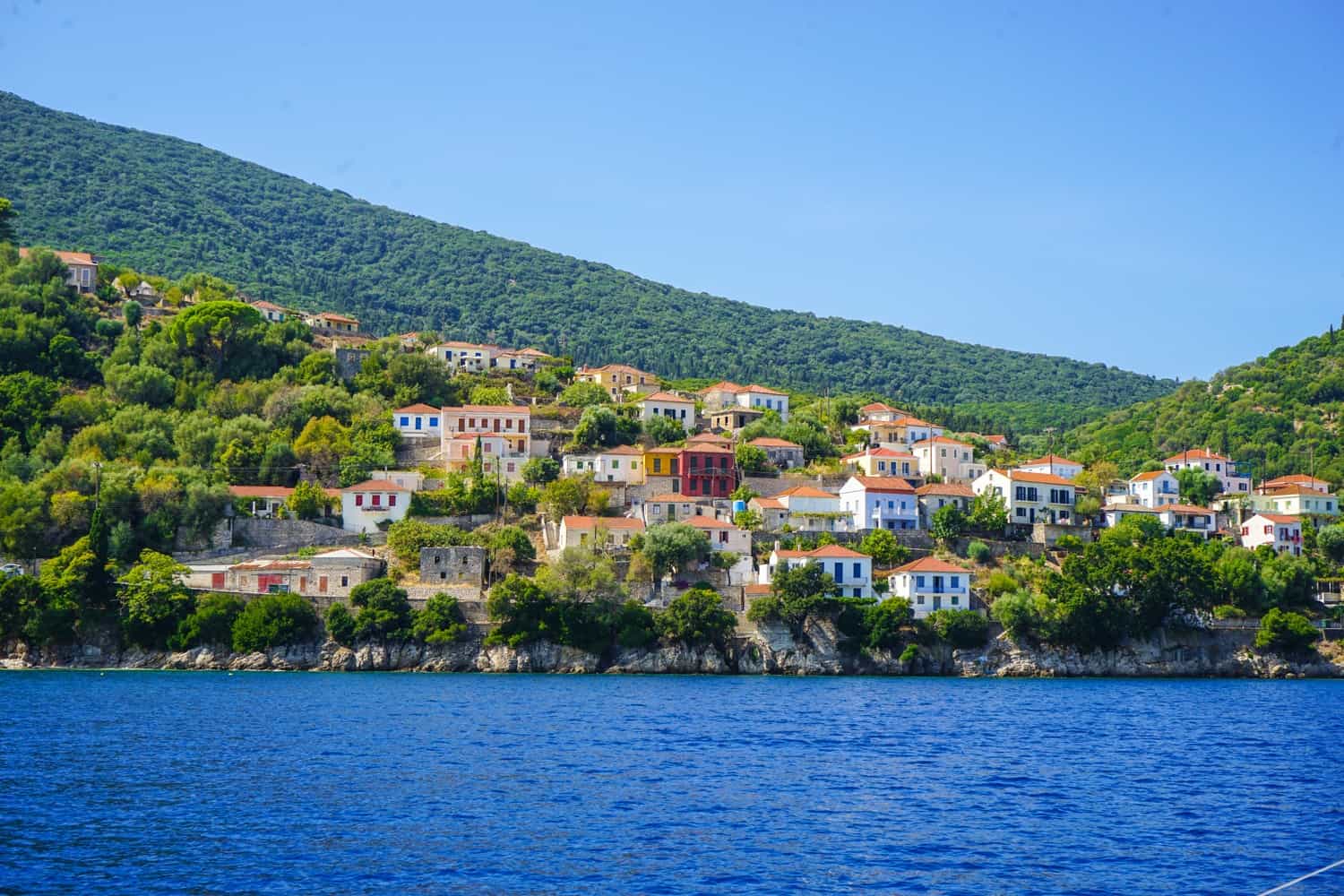 After a fairly uneventful start to the month in Bristol, I kicked life into high gear and leapt on a plane to Athens.
I aim to visit Greece every second year for a sailing adventure in the Ionian, and every time this comes to fruition, I take advantage of my location by exploring a new part of the country. In 2016, I fell in love with Corfu and for this trip, I decided to hit up Athens for the first time. I'm already thinking 2020 is going to see me exploring Crete before getting on the water!
Athens has long been one of my European oversights, and it was an even bigger oversight for Dave, who studied Classics at college. We were therefore bouncing with excitement to finally be in this ancient city, and I'm pleased to announce it totally blew us away.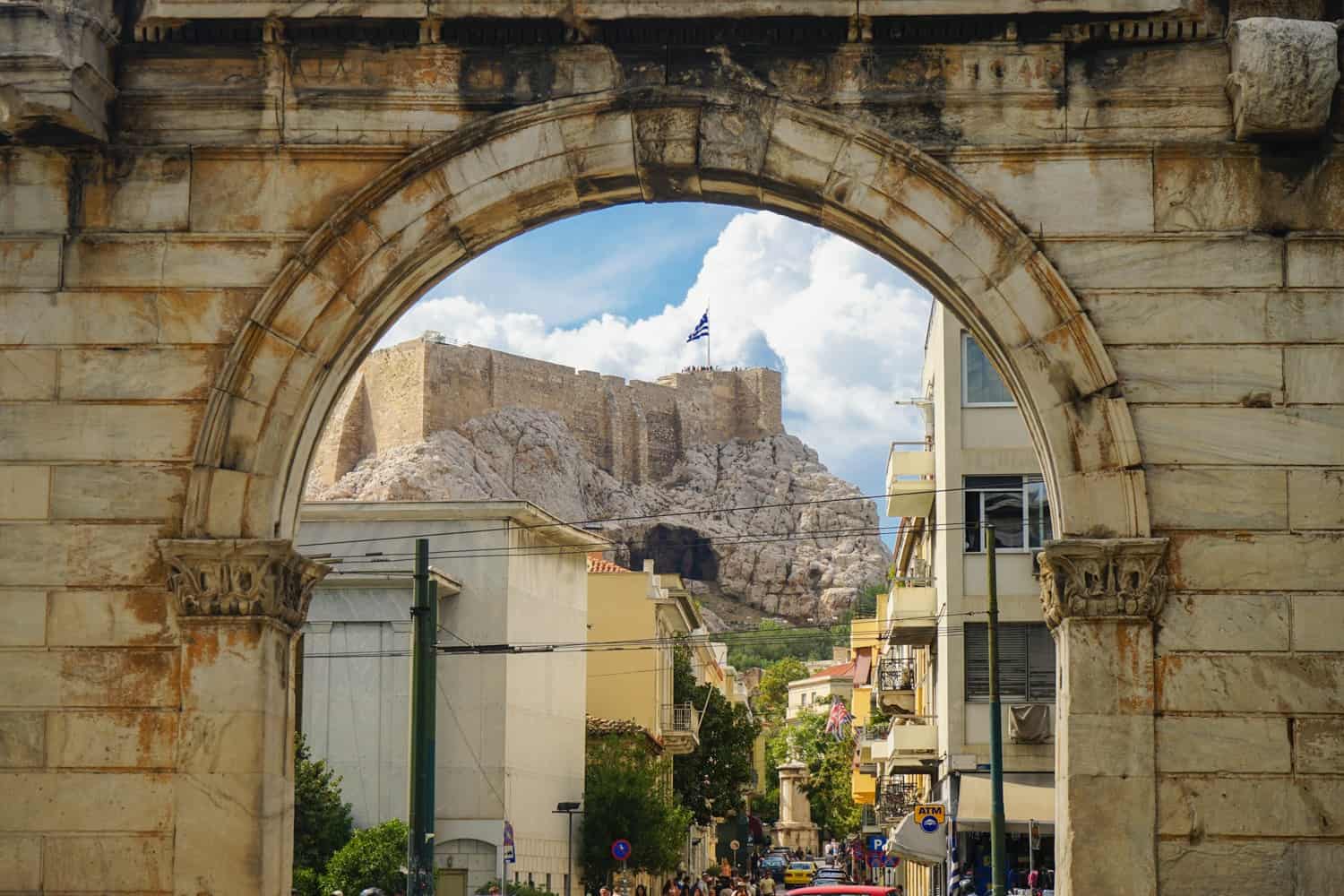 We chose to base ourselves in the Exarcheia neighbourhood in Athens for our four days in the city.
Its graffiti-blanketed buildings aren't typically popular with tourists — The U.S. State Department issued a travel advisory a few years ago that urged visitors to avoid the neighbourhood — and to locals it's most well-known for being the home of protests and anarchy. Still, it's become safe in recent years and with that so the vinyl record stores, vintage shops, and cafes have sprung up, and hipsters have begun to populate the streets. To quote an article on HuffPo:
Exarcheia's inhabitants don't just talk about socialism, they live it. A "reappropriated" parking lot serves as a communal vegetable patch. There are pay-what-you-can canteens, time banks where neighbors exchange French lessons for hair cuts and a free health clinic for those who have fallen through the cracks of the country's broken welfare system. Squats and cooperatives thrive among the youth-filled bars.
While it was a little rough around the edges, we loved basing ourselves here, even though it meant being a half an hour walk from the main tourist attractions in the city. We got to spend our mornings focusing on the ruins and museums of the city, our afternoons getting some work done, and our evenings relaxing in some fantastic bars and cafes. I loved eating in Creten restaurants where we were clearly the only tourists to have stumbled inside!
When we weren't gorging ourselves on unfamiliar Greek food, we were falling in love with Athens. We visited the Acropolis.
We ate many excellent meals.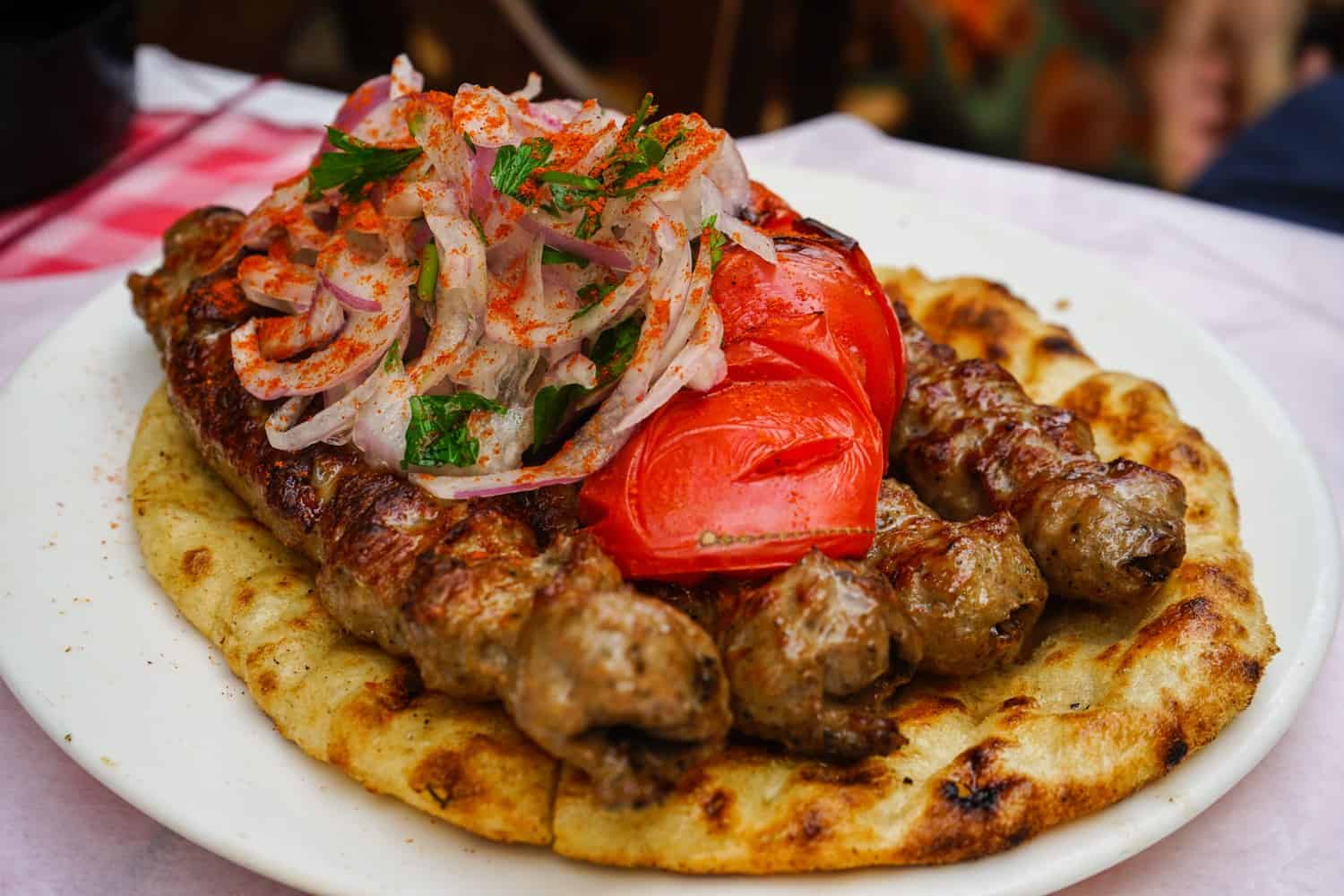 And explored more ruins than I could count.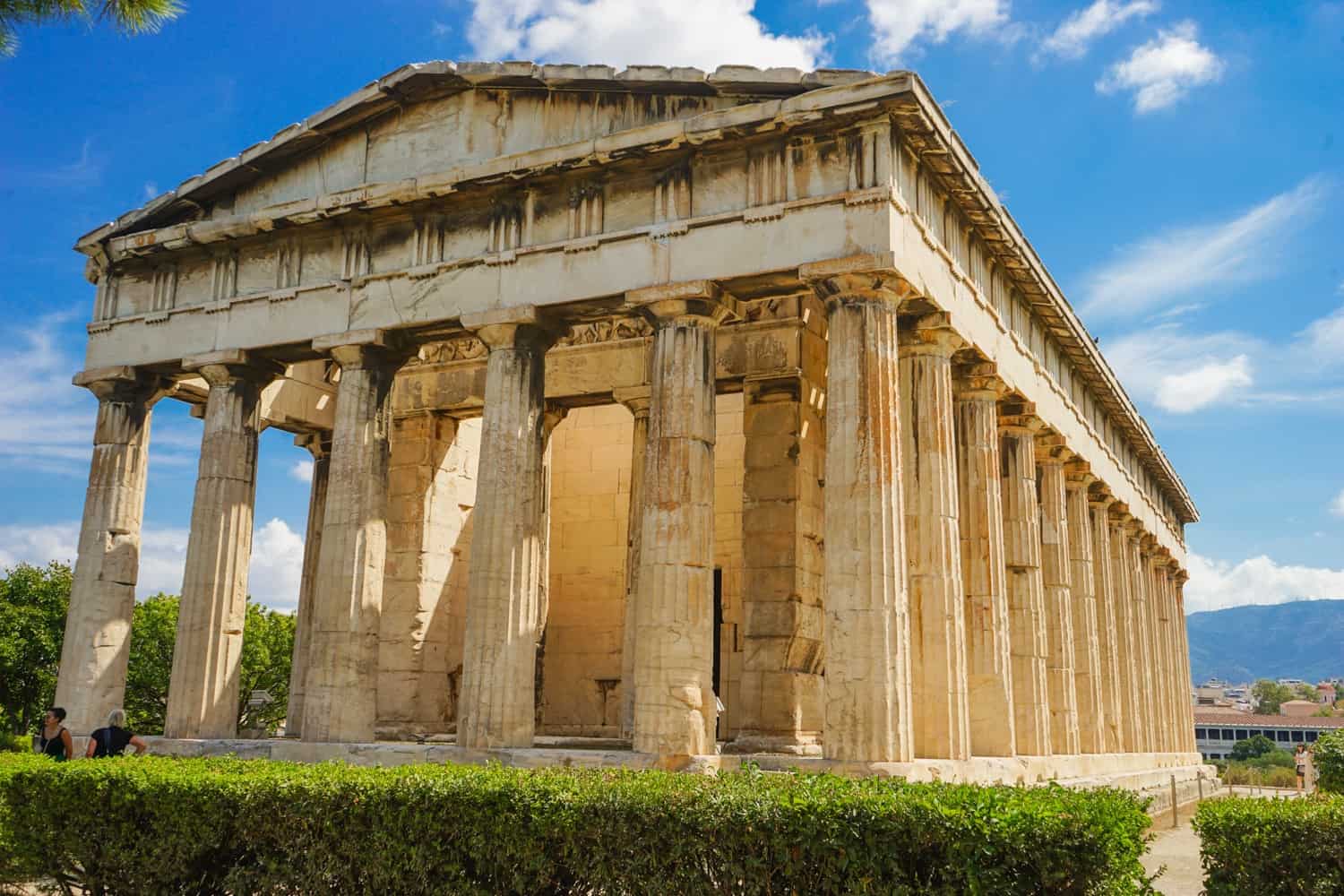 Our short break in Athens had us declaring our love for this city, but I have to confess I was more focused on what was coming up next.
We hopped on a bus to Lefkas, on the west coast of Greece, and met up with our friends to start grocery shopping for a week on the Mediteranean.
We were going to be chartering a 47ft yacht through Sunsail for the week, and joining me and Dave were his friend Dean — our skipper — and Shannon and Alexis, two digital nomad doctors who convinced us to move to Lisbon back in 2015. Unlike us, they're still living there today. Having such an enormous boat for five people was a little ridiculous, but it turns out we've become more than a little bougie when it comes to life on the water.
We felt as though we'd perfected our Ionian route on our 2016 trip, so we stuck to a similar itinerary on this adventure, hitting up Spartochori, Kalamos, Vathy, and Frikes, then squeezing in a night under the stars for a perfect end to the trip. Our sailing holidays are always far more about holiday than sailing, so while we managed to get in a couple of hours with the sails out over the week, we mostly focused on relaxation. We moored at empty bays to spend our days alternating between swimming and reading, spent our evenings eating delicious meals in tavernas, and generally marvelled at how well rested we all felt.
It was easily my best yacht trip yet!
Everyone got along swimmingly (lol sorry), we were equally laid back about expectations and plans, and we all focused heavily on making sure the experience was about eating amazing meals.
I'll be writing about the trip in more depth once I'm caught up on blog posts (um, so that'll be 2024?), so for now, enjoy some photos of my favourite places in the Ionian.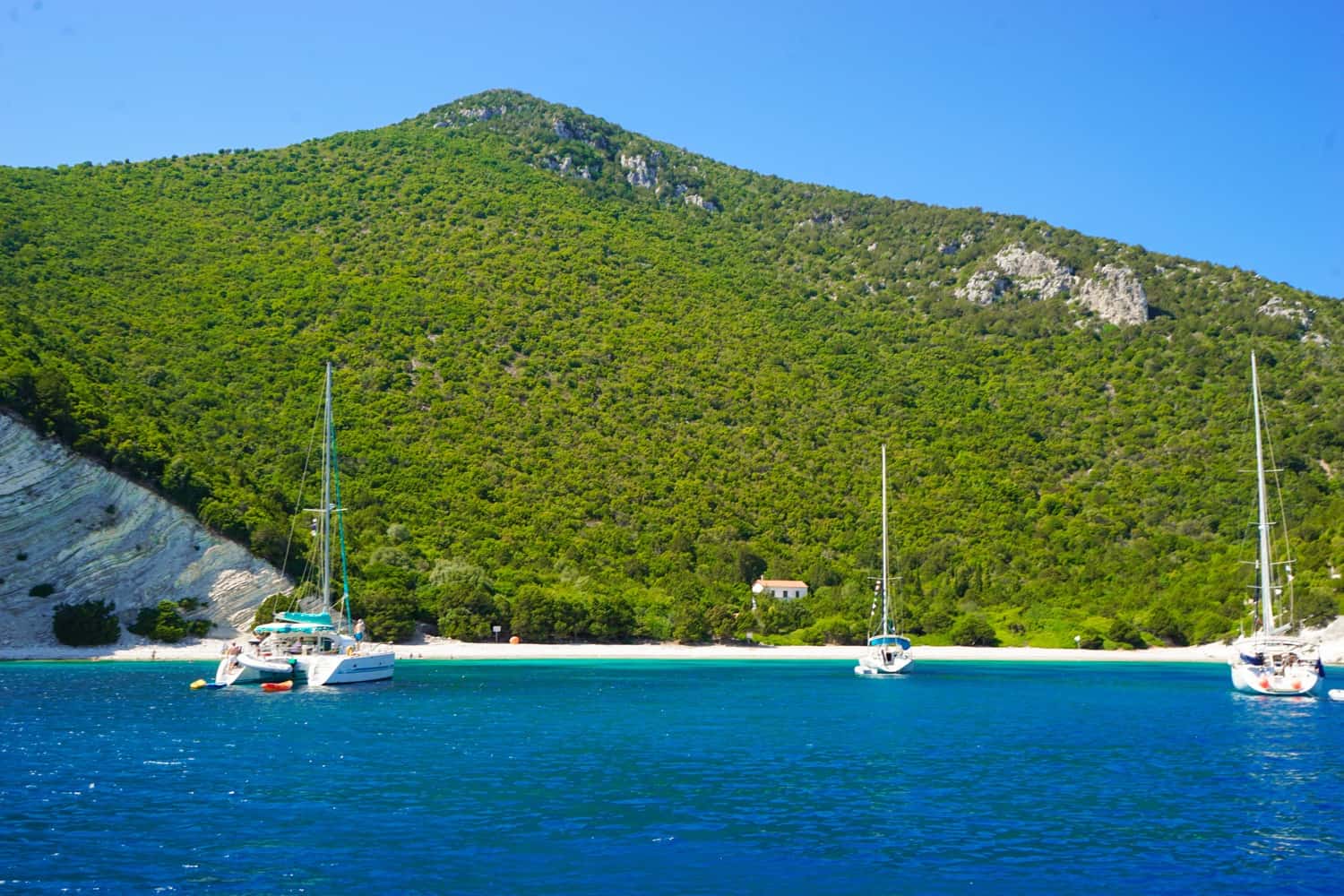 Onwards!
Earlier this year, travel blogging friends Steph and Mike had asked if we'd be interested in taking care of their adorable dog, Leo, and we jumped at the chance. We last looked after the Best Dog in the World for a month in Seattle back in 2015, and have been talking about him ever since. In fact, Leo turned us both so dog crazy that you shouldn't be surprised if I announce that Dave and I have become puppy parents within the next 12 months[!!!]
Steph and Mike have since packed up their family and moved to Bologna, so I was excited not only to eat in what is said to be the best place to do so in Italy, but to hang out with Leonardo and see if he'd picked up any Italian tendencies.
Turns out he's just as adorable as ever, and I was so happy to get back my napping partner in crime.
Despite wanting to spend every second of every day soaking up the dog cuddles, this was also my first visit to Emilia Romagna, so I also wanted to soak up the tortellini en brodo. Fortunately, Dave had a lot of work to catch up on, so was happy to stay behind with Leo while I set off for a series of solo adventures.
Ferrara was my first choice, and it made for an easy day trip from Bologna.
I spent most of my time there thinking about how it was so liveable. I walked along its city walls, listened to podcasts in parks, injured my feet on the cobblestone streets, and explored the impressive Castello Estense.
I also spent a day in Ravenna, which is home to some of the most incredible mosaics I've ever seen. I think I walked around with my jaw continuously affixed to my boobs as I gaped up at the glistening tiles above me.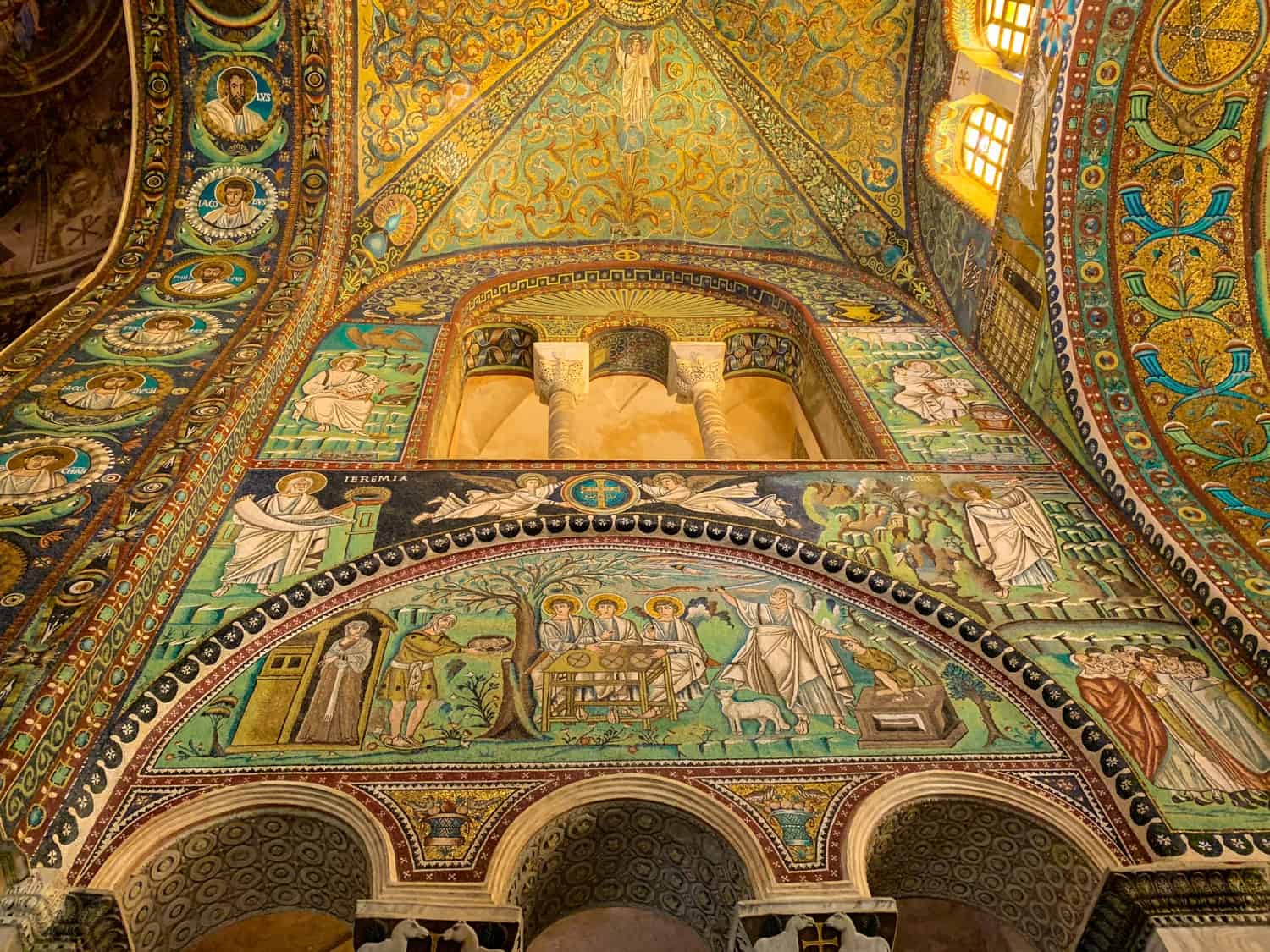 When I wasn't train-hopping across Italy, I was walking through Bologna with Leo at my feet, developing an obsession with all things ragu and wondering if it was too soon to be planning a return trip.
And that was my month!
Countries Visited: 3
Greece, Italy, and the U.K.
Places Visited: 14
Atakos, Athens, Bologna, Bristol, Ferrara, Frikes, Kalamos, Kioni, Lefkas, London, Ravenna, Spartochori, Little Vathy, Vathy.
Distance travelled: 2,879 miles
Number of flights: 3
Number of trains: 6
Number of buses: 2
Number of boats: 1
Highlights of the Month
I think a Travelodge may have cured me of my cholera: Talking to one of my doctor friends on the sailing trip in Greece has both me and him convinced I actually did contract cholera while I was in Borneo earlier this year. Whether that's the case or not, it's no secret that I've been struggling with my health for the past six months. After falling unwell in Borneo, my body hasn't been able to recover and I've been dealing with painful stomach cramps every day since April.
I went to a doctor but every test returned clear. I focused on my diet, eliminating everything but rice to try to find out what was causing my pain. I took probiotics and peppermint oil. I worked on reducing stress, took a break from work, began working out regularly, meditated, made sure to get plenty of sunshine, and surrounded myself with nature and other people.
Nothing helped. I eventually fell into a deep depression, stopped going outside, withdrew from life, and spent all day in bed watching Youtube videos. When you take into account that I also deal with chronic pain from an auto-immune disease, I was feeling pretty damn disheartened. I almost cancelled my trip to Greece and Italy because it was all so bad.
On the night before we flew to Athens, we booked into a Travelodge beside Stansted Airport, and I'm sure you can imagine how grim it was.
In their restaurant, I ordered a plate of French fries, which was one of the few things that didn't aggravate my stomach. They had been cooked from frozen, tasted like cardboard, and somehow managed to be the cure for my stomach issues.
What?!
I stood up from the table and for the first time since April, wasn't in pain.
It happened instantly. I grabbed Dave, I grabbed my stomach, and then, with an immense amount of gratitude, grabbed life by the balls and celebrated.
Guys!!!!!!! The Travelodge Stansted!!!! The cure for cholera!!!!!
It's been two weeks since that fateful meal and I haven't had a bout of pain since. I have no idea what happened, and I can't quite believe the cramps vanished instantly, but man. Who would have thought that meal would turn out to be one of the best choices I've ever made?
Reuniting with Leo: Obviously that was going to be a highlight.
The best yacht trip ever: And obviously this was going to be, too!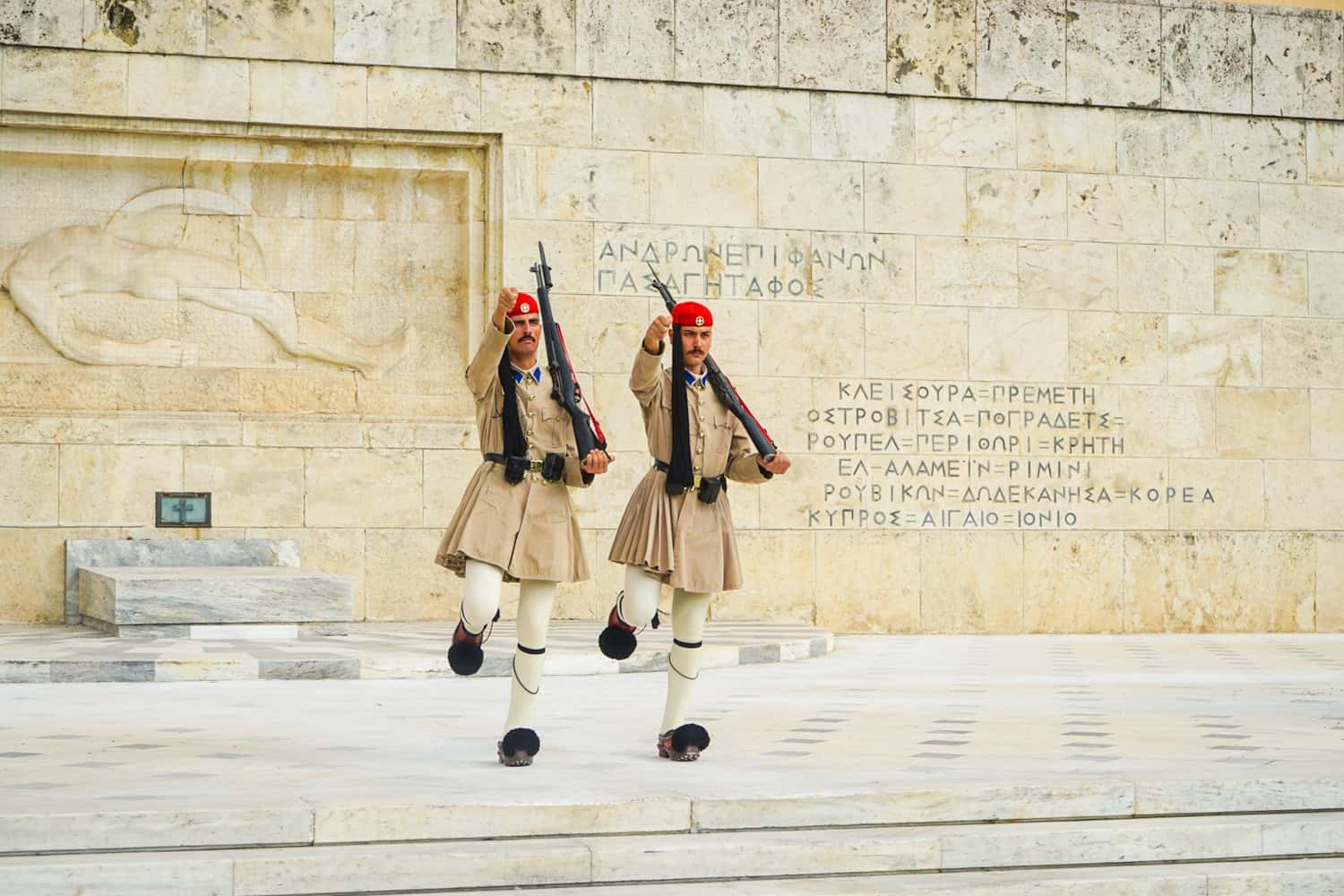 Lowlights of the Month
An exhausting travel day: To get to Bologna, we had to take a 30-minute taxi from our yacht in Lefkas to Preveza Airport, jump on a 30-minute flight to Corfu followed by a two-hour flight to Venice, a 30 minute-bus to the train station, a two-hour train journey to Bologna, and then a 30-minute walk to our friends' apartment.
Talk about back to reality.
The worst aspect was queueing for our flight in Corfu. Despite Ryanair making the announcement that they were now boarding the plane, we ended up standing with our backpacks on for a full hour before we finally stepped on board.
I struggled with work. Again: I consciously took time off from writing here this month, both to focus on my health and because I was still feeling clogged with clunky word choices. <– Case in point.
As always, I feel grateful to have built a business that brings in passive income, as I know many of my location independent friends don't have the luxury to take time off when they're sick. It's something that does help reduce stress when I find myself in pain, as I don't have to also fret about how to make ends meet, but the guilt I experience through not updating regularly tends to bring stress into my life eventually. Trust me — if I don't publish at least once a week, I'm beating myself up over it.
I've planned to take an extended break from travel when I return to Bristol in October, so that I can continue to focus on my health while prioritising running this site like a professional.
Incidents of the Month
I convinced myself I had blood poisoning: I was bitten by something while I was on the yacht and it left a sperm-shaped bite on my arm as a gift.
At first it was funny. Look! I've got a sperm on my arm!
And then it started to grow.
Every day, I would wake to see the bite stretching across my skin until it was two inches in diameter. Each morning, the tail had grown further up my arm.
And while I'm far from a hypochondriac these days, a quick search online gave me nothing but an urge to head straight to the nearest hospital. Every source told me a growing bite is a bad sign. That a tail stretching up my arm was a sign of an infection or blood poisoning.
I was on a yacht, sleeping beneath the stars, with a hospital many hours away.
I spent far too much time preoccupied with how large it was growing while ignoring the advice of my two doctor friends who told me it was nothing to worry about.
When it faded a week later, I felt like I'd reverted to being a loon once more.
I spent way too much money on a new iPhone: 2010 finally called and it turned out it wanted its phone back.
As a tiny human with tiny hands, I've been rocking an outdated iPhone for years. I didn't want to deal with a bigass screen that was unlikely to fit comfortably in my hands and especially in my pockets.
But the longer I've kept my old phone in my grasp, the more irritated I've become. The camera is atrocious, providing me with photos that are so blurry that I can't share them here. I hated that I needed to lug around my enormous camera everywhere I went if I intended on later writing about what I was doing. And, well, I felt like a grandma to have such an outdated phone.
So, I waited for Apple to release the iPhone XS, pre-ordered it from the Bologna store, and then listened in dismay as Dave read out an article detailing the most expensive countries from which to buy one.
Of course Italy was top of the list, coming in at almost $400 more expensive than if I'd bought it in the U.S.
I love my phone, but I could have done without spending €1300 on it.
I showed a homeless man my train ticket: On the train to Ferrara, I pulled off my headphones when I noticed a man speaking to me in Italian.
"Hang on," I said, reaching for my overly-expensive phone.
I scrolled through my emails to my booking confirmation, downloaded the ticket, and then handed it to the guy.
He cringed and handed it back to me, still speaking in Italian.
"Scusa," I said apologetically, shrugging my shoulders. I had no idea what he was saying.
"50 cents?" he asked.
Oh.
Yeah. He definitely wasn't a ticket inspector.
My Next Steps
I've got another two weeks in Italy, so I'm going to be making the most of it and aiming to see as much as possible.
As well as hunting out the best restaurants in Bologna, I'm going to be heading to Modena to bathe in balsamic vinegar, and Parma to eat all the prosciutto and parmesan. I'll be going way out of my way on a day trip to San Marino to check out my last remaining microstate in Europe and attempting to squeeze in a trip to Florence for the first time, too.
As a random aside, I adore that all of the new countries I visited this year are so obscure and tiny. In 2018, the only new places I went to were Tonga, Brunei, Liechtenstein, and San Marino! This was a year for visiting teeny-tiny countries, which is funny as I definitely didn't plan for it!
Anyway.
Back in Bristol, I'm going to relish living an ordinary life for a while. I have so much work I need to get done, I'm going to make more of an effort to meet new people, and I have a ton of restaurants and cafes I want to check out. Most of all, I'm so happy to finally be living life without pain, so I'm aiming to make the most of every wonderful minute.
What are your plans for October?