"Is there anywhere you're really desperate to visit in Australia?"
Dave was busy planning out the route for our month in Australia and I had done no research. Racking my brain for a few minutes, I desperately tried to remember friends' Australia photo albums on Facebook I had once enviously pored over.
"Ooh! Yes! That, erm… the, um… you know? Those rocks sticking up! Out of some trees? Rocks poking out of a forest on a mountain? Yes, that's it! I want to go there!" I paused. "Can we go there? … I mean, well, do you know where I'm talking about?"
After managing to eliminate the Twelve Apostles and Ayers Rock, it was time for me to turn to Google Images and find the magic combination of "Australia", "rocks", "trees", "mountains" and "famous" to bring up the place I was looking for. Amazingly it was the first image that appeared.
"Found it!", I cried out, jabbing excitedly at my laptop screen.
"It's called the Three Sisters. In the Blue Mountains. Oooh! And look at this map! It's between Brisbane and Sydney. We can go!"
The Blue Mountains ended up being our second stop after a night spent exploring beaches in Port Macquarie. As we packed our bags and loaded them into the car, Dave shot me a knowing look.
"Lauren, it's time for you to learn just how big Australia is."
I mean, of course I knew it was large. I'd looked at a map before we arrived and calculated the distances and times between each spot; I knew that it was roughly the same size as the US. And yet, when we climbed into the car and had the GPS estimate that it would take ten hours to get to the Blue Mountains, I was horrified. It looked so close on the map!
The journey was mostly uneventful. A kangaroo bounced in front of our car as we were driving along a motorway, causing me to squeal and clap my hands with childlike excitement. I was confused when I spotted my first coin-operated barbecue in a park. I was even more confused by the 42,710 road signs warning you of imminent death if you're feeling even slightly tired while driving.
Australia certainly has a lot of rules…
We arrived in Katoomba, the largest town in the Blue Mountains, as the sun was beginning to set. Not wanting to waste what looked like a beautiful sunset, we wandered down to nearby Echo Point.
It ended up being one of my favourite sunsets and Dave and I spent over an hour taking photos of the incredible views.
Sunset in the Blue Mountains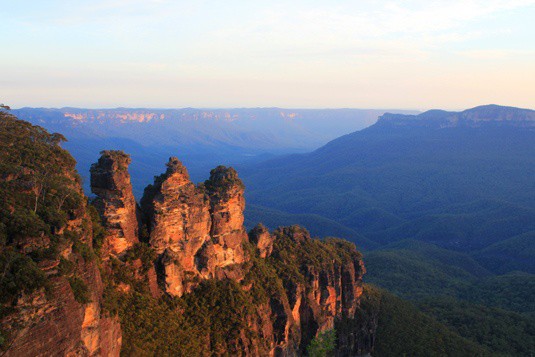 Getting to see the Three Sisters for the first time!
We were both exhausted from the drive over to Katoomba and after spending close to an hour walking up and down the main street searching, and mostly failing, to find a pub, we knew we had to stop moving so quickly. Our plans to head to Sydney the following morning were quickly shelved in favour of one more day in the Blue Mountains.
Though the temptation that following morning was to stay in bed sleeping, I knew I'd regret not seeing more of the Blue Mountains after insisting Dave and I visit. Plus, with New Zealand coming up, I knew I'd be needing some major hiking skills for all of the walking we had planned. I needed a lot of practice.
After leafing through a few vouchers in our guesthouse, we decided to spend our morning walking the National Pass Trail, a six kilometre hike carved into the cliff face that is said to be one of Australia's best walks.
It was time for me to prove to Dave that I am capable of walking more than 500 metres at once; that I would be absolutely fine in New Zealand and that, yes, I could do all of the above in flip flops (the only shoes I owned at this point!).
It started off easily enough. The path was well paved, mostly downhill and full of spectacular views to distract me from my aching calves. Despite my flip flops sliding around under my feet, I was feeling confident about the walk ahead of us. Though I don't think I've ever walked as far as six kilometres before in my life, I was desperate to impress Dave and prove I wasn't as unfit as he believed.
Ten minutes into the walk and the track was no longer downhill. I was beginning to sweat, my legs were aching, my back was sore and I was struggling to breathe silently. Allowing Dave to go ahead of me, I spent the first portion of our walk trying to appear like I was finding it easy and pausing every two minutes for a "photo stop".
And then we came across this.
No railings? No safety net? Just a vertical drop down to my death?
I watched in disbelief as Dave courageously made his way across the narrow Ledge of Doom, not even taking a second to assess the dangers that lay before him. I let out an audible sigh of relief as he reached the end of the walkway, causing him to turn around and stare bemusedly at me, wondering why I was stood frozen at the start, unable to take a step forward.
With gentle coaxing from Dave and a lot of whimpering from me, I was somehow able to make it across without incident.
We reached the half-way point in under an hour and as we paused to catch our breath, we reflected on my progress so far.
I'd coped surprisingly well. Though I'd been out of breath for the entire walk, I'd learnt to breathe through my nose so that Dave couldn't tell. My $1 flip flops from Cambodia had held out against the uneven surfaces and hadn't caused me to trip or fall. I wasn't even as tired as I'd expected to be.
Most shockingly of all, I was really, really enjoying this walk.
…But then there was the final ascent.
I knew the last part of our walk was going to consist of at least twenty minutes of struggling up steep, uneven steps and I knew that it was going to be tough.
Knowing how far I'd come on this walk and how much I'd impressed Dave with my fitness, I knew I couldn't lose his respect on the final stretch. I was going to have to put all of my anguish and pain to the back of my mind and walk like I'd never walked before.
With a renewed energy I raced towards the steps, grabbed the cool rail with one hand and began to climb rapidly. Using my hand to pull myself upwards I attacked the steps with a vigour that surprised everyone, including me. My lungs were burning, sweat was rolling down my back, I had a stitch in my side and my legs were shuddering… yet still I continued upwards.
Against the odds and against everyone's expectations, I made it without a single pause. I had defeated the Blue Mountains and I had shown Dave that I was capable of walking.
I had never been so proud.
I was on my way to becoming A Hiker.
I didn't know what to expect from the Blue Mountains, with my only knowledge being from a Google Image search, but by the end of my hike I would say it was one of the most beautiful places I've ever been.