Some of my best travel experiences have been completely unexpected experiences where I've ended up in an amazing place by complete chance, mostly due to my terrible sense of direction.
After spending over a week in Taipei, I'd seen everything I wanted to and so decided to go to the nearest subway station and pick a random stop to get off at to see what I could find. Having not yet visited a temple in Asia, I decided to go with Longshan Temple and hope there was actually a temple close to the station…
Fortunately it was right by the station. Unlike most of Taipei, there were quaint cobbled streets lining the crowded and chaotic roads. As you head towards the temple elderly street vendors call out to passersby trying to convince them to buy an assortment of fruits, flowers, incense sticks and prayer beads.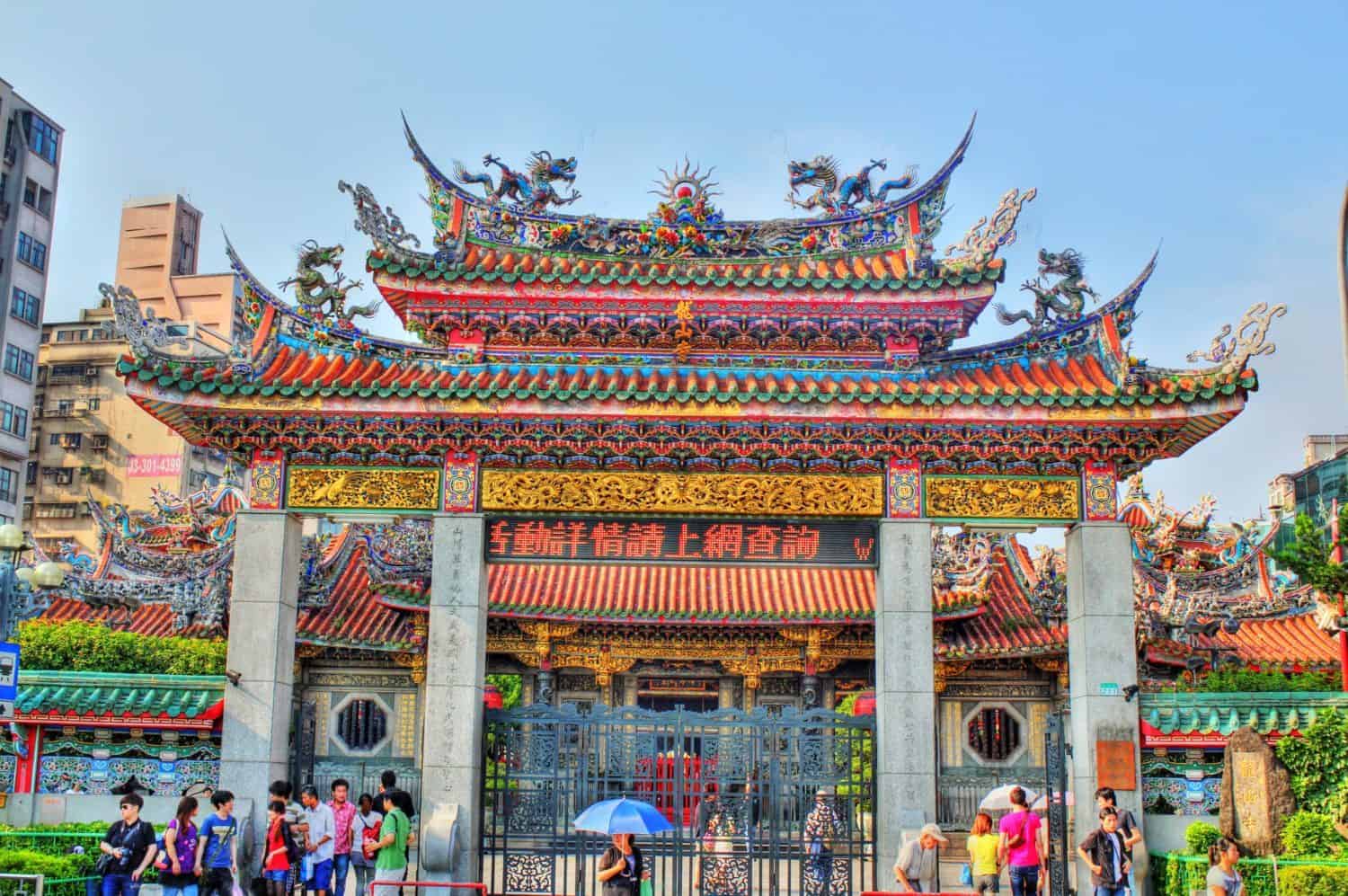 Seeing a temple for the very first time was an experience that I'll never forget.
As soon as you enter the temple to your immediate right is the waterfall and cleaning pool – where visitors can spend some time metaphorically cleansing their body and mind before entering to pray.
Longshan temple is the only temple in Taiwan that features bronze columns in the design as well as sparkling iridescent red and golden ones. Throughout the temple there are intricately carved stone sculptures and the roofs of the temple are decorated with vivid scenes involving dragons and phoenixes.
In the main square huge golden incense pots send up columns of smoke into the air. All around the square I observed worshippers clutching at prayer beads, some praying and chanting, whilst others lit their incense sticks before placing them into the golden pots.
As I walked around, taking photos and soaking up the atmosphere I noticed that a crowd was gathering and lining up. At first I didn't know what was going on but then everyone started to take part in the afternoon prayer service.
After realising what was happening I walked around taking video and recording the amazing sounds of hundreds of people chanting in unison. It was one of those really intense moments where I just stood there and thought… Wow, I am so far from home right now…
I took a video of my walk around the temple and the atmosphere during prayer time. The video is quite long so if you don't have time to watch it all then skip to the five minute mark, where all the exciting stuff happens.
Have you ever picked a place at random to visit without knowing anything about it, and how did it work out?