I've now been travelling for a year so I decided it was time to look back over my packing list and update what's currently in my bag!
The main difference between what I packed last year and this year is the amount of clothes I am carrying with me! I began with good intentions – not very many clothes, all of them different shades of black/brown/green/grey… And after a month I was SO bored with them!
I like bright, vibrant clothes! And variety! I didn't ever wear shades of khaki at home so I have no idea why I thought I would while travelling.
It's just not me.
And so, as soon as I got to Asia I started to replace my "wardrobe". The benefit of being as tiny as I am is that clothes take up very little room in my bag. I've therefore been able to quite easily, um, double the amount of clothes I originally left with, without feeling like I'm taking anything extra.
Here's my updated list
Clothing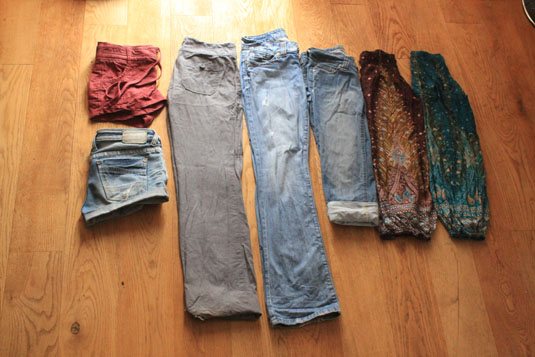 A pair of long trousers
A pair of jeans
3/4 length jeans
2 pairs of hippie pants
Denim shorts
Red shorts.
As you can see, I am now carrying jeans with me! Honestly, I didn't miss wearing jeans in the slightest while I was travelling in Asia, but once I got to Europe, and especially with this freezing cold "summer", I found myself longing for a pair. I'll probably throw these out when I get back to Asia later this year.
Yes, I also now have hippie pants. Two pairs. The shame.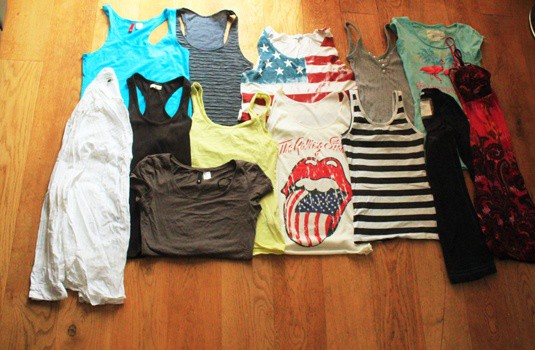 1 shirt
1 long sleeved top
2 short sleeved tops
4 tank tops
2 strap tops
2 grubby backpacker tops
1 dress
Yes, I have close to double the amount of tops I originally left with, but I'm so much happier with what I'm carrying now!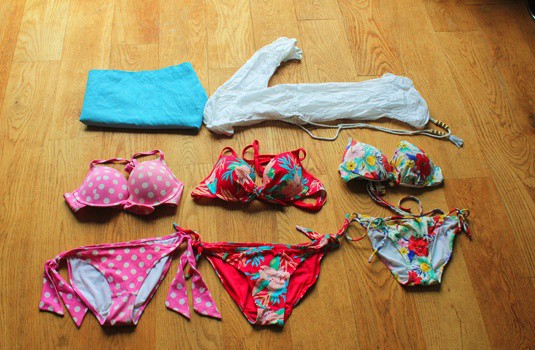 3 bikinis
Floaty shirt to cover up on the beach with
Travel towel
Not too much difference here. I threw away my board shorts because I decided they are ugly and replaced them with an extra bikini.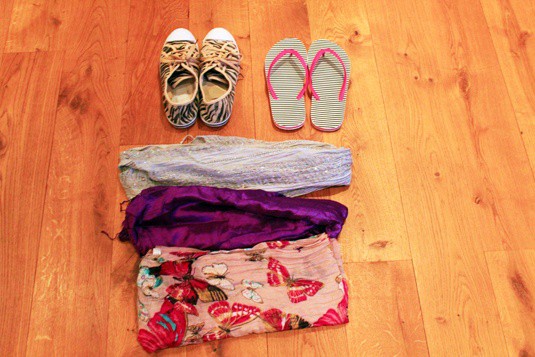 1 pair of walking shoes
1 pair of flip flops
3 scarves
I bought the scarves to cover up whilst travelling in Morocco and loved them so much that I'm now keeping them!
Technology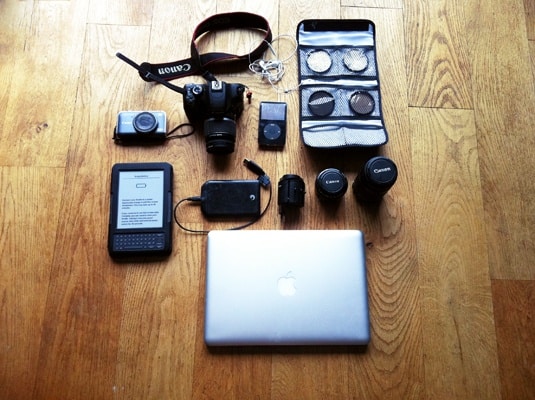 13″ Macbook Pro
Kindle 3G
Really old iPod
Canon 550D
18-35mm lens
55-250mm lens
50mm f/1.8 lens
Various different camera filters
Canon Powershot SX220
500GB external hard drive
Worldwide adapter plug
A few changes here – I bought the new Macbook Pro last week to replace my old one that was on the verge of dying. I replaced my ridiculously big and heavy external hard drive with a much smaller and lighter one. I threw away my iPhone because, as it wasn't unlocked, I had close to zero use for it. I now love not travelling with a phone and don't plan on ever carrying one again! I replaced my phone with an iPod that's about 10 years old.
Everything else!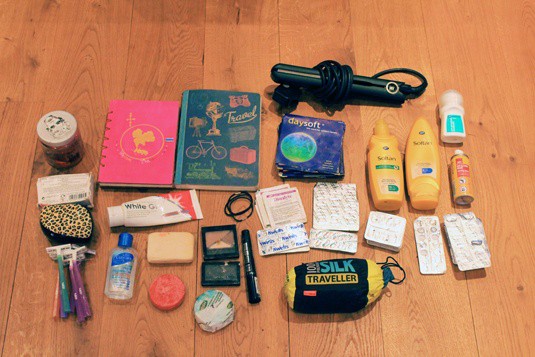 Medicines
5 months worth of malaria tablets – I still have these left over from last year as I didn't use them in Southeast Asia
Travel sickness pills
Antibiotics
Paracetamol
Ibuprofen
Immodium
Rehydration sachets
Anti-histamines
Toiletries
Make up – Eyeshadow, eyeliner, mascara.
A few months worth of contact lenses
Toothbrush & toothpaste
Tweezers
Tangle Teezer hairbrush
Hairbands
Hair gel
Deodorant
3 solid shampoo bars from Lush
1 bar of soap
Suntan lotion
Insect repellent
Razor with spare blades
Antibacterial handwash
Travel soap
Random bits
Silk sleeping bag liner
A diary and notebook
Hair straighteners
Yes, I gave in and I'm now travelling with hair straighteners. Similar to my reasons for carrying jeans, I had no use for them in humid Southeast Asia but now I'm back in Europe it's nice to not feel like a filthy backpacker every now and then.
I threw out my money belt and my roll of duct tape, both of which I never used. I also got rid of my first aid kit and significantly reduced the amount of medicines I carry – you really don't need a year's supply of every type of painkiller!
And that's it!
I feel like I've now found the perfect balance – I'm not forcing myself to be super minimalist and feeling miserable with not having enough clothing options, and I'm still able to fit everything in my bag and carry it with ease – it still weighs under 10kg!
What do you think of my new packing list? Should be I ashamed that I'm now carrying twice as many clothes as I originally started with? Do you think I'm taking too much? Too little? Is there anything major you think I've forgotten?