I feel like I've forgotten how to do these.
The pandemic caused me to shut up shop this year, and while I expected to continue writing these monthly summaries, I ran out of things to share.
Yes, despite my best efforts at making the most of COVID, I eventually fell into a deep depression, stopped leaving the house, dropped all of my hobbies, couldn't write, couldn't stop drinking, and mostly moped around as a big blob of stress.
Just like everybody else.
It was hitting rock bottom, yet again, that caused me to apply for a New Zealand partner visa. If you're in a long-term relationship with a Kiwi, you can bypass the current border closures, and the promise of a more normal life coupled with a potential mental health recovery had me pinning all my hopes on its approval.
It wasn't without its problems, as there always is with me, but when it was granted, I felt like my heart might explode with euphoria. If you missed my announcement: I'm moving to New Zealand!
I packed up my life and prepared to start all over again. I should have this down by now, I had to continually remind myself, but it was so hard to leave Bristol.
On paper, this city is my perfect place to live. It has everything I'm looking for in a home. But in reality, it's been a disaster and I'm sad and lonely. Talks with Dave had me realising that I haven't been truly happy since leaving Lisbon. And so, it was time to pick myself up again and start afresh.
Onwards.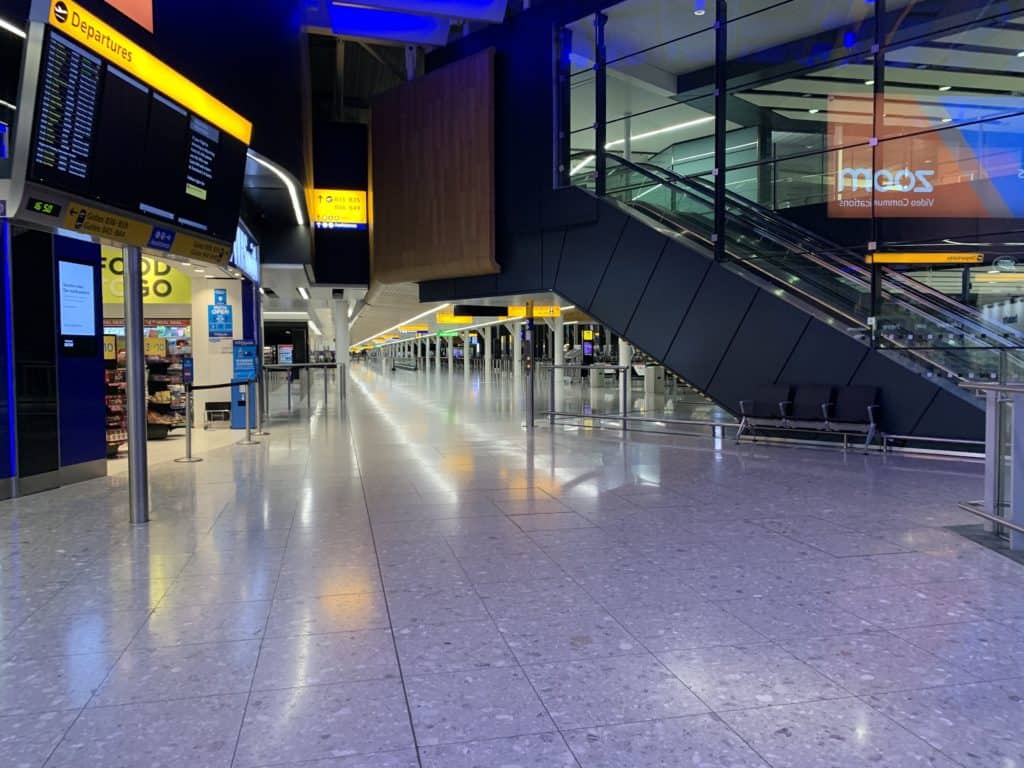 I'd never seen Heathrow like this before, and it felt like wandering on to a movie set as we passed through an entirely deserted airport.
Thirty-six hours of travel would be tough enough in normal times, but while masked up, taking a vow of starvation, and worrying that somebody on your plane may have the virus? It was challenging.
We touched down in Auckland and I thought I'd feel something, but I was too busy concentrating on safely getting through the airport and arriving at our hotel.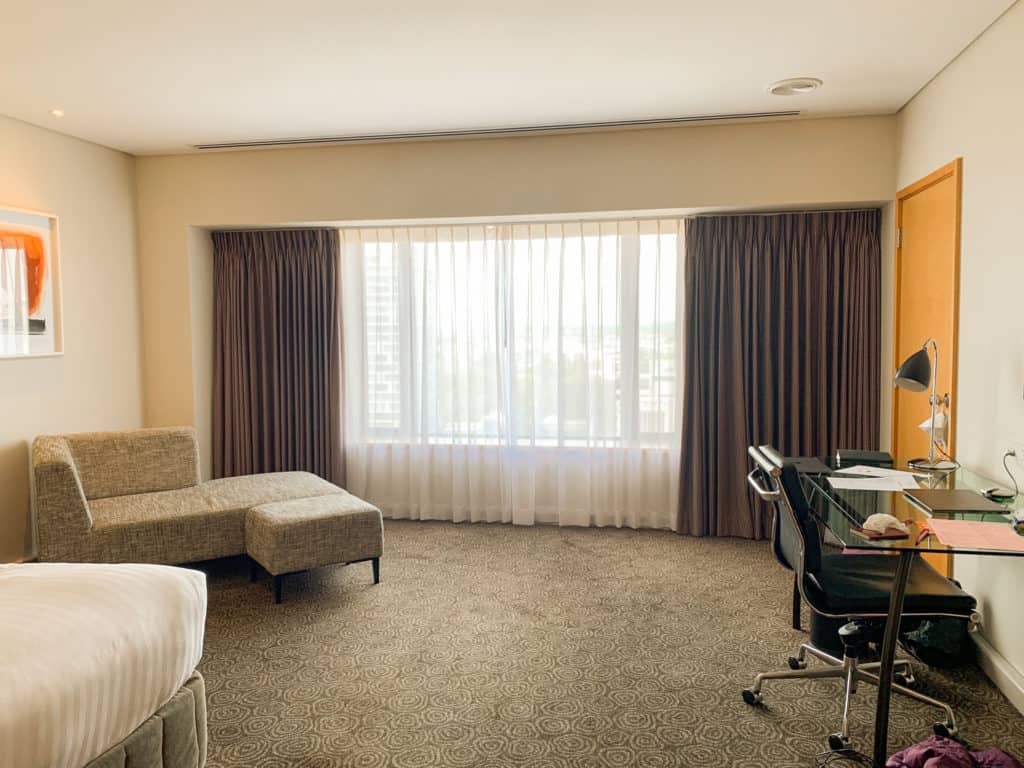 New Zealand is operating a mandatory managed isolation program, where, if you're allowed to enter the country, you must first spend two weeks in a high-end hotel before being allowed out into the community. I published a detailed guide about the experience, but what I want to say right now was that it was a surprisingly enjoyable time in my life.
The staff were so friendly and compassionate. We had the freedom to exercise outdoors once a day. We were allowed to wander around the hotel, although I don't know why anyone would want to do so. We received daily heath checks and two COVID tests to check we were healthy. Food was delivered three times a day to our door and we were free to order anything online, from Uber Eats to an exercise bike.
Because Dave and I are planning on moving to New Zealand, so will be spending more than 90 days in the country, we don't even have to pay for our quarantine! That alone means it would be impossible to complain about our set-up.
When I received my second negative COVID-19 test, I wasn't expecting to be quite so overwhelmed with emotion.
As I held the piece of paper in my hands, I couldn't quite process how this was my ticket to freedom. With this evidence, I could enter a country with no community transmission and live a normal life again.
How fortunate I am.
Leaving my room at the Crowne Plaza Auckland sent me into a tailspin. It was all so unsettling.
The realisation that I could just… walk into a restaurant? And not wear a mask? And not have to worry that it would result in my death?
I wasn't sure if I'd like it. I didn't feel like I should be allowed out into the community again. I'd spent the past two weeks being treated like I was a high-risk human, and now I was suddenly safe to be around again?
Apparently so, as I received my final health check and was given the all-clear to leave my hotel.
"Enjoy your freedom," the army guy at the exit called out to me, as I walked outside and was swept up in a crowd of maskless, fearless strangers.
Step one: remove my mask and pose for a graduation photo outside my Plague Hotel.
Step two: stop being afraid.
It took three days for things to feel like normal, and once we left Auckland, our remaining nerves floated away.
I thought I'd be concerned and traumatised, forever associating other people with illness and death, but it all feels incredibly normal.
There's no community transmission in New Zealand, so there's nothing to be afraid of. Knowing that nobody around me has the virus has meant that I've picked up my life where it last left off, which, coincidentally, was in New Zealand in February of this year.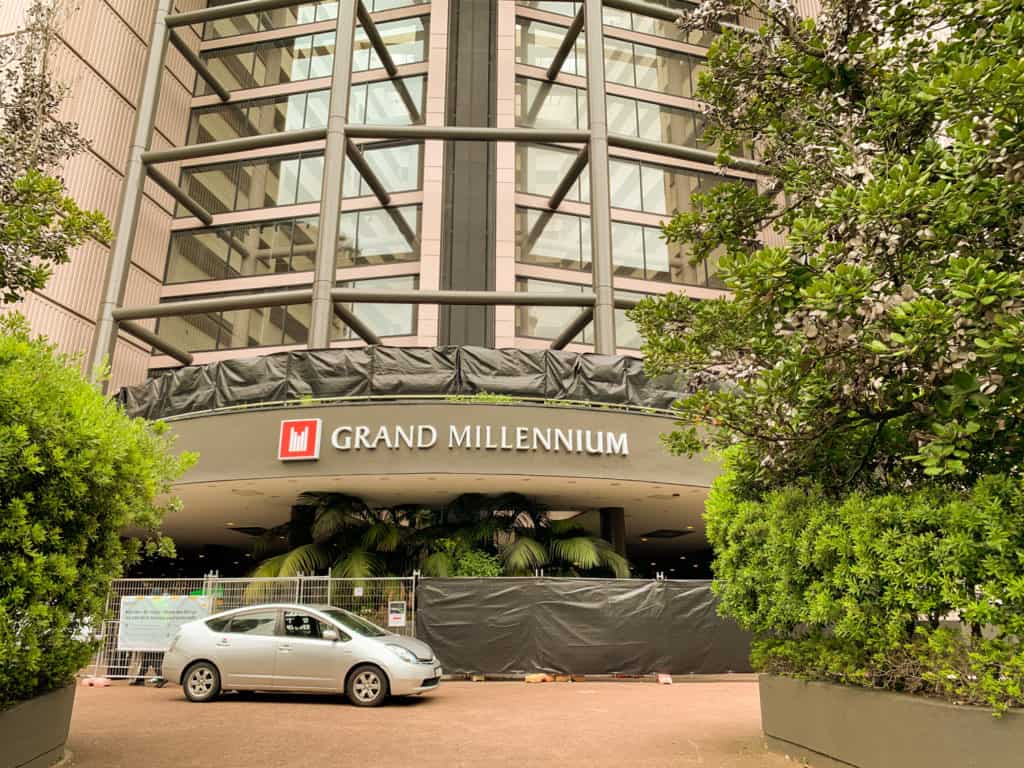 We had just one day in Auckland, which we used to get a whole bunch of boring tasks done. I went to the dentist, we bought a ton of camping equipment for some upcoming hikes, and we drank a lot of wine in the sunshine. All the necessities.
And how did it feel to leave isolation and re-enter a world without COVID?
It was the most magical feeling of my life, and I was surprised by how emotional it left me. Simply being around people who were living their normal lives without fear… it was amazing, nerve-wracking, and inspiring, all bundled up together.
We got our hands on our rental car, had a brief panic when I couldn't find my passport — some things never change — and drove northwards to the Bay of Islands.
We had spent a day in this idyllic area of New Zealand back in 2012, so subsequently left having seen little of it. This time around, we gave ourselves five days to explore.
The Bay of Islands is all about waterfalls, hikes, and beaches, with well over a hundred islands to explore. I was determined to do as much as possible to celebrate my newfound freedom.
Joined by OG travel blogger friends Craig and Linda, who now run the hosting company Performance Foundry, we based ourselves in the small town of Russell — population 700 — for our five days in the Bay of Islands. I instantly preferred it to Paihia, where we had stayed previously.
It was so cute! Full of bustling cafes and restaurants, with a handful of beaches and spectacular views of nearby islands, it was the type of place where I could see myself spending months at a time in the future.
We ventured to a busy farmers market one day, to look at souvenirs, buy snacks, and wander around. But it wasn't until later that night that I remembered I'd come into contact with several hundred people — none of whom were wearing masks — and not even thought about it.
Already, I had slipped my normal life back on and it was weird to not spend every second of every day discussing the pandemic.
I'm planning on spending a hell of a lot of my upcoming summer checking out the wineries around the country, and Omata Estate made for a perfect first stop.
Not only were the views over the vines glorious, but the meat and cheese platter was delicious and the wine tasting so much fun.
We had grand plans for our final two days in the Bay of Islands, but alas! The rains turned up and put a dampener on our island-hopping dreams.
Not to be deterred, we set out on several walks around the area, my favourite of which was the Kerikeri River Track to Rainbow Falls. They were so impressive! You can just about make out the rainbow in my photo above.
And with that, we finished up our time in Northland and waved goodbye to a rollercoaster of a month.
It feels unbelievable to be actually travelling again. I'm absolutely exhausted going from having spent months averaging 100 steps a day to walking and exploring for hours on end, but I wouldn't change it for the world.
I'm so happy to be back in New Zealand.
Countries visited: 3
If you're including layovers: New Zealand, South Korea, and the United Kingdom
Places visited: 8
Auckland, Bristol, Kerikeri, London, Paihia, Russell, Seoul, Whangarei
Number of flights: 2
Number of buses: 1
Number of ferries: 4
Distance travelled: 11,825 miles
Number of COVID-19 tests: 2
Hours spent in managed isolation: 336
Number of photos taken: 412
Number of beds slept in: 3
Highlights of the Month
Everything? Like, seriously.
How can I possibly find a single thing to complain about this month? I've got so much gratitude for my situation right now.
And it all leads back to me getting drunk and stumbling into Dave's DMs on Twitter to tell him I thought he was dateable. Today, I'm applauding the Lauren of 2011 for making such excellent choices, because that specific one is what has led me to safety.
To be granted a partner visa for New Zealand, to have the privilege of living a COVID-free existence, to have safely made it through the flight and managed isolation, to be able to travel once more.
This month, more than any other I've written about, is going to remain my best for a very long time.
Lowlights of the Month
What's that? You want me to complain? Alright then.
The longest of travel days:
Bristol to London: 3 hours
Waiting in Heathrow: 3 hours
London to Seoul: 11 hours
Waiting in Incheon: 5 hours
Seoul to Auckland: 12 hours
Auckland Airport to our hotel: 2 hours
Door-to-door, it took 36 hours to get me from one home to the next.
In regular times this would be bad enough, but in COVID times, it was a true test of my resolve.
Dave and I decided we weren't comfortable removing our masks on the plane, which meant we were unable to eat on either of our flights. We also decided to wear N-95 masks with a surgical mask on top, just for that extra level of discomfort. We ended up with abrasions and blisters on our ears and faces, as well as enormous headaches.
And yet, when we touched down in Auckland, all of our pain and hunger was worth it, because finally, we were one step closer to safety.
New Zealand dentistry is expensive: New Zealand is one of the priciest countries on the planet for dentistry work so it makes sense that I'd develop a toothache within a week of arriving.
Fortunately, it turned out to be nothing, but the dentist spotted I had two chipped fillings — almost like I've been grinding my teeth to their gumlines in recent months — and wanted to redo them. I shrugged and agreed, figuring I'd need to get them done eventually.
It cost $720!!!!!!!!!!
Incident of the Month
The British government banned outbound travel: All of my plans had fallen neatly into place. I had applied for my visa, bought my tickets, booked a slot in managed isolation, packed up my home, and prepared myself to move to New Zealand.
…And then the government banned all outbound international travel.
Cue me having a mini-breakdown.
I hadn't realised quite how much I had pinned my everything on getting out of the U.K. and now that it was unlikely I'd be able leave? I was devastated. Furious. Confused.
We called the Home Office. We called U.K. immigration. We called Korean Air. We phoned anybody and everybody trying to get a solid answer. We thought about fleeing to elsewhere in Europe until our departure date, but most countries were in lockdown at this point, and there was nowhere we could go.
In the end, we took the risk and decided that moving to another country had to be a form of essential travel. And in the end, absolutely nobody asked us where we were going and why.
All that stress for it to work out in the end.
I thought I'd learned that lesson a thousand times before.
Somebody tested positive in our hotel: I felt safe and relaxed in my quarantine hotel, and had managed to trick myself into thinking it was all going to be okay. And then a guest tested positive for the virus and it suddenly had me remembering that this was very real and I needed to be very careful.
How dystopian is the video I took of the announcement?!
My Next Steps
I cannot begin to tell you how strange it felt to hit up Google Maps to create an itinerary of my travel plans for December. I haven't been able to do that for nine months!
You'll notice I've got a lot of movement planned for the next few weeks, and I'm especially excited to start road tripping my way around the top half of New Zealand's North Island.
From the Bay of Islands, we'll be driving south to the Coromandel for more hiking and beach time. While we're there, we'll be tackling the overnight trek to the Pinnacles, digging ourselves a hole on Hot Water Beach, and posing for photos at the iconic Cathedral Cove.
We'll be driving to Mount Maunganui next, which was one of my favourite stops on my original New Zealand road trip. I loved it there, and I can't wait to get back to that beautiful beach town.
Moving east, we'll be spending several days out on the East Cape, which is a part of New Zealand that few Kiwis have even seen. It's remote and rugged, and rarely visited by tourists, which is exactly why we want to check it out.
It will then be time for my first multi-day hike since walking the Camino! We'll be tackling the Lake Waikaremoana Track, which is one of New Zealand's 10 Great Walks. It'll take four days to complete and should be spectacular if the weather holds up.
We'll be finishing our time in the North Island with a stint in two of my favourite places: Taupo and Raglan! I can't wait to get back to both of them.
There'll be no prizes for guessing where we're heading to for Christmas this year! Yes, as always, we'll be flying down to Christchurch then heading up to Hanmer Springs for the holiday season!
And that'll be it for a hectic December spent finding my travel feet.
As I've mentioned a thousand times before and I'll mention it a thousand times more: I'm so grateful to be in New Zealand.