November has been such a wonderful, heart-warming month.
It's also been jam-packed with activities.
This month, I finally started to feel as though my health was getting back on track after six months of illness, made progress on my attempt to find a community in Bristol, snapped out of my writer's block, and explored a new region of the U.K.
Let's get stuck in.
If I had to define November by anything, it would be fitness. I worked out every single day this month!
It's helped in so many ways.
Everyone always talks about how exercise is one of the greatest things you can do for your mental health, and I've never really experienced it myself. In the past, raising my heart rate at the gym was often enough to have my body releasing a surge of adrenaline that resulted in a panic attack. These days, I don't really experience anxiety anymore, so I gave hardcore working out another shot.
It's been one of the best things I've ever done for myself.
To have such a focus on getting strong makes me feel like I have purpose again. I wake up excited to head to the gym, then can't stop breaking into smiles throughout the day. The mild depression I've been experiencing for months lifted. I care about writing again. I feel confident and I can see my self-esteem increasing. I've been going outside every day and getting so much fresh air. I've started listening to my happy music (nothing but Michael Jackson) again.
It's made such a huge difference to my mood that I'm even searching for accommodation that has fitness centres for my next solo trip, rather than staying in a hostel like I usually do. I don't want to lose the progress I've been making!
Not only did I hit the gym, but this month I also signed up for MoveGB. It's a bit like ClassPass, which you're probably more familiar with, but instead of a credit system, you receive unlimited access to several thousand classes in your city.
So far, my favourite experiment has been spin, which has really surprised me! I hate bicycles and I hate cardio, but apparently working out in the dark with loud music is too much fun for me to feel stabby.
This month, Dave and I celebrated our anniversary! While we didn't officially become a couple until December, we've always celebrated the day we met as our anniversary. This year, we saluted to seven years together!
We knew we wanted to do something special for the occasion, so we decided to spend several days in the Cotswolds to take a break from work. We rented out an incredible cottage in the tiny village of France Lynch, complete with a log fire, and spent our time eating in country pubs, reading books (I highly recommend Canoeing the Congo if you're looking for an adventure travel read — I devoured it!), and hanging out beside the fire.
One morning, we awoke to see snow falling outside our window, which was pretty magical.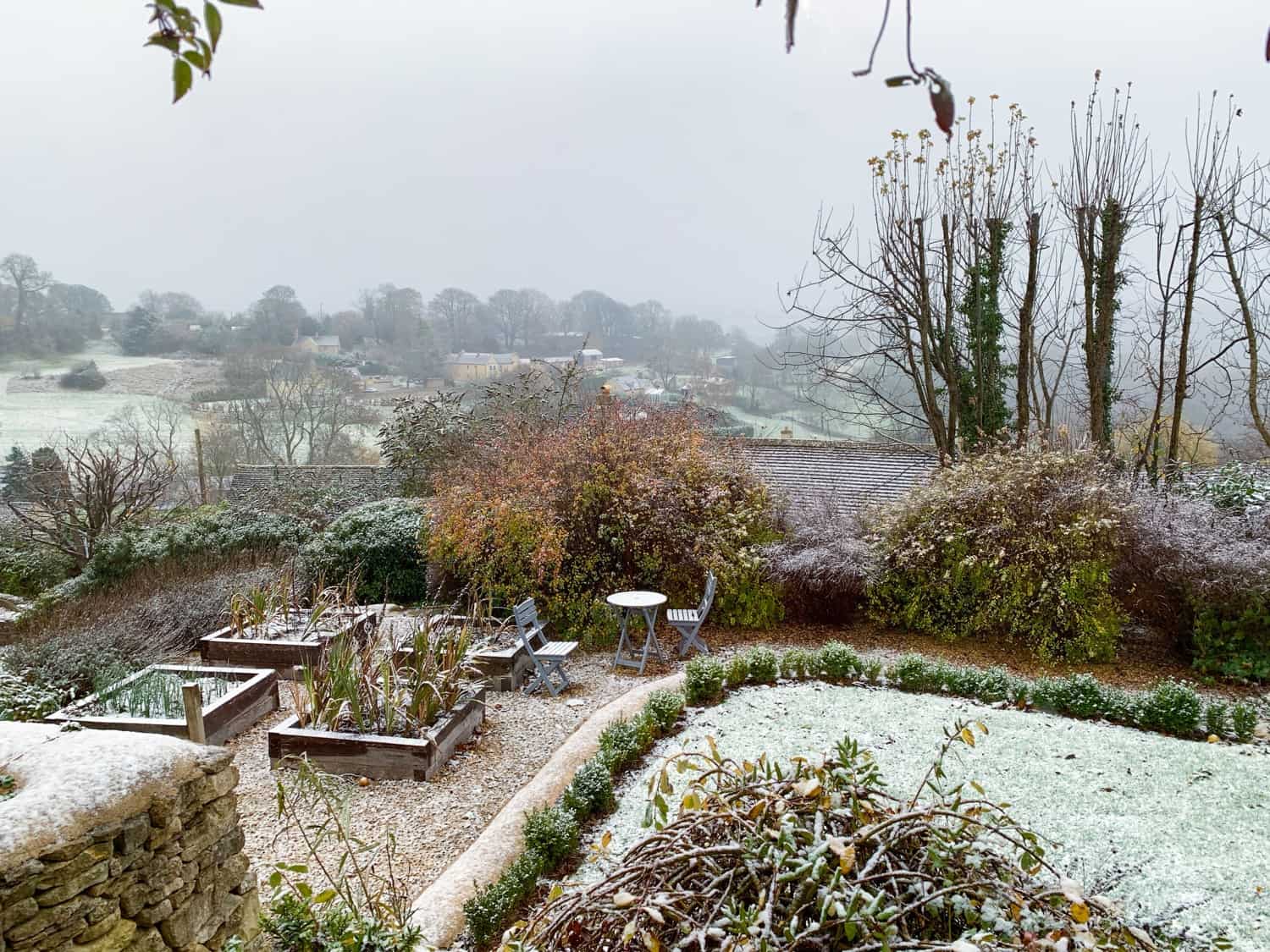 When we weren't cosying up inside, we were exploring the ridiculously picturesque Cotswolds.
This range of rolling hills has been designated an Area of Outstanding Natural Beauty in the U.K., and coincidentally, that's the perfect way to describe it.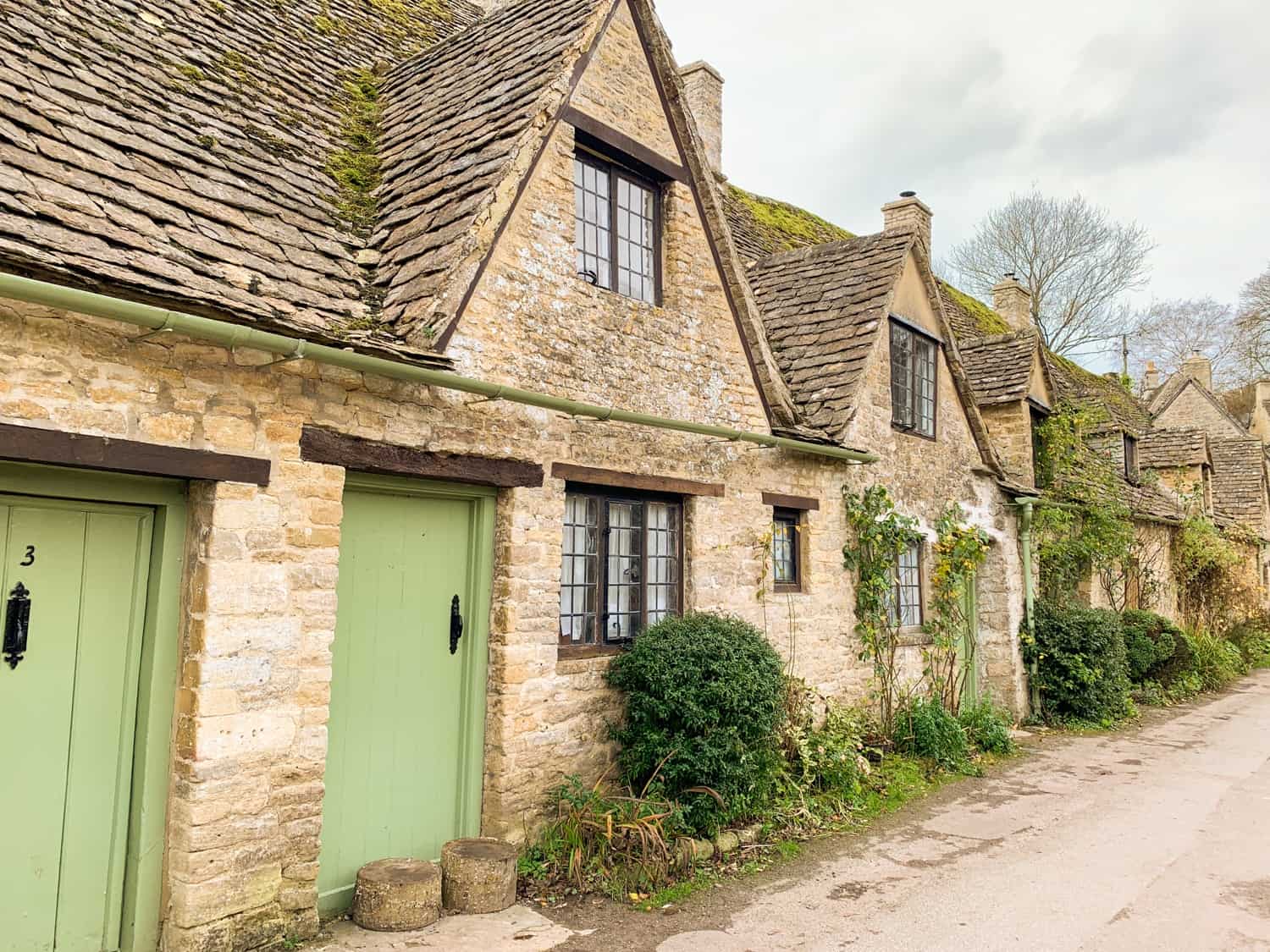 We spent time in Bibury, which is said to be one of the prettiest villages in the Cotswolds. Arlington Row, pictured above, is one of the most photographed places in England, and an icon in this part of the world.
The market town of Cirencester was another highlight, and one that had me considering moving to the Cotswolds so that I could visit every week. I loved the independent stores, the big green spaces, and the old traditional streets that even made a WHSmith look classy.
That was my main adventure of the month, but I had plenty of little experiences to keep me busy.
I went to a comedy show with friends in Bristol, seeing An Indian Abroad, about a middle-class Indian guy who decided to seek spiritual fulfilment on a gap year to Great Britain. It had a great premise and some moments of brilliance, like when he described arriving in Birmingham after a long flight, eager to meet the exotic locals, then wondering where all the white people were, but we ended up a little disappointed by the show as a whole.
Dave's found a lovely group of people to co-work with in Bristol over the past few months, and now that I'm in a better state of mind, I joined them for work-dates and drinks this month. Having so many social events had us both feeling as though we were finally starting to build a life for ourselves in this wonderful city.
I delved into my kitchen this month, too. Right at the top of this blog post, I shared a couple of food photos of my best creations. My dairy-free chocolate banana bread was 100% inspired by my love of the Great British Bake-Off, and the decision to make chorizo from scratch was inspired by my, um, love of chorizo.
We checked out a dairy-free, gluten-free, soy-free, sugar-free (and flavour-free?) festival at the start of the month. Just kidding — it was actually fantastic! Being able to have a chocolate cheesecake that tasted exactly like the real thing and knowing it wouldn't make us unwell was so exciting, and we came away with a backpack stuffed full of food to make our way through at home.
I went to my second Travel Massive here in Bristol, too, and had a fun time as always. It's been interesting to hang out with other travel industry-type people that aren't bloggers and see what misconceptions they hold about this community. As an example, I've been asked at both events now if I have a day job to fund my life in Bristol! I make more from this travel blog than I would from a corporate job, so it's been fun trying to explain that blogging can be lucrative. That is, if you're willing to put in many tens of thousands of hours to reach that point.
One of my favourite apps in Bristol is called Wriggle. Every day, they offer deals and discounts on meals around the city, and share the hottest events you can sign up for, too.
This month, we decided to check out the gin tasting club at The MilkThistle, which is definitely my new favourite bar in the city.
For £20 ($26), I got to sample six full-size, full-strength cocktails, learn everything there is to know about Plymouth Gin, who were hosting the event, and then come away with a free gin glass and bottle of Plymouth Gin. It was incredible value for money, and yes, by cocktail #4 I was wasted.
And that was my month!
Countries Visited: 1
Places Visited: 6
Bibury, Bristol, Burford, Cirencester, France Lynch, Nailsworth.
Distance Travelled: 151 miles
Highlights of the Month
Booking my next stint of travel: When Dave told me he wanted to escape Britain's bleak January weather and head south to see his family, I considered coming along for the ride. I always enjoy spending time in Australia, and the thought of checking out a new South Pacific island was tempting. Overall, though, after I found out he was planning on spending seven weeks out of the country, I passed. I'm enjoying life in Bristol and don't want to be away for that long.
Instead, I decided to create an entirely different plan that would see me travelling around India for 10 days, flying to Thailand to meet up with Dave for a further 10 days, checking out Qatar for the first time, then returning home to Bristol.
I'm still finalising my travel plans, but I expect I'll set my sights on the golden triangle route in India, plus maybe an extra place or two in Rajasthan. I snagged an UrbanAdventures tour for New Delhi during their 25%-off Black Friday Sale, then plan to travel to Agra and Jaipur to explore some of the most tourist-filled destinations in the country.
For our ten days in Thailand, we've decided to opt for something similar to what we did with the Koh Chang island chain this year, but to do so with the Trang islands, which are even less visited.
There are five main islands off the coast of Trang, located south of Koh Lanta and north of Koh Lipe. There's Koh Libong, Koh Mook, Koh Kradan, Koh Ngai, and Koh Sukorn to choose from, and we haven't yet made a decision which ones to visit. We'll likely choose two in the end, and maybe take a day trip to a third while we're there. They're meant to be some of Thailand's most underrated islands, with beautiful beaches and few tourists.
On my way back to Bristol, I'll be stopping off in Qatar for a deep-dive into life in this Gulf state — another brand new country for me. Most people pass through Qatar on a one-day layover, if that, but I'm giving myself four days to see what life there is like, both within Doha and outside of it.
Finally creating a life in Bristol: Dave and I didn't plan to move to a city where we knew practically nobody, but somehow it happened, and it's been a tough challenge, not helped by my illnesses over the past six months.
This month, we finally felt like as though something had clicked and we suddenly had a slowly-forming community and a busy social schedule. I spent all month heading to meet-ups, going for drinks, checking out fun events, and heading to fitness classes.
It feels so wonderful that I'm almost dreading going away in January and skipping out on it all for three weeks.
A romantic getaway to the Cotswolds: I adore the Cotswolds! What a beautiful part of the world, and how lucky I am to live less than an hour away from it.
When Dave and I decided to take a little vacation, Dave's only stipulation was that we stay somewhere with a log fire. It was the right decision.
My favourite day was the one where we woke up to snow on the ground. We spent our morning drinking tea beside the fire, reading books, and watching the snow fall, then squealed when it cleared up and left bright blue skies in its wake. After a hearty pub lunch in the village, we spent the rest of the afternoon drinking wine inside, making snacks, and snuggling beside the fire, wondering whether we would one day be able to afford a cottage in the Cotswolds.
Incidents of the Month
Everybody at the gym heard me listen to my podcast: Oh man.
Man alive.
So.
I usually listen to podcasts when I'm at the gym, and on one particular day, I found myself struggling to make out what the presenters were saying. I had my phone turned up to the loudest volume, and I still felt as though I was straining to hear. Still, I spent my hour lifting weights and finished off with a run on the treadmill.
When I got home, I took off my headphones and froze. Suddenly, I could hear my podcast at full volume blaring from my pocket.
Oh no.
Yes, I had failed to plug my headphones completely into my phone and because this is England and everyone is socially awkward and overly polite, nobody told me that the entire gym could hear every word of my podcast.
And it gets worse, guys.
Because the podcast I was listening to…
Um.
Well.
It was Kar Dishin' It.
The podcast about all things Kardashian.
I'm usually shameless in my love for this family, as watching their show was one of the few things that worked as an escape when I was having anxiety struggles a couple of years ago.
BUT STILL.
Everybody in the gym heard me listening to Kar Dishin' It.
It's a wonder I was able to ever show my face there again.
My Next Steps
I'm all done with my travels for 2018, so I'm planning for a relatively laidback month in December. The only big event on the calendar is Dave and I picking up our new car! Yes, we're full-on settling here in Bristol and it feels fantastic to now have our own transport. It'll make it far easier to go on day hikes in the surrounding countryside, as well as longer trips around the country.
It's grey and damp here in Bristol (I'm finally witnessing first-hand why it has the nickname Brizzle!), so I foresee lots of cosy nights in my future, filled with homemade mulled wine and mince pies.
I'm going to be heading to Bath's Christmas market next week, as it's regularly voted the best in the U.K. and I want to see what all of the fuss is about. I'm also going to be hitting up a tea blending workshop to try my hand at making my own tea-based cocktails.
I foresee even more fitness class experimentation in my future, and plenty of blog posts, too. I finally managed to kick myself out of my writing slump last month, and I'm hoping to consistently publish 3 or 4 blog posts a week in December.
Christmas itself is going to be a family affair, as always, as Dave and I are going to be travelling to my parents' house for the festive week. December looks like it's going to be a peaceful, relaxing month with plenty of family time and work, which is exactly what I need right now.
What do you have planned for December?