Never Ending Footsteps emerged from the ether about a week ago, and since then I've been itching to start trying my hand at travel blogging, even though I don't actually leave for another eight months! It's time to get the ball rolling, though, and like all good self-absorbed bloggers, I'm going to make my first blog post about me. Why should you give a damn about this blog?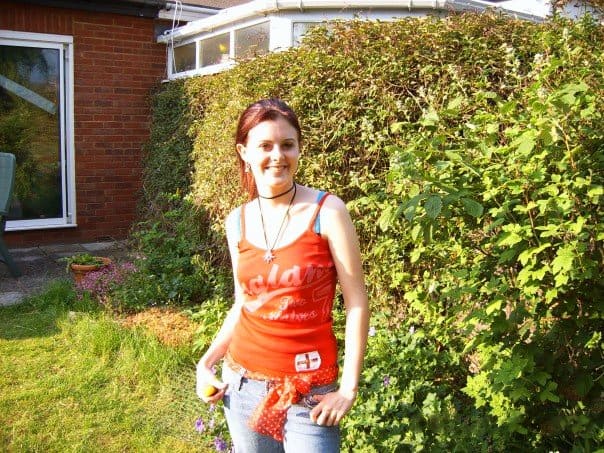 10 Facts About Me:
My name is Lauren, I'm 22 years old, and I'm currently living just outside London, England.
I'm a full-time student, studying physics, and in my final year of my degree. I absolutely love the subject, 100% made the right degree choice, and I would love to go into areas of particle physics research in a few years, including obtaining a phd in this area.
I have a part-time job working in a supermarket. I don't particularly enjoy it, but the money's good, the work is easy, and I have a lot of friends that make my time there fun.
I recently broke up with my long-term boyfriend, who I was originally planning on travelling with. Once we broke up, I thought I would have to sacrifice my dreams, but I've decided to go it alone — the best decision I could have ever made (hopefully!).
After moving out of my parents' house four years ago, I am now back living with them, due to my breakup, but I am saving money by not having any bills or rent to pay. I feel like a bit of a failure going back to live with them, but I secretly kind of enjoy it! :-)
My dream is to never settle down and live in one place, but to find a way to travel for the rest of my life, exploring this world, and meeting people from all walks of life.
I absolutely adore classic rock. My favourite bands are Pink Floyd, Led Zepellin, The Rolling Stones, Bob Dylan, and The Who.
I have terrible taste in TV shows. I like those awful, mindless girly shows.
I rarely watch films.
Random hobbies of mine include running, singing, playing guitar, going to the gym, and photography.
10 Reasons Why I Want To Travel:
To experience different cultures and see how people live in all different areas of the world.
To meet new people, to make friends, and to talk to people from all walks of life.
To live outside my comfort zone for once and have to deal with unfavourable situations. To learn to cope with things by myself rather than relying on others all the time.
After graduation, I could go straight into a job and work 9-5 for the rest of my life like everyone else, but I wanted to do something different! I want to experience the world through long-term travel rather than two weeks of vacation every year.
To try new and crazy foods! I was brought up eating very plain, "English" foods and now I'm trying to experience all the different tastes and flavours there are out there. To illustrate just how little experience I have with foods, I only just had my first Chinese meal a few weeks ago. (I loved it!)
To prove to myself that I can do it! I never in a million years thought that I would ever travel around the world (especially on my own!). Even now, the thought of it absolutely terrifies me! But, I'm going to do it, I've set my heart on it, and I'm going to have the time of my life!
To be able to do whatever I want, whenever I want, with nobody to have to please except myself.
To improve my photography by capturing new and unfamiliar surroundings. Photography has always been a hobby of mine, but I don't have many opportunities around here to photograph exciting landscapes and people.
I am shy and introverted. I have been my whole life and it's something that I really want to change. I want to gain confidence in social situations and be able to talk to anyone.
I don't want to be lying on my death bed with regrets. I know if I don't do this now, I'll probably never do it, and it'll end up being one of my biggest regrets. This world is so incredible and whilst I know I will only be able to scratch the surface in my lifetime, it's better than seeing none at all.
Where I'm Planning to Visit
As I mentioned above, I was originally planning on travelling the world with my boyfriend. We were going to do the stereotypical travelling route of Southeast Asia, Australia, New Zealand, India, and a few others. Since deciding to do this trip alone, my plans have changed so I can feel comfortable with travel before going to these unfamiliar places.
I'll be starting my trip in Europe, visiting Belgium, and I'll be travelling without set plans for the most part. I'll book the first few days of accommodation and then get a feel for a place and see where I feel like going to next. I plan to roughly travel in a clockwise motion, spending most of my time in Eastern Europe, and going to more obscure locations, as opposed to France/Spain/Germany that I have visited countless times before.
I'll probably spend three or four months in Europe before moving on. I'll then be venturing on to Hawaii to spend three months volunteering. I found a great little program, which is right by the beach and in a fantastic location, close to a volcano. I spent an amazing 3 weeks in Hawaii a couple of years ago and ever since, I've been itching to go back to explore some more and this provides the perfect opportunity, while remaining cost-effective too.
After this, so far, my journey is relatively unplanned. I'm considering applying for working holiday visas for both Australia and New Zealand, and going off for a long time to explore and work my way around both places. Definitely with a stop in Fiji and the Cook Islands.
And after this, possibly Southeast Asia and India, we will have to see. A lot of this is dependent on how those first few months in Europe goes and how I manage to cope. I'm fortunate enough to have a lot of money put aside to fund this trip, and I want to travel for as long as is possible until my money runs out! This could possibly even be a few years — it all depends on how I feel. I have a feeling I'm going to get the travel bug very soon though and can't wait to get out there exploring!
This Blog
Never Ending Footsteps is going to contain details of all my adventures. I hope to eventually work up to including advice and tips for travellers, as well as reviews, too. I'd like to include a section for interviews with other travellers doing the same as me. I'm excited to think of all the possible directions I can take with this blog and can't wait to see it develop and hopefully become successful!
Lauren :-)