I kicked off month 61 by getting my sparkle back.
I'd just finished the Whole30 and felt the best I had in, well, forever. I couldn't believe that after all this time, a change of diet was all it had taken to completely transform my mental and physical health.
With my anxiety under control, my confidence pouring over the brim, and my wanderlust creeping back in, I bought a one-way ticket out of Lisbon and began a summer of hardcore travel.
First on my agenda was spending two weeks back home in the U.K.
I try to see my family and friends at least once or twice a year, and now that I'm based in Lisbon, there's no excuse for me not to visit. I landed in London and made my way over to Hackney, a place that is known as being awful by much of the U.K.
Hackney still has a reputation as a reasonably dangerous area of London — parts of it were even known as Murder Mile in the past. But gentrification is coming quickly, and Hackney has actually experienced a larger drop of crime than any other London borough in recent years. In short, if Dave and I ever stand a chance of being able to afford to live in my beloved homeland, an area like Hackney will give us a good chance.
Even better: I have a strong family connection to Hackney. My dad was raised in neighbouring Bethnal Green and tells stories of a childhood filled with jellied eels for dinner after long summer afternoons spent playing football in Hackney parks. How awesome would it be if I ended up planting my roots in an area with such deep ties to my dad's side of my family?
And guys? I seriously fell in love with Hackney.
As we arrived at our apartment, Broadway Market was in full force, and I immediately declared it the best food market I've ever been to in London. If you're ever in East London on a Sunday, you need to go there — trust me.
I arrived in London on a beautiful sunny day, sat myself down outside a beautiful pub with a cider in hand, and spent my afternoon watching people with a huge grin plastered across my face.
Hackney? Yeah, I could totally live there.
I didn't have much time to stop and stare, though. As always, my time in London was busy and action-packed, and I spent much of it tube-hopping my way from friend to friend, and sampling as many new restaurants, bars, and cafes as I could cram in.
One highlight from my time in London? Checking out All or Nothing, a musical about the Small Faces, who I adore. The theatre is underneath Waterloo station and hearing the trains passing by overhead only served to add to the atmosphere.
I also can't forget our romantic evening spent at an outdoor cinema in Battersea Park. Watching a film with Dave as the sun set over the city was just as magical as it sounds. We threw some wine and blankets into the mix and it couldn't have been more perfect.
When our time in London drew to a close, Dave and I journeyed north, which, if you know me, you'll know is a journey I never take. Aside from six hours in Manchester when I was applying to the university there, I don't think I have ever been north of London within the U.K. before! We weren't going far this time, though, and ended our trip in Oxford. Dave's brother is doing his PhD at Oxford University, so we paid him a visit for a few days and spent our time snooping around various college grounds.
After a couple of days at home with my family, it was time for my very first visit to Greece!
Finally.
Dave and I kicked off our travels in Corfu, which was a place I expected to be full of chavs, but was actually somewhere I really liked.
I loved Corfu's chilled-out vibe and spent the vast majority of my four days there wandering through the Old Town. And that was the best way to explore Corfu Town: gazing up at the crumbling, colourful buildings and feta-hopping from cafe to restaurant.
I can't not mention Corfu's old fortress, which was full of fascinating history and fun to clamber all over. And the Banknote Museum, obvs.
We celebrated Dave's birthday while we were there, and yes, I took him to Corfu's banknote museum as a treat. And it was one of the best museums we've ever been to.
Who knew that you could learn so much about a country's history through its banknotes?
I would totally return to Corfu Town in the future, and I most likely will next year.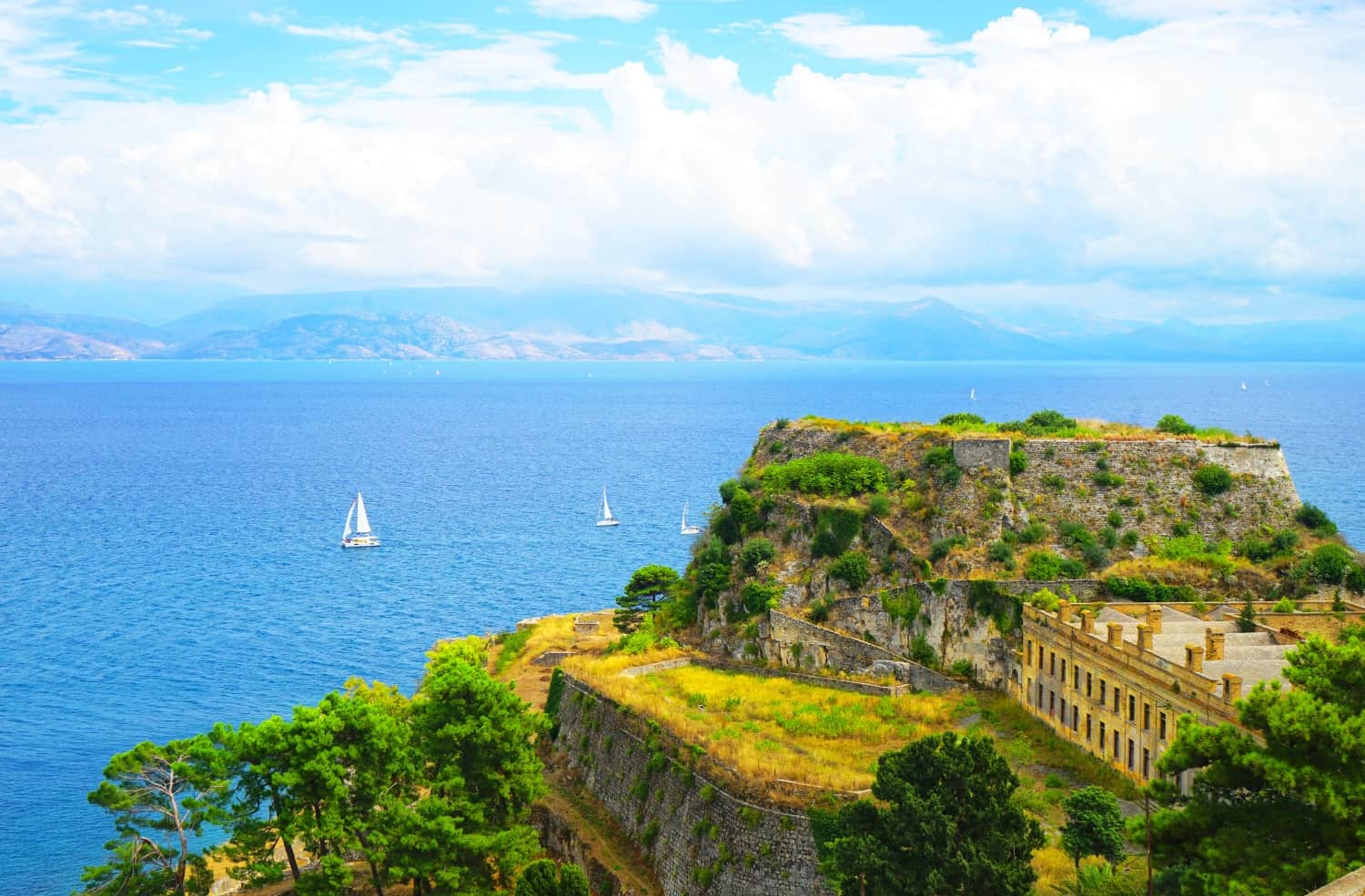 Then, terrifyingly, it was time to board a boat.
Somehow, I had managed to lose my mind and sign up for week-long sailing trip around the Ionian islands with Dave and his friends.
I'll share a confession here and say that when I last took a sailing trip with Dave, in Turkey back in 2012, I hated every single second of it. I had been suffering from an ear disorder that'd left me with vertigo, there had been a lot of people crammed into a small space, which is always a struggle for an introvert, and I got seriously severe seasickness. By the end of that trip, I'd felt as though I'd spent $1500 to spend two weeks feeling like death.
But throughout that experience, everyone on the yacht had told me that sailing in Turkey was nothing like sailing in Greece. In Greece, the water was warm. In Greece, the food and the beer was better. In Greece, everything was cheaper. In Greece, the scenery was more impressive. In Greece, the water was as calm as a swimming pool.
I decided to join a second yacht trip for those very reasons. I knew Dave's sailing trips were one of his favourite things to do, and I wanted to share in that experience with him. I decided this was to be my last chance trip. If I didn't like sailing in Greece, I would most likely never do it again.
So I stepped on board the yacht and pushed my fears of nausea to the back of my mind.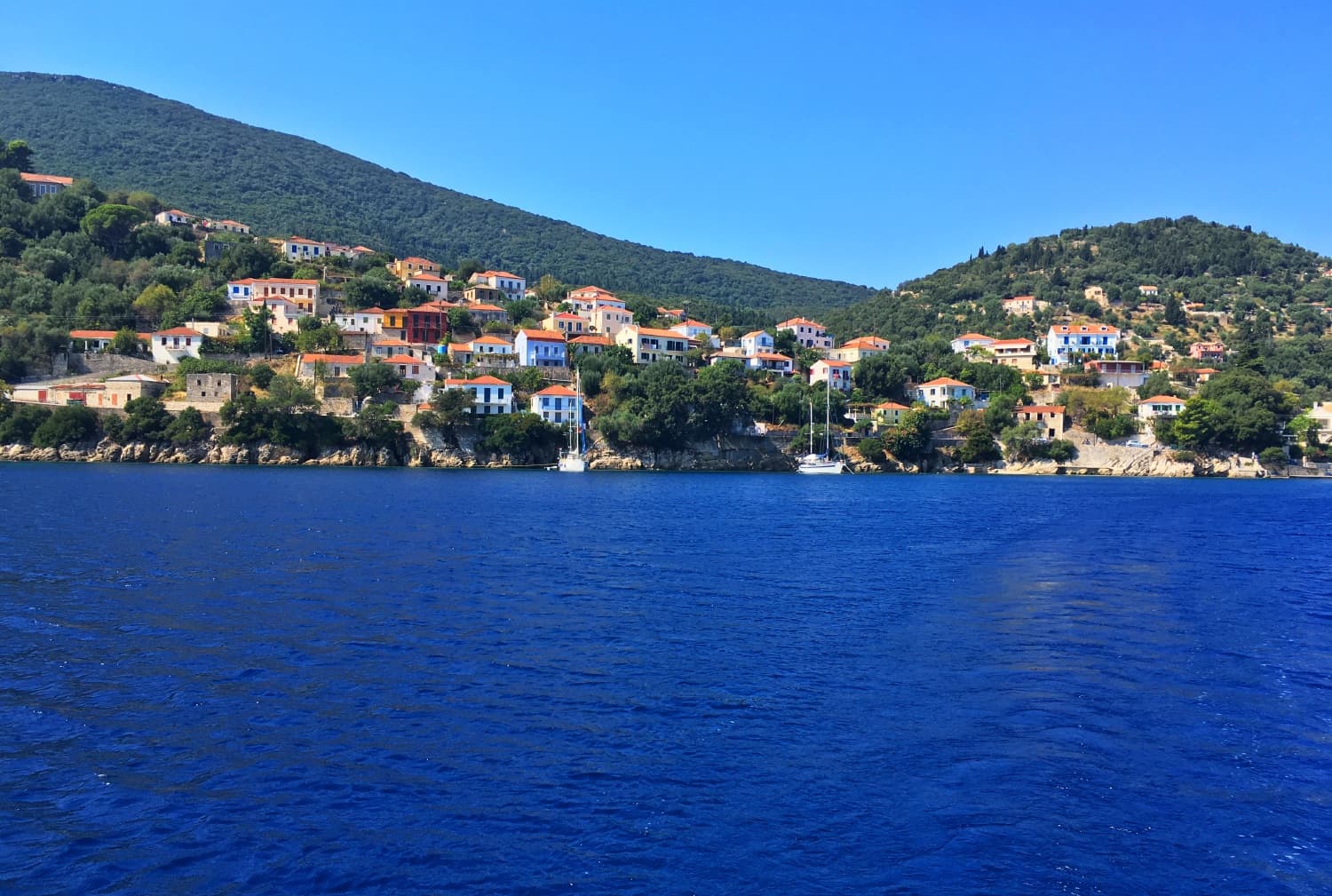 And I loved every single second I spent on the water.
Greece was spectacular. The scenery was spectacular. Sailing was spectacular.
Not getting seasick was spectacular.
Yes, to my great surprise, changing up my diet with the Whole30 resulted in my lifelong and severe motion sickness, well, vanishing. I didn't feel even the slightest bit queasy for the entire time I was on the water.
Considering I used to get sick in swimming pools and the bath and in hammocks and on trains, this was a huge development. One that had me falling hard for sailing. Not experiencing motion sickness opened up a whole new world for me. One where I don't have to be knocked out on Dramamine in order to get from A to B.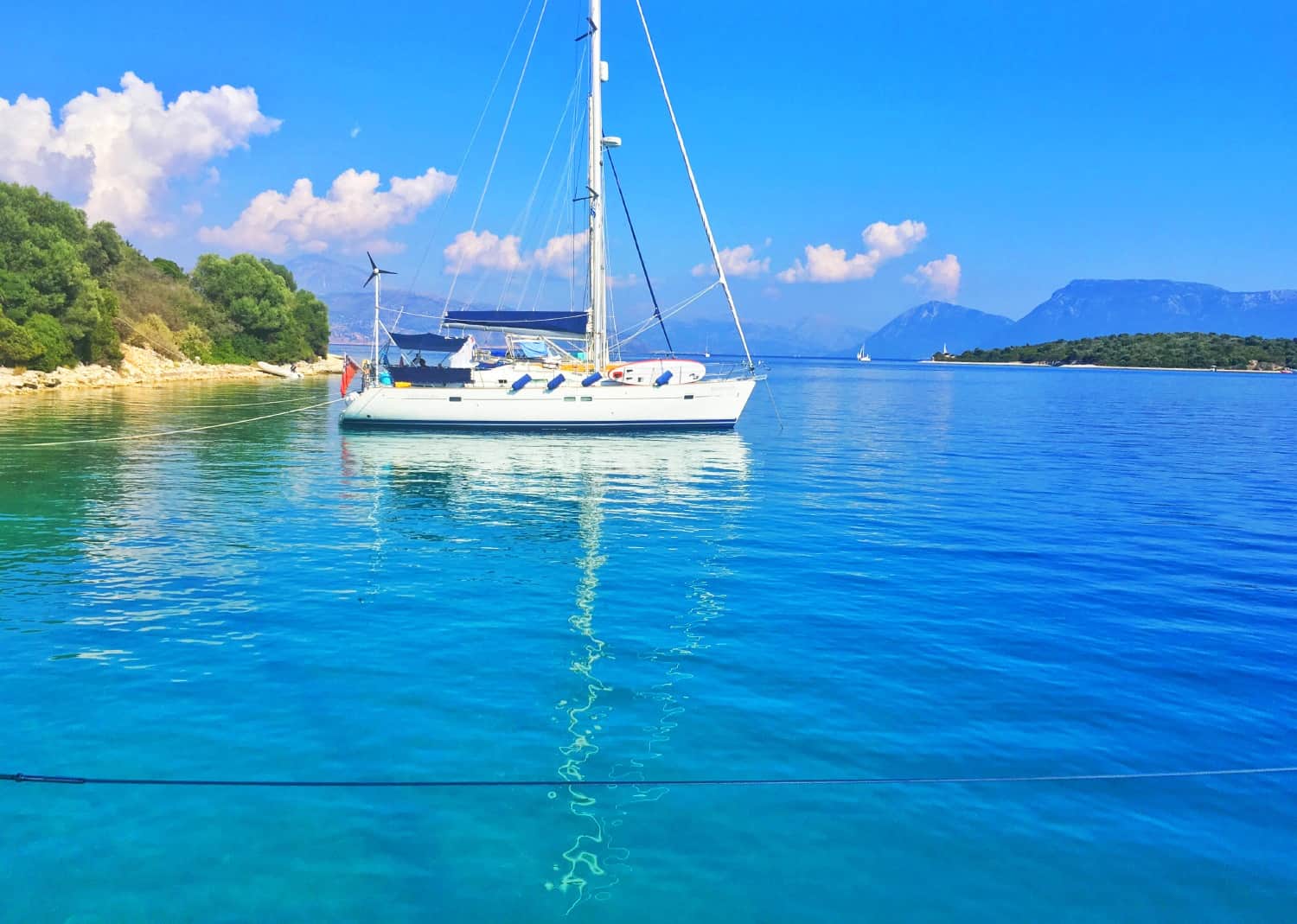 Mornings were my favourite time to be on the water.
The ocean was calm, barely anyone else on neighbouring yachts were awake, so the only sound was the gentle lapping of water against the boat, and the sun was just high enough in the sky for it to be warm, but not sweat-inducing.
Those mornings were the best. Frying up eggs for breakfast with Dave in the kitchen, stretching out in the cockpit and reading my Kindle in the sunshine, and excitedly waiting to find out where we would be exploring later that day.
Most of the time, we'd head to a secluded bay that only had room for one yacht and drop the anchor for an afternoon of swimming and sunbathing. Sometimes, we'd decide to stay the night and spend it drinking vodka, eating pesto, and sleeping beneath the stars.
No matter what we decided, though, it was like, the best day ever.
And now? Now I'm the person pushing for there to be a repeat yacht trip next summer, because I can't wait longer than that to get back on the water!
Countries visited: 3
Greece, Portugal, the United Kingdom
Distance travelled: 2376 miles
Number of photos taken: 403
Highlight of the Month
On every sailing trip, Dave and his friends celebrate their very first morning on the water with something call *The Moment*. As soon as we've set sail and reached an open patch of ocean, it's time to shut off the engine and get the party started.
Someone will run downstairs to blast out some music through the yacht's speakers — the first song is always Mr Brightside by the Killers — while someone else fills everyone's cup with a generous pour of Vodka North (a Nordic berries-flavoured vodka that's hard to find outside of Greece). Then, we all cheers to being in a beautiful part of the world, down our drinks, and leap off the side of the yacht and into the water.
On the yacht trip in Turkey, I'd felt so terrible that I'd sat on the boat and watched everyone have fun without me. In Greece, I jumped headfirst into the whole experience and came up feeling more alive than I'd felt in a long time.
Lowlight of the Month
Sadly, the after effects of the Whole30 hit me hard this month.
It turns out that when you eliminate all inflammation-causing foods from your diet, your stomach will want to kill you when you reintroduce them.
For me, that meant agonising stomach cramps, even when I was eating Whole30 meals 80% of the time.
I was conflicted this month, because the Whole30 was the best thing I've ever done for my health, but I ended up feeling as though I would never, ever be able to get back to a more normal diet. A glass of wine gave me stomach cramps, a slice of bread gave me stomach cramps, a small bar of chocolate gave me stomach cramps. And because it's almost impossible to keep up with a Whole30-type diet while travelling, I began to wonder if every trip I'll take from now on will be all about pain.
At one point, I went out for a walk with my family and spent the final half of it shuffling while bent double, because the pain was so strong.
So it's tough. I mean, clearly the diet I had before wasn't right for me, so the fact that I can't go back to it without experiencing pain is sort of a good thing. But also, having such a restrictive diet and not being able to veer from it kills your social life and means you're forever doomed to go out with friends and drink water.
My Next Steps
Just look at that busy travel map!
Coming up next is a whole lot of movement, as I'll be spending a full month hitting up more of my European oversights.
First on the list is a flying visit to Venice and my first ever attempt at turning a layover into an opportunity to explore a new city. And hopefully not miss my flight.
From Venice, I'll be heading to two cities I really should have visited by now: Berlin and Paris! I'll be spending time in each city meeting up with friends, eating good food, and doing as many tourist activities as possible. I'll also be crossing off one of my goals for 2016 by travelling in a style I never would have considered before. And that style is essentially me going broke over a trip. I'll be staying in one of the most expensive hotels in Berlin and seeing whether this level of luxury is actually worth it when, y'know, you're not on a press trip and are actually spending your own money.
From there, I'll be travelling to Luxembourg to get to know this little country better, and I have plans to hit up both Luxembourg City and Vianden.
From Luxembourg, I'll be flying south to Nice and taking a trip to Monaco to see how you can visit on a budget. I'm looking forward to seeing what the south of France is like in the shoulder season!
To round off my month of travels, I'll be revisiting Barcelona and using it as a base to explore Andorra, a brand new country for me, and one that I'm determined to love, as it doesn't have the best reputation.
And that's the plan! An action-packed month of new places for month 62!