I kicked off month 60 with a heart-warming visit from my parents. I couldn't wait to show them around my new home.
I'd been saving all of the most touristy activities in Lisbon for when they were here, so I was thrilled to finally get to discover what brings most people here.
Here's what we got up to!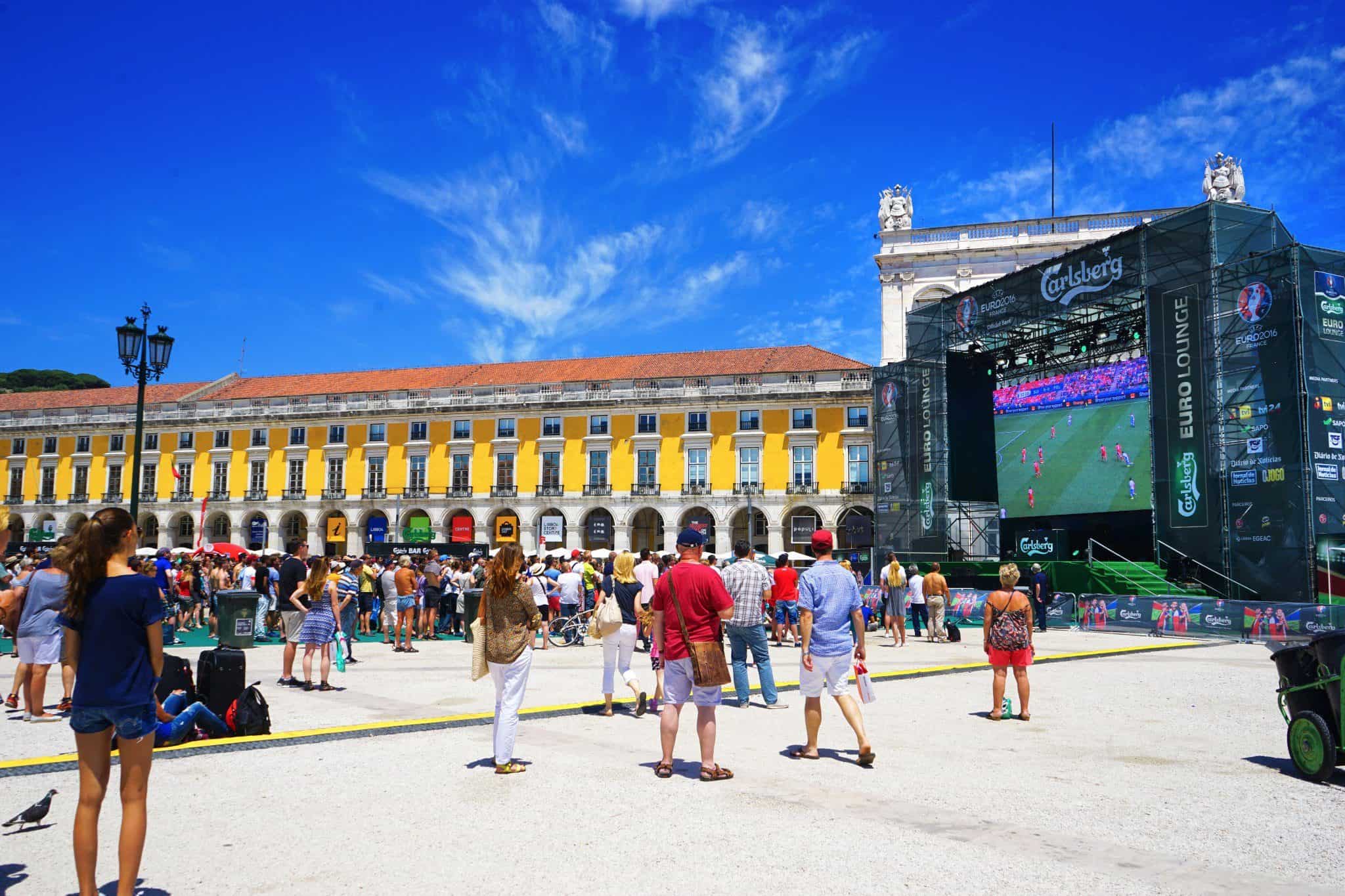 Their visit was timed with the Euro 2016 championship, so we started off our explorations in Praça do Comércio, one of the main squares in Lisbon. There was a giant screen showing the matches, live music, and lots of food and drink stalls. I loved how Lisbon pulled out all the stops for every match, and nothing could beat the exhilarating experience of Portugal winning a couple of weeks later!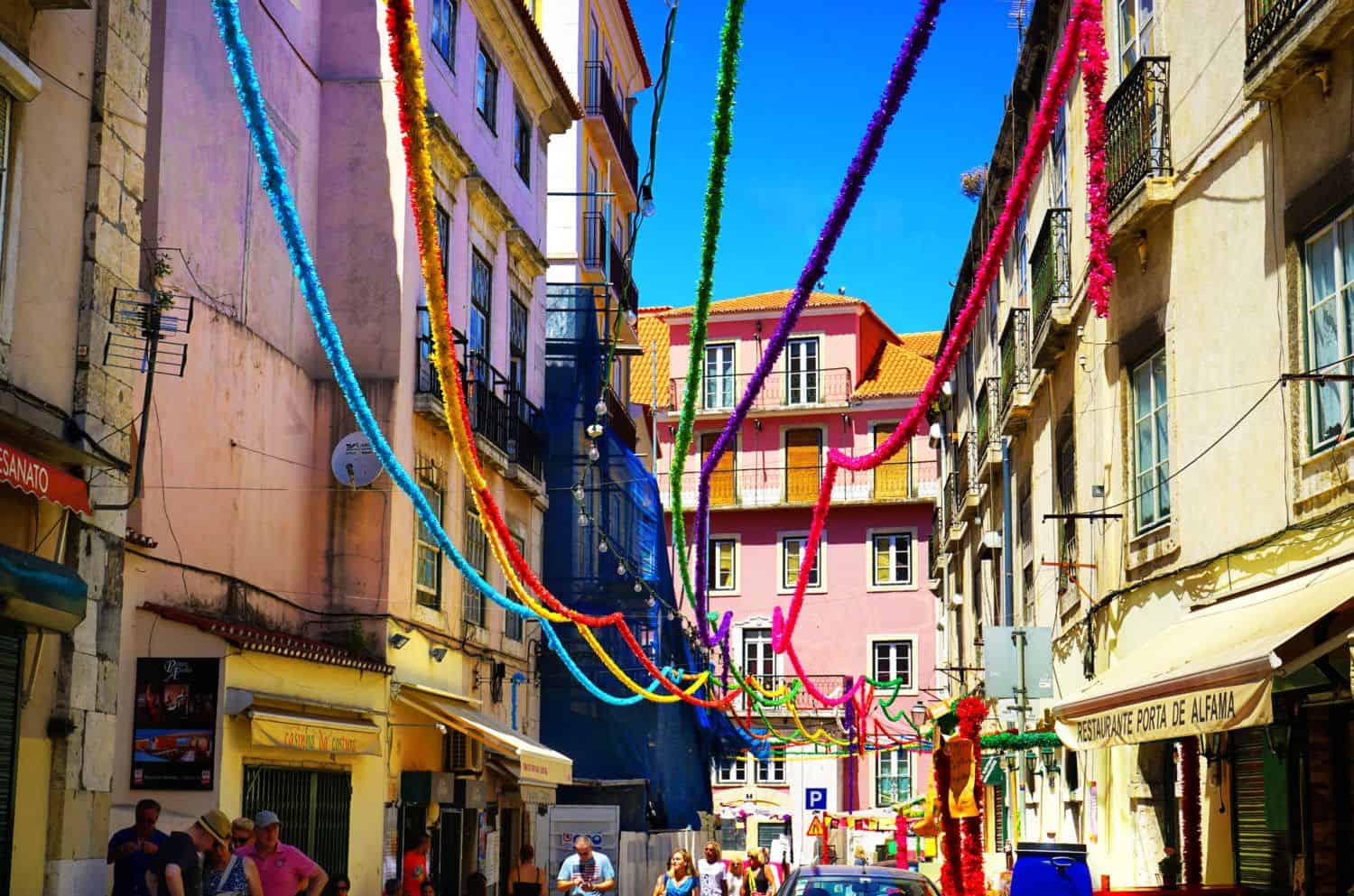 After a long walk beside the river, we made our way up through Alfama, the oldest district in the city. I love wandering around this part of Lisbon, because it's full of maze-like alleyways, colourful and crumbling buildings, and bright fiesta streamers!
And hills, because Lisbon.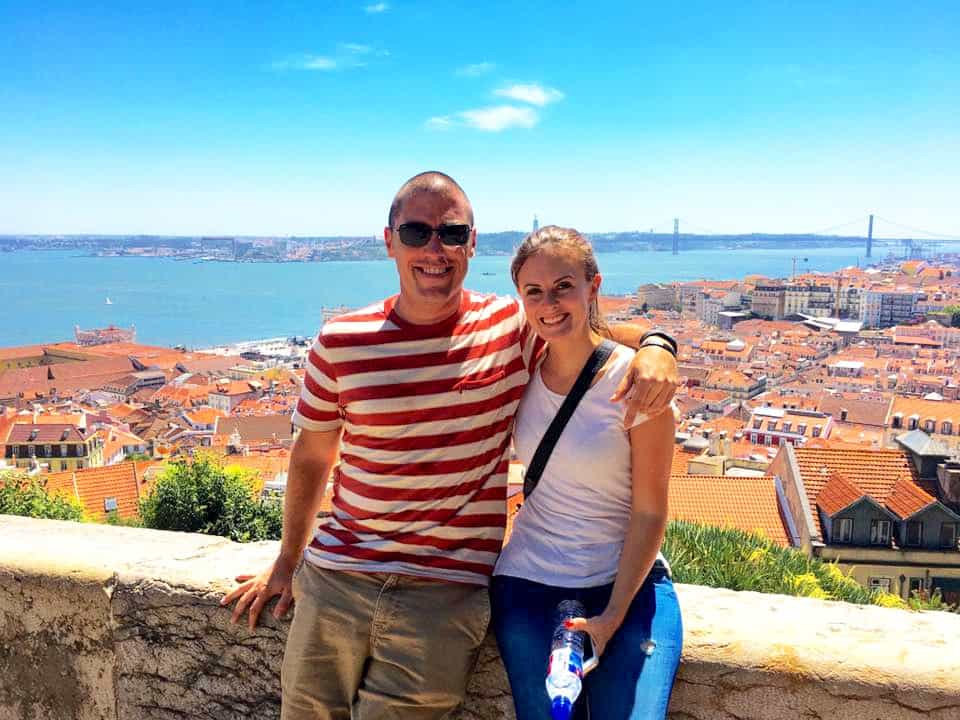 Next up on our list was a visit to Lisbon's castle. I'd been snapping photos of it from below for several months by now, so it was definitely time for me to get up high and view the city from above. It turned out to be far better than I'd expected! It's now one of my viewpoints of the city and somewhere I'm forever telling new visitors to Lisbon to check out.
At this point, we had just enough time to pay a quick visit to the Time Out Market to grab dinner, then collapse in bed after a 10 hour day of sightseeing.
Our next day of exploring was slightly more relaxed, as we were all exhausted from our action-packed previous day. We walked through Lisbon's Botanical Gardens, wandered around one of my favourite parks, had a fish sandwich, and took a trip into Estrela in search of the best pasteis de nata in Lisbon.
Unfortunately, it was during this weekend when Brexit struck and what should have been a perfect, joyful visit was overlaid with a general sense of malaise and dismay. I think my anxiety reached peak levels after the referendum, and if there was ever a moment I could point to where I hit rock bottom with my mental health, it was now. I couldn't sleep, I couldn't eat, I felt sick, I had stomach cramps, I was spending all day inside, crying and hyperventilating. I was close to getting Dave to take me to a hospital.
It wasn't a great time to be alive.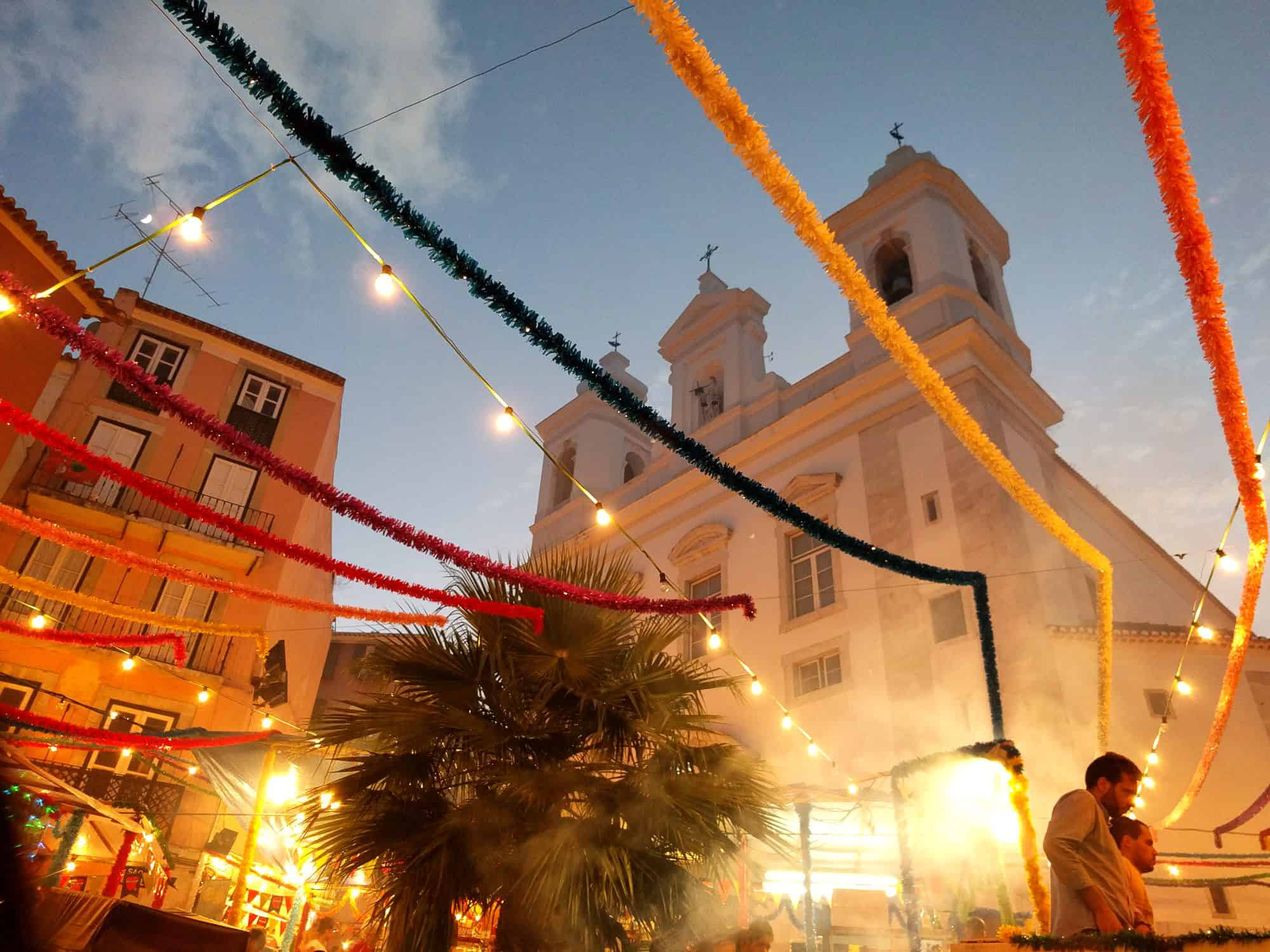 Fortunately, that all changed when I started the Whole30.
Guys, this is the single best thing I have ever done in my life. I cannot praise or recommend it enough.
It's thanks to the Whole30 that I'm now anxiety-free and have been for four months and counting.
It's thanks to the Whole30 that I no longer suffer with hayfever. I used to have to take many, many antihistamines every day throughout summer to stop my face swelling up like this.
And it's thanks to the Whole30 that I no longer get severe motion sickness. Who knew that was related to my diet?
At the start of month 60, I can't even tell you how broken I was. I put on a brave face here and on social media, because who wants to read endlessly about someone's breakdown? Behind the scenes, though, I was suffering.
Enter: the Whole30.
I don't want to delve too deeply into my experience here, because I'm planning on writing about it in depth in a couple of weeks, but the Whole30 is basically an extreme version of paleo. No gluten, no grains, no dairy, no legumes, no sugar, no sweeteners, no additives, no alcohol — if something causes inflammation in your body, it's out for the month.
So what can you eat? Lots of fresh meat and fish, fresh vegetables, potatoes, eggs, and fruit. You can drink water, sparkling water, or coffee with no milk or sugar. That's about it.
I feel like it's important to say that I approached the Whole30 as the biggest skeptic in the world, especially after I learned it was an extremely strict version of the Paleo diet, which I thought was exclusively for douchebags.
But I was desperate, so I put my judgements to one side and dove right it.
I mentioned the three main benefits for me above, but there were plenty of others, too. Like a 15 lbweight loss, like having constant energy levels and no longer needing to nap every afternoon, like experiencing random rushes of euphoria throughout the day, like having amazing skin and healthier hair and brighter eyes, like experiencing a boost in productivity and motivation, like having a flat AF stomach when I went to bed rather than being so bloated that I looked six months pregnant. The excruciating pain I'd been battling post-bladder infection cleared up, too. And I stopped getting sick, too!
Dave decided to do the Whole30 with me, for no other reason than to be supportive and to give me the best chance of succeeding (best boyfriend ever), so I'm thrilled he experienced just as many amazing effects. He lost about 15 lbs over the month, his skin that's been breaking out for as long as I've known him completely cleared up, and some painful long-term digestive issues he's battled for over 20 years disappeared. Like me, he had more motivation and energy than ever before.
You know me: I can never write about the positives of something without equally weighing up the negatives! The Whole30 wasn't all amazing and there were plenty of struggles. It's basically impossible to eat out during the month, as restaurant meals are very, very rarely Whole30 compliant, which killed our social lives. We met up with friends a few times, but when the only thing we could order was water, I felt like a jerk. Also, cooking 90 meals in 30 days takes up a lot of time. The first 10 days or so were tough. Really tough. I had flu-like symptoms for the first week as my body detoxed from all the sugar I used to love, my cravings were out of control, and I was so tired I could barely work. One day, I slept for 18 hours!
But to finally be able to function in life and feel like a normal human being again more than makes up for those downsides.
So, there you go. Apparently the paleo douchebags were onto something. Apparently, I'm now one of them.
Highlight of the Month
It has to be showing my parents around my beautiful new home! I've now met up with my parents on my travels for a road trip through the Pacific Northwest, for a music-themed trip around the Southern U.S., in Slovenia, and now in Portugal. I love that they've transformed into globe-trotters over the past few years, and getting to show them around some of my favourite places is always a delight.
Lowlight of the Month
Brexit. Ugh. I still feel so utterly depressed about the result and fearful about how it will affect my future in Lisbon. I'm also frustrated that Portugal is now so much more expensive than when I moved here and that my savings are worth so much less. Gah.
Incident of the Month
The Saga of the Black Scabbardfish.
Oh god.
Another benefit of doing the Whole30 was greatly improving my skills in the kitchen. I mean, hey, if you have to cook 90 meals in 30 days, you're bound to pick up some new tricks!
I was enjoying leaving my comfort zone when it came to cooking, so I decided to branch out and grab a weird-looking fish at our fishmongers one morning. I had no idea what it was or how to cook it, but I figured it'd be reasonably straightforward. I'd been cooking a lot of fish.
After a fair amount of googling, I discovered that what I had bought was something called a black scabbardfish. A rare and very ugly-looking fish that can only be found in the waters surrounding Madeira. It was also very, very tricky to descale.
Dave spent an entire 45 minutes trying to descale this freaking fish, all while I was googling more and more about it and discovering some unsettling facts:
Despite having huge market value and a strong hold in the typical Southern European diet, there are several health risks associated with consumption of the black scabbardish due to the presence of several toxic metals found within the fish including lead, mercury, and cadmium. Even in very small quantities, these metals can be deadly to humans if consumed.
But wait, there's more:
The black scabbardfish is a suitable host for the parasite known as Anisakis. Consumption of raw or under cooked black scabbard fish can result in health complications for humans. The only reliable treatment for a human affected with Anisakiasis is the removal of the nematodes through endoscopy, or surgery.
What the hell had I just bought?
And not only that, but after Dave had spent the better part of an hour wrestling with this goddamn fish, we began slicing it up and found a giant rusty hook buried inside it!
And that was the end of our attempts to cook a black scabbardfish.
We threw it out and went with some smoked salmon for dinner instead.
And that was month 60!
My Next Steps
After spending a couple of months settling into my Lisbon apartment, it was, of course, time to pack up my things and hit the road again!
I've got a full summer of European travel ahead of me and I can't wait to bounce my way across the continent over the next eight weeks.
First up: a return to my beloved U.K. with a two-week long stint in Hackney, over in East London. Hackney doesn't have the greatest reputation in London (understatement), but it's quickly developing and compared to what Shoreditch or Brixton were like ten years ago.. Given that Dave and I regularly dream of one day being able to afford to move to London, we're heading there to see if Hackney could be a possible base at some point.
From Hackney, we'll be heading north to Oxford: a place I've never been to before, and basically my first time venturing north of London while in the U.K.! Yes, really. Dave's brother studies at Oxford University, so we'll be paying him a visit for a few days. While we're there, we'll be checking out the architecture, having plenty of pub lunches, and wandering around the university grounds.
After a few days back in Staines with my family, I'll be jumping on a plane and flying over to Greece for my very first visit.
Woohoo! I'm excited to jump back in the travel waters again.