Month 59 was all about exploring as much of Lisbon as possible!
At the start of the month, I crossed my fingers and signed a year-long lease on what I hoped would be my perfect apartment. I collected my keys, moved in, and suddenly had a whole lot of domestic chores for the first time in a very long time.
Long-term travel is great for avoiding the mundane parts of life. You never have to stress about those everyday things, like tidying the house, taking the trash out, and cleaning the toilet. I hadn't had to worry about power bills and paying for putting the A/C or heating on. I hadn't had to worry about buying new furniture. Or defrosting the freezer. Or what to do when you suddenly spot water dripping down through your ceiling.
I feel like I should say this brought my crashing back down to earth, but it was all such a novelty that I loved every second of it.
Just like when I first started travelling, everything felt new and exciting to me.
Even a four-hour trip to IKEA.
Even an entire day spent putting together IKEA furniture and using a flip-flop as a hammer.
Dave was finally able to buy the standing desk he'd been craving trying out for a while, along with a monitor so that he can work more efficiently. I bagged our second bedroom as a sanctuary and spent the month kitting it out with candles, beanbags, oil diffusers, colouring books, rugs, maps of the world, cushions, blankets, and more. I'd been dreaming of this sanctuary for over a year — it had been the only thing to halt my panic attacks while I'd been travelling — so I was determined to bring my vision of it to life.
I joined a gym, too, and bought a year-long membership — another novelty as, aside from a couple of months in Chiang Mai, I hadn't had access to a gym in five years. I bought recipe books for my kitchen. And I bought appliances. And I even picked up some loyalty cards for my new favourite restaurants and cafes in town.
And I bought clothes! For the first time in five years, I could justify buying a coat and not having to throw it away the moment I needed to get on a plane. I could own more than two pairs of shorts; more than a pair of jeans, more than one dress. I could have shoes that weren't flip-flops or hiking boots.
It all sounds so terribly domestic — most likely even terribly boring — but nothing brought me more joy than settling into a routine and starting to create a more stable life.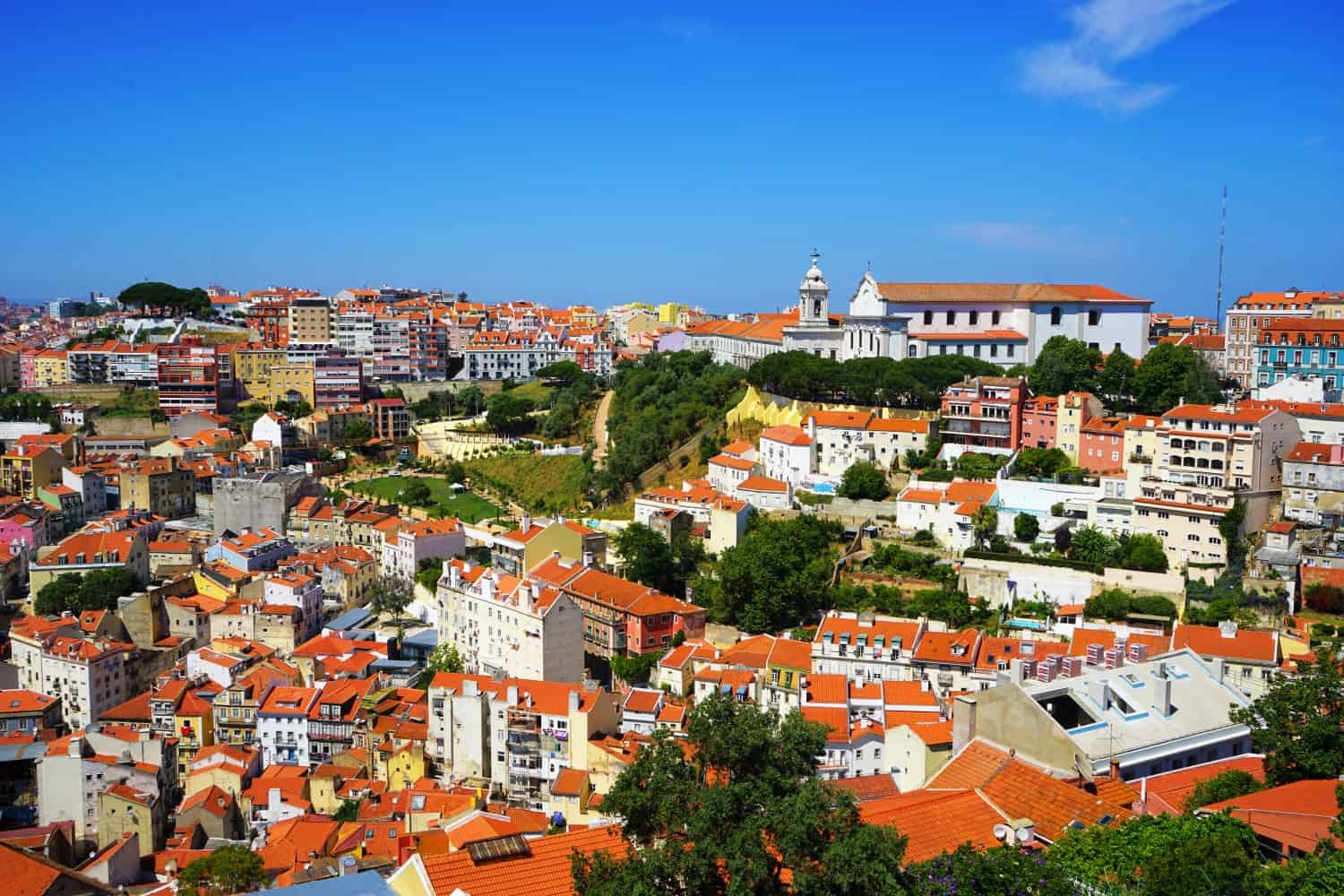 Of course, I couldn't spend an entire month just buying furniture and putting it together, so I made sure to take plenty of day trips from my new base.
With these early summer months bringing warm temperatures and clear blue skies, I took full advantage of being in a city with a beach and hopped on many trams and trains out to different spots along the coastline to check some of them out.
Cascais is probably the most well-known beach in Lisbon, and, hmmm, well, after a winter in the South Pacific along with a week in Miami last month, I wasn't blown away by the beach.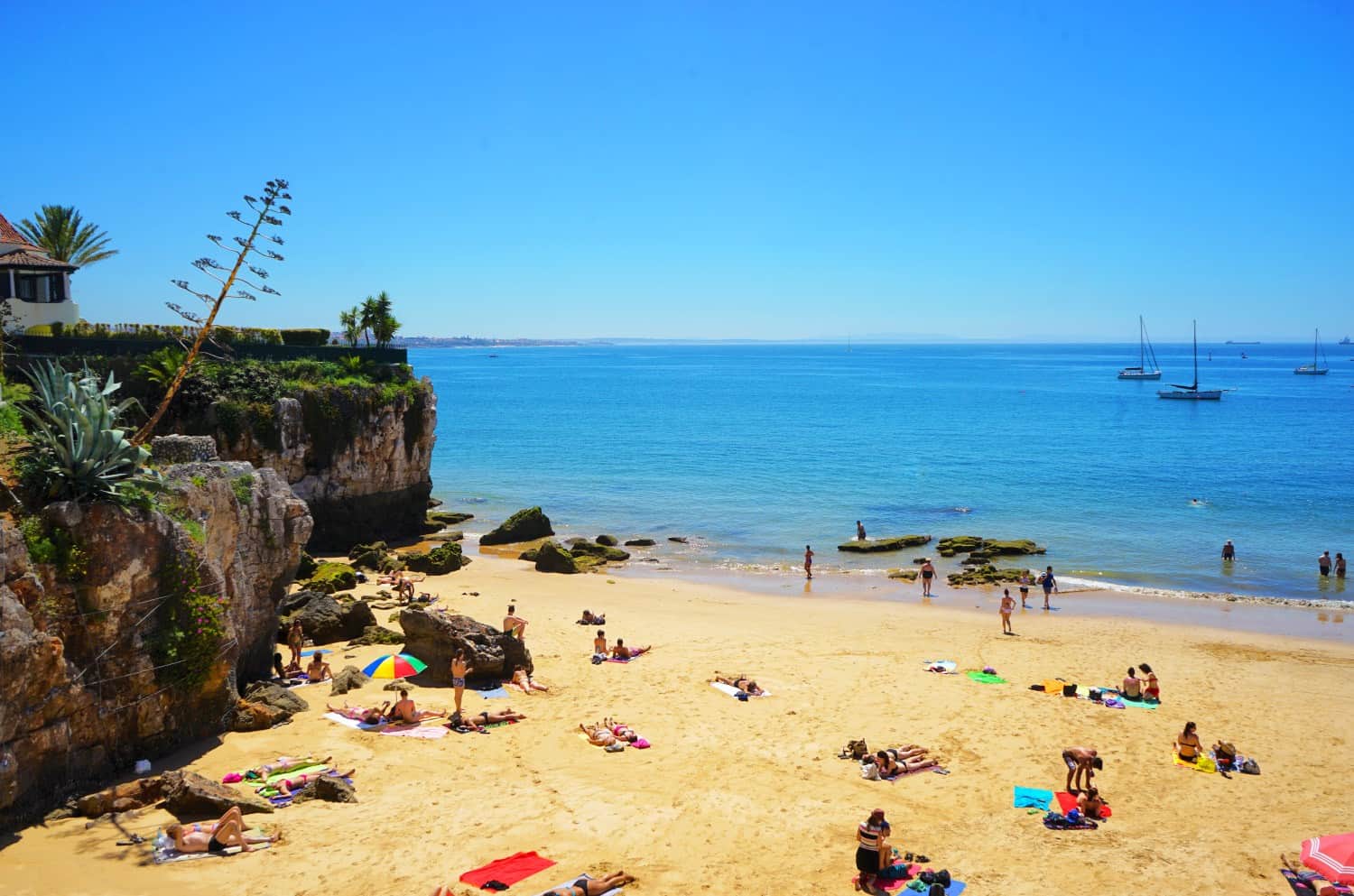 And yes, the water was freezing.
But it was a beach and it was now our local one, so I loved it nonetheless. And let's face it: for a city beach, it was pretty damn great.
We also took the time to head further afield to search out some quieter beaches for when the summer crowds descend upon the city. Praia da Arriba was my favourite of the bunch we visited, and Praia da Cresmina was great for kiteboarding, but far too windy for sunbathing.
It was my birthday this month! And how great to get to celebrate it in my new home! Dave bought me cupcakes and so many thoughtful presents (now that I have a base and an address, I could ask for physical things for the first time!), we spent the day at the beach in Cascais, and he took me out to dinner to my favourite restaurant in Lisbon.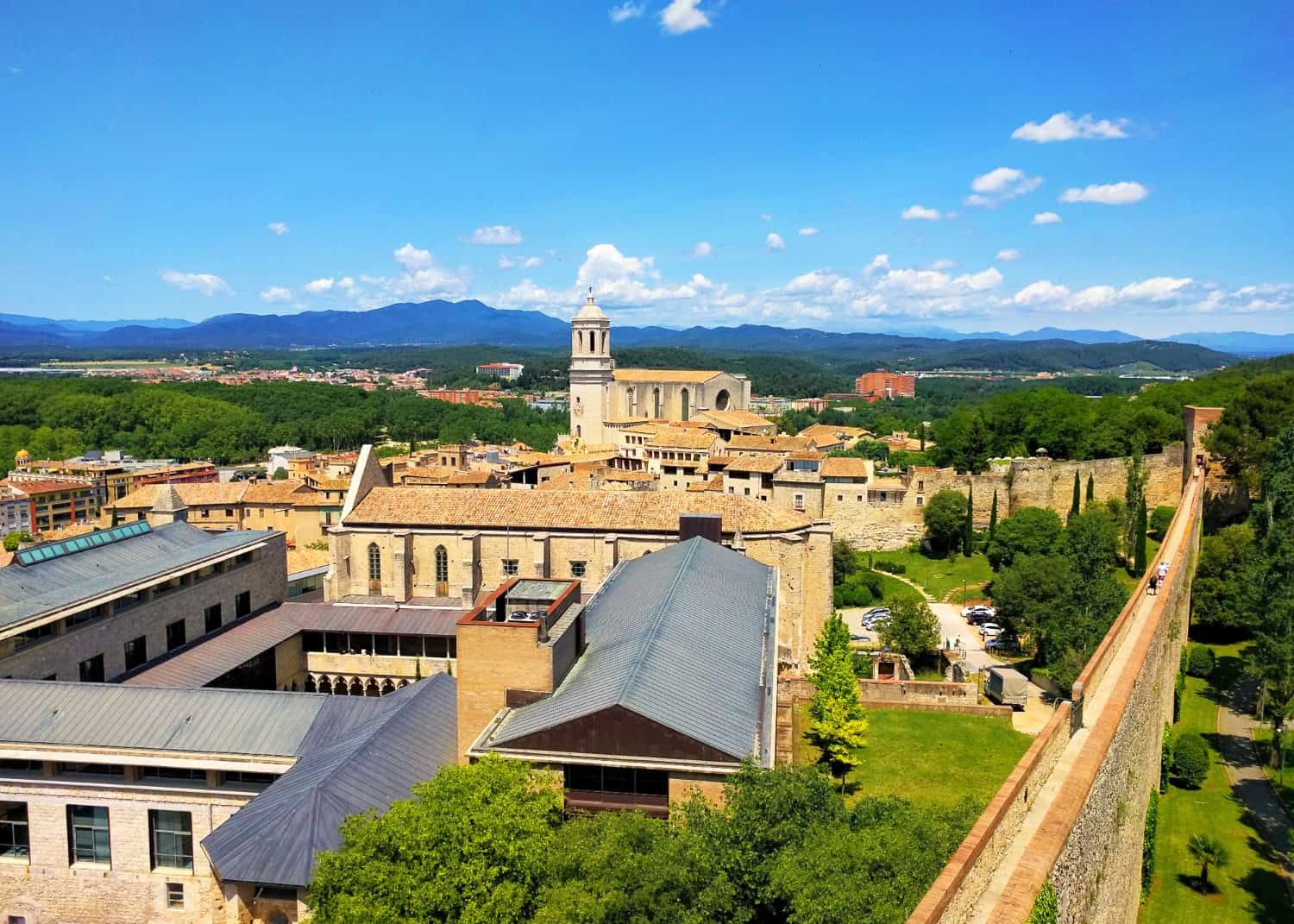 With not even a full month in our apartment, we were on a plane again — this time jetting off to see travel blogging friends Pete and Dalene in Girona. They'd invited us to come hang out with them in their apartment for a few days, which we, of course, accepted.
Girona is somewhere that's been written about extensively on travel blogs, so I was excited to finally get to see it for myself, especially with friends who knew the place so well.
Our first day in town was spent wandering around the pretty alleyways, snapping photos of the views from the city walls, and drinking many, many gin and tonics.
And then I got salmonella. More on that below!
Countries Visited: 2
Portugal, Spain
Places Visited: 4
Barcelona, Cascais, Girona, Lisbon.
Distance Travelled: 892 miles
Photos Taken: 120
Highlight of the Month
Not really a specific event this month, but a feeling.
A feeling of comfort and happiness and relaxation. A feeling of control. A feeling of being exactly where I need to be.
A feeling that hitting the pause button and moving to Lisbon was one of the best decisions I've ever made.
Guys, I'm so happy here! :-)
Lowlight of the Month
Getting salmonella in Girona!
I woke up on my second morning in town at about 4 a.m., overcome with nausea. I then proceeded to spend the next three hours in the bathroom trying to throw up as quietly as possible, so that I didn't wake everyone up. Not only to be polite and respectful, but also because this was so embarrassing and gross.
I felt terrible and I couldn't even lie down to sleep, because I'd have to run to throw up as soon as I did. Instead, I had to spend all day with my head in my hands, trying to sleep sitting upright, but mostly failing.
There's something truly awful about being so sick while you're staying in someone else's apartment that only has one bathroom.
Plus: I was gutted to be in such a beautiful place with friends and having to spend almost all of it either in bed or in the bathroom. Ugh.
Then having to take the flight back to Lisbon with zero energy and intense nausea was awful. I barely ate anything for the next week, even when I was home!
The Best Thing I Ate: 
It has to be the birthday cupcakes Dave surprised me with from Tease, the cupcake shop in Lisbon that makes the best ones I've ever had!
The ones he picked out for me were white chocolate strawberry cheesecake with a shortbread heart; vanilla red velvet; chocolate lime; and chocolate mint with an After Eight on top. I may have eaten them all on my birthday, and I may have had two for breakfast.
The Worst Thing I Ate: 
And when we stopped at a restaurant in Girona for lunch one day and I saw they had a half-metre hot dog on the menu, I, of course, ordered it.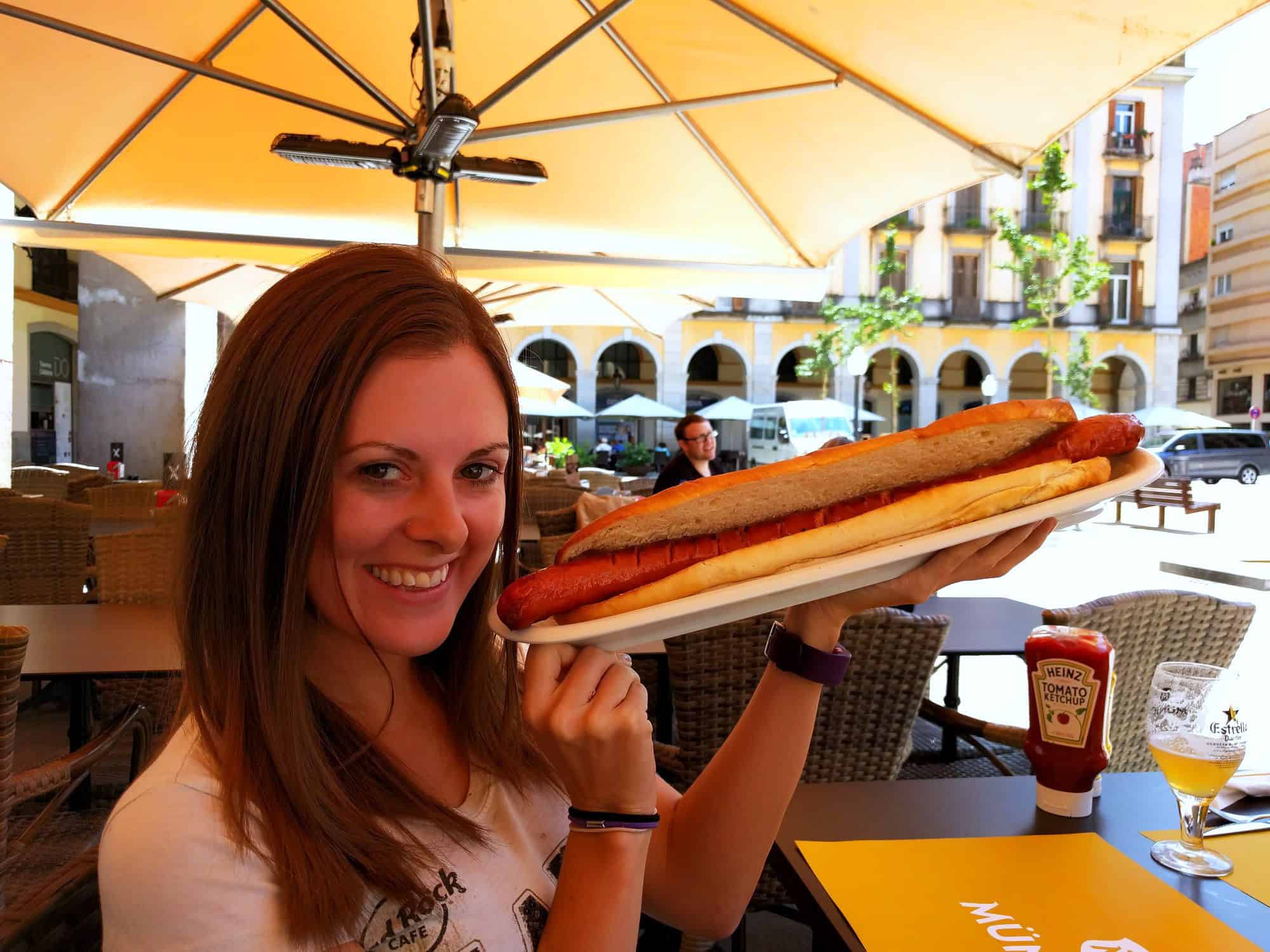 The only problem was: I don't really like hot dogs very much.
Yep, I totally ordered this dish just so that I could take photos with it.
My Next Steps
All of the touristy things in Lisbon! My parents are coming to town for a long weekend, so I've been saving up all of the tourist attractions to do for when they arrive. I'll be trying to cram in as much as possible while they're here, from visiting the castle, to riding historic trains, to hunting down the best pasteis de nata in the city.
And it's a family trip all round next month, as Dave's brother will also be around for a few days, too.
Towards the end of the month, I'll be taking a huge step towards improving my physical and mental health and doing the Whole30 — something I've been talking about trying for almost a year. Now that I have a kitchen, I can finally try it out!