Iorana from Tahiti!
What. A. Month. I don't even know where to begin.
Over the past four weeks, I continued to stuff my face with delicious brunches in Melbourne, took myself offline to spend time with Dave's family in New Zealand, and kicked things into high gear with a solo trip to the mind-blowingly beautiful Cook Islands.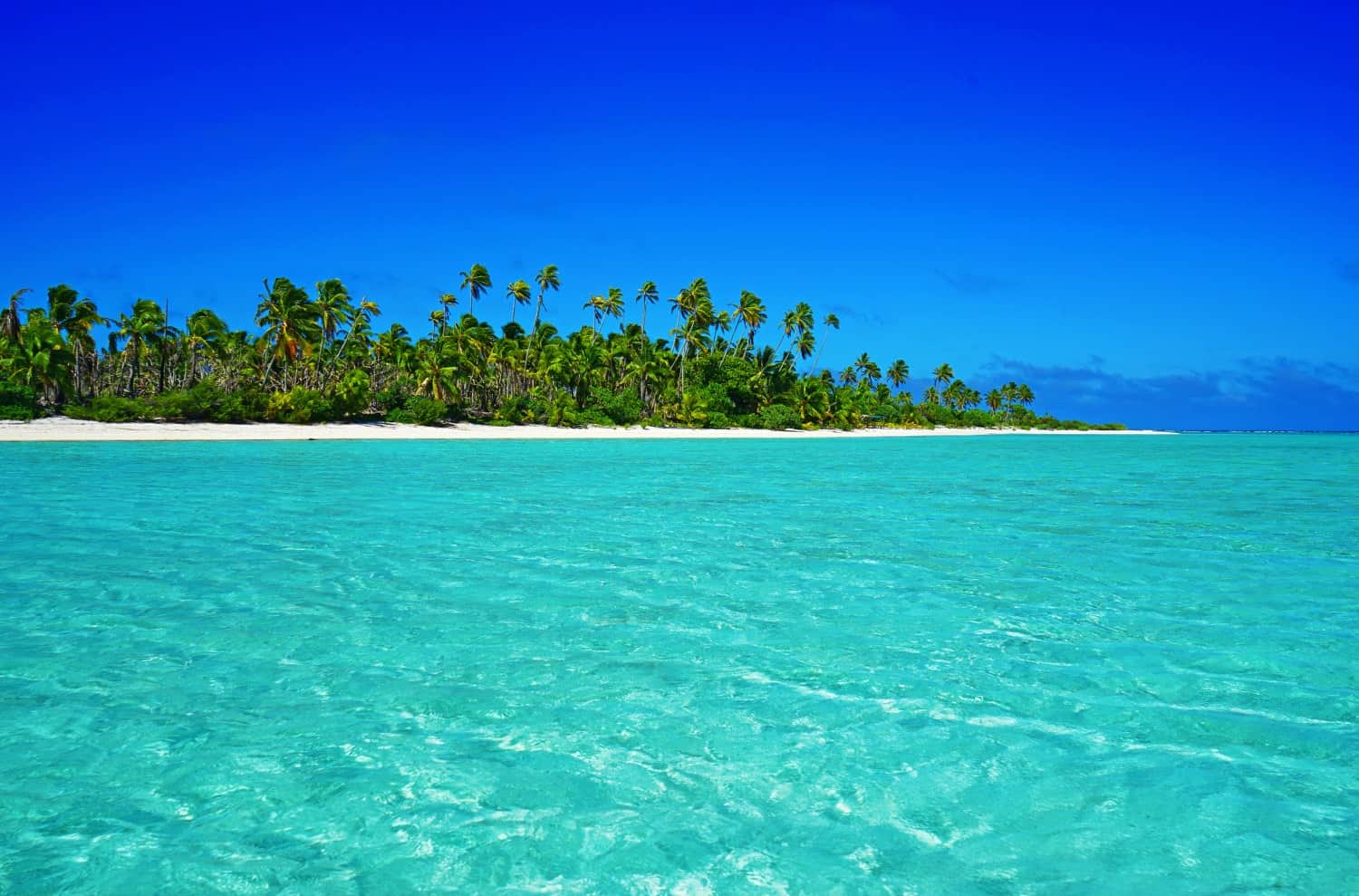 Swoon.
I wrote a lot about my time in Melbourne in last month's summary, so I'll kick off this one with my trip to New Zealand.
I think I must have cursed myself by publishing my travel lowlights for 2015 before the end of 2015, because of course I managed to squeeze in one final incident before the year was out.
I don't know how it happened: laziness, probably, but two hours before our flight to Christchurch, I suddenly discovered that I hadn't actually bought a ticket for our flight.
What am I even doing in life?
Fortunately, I managed to find a ticket at the last minute and our ride to Melbourne's airport resulted in one of my favourite photos of me and Dave.
With my newly-purchased ticket to Christchurch firmly in hand, I boarded a different plane to Dave and made my way to Ashburton, Dave's hometown that is as happening as a place can be that has a store called the Denim Den. And also: Annie's Country Quilt Store.
As you can probably gather, this trip to New Zealand ended up being vastly different to my previous visit. Rather than racing around the famous spots and cramming in as many activities as possible, this time we took it slow. I visited only Ashburton and Hanmer Springs — not exactly places on the tourist radar — and I spent my time hiking, eating, and then gaping in horror at my rapidly-turning-black toenail because I hadn't realised my hiking boots were too small for me.
In fact, I had one activity on my agenda for New Zealand and that was hiking the Kepler Track. Which we then called off within a day of arriving. A southerly (i.e., antarctic) wind was blowing through the South Island at the time and the thought of hiking through snow, or cold rain, or in single-digit temperatures was all we needed to hear to cancel our plans.
Instead, we opted to walk from Woolshed Creek on the Mt Somers Track, a beautiful hike that's popular with locals and nobody else. The track we followed can be split up over three days, but we did the whole thing in one, and, oh my god — it was one of the hardest things I've ever done.
From Ashburton, we moved to Hanmer Springs, where I strapped on my hiking boots and stumbled my way along part of the St James Walkway. Then I fell over. And then my toenail turned jet black.
And that was the end of my hiking career in New Zealand. Afterwards, I spent my remaining time in the country eating, sunbathing, and visiting the hot springs.
Next stop: the Cook Islands!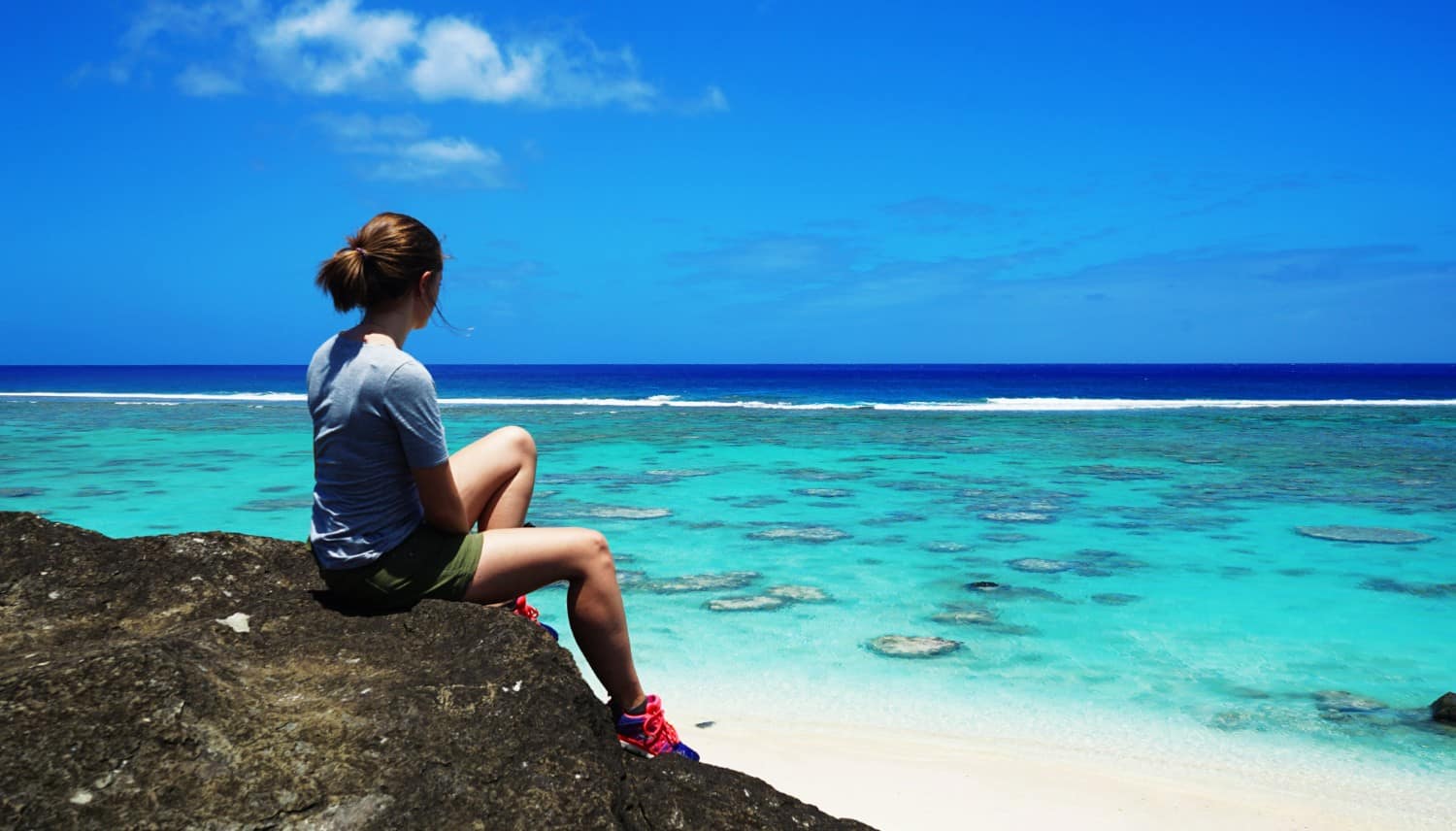 Everything I'd read online told me to leave Rarotonga as soon as possible and spend the majority of my time in Aitutaki, so I could hardly believe how incredible the beaches were on the former. Wasn't this supposed to be the least impressive island?
I spent two nights on the west coast of the island and one on the east, exploring the island on foot, hunting down cheap eats, and swimming in the warm waters of the lagoon.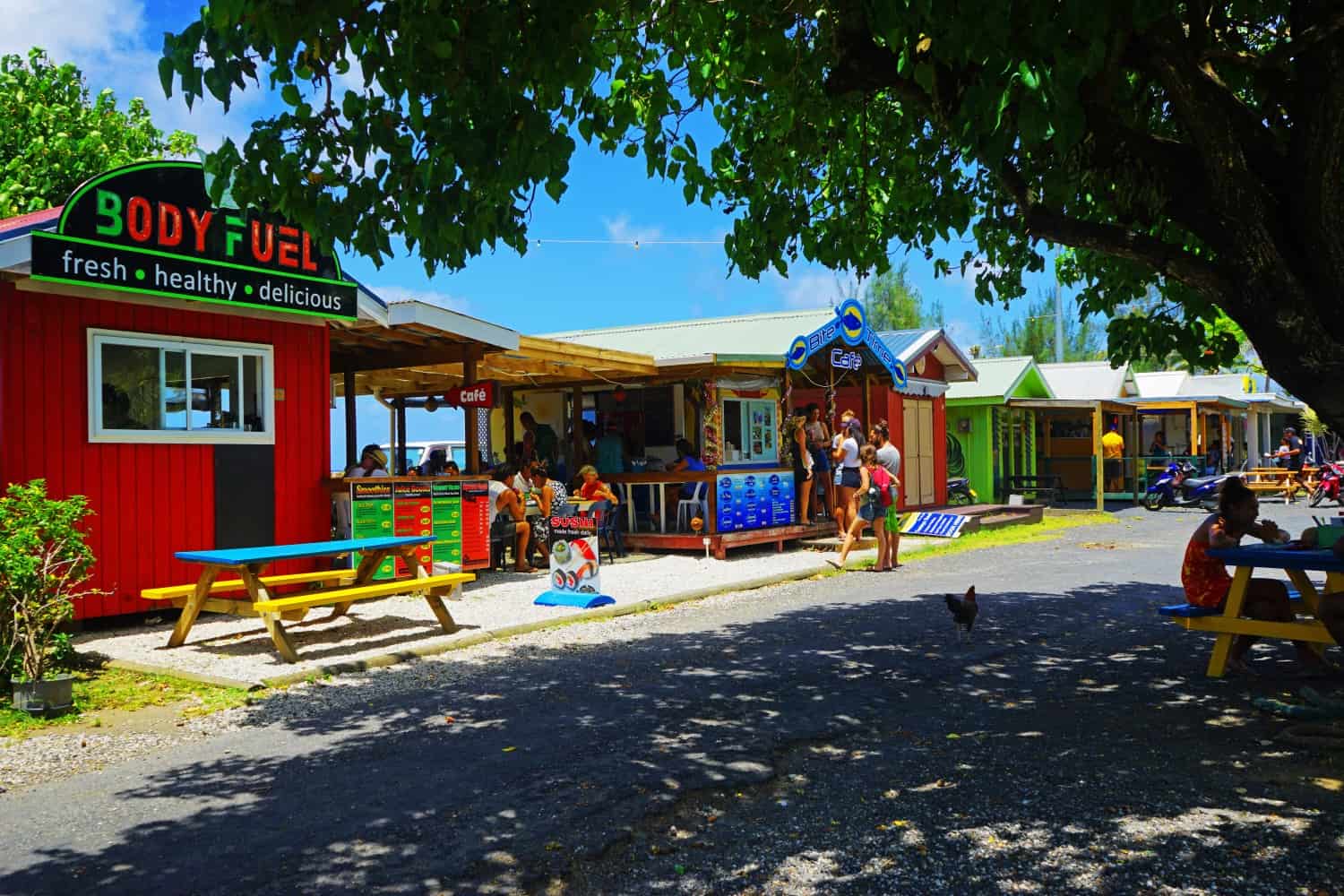 I threw up an hour before my flight to Aitutaki — I don't know why — so that made the journey to the airport interesting. But not abnormal, because I've come to realise that everything seems to go wrong when I travel alone.
But the second I arrived? I gulped down the remnants of my vomit and smiled. I had just realised why exactly everyone says to leave Rarotonga as soon as possible.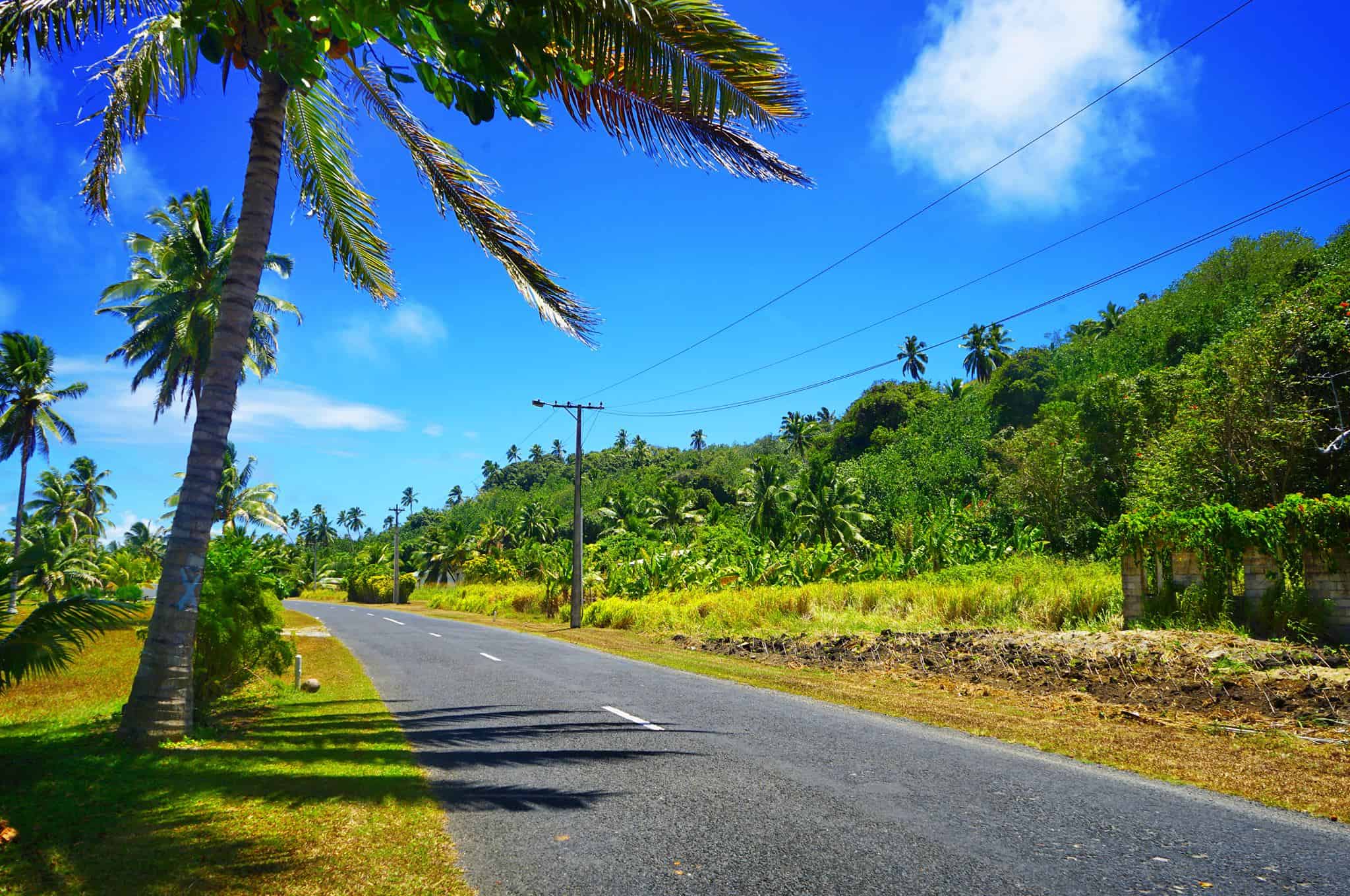 Aitutaki is seriously impressive.
The highlight from my stay had to be the full-day lagoon cruise that was all about the snorkelling and visiting islands that I was convinced were photoshopped, even though I was burying my toes in their sand.
I'm not one for boat cruises, because I get seasick and I hate snorkelling, but this one was so worth it. If you go to Aitutaki, you have to go on a lagoon cruise. I don't know if I'll ever visit anywhere as beautiful as this again.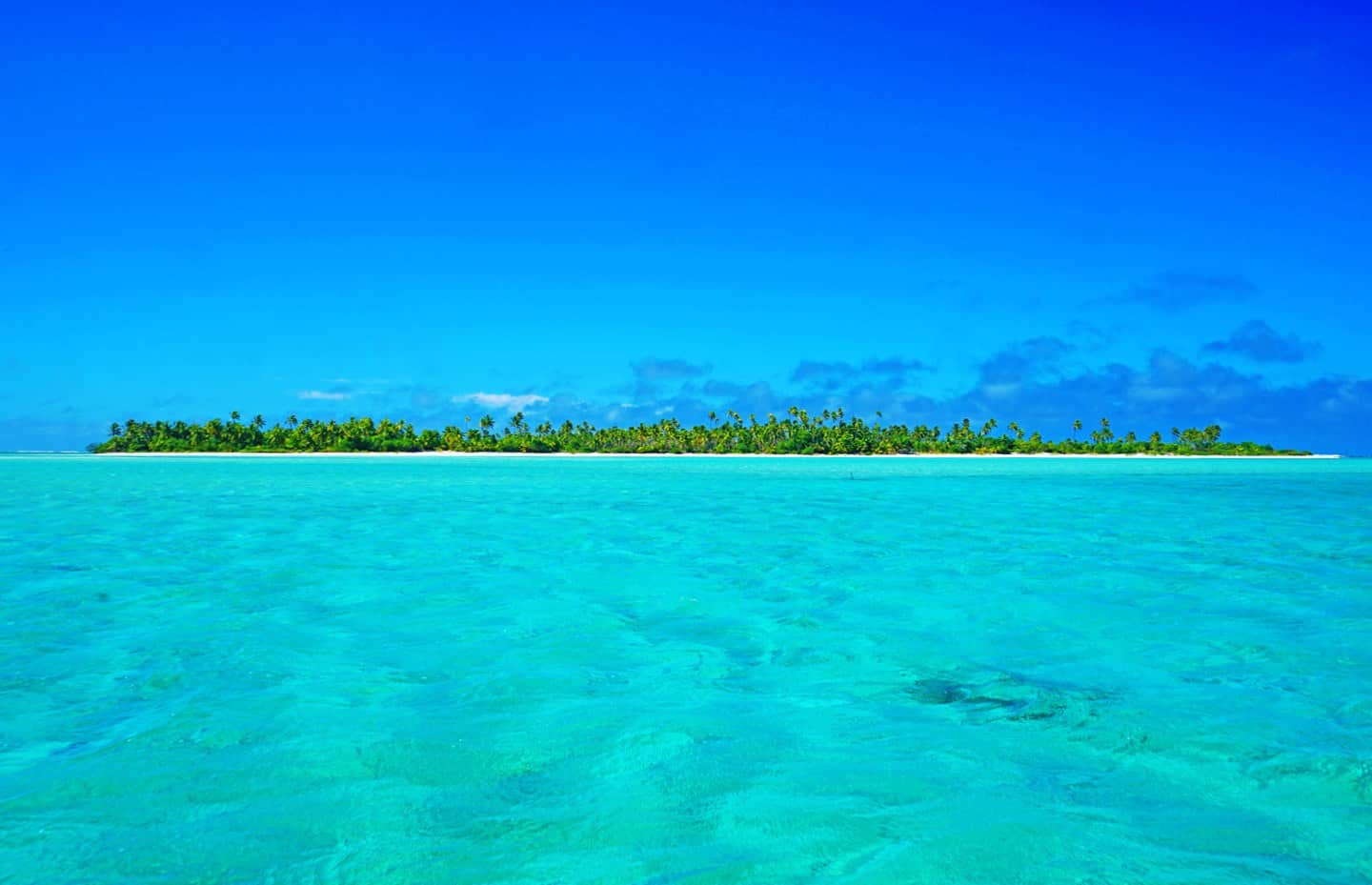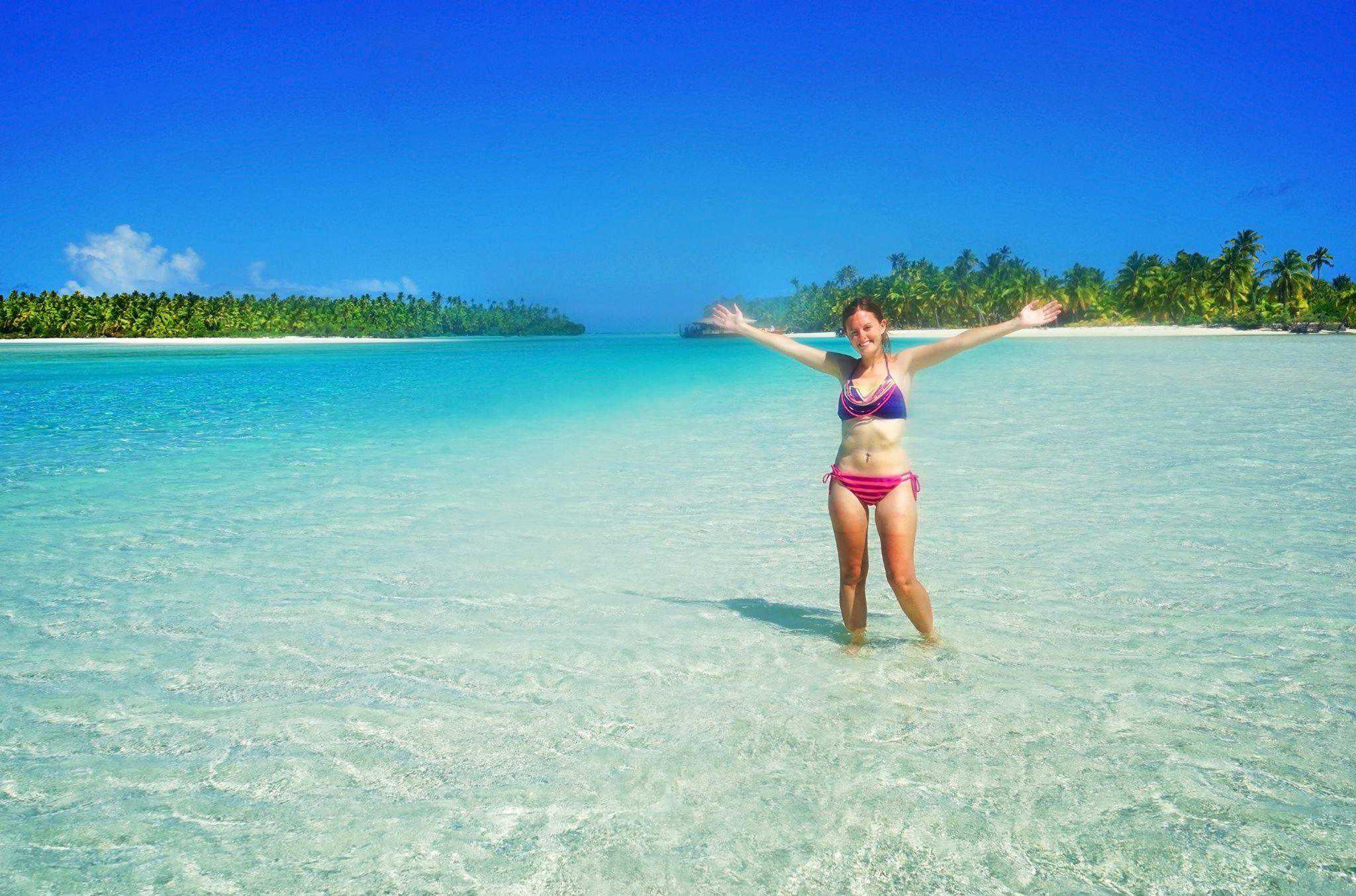 I can't wait to start writing about the Cook Islands in more depth! And on that note, would you guys be interested in me jumping ahead and starting writing about them next week?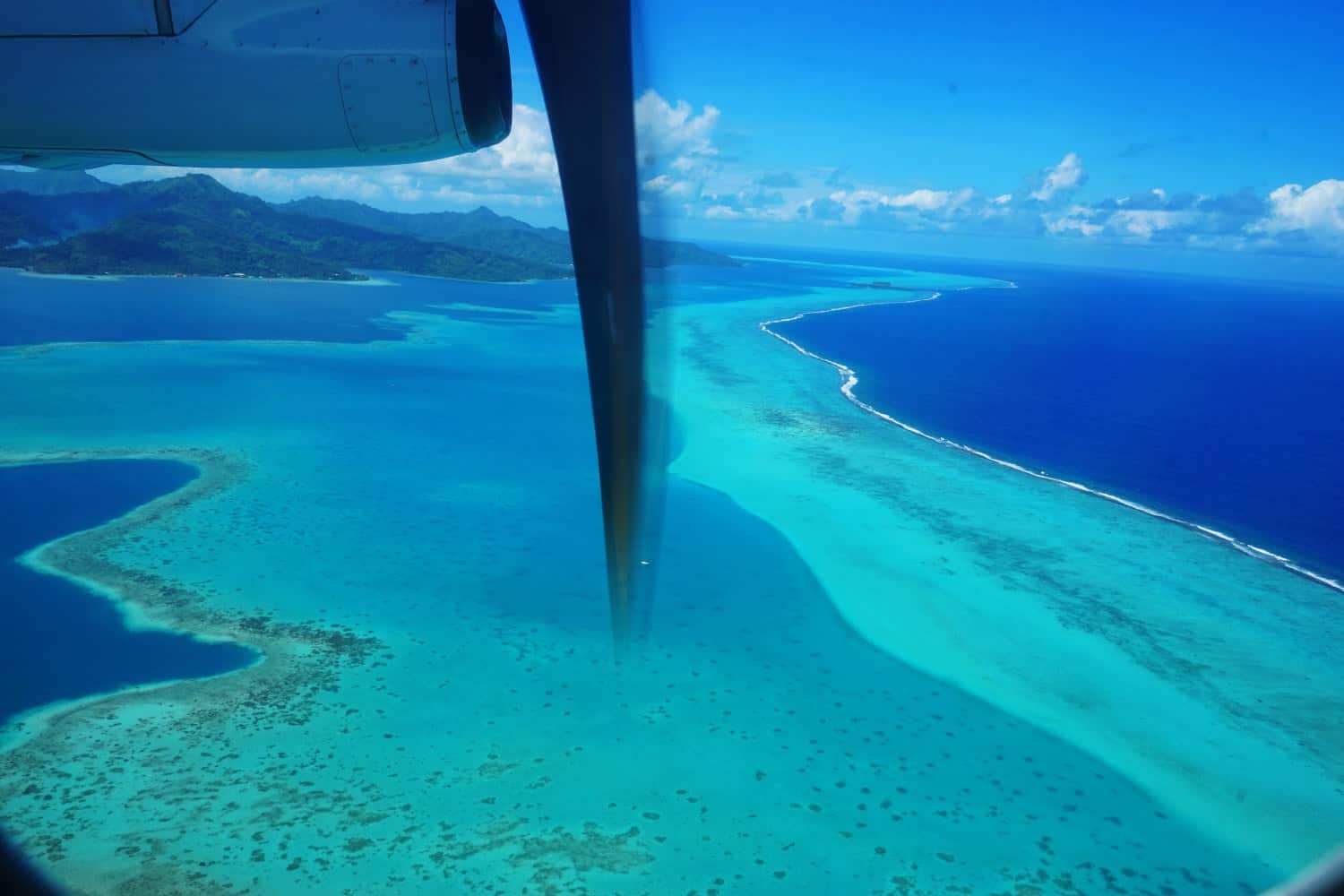 With my time in the Cook Islands over, I hopped on a plane to Tahiti, where I spent as little time as possible (the best parts of French Polynesia are elsewhere), and onwards to Maupiti, a small island with friendly locals and a guesthouse owner who didn't turn up to the airport to pick me up.
Just another day in the travels of Lauren.
On to the statistics for the month!
Countries visited: 4
Australia, Cook Islands, French Polynesia, New Zealand
Places visited: 9
Aitutaki, Ashburton, Auckland, Christchurch, Hanmer Springs, Maupiti, Melbourne, Rarotonga, Tahiti
Distance travelled: 5483 miles
Number of photos taken: 2,101
Highlight of the Month
I've written about how I've been battling with anxiety for the past couple of years, and it's been hanging around ever since.
This month, I finally managed to put it all behind me and it's all thanks to my solo trip in the South Pacific. As always: pushing myself out of my comfort zone is so amazingly good for my anxiety, as much as I don't want to do it at the time. As soon as I left Dave's side and had nobody to rely on but myself, I somehow ended up feeling stronger than ever. I wasn't broken, after all. I wasn't having a breakdown I'd never be able to recover from. I just needed to start doing the things that gave me panic attacks to prove that I was more than capable of doing them and doing them well.
Now, I feel confident, I have zero anxiety, I'm so far away from having a panic attack, and I'm at the point where I don't expect to have another one for a very long time.
Solo travel: it is so freaking great if you suffer from anxiety. I can't let myself forget that again.
Lowlight of the Month
The three nights I spent at Ranginui's Retreat in Aitutaki.
I booked this guesthouse because it said it had free Wi-Fi in the listings online, but I arrived to discover they charged a whopping $10 per 150 mb. My room had to be the most uncomfortable I've ever stayed in. It was so goddamn hot that I spent most nights in tears because nothing I could do would cool me down. I tried sleeping on the floor next to the freezer with the door open, I opened every window and door, I sat in front of the fan, I showered under ice cold water while wrapped up in the sheets. Nothing worked. It was budget travel at its absolute worst and I couldn't wait to leave.
Fortunately, the place I moved to was cheaper and a million times nicer!
Incident of the Month
As always, when I travel solo, I always rack up an incredible number of incidents. This trip was no different. Rather than focus on one specific incident, I'm going to list out everything that went wrong over the space of my week in the South Pacific:
I got sunstroke. I threw up. Somebody put their hand through my window while I was sleeping and touched my head. I fell off my bike. The bike was such poor quality, it destroyed the nerves in my hands — they tingled and ached for five days straight. I got seasick. I slid off the side of a boat, but got my bikini bottoms caught on a hook and ended up dangling over the water with a massive wedgie. Everybody on my tour saw my vagina. Our boat broke down in the middle of the ocean for an hour, with no shelter from the sun and no respite from seasickness. I caught two colds. I got a weird rash all over my body. I'm currently convinced I have dengue fever. My bank blocked my debit card. I had to deal with a stalker in Tahiti who I discovered had been following me all over Aitutaki and wanted to follow me to Maupiti. My guesthouse in Maupiti forgot I was arriving, leaving me stranded at the airport. And then, when I finally found them, told me they'd lost my booking and were fully booked.
Jesus.
But there are worse places to be cursed.
Instagram of the Month
I'm focusing on improving my Instagram account this year, and I'm excited to share my progress in my summaries! This month, my most popular photo was taken on the flight over to New Zealand, and rocked up 524 likes.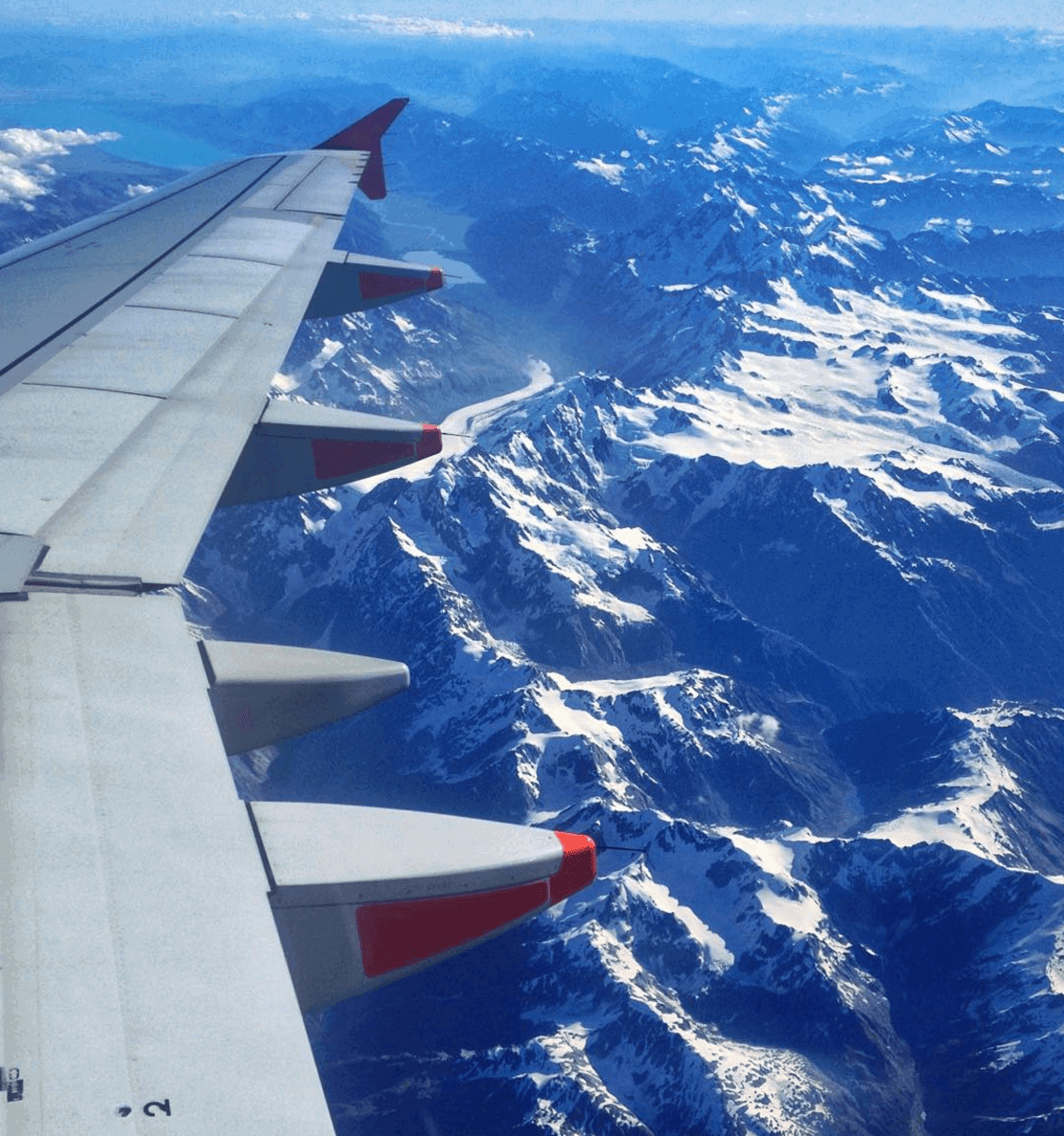 Money Spent:
Accommodation
Thanks to the generosity of Dave's friends and family, I didn't have any accommodation costs in Melbourne and New Zealand.
Rarotonga: $117.38 over 1 night = $39.13 per night
I stayed in two different places on Rarotonga. The first was Rarotonga Backpackers, on the west coast of the island, which came in at $25 for a dorm and $35 for a private single room. The staff were friendly, it was easy to meet people and make friends, and there was a swimming pool and a gorgeous beach out front. The only downside was the worrying reports of robberies along the stretch of beach outside. If you stay there, make sure you keep your valuables in the lockers or your room!
On the east coast of the island, I stayed at Raina Beach Apartments and loved it even more, though it came in at almost $60 a night. It was located opposite Muri Lagoon, which is one of the prettiest parts of the island, and the apartment was enormous. Great location, friendly staff, cheap eats nearby: it was great!
Aitutaki: $205.64 over 4 nights: $51.41 per night
I also stayed in two different places on Aitutaki. The first was Ranginui's Retreat. See above for my not-so-wonderful experience.
Next up was Gina's Garden Lodges, which was so much better. I wish I had stayed here from the start. For $50 a night, I had an enormous bungalow with five beds! Gina was lovely, even giving me a hug when she sent me off at the airport, and the bungalows were peaceful and surrounded by jungle. The room was spacious, had a huge balcony, working Internet, and a big kitchen for cooking at home.
Tahiti: $24.40 over 2 nights: $24.40 per night
In Tahiti, I stayed at Pension Te Miti, a fairly standard hostel on a nice stretch of beach. I booked it for the free airport transfer (and free breakfast) as I was only staying for a night on the island. It was clean, the owner was cool, and the beach in front was nice. Not amazing, but good for a cheap stopover.
Maupiti: $74.35 over 1 night = $74.35 per night
Note: the $75 included a large breakfast and dinner, so covered all of my meals on the island. In Maupiti, I stayed at Pension Espace Beach and absolutely adored it! The staff were friendly (although nobody spoke even a word of English, so I had to communicate through the other guests), the room was modern and clean and located on the best beach on the island. The food was delicious! Any downsides? The fan wasn't particularly powerful and the showers were cold water only. The Wi-Fi was free and fast.
Transport: 
Flight from Melbourne to Christchurch: $300.89
Flight from Christchurch to Auckland: $123.20
Flight from Auckland to Rarotonga: $206.35
Airport transfer in Rarotonga: $13.32
Flight from Rarotonga to Aitutaki and back: $359.71
Bicycle hire in Aitutaki: $6.66
Airport transfer in Rarotonga: $13.32
Flight from Rarotonga to Tahiti: $304.84
Food: $325.05
Activities: 
Lagoon cruise in Aitutaki: $79.32
Miscellaneous: 
Insect repellent: $10.00
Aftersun: $15.00
Business Expenses: 
Total amount spent: $2178.04
My Next Steps
I have an action-packed stint of travel coming up over the next month!
I'll be starting with a continuation of my Society Islands jaunt in French Polynesia: after Maupiti, I'll be heading to Raiatea, Huahine, and Bora Bora, researching how to visit the islands on a budget and cramming in as many fun activities as possible
Then: The Worst Travel Day Ever.
From Bora Bora, I fly to Tahiti and onwards to Auckland, where I'll spending the night sleeping on the floor of the airport. Next stop: Fiji. I was originally planning on spending ten days exploring the Yasawa Islands, but I've decided to cut them from my plans and hit up Nadi on a 48 hour layover. Why? I'm tired and this trip was too ambitious with too much movement. I miss Dave. I miss sitting still. I miss being able to write on Never Ending Footsteps.
After those two nights in Fiji, I'll be taking an overnight flight to Los Angeles, spending the entire day at the airport, then taking another overnight flight to Mexico City — landing at 3 a.m., which I'm sure will be wonderful.
Then onwards to Oaxaca, where I'll be based for the next month! I'm so looking forward to hanging with friends and sampling as many different dishes as I can!