Greetings from Taipei!
What a fabulous month I've had, from celebrating Dave's birthday in Cambodia to an action-packed jaunt through Vietnam, these past four weeks have brought the perfect blend of travel, rest, and play into my life.
Let's get started!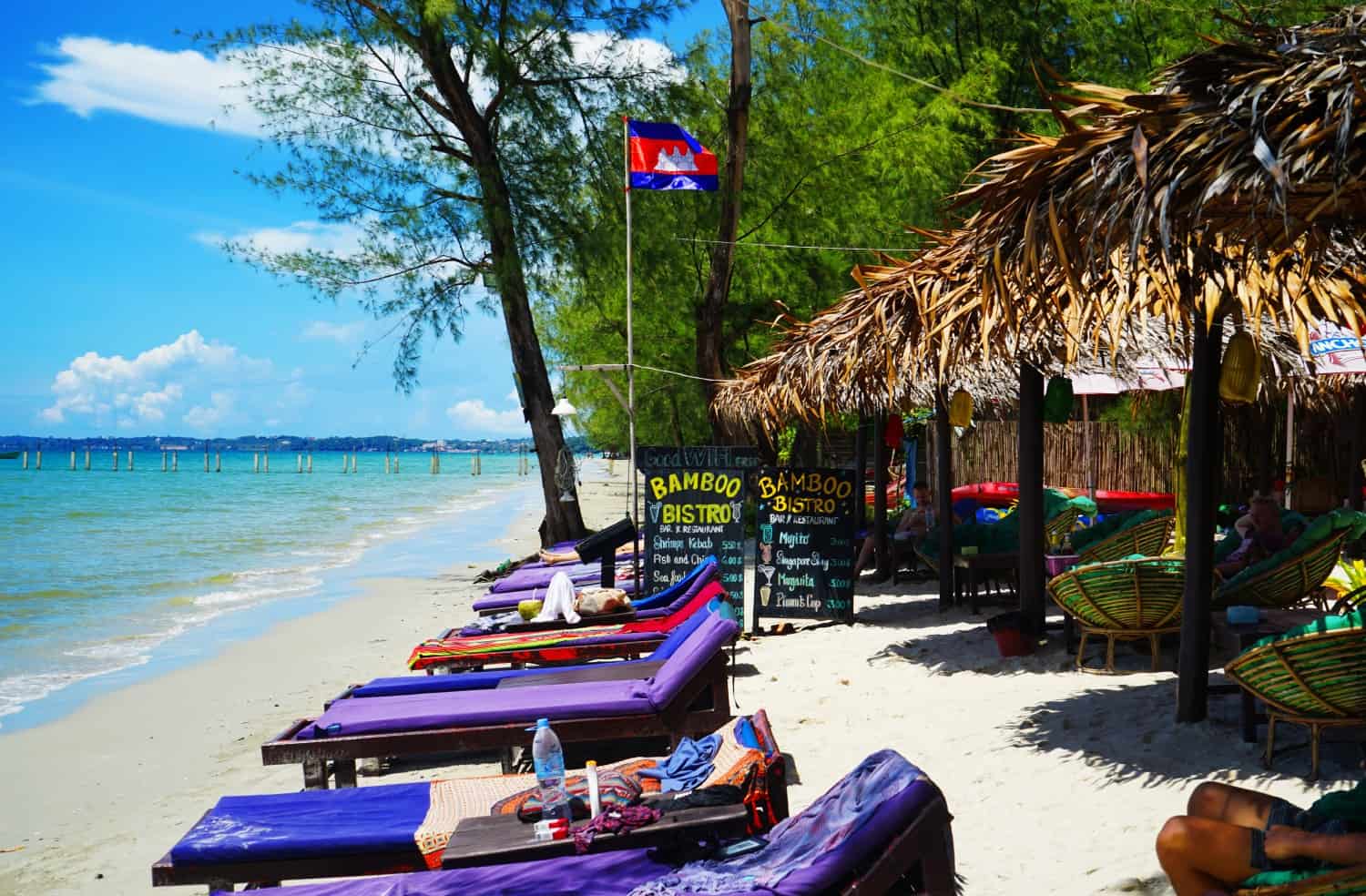 This month, I returned to Sihanoukville and my beloved Otres Beach, thrilled to discover it had remained just how I left it, with a chilled out vibe and an unspoiled beach. The ocean was warm; Bob Marley tunes were dominating; and the beach was deserted.
Last time we visited, we were staying in a $15-a-night beach bungalow with holey walls, a cold water shower, and regular power cuts; this time around, I opted for something a little more upmarket.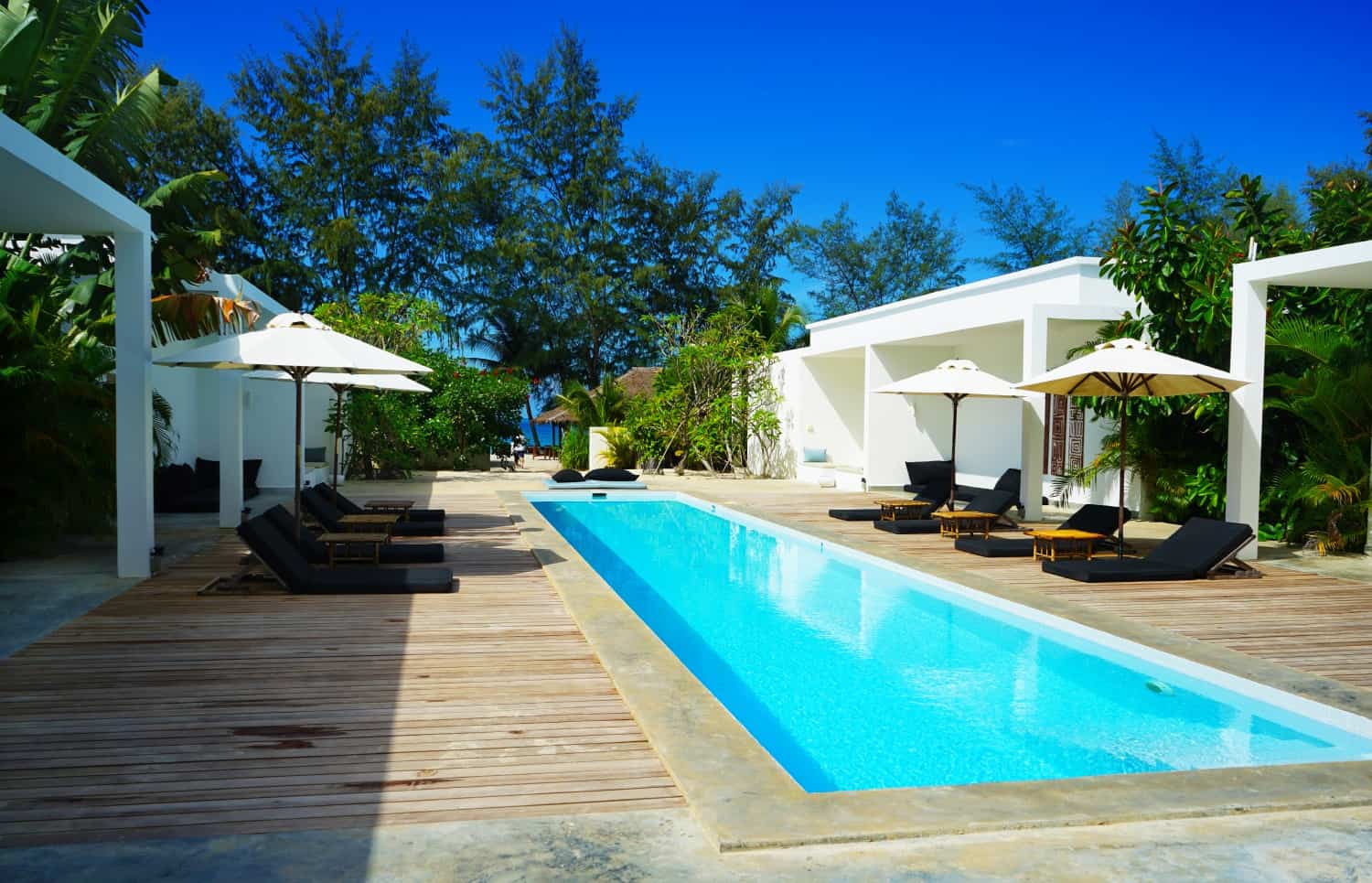 Staying at Tamu Hotel was glorious, and I dove straight into that pool within minutes of checking in. We spent the next few days in a haze of blissful excess: of sun, of books, of food.
We switched off all technology but our Kindles, revisited our favourite restaurants, and, unlike last time, successfully avoided the 50,000 jellyfish that had washed up on the sand.
Next, we jetted up to Siem Reap for our final stop in the country. We'd both visited the main temples of Angkor before, so spent this trip seeking out the spots few people choose to explore. We asked our tuk-tuk driver to take us to his favourite temples — to show us the ones that weren't swarming with people.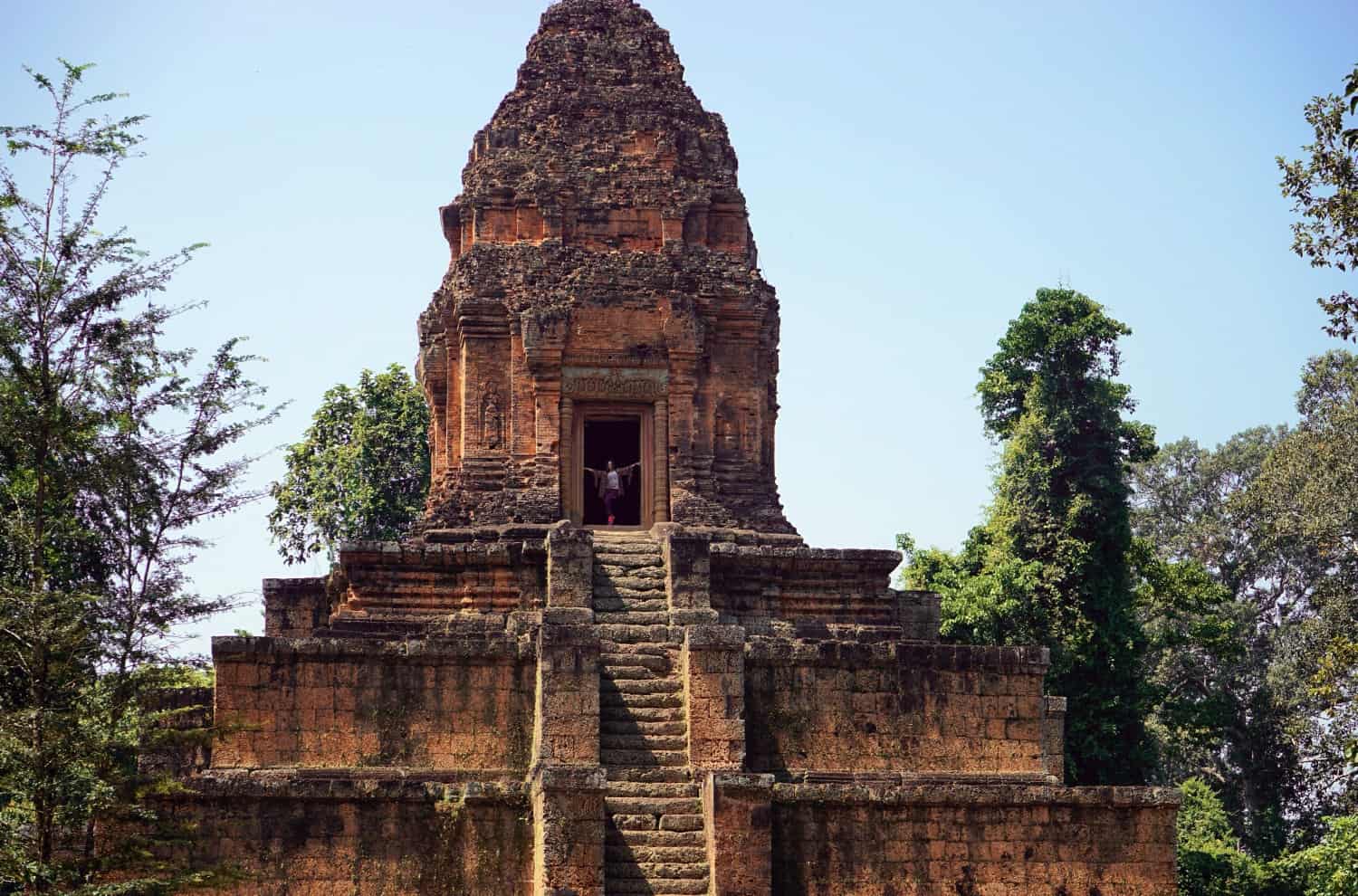 I wasn't sure it would be possible, so I was delighted we got to spend an entire day barely seeing another person. We clambered over rocks and scrambled up ruins, and visited temples that were just as impressive as the ones on the tourist route, if not more so because we had them all to ourselves.
How can you see Angkor Wat without the crowds? By visiting at sunset! When we turned up at around 5 p.m., we were met with a steady steam of people flowing out of the complex and onwards to one of the popular sunset spots.
We spent the next hour wandering in silence, and when the sun set, we clambered out of a window and sat perched on the small stone ledge as we watched the sky turn orange. There was barely anyone save for a couple of monks in sight. What an amazing experience!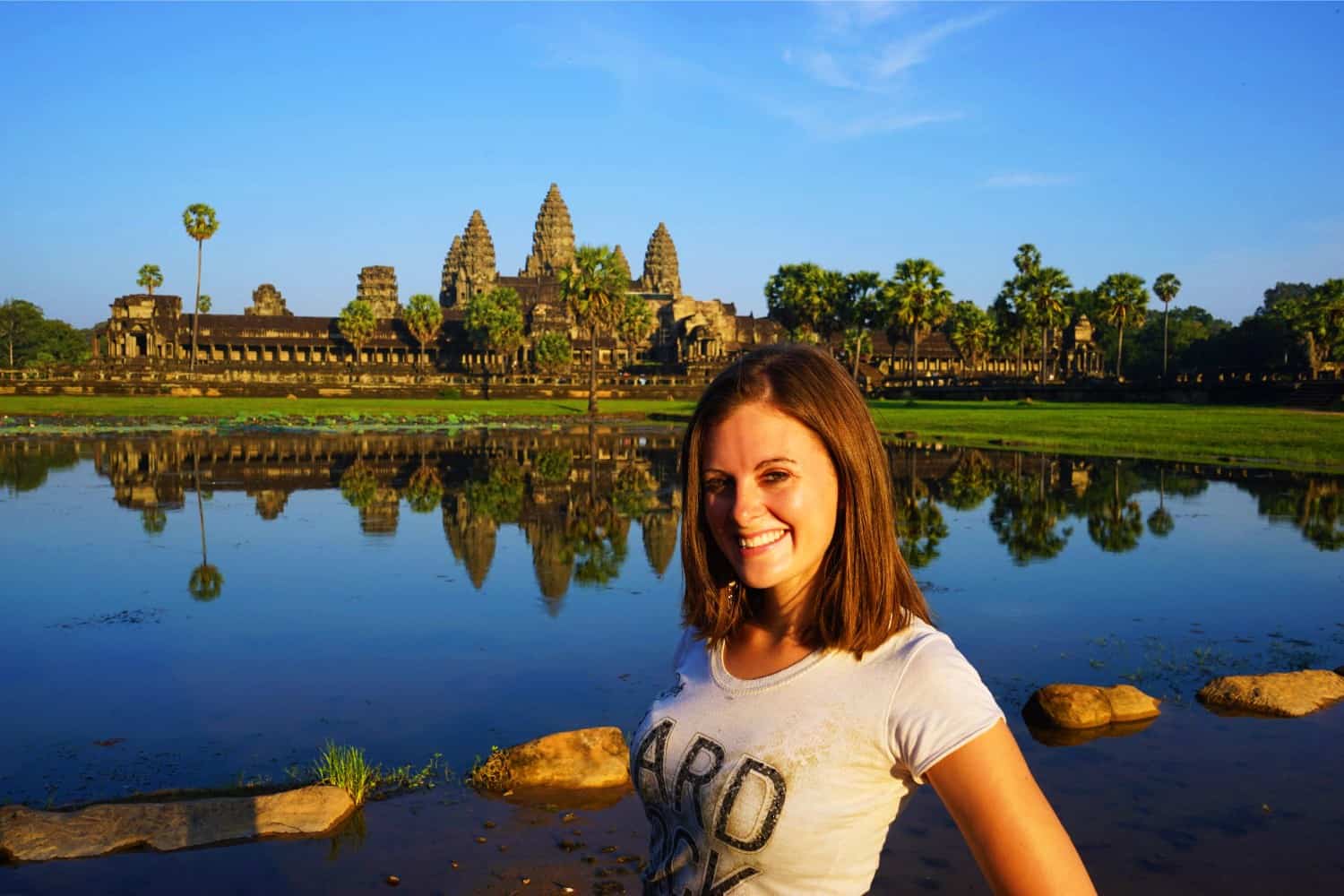 With that, our whirlwind trip to Cambodia was complete and it was onwards to Vietnam!
Dave's parents decided to fly out to meet us for this portion of our Southeast Asia trip, and we had ten days to show them the best Vietnam has to offer. And to prevent them from getting run over.
We failed on the tour guide front when it came to showing them around Hanoi: I'd never been and Dave had only spent a day there half a decade ago. Honestly, I arrived fully expecting to hate the city — I've read far too many posts on travel blogs stating that scams were everywhere and the people were rude — so I was surprised to fall deeply in love almost immediately.
Nobody attempted to scam us and the people were just as friendly as they are in the south. I felt safe and welcome there. And the food!
Vietnamese food is one of my favourite cuisines, so we booked a street food tour to learn more about the dishes Dave and I often struggle to find. I expected to love the tour but came away feeling disappointed. At $85 per person, it was pretty pricey, so to leave feeling ambivalent towards the experience was unexpected. Only one of the dishes was blow-your-mind delicious and I didn't come away feeling as if I had any greater knowledge about Hanoi street food.
We were on a rushed schedule, so flew down to Hoi An next, one of my favourite places in Vietnam. After the chaos of busy Hanoi, it was a welcome break for my overwhelmed mind. We spent our time relaxing by the pool, reading books, strolling through the beautiful old town, and even paid a visit to a silent cafe, which was basically my favourite place in the entire world. Fuck yeah, silence!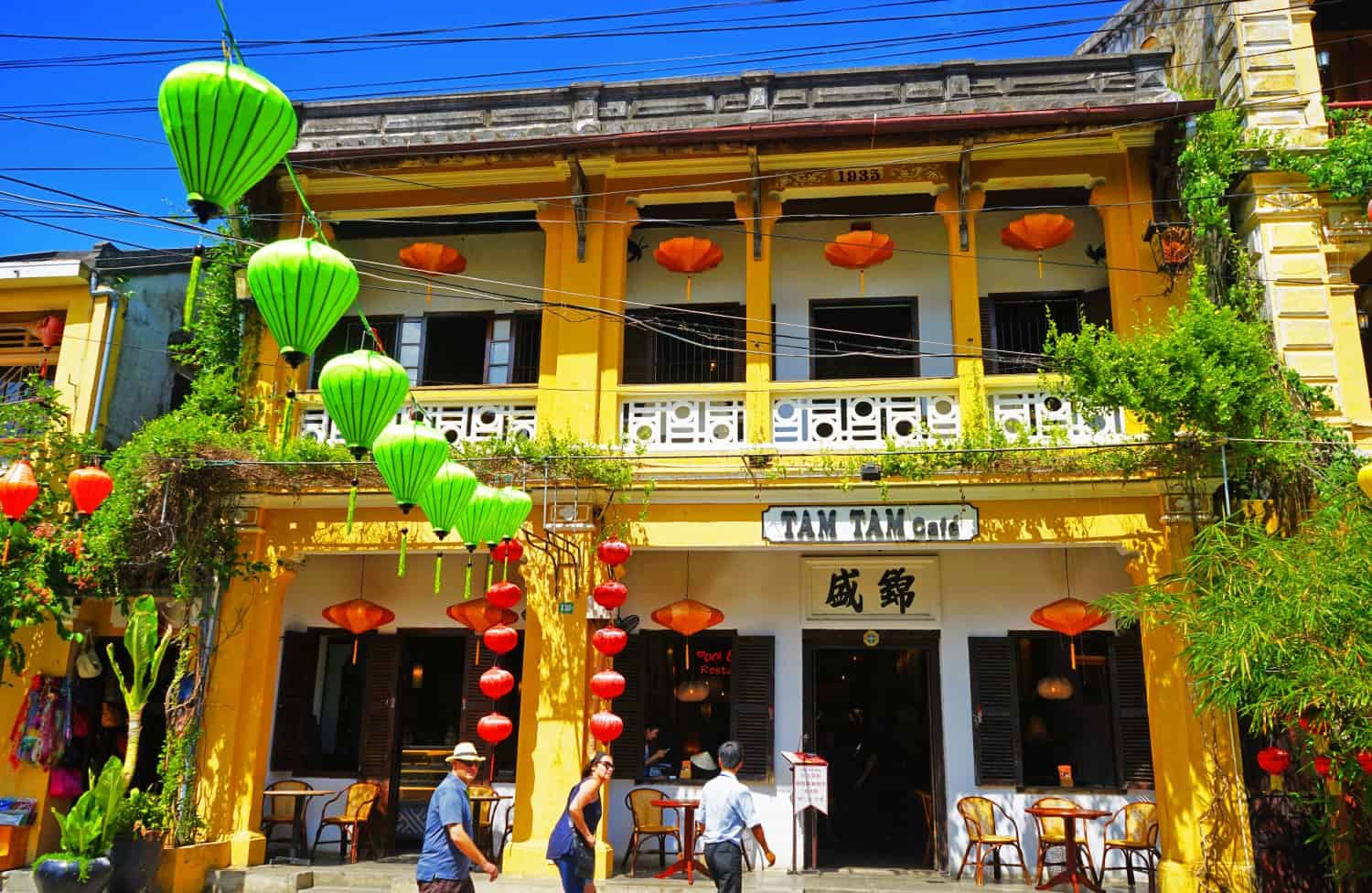 We rounded off our time in Vietnam with a whirlwind return to Saigon, which we spent indulging in avocado smoothies and banh mi, as always, and then it was off to Taipei, taking an illogical route via Singapore.
It was here that for the first time in, well, ever, I managed to find the perfect mix of work, rest, exercise, and play.
I'm starting to catch up on work on Never Ending Footsteps, afternoon naps are now making a daily appearance in my to-do list, my Fitbit is recording 20,000 steps on a regular basis thanks to my many hikes in the mountains surrounding Taipei, and I've been heading out to explore the tourist sites I've missed on previous trips, too.
Countries Visited: 4
Cambodia, Singapore, Taiwan, Vietnam
Places Visited: 8
Hanoi, Ho Chi Minh City, Hoi An, Kampot, Siem Reap, Sihanoukville, Singapore, Taipei
Distance Travelled: 4,569 miles
Number of Flights: 7
Number of Buses: 1
Photos Taken: 894
Highlight of the Month
It has to be our first day back on Otres Beach! I loved laying out beside the pool, squealing at our enormous hotel room, splashing around in the ocean, and rounding it all off with a candlelit dinner at our favourite pizza restaurant.
Lowlight of the Month
Falling in love with Vietnamese egg coffees (exactly what they sound like), drinking two in a day, and ending up with heart palpitations for hours.
Vietnamese coffees are strong, and as someone who has the trifecta of being tiny, highly sensitive, and a lifelong caffeine-avoider, I was convinced I was going to die.
Incident of the Month
In Taipei, I sliced my finger open while doing the washing up! In yet another spectacular display of poor common sense, I decided to scrub our huge knife with the blade facing my hand. Of course, I slipped and the knife sliced straight through a good portion of my knuckles. Argh!
There was so much blood that I was soaking through a thick wad of tissue every few minutes, and I was terrified I needed stitches. Fortunately not! At least I have an L-shaped scar on my finger now.
My Favourite Photo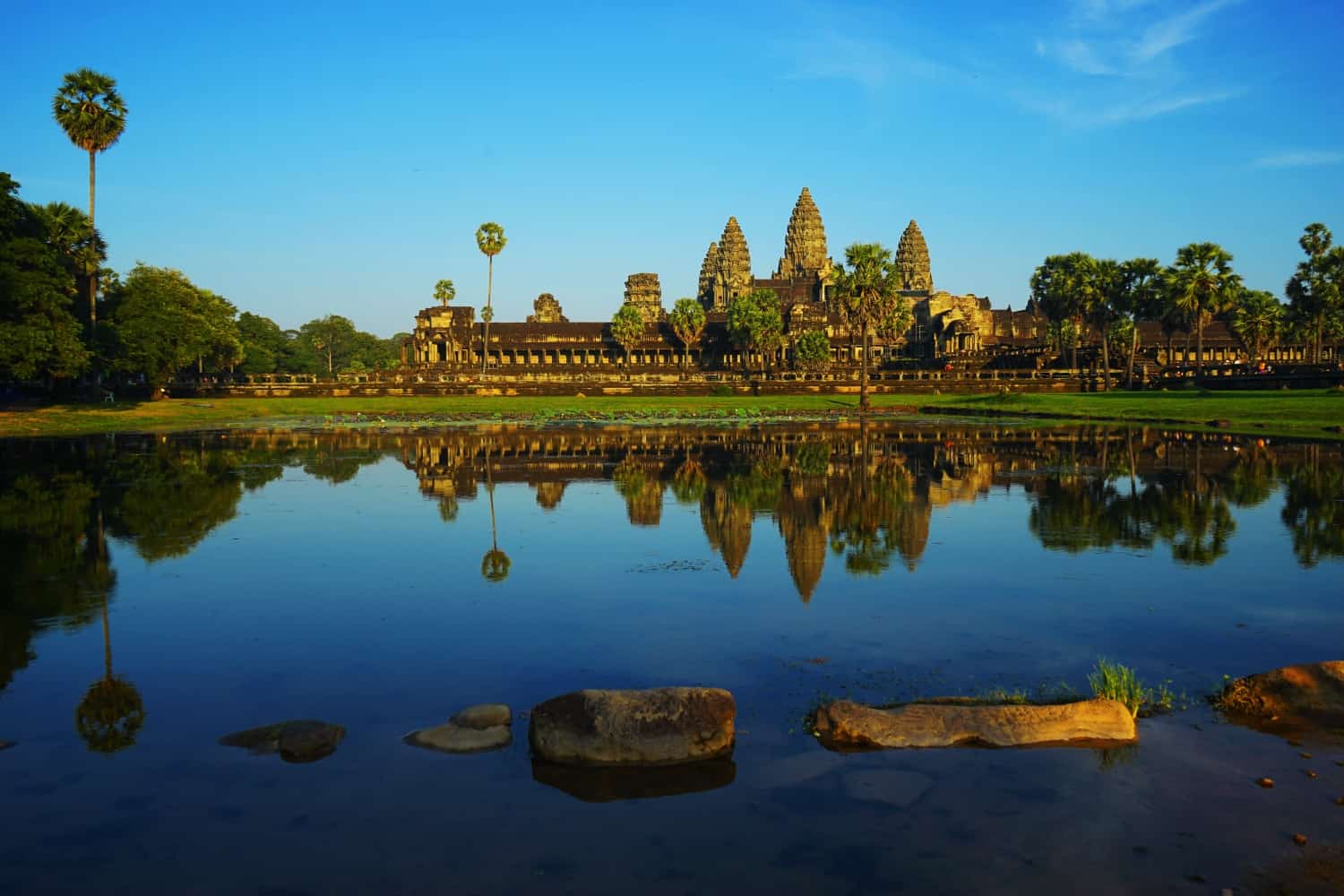 Sunset at Angkor Wat was incredible! I love the reflections in this shot.
The Best Thing I Ate
I've spent much of my time in Taipei seeking out the strangest cafes I could find. This concoction from Glam Air consisted of vanilla ice cream, cornflakes, popping candy, and an enormous candy floss hat that was placed on top. Drop it all inside a cup full of dry ice and your mystical dessert is good to go!
Amount Spent
Accommodation:
Kampot: This was a birthday present for Dave, and he doesn't want to know how much it was, so I won't be sharing the price here.

I opted to stay at RikiTikiTavi, because we'd stayed there last time and loved it. On our last visit, I was suffering from an infected wound on my leg and insisted we splash out on the fanciest hotel I could stumble to to recover. The rooms are clean and airy, with air conditioning and a large breakfast included. Happy hour overlooking the river is a must! You can book through their website.

Otres Beach: Also a birthday present for Dave.

Tamu Hotel is one of the best hotels I've ever stayed in. It's been over a month since we visited and I still can't stop talking about it. Our room was incredible, and so was the view, and so was the food, and can't I go back and live there forever? Highly recommended if you're looking to treat yourself on Otres Beach!

Siem Reap: Also a birthday present for Dave.

I loved our stay at Chronicle Angkor Hotel. The staff were some of the nicest we've come across, and their Kitkat-accompanied goodnight note was the sweetest thing to have happened to me in a hotel. They helped us arrange a tuk-tuk, the breakfast was varied and delicious, and the swimming pool was wonderful to unwind beside. It was centrally located, but quiet. I loved it!

Hanoi: $61.80 over 5 nights = $12.36 per night

Bleh — Crystal Hotel Hanoi was one of my least favourite hotels I've ever stayed in! Our room smelt like damp mould, it was dingy and dark, and one of the staff members made sexist comments about me to Dave. Avoid!

Hoi An: $115.84 over 4 nights = $28.96 per night

We opted for the Lantana Hoi An Boutique Hotel in Hoi An and loved it! We had a swimming pool to relax in, the staff were friendly, impressively memorising our names within minutes of our arrival, and we were a few minutes' walk away from the old town. I liked it a lot.

Ho Chi Minh City: $27.10 over 1 night = $27.10 per night

An average stay at the Tan Hoang Long Hotel. The hotel was nice and it was in a good location, but we ended up in a room without windows, which I hate. Meh. There are better places to stay in the city, and for much cheaper, too. I wouldn't go back.

Taipei: $354.64 over 13 nights = $27.28 per night

We're spending our month in Taipei in this loft-style apartment with one of the best views I've ever had. We're in the heart of the Xinyi district, a few minutes' walk away from Taipei 101, surrounded by dozens of cafes and restaurants, and my favourite night market in the city: Tonghua! This is one of my favourite Airbnb apartments I've stayed in so far.
Transport: 
Minivan from Kampot to Sihanoukville: $10.00
Taxi from Otres Beach to Sihanoukville's airport: $10.00
Flight from Sihanoukville to Siem Reap: $116.20
Tuk-tuk hire for a day at Angkor: $15.00
Flight from Siem Reap to Ho Chi Minh City: $135.00
Flight from Ho Chi Minh City to Hanoi: $48.21
Flight from Hanoi to Hoi An: $28.50[!]
Flight from Hoi An to Ho Chi Minh City: $62.25
Flight from Ho Chi Minh City to Taipei: $183.72
Bus from Taipei to our apartment: $4.74
Food: $841.90
Activities and entrance fees: 
Three day pass to the temples of Angkor: $40.00
Street food tour in Hanoi: $85.00
Business expenses: 
Total amount spent: $2266.39 (plus the accommodation for Dave's birthday!)
My Next Steps
I've got another two weeks in Taipei before I fill my duct-taped backpack up and head south for the winter! Next stop: Melbourne.
I'll be spending the second half of the month doing all of the things that make me happy: cafe hopping my way around the city, stuffing my face with avocado toast, stocking up on Vegemite, and taking rock climbing lessons.
Yes, really.
Have any tips for my time in Melbourne? Where should I eat?! Let me know in the comments below!