What an amazing, wonderful, perfect month!
And can I just say how great it feels to open a monthly summary with that line? Things are going so well right now!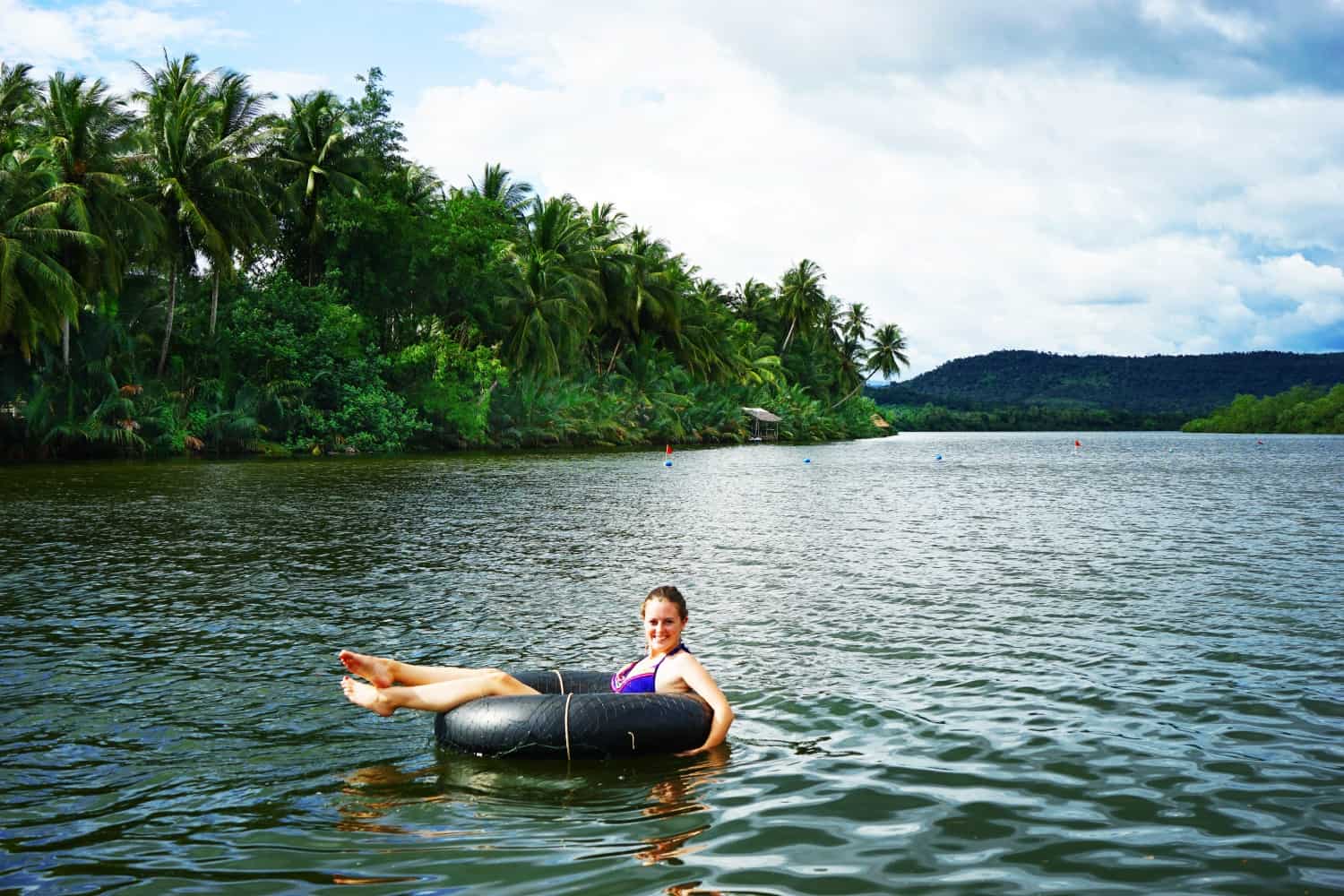 I kicked off the month at home in the UK, doing much the same as the previous month: spending time with family and nursing myself back to health. It was much needed, and when combined with a spontaneous break from work, I left well on my way to recovery.
Next up: Madrid, where I reunited with Dave. We'd spent the past six weeks apart while he walked 850 kilometres across Spain, so those few days in Madrid were filled with walking and talking about his many enviable experiences.
Fun fact: when you book the cheapest Airbnb apartment you can find in your favourite Madrid neighbourhood, you may end up in a place with a hole in the ceiling for Dave to put his head when he stands up. This apartment was small. At 5'1", even I was repeatedly slamming my head into the ceiling.
Then it was back to Southeast Asia for the winter and everything suddenly fell into place.
It felt like home, even though I've not spent more than a few days total in Bangkok, but there was so much familiarity. The heat, the humidity, the pink taxis, the tuk-tuks I always want to ride in even though I know they'll overcharge me. The mangoes, the strange smells emanating from street stalls, the quirky cafes and bars, and the fried duck beaks.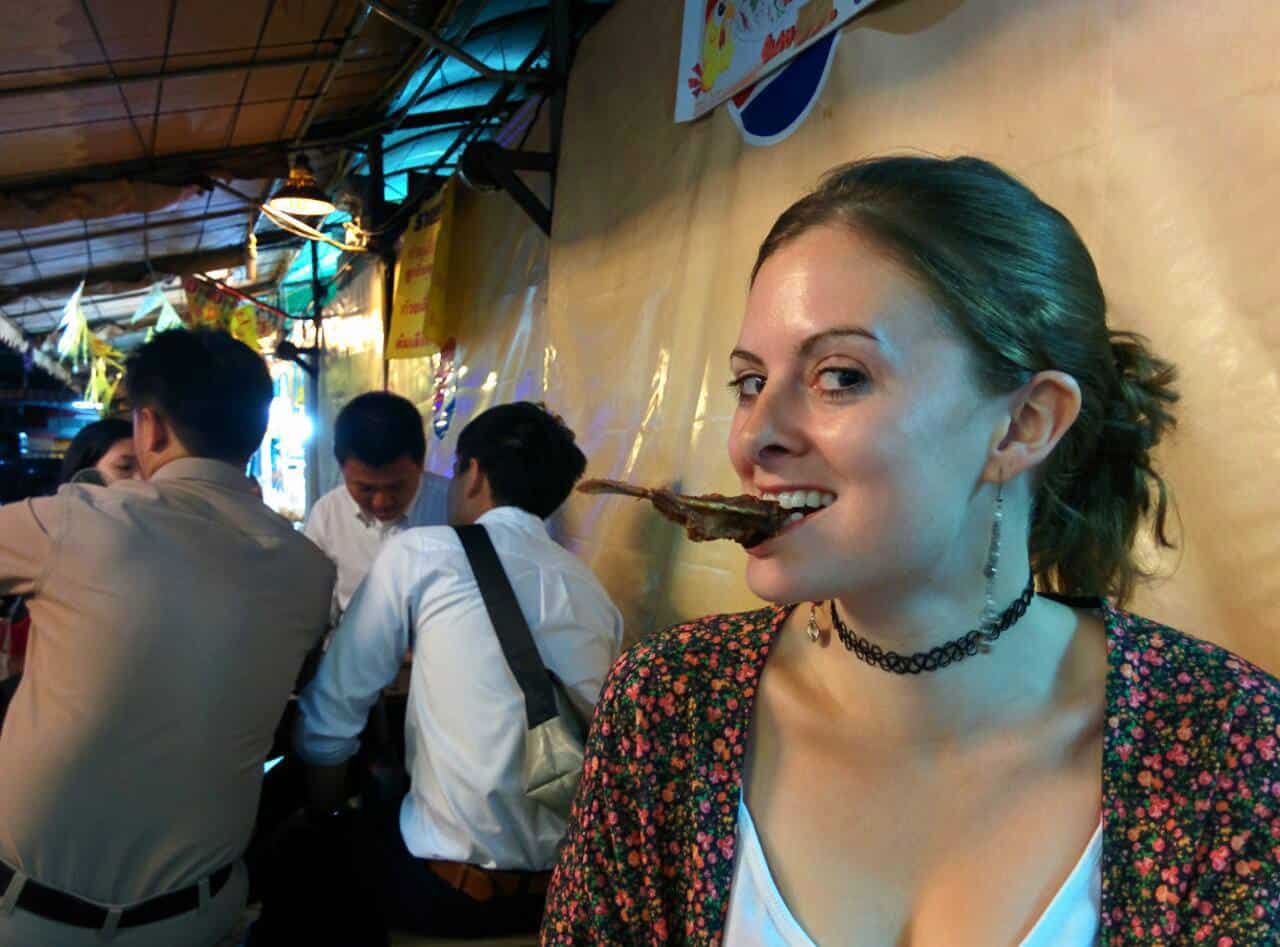 Yum.
One of the primary reasons behind Dave's and my decision to start seriously thinking about finding a base is our craving for a set of friends we get to see for more than a few days a year. These days, we tend to base our travels around where our friends currently are and Bangkok was no exception.
When we heard that Jodi and James were going to be in town, we booked an apartment in the same neighbourhood and spent the next week eating and chatting. And slowly, I started to feel even more functional. Southeast Asia seems to be a healing part of the world for me.
Most exciting of all was the revelation that I don't hate Thai food! I assumed I'd never get to enjoy many people's favourite cuisine, thanks to my lowish tolerance to heat and my disliking of peanuts and coconut and anything else nut-related. Turns out there are plenty of dishes I like — I just needed someone to show me which ones. New favourite: pad pongali gai!
When I wasn't eating with friends, my days were filled with long walks around our neighbourhood, gym visits, and swimming in our rooftop swimming pool. When I wasn't exercising, I was hanging out in coffee shops and drinking passionfruit smoothies.
I'd never really connected with Bangkok before this visit, but something changed this time. I could see myself living there. I found street food treats I loved, we were in a cool area that reminded me of my favourite Nimmanhaemin neighbourhood in Chiang Mai, full of hipster cafes and cool bars with toffee apple-flavoured cider, and very few tourists.
Dave and I left talking about how we could have definitely spent a few months there.
Then it was time to head to Cambodia.
My previous visit had been full of terrible experiences. I had visa issues and food poisoning and was attacked by sandflies and attacked by jellyfish and caught a fish in my vagina. It was my unluckiest period of travel and while I don't believe in curses, I couldn't deny I had been seriously unlucky. I was nervous about returning.
Dave and I boarded our flight to Trat, landed, and I discovered my backpack had a hole in the side. A big hole. A hole big enough for half of my luggage to fall out of. Ah.
I shook my head and reminded myself there's no such thing as curses.
Onwards!
Our time in Cambodia was all about heading offline, celebrating Dave's birthday, forgetting about work, reading as many books as possible, and sunbathing all day every day.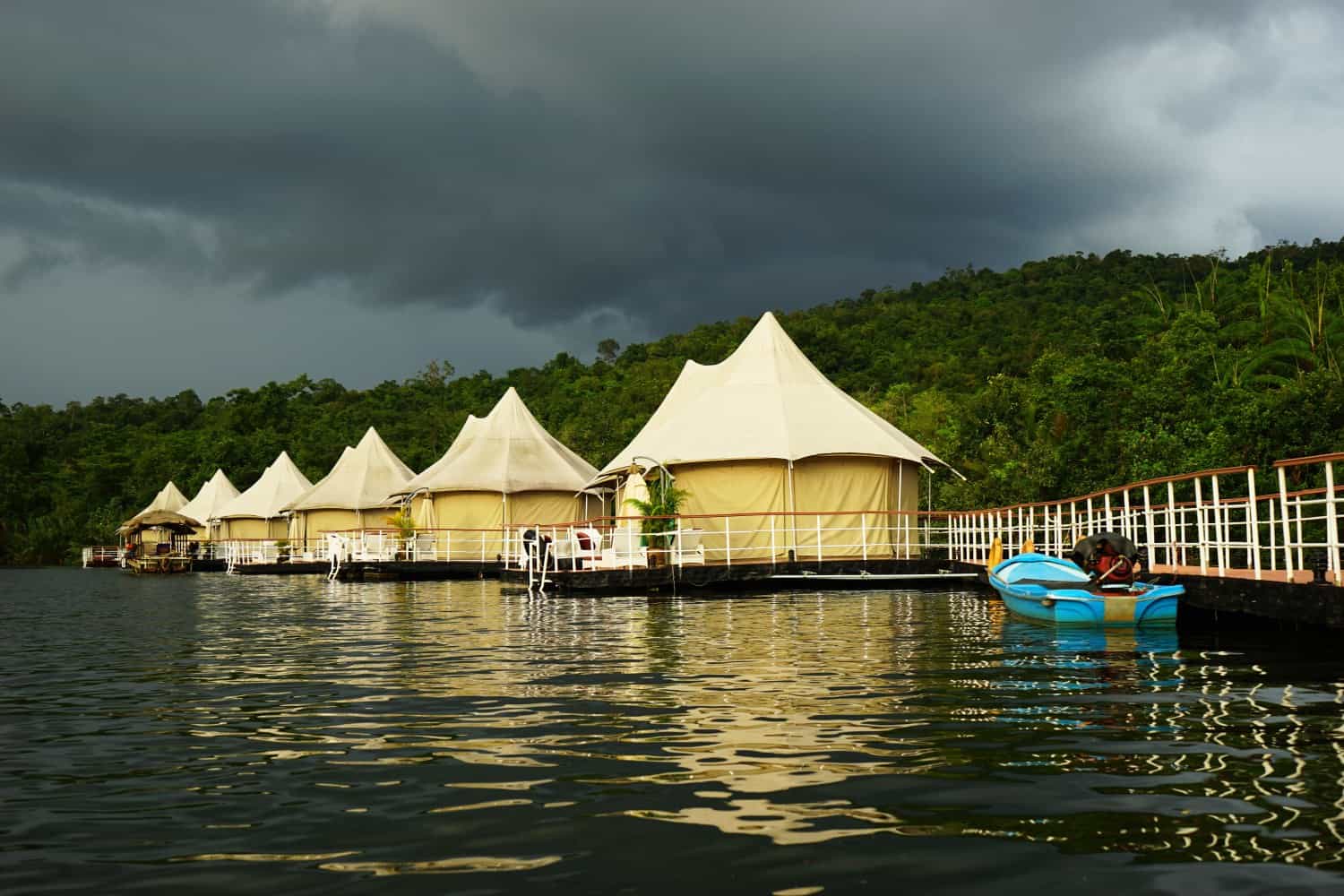 Well, some days.
When I began planning Dave's birthday trip in Cambodia, I knew I wanted to take him somewhere we hadn't been before; that many people hadn't visited yet. Four Rivers Floating Lodge seemed to check every box!
It's located on the Tatai River, in the southwest corner of the country, a few miles from the Thai border and surrounded by jungle. You need to take a half an hour boat journey to get there, and when you arrive, silence.
We were staying in a tent-type kind of room, with a balcony we could dive off of into the river every morning.
I was worried how we'd cope being somewhere so isolated and offline, but there was plenty to explore. We had free use of a couple of kayaks to explore Koh Andet, formerly a refuge from the Khmer Rouge and now home to a dozen farming families. Most of the hotel's staff come from there.
We also had access to inflatable rings to float in down the river — a cold Angkor beer in hand, obvs — and we even received a free evening cruise to go firefly spotting in the jungle.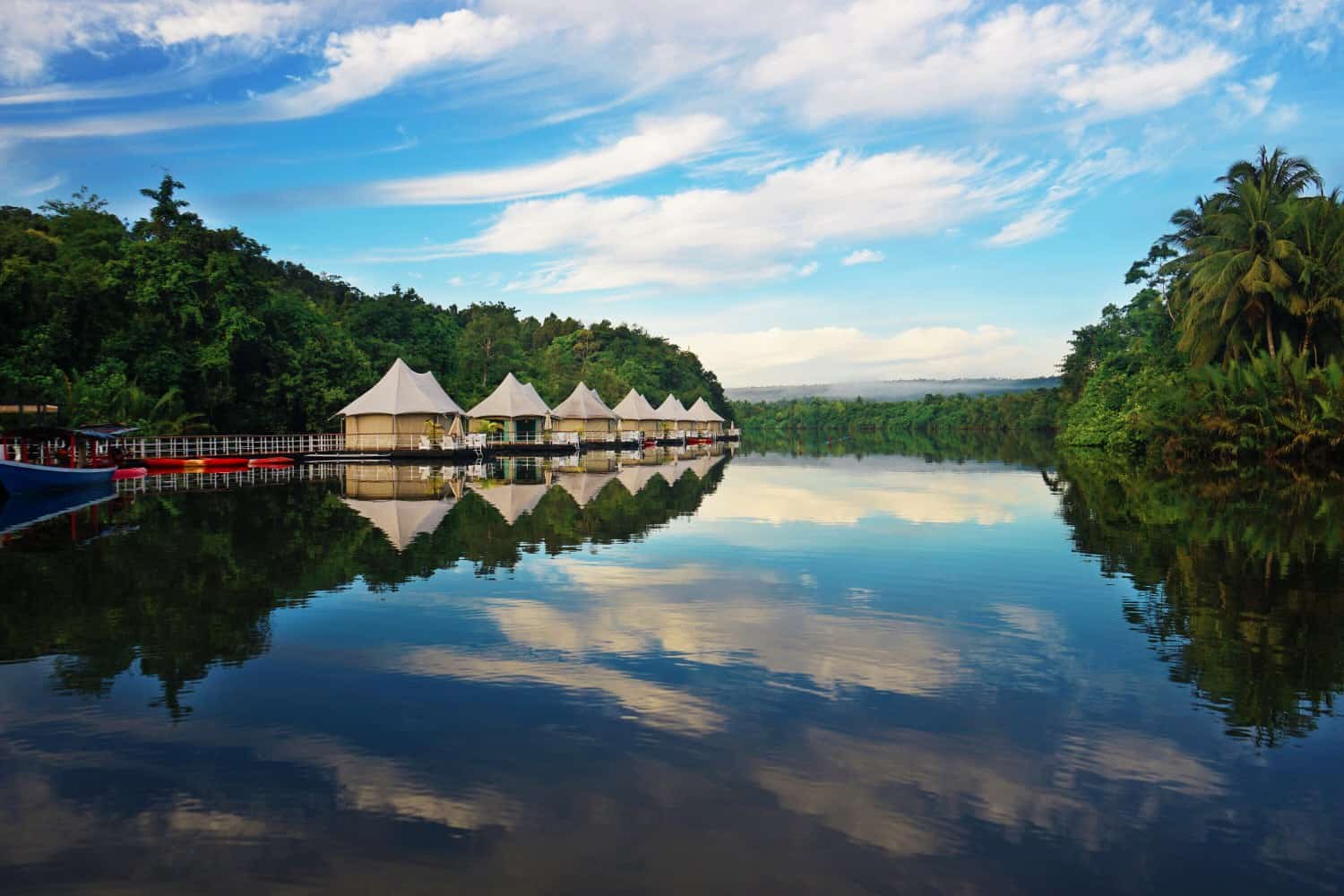 We slept in our floating room every night, bobbing around in a way that didn't make me seasick, ate delicious meals, hung out in the floating library, and explored this small corner of Cambodia where you'll rarely hear another sound or see another person.
It was one of the best experiences of my travels to date.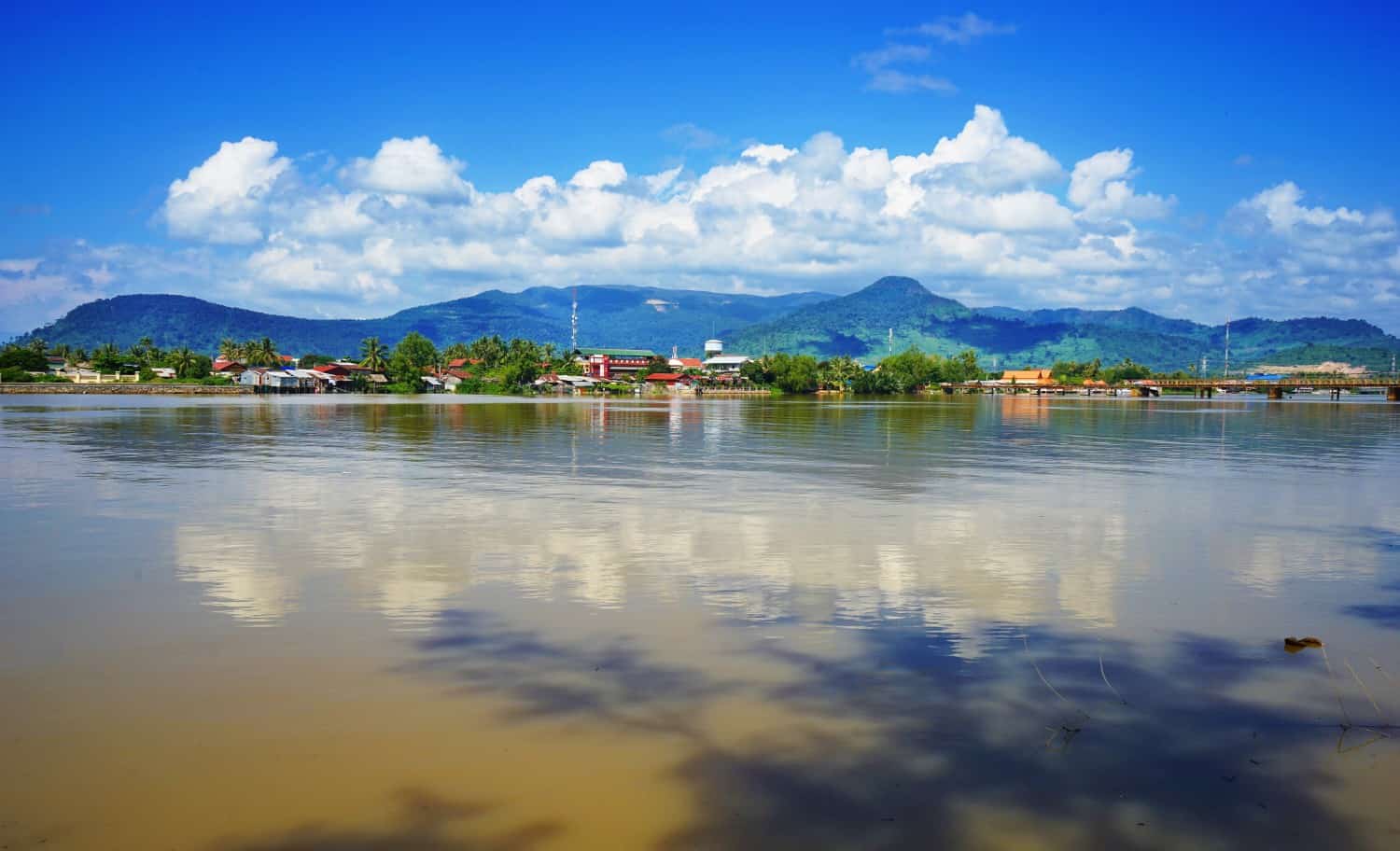 We ended the month in the beautiful laidback town of Kampot: one of my favourite places in Cambodia. We definitely came here for the food: the Kampot pepper, the ribs and mashed potato at the Rusty Keyhole, and the incredible chorizo brunches at Cafe Espresso. When we weren't eating, we were outside exploring and snapping photos of one of my favourite riverside hangouts.
Cambodia: it's good to be back.
Countries Visited: 4
Spain, Thailand, Vietnam, United Kingdom
Cities Visited: 6
Bangkok, Kampot, London, Madrid, Staines, Tatai
Distance Travelled: 7,850 miles
Photos Taken: 402
Number of flights: 3
Number of trains: 4
Number of buses: 1
Number of ferries: 1
Highlight of the Month
The moment I stepped off the plane in Bangkok! It felt like returning home and the small amount of remaining anxiety I had been battling immediately faded away. Maybe I need to move to Thailand?
Lowlight of the Month
Having Bangkok Airways rip in a hole in the side of my backpack was a big pain in the ass. I always buy Osprey backpacks for their lifetime guarantee, but my fast-paced travels mean that I'm not likely going to be anywhere long enough to get a replacement.
Photo of the Month
One of my favourite sunsets I've ever witnessed, on a sunset cruise on the Tatai River! So magical.
Travel Expenses
Accommodation:
Madrid: $75.16 over 3 nights: $25.05 per night

I stayed in this Airbnb apartment in Madrid that was not as nice as it looks! The ceiling was so low that we kept banging our heads and the bathroom was smelly. It was fine for a cheap place to stay if you're planning on spending most of your time outside, but it was kind of annoying nonetheless!

Bangkok: $94.80 over 5 nights: $18.96 per night

I adored our beautiful Airbnb apartment in Bangkok! It was in a great location if you're not planning on doing anything remotely touristy and want to spend your time eating good food and hanging out in cool coffee shops. The apartment gave you access to a gym and rooftop swimming pool, and the room itself was light and spacious, with lots of room to work! I could have lived here for months!

Tatai: This was a birthday present for Dave, so I won't be sharing the price here.

As you can probably tell from this post and my social media updates, I loved 4 Rivers Floating Lodge! It's one of the best places I've ever stayed in. Unlike any other luxury travel experience I've had, this didn't feel like bad value for money. I didn't feel like I was being ripped off: we were given a free lunch to apologise for some construction work we hadn't even noticed, and then a free sunset cruise when it was too rainy to take the hiking excursion we'd wanted to do. When it was time to head to Kampot, one of the staff waited with us for the bus, and asked the driver to call ahead to arrange a minivan for us at Sihanoukville, so that we could go straight to Kampot without waiting around. Such lovely people!

Kampot: Also a birthday present!

I opted to stay at RikiTikiTavi this time around, because we'd stayed there last time and loved it. On our last visit, I was suffering from an infected wound on my leg and insisted we splash out on the fanciest hotel I could stumble to to recover. The rooms are clean and airy, with air conditioning and a large breakfast included. Happy hour overlooking the river is a must! You can book through their website.
Transportation: 
Flight from London to Madrid: $100.59
Flight from Madrid to Bangkok: $534.96
Flight from Bangkok to Trat: $73.91
Minivan from Trat Airport to Trat bus station: $13.95
Bus from Trat bus station to the Cambodian border: $3.35
Car and boat transfer from the border to 4 Rivers: $35.00
Minivan from Tatai to Kampot: $13.00
Food: $591.30
Visas and Entrance Fees: 
Cambodian visa: $30.00
Business expenses: 
Monthly hosting with WP Engine: $71.00
Monthly email newsletter service from Mailchimp: $40.00
Monthly Feedblitz RSS service: $1.49
Total Amount Spent: $1678.51
My Next Steps
I've got an action-packed week left in Cambodia that I can't wait to share with you! I'll be heading to my beloved Otres Beach next — and as this is a birthday treat, I'll be doing it in far more style than my previous trips! After that, I'll be heading to Siem Reap and spending a couple of days visiting some of the lesser-known temples to try and escape the crowds.
Then, Vietnam! I'll be hitting up Hanoi for the very first time (which feels like my biggest oversight in Southeast Asia — how have I not made it there yet?), heading back to beautiful Hoi An, and rounding off the trip with some eating in Ho Chi Minh City! Even more fun: we're going to be travelling with Dave's parents in Vietnam! I can't wait to see how they handle crossing the road! Probably better than I do.
Finally, Taiwan! After a few weeks of fast-paced travel I'll be needing a rest, so a month-long stint in Taipei will be just what I need. I'll be slowly getting back into my writing, taking hikes in the nearby mountains, and hitting up dozens of night markets!
Looking to follow along on my travels through my monthly summaries? You can read the previous month's summary here, or head on over to the monthly summary page to read from the very beginning!