Last month, I declared month 48 was going to be all about getting back to my travel roots? Did I manage it? Did I ever!
Except I had kind of forgotten the early days of my trip had been some of my most traumatising.
This month, I had backpackers throwing up in my dorm rooms, was attacked by bedbugs for the first time, broke countless things, was scammed by taxi drivers, missed buses, and moved far too fast! Because of this, I'm naming month 48 as my second unluckiest to date. The first? Month 16: my cursed month in Cambodia.
I kicked off the month on a high, rounding off my Cornwall road trip with an stay in an incredible yurt in Liskeard. There, Dave and I napped and worked on recovering from the past few weeks of driving. We played football in the garden. We cooked meals in the kitchen. We slept a solid eight hours against the backdrop of a crackling fire. And we hung out with the owners — a couple who made us feel like the least experienced travellers in the world.
My favourite moment: when we were sitting around a fire pit sharing travel tales, and the guy casually dropped into conversation that he'd hitchhiked his way around the world multiple times — the first in the 60s when he was just 16!
From Cornwall, it was back to London for a relaxing week with my family. I spent my time catching up with work, meeting up with travel blogging favourites, and introducing Dave to my non-travel blogging friends. As always, my time at home felt far too short and the goodbyes were tough — especially because this time, I was bidding farewell to Dave as well.
While he jetted off to Portugal to write and rest, I was hoping to make up for my sedentary few months in Granada at the start of the year. I bought a plane ticket to Riga and began a fascinating jaunt through the Baltic States — a region I'd long dreamed of visiting.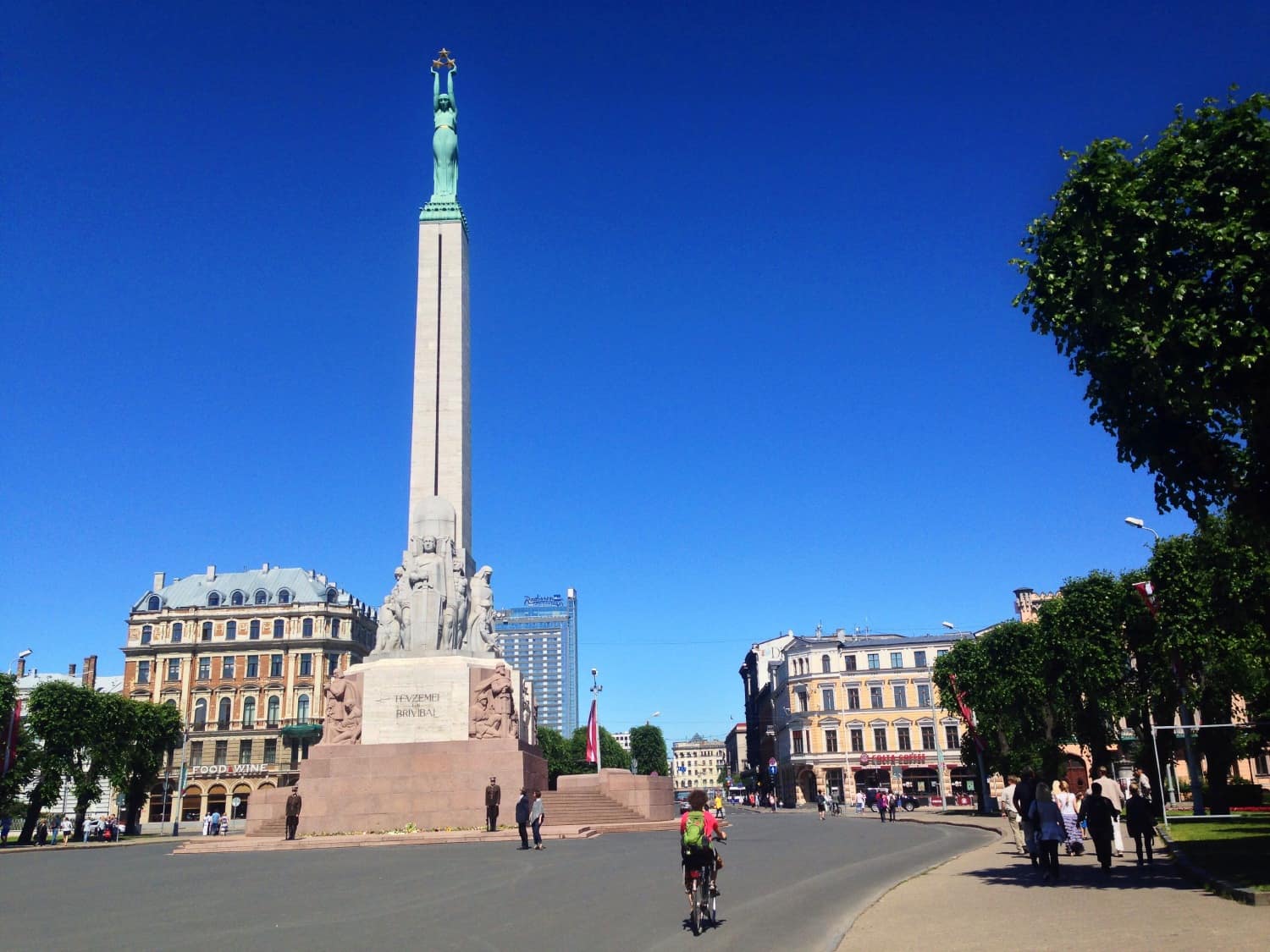 I arrived in Riga unsure of what to expect, and was delighted to discover it reminded me of Ukraine — one of the first countries I visited on this trip and one of my favourites.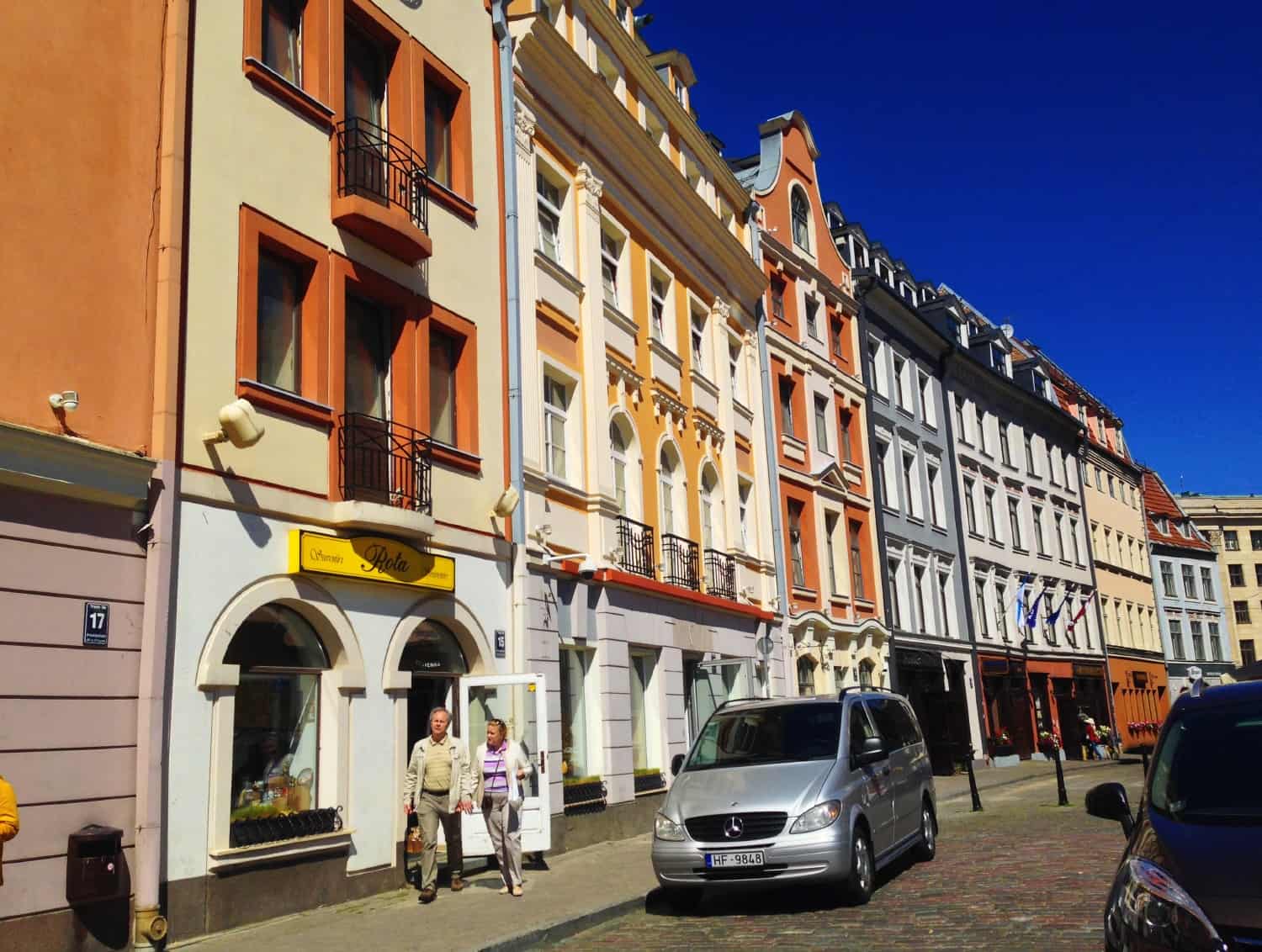 My time in Riga had me wandering the streets with a grin plastered across my face, firmly in my happy place.
It had been a while since I'd had much of a solo travel experience, and this week really showed me how far I'd come from that timid traveller who took her first steps in Eastern Europe, four years ago.
I relished in being able to be selfish for the first time, cafe hopping my way around the Old Town with my Kindle in hand, finally secure that I'd conquered my long-held fear of eating alone. I sunbathed in parks, I went on walking tours that led me out of the touristy parts and into the suburbs for a taste of how Latvians live, and I wandered the pretty streets of the Old Town for hours on end.
It was all going so well until my final night. A huge percentage of tourists in Riga are there to party (the Latvian liqueur Balsam is so good, by the way!), and after the hostel ran a bar crawl through the Old Town, a girl in my dorm threw up all over the floor. Ugh.
I was determined not to let a little vomit affect my opinion of Riga, so it was onwards and upwards to Tallinn!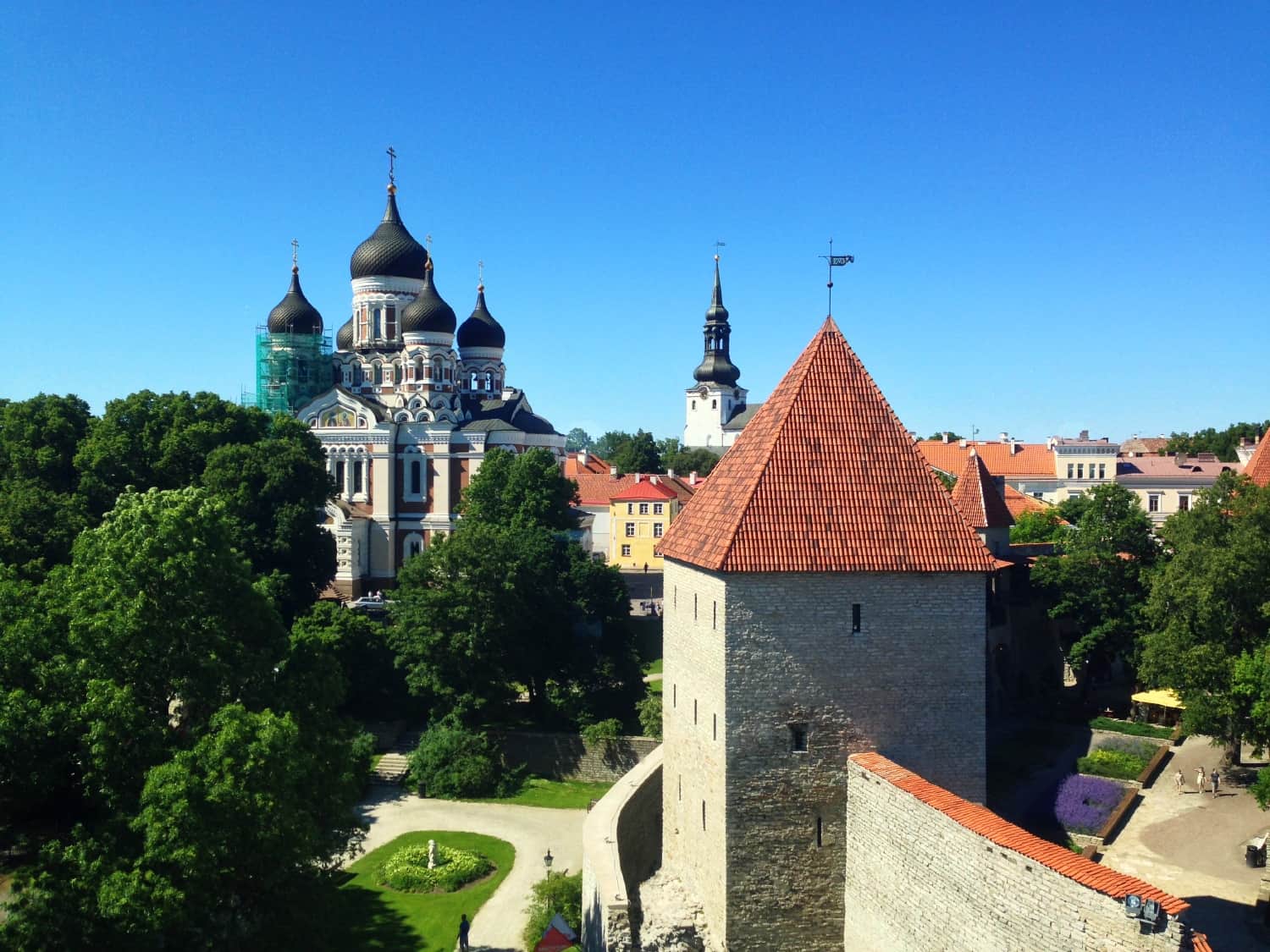 And it was pretty much like walking into a fairytale.
Tallinn was one of those places I fell in love with from the second I arrived. It was gorgeous. I loved the picturesque city walls, the churches, the parks, the vegan restaurants, the colourful buildings, the bustling squares, and the free public Wi-Fi, no matter where I was standing.
I was staying in Munkenhof Guesthouse, a place I'd chosen because of its perfect central location, its affordable prices, its good reviews, and its ability to attract absolute assholes into my room. Wait, what?
On my first night in Tallinn, the middle-aged Russian man in the bed above mine, staggered into bed and proceeded to throw up all over himself. I very rarely lose my temper when I travel, but hearing him vomit all over himself — inches away from where my open backpack lay — had me turning on the lights and yelling at him while he rolled over in his deep purple mess and began to snore.
I complained to reception and they moved me to a different room — a dorm without windows. Sigh.
The next morning, I was sat on the floor with my laptop when the cleaner walked up to me and kicked me in the back to get me to move out of her way.
When, on my third morning, I woke up with 102 itchy bites covering my entire body, I was out of there. Bedbugs. I couldn't believe it. And oh my god, were they itchy! Imagine the itchiest bites you've ever had, multiply it by 100, spread it over your entire body, and have the itch last for several days. My legs are currently covered in scars and scabs because I couldn't stop scratching!
I told the guy at reception that I'd been bitten by bedbugs and he couldn't have cared less. "Okay," he said. "I'll change your bedding for you." Four hours later, he'd done nothing about it.
I left Tallinn on a ferry bound for Helsinki.
There, thanks to a generous offer from my horrified parents to pay for half of my accommodation costs if I would just please stop staying in dodgy dorm rooms, I booked myself into the highest rated hotel I could find in Helsinki.
And it was just what I needed to recover.
I caught up on sleep, I had the most indulgent showers, and I spent close to all of my time in Helsinki with my hands in water. GETTING RID OF BEDBUGS IS SO HARD. And I now know more about them than I'd ever wished to know.
I had to hot wash everything I owned, and then have it dried on a high heat — and that includes my backpack and daypack. I had to wash everything I couldn't put in a washing machine in my sink, and I had to use a hairdryer to heat up everything I couldn't wash. The most fun part was heating up every single page of the books I'm travelling with.
It sounds extreme, but once you're infested, bed bugs are horribly difficult to destroy. Unfortunately, I'd been sleeping in Tallinn with my backpack open on the floor, so I couldn't take chances. The only thing that kills them is sustained high temperatures or freezing everything you own.
My original plan had been to return to Estonia after Helsinki, but that was no longer appealing. Instead, I turned my thoughts to my cancelled Scandinavia trip from a few months earlier.
Five minutes later, I had booked a flight to Stockholm.
And I loved it.
I chose to base myself in hipster Hornstull, a fun area in Western Stockholm, a 45 minute walk from the Old Town. It reminded me so much of Shoreditch in London! I only had a few days to spend in Stockholm, so I split my time equally between the cafes of Hornstull and the beautiful buildings of Gamla Stan.
I'm afraid to say my bad luck didn't end in Stockholm. While there, I missed two airport buses because my map was wrong, causing me to almost miss my flight. I broke my favourite sunglasses, and somebody broke my favourite necklace by catching their hairy arm on it when I walked past. I was particularly upset about the necklace, because it was a Christmas present from Dave, made with a rock from Taiwan's Taroko Gorge.
Next stop: Vilnius!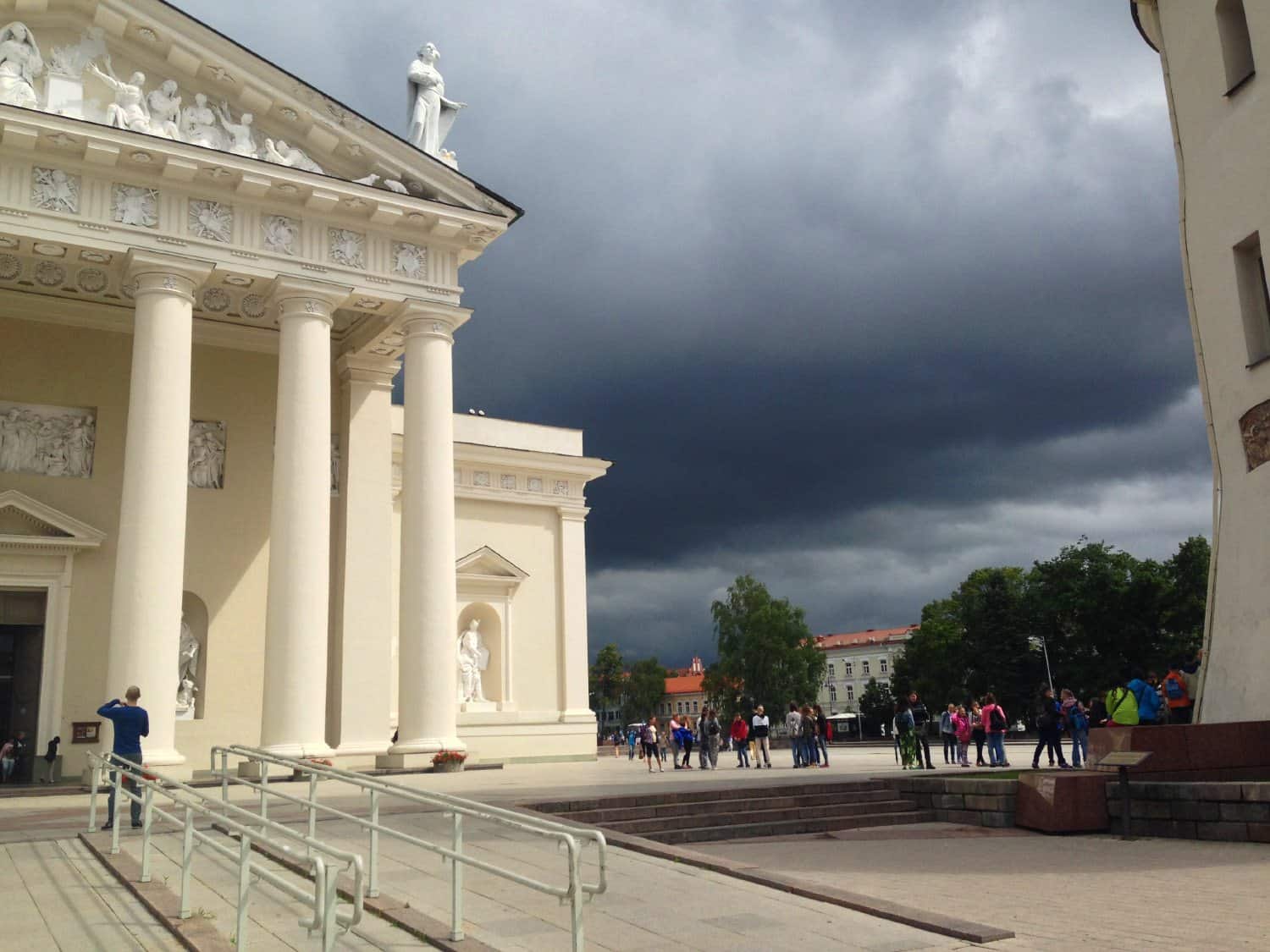 Where my bad luck followed me.
It rained every day, two separate taxi drivers scammed me, I broke my iPhone charger and no longer had a way to take photos, and the quiet apartment I'd booked through Airbnb happened to be close to a loud house party down the street.
Still, the stormy skies made for some pretty photos!
By the time I reached Warsaw, on yet another rain-filled day of gloom, I was feeling dejected and frustrated. It was too wet to explore, I didn't have a camera to take photos, and this solo trip was starting to feel like a disaster.
All it took was a sunny photo from Dave of his day at the beach in Porto for me to start researching flights.
It was time to take control and turn my luck around.
On to the statistics!
Countries Visited: 8
Estonia, Finland, Latvia, Lithuania, Poland, Portugal, Sweden, the UK
Places Visited: 14
Helsinki, Liskeard, London, Porto, Riga, Staines, Stockholm, Tallinn, Vilnius, Warsaw
Distance Travelled: 7,022 kilometres
Number of Flights: 5
Number of Buses: 2
Number of Ferries: 1
Number of Trains: 1
Money Spent
Accommodation:
Cornwall: $196.60 over 3 nights: $65.53 per night

One of my favourite places I've ever stayed in on this trip — the yurts in Liskeard. If you're ever going to Cornwall you must stay here! Lovely owners, gorgeous yurts, super cosy and romantic, a modern kitchen, a hot tub and fire pit, and huge garden. I loved it here.

Riga: $70.31 over 4 nights: $17.58 per night

I stayed at The Naughty Squirrel Backpackers — great location in the Old Town, good value for money, free welcome shot, clean dorms with curtains for privacy, cosy common room. Seemed to attract a lot of party people, so not particularly quiet.

Tallinn: $48.61 over 4 nights: $12.15 per night

I stayed at Old Town Munkenhof. Obviously, I would not recommend staying here! Rude staff, bedbugs, and cleaners that kick you. It was, however, in a fantastic location.

Helsinki: $369.30 over 3 nights: $123.10 per night

I stayed at Hotel Fabian: an amazing hotel if you're looking to splash out and treat yourself! Super helpful staff (they offered to wash my clothes when I couldn't find a laundrette!), delicious breakfast, comfortable beds, and a central location.

Stockholm: $118.58 over 2 nights: $59.29 per night

I Airbnb'd it for my time in Stockholm, staying in this apartment in Hornstull. For Stockholm, it was great value for money and it a fun, hipster neighbourhood — good for exploring a different side of the city outside of the Old Town. The only downside was the 30 minute walk to get to said Old Town.

Vilnius: $87.38 over 2 nights: $43.69 per night

Another Airbnb apartment for my time in Vilnius. I loved it here! Super comfortable and chilled out loft-style apartment, complete with a hammock in the living room. The owner is what really makes this place — she stayed up to meet me at 10pm when I arrived, she called me a taxi for the bus station, and when I left my toothbrush behind, she offered to mail it out to me.

Warsaw: $81.14 over 2 nights: $40.57 per night

I stayed in this Airbnb apartment in Warsaw, located in the heart of the Jewish Quarter. It was a 20 minute walk to the Old Town, but was 2 minutes from a super market, and was a bright and colourful apartment with a well-equipped kitchen!

Porto: $97.48 over 4 nights: $24.37 per night

I'm staying in an Airbnb apartment that was booked by Dave, and is a cute studio that doesn't feel like its cramped. Lots of work spaces, a living area and kitchen, and fast Wi-Fi. It's also in a fabulous location. I don't want to leave!
Note: I was travelling with Dave in Cornwall and Porto, so in these cases, the accommodation prices are my share. This month, I didn't have any accommodation costs while I was in London for a week, as I was staying with my family.
Transportation:
Petrol in Cornwall: $76.03
Trains to and from London and Staines: $38.15
Flight from London to Riga: $203.50
Bus from Riga to Tallinn: $24.91
Ferry from Tallinn to Helsinki: $28.16
Helsinki airport bus: $6.82
Flight from Helsinki to Stockholm: $73.64
Stockholm airport bus from and to the airport: $22.88
Flight from Stockholm to Vilnius: $140.74
Taxi from Vilnius airport to my accommodation: $17.33
Taxi from Vilnius apartment to the bus station: $3.12
Bus from Vilnius to Warsaw: $21.84
Warsaw airport bus: $8.70
Flight from Warsaw to Lisbon: $281.73
Flight from Lisbon to Porto: $32.13
Metro from Porto airport to my apartment: $2.38
Food: $264.44
Activities:
Riga walking tour donation: $10.83
Visas and Entrance Fees:
Entrance to the Eden Project: $39.01
Entrance to Kiek in de Kok, in Tallinn: $5.97
Miscellaneous:
New clothes! A couple of new denim shorts, two tops, and a new pair of flip flops: $112.63
Total Amount Spent: $2484.34
P.S. — I don't include my business expenses in these monthly summaries, because I don't think they're all that relevant for non-travel blogging travellers. Would you be interested in hearing about these in future updates? It'd include things like hosting costs, mailing list fees, and plugin costs.
My Next Steps
I have a few days left exploring Porto, where I've planned for a walking tour of Porto's abandoned buildings (did you know that 30% of Porto's buildings are currently empty?), and a day spent driving around the spectacular Douro Valley.
Then, Madrid, where I'll be investigating if it could be a potential long-term base for me. I was pretty certain the answer would be yes until I saw it would most likely be 40 degrees for our entire six week stay. Now I'm kind of dreading it.
I'll be spending most of my time in Madrid either working or exploring, but hopefully I'll be able to fit in a day-ish trip up to Andorra at some point.
At the end of the month, I'll be flying to my beloved Slovenia — my favourite country in Europe! Slovenia was the second country I visited on this trip and I wrote such a glowing report that my parents are going to be visiting for my mum's birthday. Never one to turn down a few days in Ljubljana and Bled, I'll be meeting up with them for their visit.
I'll also be combining the Slovenia trip with a visit to Lake Como — my first visit to Italy on this trip! Dave has a friend who runs a restaurant in a tiny village up in the hills surrounding the lake, and we'll be heading there to soak up the pretty views and drink lots of wine.
Have any tips for things to do in Madrid? Let me know in the comments below!
Looking to follow along with my travels through my monthly summaries? You can read the previous month's summary here, the next month's summary here, or head on over to the monthly summary page to read from the very beginning!