The past month has been all about the load shedding. Here's how I ended up covered in sweat and attempting to do the splits against a Himalayan backdrop.
When I left you last, I had just arrived in Southeast Asia and was enjoying spending time in Saigon, one of my favourite cities in the world. The three weeks that followed proved that I made the right decision in listening to my body and coming to a part of the world that always seems to heal me. I felt my mono symptoms fade away, I managed to catch up on all my freelance work I'd let pile up and I ate so many delicious meals.
Highlights from my time in Saigon include, discovering the amazing smoothie shop near our apartment, where I lived on multiple avocado, soursop and mango/cream smoothies a day, re-learning how to cross the street when you have 70 scooters racing towards you from every angle, getting a mani-pedi for the first time with Sheryll of The Wanderlust Project, and slurping down as many different soups as possible.
It was my birthday this month and I celebrated by taking a trip to Mui Ne for the first time to get away from the chaos of Saigon. Dave treated me to a fancy resort stay for us for a few nights, with an infinity pool overlooking the ocean. When I wasn't sunbathing by the pool, I was watching the kitesurfers and thinking about how I should try it but would probably end up breaking my neck so maybe next time?
One of the highlights was renting a scooter for the day and visiting all of Mui Ne's tourist attractions. We visited the white sand dunes:
We visited the red sand dunes:
We drove down a tight alleyway and into a dead end and had to spend ten minutes shuffling backwards with the scooter towards the main road.
We stared in horror at a sign offering ostrich rides.
And we giggled at the yachts that didn't look very yacht-like at all.
Finally, we visited the fairy stream — my highlight from our day. Paddling along the stream barefoot with nobody in sight was the perfect way to end our day. We were relaxed, happy and ready for some more time lying by the pool.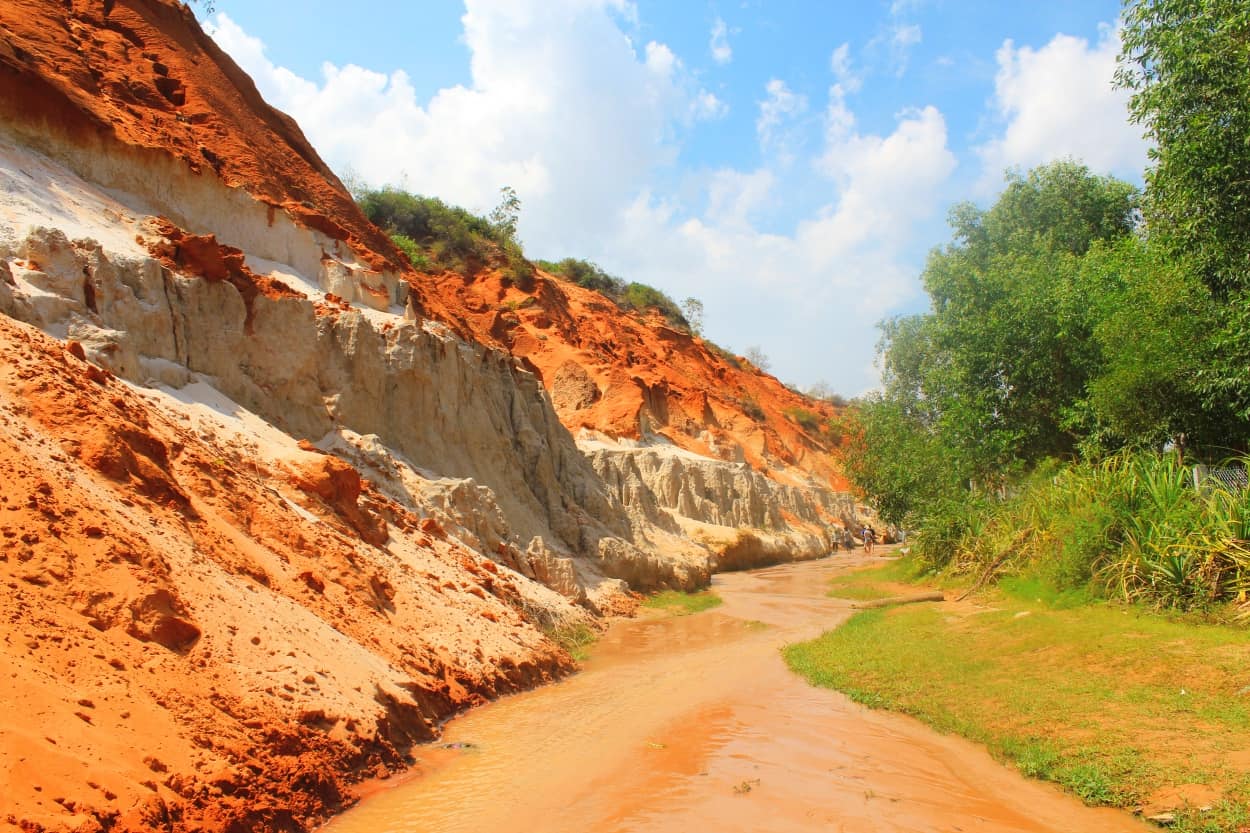 I loved my time in Mui Ne. It was just what I needed. I'm trying to disconnect from my work more often and spend more quality time with Dave, and our trip away allowed me to do both.
Next up was Kathmandu — somewhere I'd been dying to get to for years. It was everything I'd expected it to be — enormous, dusty, polluted, chaotic. It was everything I hate in a city but for some reason I adored it. I'd been told that visiting Nepal in low season was a poor choice but I disagree. Obviously I can't compare it to high season without having visited at that time of year, but it felt so much more laid back than I'd expected. We were staying near Thamel — supposedly the Khao San Road of Nepal but I couldn't see many similarities. I saw maybe five other (noticeable) foreigners during our first day.
Dave and I both decided to treat our time in Nepal as a vacation. We had worked our asses off in Saigon so that we'd be able to be like "real travellers" in Nepal. No laptops, no email, no discussions about blogging, and very little writing. We would spend all of our time outside, we'd explore, we wouldn't rush back to work and we'd read dozens of books on our Kindles.
Making use of our newfound freedom, we raced around Kathmandu, cramming in as much sightseeing as possible — Durbar Square, Swayambhunath, Boudhanath Stupa, Pashupatinath Temple, and a day trip to Bhaktapur. All were incredible and I'll be writing about them in detail this month.
Next on our Nepal itinerary was Pokhara, somewhere I was certain I'd fall in love with. I usually pass long bus journeys by taking a few motion sickness pills and napping the entire way. I wasn't so lucky on this bus trip, however. I've been on my fair share of awful buses but this was by far the worst. The roads in Nepal are dreadful and are essentially one big fat pothole. I took my pills as usual but soon realised there was no chance I'd be getting any sleep on this journey. Eyelids drooping from exhaustion, our suspension-lacking bus tossed us around in the air and into each other for seven hours. It took us seven hours to travel 200 kilometres.
The journey was worth it, though, as I loved the chilled out vibe of Pokhara as much as I thought I would. The main reason people stay is to start their treks on the Annapurna circuit, but at this time of year it was too rainy to do much of anything. There were barely any tourists around — we'd often have an entire restaurant to ourselves when we went out to eat. Cows and water buffalo roamed the streets. We ate delicious food and developed an addiction to masala tea. It rained a lot and I loved it.
Believing I was well and truly over my mono, I went for an hour long hike around the lake to test out my energy levels.
Bad idea.
My short, gentle hike knocked me out for three days. I had no energy, I couldn't get out of bed and I was sleeping for 16 hours a day. It turns out that mono is quite the debilitating illness. Still, I'm in the perfect place to aid recovery.
Or so I thought. It didn't take long for me to discover that the power in Nepal can be a bit… flaky. The power company schedules outages for 6-10 hours per day, and you often have a few unscheduled outages on top of that. At the time of year that we were there, temperatures averaged around 35 degrees Celsius per day, and there was very little breeze. It rained a lot. Our room was like a sauna. We couldn't open our windows because of mosquitoes. We had to go without power for 50 hours at one point.
It was during that power cut, as I sat in my room watching the rain turn the path outside our guesthouse into a mud slide, that I began to go a little crazy. One by one, our electronic devices powered down. We sat in our room and sweated out buckets. We stood outside in the rain to cool off. I had ice cold showers every 20 minutes. I tidied our guesthouse. I composed blog posts in my head. I practiced folding my clothes. I meditated. I stretched. I stood out on our balcony and attempted to teach myself how to do the splits.
Onto the statistics for the month! 
Countries Visited: 3
Malaysia, Nepal, Vietnam
Cities Visited: 5
Kathmandu, Kuala Lumpur, Mui Ne, Pokhara, Saigon
Distance Travelled: 4695 kilometres
Photos Taken: 1083
Highlight of the Month: Getting to witness a cremation at Pashupatinath Temple in Kathmandu, one of the most sacred Hindu temples in the world, and the Nepali equivalent of Varanasi in India. Funerals take place on the banks of the river — one of the tributaries of the Ganges — and are both fascinating and unsettling. It wasn't something I was prepared for but will be one of my strongest memories from my time in Nepal.
Lowlight of the Month: The bus journey to Pokhara. It's the first time I was genuinely worried I was about to puncture my lung with my spare rib. Yes, I have a spare rib.
My Favourite Photo: 
This is Boudhanath Stupa. It's the largest stupa in Nepal and the holiest Tibetan Buddhist temple outside of Tibet.
The Best Thing I Ate: 
My favourite meal from my favourite lunch place in Pokhara. Nepalese food is so pretty!
Money Spent: 
Accommodation: 
20 nights in Saigon: $100 ($5 a day)
3 nights in Kathmandu: $18.45 ($6.15 a day)
2 nights in Pokhara: $14.56 ($7.28 a day)
Transportation: 
Various taxis around Saigon: $27
Bus from Saigon to Mui Ne: $7
Scooter rental in Mui Ne: $7
Bus from Mui Ne to Saigon: $7
Taxi from Saigon to the airport: $6
Flight from Saigon to Kuala Lumpur:$145
Flight from Kuala Lumpur to Kathmandu: $184
Car hire for a day in Kathmandu: $25
Bus from Kathmandu to Pokhara: $7
Food: $330.04
Visas and Entrance Fees:
Nepal visa: $40
Entry to Kathmandu Durbur Square: $7.75
Entry to 

Bhaktapur Durbar Square: $11.36

Entry to 

Swayambhunath: $2.03

Entry to 

Pashupatinath: $10.34

Entry to 

Boudhanath: $2.03
Miscellaneous: 
Nepal visa: $40
New hiking boots: $35
A big bag of masala tea: $7
Total Amount Spent: $938.45
Amount by Country (excluding flights): 
Vietnam: $172 over 5 days = $29.40 per day
Malaysia: $30 over 5 hours: $30 per day
Nepal: $159.01 over 5 days = $29.40 per day
 The Next Month: 
After I finish up sweating in Pokhara, I'll be heading back to Kathmandu for another week, and from there I'll be flying to Chiang Mai.
In Chiang Mai, it'll be time for a huge change. I'm fed up with not having energy and feeling like crap so it's time for an experiment. For the rest of the year, I'm going to be doing all that I can in order to see just how good it's possible for me to feel. That means no alcohol, no caffeine, cutting down on sugar, no sodas, going to the gym, doing yoga, teaching myself to meditate, spending quality time with Dave, working no more than six hours a day and spending as much time as possible outside. I can't wait!
Looking to follow along with my travels through my monthly summaries? You can read the previous month's summary here, the next month's summary here, or head on over to the monthly summary page to read from the very beginning!