It's been eight weeks since I last stepped outside for a reason other than to eat.
I can't tell you why.
Not yet, anyway.
So let's start again. Month 32 has been challenging. My emotions have been all over the place. One minute I've been bursting with joy, excited for new opportunities, and the next I'm curled up under my bed, crippled with self-doubt.
I'm working on the biggest project of my life — one that's had me working 14 hour days for the past few months without a day off. I hope I'll be able to reveal all soon. And, I'm sorry for the #vaguepost. I'm also sorry for the lack of updates on Never Ending Footsteps. Things are getting back to normal now, though. I promise.
Here's how month 32 played out.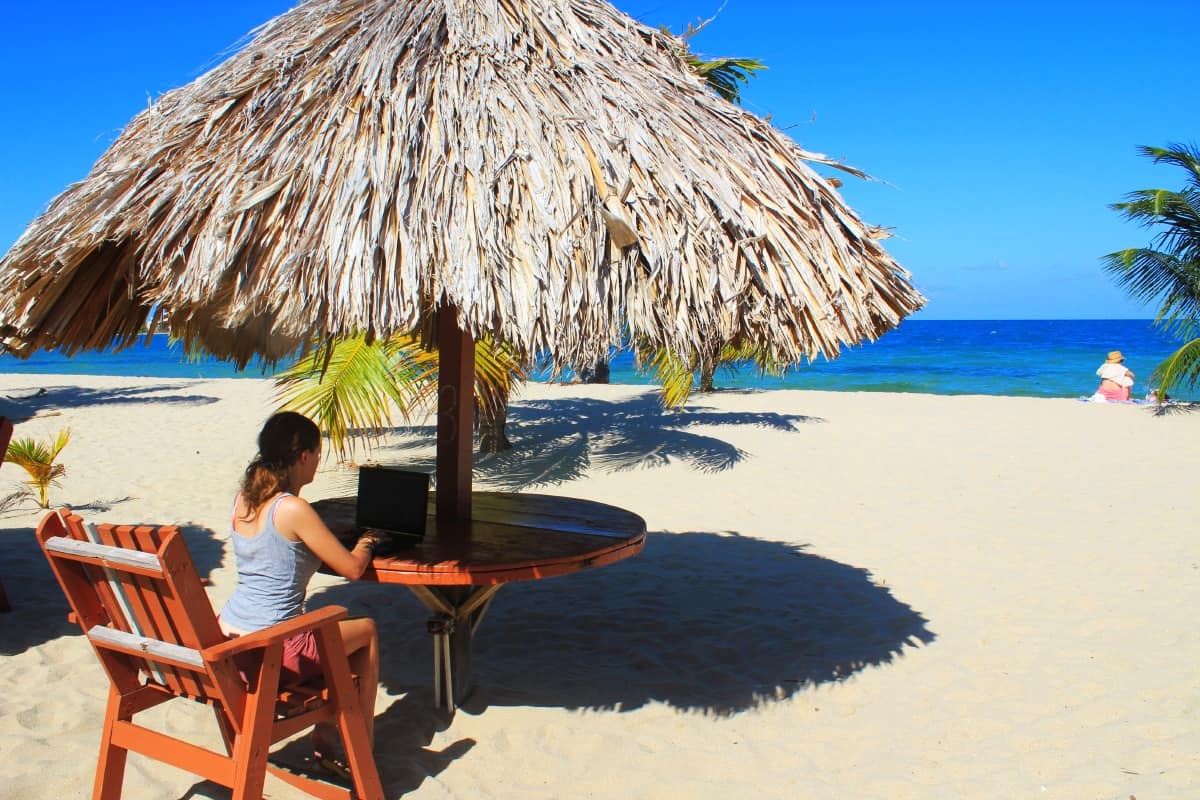 I kicked off the month with a late Christmas present from Dave — a few nights on the gorgeous Mexican island of Isla Mujeres! It was… touristy, busy, noisy and expensive, especially when compared to other parts of Mexico, but I loved it nonetheless.
We stayed in a fancy guesthouse, ate delicious street food, rented a scooter to ride around the island and spent most of our time relaxing on some of the best beaches I've ever visited. I know I say it a lot but the beaches on Isla Mujeres were stunning. I loved that I could wade out 50 metres into the ocean and still have it level with my knees.
After Isla Mujeres, it was time to leave Mexico after six incredible months. I wasn't ready. But, our visas were up and I wanted to see more of Latin America.
Our bus ride from Cancun to Belize City wasn't fun. With only one bus making the journey per day, we were stuck with an 11pm to 7am ride, complete with 3am border crossing. As an aside: entering Belize was one of my most nerve-wracking border crossings yet! The official was stern and scary, asked lots of questions about why we were travelling for so long, and seemed convinced we were entering Belize to work. It took half an hour of questioning for them to decide whether to let us through or not.
I had been in Belize City for thirty minutes when I saw my first dead body.
Blearily climbing aboard the sweaty, dusty bus, I slumped in my seat to nap, dozing off for the next few minutes. When we reached the outskirts of the city, the bus screeched to a halt and I watched as dozens of people began rushing to one side with smartphones in hand. Traffic had stopped, people were outside their homes and staring down the road, sirens were wailing. It wasn't until we continued driving that I managed to see what had startled everyone so much.
A man sprawled across the road, towel over his head, t-shirt ripped to shreds, limbs twisted in awkward angles. A thick smear of blood and organs stretching from one side of the tarmac to the other. A smashed scooter resting by the side of the road.
It was a sobering experience, especially as Dave and I opt to spend so much time on scooters when we travel.
We arrived in San Ignacio with no further incidents, and I was surprised at how different it felt to Mexico.
Instead of Spanish, the predominant language was English, with Creole widely spoken, too. It felt odd to order food in English after doing so in Spanish for the past six months — I almost felt guilty for doing so. It felt more like the Caribbean than Mexico ever did — there was a laid back vibe, the music was different, the food was now primarily rice and beans. Belize felt poorer, too, with shabbier buildings and rundown buses, though it was far more expensive than anywhere I visited in Mexico.
San Ignacio was our base for exploring the ruins and jungle of Belize. Our first stop was Xunantunich, somewhere I'd never heard of before. Shockingly, then, this turned out to be my favourite Mayan ruin and I couldn't believe how little you hear about it. My favourite part was climbing the 40 metre high El Castillo pyramid, and looking out over the ruins and listening to the sounds of the jungle. I soon discovered that howler monkeys make one of the most terrifying sounds. For such incredible ruins I was surprised at how few people we saw. We visited at midday — usually a peak time for visitors — but still never saw more than about ten people at once.
Next up, the ruins of Cahal Pech, which were even more quiet than Xunantunich. While the ruins aren't very large, we managed to choose a time where we had the entire area to ourselves. They were probably the least impressive Mayan ruins I've visited, but having them all to ourselves made for a wonderful experience.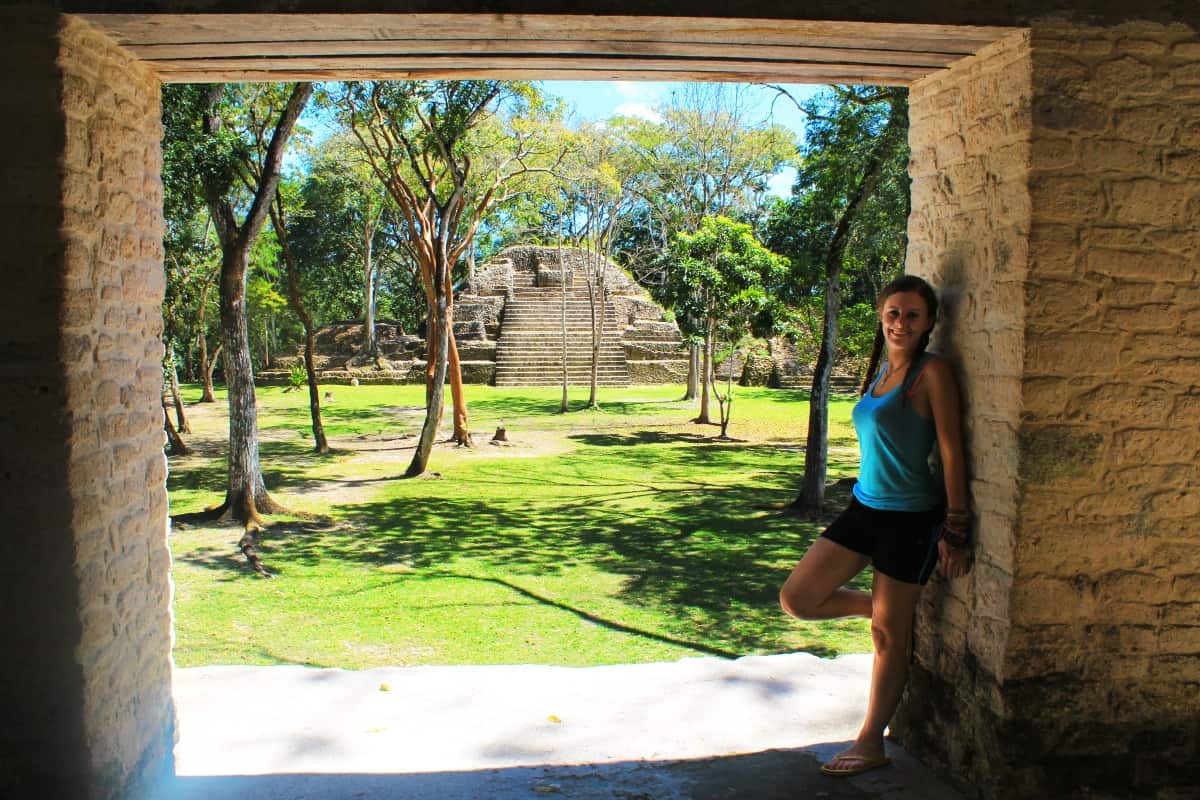 From Belize, we hopped the border into Guatemala, where we received the funniest, half-hearted attempt at a bribe at the border.
"You must pay 20 quetzals to enter Guatemala."
"Really? Why?"
"It is the entry fee."
"Right. Well, will I be able to get a receipt for it?"
"… Erm… It's okay. You don't have to pay. I have sorted it now. No entry fee!"
And we were in!
Our main reason for visiting Guatemala was to visit Tikal National Park, arguably the most famous of all the Mayan ruins. While it didn't quite top Xunantunich for me (mostly because of the crowds of people), it still didn't disappoint.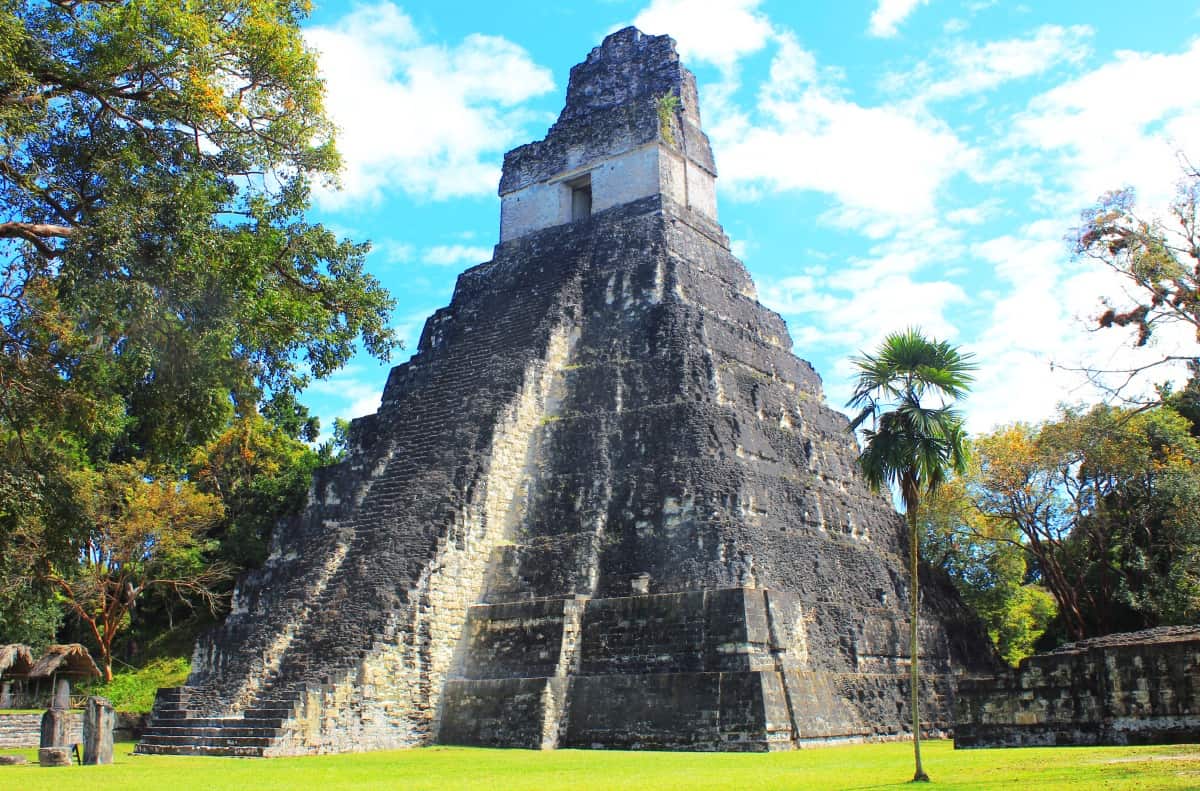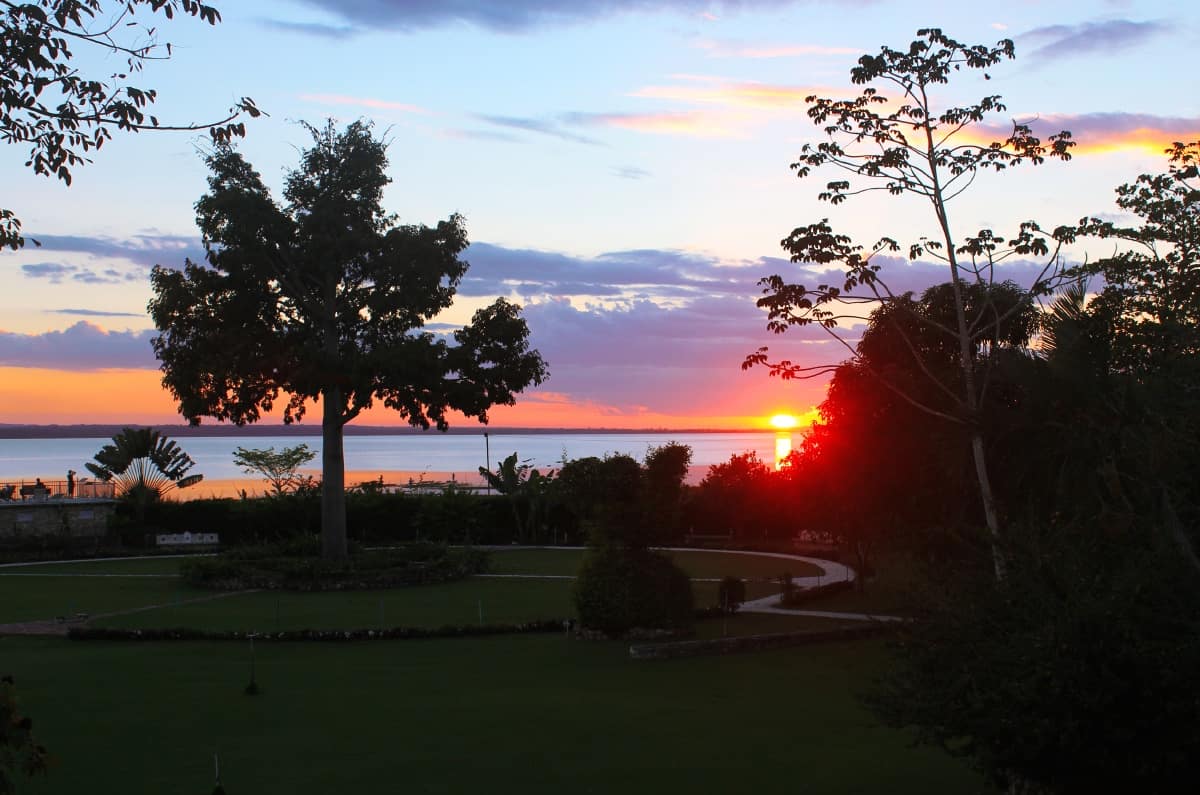 As we wrapped up our fleeting visit to Guatemala, I began work on my Big Secret Project. My plans for the rest of my time in Central America were quickly shelved in favour of writing. And writing. And writing. It was time for me to sit in front of my laptop and gaze longingly at a beach I could not spend time on.  
First, however, I had to deal with one of the most unpleasant travel days to date. To get from San Ignacio to Placencia we would have a reasonably simple six hour travel day. A bus to Belmopan, a bus to Independence and a ferry to Placencia.
We arrived in Belmopan without incident and quickly joined a queue for the bus to Independence. It came once an hour. The next one arrived, three people slipped through the gates and we were left waiting in the oven-like bus station for another hour. The next bus arrived, more people pushed and shoved their way onto the bus, and we were left waiting for another hour. The next one arrived and we finally made it on board! There weren't enough seats so we'd have to stand the entire way, but by this point we were just glad to leave the boiling hot station of doom. And then the driver decided he didn't want anybody standing on the bus. So he took us off and led us back to the station for us to wait another hour. The bus station was hot and sweaty, there were people everywhere, we were pushed up against the cage-like doors as everyone fought to get near the front. It was so frustrating that I very nearly considered the taxi driver's offer of $150 to get us to Independence.
Four hours later, we finally made it onto the bus. Of course, now we'd spent so long at the bus station that we'd missed the final ferry to Placencia.
Fortunately, we found a  friendly guy who was heading over on his boat and were able to make it across with him. Finally, twelve hours after leaving San Ignacio, and with 4018 litres of sweat lost from my body, I made it to Placencia.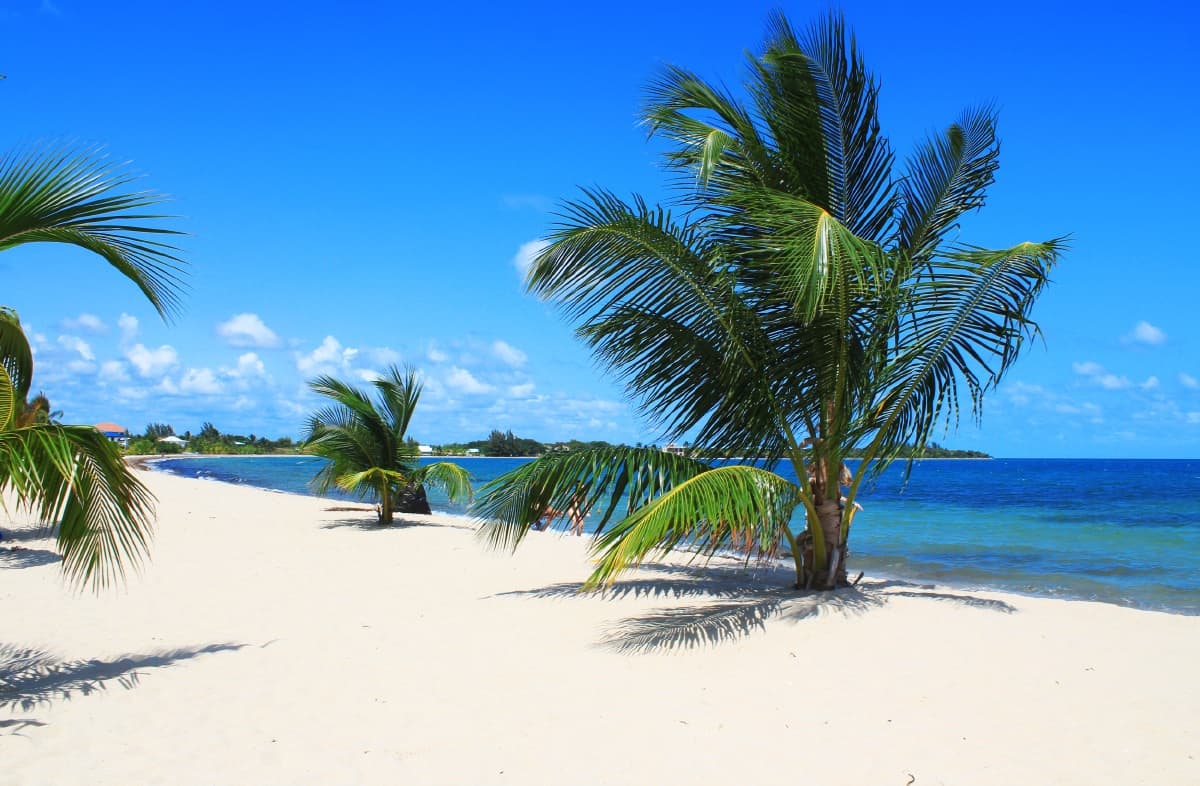 Placencia seemed like somewhere I would like if I'd had more of a chance to explore. It was laid back, the locals were friendly, there weren't very many tourists. I liked it a lot.
Next up was Caye Caulker — somewhere I'd been looking forward to visiting for years! Due to project commitments, I was unable to see any of it aside from at mealtimes. I stayed inside and worked as Dave wandered off to explore. I didn't take a single photo from my time there.
So, Belize. It's hard to form an opinion when I didn't get to explore much, but it's probably the first country I've visited that I have little desire to return to. It was expensive.  We couldn't find a room in a guesthouse for under $50, and even those rooms were basic and bad value for money. Dinners were $20 in restaurants and street food didn't seem to exist. We were paying similar to US prices to have an unremarkable experience. I wasn't a fan.
So, for once, it was without a heavy heart that I left Belize for Portland. The second I arrived, I felt like I had returned home, and that changing my travel plans around so that I could visit Portland was absolutely the right decision. In fact, Dave and I soon found ourselves saying that if it were possible, we'd stop travelling to live in Portland. I would commit to spending five years living there in a heartbeat, without any second thoughts. Portland is the place I want to settle down in long-term but, sadly, is also one of the few places I can't. Yay for visa issues!
Onto the statistics for the month!
Countries Visited: 4
Belize, Guatemala, Mexico, United States
Places Visited: 8
Belize City, Cancun, Caye Caulker, El Remate, Isla Mujeres, Placencia, Portland, San Ignacio.
Distance Travelled: 7322 kilometres
Photos Taken: 753
Highlight of the Month: Watching the sunrise at Tikal. Arriving at 6am, Dave and I decided to scramble up the face of one of the taller pyramids and wait in silence on a small platform at the top. As the sun rose, the mist in front of our faces began to clear and the jungle gradually revealed itself to us. We watched in awe as we spotted ruins poking up from the top of trees, spider monkeys swinging through the trees and butterflies dancing in front of our noses.
Lowlight of the Month: Seeing a dead body ranks pretty low on my scale of awesome things to experience.
My Favourite Photo:
Money Spent:
Accommodation: 
4 nights in San Ignacio: $100.00
2 nights in El Remate: $56.00
4 nights in Placencia: $92.00
5 nights in Caye Caulker: $137.50
10 nights in Portland: $250.00
Transport: 
Ferry from Isla Mujeres to Cancun: $10.21
Bus from Cancun to Belize City: $37.20
Bus from Belize City to San Ignacio: $5.00
2 x Taxis from San Ignacio to the Guatemalan border: $6.44
2 x Collectivos from the border to El Remate: $14.00
Transport to and from Tikal National Park: $20.00
Bus from San Ignacio to Placencia: $15.00
Bus from Placencia to Belize City: $13.00
Ferry to and from Caye Caulker: $17.50
Taxi to Belize City airport: $15.00
Flights from Belize City to Portland: $405.71
Entrance Fees:
Xunantunich: $5.00
Cahal Pech: $5.00
Tikal: $20.00
Food: $981.96
Total amount spent: $1706.52
The Next Month: 
I have three weeks to eat as much food as possible while I'm in Portland, and then I'll begin my slow jaunt back home. I'll be meeting my parents in Washington DC, spending a couple of days exploring Iceland and then arriving in London. It's been two years since I last spent any time at home, so I can't wait to catch up with friends and family.
Oh, and this month I celebrate 1000 days on the road! I'm planning a big celebratory post for it.
Looking to follow along with my travels through my monthly summaries? You can read the previous month's summary here, the next month's summary here, or head on over to the monthly summary page to read from the very beginning!