I kicked off month 31 in Playa del Carmen, disappointed from the second I arrived but determined to find a way to fall in love with it. It sort-of worked, as I developed a hatred of the touristy parts but a love of the quieter, more local neighbourhoods.
A highlight of this month was renting a car for the day and driving to the Mayan ruins of Coba. I didn't know much about Coba before arriving and ended up pleasantly surprised. The views over the jungle from Nohoch Mul, the main pyramid, were incredible and made the whole trip worth it. Climbing to the top of the 42 metre-high pyramid with only a rope to hold onto was a little daunting (though not as much as my nervous shuffle back down!), especially when I heard that people had died falling off it in the past. The views were worth the terror.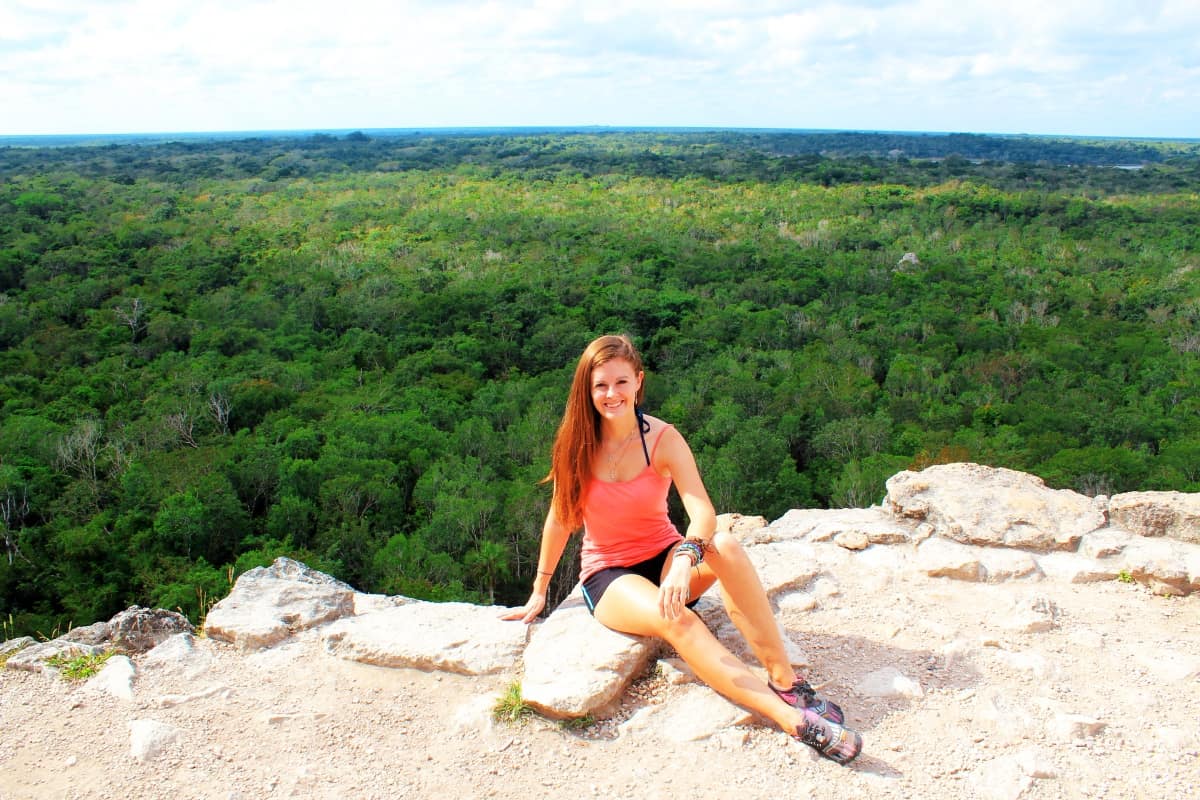 We had much of the park to ourselves when we arrived but leaving was another story. As we finished up several hours later, the crowds of marching people confirmed that we definitely made the right decision in coming early.
Another highlight from my time in Playa del Carmen was yet another activity that didn't take place in Playa del Carmen. I'd read that Akumal is the place to go if you want to snorkel with sea turtles so I had it placed right at the top of my list of things to do in the Yucatan.
I was expecting a bit of a challenge to try and find them, and I was skeptical that it would be as easy as I'd read it would be, but just five minutes in the water had me treading water a couple of metres away from one. Eeeeep! One of the most magical moments of my life was when said sea turtle started swimming up to the surface to take a breath, rising just 30 cm or so away from me. It was so exciting!
My fears that I wouldn't see a single sea turtle were unfounded and I found them so easy to spot — I came across one every few minutes without putting much effort in at all.
I also got to snorkel over a coral reef while I was there — my first time seeing one — and swim with lots of colourful tropical fish, all of this taking place 50 metres from the shore in surprisingly shallow waters.
The only thing I didn't love from my time in Akumal was the six foot long barracuda with scarily sharp teeth that I was convinced was going to attack me.
My time in Playa del Carmen drew to a close mid-month and I headed inland to Valladolid — now my favourite place in Mexico. I wish I'd spent a month there instead of Playa del Carmen.
I loved it. The buildings were colourful and practically every street food vendor was selling torta de cochinita pibil — an amazingly tender, melt-in-your-mouth pork sandwich that made me want to cry with happiness. Dave and I celebrated Valentine's Day in a Mayan restaurant where we were served some unusual dishes that were surprisingly great — grilled cheesy watermelon, anyone?
Valladolid is now firmly on my list of places to return to in the future.
From Valladolid, I took a day trip to Chichen Itza, excited to finally be visiting after wanting to for years. I was a little concerned that I'd have ruin fatigue, and that after visiting Coba with its very few crowds I'd find Chichen Itza busy and overwhelming.
Of course, there's a reason why Chichen Itza is so popular and that reason is because it's amazing. I spent half a day roaming around the ruins and couldn't believe how much there was to see. Despite once claiming to be a hater of ruins, I think I may be slowly changing my mind…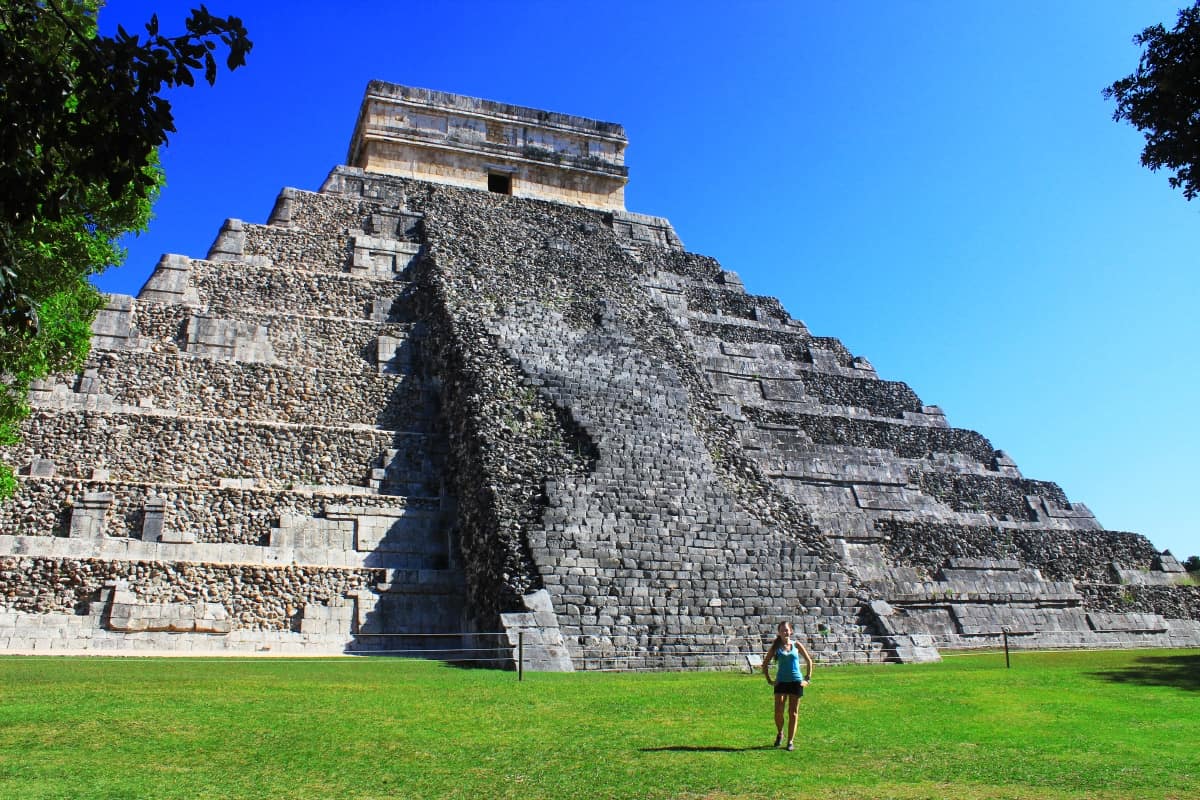 From Valladolid, I travelled to Isla Mujeres, my final stop in Mexico and my Christmas present from Dave!
We'll be spending the next few days on this lovely island, relaxing on gorgeous beaches, paddling in the shallow waters, renting a scooter and riding around the island and hunting down as many street food treats as possible.
It should be the perfect way to say goodbye to a country I've fallen so hard in love with.
Mexico, I don't want to leave! 
Onto the statistics for the month!
Countries Visited: 1
Mexico
Places Visited: 7
Akumal, Cancun, Chichen Itza, Coba, Isla Mujeres, Playa del Carmen, Valladolid.
Distance Travelled: 784 kilometres
Photos Taken: 390
Highlight of the month: So many highlights this month! I think I'll have to go with snorkeling with sea turtles — I loved it so much that I'm considering learning to dive (yet again).
Lowlight of the month: I ran out of sunscreen on the day I visited Coba and had to resort to the overpriced bottles sold in the gift shops. The bottles claimed to be SPF 100 and 100% natural and I was suspicious. I smothered myself in the contents, noticed that I then smelt of vegetables and ended up very sunburnt a few hours later. Upon returning back to my apartment, I searched online for the brand name and found out that the ingredients of their "SPF 100" sunscreen were aloe vera and carrot juice.
My Favourite Photo: 
The iguana hiding in the ruins at Chichen Itza who made countless women scream as they walked past it. Hilarious.
Money Spent:
Accommodation: 
26 nights in Playa del Carmen: $330.86
4 nights in Valladolid: $90.10
Transport: 
Car Rental to Coba + gas: $30.03
Collectivo to Akumal and back: $6.01
Bus from Playa del Carmen to Valladolid: $13.21
Bus to Chichen Itza and back: $3.01
Bus from Valladolid to Cancun: $13.21
Ferry from Cancun to Isla Mujeres: $10.21
Entrance Fees:
Coba: $4.30
Chichen Itza: $13.65
Misc: 
Snorkel hire at Akumal: $15.00
Food: $329.17
Total amount spent: $858.76
The next month: 
After slowly making my way across Mexico for the past six months, it's time for a change of pace and a change of scenery. In a couple of days, I'll be heading south to spend the next fortnight exploring Belize and Guatemala — two new countries for me! On the agenda is river tubing and cave exploring in the jungle surrounding San Ignacio, a couple of days exploring Tikal, some time checking out the laid-back fishing village of Placencia and then finishing up on the island of Caye Caulker.
On the 9th, I'll be saying goodbye to Latin America for a couple of months and flying up to Portland, OR, where I am going to eat. Yep. I am going to eat in Portland. After leaving the Pacific North West in August, I'd estimate that something like 30% of the conversations I've had with Dave have revolved around how much we miss the food there. When we spotted cheap flights from Belize City to Portland, we decided that there was no point having all this freedom to go where we choose if we weren't going to utilise it.
So yes, I'll be spending a month in Portland visiting all of my favourite restaurants and food stands and putting on an unbelievable amount of weight!
Looking to follow along with my travels through my monthly summaries? You can read the previous month's summary here, the next month's summary here, or head on over to the monthly summary page to read from the very beginning!