Month 30 marks exactly two and a half years since I first left to travel! In this month's summary, I have multiple plan changes and share a couple of big announcements.
I started the month in chilly Guanajuato, a gorgeous city in the mountains that was so cold that I could barely function. It was during the past month that I realised how much travel, and following summer around the world, has changed me. Back in London, I wouldn't have even commented on a temperature of 10 degrees Celsius but in Guanajuato I could barely leave the house!
Of course, the fact that I no longer own any winter clothes didn't help the issue.
So, it was 10 degrees and I was freezing and wearing every item of clothing I own. I was spending all day in bed, under five layers of blankets, shivering and feeling sorry for myself.
I decided I wanted to be warm again.
My plans for eating everything in sight in Puebla and Oaxaca were quickly shelved when Dave and I found flights to Cancun for $150. We planned to head to Playa Del Carmen, a popular spot on the Caribbean coast and base ourselves there for a month.
We'd heard that Playa Del Carmen would be very touristy but figured we'd be okay. Most of the time I like touristy places, anyway.
How bad could it be?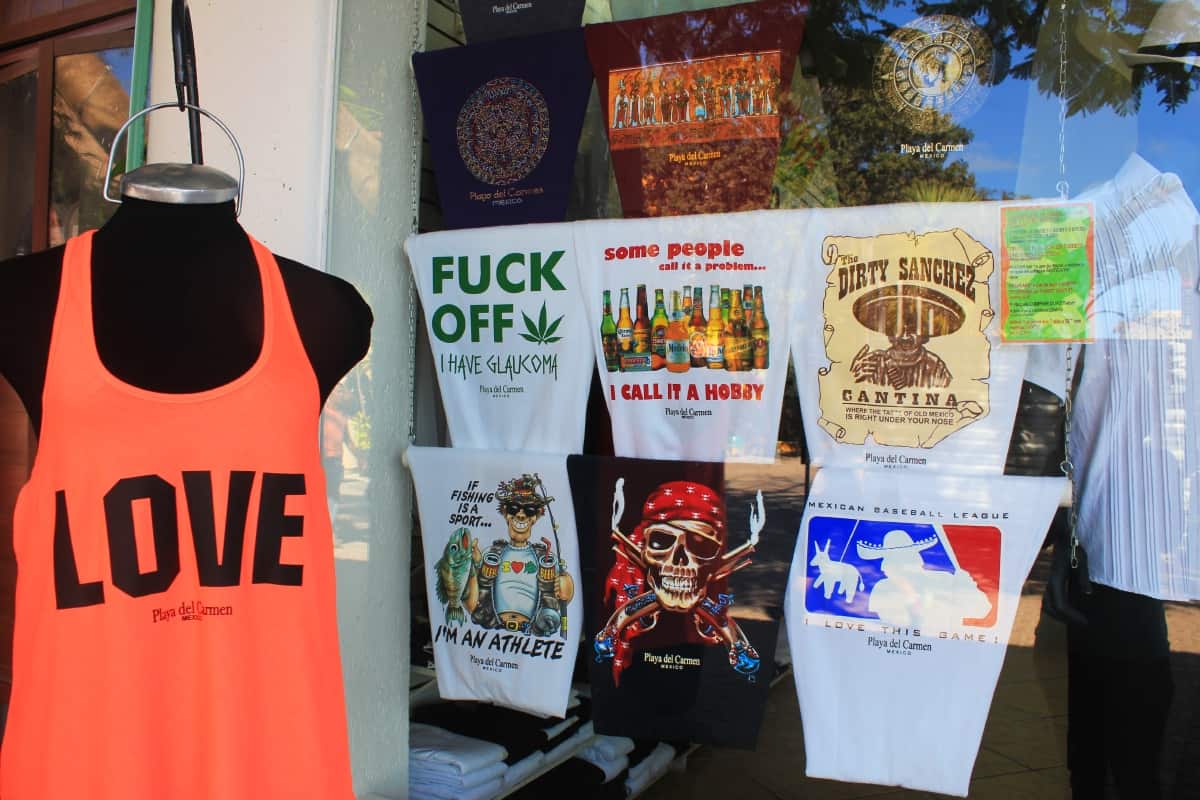 We stepped off the airport bus in Playa Del Carmen in a daze. Obnoxious, fluorescent-coloured t-shirts screamed out "I'm in Playa Del Carmen, bitch!" "Fuck you!" "I think he's gay!" as touts crowded around to try and convince us to eat in their restaurant. Bass loudly pumped out from every bar in sight and drunk teenagers screeched at each other across the road.
So this is culture shock.
Soon after arriving, we decided to visit a nearby restaurant for a meal, immediately shocked at how expensive the prices were — and then even more shocked by the fact that the waiter greeted us in English. After a month in Guanajuato, where we didn't hear a single local speak a word of English, we were dazed and confused by this change.
For $10 I had a plate of mediocre, bland nachos (the cheapest dish on the menu) and spent the entire meal longing for my $1 tacos and quesadilla street food in Guanajuato.
We visited the beach the following day, which was lined with resorts and sun loungers and had bars blasting out music all day long. There was a seriously overwhelming smell of sewage, even two kilometres away from the main part of town.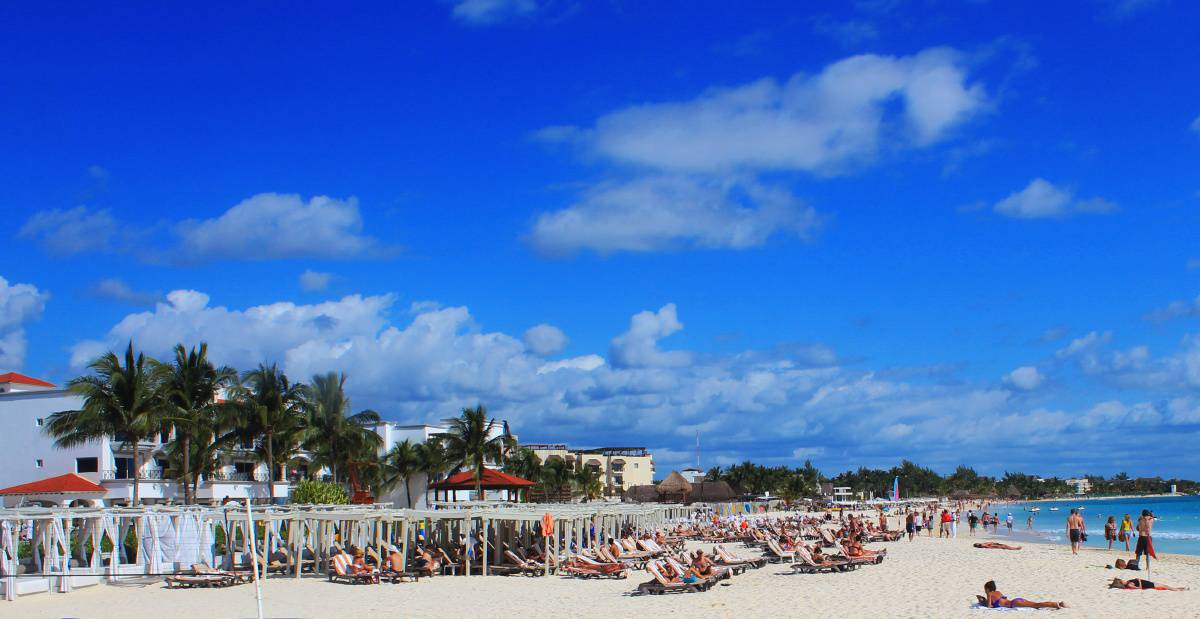 Playa Del Carmen was not at all what we had expected.
Had we made a huge mistake in coming here?
Or have all of the amazing beaches we've visited in the past ruined us? Are we now spoilt and overly-judgmental? Are we terrible people for complaining about being somewhere that others would label as a paradise?
Fortunately, our feelings towards Playa Del Carmen grew the moment we left the chaos of 5th avenue and ventured inland. We managed to find a lovely apartment for far more than we're used to paying in Mexico but the 19MB/s Internet speeds make up for that. We have a much more local way of life here.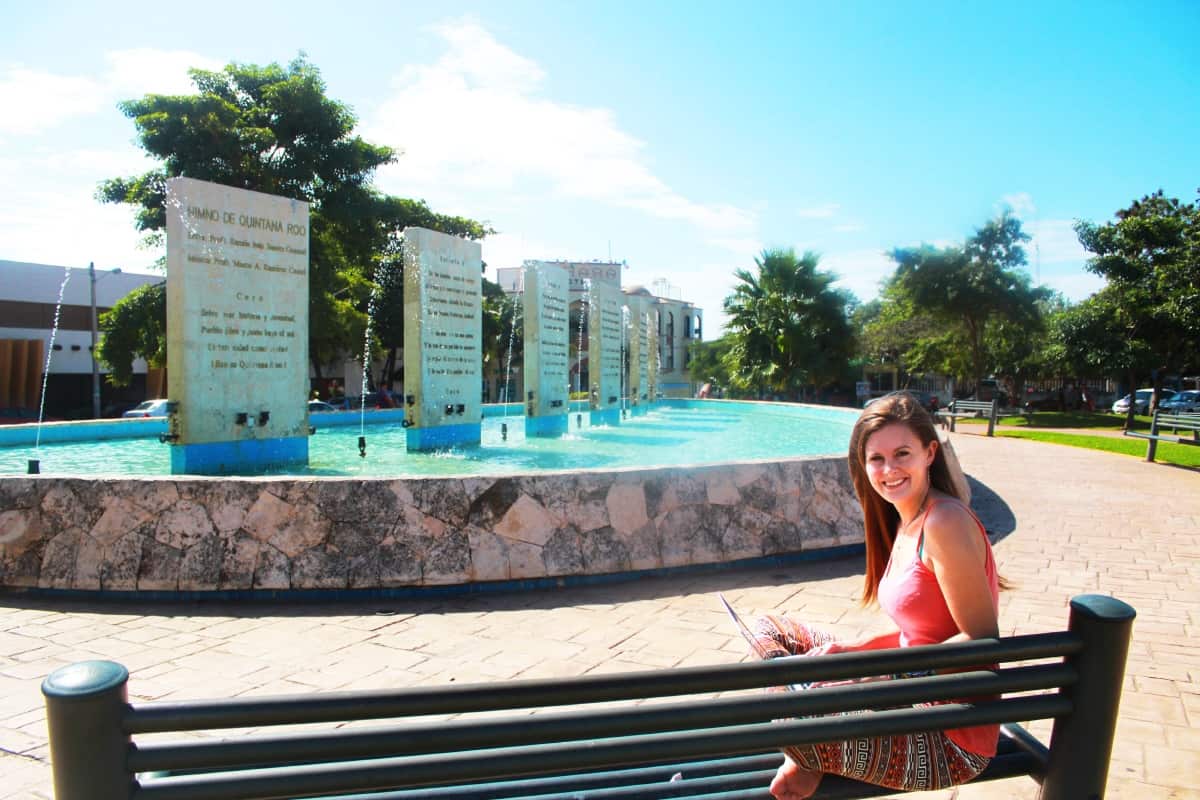 We have a quesadilla place downstairs that does amazing quesadillas for a dollar a piece, as well as a whole host of street food vendors a block away that we visit every evening for cheap street eats. We're a couple of blocks away from an enormous Walmart, a grocery store, a park, a yoga studio and a launderette. We're a four block walk to the beach.
We have everything we could possibly need within a five minute walk and that feels great.
So, Playa Del Carmen isn't so bad after all. The noisy parts of town are mostly isolated to one street and easily avoidable. The beach and the ocean still smell strongly like sewage (a quick look online brings recent reports of sewage overflowing into the streets and on the beach, and people spotting actual lumps of poo floating in the water!) so we definitely don't go swimming. However, it is possible to find a few quiet places to relax on the beach without touts and music.
The highlight of this month would have to be the day that I spent in Tulum — somewhere I've been keen to visit ever since I read about it, several years ago. It didn't disappoint, with the ancient Mayan city located on a stunning cliffside location. The beach was the most beautiful I've ever stepped foot on, with warm, transparent ocean, powder-soft white sand and ruins towering above. There were even iguanas cliff-climbing while we were sunbathing!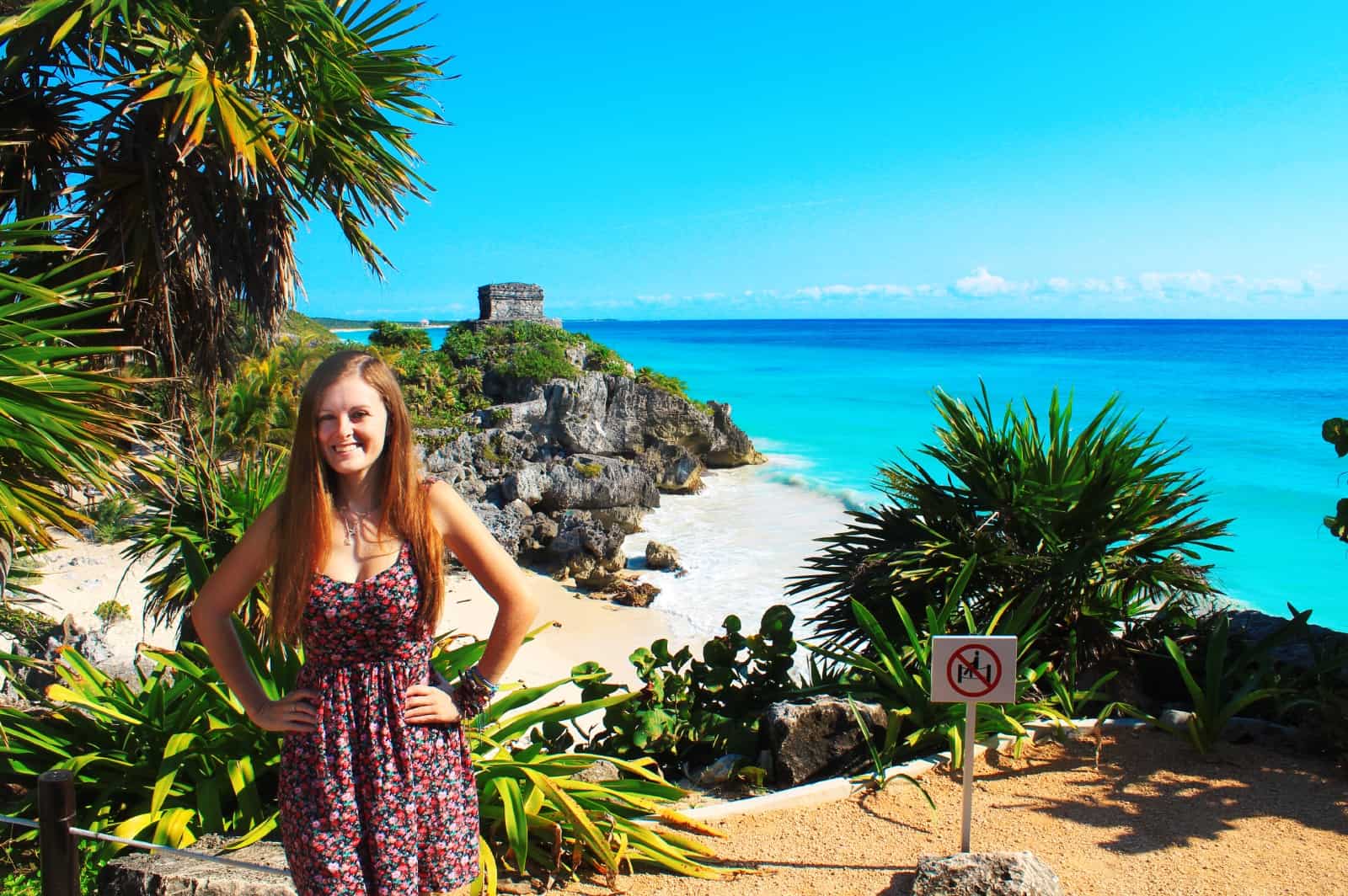 Onto the statistics for the month!
Countries Visited: 1
Mexico
Cities Visited: 3
Guanajuato, Playa Del Carmen, Tulum
Distance Travelled: 2,109 kilometres
Number of Flights: 1
Number of Buses: 1
Number of Photos Taken: 219
Favourite Photo Taken:
The shot I've been wanting to take for several years — ruins, beaches and turquoise ocean in Tulum!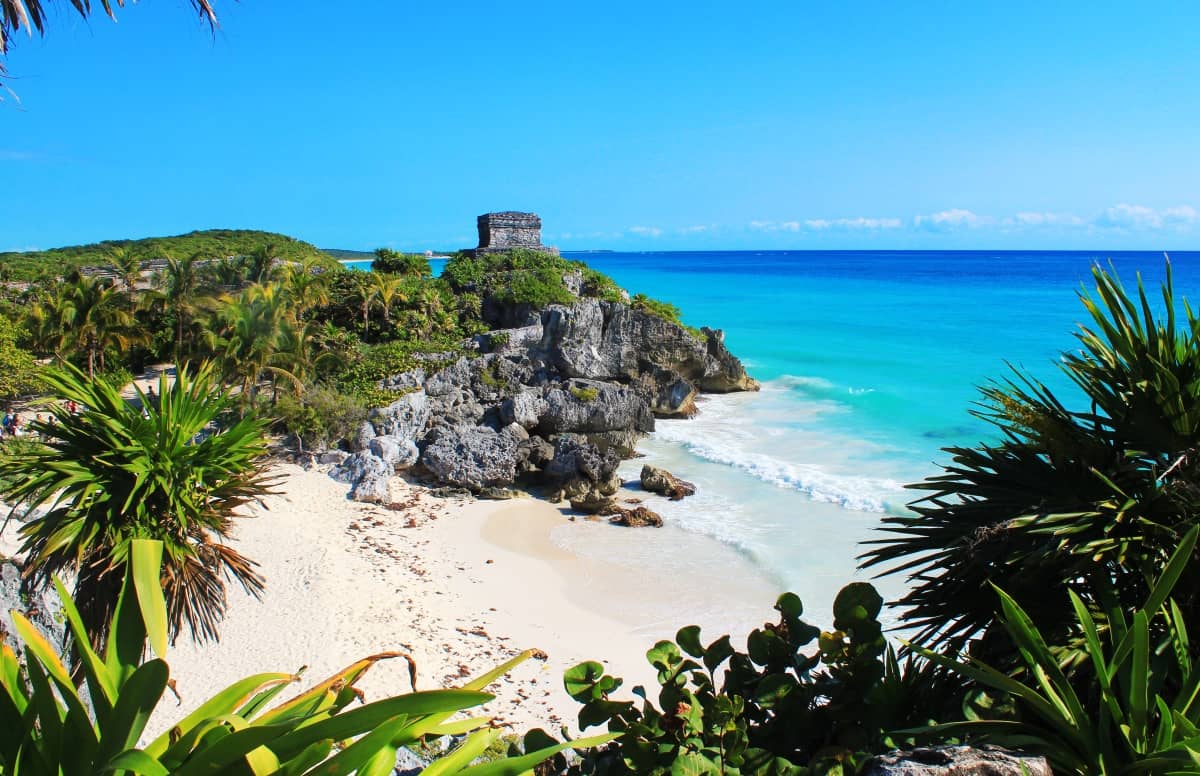 Money Spent:
Accommodation: $1058.50
Food: $825.90
Transport: $962
Activities: $6.40
Travel Insurance: $215.10
Total Amount Spent: $3067.90
A Few Announcements
This month, I had a huge change of plans.
If you remember, my original plan for 2014 was to finish up in Mexico, head south through Central and South America and end up in Antarctica by the end of the year.
I'm still doing that, but…
I'm going to be travelling from Belize to Guatemala via Portland, Chicago, Boston, Washington DC, Iceland and London.
What?!
I know.
All it took was Dave casually mentioning how much he missed the food in Portland, which led to me researching the price of flights, which then led to us then booking them because they were surprisingly cheap.
After we finish up our month in Portland, we'll be heading to our respective "homes" for a further month. Both Dave and I miss our families so much while travelling so we've decided to pay them a visit. I'll be spending a quick two weeks hopping across the US and having a long layover in Iceland, followed by three glorious weeks at home with my family. Dave will spend that time in Melbourne and then we'll reconvene in Guatemala.
Yes, it's ridiculous, we know.
In site-related news, something I've wanted to implement for quite a while is a monthly newsletter. The only problem I've had is that I've never been sure what to include — I share what I've been doing and where I've been in my monthly summaries already — so I've decided to do something a little different.
At the end of each month, I'll be sending out a newsletter to give you a behind-the-scenes look into life as a digital nomad. I want to show you the reality of living a life like this. I'll be sharing the highs and lows of the freelance lifestyle — offering advice on what's worked for me and what's been a huge failure. You'll receive income reports so you can see how much I make and where that money comes from, as well as my favourite office view of the month. I'd love for you to sign up — you can do so using the form in the sidebar or by clicking here.
The Next Month:
The next month is going to spent exploring more of the Yucatan, using Playa Del Carmen as a base. On my list for this region are the ruins of Chichen Itza, Uxmal and Coba and I might even finally have a go at SCUBA diving (probably not).
Looking to follow along with my travels through my monthly summaries? You can read the previous month's summary here, the next month's summary here, or head on over to the monthly summary page to read from the very beginning!