This month was all about settling down and working hard with a few days of extreme stress and joyful celebrations thrown in for good measure.
The month began fairly stress-free as I helped to release just-hatched sea turtles into the ocean at sunset. It was an incredible experience, and this was my favourite turtle. It was confused and disorientated and kept wandering off in the wrong direction. I named it Lauren.
We got to experience Day of the Dead, and got involved by taking a trip to the local cemetery. I wasn't sure what to expect from the festival, but I was pleasantly surprised to find it to be a time for celebration, and a time to honour lost loved ones. We drank beer, ate gelato and watched local bands perform in the main plaza.
I was having a fantastic time in Sayulita, so much so that Dave and I were having serious conversations about extending our stay for another month or two.
Just as everything was going perfectly, disaster struck.
If you've read my previous monthly summaries, you'll probably know that I make all of my income online, mostly through freelance writing and editing. You'll probably be able to figure out then, that if my laptop were to break then this would, well, affect me quite a bit. So, of course, my laptop broke — just as my bank balance was starting to recover from my time in the US.
Trying to get my laptop replaced from a small town of just a few thousand people was a horrifically stressful experience I wouldn't wish on anyone. I wrote about it in great detail on Too Many Adapters if you're interested in hearing my tale of woe.
After a week filled with more tears than I'm willing to admit to, I needed a break to recover. Fortunately, the delivery of my shiny new laptop coincided with my two year anniversary with Dave.
It seems like such a long time ago that I posted my monthly summary from my fourth month of travel, hinting vaguely at the sudden interruption in my solo travel plans:
I soon sped up to Chiang Mai where I could maybe possibly be staying for quite a while.

Am I being deliberately vague? Probably.

Life is definitely interesting right now.
And now we've been together for two years.
Dave and I closed our laptops, packed a bag full of clothes and books and set off for Yelapa.
Yelapa is a tiny fishing village south of Puerto Vallarta, and is only accessible by boat. There wasn't electricity until 10 years ago, and an widespread Internet connection only arrived in 2010. There aren't any cars in the village, with locals and visitors opting to get around on horseback or by foot. After all, it's not like anything is far away.
Yelapa was incredible, but it was also very expensive. I shouldn't have been surprised, knowing that supplies have to be delivered by boat, but we ended up paying US prices for much of our time there. Accommodation options and food didn't offer particularly great value for money.
We stayed at the peaceful Yelapa Oasis ($90 a night — unfortunately, it later closed in 2020) in an open-air casita, where bullfrogs and iguanas roamed both the gardens and our bedroom. Being open-air, the front of our casita had no wall, or even a door, which took a little getting used to. I soon grew to love it, as we went to sleep with the sounds of crickets and woke up to the crowing of roosters.
Getting away from our electronic devices, of which we have far too many, was wonderful. I felt like I was taking my first true vacation in years, with nothing to do but relax in a hammock, read a book and sunbathe on the beach.
We hiked to a nearby waterfall…
I was particularly excited about having to wade across a river to get from our casita to the beach every morning!
We even got to fit in a little beach time too.
And now, we now find ourselves back in Sayulita, where we have less than a month remaining!
Onto the statistics for the month!
Countries visited: 1
Mexico
Cities visited: 3
San Pancho, Sayulita, Yelapa
Distance travelled: 202 km
Photos taken: 219
Money spent:
Accommodation: $333
Food: $476.23
New laptop: $2450.72
Total amount spent: $3259.95
The next month: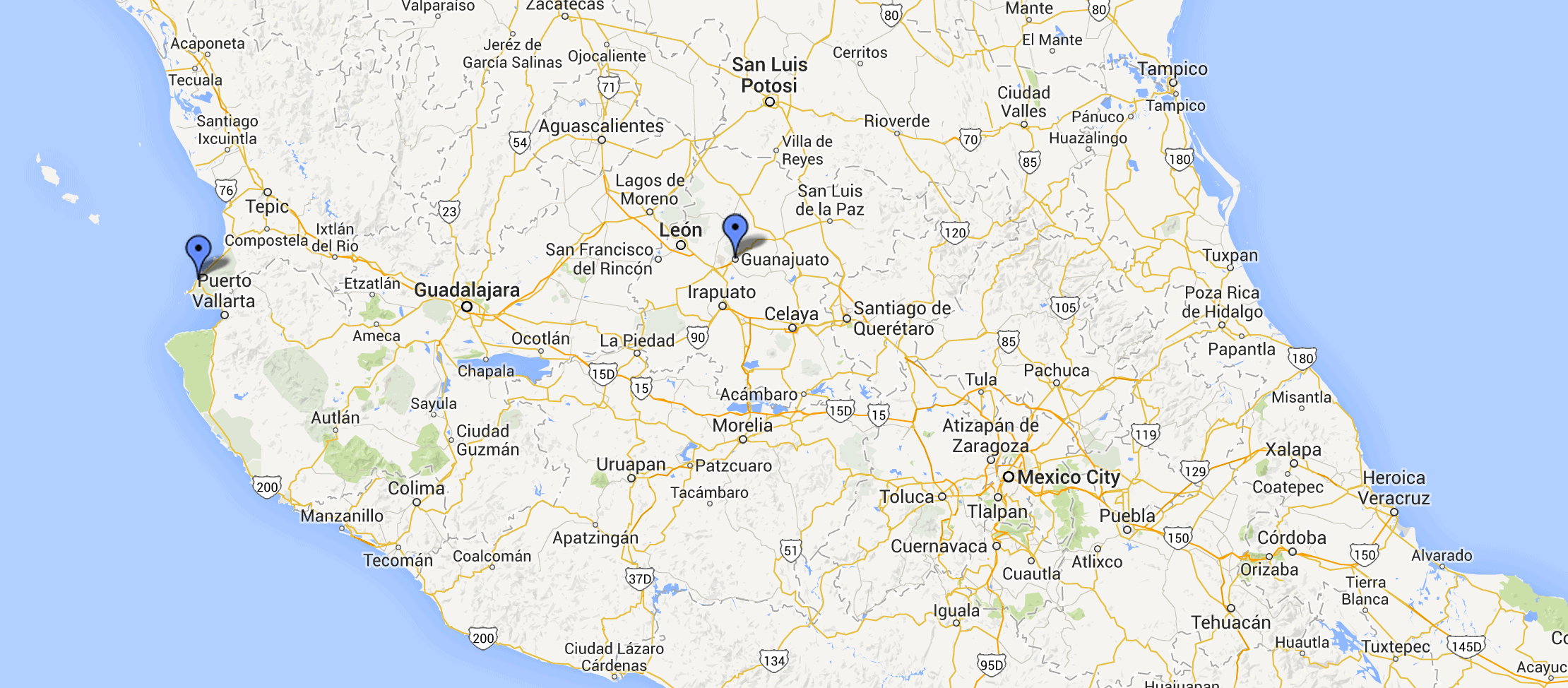 I would imagine that the next month will be spent in much the same way as the previous two — good food, good company, writing, sunbathing and watching as many beach sunsets as I can.
On the 16th, we'll be leaving Sayulita and heading east and inland, to the gorgeous city of Guanajuato. I'm surprised at how much I'm looking forward to getting back on the road, and I can't wait to explore a new part of Mexico.
Looking to follow along with my travels through my monthly summaries? You can read the previous month's summary here, the next month's summary here, or head on over to the monthly summary page to read from the very beginning!