Allow me to introduce you to my new home for the next few months: the chilled-out Mexican surf town of Sayulita!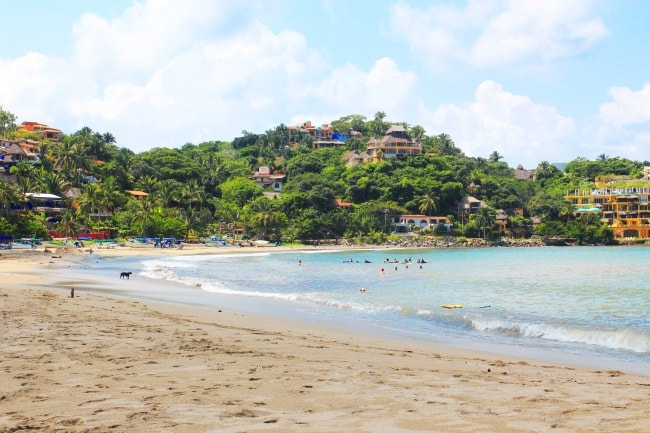 After keeping up with such a hectic pace of travel over much of the last two years it feels like such a relief to finally stop moving and focus on all of the projects I've been ignoring for far too long.
However, moving to Sayulita was always going to be a bit of a risk. 
We'd never been before — not to Sayulita, not to Mexico. Yes, we'd pinned our hopes on a three month stint in a place we'd hadn't ever visited.
Fortunately, Sayulita is an easy town to love. It took less than a week for Dave and I to extend our tentative two month stay into three and despite this, we're already worrying about leaving.
We arrived at the end of low season and Sayulita was a ghost town. 5% of the restaurants were open, the streets were often deserted and there were still plenty of apartments to rent — we found our Sayulita apartment within an hour of arriving!
And then October came around and everything changed. Now, around half of the restaurants are open, the streets are busy with cars, golf carts, people, horses and singing trucks delivering water, gas and bread. And as for the apartments? Our friends Mike and Steph arrived two weeks after us and had a slightly different experience…
Still, life is good here.
I've rarely had a bad meal, choosing to live entirely off of shrimp tacos, marlin quesadillas and barbequed chickens from the chicken lady. There's a bakery close by that sells freshly baked baguettes and rolls, along with the amazing cake lady and the churros man.
We have a kitchen, too, and for the first time in my life I'm actually teaching myself to cook — and enjoying it! I've made guacamole, gazpacho, quesadillas and dozens and dozens of lime and pomegranate margaritas.
In Sayulita, the buildings are bright and colourful, mostly either selling food or surfboards. The beach is less than a five minute walk away, where the water is warm, the sunsets are amazing and almost everyone can be found surfing or stand-up paddleboarding.
Despite Sayulita now feeling an awful lot busier with tourists at the moment, it still manages to retain aspects of a small town. Locals greet you in Spanish rather than English, horses wander down the street unattended, a storm brought down the entry system for our apartment building and every single ATM in town has been out of money for the past week. What happens when we need cash? One of us jumps on the bus to the next town along to withdraw some!
Onto the statistics for the month! 
Countries visited: 1
Mexico
Cities visited: 1
Sayulita
Distance travelled: 0 km
Photos taken: 82
Tacos eaten: 27
Money spent: 
Accommodation: $333
Food: $445
Total amount spent: $778
The next month:
Now that I'm finally-sort of-possibly-maybe-not-at-all caught up on work, I finally have some free time that I can dedicate to some exciting projects I've had in the pipeline for a while. I'm working as managing editor of the travel section of Blogosphere Magazine — the first issue of which is out now! I'll still be writing about all things student travel over at About, plus dozens of other things I'm hoping to start working on.
I don't imagine I'll be doing too much exploring while I'm here. Perhaps a day trip or two up to San Pancho but not much more. Dave and I will be celebrating our two year anniversary with a few nights offline on the island of Yelapa, something I'm very excited about.
Other than that I'll be happily staying put in Sayulita. 
Looking to follow along with my travels through my monthly summaries? You can read the previous month's summary here, the next month's summary here, or head on over to the monthly summary page to read from the very beginning!