Phew! 
What. A. Month.
For the first time I was unable to write a single post between last month's summary and this one, and I have a very good reason for this.
Well, actually… I don't.
Month 26 has been chaotic and surreal and disorganised and productive. It's been a good month though, in terms of travel, work and life.
I was interviewed on BBC radio about my travels on a show with 1.6 million listeners, received two new fantastic job offers and had a huge amount of freelance writing and editing work to get through. It's been a ridiculously busy month — wait until you see the amount of travel it involved — and I haven't slept much but I'm incredibly grateful for all the opportunities that have come my way. Now that I have a relatively consistent income coming in and am slowing the travels way, way down I'm finally going to be able to focus more of my attention here!
Oh, have I mentioned that I've just moved to Mexico?
[separator top="20″ style="shadow"]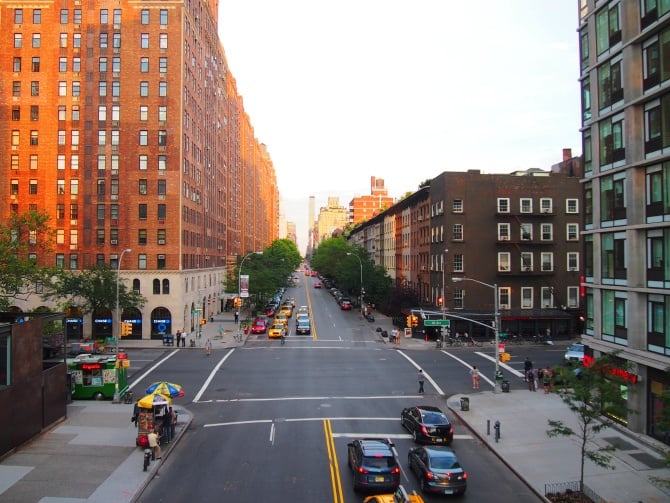 The month began in New York.
New York was a place that, when I first visited, I instantly despised. It was loud and noisy and left me constantly claustrophobic. The towering buildings made me feel dizzy and nauseated and I spent the entire time wishing I was somewhere else.
That was six years ago and I'm barely recognisable from the anxiety-ridden teenager that had to be escorted from the Rockefeller Centre by security because she was having yet another panic attack…
Fortunately, with all of the main tourist attractions ticked off during my first visit, I was able to spend my week in New York doing exactly what I love.
Food with Matt, drinks with Christine, coffee with Sam and walks with Dani and Jess.
That was New York for me — friends, food and a far better impression of the city than the first time I visited.  
Montreal followed New York as I hopped across the border once more, this time deciding to take the train. My first experience on Amtrak was fantastic — lots of legroom, comfy seats, power sockets for every seat and mostly usable wi-fi too!
Montreal was fantastic — within a few hours of arriving, Dave and I had decided to extend our stay by two days. We spent five days there in total and spent most of our time eating everything we came across. And by everything I mean my weight in poutine.
It was then time to start our Southwest road trip.
And it was probably the best road trip I've ever done.
…Which isn't really saying much as I've only really road tripped twice before, in Australia and New Zealand.
But it was still incredible.
I saw and did so much that to write about it all in detail would bring this post up to 3000 words in length, so I'll attempt to somewhat briefly summarise our route.
We began our journey in Phoenix, where I flat-out refused to drive our rental car through fear that I was going to kill us and everyone else on the road. I had never driven on the right-hand side of the road before, never driven an automatic and hadn't driven at all in over seven years.
Fortunately, it wasn't particularly hard to re-learn how to drive in this part of the world — long, straight stretches with barely any cars made this a perfect place to make mistakes without endangering any lives.
Our first major stop was Monument Valley in Utah, one of the most stunning landscapes I've ever seen. We decided to take our tiny car along the 17 mile valley loop road, which saw us edging our way over boulders and across mini-lakes. The fact that it took us over two hours to drive 17 miles shows just how nerve-wracking the journey was!
Next up was the Grand Canyon, somewhere I've long dreamed of visiting. I spent the day getting my hike on on the South Kaibab trail and posing for scary photos where it looked like I was being a daredevil on the canyon rim. Sort of.
On our way back down south, we stopped off at Meteor Crater, the largest impact crater in the US (1.2 km across) and the best preserved on Earth.
And then, Tucson, where we spent a few days hanging out with the ever-awesome Dani and Jess. My time was spent freaking out about the various terrifying creatures that were waiting to attack me — poisonous rattlesnakes, scorpions, tarantulas, black widow spiders, Gila monsters and more. When I wasn't freaking out about my impending doom I was squealing with excitement at seeing so many cacti, thanks to our visits to Saguaro National Park and Sabino Canyon.
After so much awesome in Arizona, it was time for us to head to New Mexico, but not before paying the historic Wild West town Tombstone a visit. It was super-cute and super-cheesy and I adored it.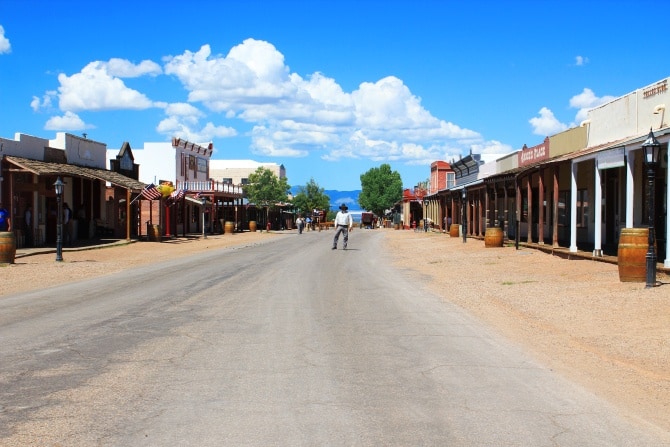 Next, White Sands National Monument, which I've been desperate to visit for years! We spent an entire day sledding down sand dunes, hiking nature trails and getting to witness one of the prettiest sunsets of my life. I'm obsessed with deserts so this was definitely the highlight of the entire road trip for me.
It was then time for a fun detour to Roswell on our way through to Texas!
We added around two hours on to our driving time to visit this crazy city and it was SO worth it. I ended up with so many ridiculous alien themed photos and I can't wait to post an enormous photo essay from my time there!
And then, our final national park of the trip: Big Bend, one of the the largest national parks in the US, and one of the least visited. Our day featured incredible scenery, wild tarantulas and amazing views. Of course, the fact that we were two of around ten people in the park made it an even greater experience.
We ended our road trip in Austin, somewhere Dave and I have been craving visiting after hearing about its similarities to Portland. In Austin, we celebrated Dave's birthday, ate so much incredible BBQ and got to hang out with the lovely Shaun and Erica. It was the perfect end to a perfect road trip and I genuinely wouldn't have changed a single thing.
Which brings me to Mexico.
I need to stop moving.
I needed to stop moving after New Zealand, and while I did for a little while — a month in Chiang Mai, a month in Saigon, a month in Portland — it wasn't enough.
I really need to slow things down.
And so I've moved to gorgeous Sayulita in Mexico!
I couldn't have asked for my Mexico move to have gone any more smoothly. In under 24 hours I had found the perfect apartment — and I moved in two days later. My new place is a five minute walk to the beach, has a swimming pool, air conditioning, a ridiculously huge balcony and a well-equipped kitchen. We're paying just $650 a month and it's perfect.
Onto the statistics for the month! 
Countries visited: 3
Canada, United States, Mexico
Cities visited: 13
Alpine, Austin, Flagstaff, Montreal, New York City, Phoenix, Roswell, Puerto Vallarta, Sayulita, Sedona, Tucson, Tombstone, Tularosa.
Distance travelled: 10,150 kilometres 
Number of flights: 3
New York City to Phoenix, Austin to Houston, Houston to Puerto Vallarta.
Number of trains: 2
New York City to Montreal and back.
Number of buses: 4
Photos taken: 4072
Favourite place: Monument Valley, Utah
Least favourite place: Puerto Vallarta, Mexico
Money spent:
United States: $2328.41 over 23 nights = $101.22 per day
The prices for the US are inflated slightly because I splurged on fancy accommodation and other treats for Dave's birthday.
Canada: 423.38over 5 nights = $84.68 per day
Mexico: $125 over 3 nights = $41.67 per day
Extras:
Amtrak to Montreal and back: $143
Car rental in the US: $500
Mexico rent for a month: $325
Total amount spent: $3844.79
Let's just say I'm pleased I'm going to be settling down somewhere cheap for a while!
The next month
I cannot tell you how happy it makes me to know that I will not be moving once over the next month.
I have so much I need to catch up on with Never Ending Footsteps…
Looking to follow along with my travels through my monthly summaries? You can read the previous month's summary here, the next month's summary here, or head on over to the monthly summary page to read from the very beginning!