After a crazy three months in Australia and New Zealand, this month was all about slowing down, taking it easy and catching up on work.
And yet, having said that, the start of the month included one of my most stressful travel moments…
Oh, you know, that time when I realised I'd forgotten to apply for an Australian visa 12 hours before I was due to fly to Melbourne? When I hadn't bothered to do any research because the thought hadn't crossed my mind that I'd possibly even need to apply for a new visa? When I suddenly went into a panic 12 hours before the flight when I checked on the Australian immigration website and realised that I'd need to apply for a new one and that the site was about to go into scheduled maintenance?
Yep.
An Australian visa is valid for six months so I'd assumed I'd be fine — I'd spent a month in Australia before coming to New Zealand and my New Zealand trip was for two months. There would be plenty of time left on my Australian visa.
But I'd also had to get a new passport in New Zealand and hadn't realised the visa doesn't carry over to your new passport.
And so, my final 12 hours in New Zealand were spent anxiously checking my email every 5 seconds, refusing to go to sleep, freaking out when the Australian immigration website underwent 6 hours of scheduled maintenance and weeping when the cheapest replacement flight I could find online that bypassed Australia was $1,500.
Our taxi to the airport picked us up at 6am and I still had not received confirmation of my visa.
And yet, somehow, it all worked out in the end. There were no questions on either the New Zealand or Australia side and I really don't know what happened. I don't know whether my visa was approved and I didn't receive notification because the site was down, I don't know if my previous visa somehow carried over to my new visa when I re-applied.
Either way, I was so relieved and so ridiculously grateful. Needless to say, I will not be forgetting to apply for a visa ever again!
After three days of catching up with Dave's family in Melbourne, it was time for us to return to Southeast Asia, where I'd be visiting Malaysia for the very first time.
Malaysia! Man, I was excited to be there.
I loved the food (especially in Penang), I thought the Petronas Towers in Kuala Lumpur were stunning, and every single building in Penang had me reaching for my camera.
In fact, it was in Penang that I forced myself out of my comfort zone by packing my laptop away, hitting the streets for hours on end, and ordering unfamiliar plates of food. Being one of the best cities in the world for food, you know that absolutely everything I tried was delicious.
Our plan for Malaysia involved spending time in Kuala Lumpur and Penang, and then heading out east to island-hop our way along the coastline. When Dave and I began researching the Perhentian Islands and couldn't find a decent guesthouse with somewhat reliable internet that was under $50 a night, however, we gave up and began looking at other options.
I know it sounds ridiculous not to visit somewhere because of the internet situation, but we were seriously behind on work after our time in New Zealand, and needed to catch up. It's one of the downsides of living a life like this. But hey, the hours behind a screen allow me to live a life of freedom, so I can never complain too much. I'm sure I'll make it to the islands another time.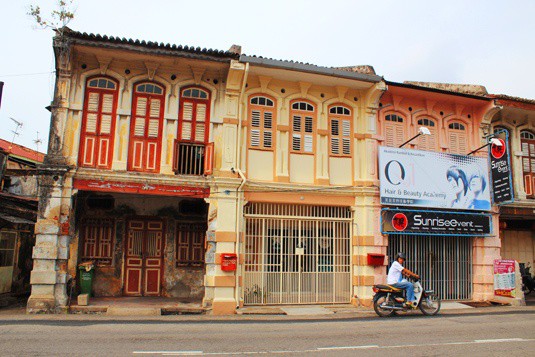 You probably won't be shocked to hear that we ended up in Thailand.
Though there were other beach options in Malaysia, they all involved long bus journeys, seemed to be quite expensive, and would again be lacking in wifi.
So, two days after deciding I was going to be spending a month in Malaysia, I changed my mind and headed for the Thai island of Koh Lipe instead.
Though I feel like I should have given Malaysia more of a chance, I know that it'll be there when I'm next in the region, and hopefully I won't be so tied to working online then.
Heading to Thailand was absolutely the right decision for me at this point in my travels.
I loved Koh Lipe. I spent my 10 days there sunbathing, writing, napping, and swimming in the sea, which was exactly what I needed.
Seeing as I was now in Thailand, how could I possibly resist heading back to my favourite island in the world? In Koh Yao Noi, I spent another 10 days doing exactly the same as I had in Koh Lipe.
And then, I shockingly decided to head up to Chiang Mai…
… Onto the statistics for the month!
Distance travelled: 11,950km
Countries visited: 4
New Zealand, Australia, Malaysia, Thailand.
Cities visited: 9
Ashburton, Christchurch, Melbourne, Kuala Lumpur, Penang, Koh Lipe, Krabi, Koh Yao Noi, Chiang Mai.
Money spent:
New Zealand: $35.21 over 1 day = £19.48 per day.
Australia: £50.62 over 3 days = £16.87 per day.
Malaysia: £272.86 over 9 days = £30.32 per day.
Thailand: £474.91 over 18 days = £26.38 per day.
Miscellaneous: Flights from Melbourne to Kuala Lumpur: £171 
Total amount spent: $1103
My accommodation for 3 days in Malaysia was covered by AsiaRooms and I stayed with friends for my 3 days in Australia so had no accommodation costs there either.
The next month:
Given that my recent travel plans post is now invalid, here's my new plan for the next 30 days.
I'll be staying in Chiang Mai for a month and you'll be surprised to hear that I made the decision to extend my original plan of two weeks within 6 hours of arriving! I'm planning for a relaxing few days in Chiang Dao without my laptop at some point, but other than that, I'll be eating, writing, catching up with friends and not moving. Once my time in Chiang Mai's up, I'll be heading to Saigon to live there for a month.
After the hectic few months of travel I've had, it feels so unbelievably good to have finally stopped moving!
Looking to follow along with my travels through my monthly summaries? You can read the previous month's summary here, the next month's summary here, or head on over to the monthly summary page to read from the very beginning!