Unsurprisingly, much like my previous summary, this past month has been jam-packed with fast-paced travel, very little rest (or work!) and heaps of beautiful scenery.
At the end of last month I'd just finished up in the North Island and was exhausted, tired of travelling and wondering how I would cope with continuing on at the same pace for a month in the South Island.
Here's how it went!
I began this month with a drive from Christchurch to Tekapo, which we used as a base to explore gorgeous Mount Cook — somewhere I really would like to spend a lot more time in the future. We spent our only evening in Tekapo hanging out in the hot springs, which were wonderful. If I ever decide to own a house, I will have hot springs in my garden.
After Tekapo, it was time for a drive down to Dunedin via Oamaru. The main reason for us visiting Oamaru was so that we could check out the Steampunk Museum, which I personally found rather dull and unlike anything I would usually associate with Steampunk. Dave seemed to love it though, probably because he is a boy and likes looking at lumps of metal.
Continuing on with our theme of moving far too quickly, we decided to spend just one night in Dunedin, with our main reason for stopping being so that I could attempt to run up the steepest street in the world.
Unsurprisingly, I managed about 20 metres.
Before leaving Dunedin, we had time to cram in a visit to Cadbury World where I embarrassed myself by pushing in front of my fellow tour members to take three shots of melted chocolate the instant they were offered to us. I also discovered that most of the chocolate you can find only in New Zealand is horrible because it always seems to be chocolate covered marshmallow.
Next up, was the Catlins, where we spent three days offline exploring the southernmost area of the South island. The highlight for me was seeing wild sea lions and penguins casually hanging out on a beach. So adorable!
You may remember that my plan for my two months in New Zealand was for Dave and I to travel from the northernmost point of the North Island to the southernmost point of the South Island. In the Catlins we were able to visit Slope Point to check off our southernmost point! There wasn't anything exciting there — a derelict lighthouse, a lot of wind and this sign.
We then began driving up the west coast of the South Island. One of the main highlights of this part of the trip for me was the overnight cruise we took in Doubtful Sound. There, I was able to try fishing for the first time in my entire life and to my surprise, found that I absolutely loved it!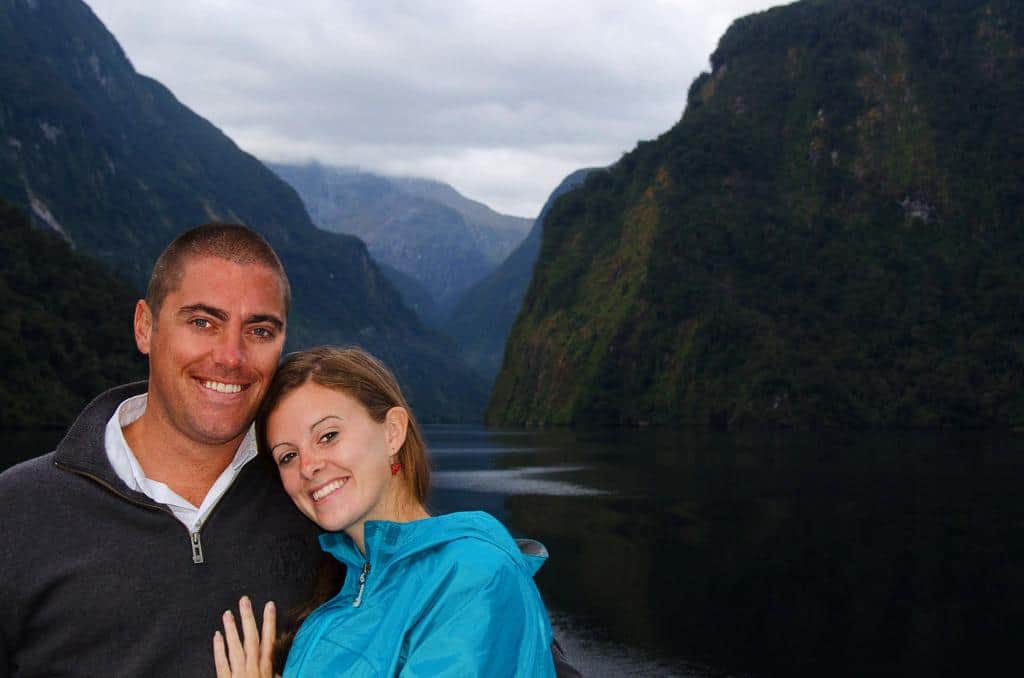 After spending 24 hours exploring incredible Doubtful Sound, we decided to take a cruise on the more touristy Milford Sound to compare the two — and I ended up completely underwhelmed. If you're ever trying to decide between the two then choose Doubtful Sound, it is a thousand times more impressive!
Next up, Queenstown! We managed to find an incredible hostel with super-fast, free wifi and, well, after having spent the past six weeks with horrible, slow, expensive internet, I'm ashamed to say that I spent the majority of my time in Queenstown on my laptop. I did, however, manage to squeeze in some time to pay a visit to Fergburger, where I attempted, and failed, to eat a burger the size of my head. I also spent an hour in a bird park and saw only three birds. Success!
In Wanaka, I was forced to visit Puzzling World. Because I am of a somewhat nervous disposition, Puzzling World was not something I found all that enjoyable. There were disorientating rooms with odd slopes and angles that made me feel like I was going to vomit or collapse. An interesting way to spend an afternoon…
One of the things I was most excited about for my time in New Zealand was finally getting to see a glacier for the first time! I managed to fulfil that dream with a half-day hike on Fox Glacier. It was full of incidents as I learnt how to use crampons and waved my hiking poles in the air as I struggled to stay upright, but it was still another magical first for me!
With brief stops along the west coast, we ended up in Nelson, a city that I instantly fell in love with. While we were there, we happened to come across a sign pointing to the centre of New Zealand. Having visited the top of the North Island and the bottom of the South Island, we couldn't miss the opportunity to visit the centre of New Zealand to complete our collection!
Next up, was a trip to Abel Tasman National Park to try yet another brand new activity — stand-up paddleboarding! As you can probably guess from my similar posts about my first time trying surfing, hot air ballooning, cycling and kayaking… I was terrified and convinced I was going to die.
And, well, you can probably guess how it turned out too… I loved it! As with surfing, I found that my balance on water is so much better than on land; while Dave flailed around in the ocean, I barely fell in, standing proud and upright for the entire lesson. I love paddleboarding!
From Abel Tasman, we travelled to Collingwood so that we could explore Farewell Spit — the longest sandspit in New Zealand, stretching 26 kilometres into the sea!
The tour we had booked was cancelled at the last minute, but Dave and I had an amazing day nonetheless, spent wandering over the amazing sand dunes and playing on the beach.
And then I took a deep breath and relaxed for the first time in months.
We were finished.
We had one week left in New Zealand and all that we had planned for this time was relaxation and work. I am currently writing this post from Ashburton — Dave's hometown! I've been dying to visit Ashburton for over a year and so I'm pretty excited to finally be here. I am going to spend the next few days forcing Dave to show me around so that I can get an insight into Childhood Dave's life. It's going to be so much fun (for me!)
… Onto the statistics for the month!
Distance travelled: 3079km
Countries visited: 1
New Zealand
Cities visited: 14
Tekapo, Oamaru, Dunedin, the Catlins, Manapouri, Queenstown, Wanaka, Franz Josef, Punakaiki, Nelson, Collingwood, Hanmer Springs, Christchurch, Ashburton.
The next month:
I leave New Zealand in a couple of days and while I'll be sad to leave, I'm incredibly excited to get back "home" to Asia. I can't wait to have decent internet again so I can finally catch up on my travels over the past few months — I have so many crazy adventures I can't wait to share with you all.
As for where I'm going in Asia? All will be revealed in my next post. All I'll say is that it's a brand new country and somewhere I'm VERY excited about!
Looking to follow along with my travels through my monthly summaries? You can read the previous month's summary here, the next month's summary here, or head on over to the monthly summary page to read from the very beginning!