Merry Christmas from Australia!
Yes, this month I finally set foot in Australia — over a year later than originally planned! The past month has been action-packed, filled with far too much movement as usual, an incredible festival and several amazing road trips.
My month began in Chiang Mai, my former home in Thailand and somewhere I will always be delighted to return to. I wasn't sure how I'd feel this time around — it had been six months since my last visit, a lot of our friends have now moved on and left, we would be staying on the opposite side of the Old Town… Would I regret leaving my beloved Cambodia?
Fortunately, I needn't have worried. Setting eyes on the moat, inhaling, and choking on, the familiar aroma of the night markets, glimpsing the shimmering gold of temples lining every street. It felt familiar and welcoming.
It felt like home.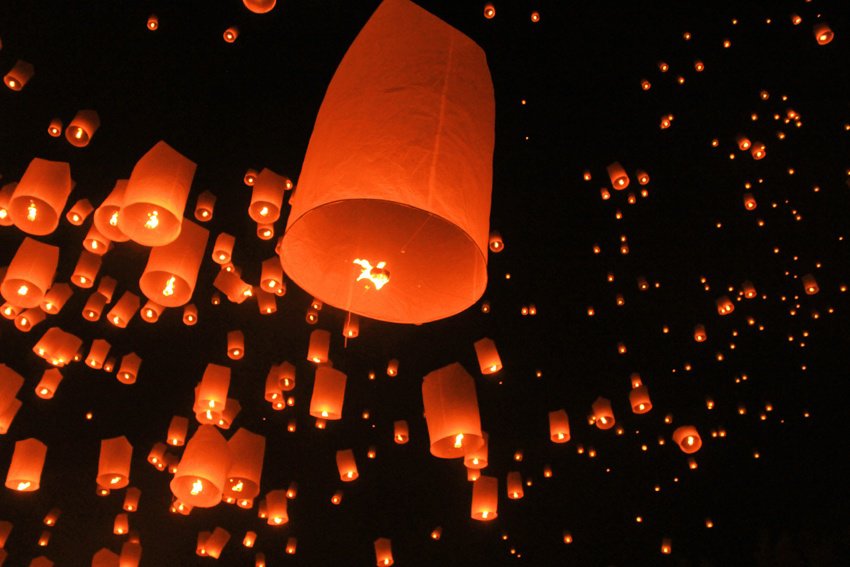 This time, I was back in Chiang Mai for one main reason. The Yi Peng lantern release. Ever since first reading about this festival a few years ago, I knew I had to witness it for myself. Last year, I arrived in Chiang Mai a week too late. I wasn't going to make the same mistake again.
I'm so glad we organised our travel plans around Yi Peng as it was one of the most beautiful, magical sights of my life. With thousands of glowing lanterns simultaneously released into the air, it's something that everybody should make the effort to see if they're anywhere near Chiang Mai in November.
With the lantern festivities drawing to a close, I had a couple of weeks to catch up with some travel blogging friends, explore a completely different area of Chiang Mai and revisit all of my favourite restaurants.
The weeks flew by and soon it was time for me to hop over to crazy, chaotic, bordering on insane, Saigon. Vietnam was the one country in Southeast Asia I was really disappointed I didn't get a chance to visit last time I was here. There are so many places I want to visit in Vietnam, but this time I'd be avoiding all of the touristy areas and riding a scooter around the Mekong Delta for 10 days.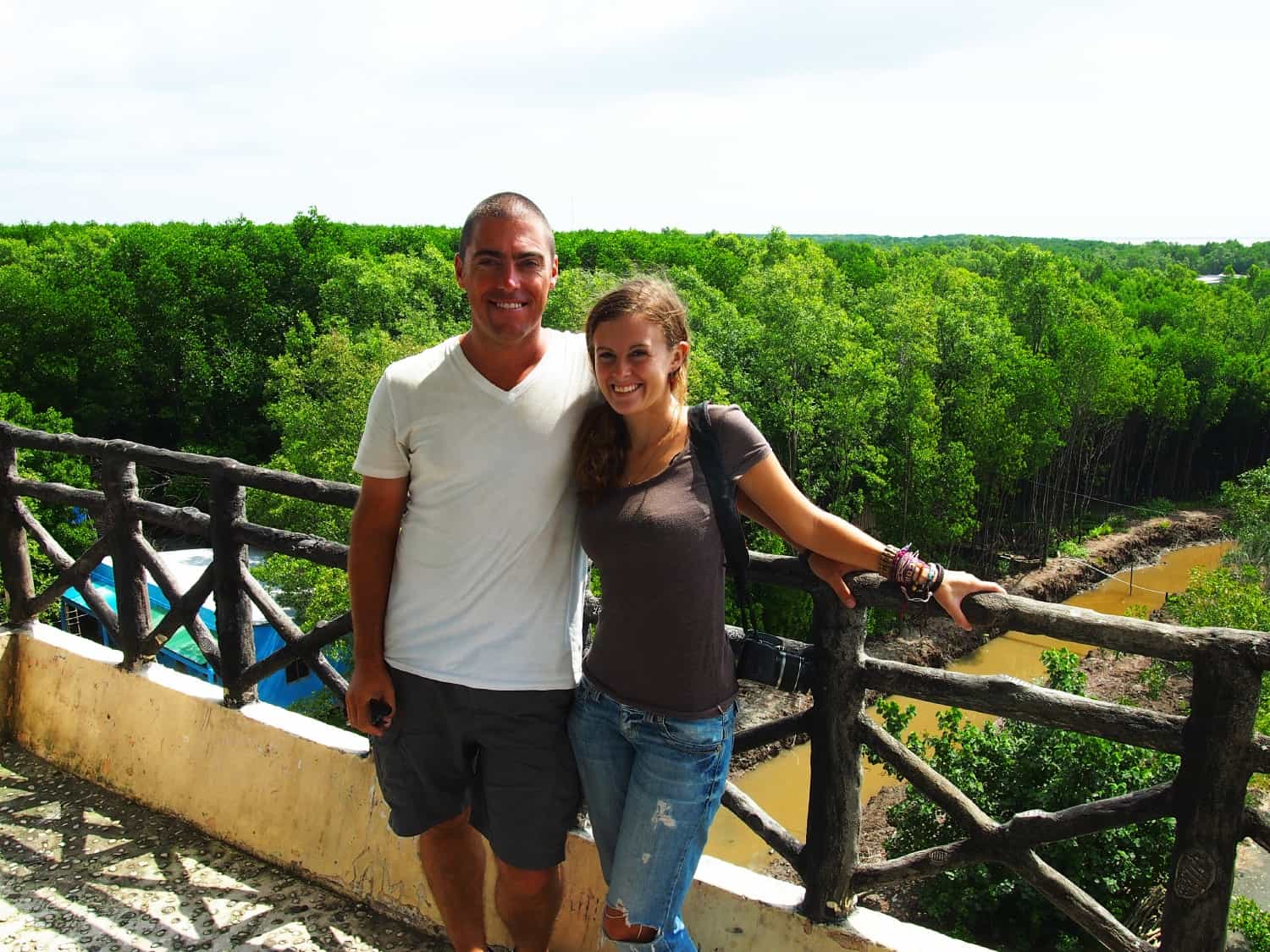 Dave and I at the southernmost point of Vietnam!
After the first couple of days of riding we were firmly off the tourist trail and didn't see another Westerner for the next week. We rode through rice paddies and over rivers, struggled to keep the scooters upright in ridiculously loose gravel and narrowly avoided potholes in the dark, we saw bizarre and terrifying live animals in food markets and bathed in pho every single morning.
We finished off our adventure with an accidental night-time ride through the streets of Saigon — something that had me convinced I was about to die whilst simultaneously feeling more alive than I ever have before.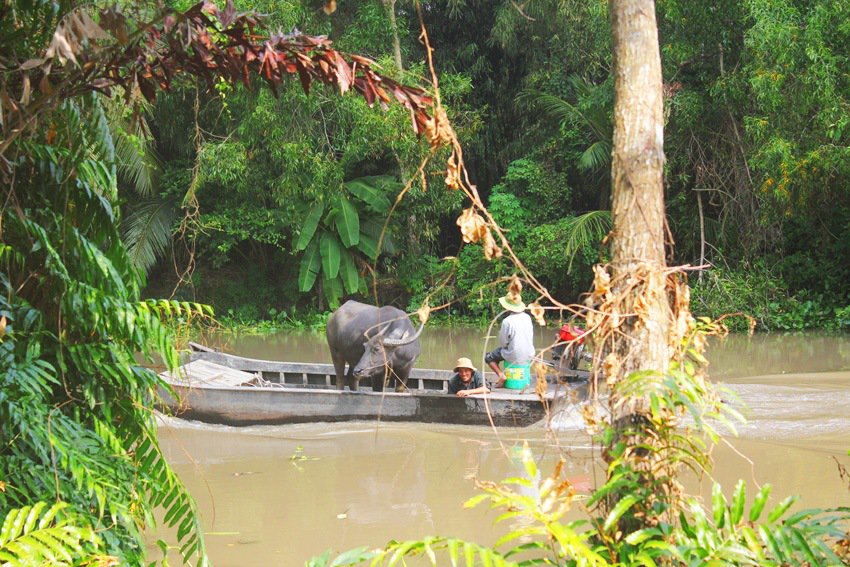 I was so very sad to be leaving Vietnam, and especially Saigon. It's the first country in South East Asia that had me genuinely excited about food and one of the very few places in the world I felt confident ordering something unfamiliar. It's so rare for me to love every single meal I have in a country!
I will be back. Hopefully, in April.
As much as I wanted to stay in Vietnam, I had somewhere brand new and exciting to visit. It was time for me to step foot on my fifth continent: Australia!
I've been in Australia for a couple of days now and it has far surpassed all of my original expectations. I love it here! Though I haven't seen much of the country yet, it is so much more beautiful than I expected and I know I'm going to have an amazing month here.
We arrived in Brisbane 13 hours late after missing our original AirAsia flight and having to spend the night in Kuala Lumpur. We jumped straight in our rental car upon arrival and are currently driving down the East Coast of Australia. First stop was the beautiful beaches of Port Macquarie, where I celebrated finishing up my 17th month of travel!
Onto the statistics for the month!
Distance travelled: 9,677 km
Countries visited: 4
Thailand, Vietnam, Malaysia, Australia
Cities visited: 15
Chiang Mai, Saigon, My Tho, Ben Tre, Tra Vinh, Soc Trang, Bac Lieu, Ca Mau, Rach Tau, Rach Gia, Can Tho, Kuala Lumpur, Gold Coast, Brisbane, Port Macquarie.
Number of photos taken: 3198
Number of flights: 5
Money spent:
Thailand: £329.08 over 12 days = £27.43 per day
Vietnam: £217.55 over 16 days = £13.60 per day
Australia: £205.75 over 2 days = £102.88 per day
Total amount spent: £692.39/$1126.38.
The next month:
Now that my East Coast road trip has begun, the rest of the week is going to be spent driving from Port Macquarie to Melbourne. I'll be spending two days hiking in the Blue Mountains, a few days in Sydney, a night in Eden and then I arrive in Melbourne! I'll finally be staying put for a couple of weeks at this point as I'll be housesitting in Melbourne for two weeks with Dave. As well as spending Christmas and New Year's here, I'm excited that Dave will be able to show me around his former home and take me to all of his favourite places!
After a lot of rest and work in Melbourne, it'll be time to hop on a plane again as Dave and I head over to Tasmania for a week of road tripping. I'm particularly excited to see this part of Australia as I know it's somewhere that not many people visit while they're over here. After that, it'll be off to country number 40 for me as Dave and I fly to New Zealand at the end of the month!
As always, I am SO excited!
Looking to follow along with my travels through my monthly summaries? You can read the previous month's summary here, the next month's summary here, or head on over to the monthly summary page to read from the very beginning!