Greetings from Cambodia!
Yes, I've finally returned to Southeast Asia and it's SO good to be back!
At the beginning of the month I had one week left of my sailing trip around the coast of Turkey and I'm pleased to say that the rest of my time on board featured no nausea and very few incidents, which was a miracle! As somebody who frequently gets travel sick in swimming pools and hammocks, I was amazed at how quickly my body grew to adapt to all the rocking around.
Despite growing accustomed to life at sea, I was secretly a little relieved to be back on dry land again at the end of the week. However, I then had a new sensation to deal with.
Landsickness.
For the first time in my life, I preferred movement over stillness.
I spent the next few days recovering from the disorientation of every single thing in sight rocking violently around me in an amazing villa in Kadikalesi, just outside of Bodrum. It was the perfect place to catch up on work after two weeks offline and with views like this, it was one of the most beautiful places I've been in Turkey.
After a week in luxury, it was time to figure for Dave and I to figure out where to go next. After throwing around ideas that included Rhodes, Santorini and even Cappadocia, we eventually decided to take the low-stress and easy option and head back to our favourite backpacker resort in Selcuk.
Yes, this was the lazy choice but it was definitely the right thing for us to do. After spending two weeks offline on the boat, both Dave and I had a lot of work to catch up on and after our Interrail adventure, we were craving slow travel and to stay put in one place.
However, we couldn't leave Turkey without paying a final visit to Istanbul and I was so excited that I'd be able to check out some of the things I missed during my first visit.
I finally went inside Hagia Sophia and wondered what had taken me so long. It was incredible!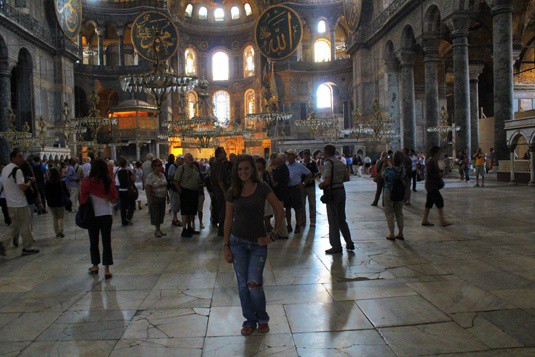 I wandered around the Grand Bazaar avoiding the fluorescent Adidas tracksuits and taking sneaky photos of the gorgeous lanterns.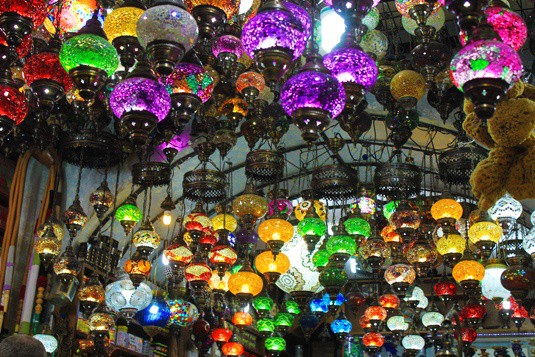 I explored the Spice Bazaar and fought the urge to buy 127 different kinds of tea to carry around with me.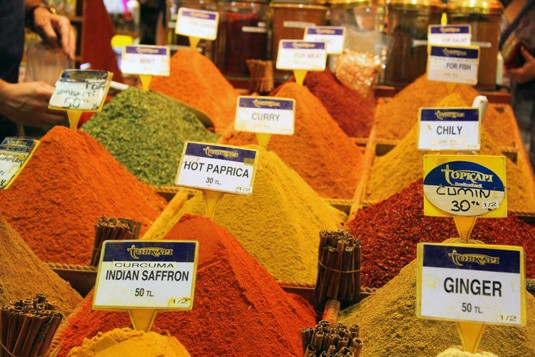 And then, sadly, it was time to leave Turkey and head to Southeast Asia and Bali!
Dave and I had friends staying in Nusa Dua so we took the opportunity to hang out at their resort and pretend to be luxury travellers for a few days. We met up with my friend Debby, who lives in Bali, and she spent a day showing us around some of the areas in Bali you don't usually get to see.
We visited Pandawa Beach, where I got to see a seaweed farm for the first time, and Green Bowl Beach – a completely empty beach with hundreds of steps down a cliff to get to it.
Both beaches were beautiful and we saw no other tourists for the entire day. It was great to see a side of Bali that's so different to disgusting Kuta. There wasn't an Australian accent within earshot!
Today, I left Bali and flew to Cambodia, where I'll be spending the next few weeks.
Onto the statistics for the month!
Distance travelled: 14,575 km
Countries visited: 3
Turkey, Indonesia, Cambodia
Cities visited: 9
Kas, Kalkan, Fethiye, Kadikalesi, Selcuk, Istanbul, Ubud, Nusa Dua, Phnom Penh.
Number of photos taken: 2643
Number of flights: 5
Number of buses: 5
Number of boats: 1
Money spent:
Turkey: £595.45 over 21 days = £28.33/day
Bali: £155.70 over 7 days = £22.14/day
Cambodia: £30 over 2 days = £15.00/day
Flights: £369.94.
Total amount spent: £1151/$1846
The next month:
The majority of the next month will be spent exploring Cambodia! After spending a few more days in Phnom Penh, I'm heading down to Sihanoukville to get in some much needed beach time on the peaceful Otres Beach. I hope to visit Kampot and Kep at some point before jumping over to Thailand, where I'll either be spending some time on the islands, exploring Sukhothai and Ayutthaya or heading straight up to Chiang Mai for Yi Peng!
Looking to follow along with my travels through my monthly summaries? You can read the previous month's summary here, the next month's summary here, or head on over to the monthly summary page to read from the very beginning!