Travel is a rollercoaster, so after a wonderful January and a not-so-wonderful February, I was delighted when March brought me back to the dizzying highs from the start of 2018. I can't believe how much I managed to pack into one glorious month!
When I left you last, I had just arrived in Koh Chang and was itching to start exploring.
Koh Chang was the first island I ever visited in Thailand, way back in 2012, and at that time, I was fully immersed in backpacker culture. I spent my days lazing on Lonely Beach and my evenings downing buckets as I hopped from bar to bar with Bob Marley and Jack Johnson ringing in my ears.
This time around, I opted for a quieter experience by basing myself on beautiful Klong Prao Beach. It's one of the prettiest parts of the island, and I spent every day sunning myself on the soft sand, swimming in the ocean, and snacking on street food.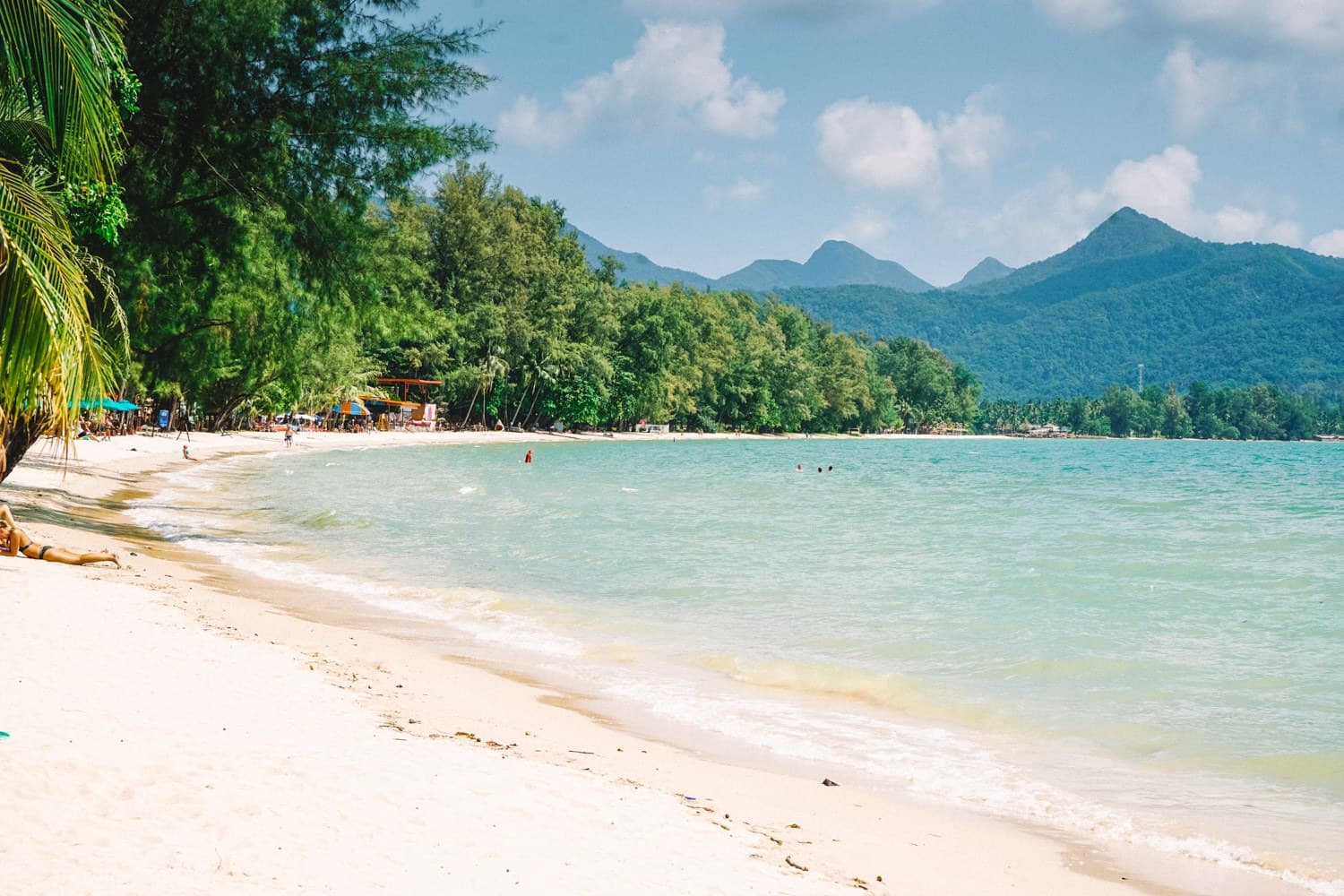 I spent a full five days on Koh Chang, and I loved the ease with which I slipped into a routine. It was one where I jumped on a scooter to explore the island in the mornings, hit the beach for reading my Kindle in the afternoon, and sat in front of my laptop every evening. Splitting my day into thirds and hitting my quota for travel, work, and relaxation had me feeling as though I was both attaining a sense of balance and living the dream.
I paid a return visit to my beloved Lonely Beach and was shocked to not even recognise it.
Literally.
I saw it, spun around, and walked in another direction because I was so convinced it was a different beach! Lonely Beach in 2018 was calm and quiet, and pleasantly uncrowded. There were fewer palm trees than I remembered, but I was relieved to discover the beach itself hadn't been overdeveloped. It was still beautiful, but not quite as lovely as Klong Prao.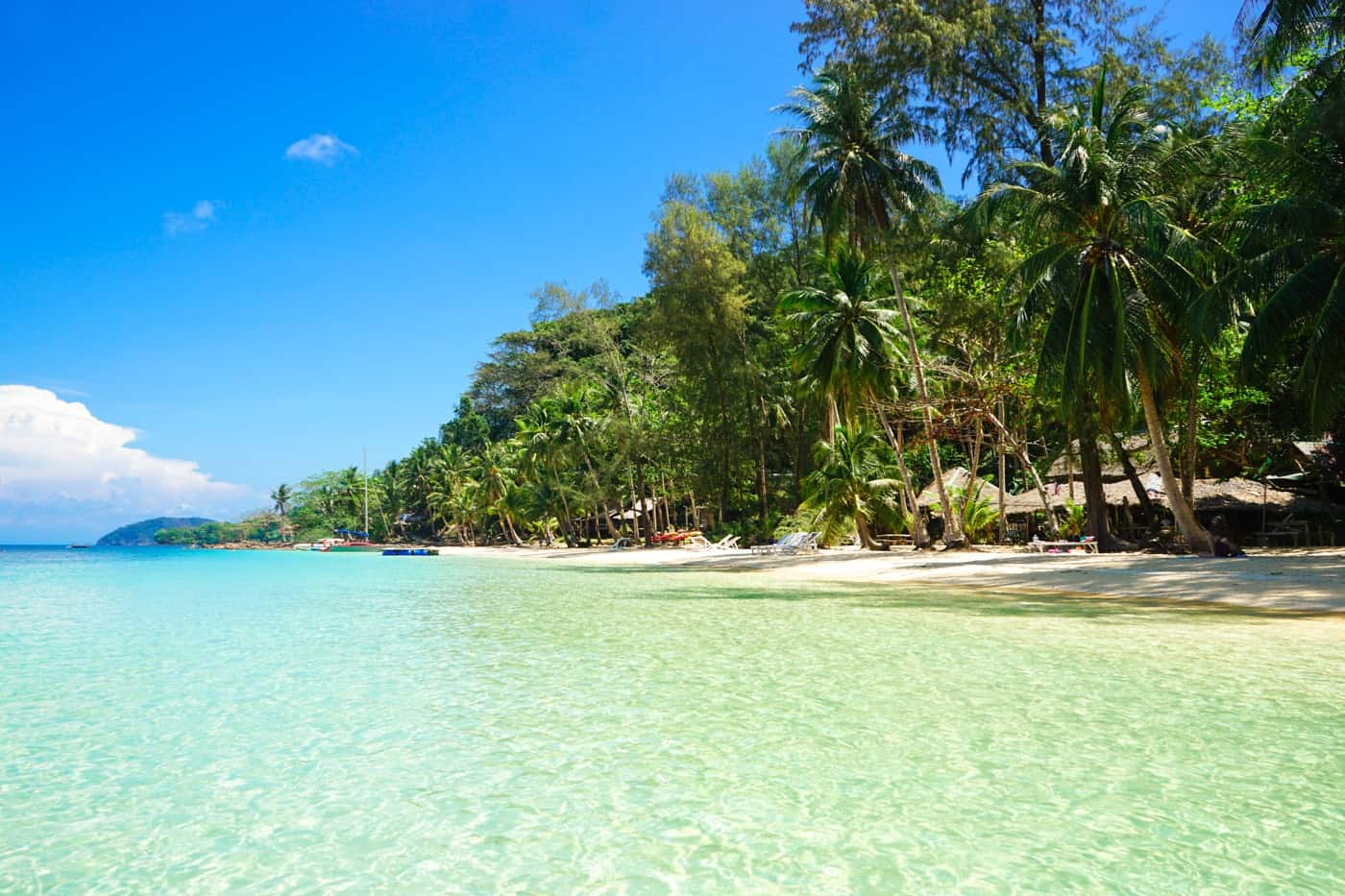 My aim for this trip to Thailand was to visit some of the lesser-known islands in the country to boost my coverage on the site and introduce you guys to some of the best spots that aren't yet overrun with tourists.
First was Koh Wai, a tiny island off the coast of Koh Chang that doesn't even have electricity. There are just three budget guesthouses on the island — all of which have been around for 20-odd years — and you can walk from one end of the island to the other in half an hour. There are no roads, no stores, no ATMs, and no bars. This isn't an island that's suffering from the overdevelopment that much of Thailand battles, but that's exactly what makes it so appealing.
I opted for one night on Koh Wai and that precious afternoon I spent on the beach outside my bungalow was one of the highlights of my trip to Thailand. The water was so calm. For hours, there was barely even a ripple, let alone a wave. The sea was warm, pristine, and shallow, like taking a bath. I spent five straight hours alternating between sunbathing on the sand and kneeling in the water, thinking about how incredible this island is.
And while the night was pretty sweaty without even a fan to cool me down, it was totally worth it for that afternoon. I would have even extended my stay for a second night to spend some more time on Koh Wai, which isn't something I thought I'd say when I first arrived.
An island like this is worth suffering for.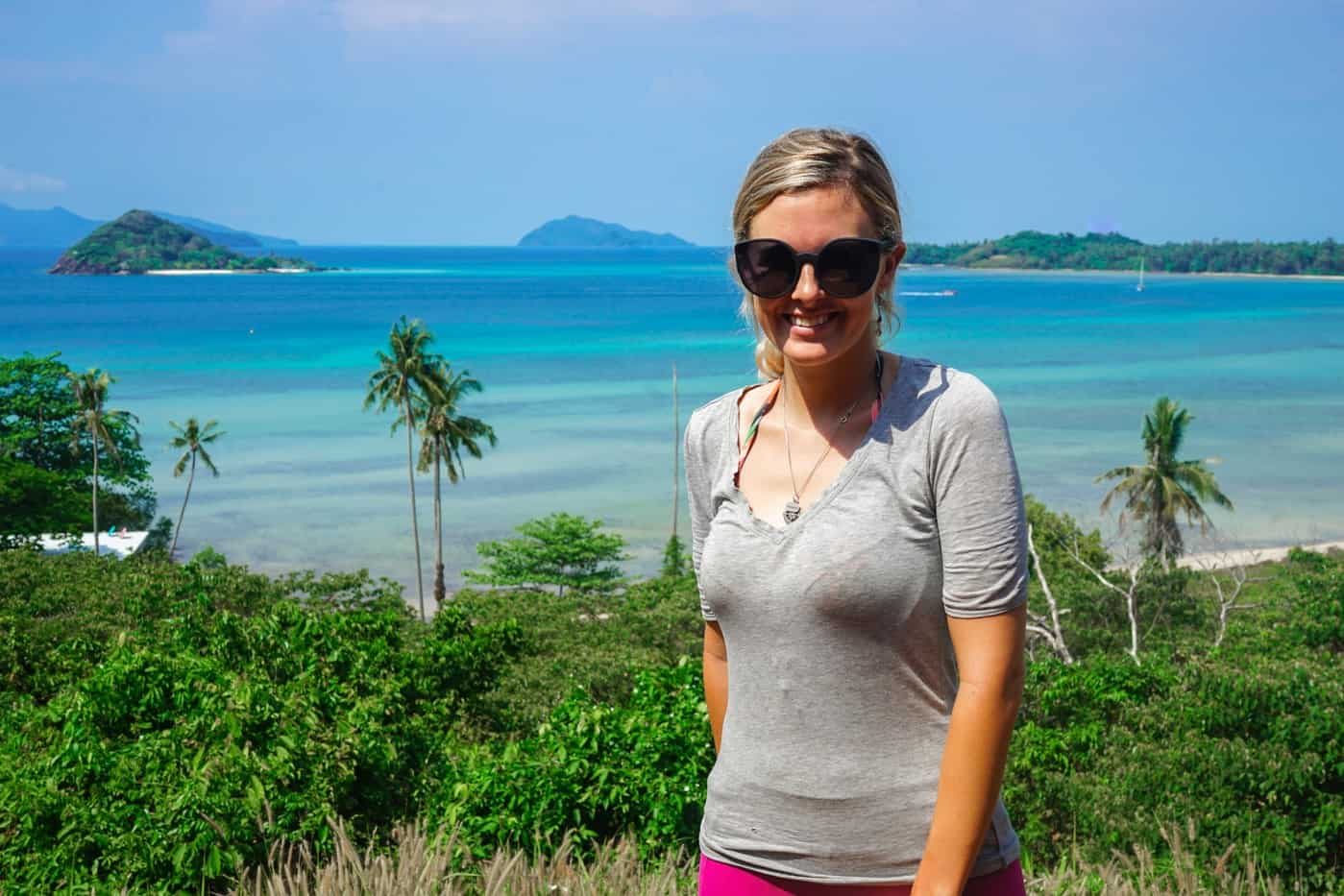 I jumped on a ferry to Koh Mak next, which turned out to be just as incredible, if not more so.
We were staying in the kickass Bamboo Hideaway, which came complete with air conditioning, swimming pool, and a surprisingly authentic Mexican restaurant. As tempting as it was to indulge in all of these things for days on end, Dave and I dragged ourselves away from the pool and hired a scooter to help us explore the island.
Our treacherous ride to Turtle Beach brought back memories of a similar journey I once made on Koh Yao Noi, and just like back then, we were rewarded with an pristine beach with nobody else on it. The outdoor erotic sculpture museum was fun to wander around, and the viewpoint in the photo above was the perfect spot to take a break for lunch. The small island in that photo was actually once voted as having one of the top 10 beaches in the world, although the swarm of sandflies that permanently smother it immediately disqualify it from any list I might've put together.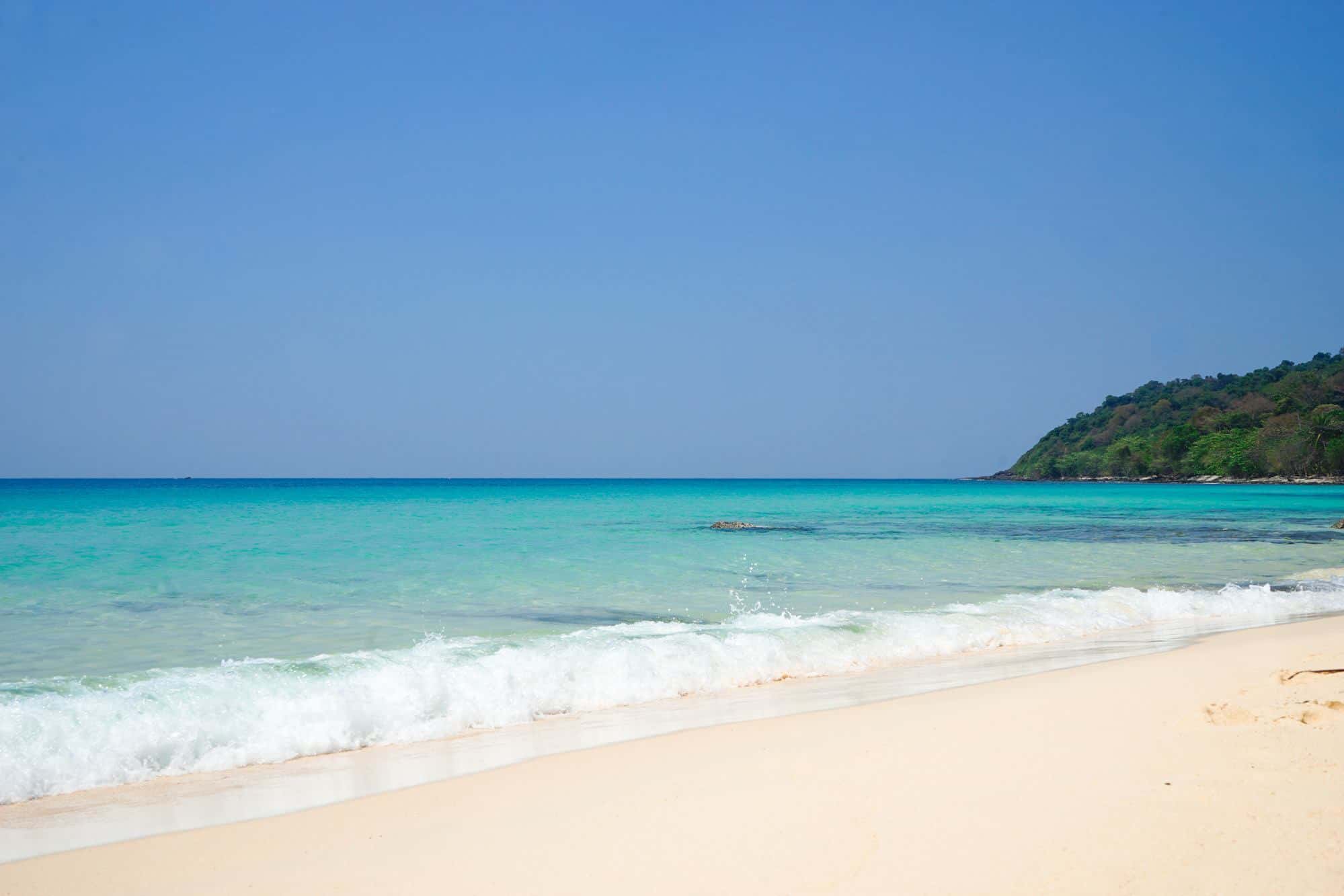 I went to Koh Kut because it tops pretty much every expert's list of the most beautiful islands in Thailand. I knew I had to check it out.
My verdict? It really is that beautiful! The beaches on Koh Kut are gorgeous, and I'm convinced they're the best in the entire country.
I spent five fantastic days blissing out in the south of the island, hanging in one of the most chilled guesthouses I've ever spent time in. Gumm Lonely Club was made for relaxing, and I couldn't get enough of this beautiful spot on the river. We were staying in a little cabin with a hammock to lay out in above the water, a smooth jazz soundtrack on the speakers, and some fantastic Thai food to go with it.
If I hadn't had two days remaining on my Thai visa, I would have stayed for weeks.
I spent one night in Trat, one in Bangkok, then jetted off to a brand new country in Southeast Asia.
I went to Brunei because everyone said it was boring.
I know that's a weird reason to go somewhere, but I love to be different. If someone tells me a place isn't worth visiting, I immediately add it to the top of my list and set off in search of some redeeming features.
When it came to Brunei, I struggled to find a single positive blog post about the sultanate. Everything I found declared the country boring. Everyone told me it was only worth visiting for a day, and that I should only go if I'm into counting countries.
I immediately gave myself four days to explore. I was determined to dig deep and find a ton of interesting things to do in the country.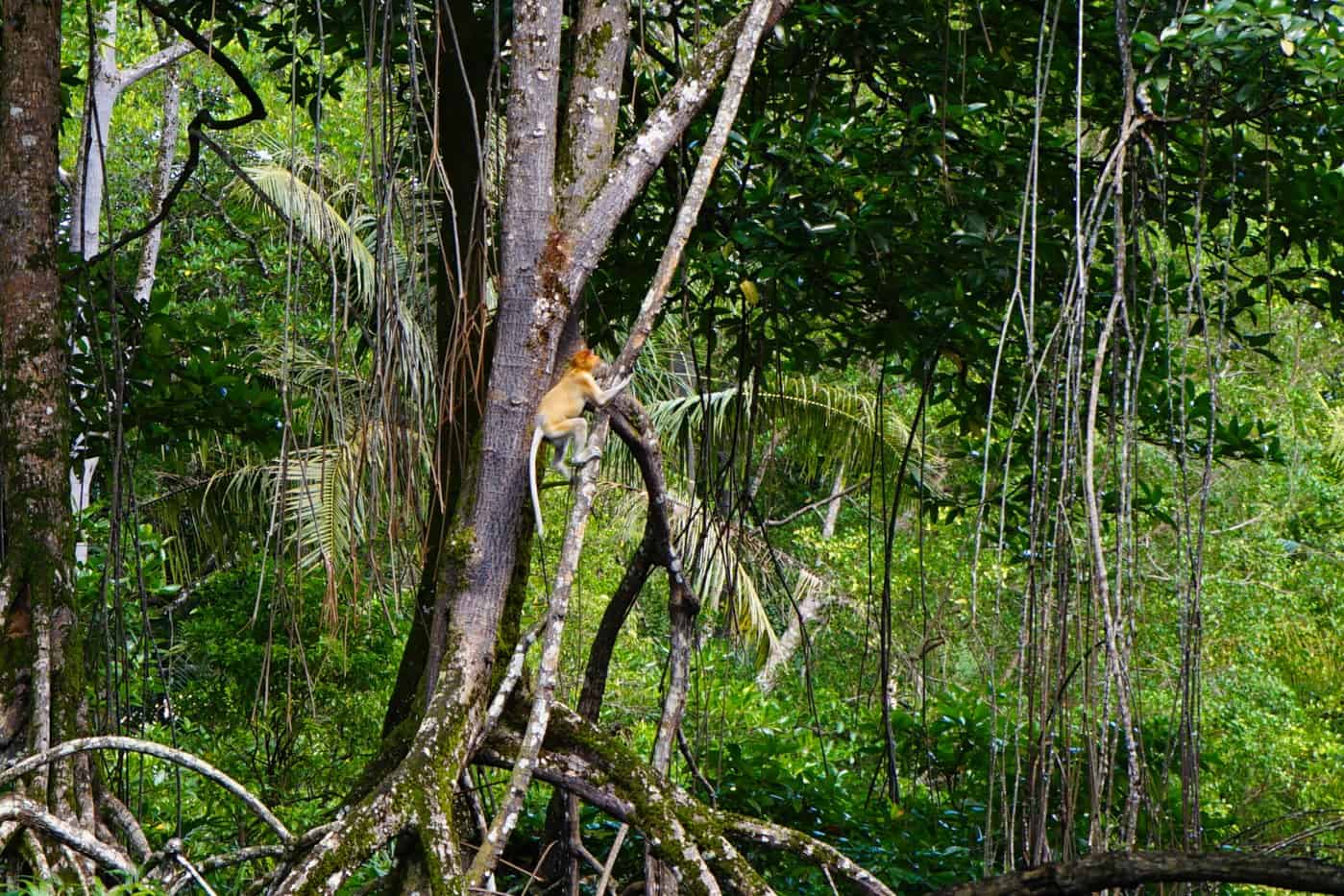 Well.
BRUNEI IS REALLY BORING, GUYS.
It turned out that once again, I should have listened to everyone else.
It wasn't like our trip was terrible.
We chose to stay in a guesthouse run by a lovely woman. Maya drove us into and out of the city, took us to the Gadong Night Market for chicken anus on a stick, and even treated us to lunch one day, when she introduced us to the national dish, ambuyat. We spent a day wandering through Bandar Seri Begawan, and spent another morning on a tiny boat, exploring the waterways of a floating village and spotting proboscis monkeys in the nearby jungle.
And then we ran out of things to do.
There were things we could have done — the canopy walk at Ulu Temburong National Park for starters — but everyone we spoke to told us that we'd see more impressive rainforest in Malaysian Borneo, and that the attractions in Brunei weren't worth the high amounts they charge.
So we hung out in our guesthouse for a while, with our internet barely working, slowly losing our minds and counting down the hours until we could board a bus out of there.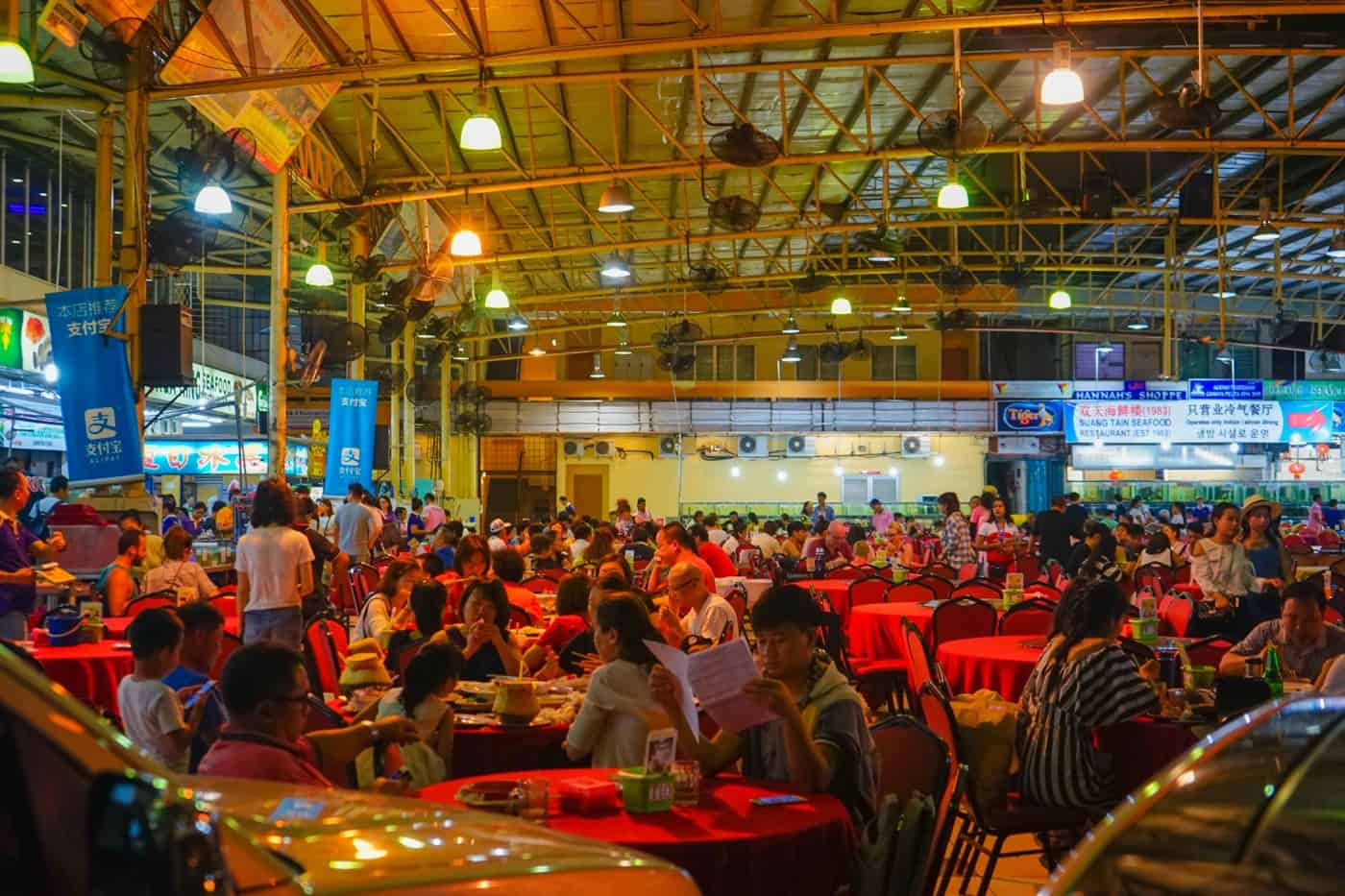 Our journey from Bandar Seri Begawan to Kota Kinabalu took us across seven borders and filled my passport with eight new stamps. It sounds like hell, but I enjoyed watching the pretty scenery racing by my window.
And Kota Kinabalu? It immediately became my new favourite city in Southeast Asia. From the moment my first meal touched my tongue — roti cobra, of course — I was in love. I extended my stay from one week to three.
Much of my time in the city was spent eating. I tried new restaurants every day, and dozens of brand new dishes — all of them amazing. I worked from hipster coffee shops and hiked Signal Hill to burn off my daily intake of roti. I took a tour on the Kawa Kawa River to see proboscis monkeys, and in the evening I caught fireflies in my hands.
Kota Kinabalu: you're underrated as hell.
Countries Visited: 3
Brunei, Malaysia, and Thailand.
Places Visited: 10
Bandar Seri Begawan, Bangkok, Koh Chang, Koh Kut, Koh Mak, Koh Wai, Kota Belud, Kota Kinabalu, Kuala Lumpur, and Trat.
Distance travelled: 2,274 miles
Number of flights: 2
Number of buses: 2
Number of ferries: 4
Highlights of the Month
Island-hopping in Thailand: Can I just repeat those two weeks on the Thai islands over and over until I die? This was one of those trips where every time I rocked up to a new destination, I declared it the best, only to have it blown out the water by my next stop. Koh Chang was beautiful, Koh Wai was beautiful, Koh Mak was beautiful, Koh Kut was beautiful. Let's just say there's been no shortage of discussions on returning to Thailand for a second go-around over these past few weeks.
Border crossing fun and games: Right? It's not that often (or, well, ever) that crossing an overland border makes my list of travel highlights, but our bus ride from Brunei to Kota Kinabalu was so quirky I couldn't help but fall in love with it. Our six hour bus journey saw us cross an incredible seven borders over that time, and filled our passports with eight new stamps. Getting off and on the bus every hour was a little annoying, but the border crossings were efficient and the ride comfortable. It was totally worth it for the story, and it's one I can't wait to start writing.
Playing with fireflies was magical: I had never seen fireflies until I ventured into the Borneo jungle and was engulfed in a beautiful swarm of them. Reaching up and catching one in my hand was surprisingly easy, although I was content to simply sit back and let them encircle me as we drifted down the river. It was the definition of magical.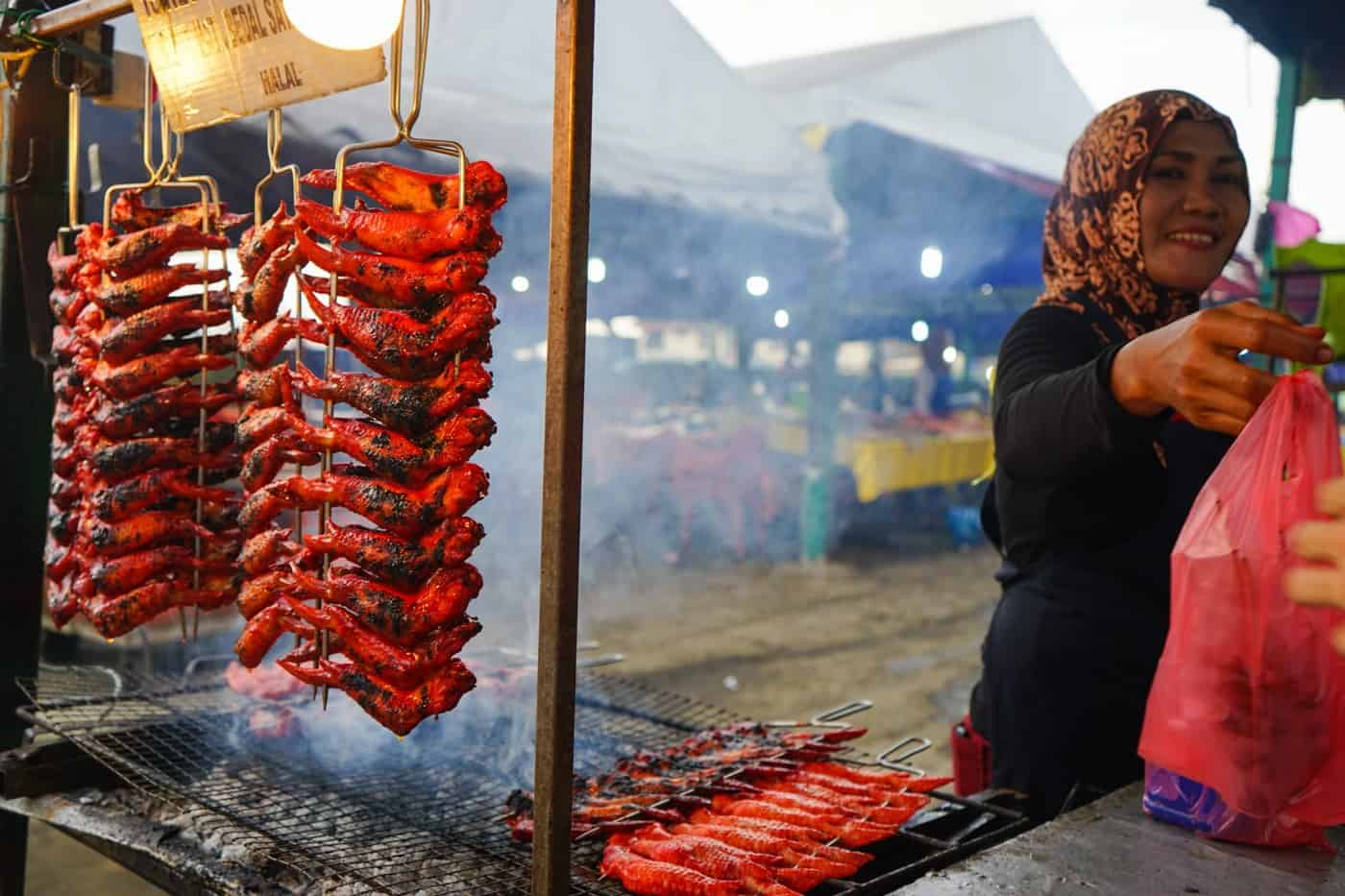 Lowlights of the Month
Did I mention Brunei was boring? I wanted to stand out from the crowd and be the lone voice announcing that travel in Brunei is worth it, but nope.
It turns out Brunei really is that boring. Four days was far too long to spend in this tiny country.
I struggled with the food in Malaysia: It's funny — I decided to spend three weeks in Kota Kinabalu based on the delicious meals I had during my first few days in the city. One week later, that way of eating was making me sick.
Malay food, while delicious, isn't exactly healthy. All day long, I was eating fried noodles, fried rice, buttery roti, fried meats, oily meats, fatty meats, and juices containing as much sugar as could be dissolved in the glass. In Kota Kinabalu, at least, the vast majority of Western restaurants offered Italian cuisine, which is just as problematic for my anxiety levels.
We managed to find a few hipster cafes offering breakfasts that weren't oily, fried noodles, but they were still heavy on the honey, bread, and dairy. I'm hopeful I can regain control over my diet once I've left Borneo.
My anxiety returned: Unfortunately, four months into this trip, my anxiety finally reared its head. It's no coincidence it happened during a month where I've had zero control over what I put in my body — a paleo diet is the only thing that can take my panic attacks from 10 to naught within a matter of days and in Kota Kinabalu, eating that way was next to impossible.
So now I have to figure out: Is this a sign that I should go find a home immediately or should I grit my teeth and stick out the next six weeks in the hopes I can get my brain under control? Either way, dealing with daily panic attacks while travelling doesn't exactly meet my definition of fun, especially as I worked my ass off to kick them to the curb less than two years ago.
Incidents of the Month
So many techastrophes: First, Dave's beloved Pixel 2 phone bit the dust while we were scootering around Koh Kut. Two weeks later, my phone died a soggy death in a puddle on a table in Kota Kinabalu. On top of that, we both broke our earphones. What the hell, tech gods? I'm fully expecting my Kindle to die next.
I lost so many followers due to genitalia: I don't know about you guys, but whenever I get the opportunity to see something unusual-yet-sexual on my travels, I'm all about it. I was therefore overjoyed to learn there's an outdoor erotic sculpture museum in Koh Mak. Our guesthouse owner recommended it to us and I immediately placed it at the top of our itinerary for the island.
I posted a couple of photos on Twitter while I wandering around, thought nothing more of it, and then when I happened to click on my Twitter Analytics a couple of weeks later, I noticed a huge drop. It turned out I lost several hundred followers by tweeting out some photos of genitalia. Sculptures! Art! They were made of stone! They weren't real! They're just bodies! Stone bodies!
Weird.
You probably shouldn't be following me on Twitter if that kind of thing upsets you, so it's all good. And if you're interested in seeing just how offensive those sculptures were, the photos I shared are here and here. HASHTAG NSFW!!!! CLICK AT YOUR OWN RISK!!!!
Oh! And on top of that, I also lost a whole bunch of followers on Facebook when I shared a photo of my ferry captain's penis-themed belt. I liked to refer to him as Captain Cock.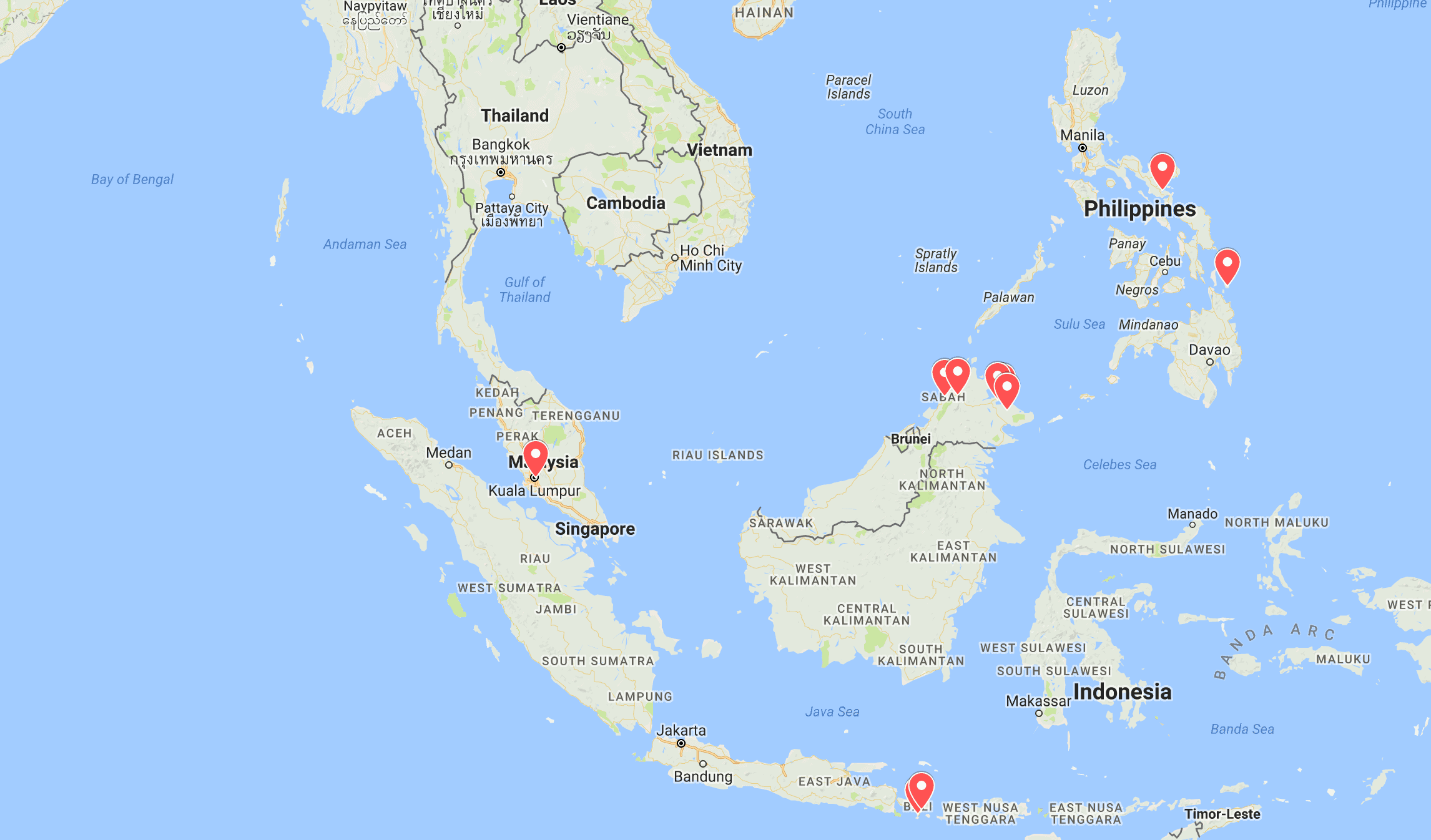 My Next Steps
I'm leaving Kota Kinabalu in my wake as I head out to see what makes the rest of Malaysian Borneo so magical.
First up, Kinabalu Park, to spend several days climbing everything but the mountain. I don't have appropriate gear to tackle Malaysia's highest peak, so I'm giving it a miss and exploring its base instead. From there, I'll be bussing it across to Sandakan to hang out with orangutans, sun bears, and proboscis monkeys, and likely squealing with joy if I spot a sun bear doing something like this. <— You should click that link, by the way.
We'll be finishing off our Borneo trip with a bang, as I'll be opting to homestay it up with a guy who helped the Planet Earth filming crew track animals in the jungle. Hopefully I'll get to see some remarkable sights.
I originally hoped to spend two or three weeks in Bhutan after Borneo, but I can't ignore the fact that I'm craving more control in my life. The wonderful thing about long-term travel is having the freedom to change up your plans when things aren't working. As delicious(ly nauseating) as my time in Kota Kinabalu has been, I've learned that I can't eat fried noodles for three meals a day for weeks on end. I'm craving all kinds of Paleo eating, both to lose my Travel Podge and to get me feeling happier, healthier, and less anxious.
After much research, I settled on Bali, and I'll be heading to Canggu to eat well, live in a hipster neighbourhood, hang out with friends, and spend two weeks nursing myself back to health.
Towards the end of the month, I'll be jumping on a plane and heading to the Philippines! First up: Legazipi Island, to swim with whale sharks in Donsol, check out the Mayon Volcano, and enjoy being back in one of my favourite countries.
And that was March! Have any tips for anywhere I'll be going in April? Let me know in the comments below! :-)