In March, I hopped on a plane back south again and made Namibia my destination of the month.
At the start of 2017, I made a vow to explore as much of the African continent as I could and I'm pleased to share it's been a tremendous success so far.
I've fallen in love with every country I've visited; learned how easy it is to travel independently across the continent; discovered it's far safer than it's made out to be; and that it's more diverse than you could possible comprehend. By the end of the year, I'll have added Tanzania, Rwanda, and the D.R.C to my African travels, and I already know they're going to be just as fascinating as the other countries I've been fortunate to visit.
Do me a favour, okay? If you ever see me write a blog post that insinuates that Africa is one giant country, reach through your laptop screen and slap me around the face. After my travels here, I cringe whenever I see travel bloggers referring to *Africa* as if it's one country full of nothing but poverty, war, AIDs, and other stereotypes. Mozambique was nothing like Swaziland, was nothing like South Africa, was nothing like Namibia, was nothing like Morocco. I believe Africa is the most diverse continent on the planet, and is so much more than famine, safaris, and they're so happy with so little. My travels in the first quarter of the year have me more determined than ever to focus my future travels on the region. I have a lot to learn.
Wasn't this supposed to be a monthly summary? Enough waffling! Here's what I got up to in March.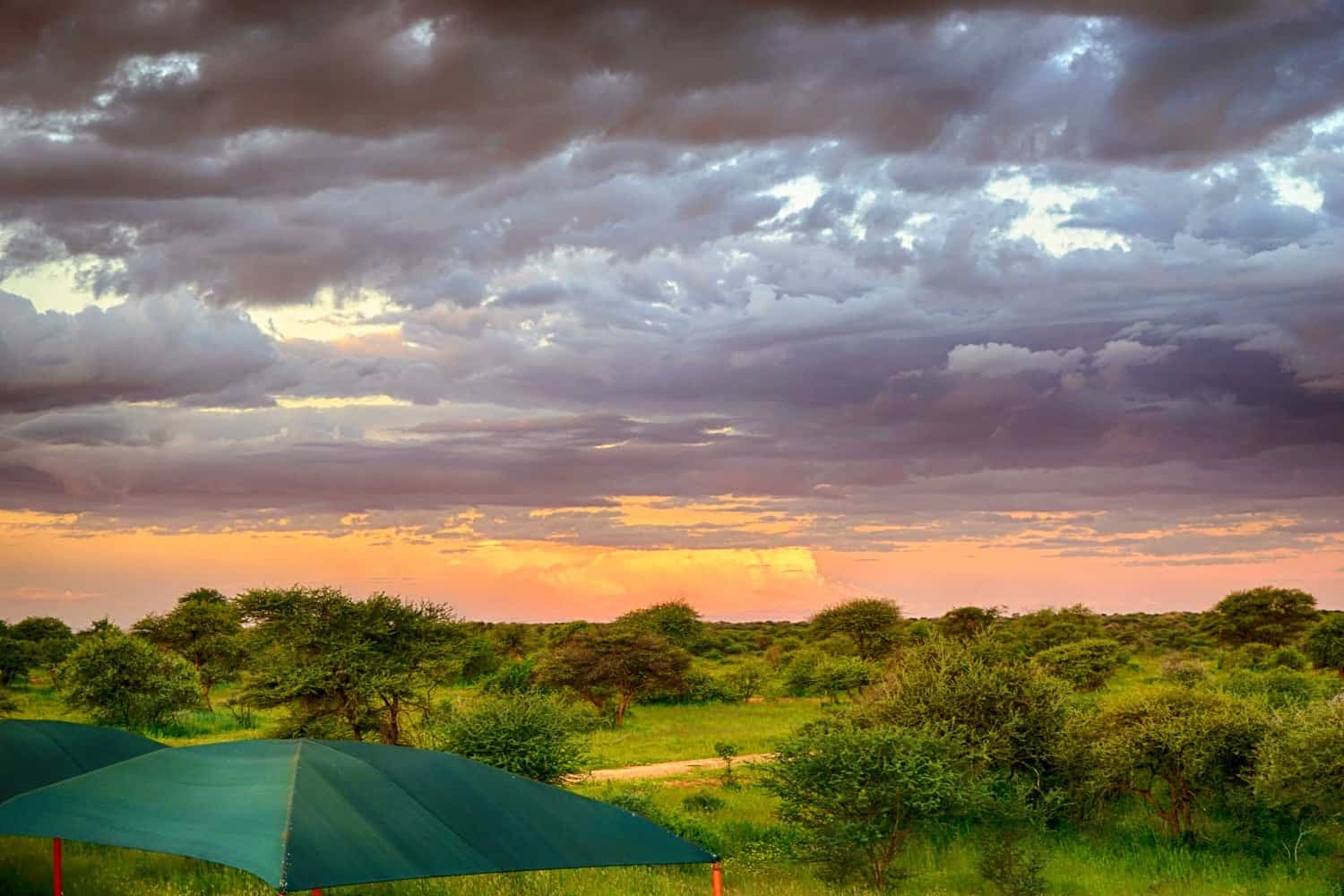 After spending a week recovering from travel in South Africa in Portugal, I made my way on to yet another Angolan Airlines plane and flew south to Windhoek.
With a limited amount of time in Namibia and an overly-ambitious itinerary, Dave and I grabbed our rental car and hit the gravel for our first destination of the trip.
At the time, I would have told you our night in Ovita was one of the best experiences of my life, but when I look back on my time in Namibia, it's right down at the bottom of my highlights. It's that amazing of a country.
But our first night was still a magical one, full of sundowners, warthog fillets, buzzing crickets, and hippos grunting at dusk. It was the perfect welcome to Namibia.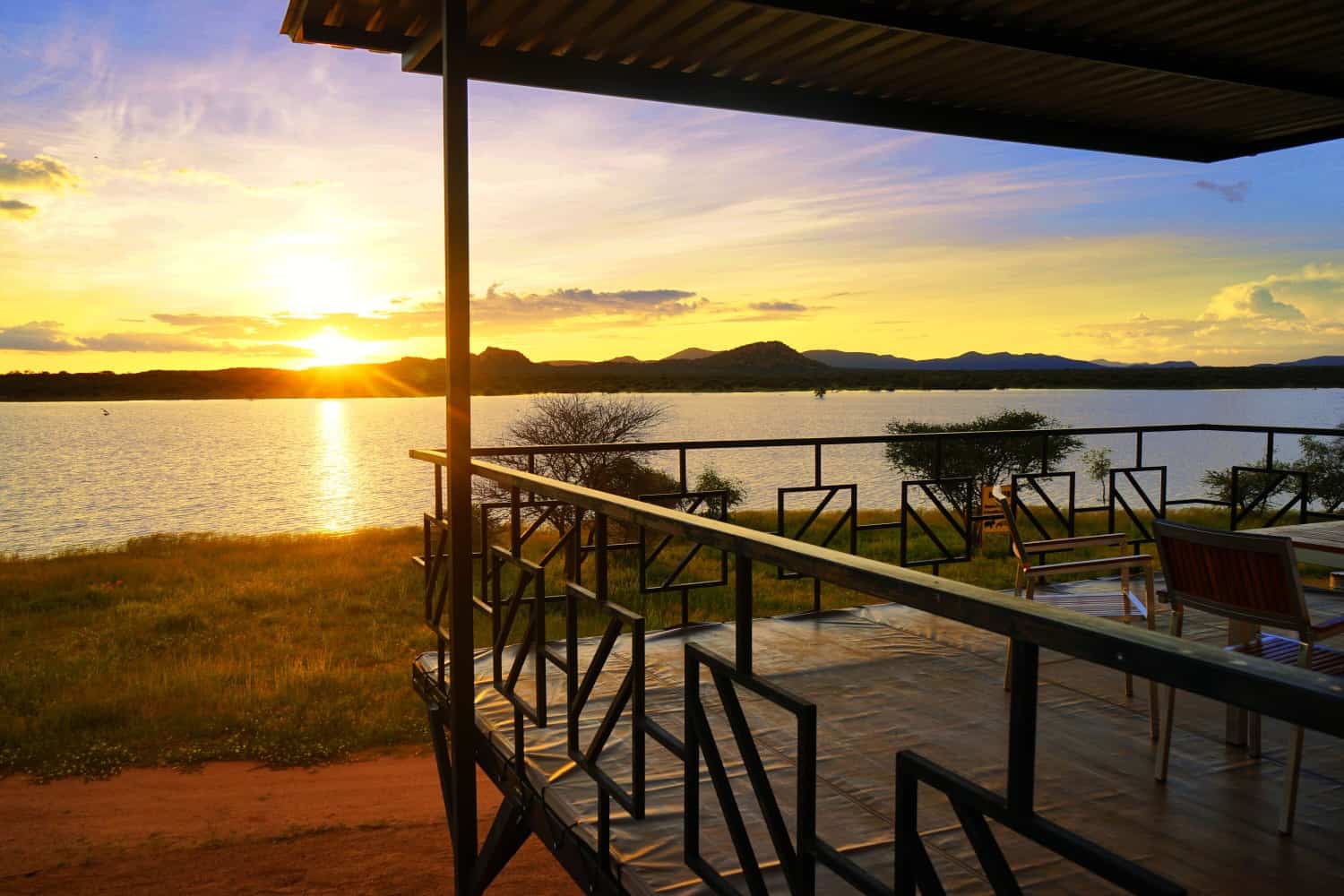 Next on the agenda was Etosha National Park, and I was unbelievably excited to spend several days chasing down as many animals as we could.
Except it began to rain just as we arrived in the park: a surefire sign that we were going to struggle to see much more than impalas while we were there. It was a fear that turned out to be true.
We spent 12 hours of each day driving in the park and only had a few handfuls of animals to show by the end of it. No elephants, no lions, no leopards… but we did get to see multiple black rhinos, one of the rarest animals in the world, which made for several special moments.
I left the park feeling conflicted. I was fortunate to have seen so many kickass animals while we were there, but I also knew if we'd visited in the dry season, we would have literally seen thousands more.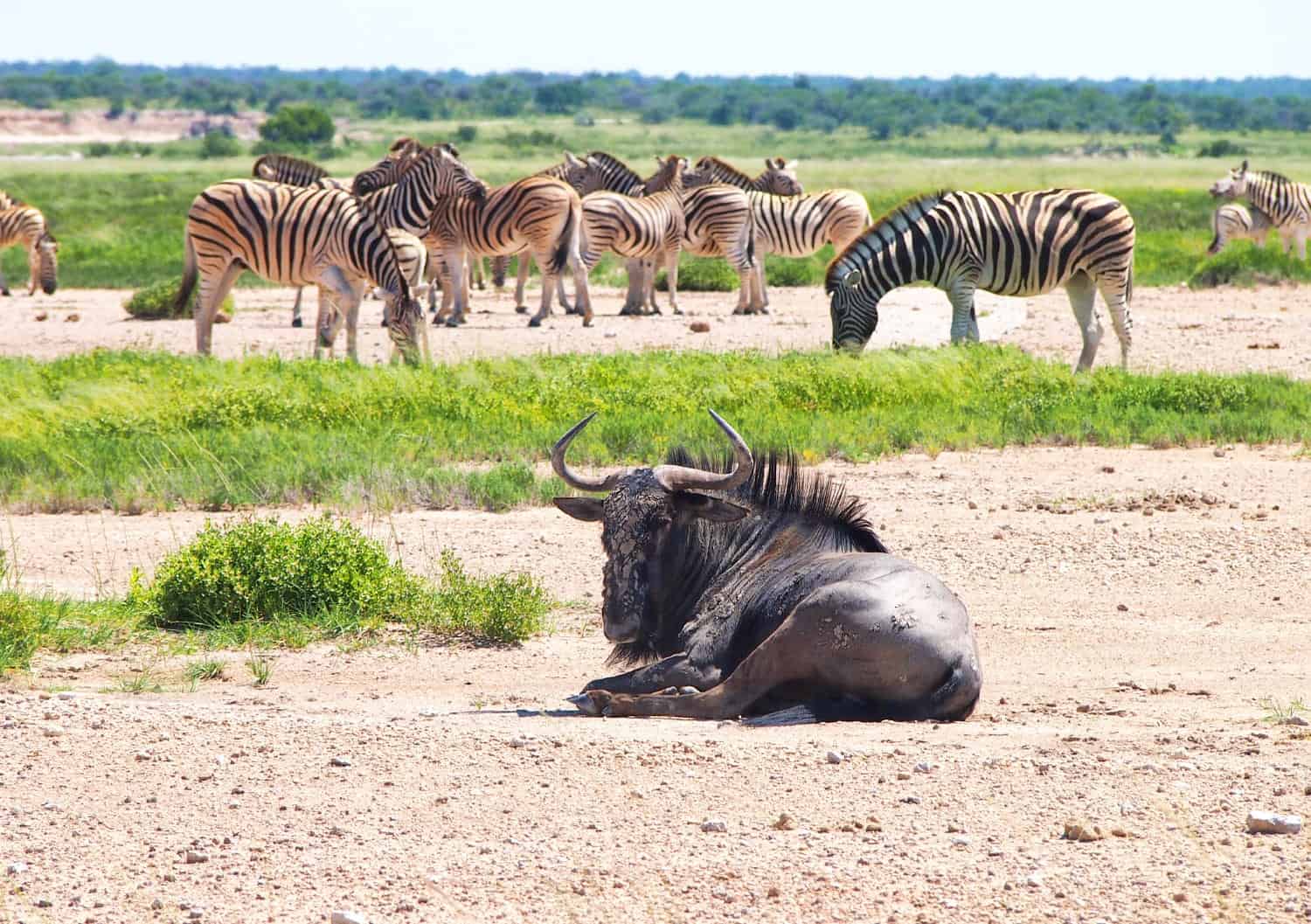 From Etosha, we moved on to Vingerklip, which is said to be Namibia's version of Monument Valley.
If Monument Valley had giraffes, that is.
Vingerklip Lodge easily makes the top five of my list of coolest hotels ever. With infinity pools overlooking waterholes, giant stone structures rising out of the valley, and animals roaming the plains below, it felt like a place that couldn't possibly be real.
One evening, we made our way up to the Eagles Nest resturant, scrambling up some rickety scaffolding to reach the top of a cliff where we were rewarded with even more breathtaking views. Having dinner up there at sunset was one of the highlights of my trip, if not my life.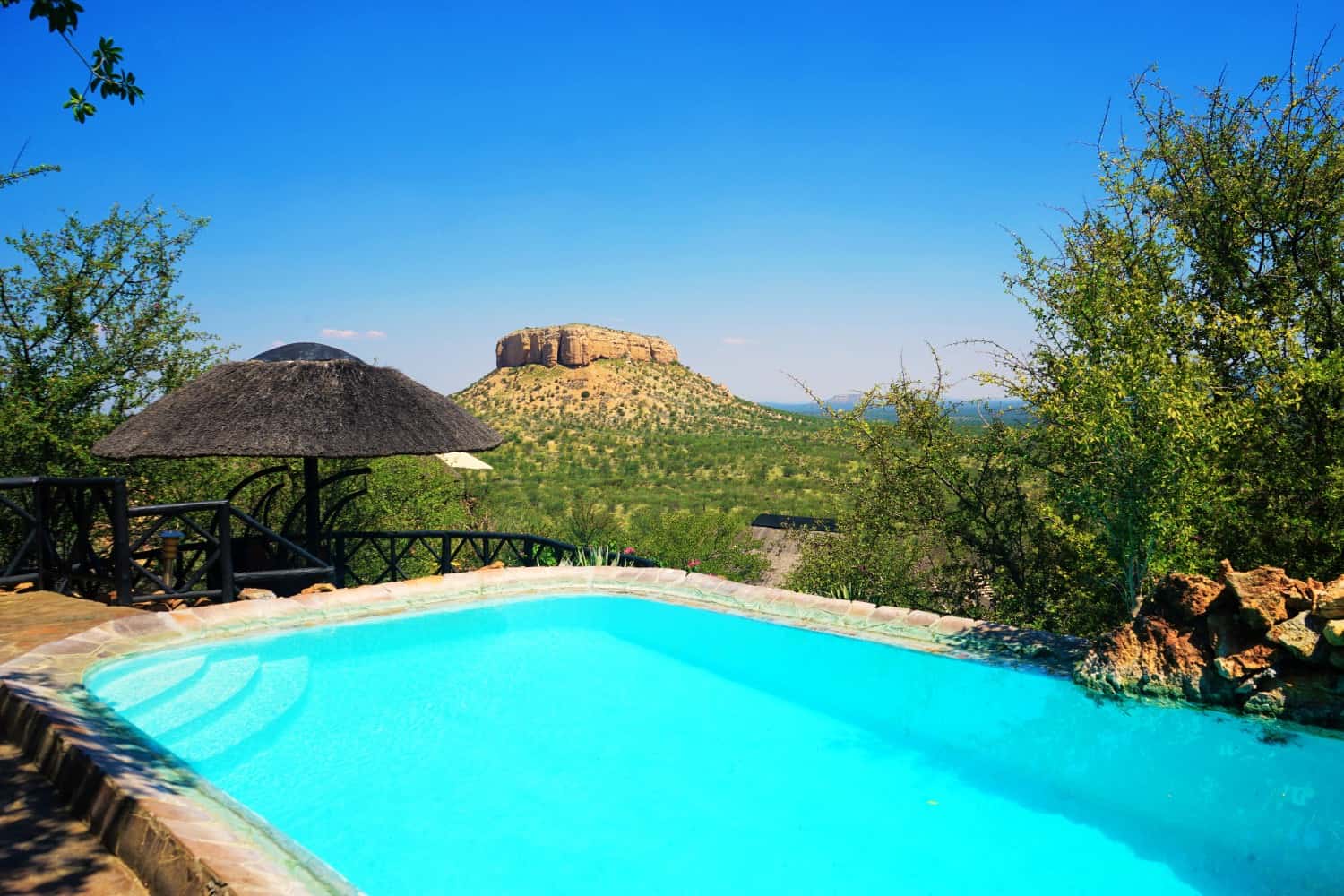 The worst drive of our adventure was between Vingerklip and Swakopmund. Picture driving on the moon and that's a pretty accurate representation of our gravel-filled extravaganza.
Still, we filled our drive with podcasts (we listened to a lot of the Savage Lovecast, Guys We Fucked, This American Life, Dear Sugar, and Planet Money on this trip!) and music, and the gravel only drowned out the sound for 80% of the drive.
Swakopmund is the adventure sports capital of Namibia, but given how tired we were and also that I don't like adventure, we opted for a seal-watching tour of nearby Walvis Bay instead. Home to one million seals and — most importantly for me — calm waters in the bay, I spent my afternoon eating oysters, sipping champagne, and wondering how I'd had no idea that seals make the strangest sounds.
One of the best parts of the trip was spotting a sunfish in the wild. Sunfish are basically the strangest fish in the world and I never thought I'd get the opportunity to see one. It was just as weird and flappy as I'd imagined.
Onwards!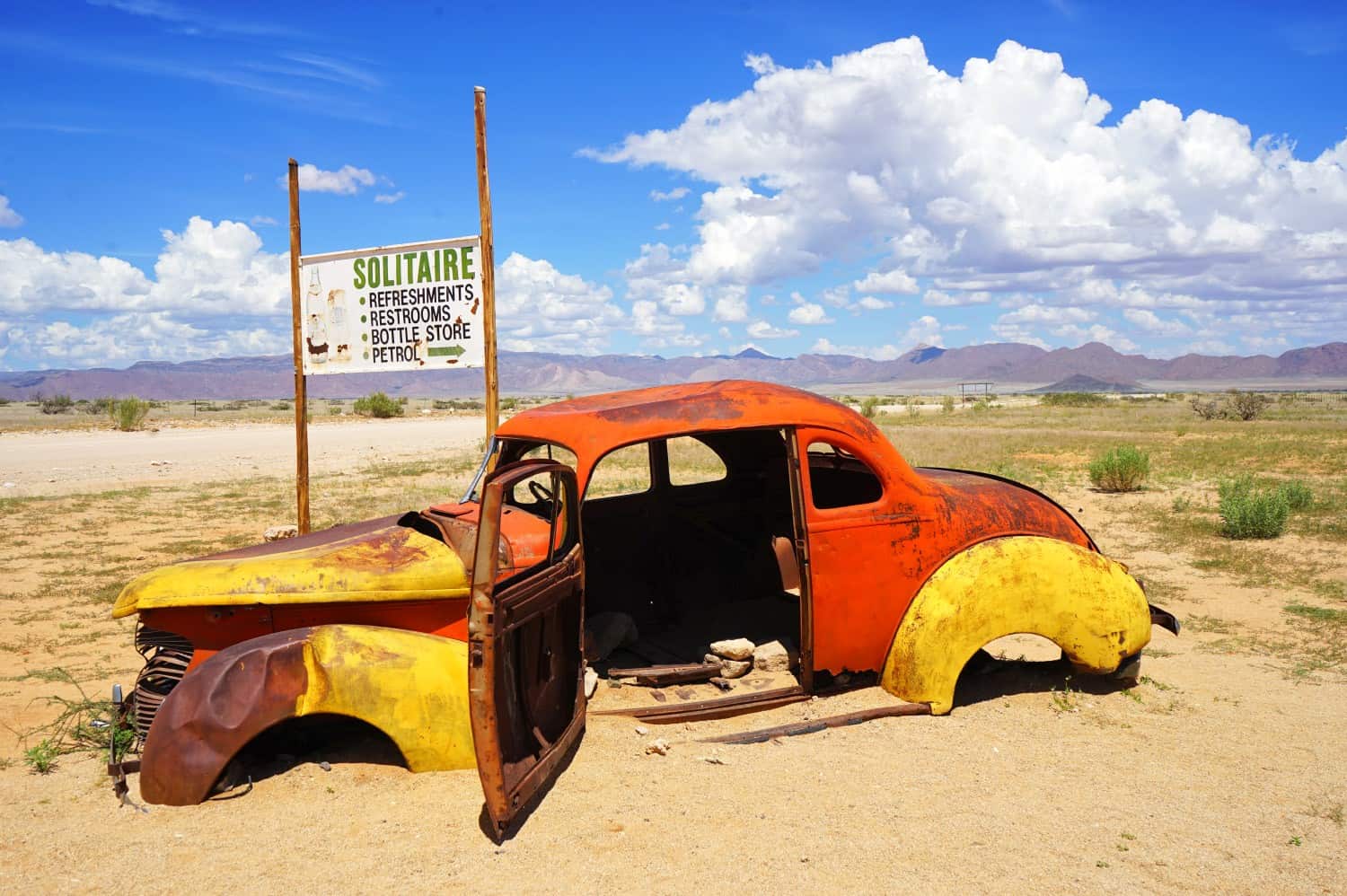 Every time I'd researched the road between Swakopmund and Sesriem, I'd read gushing blog posts and forum threads praising the apple cobbler you can buy in the tiny desert town of Solitaire. People claimed it to be so good they went out of their way the a few days later just to have another mouthful.
I don't even like apple cobbler and I thought it was fantastic!
We arrived in Sesriem later on in the day to a gorgeous lodge and wandering oryx outside our tent, then began our desert explorations.
One of the best decisions we made on this road trip was to head into Soussosvlei in the afternoon, as there was close to nobody in the park at that time. Just me, Dave, the sand dunes, and a wandering warthog. We got to scramble up Dune 45 without another person in sight (it's usually packed at sunrise) and drive around snapping photos of the dunes with great light and no signs of life. I almost preferred our afternoon explorations to our sunrise climb the following morning.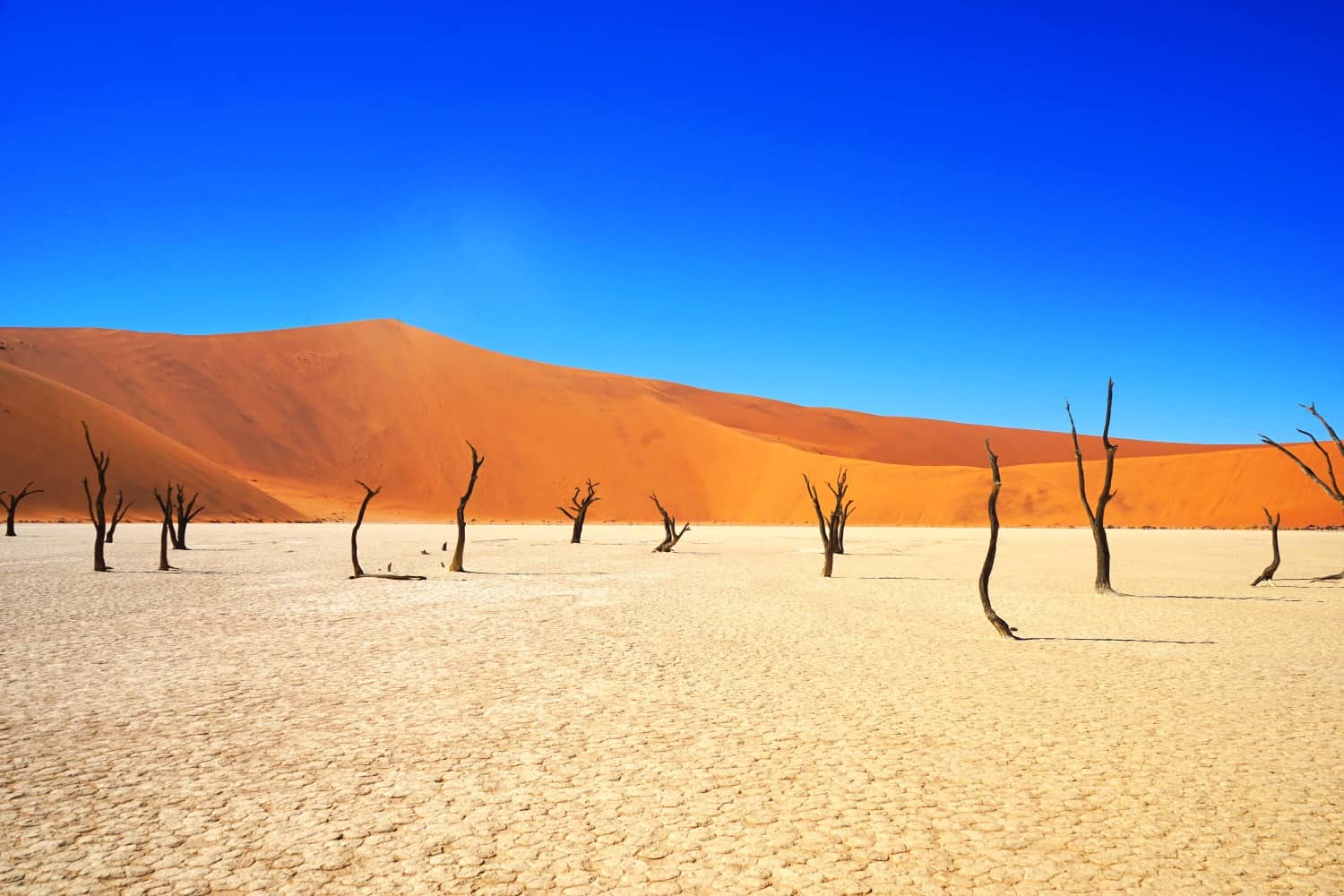 Almost.
The following morning, Dave and I pulled on our sweaters and made our way back into Soussosvlei for a morning of dune climbing. Not wanting to join the snake of tour groups summiting Dune 45 — the most popular sunrise destination — we bypassed the buses and took the shuttle to Big Daddy.
Yes, that is the name of the sand dune.
It took us just under a couple of hours to reach the top, but the air was cool at this time of the day, so it wasn't a particularly tough climb. Just a little frustrating as I continually took two steps forward and one step back.
And then we were at the top and the views were breathtaking. I'd even go so far as to say they were more impressive than the Sahara Desert. There's nothing quite like a desert for making you feel small and insignificant. Weirdly, I thrive on that feeling.
It took us no more than a few minutes to descend — one of us doing so face first — and then we were wandering around Deadvlei — a white clay pan filled with dead camel trees and surrounded by orange sand dunes. It felt like we'd stepped inside a children's book.
Deadvlei has been on my travel hit list for years, so to finally make it there was an incredible feeling. It was just as otherworldly as I'd hoped.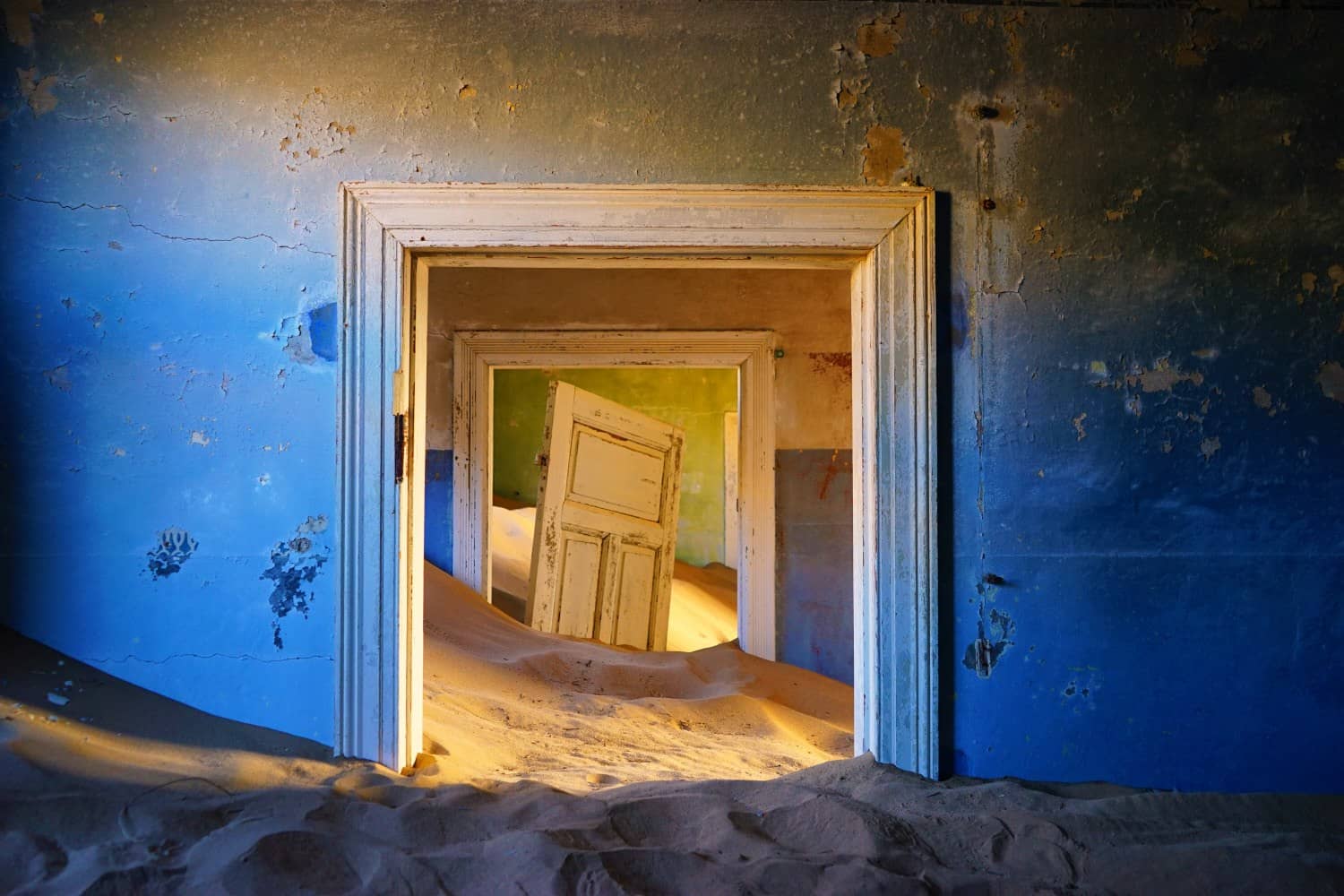 For as long as I can remember, I've had an obsession with ghost towns. And yeah, I'll call myself out on my bullshit before you have to: I've only been to one ghost town in my life. Can't be that big of an obsession can it, Lauren?
Ha.
But regardless of my fearfulness laziness apathy whatever the reason is, Kolmanskop was the highlight of my trip to Namibia. We took a whopping thousand-mile detour on our road trip just to visit this abandoned mining town and you know what? It was so worth it.
Kolmanskop was abandoned back in the 1950s and since then, it's been slowly taken over by the desert. Tidal waves of sand have piled up in the former residents' homes, sometimes reaching as high as the ceiling, and you're free to roam wherever you want in the town.
We planned for an hour and ended up staying for four. Even then, if we'd had longer in this area of Namibia, I'd have returned at sunset, too.
It made little sense for us to drive all the way south to see this ghost town, but the detour made for my biggest highlight in the country.
After a quick stop in Maltahohe for the night and a punctured tyre on the drive to the airport, we said our goodbyes to Namibia and I jumped on a plane back home to the U.K.
My Christmas present to my dad was tickets to see Paul Weller play at the Royal Albert Hall, so I joined him for an evening of wolfing down Franco Manca pizzas, drinking far too much wine, and rocking out to some great music. A particular highlight was Ronnie Wood and Kelly Jones joining in on a rendition of The Faces' Ooh La La.
And that was the month!
Countries Visited: 3
Namibia, Portugal, United Kingdom.
Places Visited: 12
Etosha National Park, Lisbon, London, Luderitz, Kolmanskop, Khorixas, Maltahohe, Okahandja, Sesriem, Sossusvlei, Swakopmund, Windhoek
Distance Travelled: 12,270 miles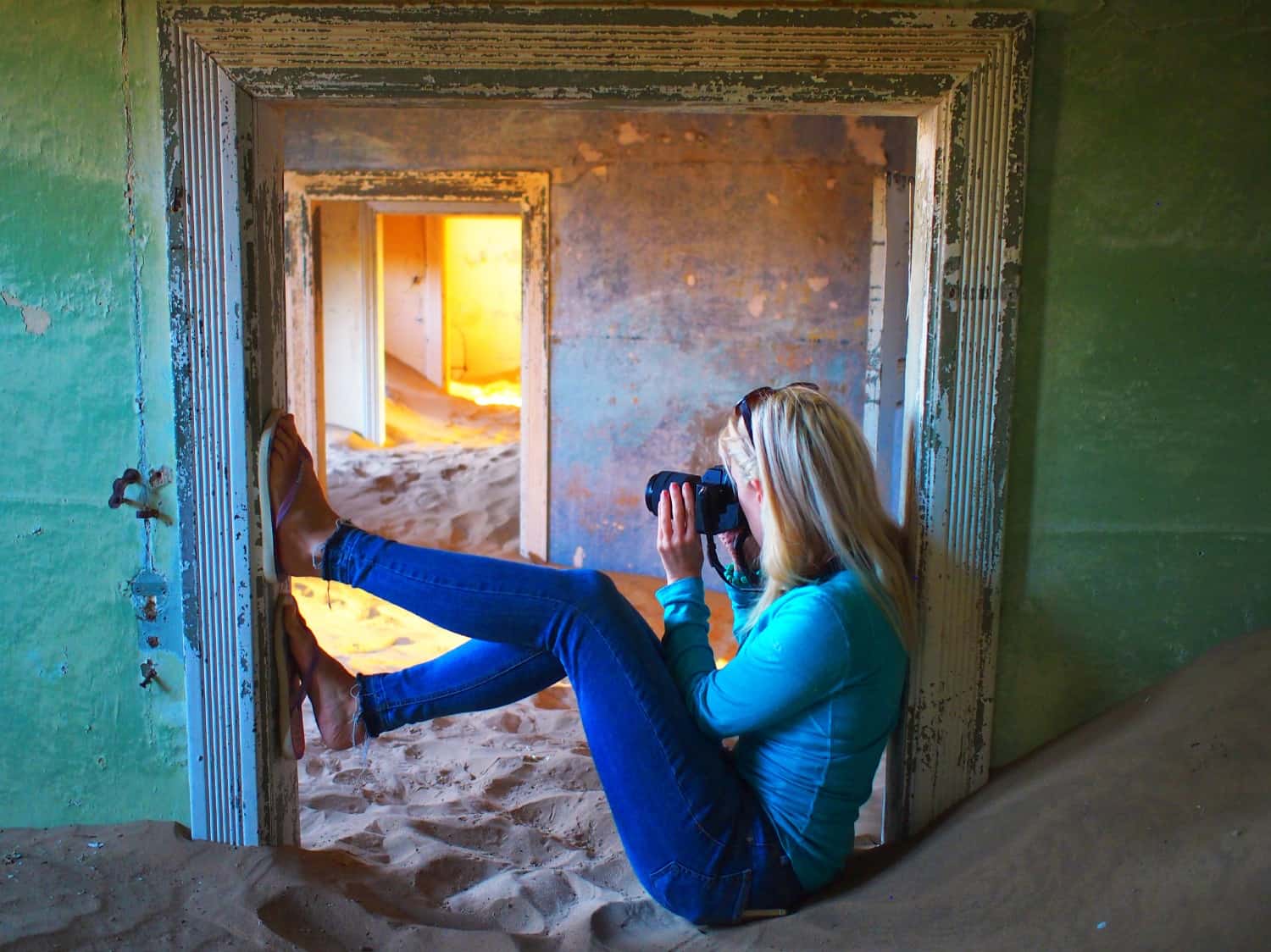 Highlights of the Month
Can't I just say all of the above? No? Okay then, I'll go for a top three:
Ghost town exploring at Kolmanskop: Ever since visiting the ghost town of Pripyat on my Chernobyl tour back in 2011, I've had a thing for abandoned buildings. In Kolmanskop, my fascination only grew and I spent the entire visit in awe. It was like nowhere I've ever been and made for a fascinating yet haunting morning. A highlight: sneaking in before opening time and having the town to ourselves before the sun rose. Yeah, the security guard yelled at us when he arrived.
10/10: would break the rules again.
My entire day at Vingerklip Lodge: Vingerklip Lodge was one of the best places I've ever stayed in, and I promise that's not hyperbole. Swimming in a pool overlooking giraffes drinking from a waterhole; being surrounded by incredible rock formations that looked to defy gravity; eating dinner at sunset while perched on the edge of a precipice overlooking the valley: at times I had to pinch myself to remember this was a real place on earth. If you're going to Namibia and want to spend time in Damaraland, I highly recommend Vingerklip.
Sampling the best oysters of my life in Walvis Bay: SO GOOD. Namibian oysters are said to be some of the best in the world, and after trying approximately 328 of them, all I can say is that they're worth flying all the way to Namibia to try! Damn. I couldn't go a single day on the coast without grabbing at least a dozen.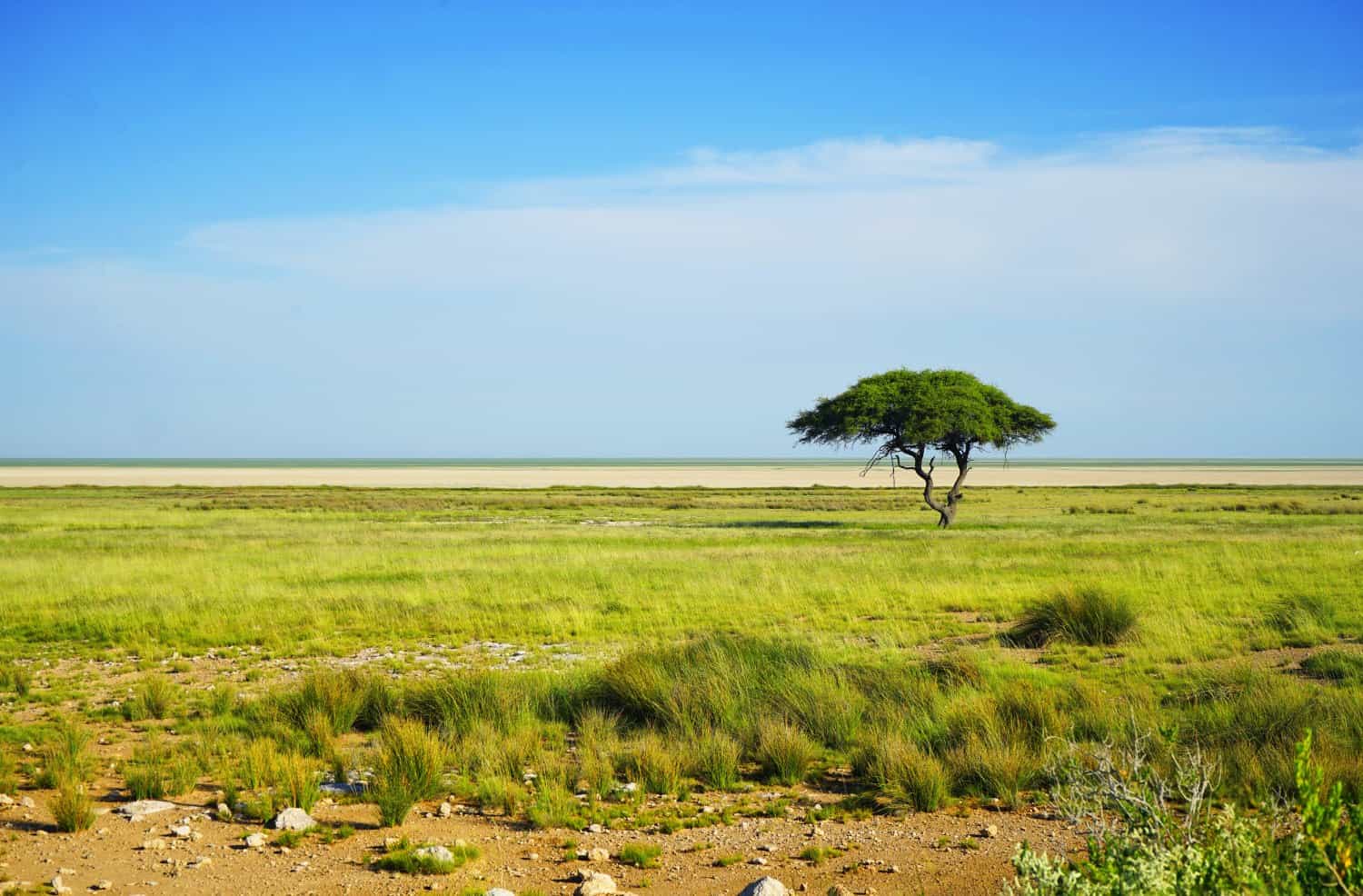 Lowlights of the Month
March was such a great month that I struggled to come up with a single lowlight! It always feels good when that's the case.
Struggling with animal sightings in Etosha National Park: Etosha was full of magical moments that were quickly followed by disappointment. It's supposed to be one of the best places on the planet for animal spotting, but in the low season, you can go close to eight hours without seeing much more than an antelope. It's one of the downsides to travelling in Namibia while it's raining. I just wanted to see an elephant!
Attacked by dive-bombing birds in Vingerklip: One thing I haven't mentioned about Vingerklip yet is the dive-bombing birds. There was a tree hanging over our balcony that was where the most aggressive bird in Namibia had decided to build its nest. Every time we went outside, we were promptly dive-bombed by this crazy animal. It even happened in the middle of the night while I was trying to take photos of the Milky Way! Vingerklip was perfect in every way but that: not being able to use our balcony with its incredible views was a bit of a bummer.
Screwed over in Etosha National Park by our lodge: The treatment we received at Halali Lodge in Etosha was disappointing. When we checked in, we were told we had paid for the B&B rate, as our booking confirmation also stated, so breakfast was included in the price.
Turns out it wasn't. On our final day, a staff member told us the person who'd checked us in had made a mistake and we would actually have to pay 60 freaking euros for the two breakfasts we'd had while staying there. Given how over-the-top expensive the lodge is, I couldn't believe they were making us pay for it. It was also frustrating because I had just been grabbing an apple from a buffet each morning. I was being charged 30 euros for two apples! Ugh.
We loved our stay in the lodge, but the fact they insisted we had to pay for breakfast left a bad taste in my mouth. Own up to your mistake and let it slide, especially when you're a luxury lodge that charges a fortune for everything from Wi-Fi to meals. It sucked that we had to spend our last day in the lodge arguing with staff members for half an hour.
Incidents of the Month
A piece of our car fell off: Before we arrived in Namibia, we were most apprehensive about the roads. We knew the odds of us falling prey to a flat tyre or two were higher than likely, especially as we'd opted for one of the cheapest rental cars we could find.
It was the second morning of our road trip when we suddenly heard a crunching sound reverberating over the gravel and into our ears. We pulled over to the side of the road, Dave checked under the car, and there it was: a large piece of our car dangling from its chassis. That was unfortunate.
With a tremendous stroke of luck, it had happened while we were driving through a town, so we made our way to the nearest garage. The guy who worked there rolled his eyes when he saw it, ripped it from the bottom, and went off on a huge rant about how the part was unnecessary and he didn't know why manufacturers kept adding useless parts to their cars.
He dumped it in the bin and we were on our way once again.
We got a flat tyre on a paved road: I couldn't believe it: we had made it 2,500 miles over some of the worse roads on the planet, then as we approached Windhoek on one of the few stretches of tarmac, we blew our tyre. We were an hour away from the airport. We then discovered the wheel was attached to the hubcap with a cable tie, preventing us from changing the tyre, and we had zero cell service. There was now a fairly good chance we could end up missing our flight.
Fortunately, a friendly local pulled over with a knife in hand, cut the cable ties, changed our tyre for us, and generally rocked our world. One of the many reasons why I love travel: it fills you with so much faith in the kindness of strangers!
I faceplanted into a sand dune: It was just as Dave decided to start filming me tearing down Big Daddy when I missed my footing, slipped, and fell face-first into the sand dune. Face-first with my mouth wide open, in fact. If you follow me on Snapchat you'll have seen the aftermath, as well as the run-up to the incident, when I chastised Dave for running so quickly down the dune. When I told you all that the safest way to descend was by taking cautious baby steps.
It took a long time to wash off that final grain of sand.
My Next Steps
I can't tell you how good it feels to see a travel map look so bare! After an action-packed first quarter of 2017 spent hitting up five new countries in three months, it's time to take a break and recover in Lisbon for a full month. On the agenda is lots of naps, working out, eating well, and catching up on my writing before my next trip in May.