Las Vegas is a spectacular city that belies the barren desert that surrounds it. Any night of the week comes with an unbeatable array of opportunities, from mouthwatering restaurants, magical live shows, epic replicas and a splash of gambling.
Home of the ultimate urban playground, the iconic Strip is full of wacky characters, bright lights and promises behind every door. Each location providing travelers with endless casino floors, pumping nightclubs and dozens of dining options.
From the Eiffel Tower to the Venice Canals, you can travel all over the world thanks to the replicas that line the 4 mile (6.7km) Strip. Aside from the wonderful Fremont Street, it all goes down in Las Vegas along that crazy stretch of tar.
Where to Stay in Las Vegas: The Best Neighborhoods and Hotels
I don't know about you, but when I came to planning my first trip to Vegas, I was immediately overwhelmed. Mostly, I was wondering: should I stay on the Strip or would I hate my life if I did so? Personally, I'm not a huge partier, so I was concerned that choosing a hotel on the Strip would result in me spending my entire trip engulfed in noise and chaos.
But there's a reason why the vast majority of visitors to Vegas opt to stay on the Strip: it's central, within walking distance to all the most popular spots, and offers up that iconic Las Vegas experience. I loved my time there!
If you're a first-time visitor to Las Vegas, then, I recommend choosing a hotel that's located in the central-Strip region. If you're flash with cash and looking to splurge, you can't go wrong with the famous Bellagio. The one. The only. And if you nab yourself a fountain view room? You'll have the best seat in the entire city.
Beyond the Bellagio, the best accommodation options in this area are ARIA, the Venetian/Palazzo, the Wynn/Encore, and the Cosmopolitan. Flamingo is a more affordable option that's loved by many, along with Planet Hollywood, Paris, and Bally's. Park MGM is one of the few hotels that's entirely smoke-free, if that's a priority for you.
I won't lie to you, though: Vegas hotels are expensive! If you're on a tighter budget, then, I recommend basing yourself in the even-more-eclectic Downtown area. Hotels are many, many times cheaper in this part of town, but you're not too far from the Strip. If you won't have access to a rental car, you can grab an all-day SDX bus pass for $8, which runs every half an hour from Downtown along the length of the Strip. When it comes to hotels, I have just one recommendation: the Golden Nugget. It's easily the best hotel in the area, with one of the best pools in the city.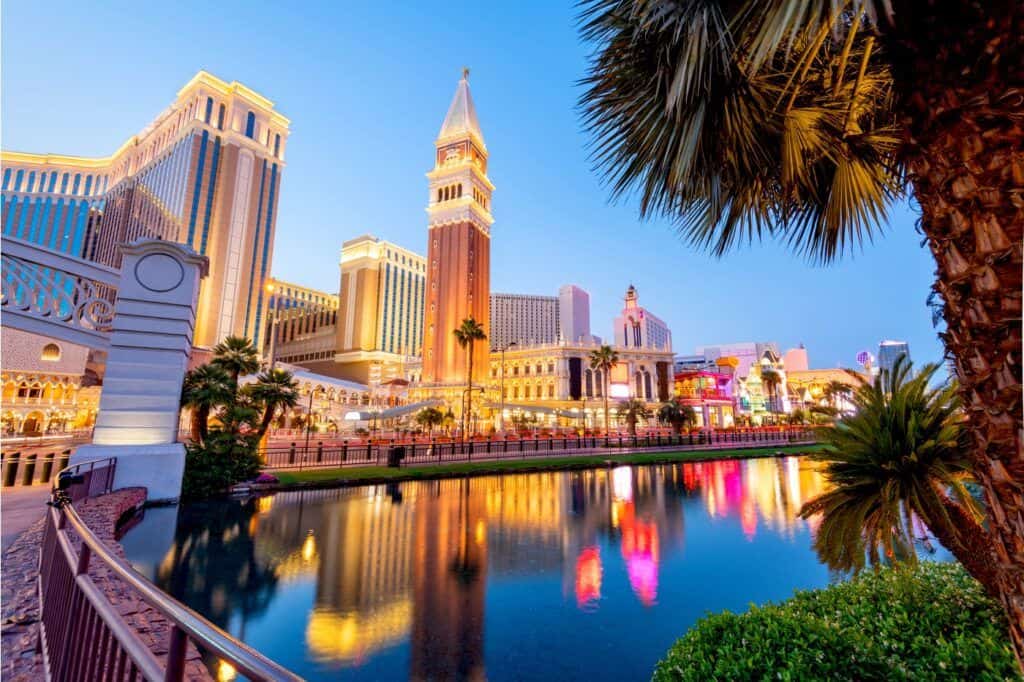 When to Go
Although there is no 'low season' in Vegas, there's no doubt that things really heat up in the summer months. I'm not just talking about the influx of crowds, the town can see temperatures of over 100f (40c). For this reason, avoid the intense heat and save on peak season prices by going to Vegas in the spring or fall.
With that out of the way, let's get down to the fun part and dive into the best restaurants, activities and experiences that Las Vegas has to offer in our ultimate 3-day itinerary.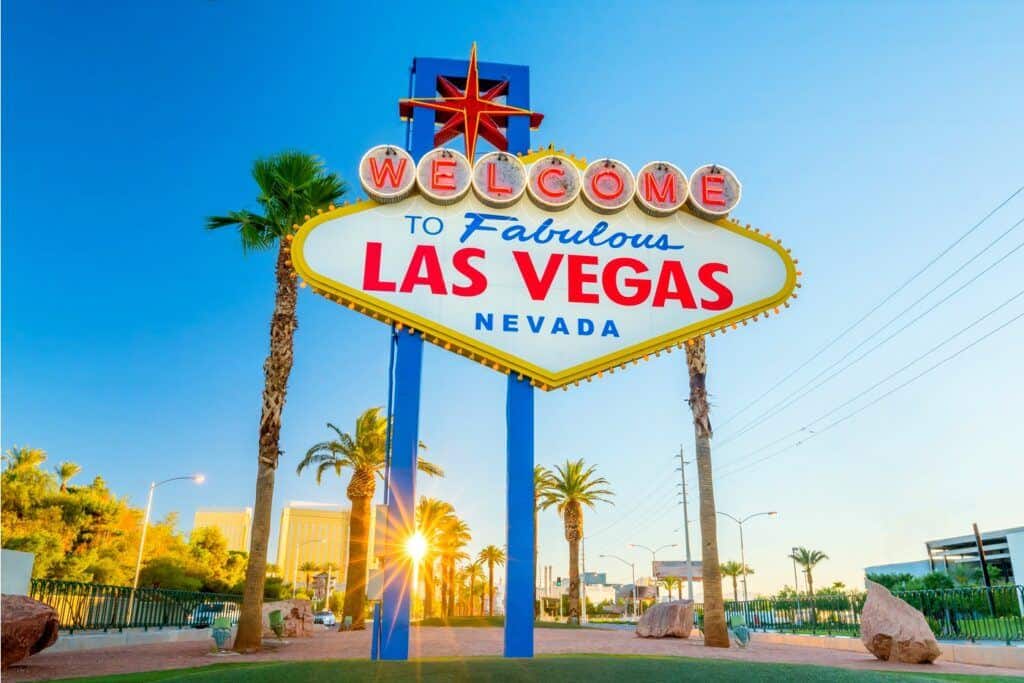 Day 1: The Las Vegas Experience
Welcome to Las Vegas! For any first timer to Sin City, a stop at the Welcome to Las Vegas sign is a rite of passage. Ever since 1959, the iconic sign has been the first port of call for excited vacationers and has since been listed on the National Register of Historic Places.
You can find it south of the Strip, next to McAllen International Airport. In fact, if you flew, why not stop on your way into town? In a trip packed with casinos and live shows, a picture at the sign won't cost a single penny.
Pose With All the Famous Landmarks
Once you have checked in to your hotel and freshened up, it is time to explore Las Vegas! Start strongly by exploring some of the iconic hotels and casinos on the Strip. Aside from gambling, nothing screams Las Vegas like copying major landmarks. You can travel around the world is just a couple of miles.
Outside of the New York, New York Hotel you can pose in front of the Brooklyn Bridge and witness the Statue of Liberty without having to take a step out of Nevada. If you're ready for some action-packed adrenalin, jump on the Big Apple Coaster, which features a 144ft (44m) drop and speeds of up to 67mph (108kmph).
After the ride, walk north along the Strip passing the MGM Grand, the M&M's World, and the Bellagio Fountain. As you stroll by street performers and endless characters, you will see the Eiffel Tower appear in the distance. Just like in Paris, you can make your way up to the viewing deck for a romantic view down the Las Vegas Strip. Tickets cost $14, but it's common to see discount tickets around town for as low as $10.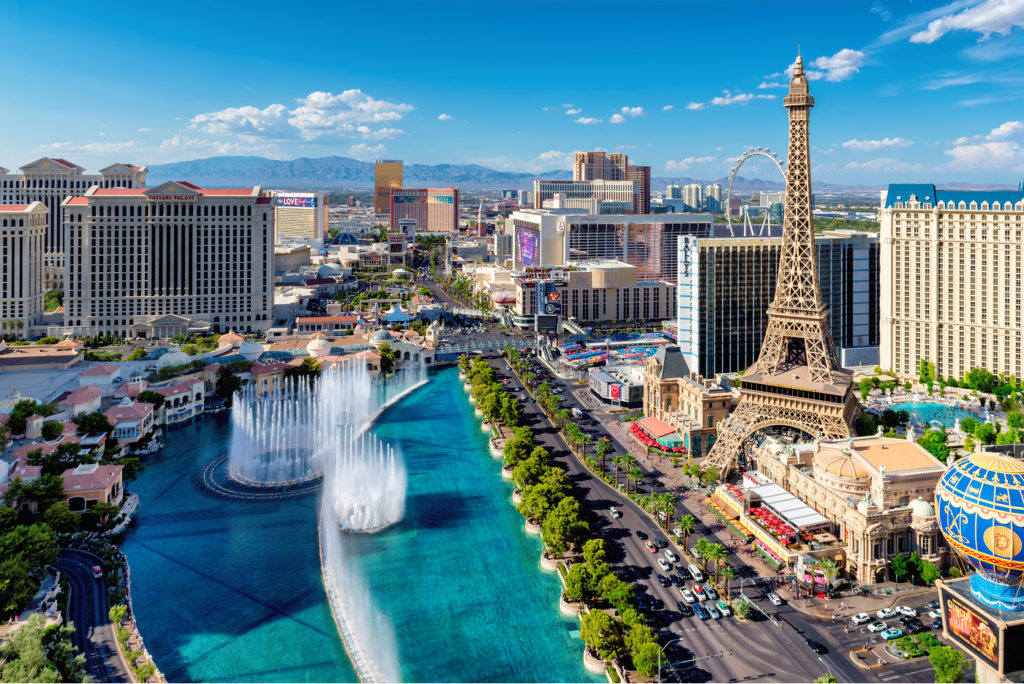 Hit Up the Bellagio
Across the Strip from the Paris Hotel is the Bellagio, an iconic and stunning Las Vegas hotel home to one of the top free attractions in town. The Bellagio Fountains put on a show every half hour during the afternoon and increases in regularity between 8pm and midnight.
If you're lucky, you will see them from your spot atop the Eiffel Tower. Crowds gather around the water's edge in anticipation, so if you want a front-row seat, arrive ten minutes before the captivating show begins.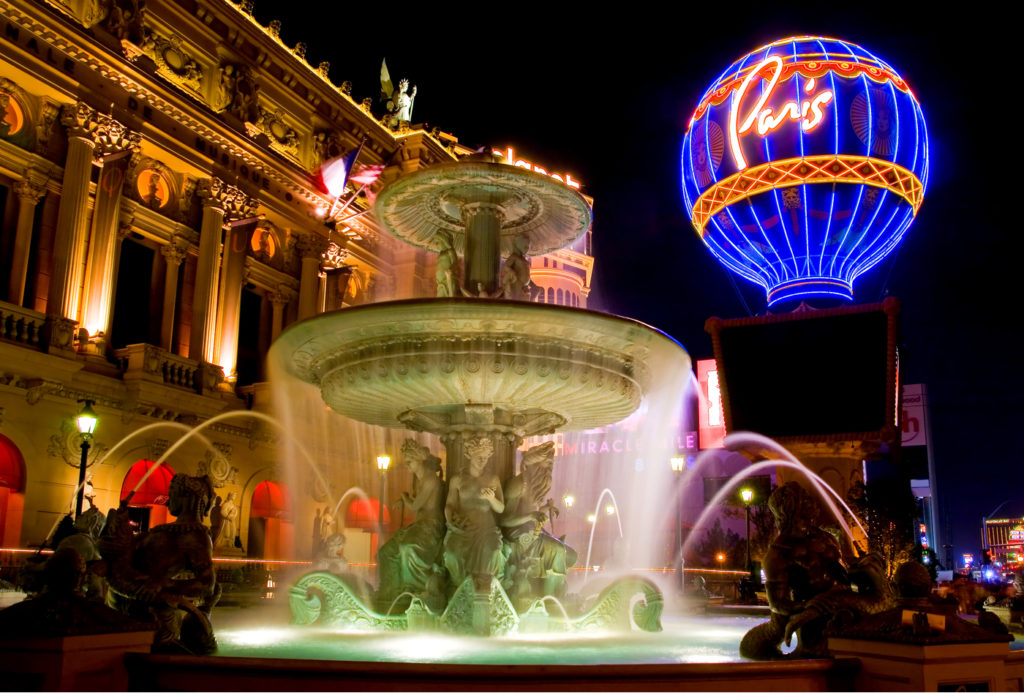 What Happens in Vegas…
Las Vegas' reputation precedes itself, it is known around the world as a mecca for gambling. In every direction you turn you will have a slew of casinos to choose from. Since you are already next to the Paris Hotel, why not dip inside and enter its colorful, indoor wonderland? The bright blue skies painted on the wall could have you believing it's a brisk 10am when it's actually on the verge on midnight.
Casinos don't have clocks for a reason. But if you're a first time casino visitor, it is easy to get swept up in the excitement and lose your holiday budget. Ease yourself into the experience with the penny slot machines before you jump into blackjack and roulette.
One 'budget friendly' part of the experience is the free drinks on offer for anyone playing the slots or high rolling on the poker tables. Just remember to have some cash handy for the tip.
Alternatively…
Dance the night away! If trying your hand at baccarat doesn't sound like your perfect Las Vegas evening, then put on your dancing shoes and head to the club.
By now you should know that Vegas does nothing half-hearted. Nightclubs here aren't just clubs, they're mega-clubs. Sin City attracts some of the best DJs in the world. Some of the more prominent clubs include Jewel, Hakkasan and Omnia.
Almost every major hotel in Las Vegas has their own nightclub and with such a number to choose from it's best to see which has a special event that night. When you are roaming the Strip keep an eye out for promoters for the chance to grab a VIP pass and free drinks.
Where to Eat
When it comes to eating out in Las Vegas, you can easily blow a hole in your wallet dining at some of the 50 plus celebrity restaurants in town. Luckily there are some great budget options that won't take you far from the Strip, if at all.
For lunch on day one, stop by Tacos El Gordo serving quintessential Tijuana-style tacos. With handmade corn tortillas, mouthwatering meats and fresh veggies, this is one delicious lunch option that will keep money in your pocket. As it is open until midnight, you can even stop by for a late-night snack.
For dinner, you can spoil yourself with amazing French cuisine at Mon Ami Gabi or Italian at Lago, both of which have magnificent views of the Bellagio Fountain. But if you're in search of something a little more laid-back, dress casual and head to Beer Park. This elevated bar comes with a view of the fountain alongside Bavarian sausages and brisket burgers. Down it all with craft beer and cocktails on tap.
Day 2: Food & Live Shows
After trying in earnest to cure the hangover and calm the head, it's time to get back on the horse. Begin your second day in Sin City with a trip to the LINQ Promenade. Here you will find shopping, dining and of course, plenty of entertainment. But the chief attraction is the aptly named High Roller, the tallest observation wheel on earth. Grab yourself an epic view of Las Vegas and beyond. To save on time, you can book this skip-the-line ticket.
To grab a 1000ft view of the city and get your heart racing, trade the High Roller for the Promenade Zipline.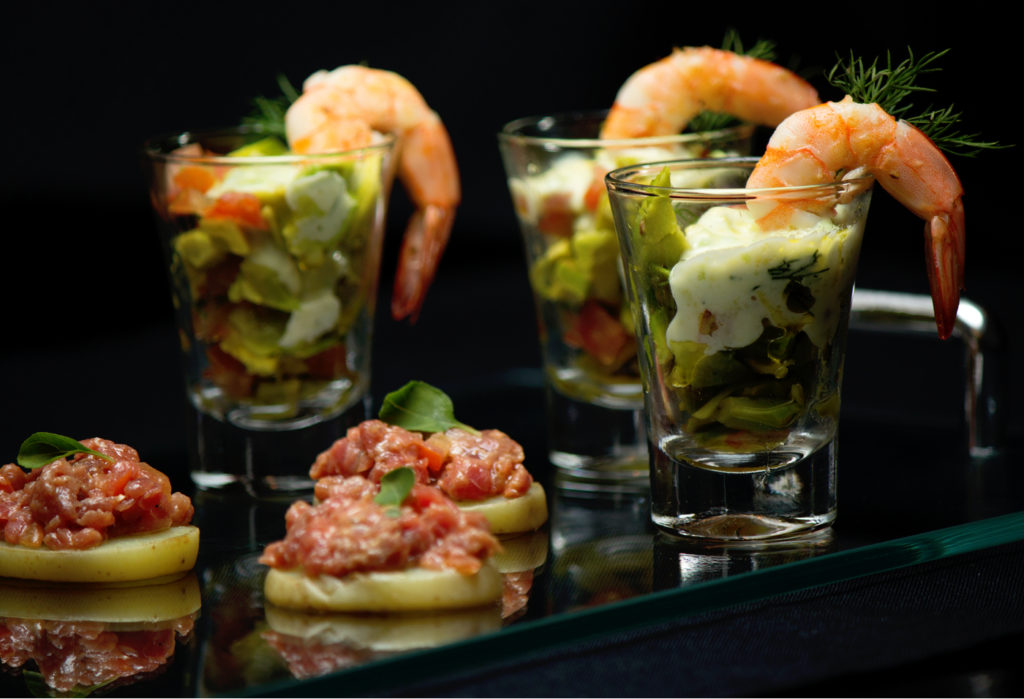 Get Your Food On
As Las Vegas grew into a world-renowned entertainment city, it quietly became a culinary giant. For first-timers or return visitors, a great way to not only explore the city but also its diverse food scene is to take a sightseeing food tour. Don't limit yourself to one lunch, combine multiple restaurants for one epic meal.
On the tour you also will see flamingos, the largest chocolate fountain on the planet and skip the line in each of the five restaurants you visit.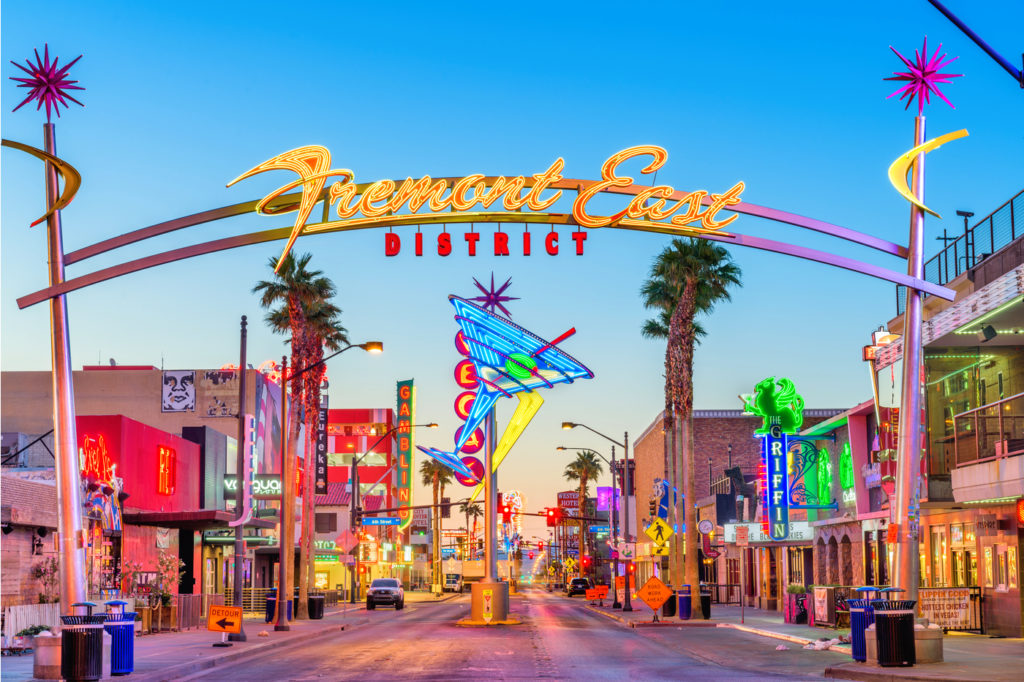 Fremont Street Time!
Once the tour is over, jump in an Uber or taxi and make your way to the Strip's little brother. Fremont Street is no less quiet than what you have experienced so far, but it is certainly less over-the-top. On Fremont Street you will trade the in-your-face atmosphere of the Strip for a laid-back vibe, with classic casinos, art murals and coyote ugly-esque bars.
For a fun late afternoon experience make your way to Goldspike, where you can try your hand at oversized yard games such as jenga, twister, beer pong and corn hole. As the sun goes down, walk over to the rooftop bar at Commonwealth for a superb view of the evening sky aflame with amber colors.
After the previous night of gambling and dancing into the early hours, night two is a chance to catch one of the dozens of live shows occurring every night in the Sin City. From famous musicians to circus acts, and standup comedy, you are genuinely spoiled for choice. Before you head down to Las Vegas, check out Vegas.com for up-to-date shows. Who knows, your favorite performer may be in town.
To save money, you can purchase an explorer pass that can provide discounted shows, tours, museum visits and activities such as the High Roller observation wheel.
Alternatively…
Las Vegas may be not be famous for its natural surrounds, there are a lot of day trips you can take that will help balance out your Vegas experience. Red Rock Canyon is one such example, and being only 20 minutes away by car, the canyon is the perfect place to escape the wonderful chaos of Sin City.
Red Rock Canyon comes with incredible geological features such as towering sandstone peaks. With plenty of water in hand, jump on one of the hiking trails and explore this beautiful area. Or join a half-day tour that includes a pick up and drop off from your hotel lobby.
With the first night being such a big one, you may feel like the only way to relax and feel better is with splash of day drinking at one of Las Vegas' many day clubs. Wet Republic at the MGM Grand is the place to go for a hair of the dog afternoon. Lounge by the pool, take a dip to cool off and sip on your cocktail as international DJs create the perfect afternoon vibe. Grab yourself a ticket ahead of time, while an early arrival will help you land the best lounges in the house.
Where to Eat
We don't blame you if you have a late start to the day. In fact, we have planned for it. Gather yourself together and make your way back to the Paris Hotel where you will find the best brunch in town at Hexx Kitchen and Bar.
Slowly wake up with wonderful views of Vegas and the Bellagio Fountain from the expansive patio. Tuck into the huevos rancheros or the buttermilk pancakes, washing them down with two hours' worth of bottomless mimosas.
For dinner, just like the night before, you will face endless options. A steak dinner is common anywhere on the Strip. But for tonight, let's head to the Gold Coast Hotel and Casino, home to Ping Pang Pong.
Ping Pang Pong has been voted one of the best 10 Chinese restaurants in America by Travel + Leisure. But don't arrive expecting crazy high prices, as this restaurant perfectly balances quality and budget friendly meals. Ping Pang Pong offers all the classic Chinese dishes but the lamb tenderloin takes the cake.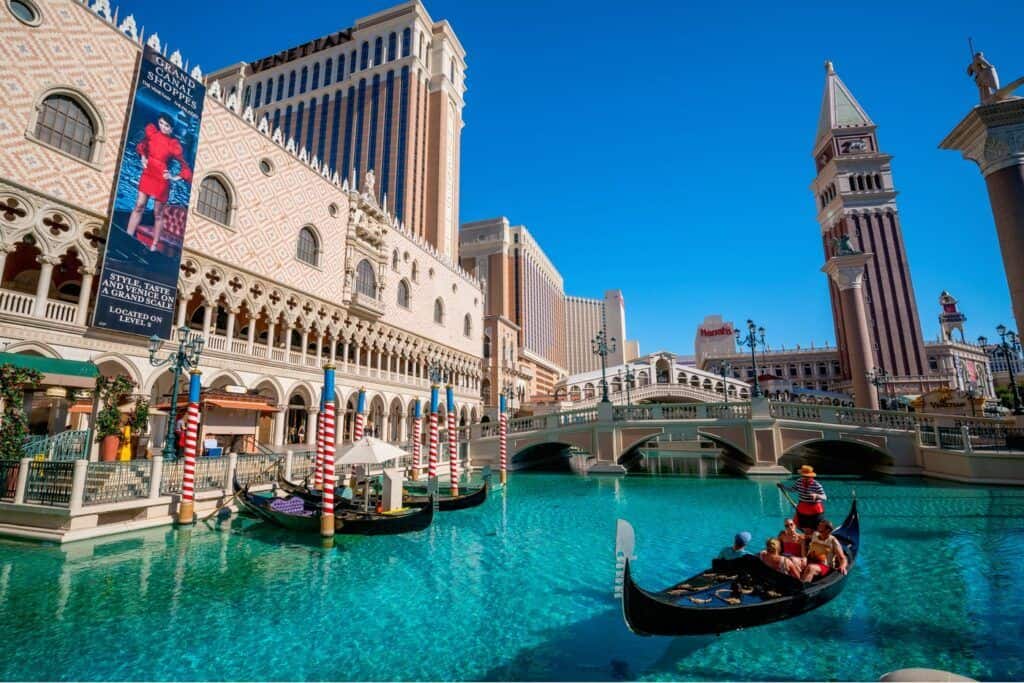 Day 3: A Relaxing End
After breakfast, it is time to do a little bit of shopping. Your Sin City escapades may stay in Vegas, but it doesn't mean you can't bring some things home with you!
Like anything in Vegas, you will have an abundance of flagship stores, malls and outlets to choose from. The Forum Shops in Caesars Palace is one of the most popular malls in the US. This massive center features a variety of high-end designer stores such as Versace, Fendi and Louis Vuitton. But for us regulars, you will find all the usual suspects, including one of the largest H&M stores in the country.
If you haven't shopped 'til you dropped, then wander over to the Miracle Mile Shops that combines everything great about Vegas. With dozens of restaurants, bars and live entertainment, you will be able to break up each store with some light-hearted shenanigans. The best nachos in town are also within the Miracle Mile Shops. Stop by Nacho Daddy for gourmet nachos and award-winning margaritas.
The last stop on your Las Vegas adventure will take you to The Venetian. Now that you've ticked off a trip to Paris and New York, it's only fitting that you get to enjoy a gondola ride around Venice.
While obviously not the real thing it is no less, a fun, relaxing way to reflect on 3 days in Vegas. You will have two options for the gondola ride, inside or out. Both cost the same ($29 Mon-Thur & $36 Fri-Sun) but many choose to enjoy the inside experience.
The inside ride takes you by the upscale Grand Canal Shoppes, restaurants and St Mark's Square, with romantic lighting and a painted blue sky above. If you get a good one, your gondolier will show off their beautiful singing voices, tell fun facts about Venice and let you know to kiss your partner as you cross under the bridge.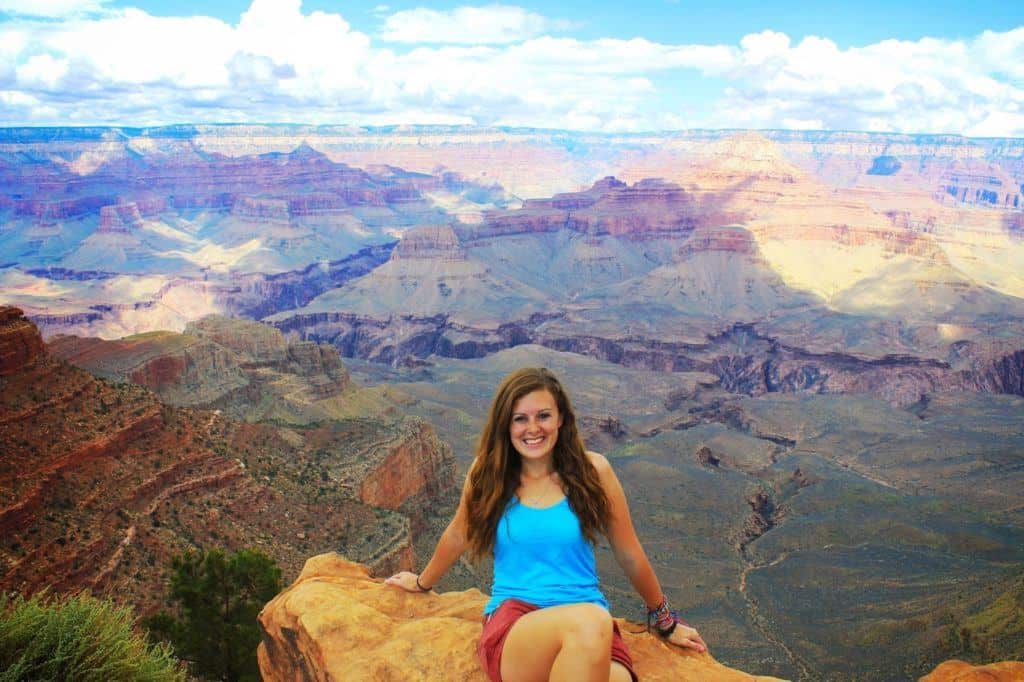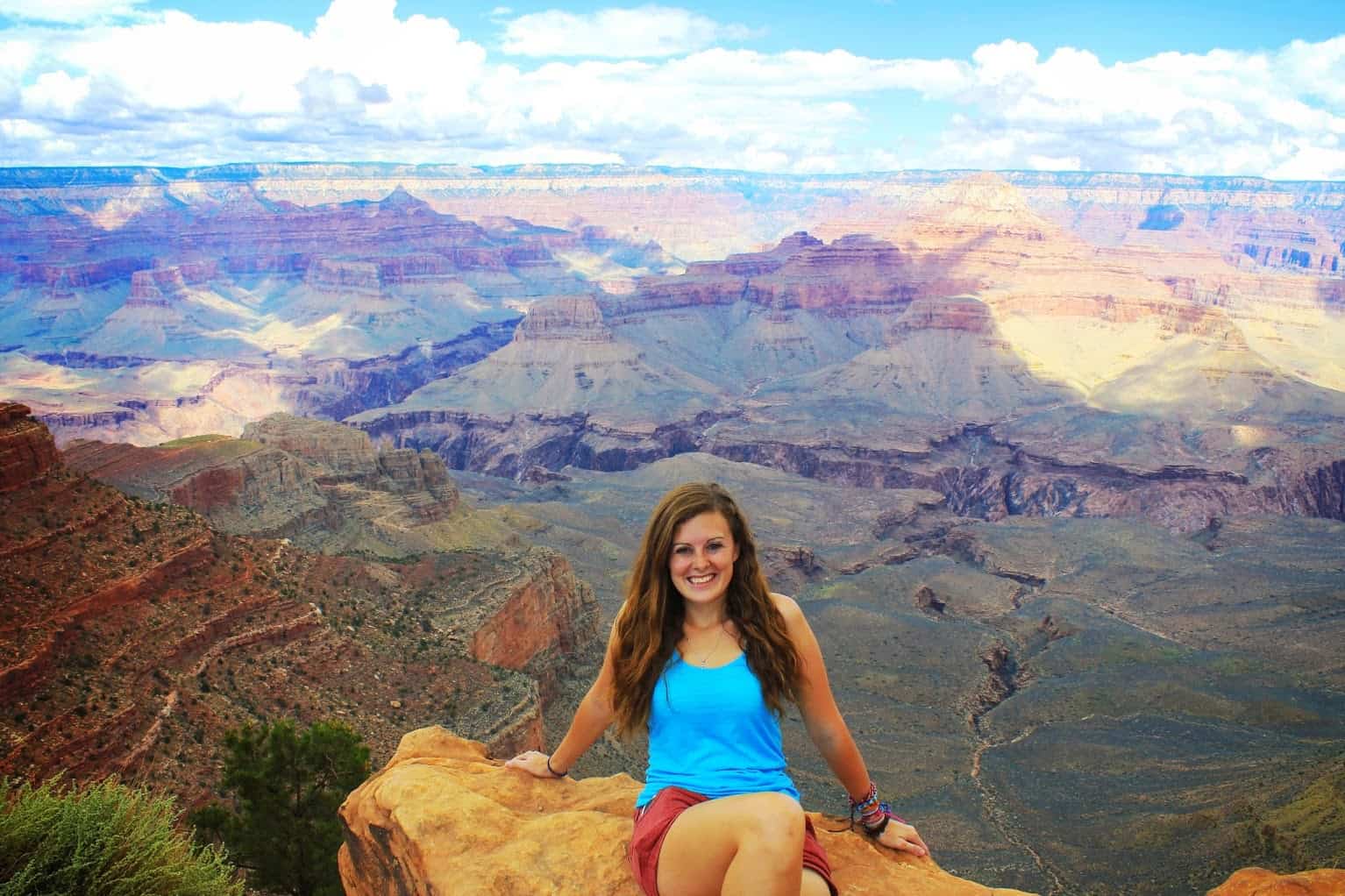 Alternatively…
When in Vegas you may be surprised at how close you are to one of the most iconic national parks on earth. The west rim of the Grand Canyon is around a 2.5 hour drive from the Strip (the popular south rim is a 4.5 hours' drive). If you have a car, you can do it all yourself, exploring all the highlights of the west rim at your leisure.
But there are a variety of excellent tours that will do all the hard work for you, leaving you to do nothing but enjoy the views. One of the most popular bus tours offers an upgrade so that you can check out the stunning Grand Canyon Skywalk.
If you are short on time, you can see the Grand Canyon from above along with epic views of the Hoover Dam and Lake Mead thanks to this airplane tour. With hotel pickup and drop-off included, sit back, relax and see all the amazing sights around Las Vegas.
Where to Eat
We wouldn't blame you for wanting to return to Hexx for another morning of bottomless mimosas. But if you want to switch it up, make your way to the crudely named Eggslut. This breakfast restaurant serves up delicious comfort food with egg, of course, being the key ingredient. Anything here is sure to make you happy, but if you are a fan of breakfast sandwiches, then do yourself a favor and order the Fairfax.
If you aren't out on a tour of the Grand Canyon or downing the delectable dishes at Nacho Daddy, then grab pizza for lunch at Pizzeria Francescos. Found in Treasure Island, the New York-style pizza lives up to the billing. A meal here won't cost much either, with the usual check coming in at around $10 per person.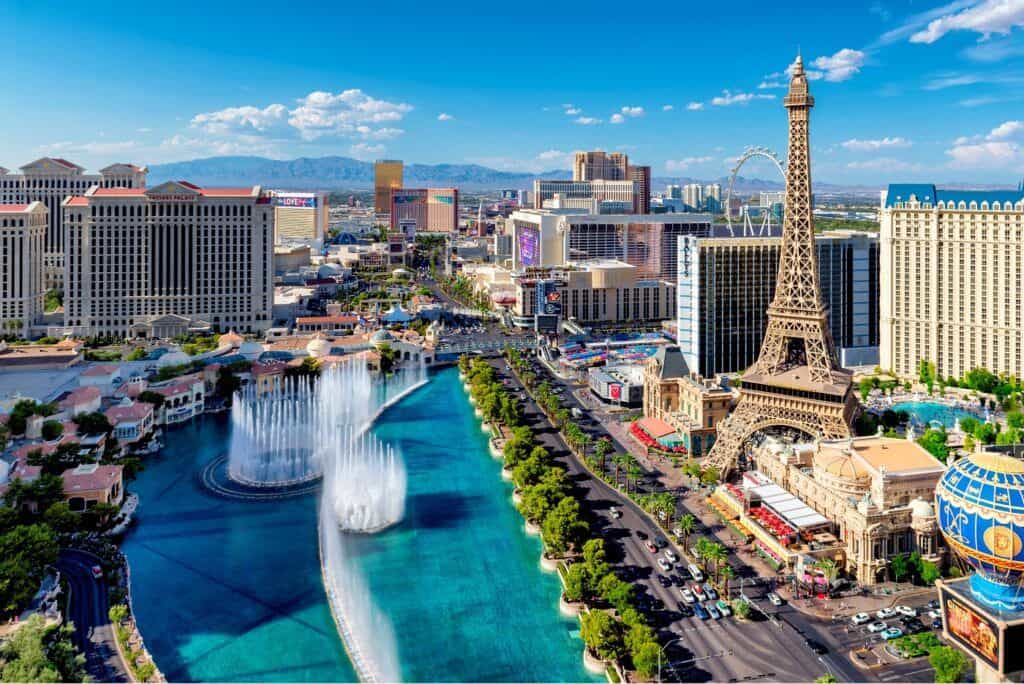 Final Thoughts
Three days is the perfect amount of time to spend in Las Vegas. It is enough opportunity to dive into the famed nightlife of Sin City without the bright lights of the world's entertainment capital burning a hole in your head.
Depending on your goals you could easily spend three days in Vegas hitting up as many live shows as possible, or jumping between blackjack tables at each casino.
However you choose to enjoy your three days in Sin City, you're bound to create a lot of unforgettable memories. But remember to leave them in Vegas.