Whenever anybody asks me about the best day of my life, I talk about Koh Yao Noi.
This little-visited Thai island fast became one of my favourite discoveries during my first few months of travel. Back then, there was only a small amount of information about it online, and most of it was years out of date. On the island, there were only a handful of guesthouses to stay in, half a dozen restaurants within walking distance, and internet access was a novelty. It offered the exact opposite of a party scene. Few tourists ever went out of their way to visit, but that was exactly what drew me in and made my time there so special.
Several days into that stay on Koh Yao Noi, Dave and I rented a scooter for the day. We were part-way through exploring the island where we came across a small wooden sign with the word "beach" scrawled across it in black ink. It was pointing us down a tiny dirt track that promptly disappeared into dense forest.
Obviously, we followed it.
It was just a few minutes later that most of the track had faded away and we found ourselves swerving precariously around curves, urging the scooter over hills and attempting to dodge the branches and spider webs that blocked our path. Several times we considered turning around and heading back – surely we should have reached the beach after 15 minutes of riding? I desperately clung to Dave, convinced I was going to be thrown from the back of the scooter.
When we did eventually arrive, though?
It was the stuff travel dreams were made of.
Stretching along the east coast of the island for what seemed like miles, this white-sand beach was void of people and stayed that way for the entire afternoon we were there. We sunbathed on the soft sand, splashed in the warm, clear ocean, and marvelled over the fact that we were the only people there.
I remember one moment. I was treading water beneath a dazzling blue sky, staring out at a cluster of limestone karst islands in the distance, scooter parked behind me, my boyfriend by my side.
I remember thinking to myself, this is everything I'd hoped travel would be.
It was the perfect day.
Surprisingly, feelings of such pure and extreme joy have been rare on my travels — I can count the number of occurrences on two hands. I think that's what makes them so wonderful and memorable when they do happen.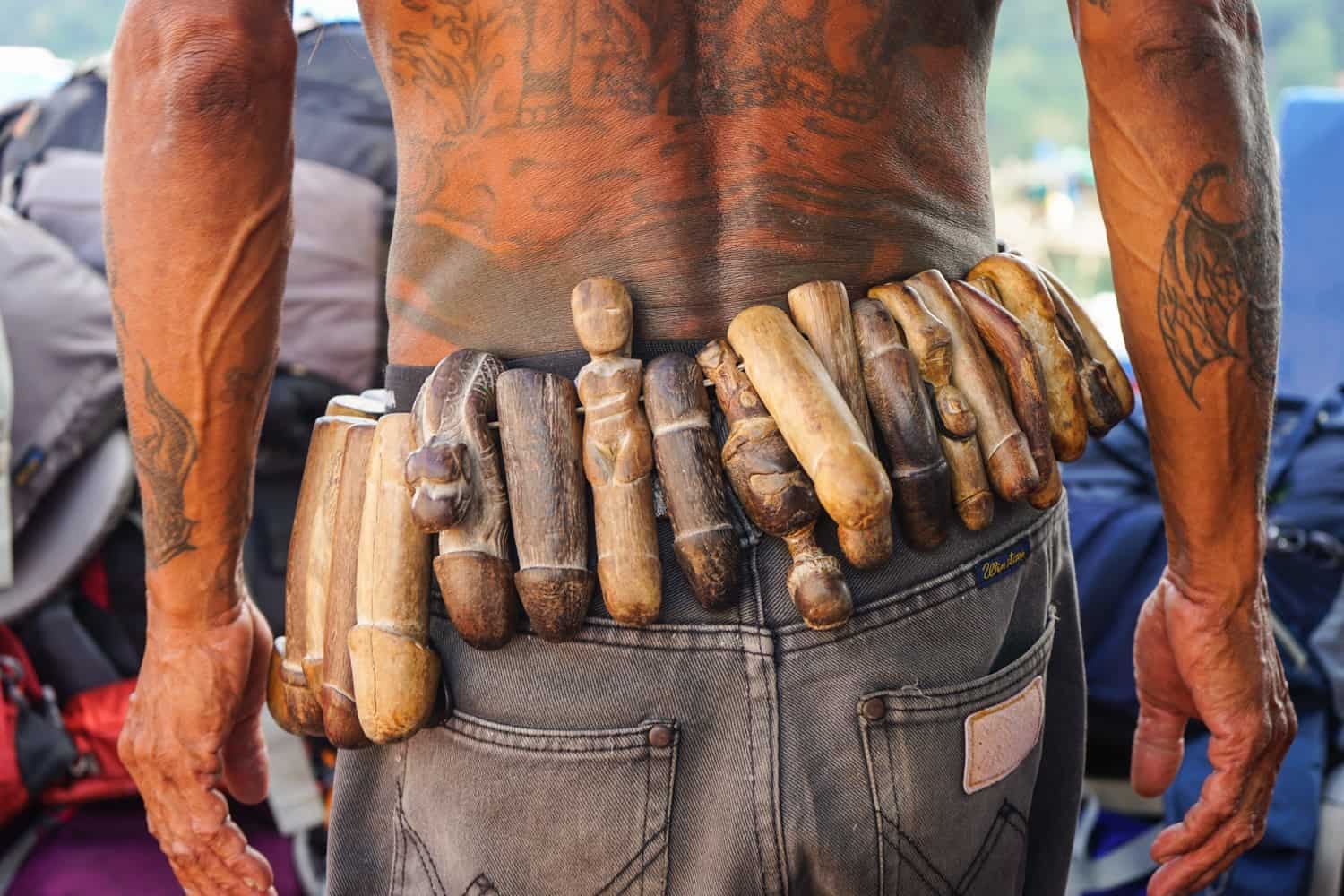 Funnily enough, during my most recent trip to Thailand, these moments of perfection occurred on a near-daily basis. Maybe it's something about lesser-known islands in Thailand that just have me blissing out for days on end, but whatever the reason, today, I'm excited to share with you one of my favourite discoveries.
Back in March, I spent two weeks island-hopping my way across the Koh Chang archipelago. This chain of islands is nestled up beside the Cambodia border, and their location means they don't receive as much attention or as many visitors as places like Koh Phi Phi, Koh Tao, or Koh Samui. If travellers do choose to explore any of the islands, they'll usually go for hippie-friendly Koh Chang as a stopover to break up their journey between Cambodia and Thailand.
If I'm making it sound as though the islands further south of Koh Chang are untouched and undiscovered, that's not the case. There are plenty of resorts, guesthouses, and restaurants on this island chain, and you can easily access them by ferry. They feel uncrowded, though. They are less crowded. Surprisingly, they're also the prettiest Thai islands I've been to.
I'm getting ahead of myself.
I chose to explore the Koh Chang island chain because for my eighth[!] visit to Thailand, I wanted to recapture how it felt to arrive in Koh Yao Noi back in 2012. I'd been to Koh Chang before — and loved it — but had always wanted to return and then venture further. I'd read reports that one of the islands in the chain — Koh Kood — had the best beaches in the country, which that was all I needed to know before allocating two weeks to making my way there.
I ended up spending five nights on Koh Chang, a night on Koh Wai, three nights on Koh Mak, and five on Koh Kood. On every single island, I had at least one moment where I was like: this is the ultimate travel day. This is everything. This is perfection.
I love this part of Thailand.
Today, I'm going to tell you about Koh Wai.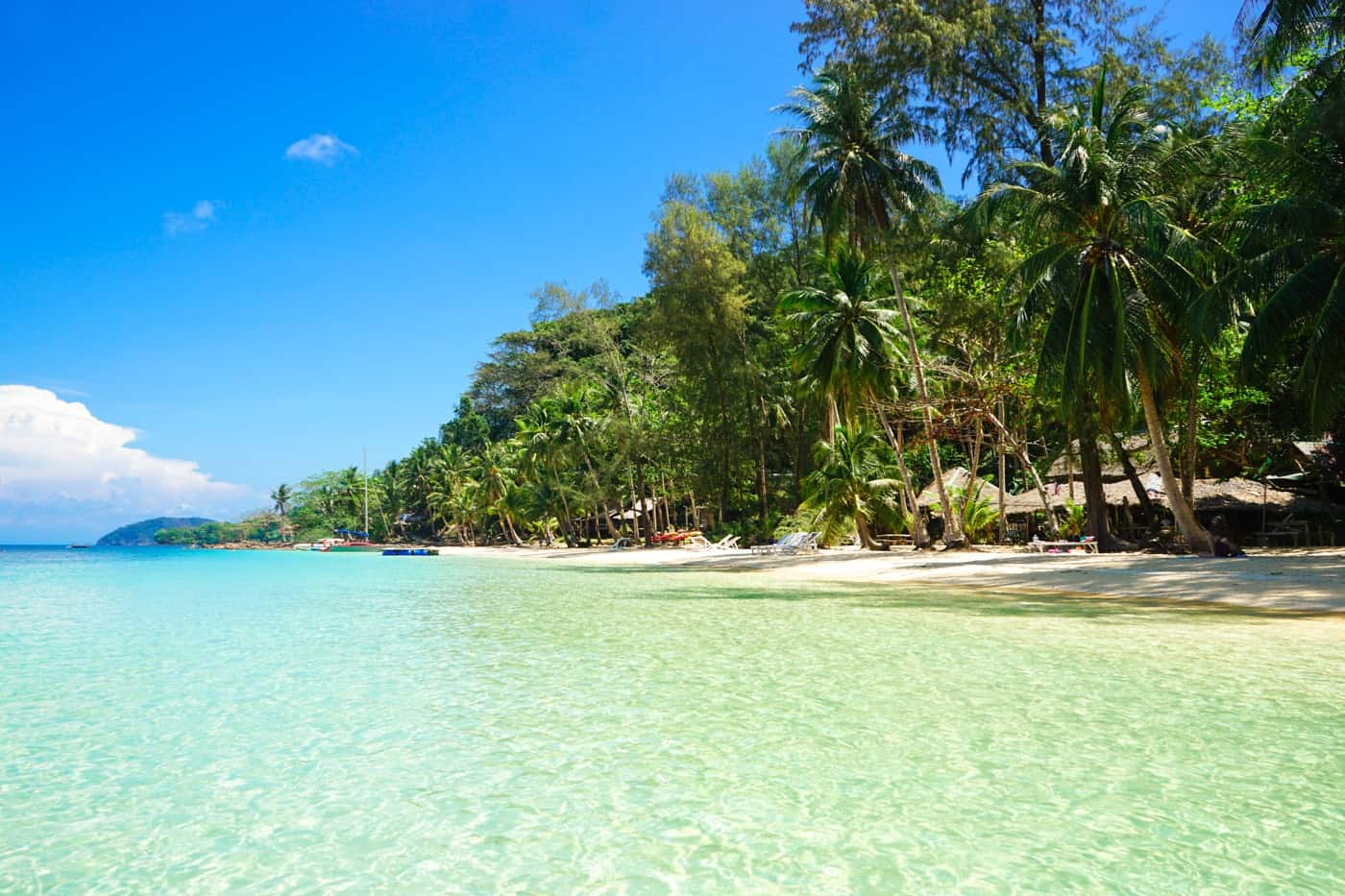 Koh Wai is one of those places I wasn't sure existed outside of my imagination. I've always dreamed of finding my version of The Beach: a paradise island that hadn't yet been discovered by tourists. For a long time, I didn't think I'd find it. After all, if a place is that beautiful, the tourists will find it. The ferries will start arriving. Hotels will appear. People will crowd the beaches.
When it comes to Koh Wai, though, it has this one feature that has prevented overdevelopment from taking place: it still doesn't have power.
Yep.
There's no electricity on the island.
It's small, too. Koh Wai is just two kilometres in length and one in width, and you can walk across it in half an hour. There are no ATMs, no villages, no stores, and no pharmacies, and the only restaurants are ones run by accommodation owners.
There are five options when it comes to staying on the island, four of which have been running for over 20 years. The two expensive resorts have 24-hour power, thanks to generators, but the three budget options limit their generator usage for the essentials, like keeping the beers cool.
This is an island that'll never become overdeveloped and overrun with tourists, and that's exactly why you should make the effort to go.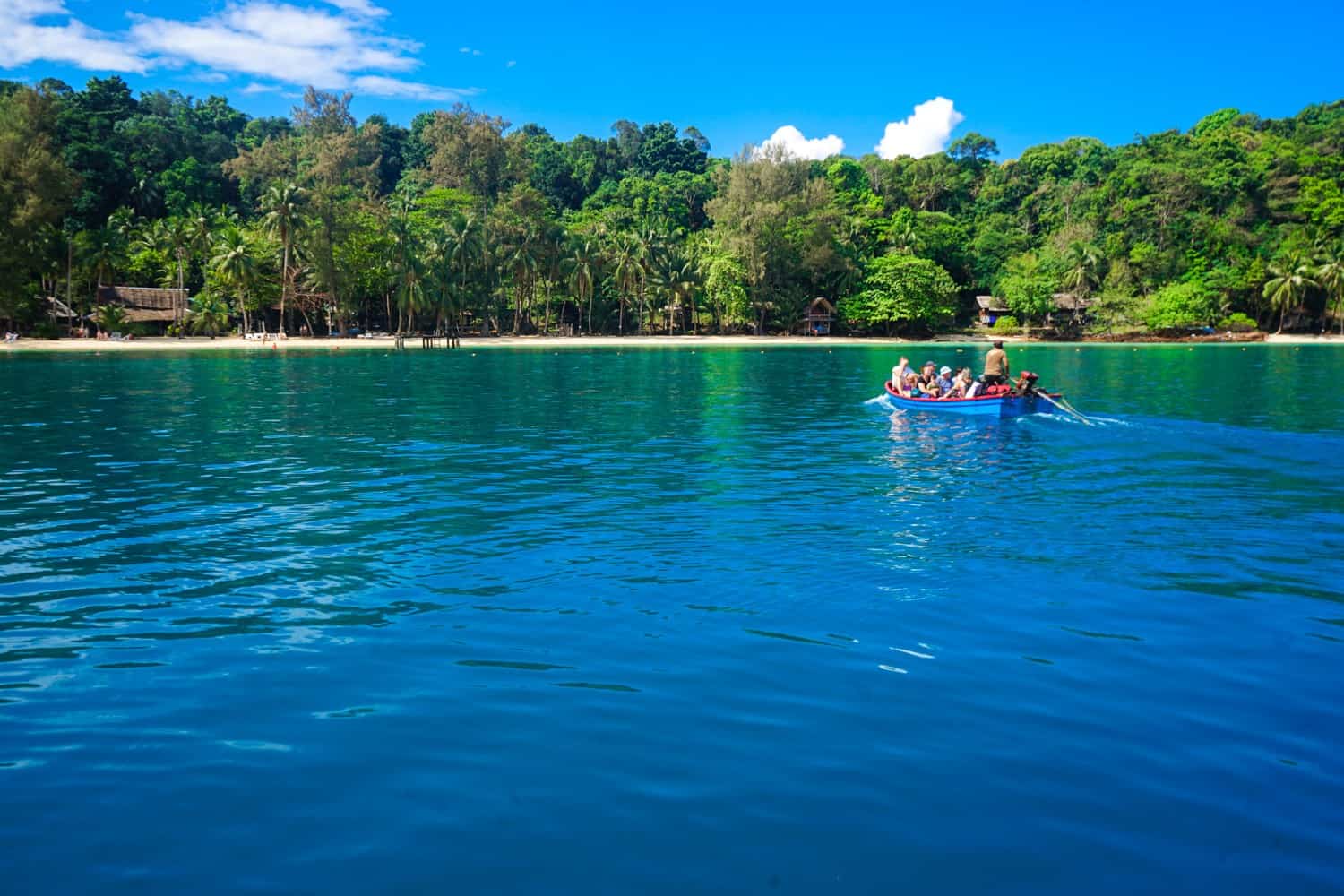 Getting to Koh Wai is simple and inexpensive.
The Bang Bao boat runs twice a day from Koh Chang down to Koh Kood and back again, stopping off at Koh Wai, Koh Kham, Koh Mak, and Koh Rayang along the way. I paid 300 Baht ($9) for my ticket the day before, then twenty minutes after leaving Koh Chang, was clambering back off the Bang Bao boat and into a smaller boat that had motored out from the beach to meet us.
The six other people who had chosen to get off at this point crammed inside the boat with me and we set off for the pristine white sands of Koh Wai. Arriving on the beach was like stepping into a postcard.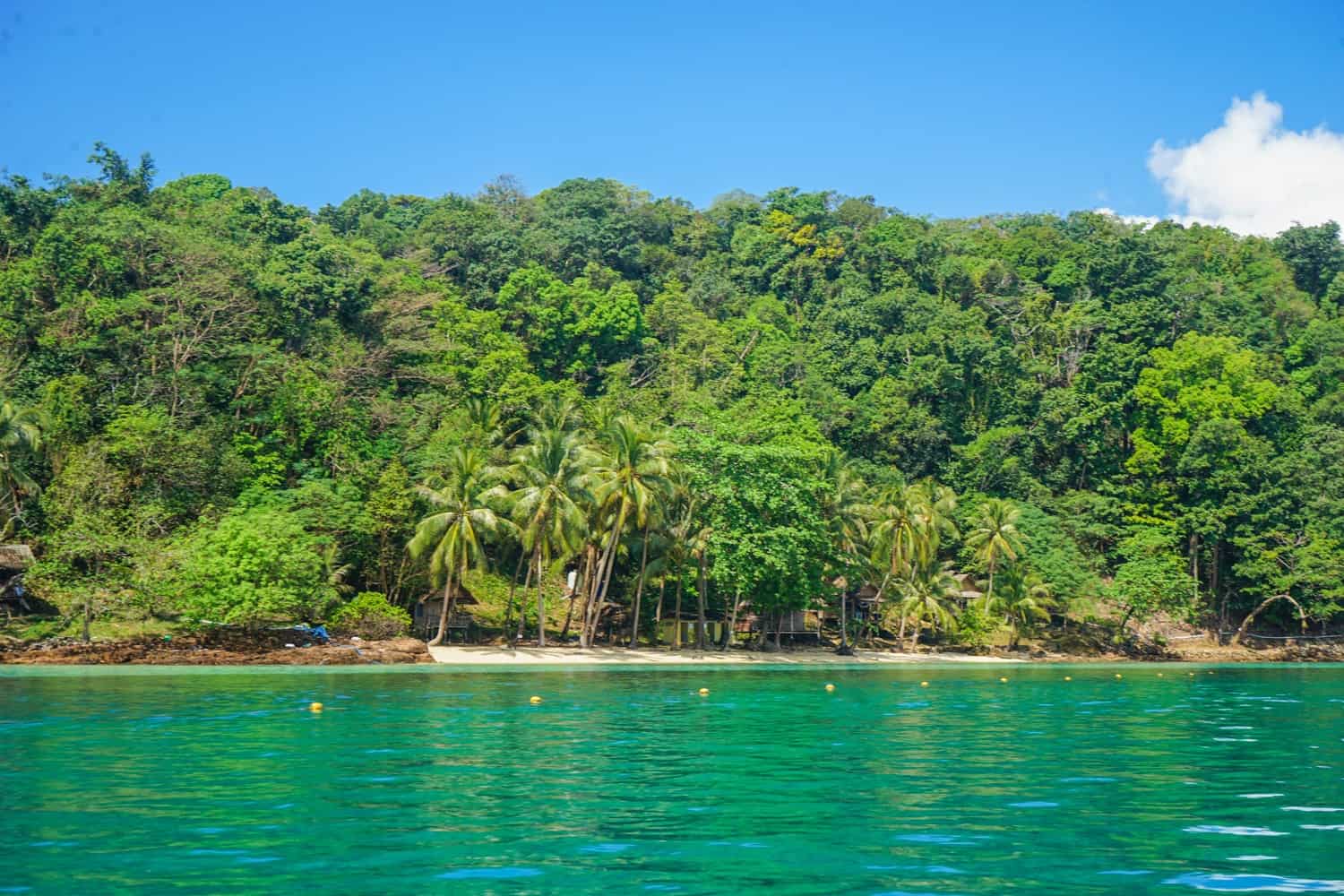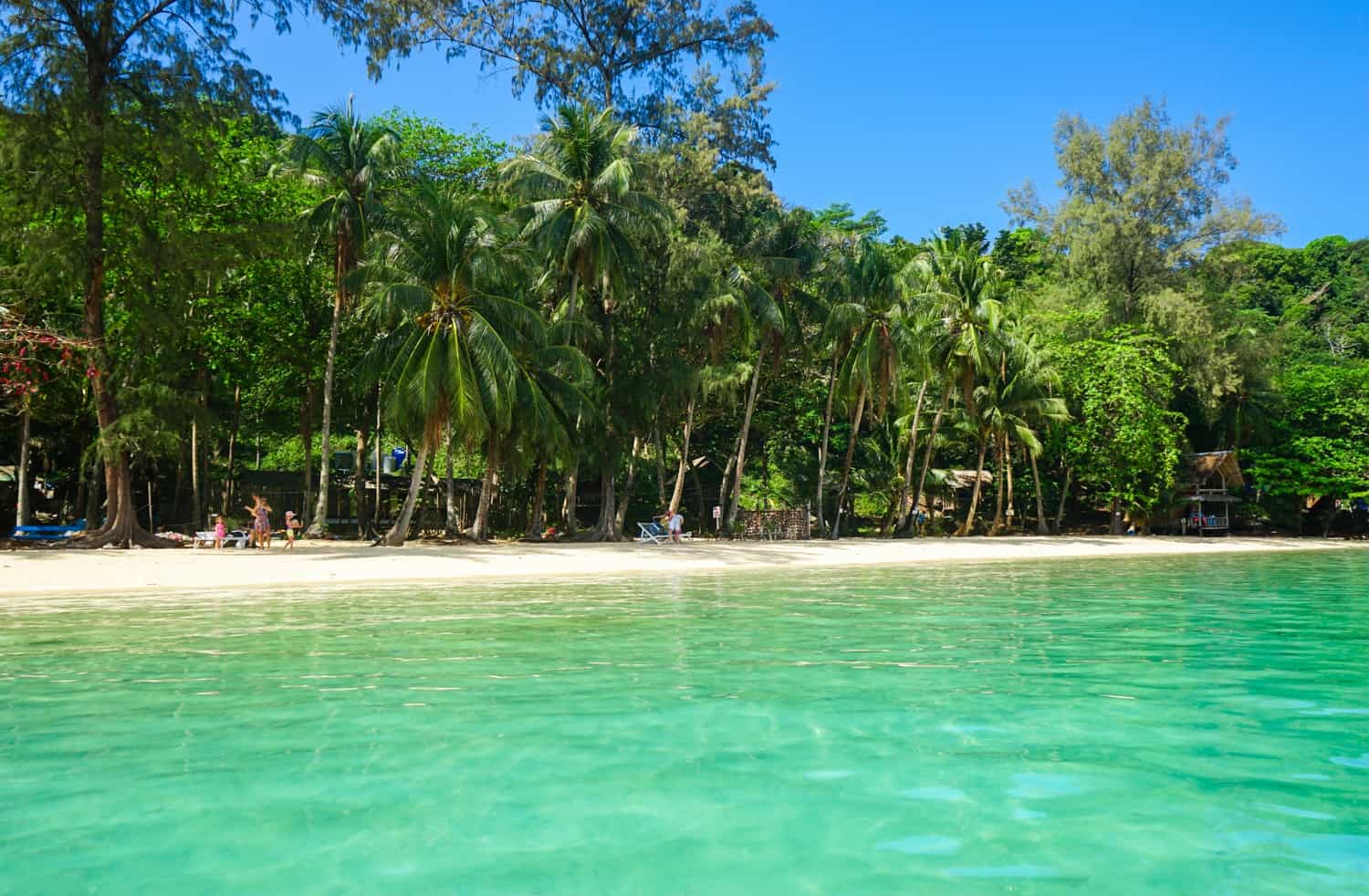 Due to the lack of power on the island, making a reservation in advance isn't a possibility unless you want to call to book. Given that I'm a millennial and therefore suffer from an innate fear of phones, I decided to wing it instead. Everything I'd read online had indicated it was unlikely everywhere would be fully-booked, and hey, if it had been, I'd have just jumped on the Bang Bao boat to a different island when it passed through again later that day. No big deal.
After jumping out of the boat and into the water, we walked the 20 metres to Good Feeling Bungalows. After reading reviews of the three backpacker options on the island (Good Feeling, Koh Wai Paradise, and Ao Yai Ma), the former sounded like the better option, although I knew everywhere was likely to be basic.
We met the lovely owner, and were thrilled to discover only three of the ten-ish bungalows were occupied. We followed her down a narrow pathway to our home for the night.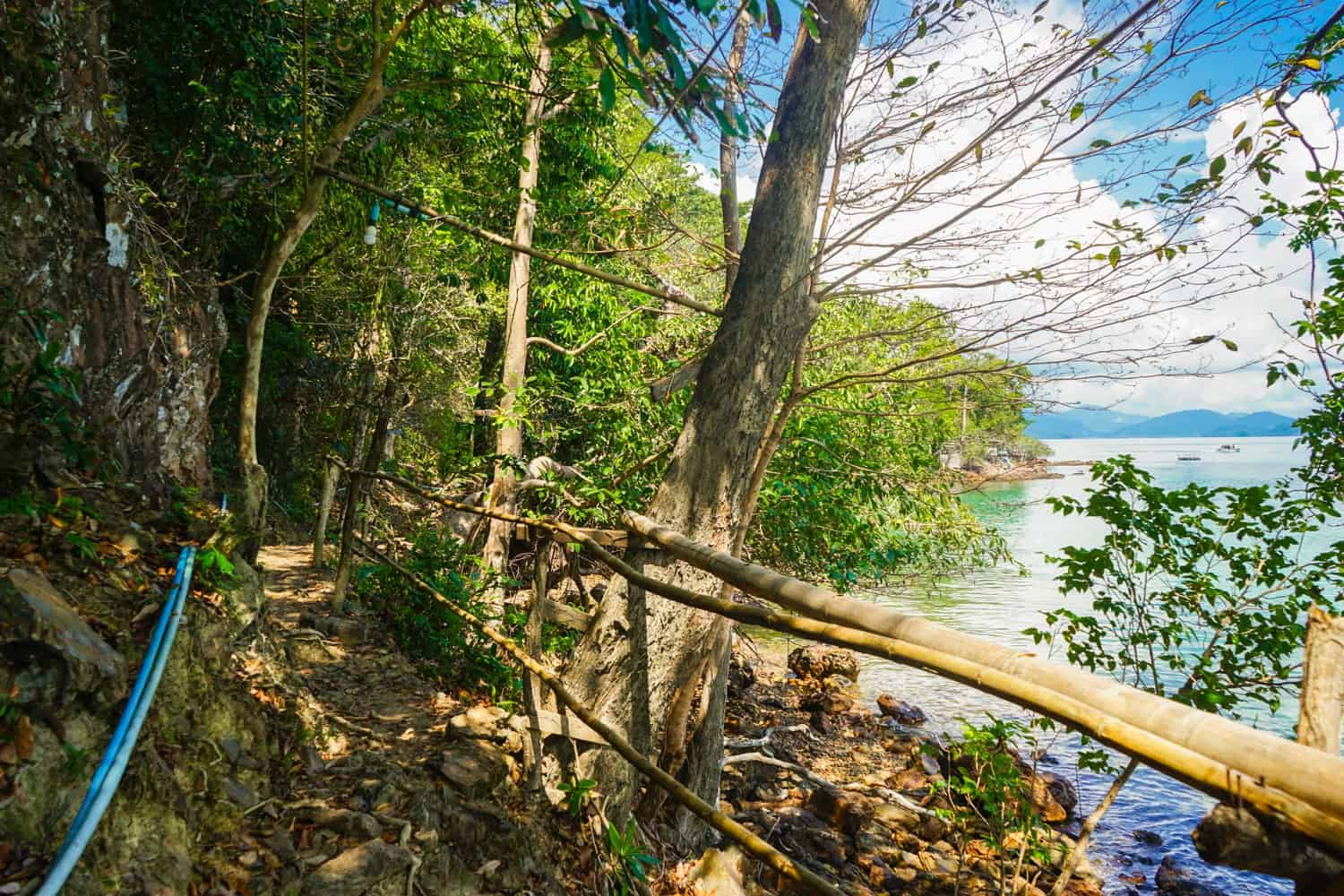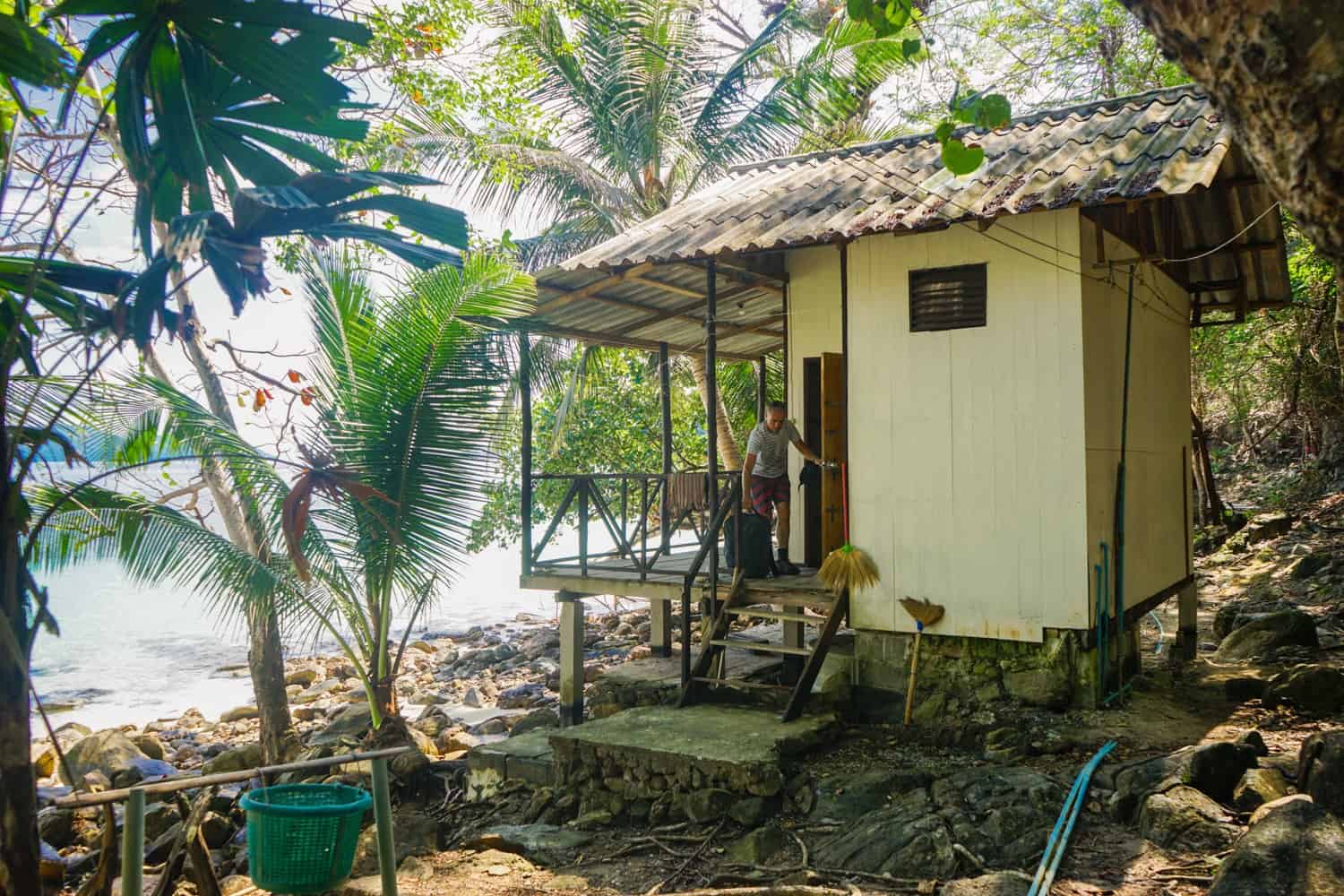 We paid 600 Baht ($18) for our humble bungalow for the night, which is — I'll admit — expensive for what you get. While the view from our balcony was gorgeous, the room itself was uninspiring. There was only a cold-water shower and a bucket-flush toilet in the bathroom, and a simple bed with a mosquito net in the room. There was no fan, air conditioning, or power sockets to use, but there was a single light for use between 6 and 10 p.m., when the generators are switched on.
When I'd been reading about the budget options on Koh Wai, I wasn't sure I'd be able to hack more than a night on the island. I'm certainly very used to backpacker accommodation by this point in my travels, and very little fazes me, but the lack of power would be new. Although I had been tempted to give it a shot and stay for two or three nights, I eventually decided one would probably be enough. I could always come back.
We had just 24 hours to spend on the island, then, and I wanted to see as much as possible.
We dropped our backpacks to the floor and wandered down to the beach.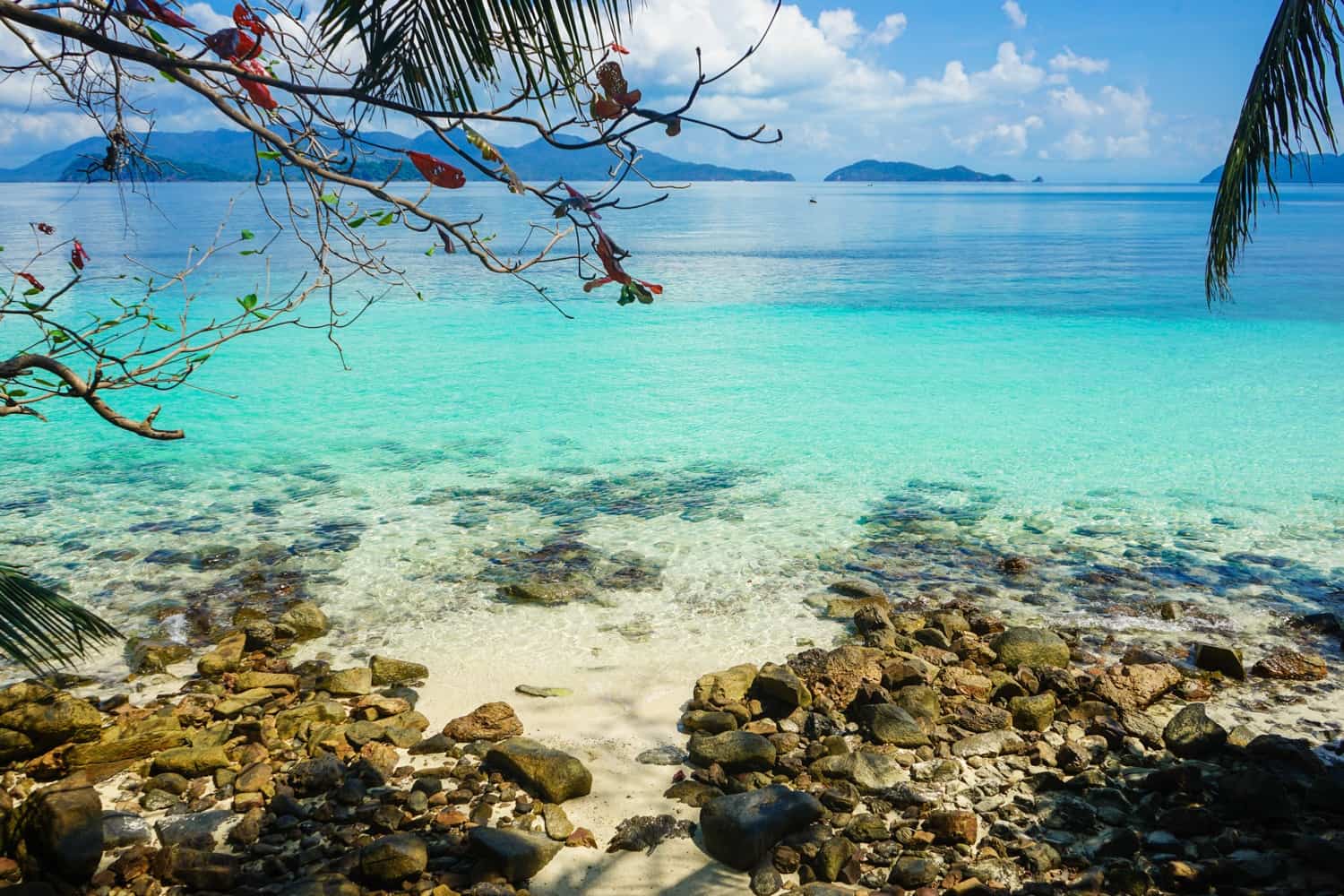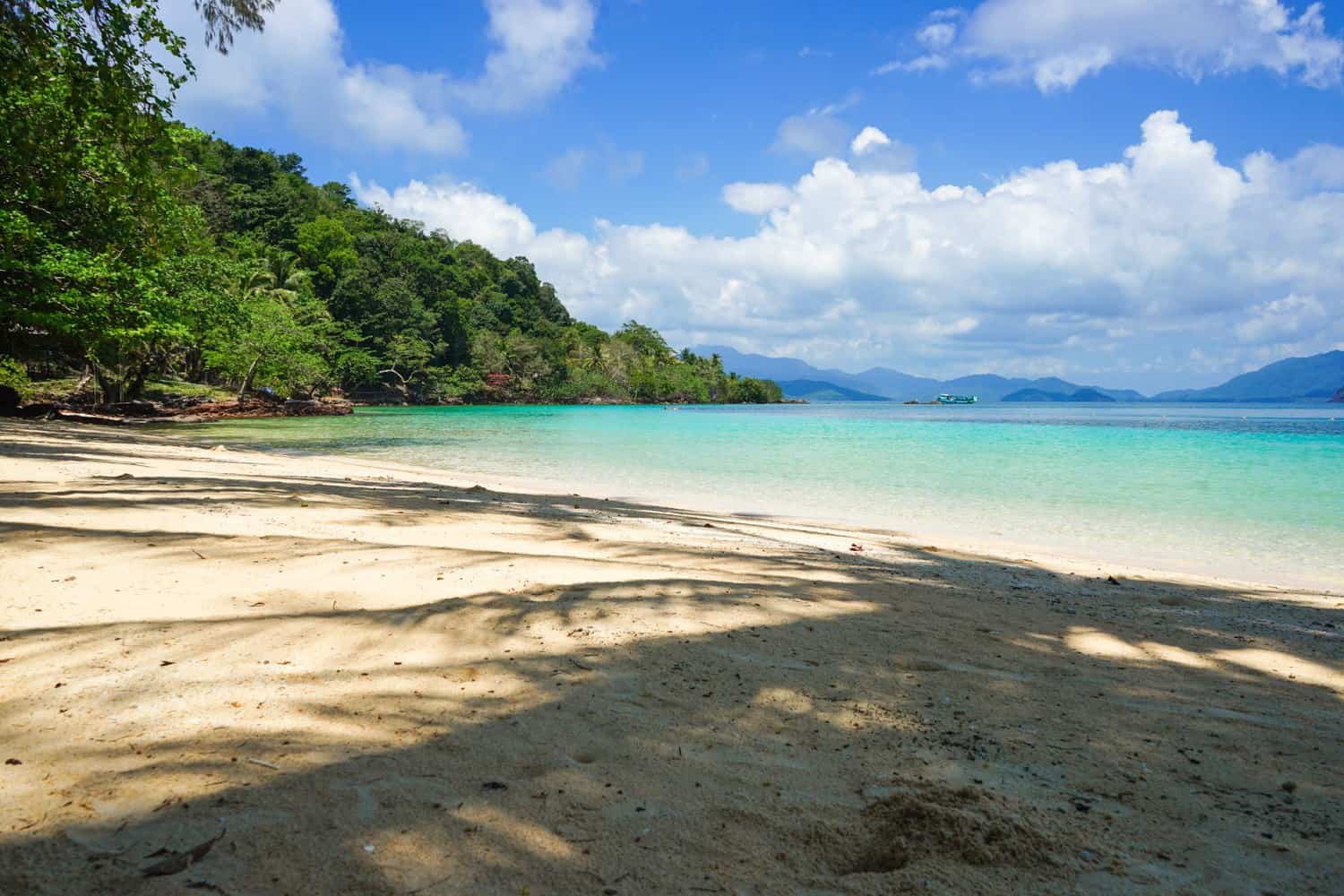 And that's as far as we got for the next six hours.
Because this beach, you guys.
This beach was incredible.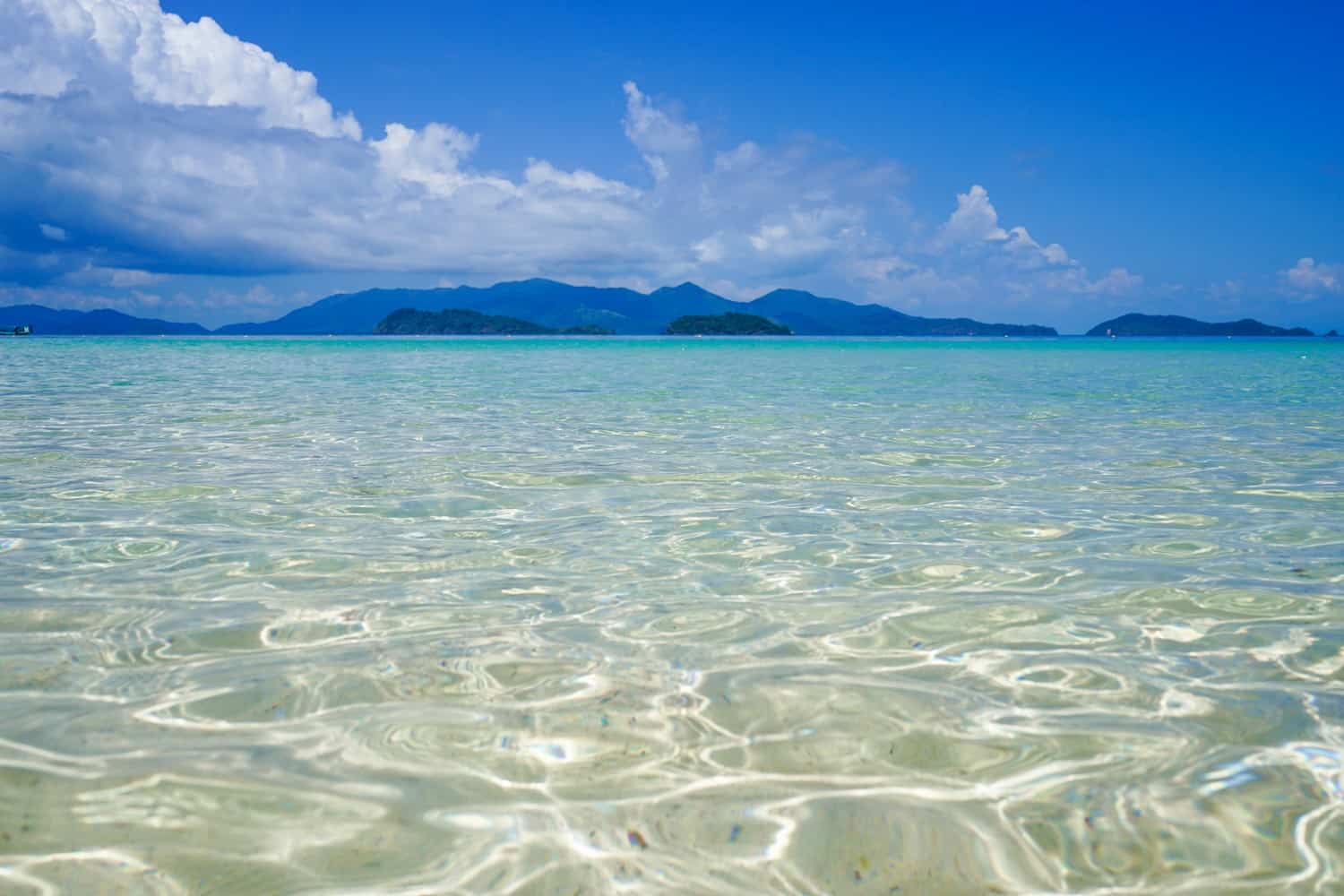 I'm someone who gets excited about shallow seas. People who complain about beaches that have waist-depth water they can't properly swim in? Can't relate.
In Koh Wai, I couldn't get over how warm and calm the sea was. Especially its calmness. There were no waves! Swimming off the shore here was like hanging out in a swimming pool, and there wasn't even the sound of lapping water because the sea was that flat. The water was warm, you could see straight down to the sea floor, and you could wander out 100 feet to still only be up to your knees.
I spent the next six hours feeling like the luckiest person alive, reading a book beneath palm trees then wandering into the water to cool off and watch the fish swim between my ankles. This place easily makes it into my list of top 10 beaches, so it blew my mind that I was sharing it with just three or four other people.
I was starting to wish I had allocated more than one night for Koh Wai because this was starting to feel like one of the best days of my life.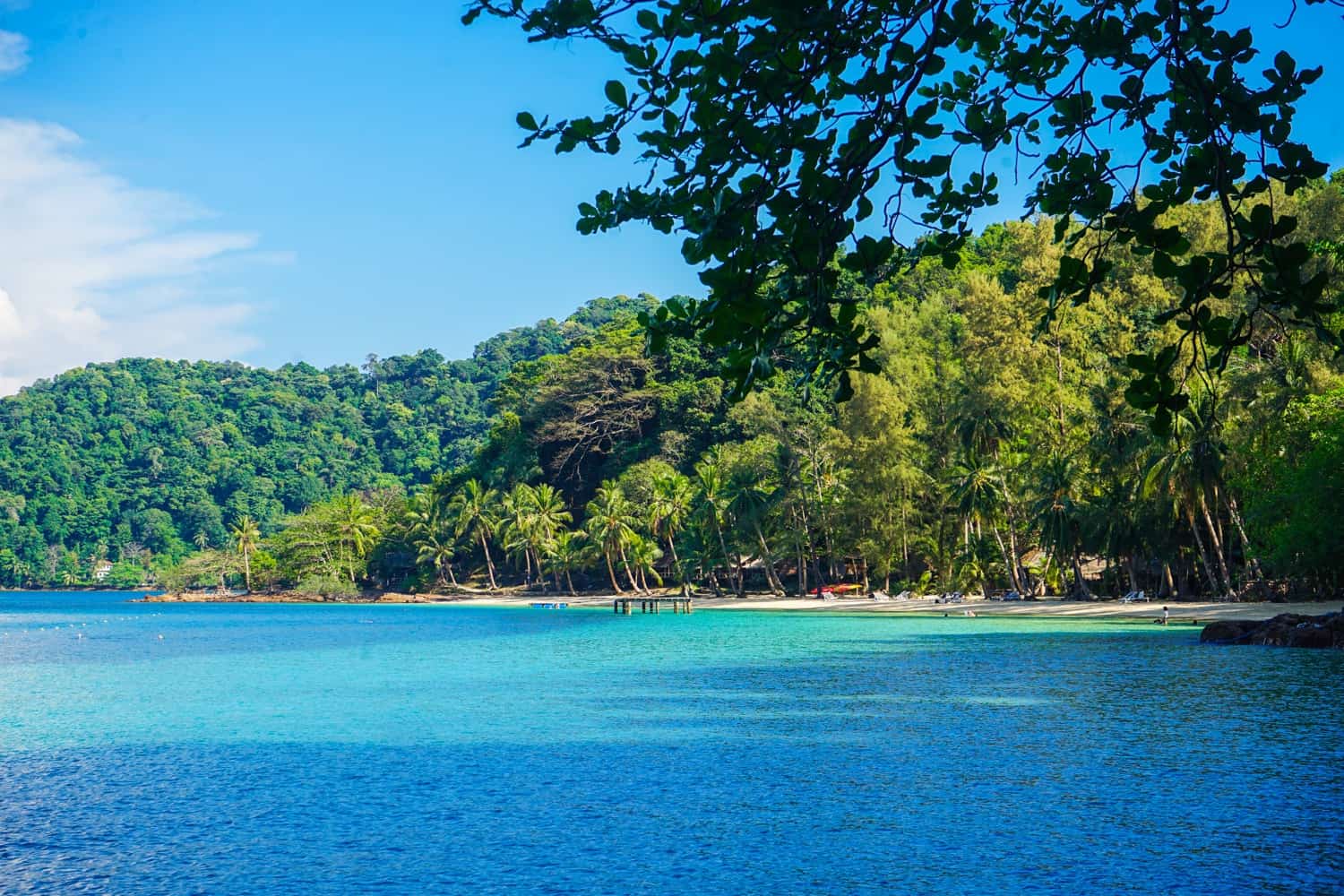 We went for a walk, because as tempting as it was to spend the entire day on that one beach, I didn't want to leave having seen nothing else of the island.
Fortunately, there isn't a huge amount to see anyway. After walking for ten minutes to reach the next beach along, we stopped to chat with some backpackers who were staying in Koh Wai Paradise. Like ours, their bungalow was basic as hell, but unlike ours, they had to share a bathroom, so I came away convinced we had made the right choice with Good Feeling.
Shortly afterwards, we reached a dead end.
"Well, uh, those were some great explorations," I said to Dave with a grin.
We wandered back the way we came, but decided to veer off inland to see where we ended up. I'd read online that there were a few trails leading to the other side of the island, to a spot called Sunset Point, so we picked a random dirt track and followed it uphill.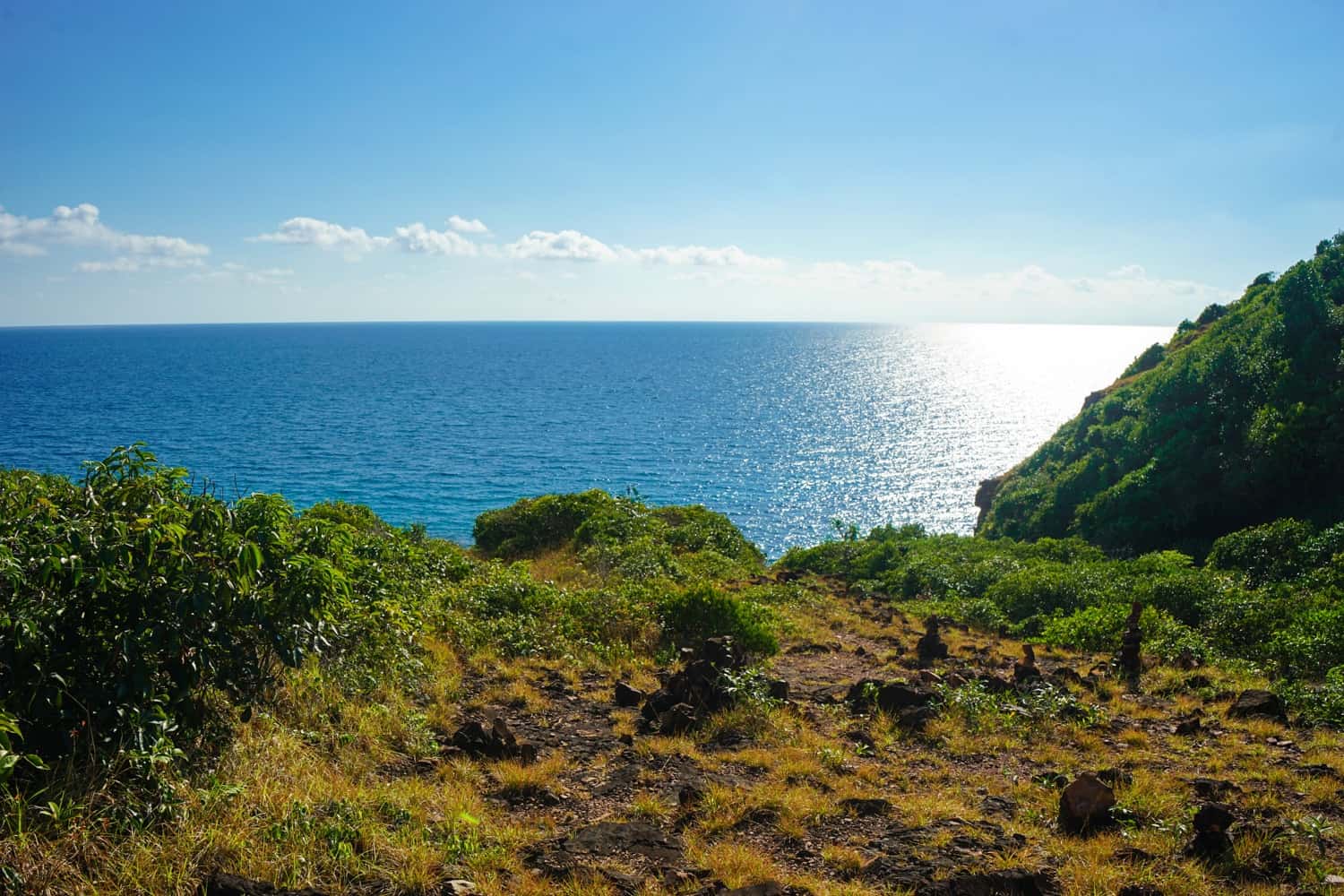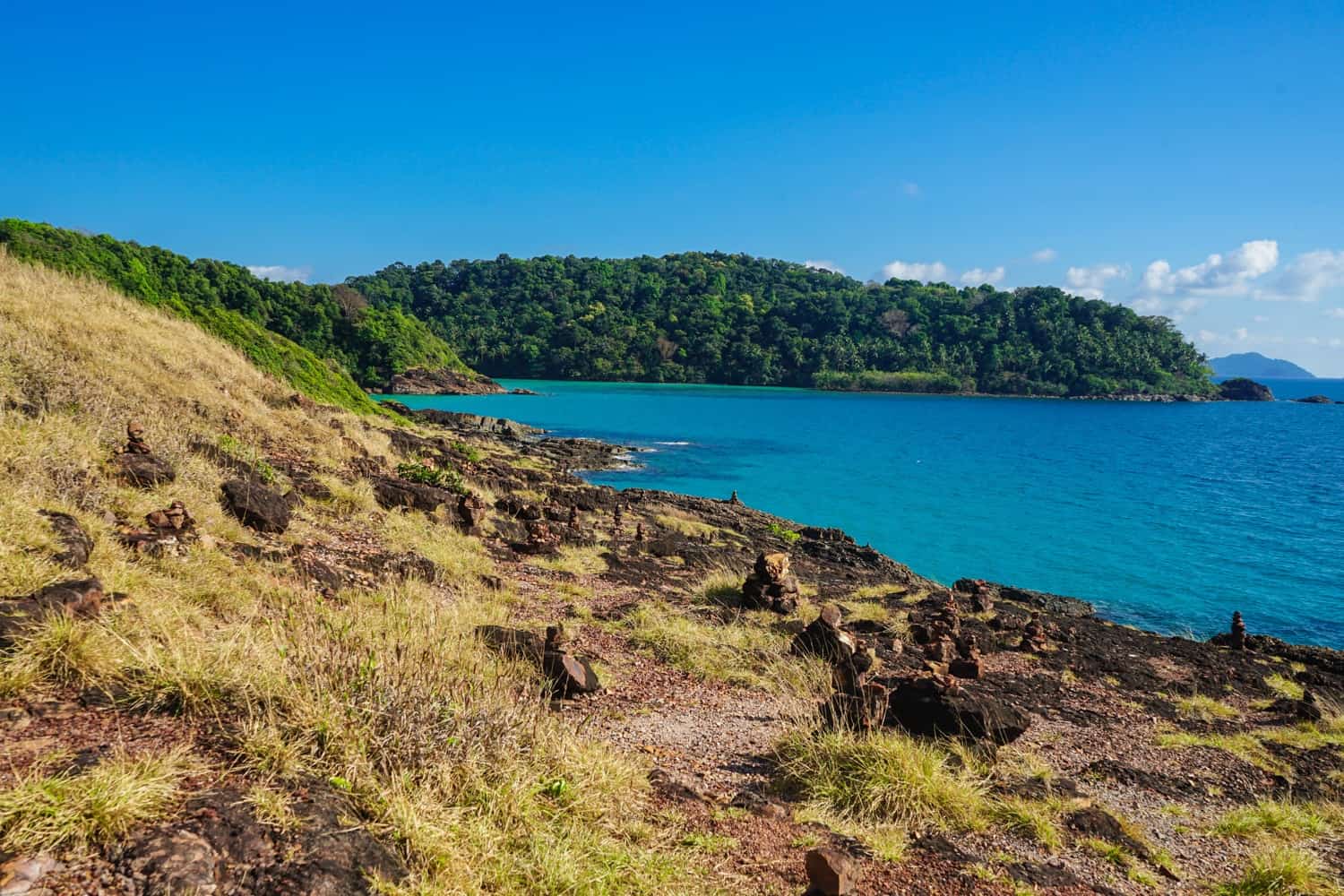 Five minutes in, I was regretting our decision.
It was hot and humid, in the middle of the afternoon, and we had a steep climb ahead of us. Over and over, I wandered into cobwebs, fought my way past vines, and generally hoped there weren't any snakes lying in wait.
It was a sweaty, exhausting, and painful climb to the highest point of the island, but once we emerged from the dense forest and spotted the turquoise sea, it made the struggle worth it.
There weren't any beaches around here, but it was a lovely spot to take a seat, watch the water, and talk about how much we loved Koh Wai.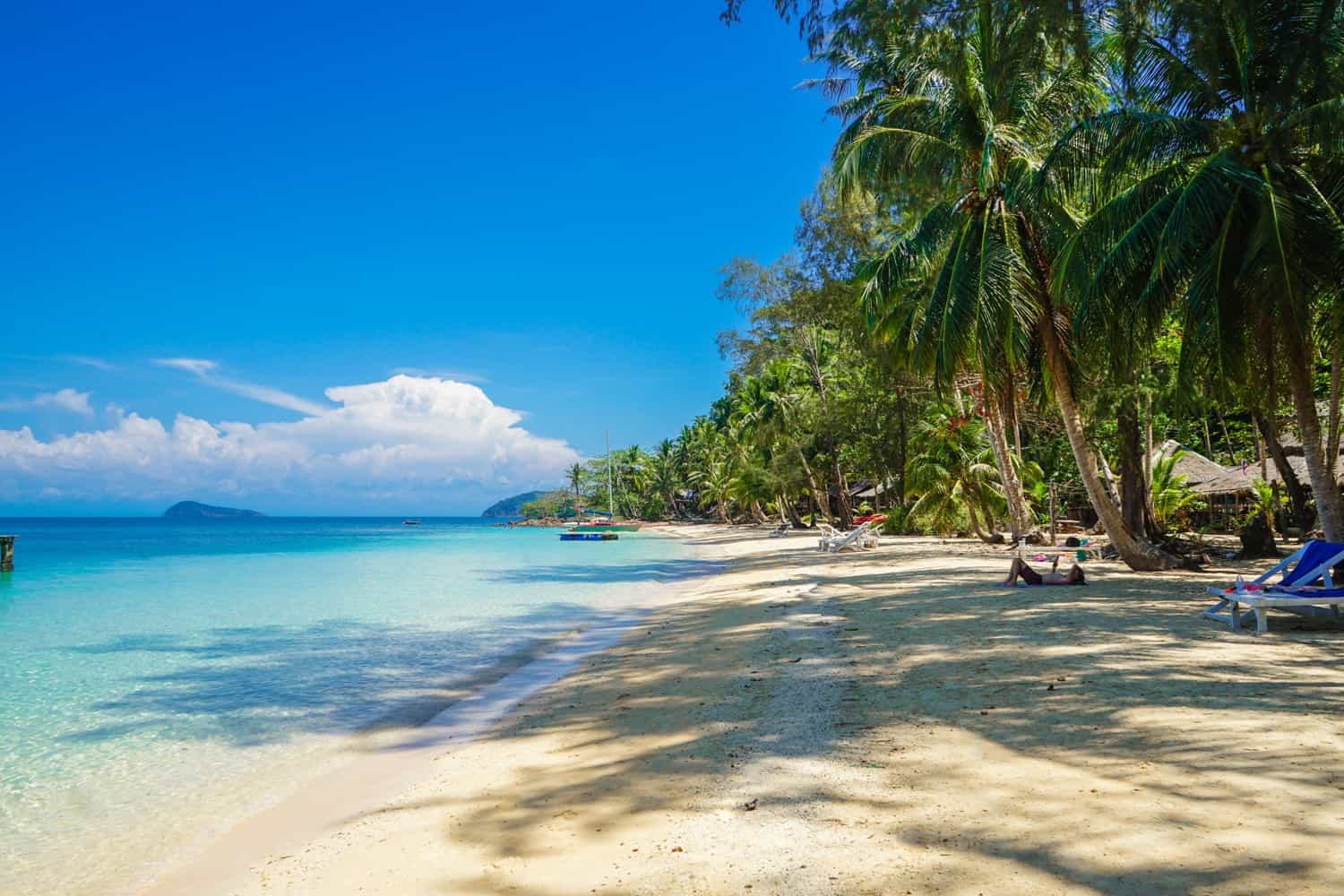 Back on my New Favourite Beach on my New Favourite Island, and what else was there to do but cool off in the water once more?
Later that evening, I showered beneath the cold dribble of our bathroom shower, then ate pad krapow to the sounds of Bob Marley, watching the lights on nearby Koh Chang turn on. The middle-aged couple at the table next to us confessed they'd spent the past three months living on Koh Wai and were planning to stay for even longer, then return the following year. I was both perplexed by and envious of their plans at the same time.
Didn't they struggle to sleep in a hot and sweaty room each night?
Apparently not, and neither did we. We actually both slept incredibly well in our bungalow. We opened the windows to let in a breeze, and our surroundings were silent and dark. I wouldn't call it the most comfortable bed I've slept on, so I was surprised that I didn't wake up once that night.
It just made me all the more gutted I wasn't staying longer.
After packing our bags that morning, Dave and I made our way over to the beach, climbing into a little boat once more, and cruising our way back to the ferry.
Next stop: Koh Mak.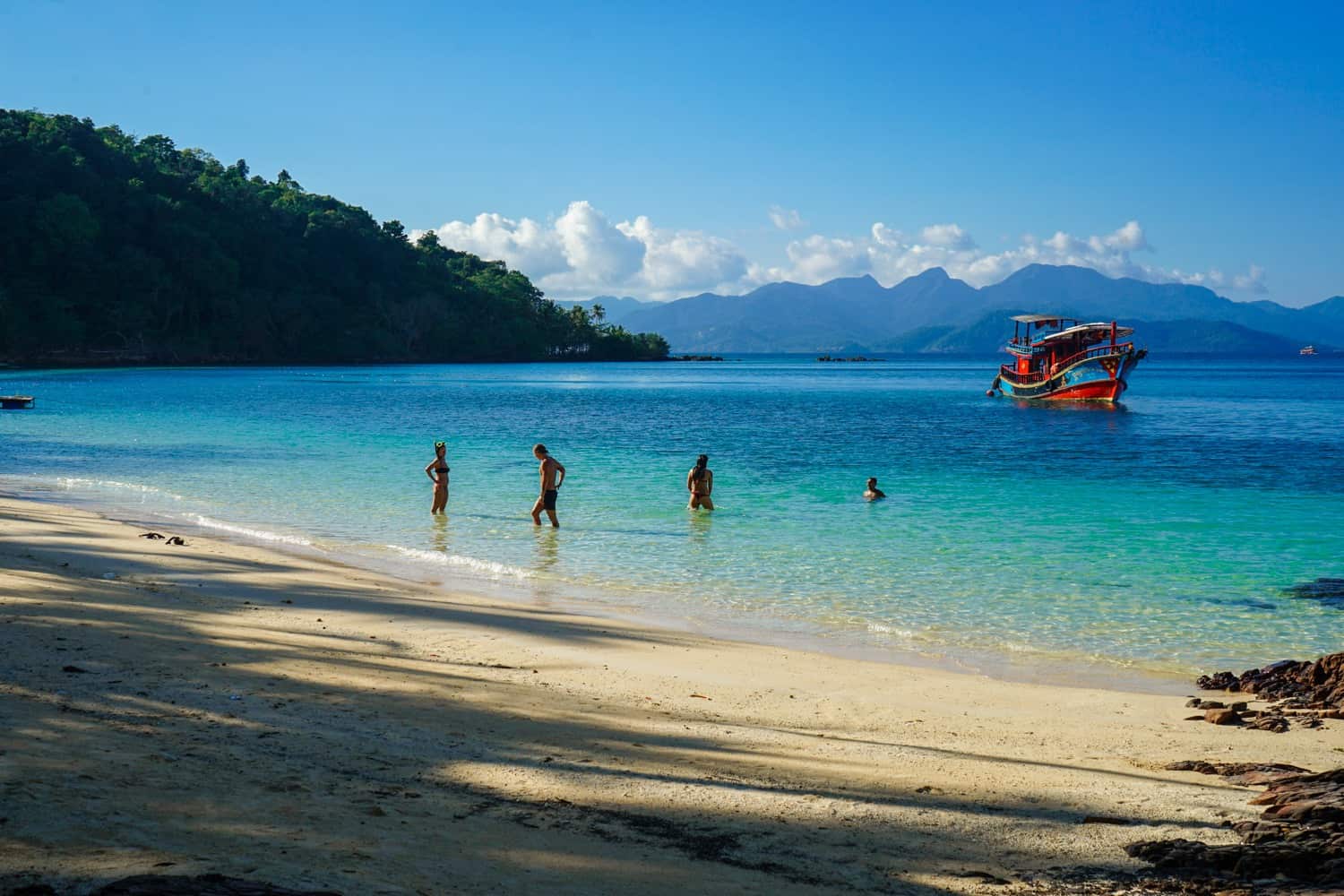 How to Get to Koh Wai
It's super easy.
From Bangkok, you'll want to take a minivan to Trat, and from there, you'll need to take a ferry to Koh Chang. You'll then be able to jump on the Bang Bao boat to Koh Wai. You can take a ferry direct to Koh Wai from the mainland, but I recommend spending a few days in Koh Chang first, as it's still a pretty cool island. I paid 600 Baht ($18) for a combined minivan-ferry-taxi ticket that took me from Suvarnabhumi Airport to my hotel on Koh Chang, and then 300 Baht ($9) to get to Koh Wai a few days later.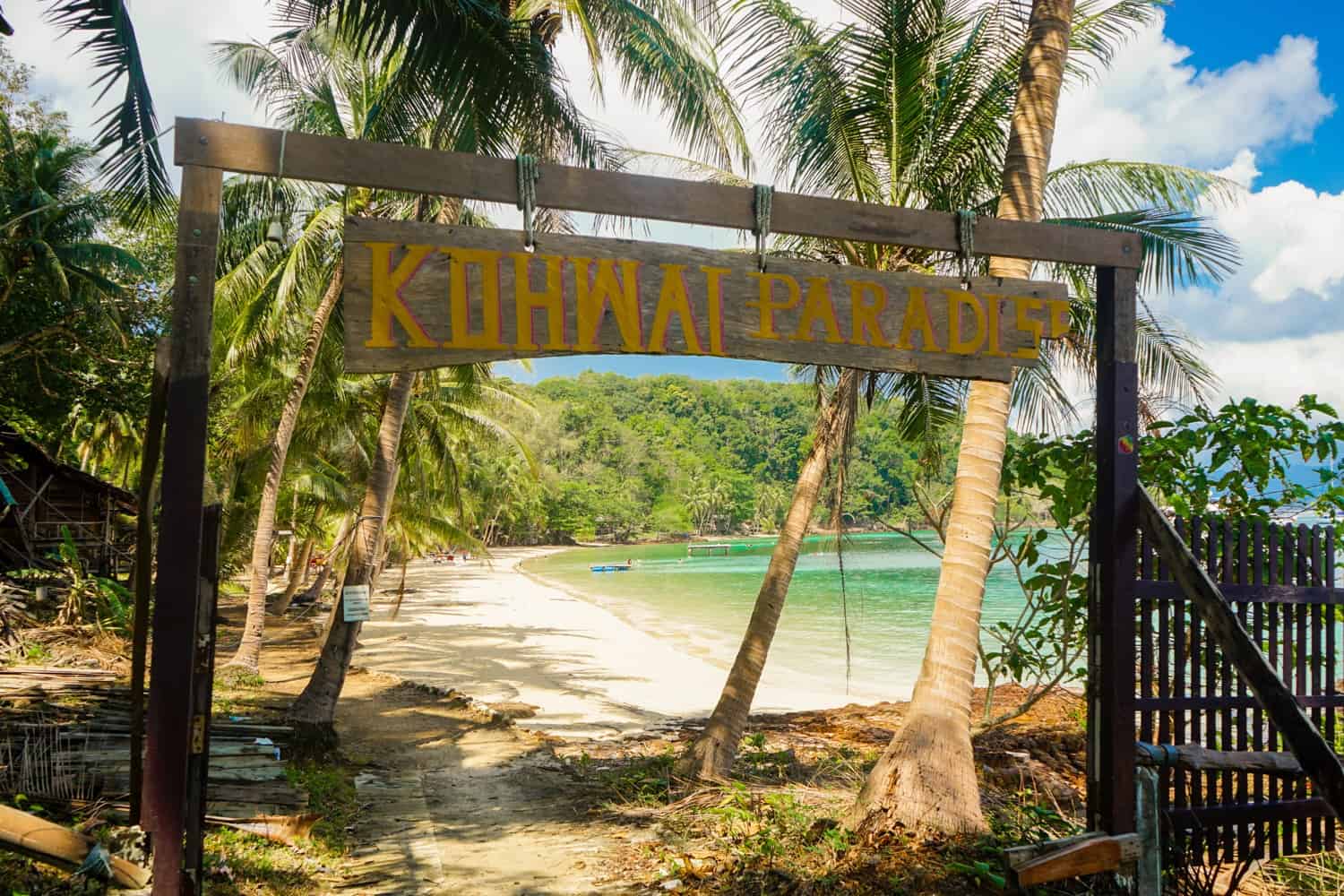 Where to Stay on Koh Wai
There are five accommodation options on the island; two of them are resorts that receive uniformly poor reviews, and three of them are incredibly basic.
We'll start with the resort. Koh Wai Pakarang Resort receives fairly bad reviews that make it sound as though the bungalows are old, rundown, and crappy, and you'll pay 2,000 THB ($61) a night for the pleasure of staying in them. There is, however, 24-hour power from the generator, air conditioning, and slow Wi-Fi, so if those are important to you, it may be worth your money.
I'm obviously more of a budget traveller, and I was pretty happy with my stay at Good Feeling Bungalows. If you feel as though you can handle the lack of power (although there's usually power at all of them between 6 and 10 each evening) that comes with staying in the budget bungalows, I'd highly recommend giving one of them a shot.
Honestly, they're all around the same price and looked to be of a similar standard. Good Feeling typically receives slightly better reviews than Koh Wai Paradise and Ao Yai Ma, but they're all simple bungalows on a similar part of the island, so it doesn't really matter which one you choose. I wouldn't bother booking in advance, but if you do want to, you can find their phone numbers online with a quick Google.
As I mentioned in my post, we decided to stay for one night, but I happily would have extended that for another two or three. I slept surprisingly well in the bungalow and didn't struggle with the lack of fan as much as I thought I would. If, however, you love activities and getting lots done on your vacations, I'd recommend opting for one night, as you can see the entire island in under an hour.
This is an island on which to relax.
And that's exactly why you should do everything you can to go.
Does Koh Wai sound like your kind of island?