I didn't know what to expect from Thailand's Trang islands.
I'd heard that this small group of islands wasn't as visited as the big hitters in Thai tourism, but still offered decent infrastructure for travellers, as well as some seriously glorious beaches. In other words, they had the travel trifecta I'm always looking for: lesser-known places that are beautiful but also have power and don't require me to sleep in a sweaty room with cockroaches.
I decided to spend two weeks delving into what these islands have to offer. Along with Dave, I planned an island-hopping adventure that would see us making our way from Koh Ngai to Koh Mook to Koh Kradan to Koh Libong, and I was so excited to be heading back to Thailand; back to my happy place.
Unfortunately, trip planning turned out to be a real struggle. I couldn't find any useful information online about ferry schedules and pricing, so while I suspected that there'd be boats running from the pier in Trang every now and then, I'd had no real confirmation that it was true. I was worried we'd fly into Trang, learn we'd missed the only ferry of the day, and have to miss out on a night on the islands.
Still, this was Thailand! I was confident that even if that happened, there'd be a dude with a longtail who'd be willing to take us out across the water.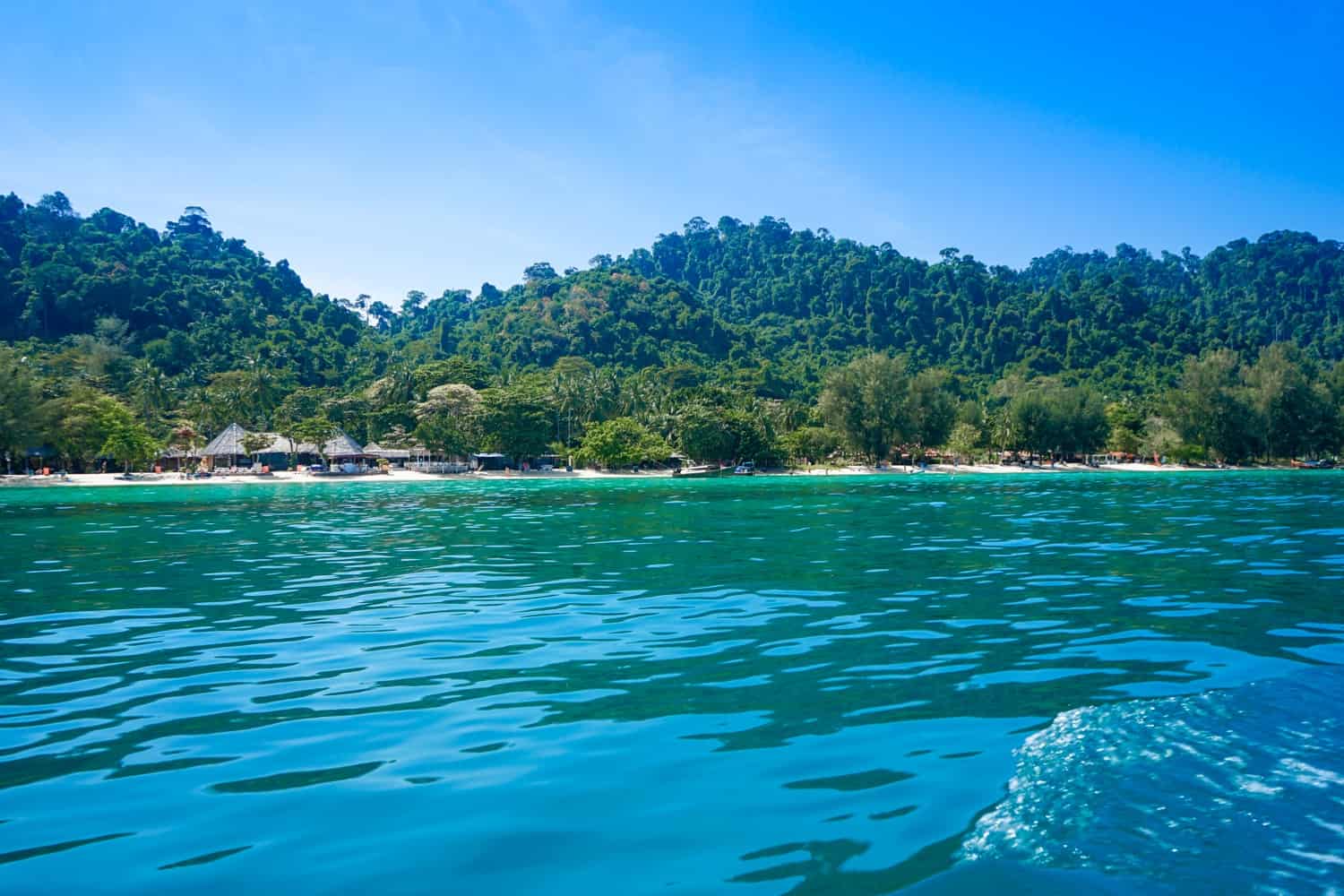 We bought the earliest AirAsia flight from Bangkok to Trang, and touched down in a new Thai province at half nine in the morning. Surely there'd still be transportation at that time?
Fortunately, we were in luck.
A travel agent had set up a desk outside the airport and was selling combined transportation tickets to any of the Trang islands. I needn't have worried at all: my travel days always go smoothly in Thailand.
We jumped in a minivan from Trang Airport to the Pakmeng Pier, spent an hour wandering along the beach that was there, then jumped aboard a small ferry that was bound for Koh Ngai. Altogether, our journey took three hours: an hour to drive from the airport to the pier, an hour of waiting around for the ferry, and an hour to boat our way over to Koh Ngai.
I was bummed-but-not-in-any-way-surprised to discover I'd been ripped off as a foreigner!
A local on our minivan paid 200฿ ($6) for her ride from the airport to Koh Ngai, whereas Dave and I were charged 1000฿ ($33) each. If the thought of being overcharged leaves you feeling stabby, you'll be able to leave the airport and arrange your own transport. I'd probably take a songthaew to Trang City, then jump on a bus/songthaew to the pier, then hop on a ferry — you'd probably save around 500฿ by doing it this way, so it's up to you to decide if the extra hassle is worth it.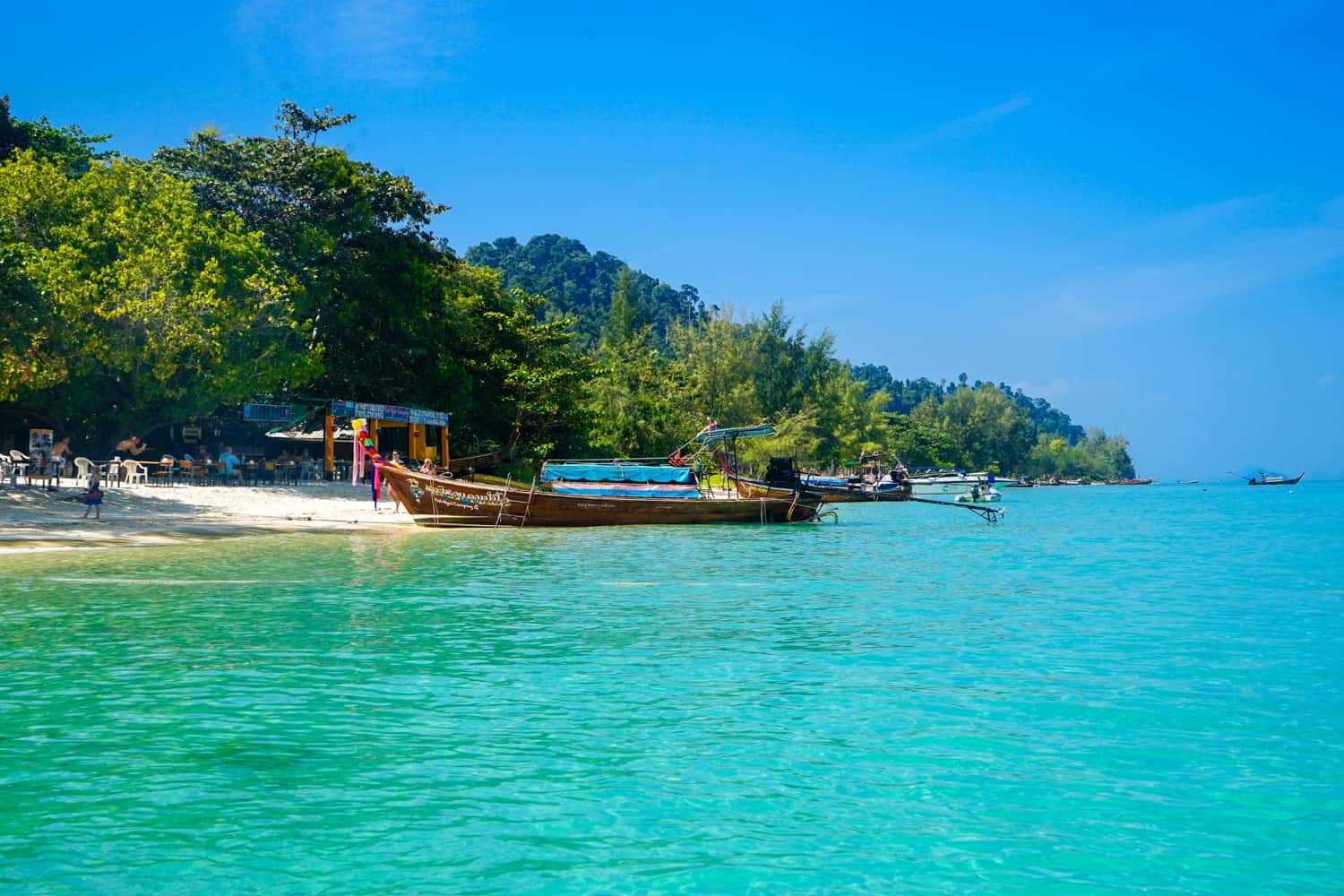 My first impressions of Koh Ngai were exceptional.
As our boat drifted through the shallow turquoise water alongside the beach, dropping various passengers wherever they needed to go, I took roughly 300 photos of the ridiculously clear sea.
We were staying at Koh Ngai Cliff Beach Resort, right on the northern tip of the island, so we were dropped off last. I was elated to have received a mini-tour of the island as the driver had steadily worked his way up the beach, stopping at different accommodation options along the way.
Koh Ngai Cliff Beach Resort — as its name suggests — is located atop a hill on the island, and subsequently has a better view than anywhere else. It's also the only hotel on Koh Ngai with a pool, which had been the main selling point for me. I was planning on visiting Koh Ngai on a budget, but once I saw the view from Cliff Beach Resort's swimming pool, I was sold.
Koh Ngai was going to be a splurge.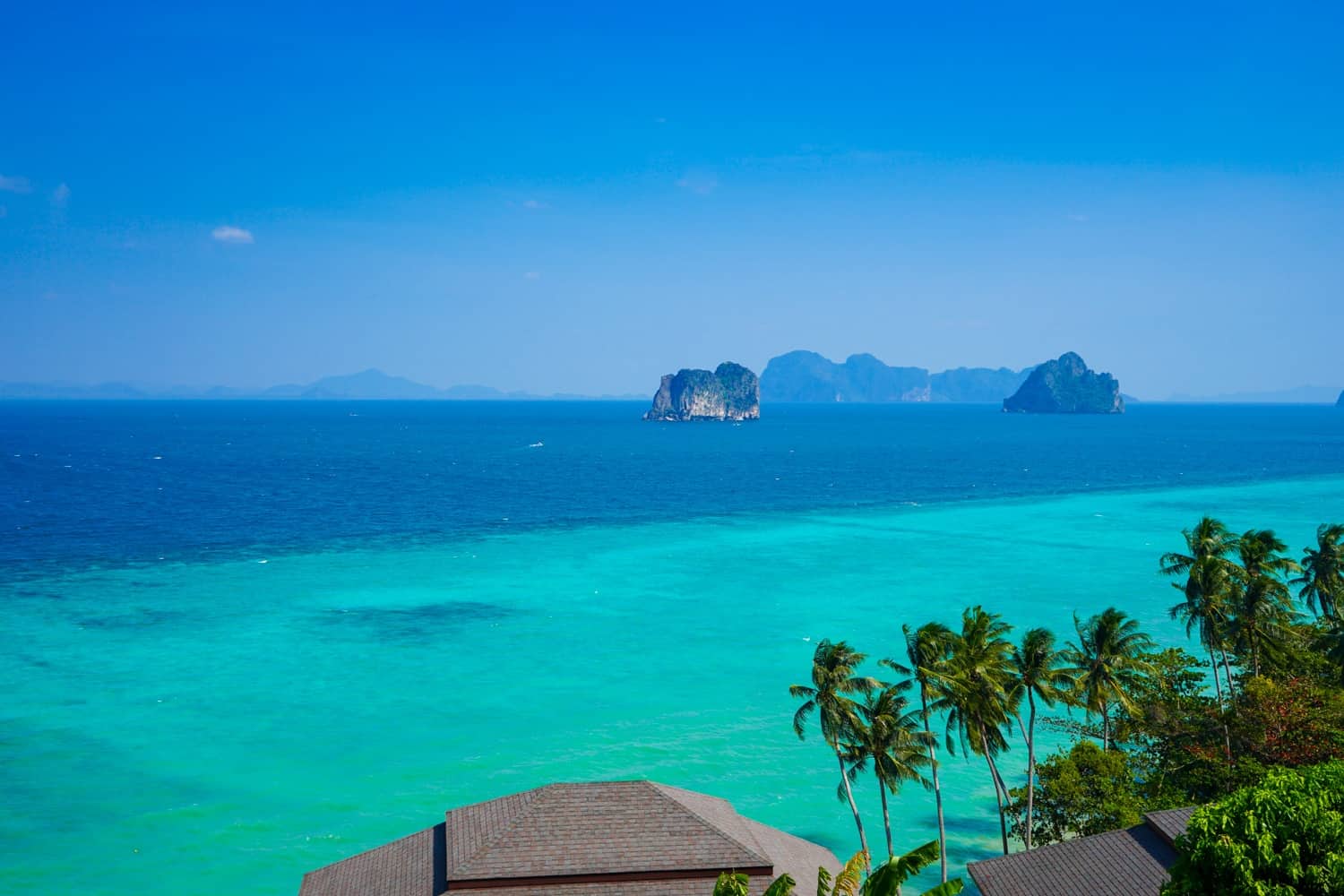 We checked into the hotel and panted our way up the many steps to our room. After dumping our bags by the door, I took a few photos of the bed, then wandered out on to our balcony. I was greeted by the most spectacular view.
"Um, I think I love Koh Ngai," I announced, and Dave instantly agreed.
This island was beautiful, and I loved seeing the different shades of blue from my room — especially that aqua shade in the shallows. In the far distance, you can see the mainland, where we had travelled from, and that bigger island on the right is Koh Mook, where we would be heading to next.
I was reminded just how much I adore island-hopping in Thailand.
After cooling off under the air conditioning for ten minutes, we were itching to explore. Our first stop: the hotel swimming pool!
After all, it had been the view from the pool that had convinced me to choose this hotel, so it was time to see if we'd made the right decision to splurge.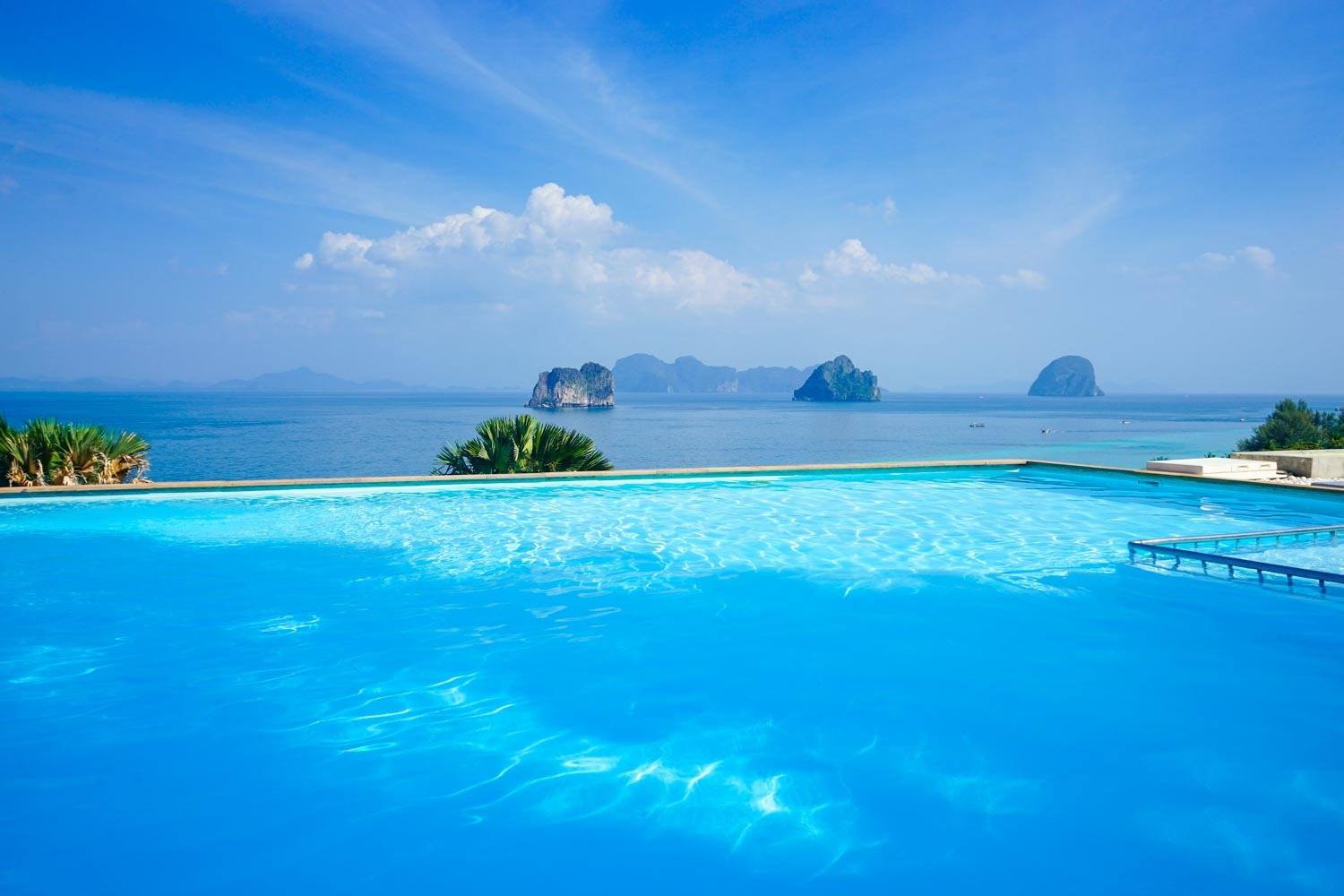 Hell yeah, we had. I was immediately obsessed with it.
And now, a confession. Well, my excitement to explore the island dropped to rock bottom, and I decided to spend the rest of my first day right where this photo was taken.
I mean, I was paying $90 a night for one of the best viewpoints in the country, so I needed to make the most of it.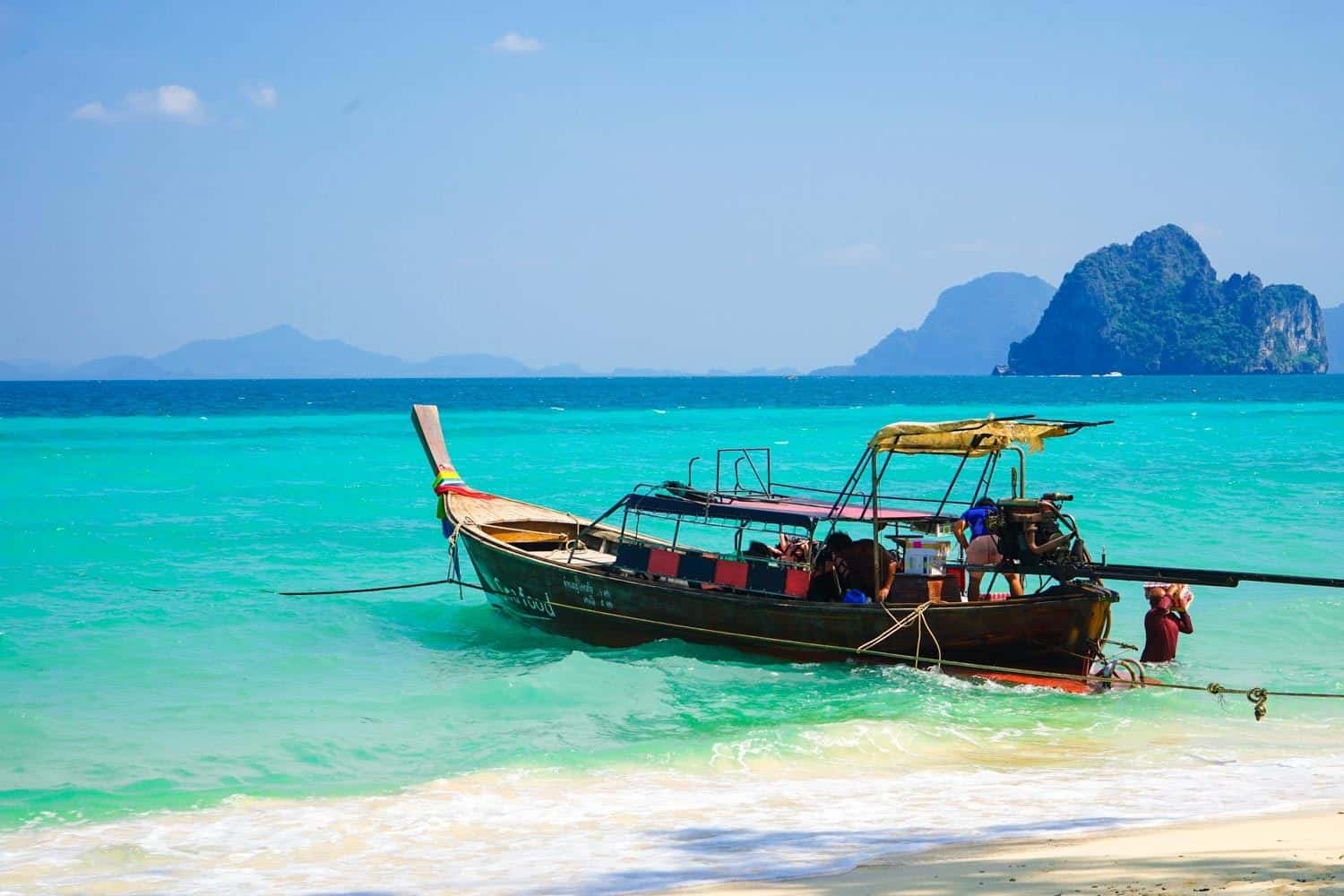 The following morning, I had more energy to explore. So, what is there to do on Koh Ngai?
Not much.
This is a small island — four kilometres in length and two kilometres in width, and all but one of the accommodation options are located along the main beach. There are no roads, no cars or scooters, and close to zero tracks across the island. So, when it comes to activities, you can walk up and down that main beach to squeeze a bit of exercise in. You can hike through the jungle to Paradise Beach, which faces the south (the main beach is facing towards the mainland on the east), and then continue for another 30 minutes to reach the island's viewpoint.
You could take day trips to other Trang islands if you're not going to be visiting any others on your trip. Koh Mook's Emerald Cave is definitely worth a visit, and Koh Kradan's beaches are some of the best I've encountered. A day trip out to Koh Rok Nok and Koh Rok Nai would be an incredible splurge. We couldn't justify the expense to spend a day at these two tiny islands, but I've been kicking myself for skipping out on them ever since. If you can justify spending around 2000฿($62) per person, plus a 400฿ entrance fee to the park, I'd imagine it'd be well worth the Baht.
There's a bunch of water-sports that can keep you busy, too — snorkelling, diving, kayaking, paddleboarding: the usual.
But that's about it.
I wasn't mad about it, though. The beach on Koh Ngai was beautiful, the water was warm, and I was more than happy to put down my towel and spend a few days relaxing in paradise.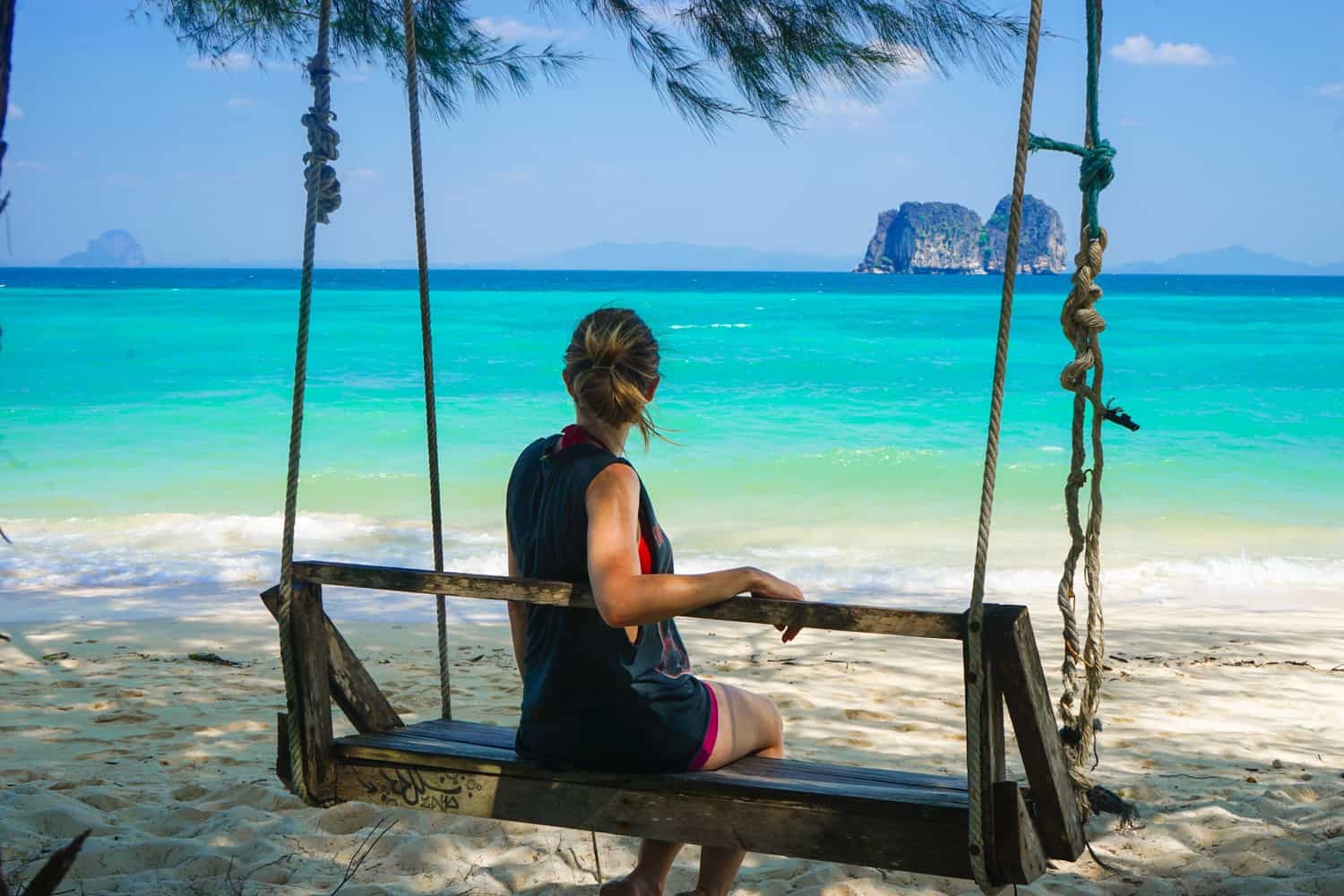 Koh Ngai is known as the high-end Thai island, along with Koh Kood, and is popular with honeymooners and couples because of it. Backpackers and families? Not as much. It's particularly hard to visit on a budget, especially if you're used to the prices on the mainland.
I've already mentioned splurging several times in this post, so let's dig into some more of the expenses.
Yeah, our accommodation was pricey for Thailand at $90 a night, but there just aren't that many inexpensive options on the island. If you're on a tight budget, your best bet is going to be Koh Ngai Camping, which gives you the option of camping on the beach for around ฿900/$27 a night. The internet doesn't work well and the outdoor showers only offer up cold water, but there are mattresses in the tents, so you won't have to sleep on the ground.
Like I said, it's an expensive island for Thailand
The food and drinks were pricey too. I found I was paying double what I'd expect to elsewhere on the Thai islands — 200฿ for a red curry; 200฿ for a piña colada, for example, and the food wasn't that good. There aren't many restaurants on Koh Ngai, so you'll be eating in resort restaurants every night.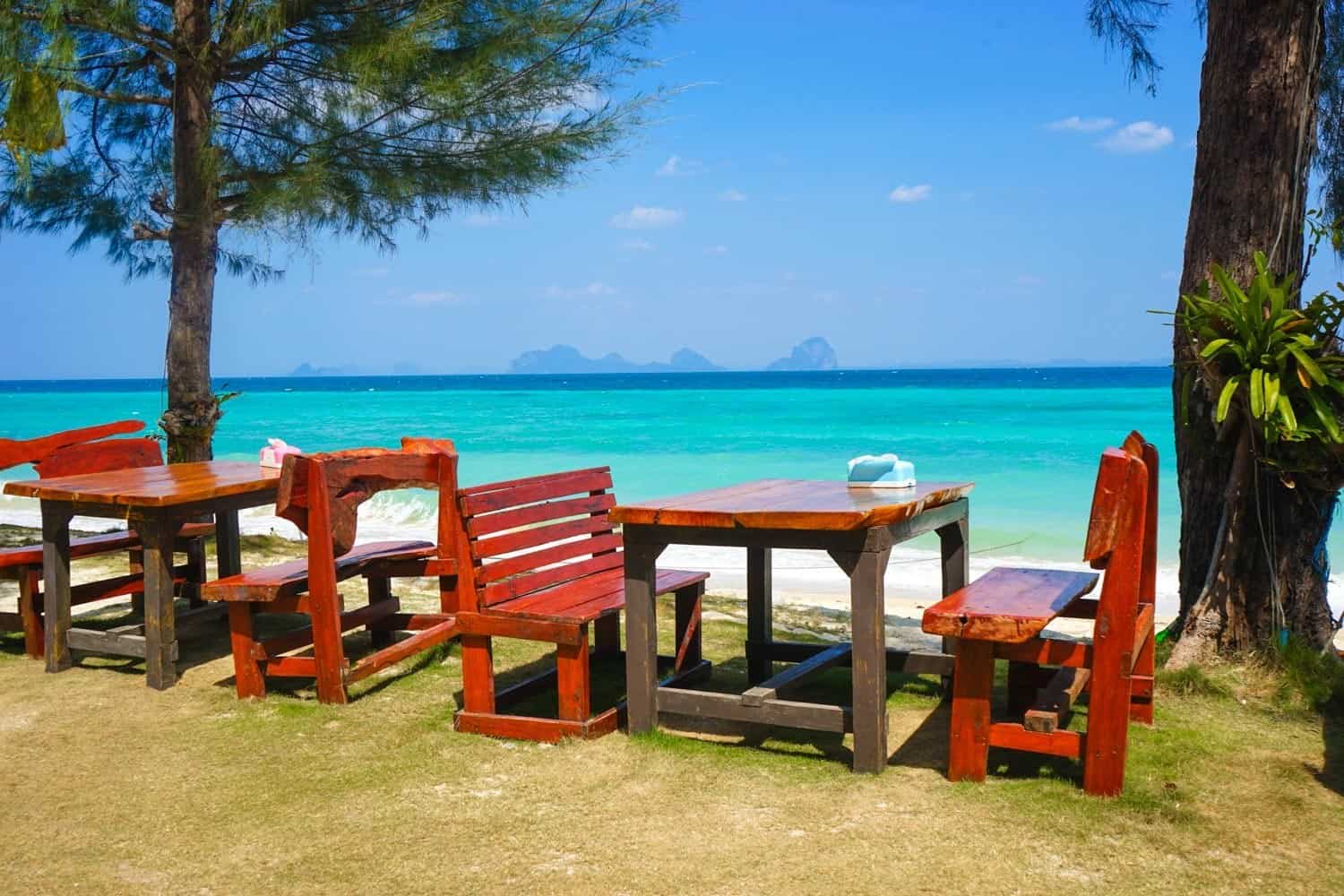 So, how did I spend my time on Koh Ngai?
My days were split into thirds, as often happens when I travel. The first third of the day is for exploring, the second third is for relaxing, and the final third is for working. On an island like, Koh Ngai, though, it was all about the relaxation.
For such a compact island, Koh Ngai was more developed than somewhere like Koh Wai, which I visited a couple of years ago, and I delighted in having so many restaurants and bars to choose from. After a morning spent padding across the soft white sand, I'd usually grab myself a Penang curry and cold beer from one of the resorts and watch the longtails cruise in and out. Afternoons were for reading beside the pool, and my evenings were all about drinking the night away beneath the stars working on my blog. Shout out to Coco Cottage for serving some of the best pina coladas I've ever had!
Yeah, there wasn't much to do on Koh Ngai, but it was still one of the prettiest islands I've been to. The beach was seriously impressive, with all of that turquoise water and the sand was so soft and white.
After three days on the island, though, I was itching to get myself to Koh Mook to check out somewhere new.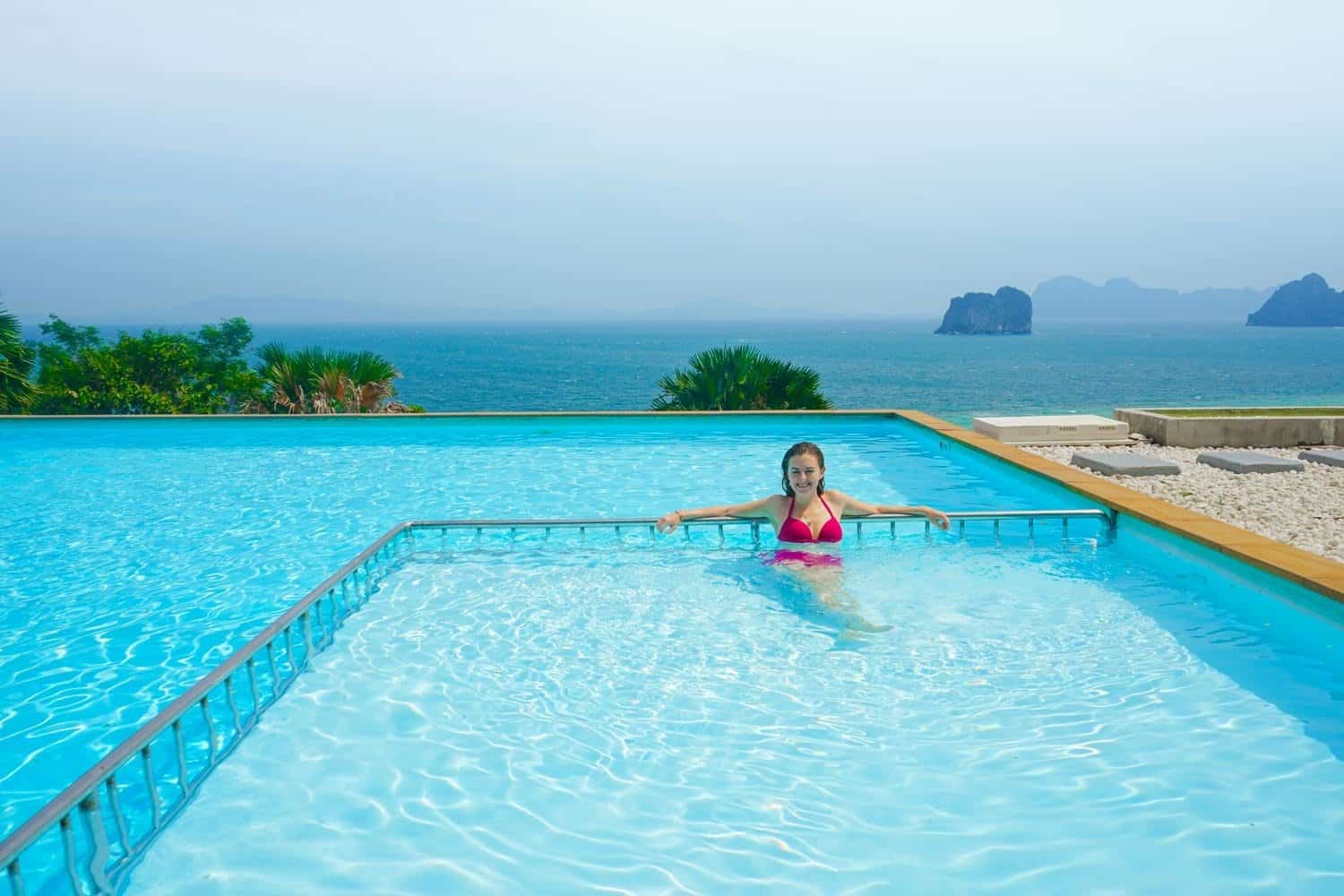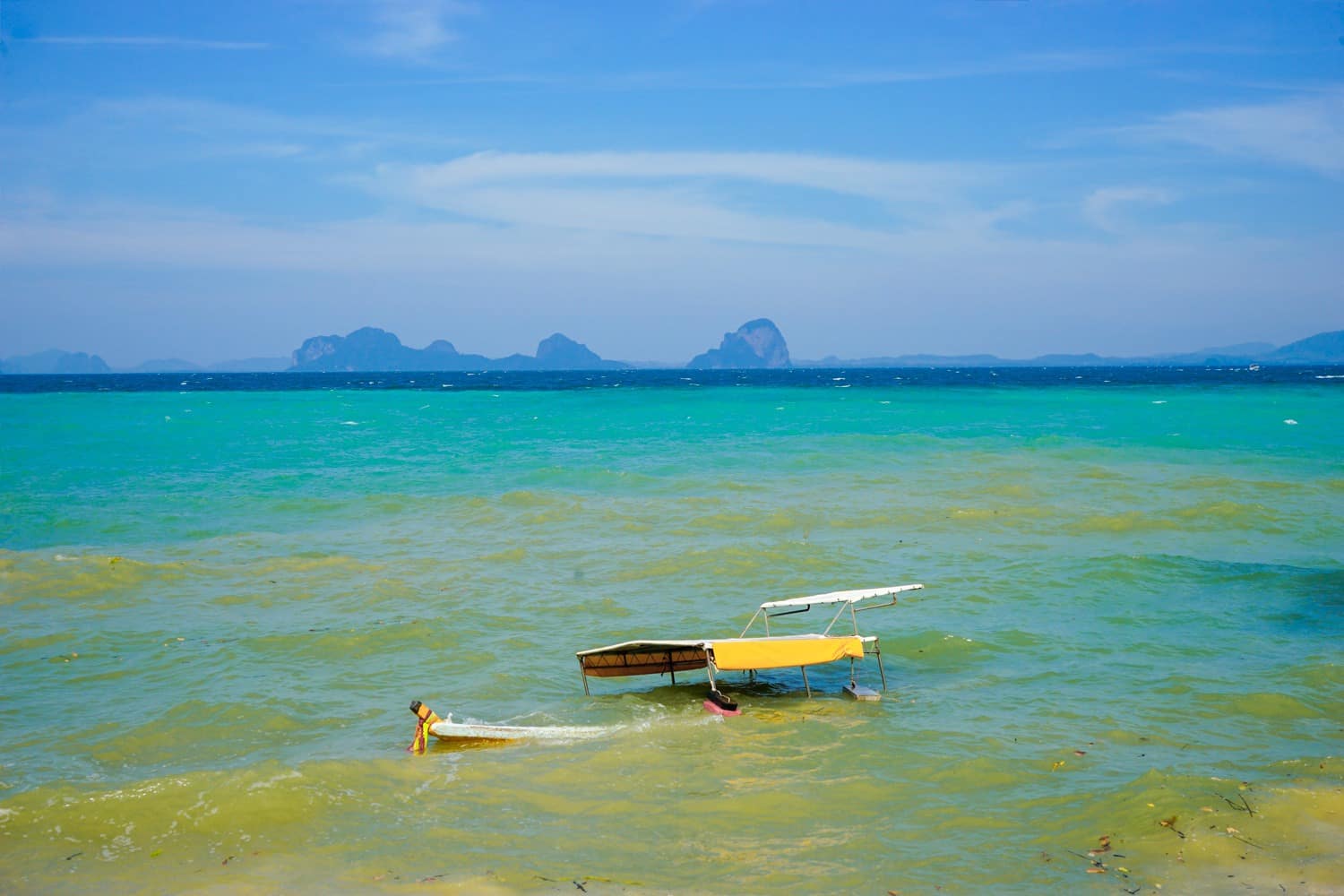 Is Koh Ngai worth it?
As you can maybe pick up from this post, I didn't think Koh Ngai was amazing. It wasn't my favourite island in the world, or even in Thailand.
It's expensive, there isn't much to do there, the food wasn't very good, and I just didn't think the value was there.
But it's also so beautiful! And I'm glad we visited. I'm glad I got to see it, I loved the time I spent there, and I would recommend it to anyone who's looking for a bit of a splurge in Thailand. I loved our hotel pool and enjoyed every moment I spent on the beautiful beach there.
So, I guess that overall, I really liked Koh Ngai, but I also knew there were plenty of other Thai islands that offer more for less money.
If you're a backpacker, you will want to avoid Koh Ngai! It's way too expensive for travellers on a tight budget — head to Koh Mook instead. Oh, and if you're looking for a party scene, this isn't the place for you either. Koh Ngai is very chilled out.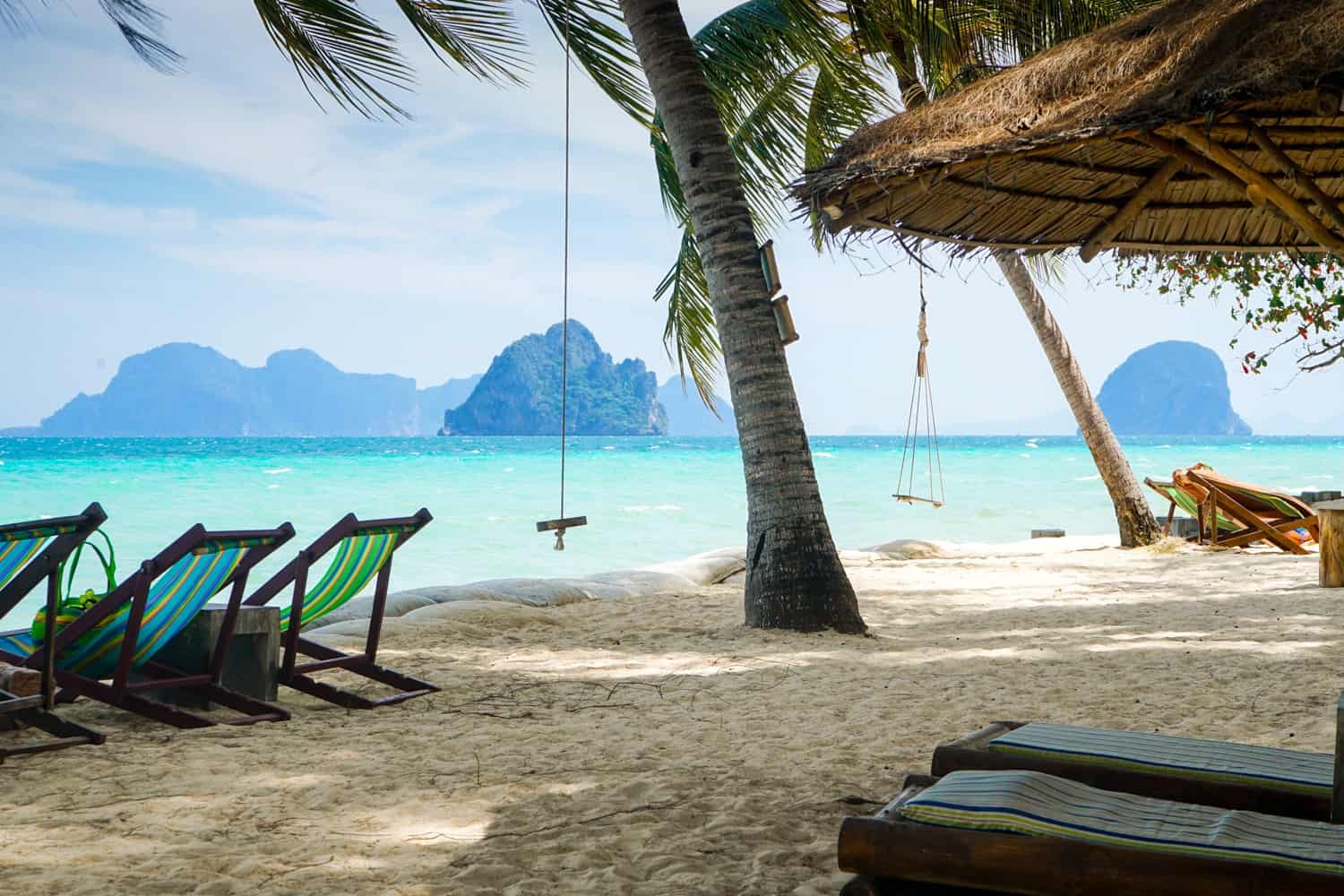 My Top Tips for Visiting Koh Ngai
It's sometimes called Koh Hai: You'll see both names used interchangeably, although Koh Ngai is the more common term. Koh Hai gives you an idea of how to pronounce it :-).
How to Get to Koh Ngai: It's super easy.
If you're not already on the islands, your best option is to take an early-morning flight down to Trang Airport. You'll then be able to buy a ticket out to Koh Ngai. You can also book your trip in advance through 12Go Asia for around 1000฿ ($33) per person. You'll be in a private car and longtail boat as opposed to rocking it on public transport, so there are definite benefits to doing it this way — and it's the same price as the travel agents at the airport. I'm a big fan of 12Go and use them all the time when I'm in Asia.
For any other island in Thailand, I'd check out the schedule and prices through 12Go Asia. You can get to Koh Ngai from many islands in Thailand, like Koh Lanta, Koh Lipe, Koh Mook, and Koh Kradan.
Where to stay: As you can probably tell from this post, I absolutely adored my stay at Koh Ngai Cliff Beach Resort. It had the best views of anywhere on the island, had spacious, clean rooms, and decent food at the restaurant. At $90 a night it was pretty overpriced, but I loved it nonetheless.
The cheapest spot on the island is Koh Ngai Seafood, which will see you camping on the beach for around ฿900/$27 a night. The internet doesn't work well and the outdoor showers only offer up cold water, but there are mattresses in the tents, so you won't have to sleep on the ground. Unsurprisingly, the reviews are very hit and miss.
The top-rated property on Koh Ngai is Coco Cottage at a price of around $88 a night. I can't vouch for the accommodation, but the resort definitely has one of the best restaurants on the island, so if you don't decide to stay there, you must opt for at least one meal there while you're on the island. If I was to return to Koh Ngai, I'd stay in Coco Cottage.
There are no ATMs on the island, and no medical facilities, either. I don't even think there's a store on the island — just a small minimart at Fantasy Resort! It's just resorts the whole way along the beach. If you happen to have a medical emergency, you'll probably have to be taken to the mainland. And as for the money situation, you can take plenty of cash with you or just use a card to pay. I paid by card for pretty much all of my meals, accommodation, and onward transportation, so you don't need to take a ton of cash out in advance.
The best time to visit: We checked out the Trang islands in February and it was the perfect time of year to go. We had cloud-free skies for our entire trip, it was around 28°C/82°F throughout the day, and we didn't encounter any rain.
Koh Ngai pretty dead during the rainy season — May to October — and at this time, a lot of the ferries don't run/accommodation closes down due to the bad weather and lack of tourists. The dry season is therefore when you'll want to go — between November and April.
One time to avoid visiting is over Chinese New Year, near the end of January. Thailand is a popular destination for Chinese tourists and the Trang islands get rammed over this time.
Where to go next: It's got to be Koh Mook — my favourite Thai island! I'll be writing about that one next week, so stay tuned! :-)
Does Koh Ngai sound like the type of Thai island you'd like or do the high prices put you off? I'm still feeling a little conflicted over my feelings about it!
Read More About My Favourite Thai Islands
Keen to keep reading about Thailand's greatest islands or planning an epic island-hopping trip through the country? Here's some of my favourite islands to visit: