I've spent a lot of time in Thailand.
It's one of my favourite countries in the world, however basic that may make me. I just can't get enough of this beautiful, warm, and fascinating country. Ever since my first visit in 2011, I've made the effort to return each and every year, and with each new visit, I attempt to check out a new part of the country.
Last year, it was time to visit the Trang islands, and they fast became my favourite area in all of Thailand.
And Koh Mook? My new favourite island.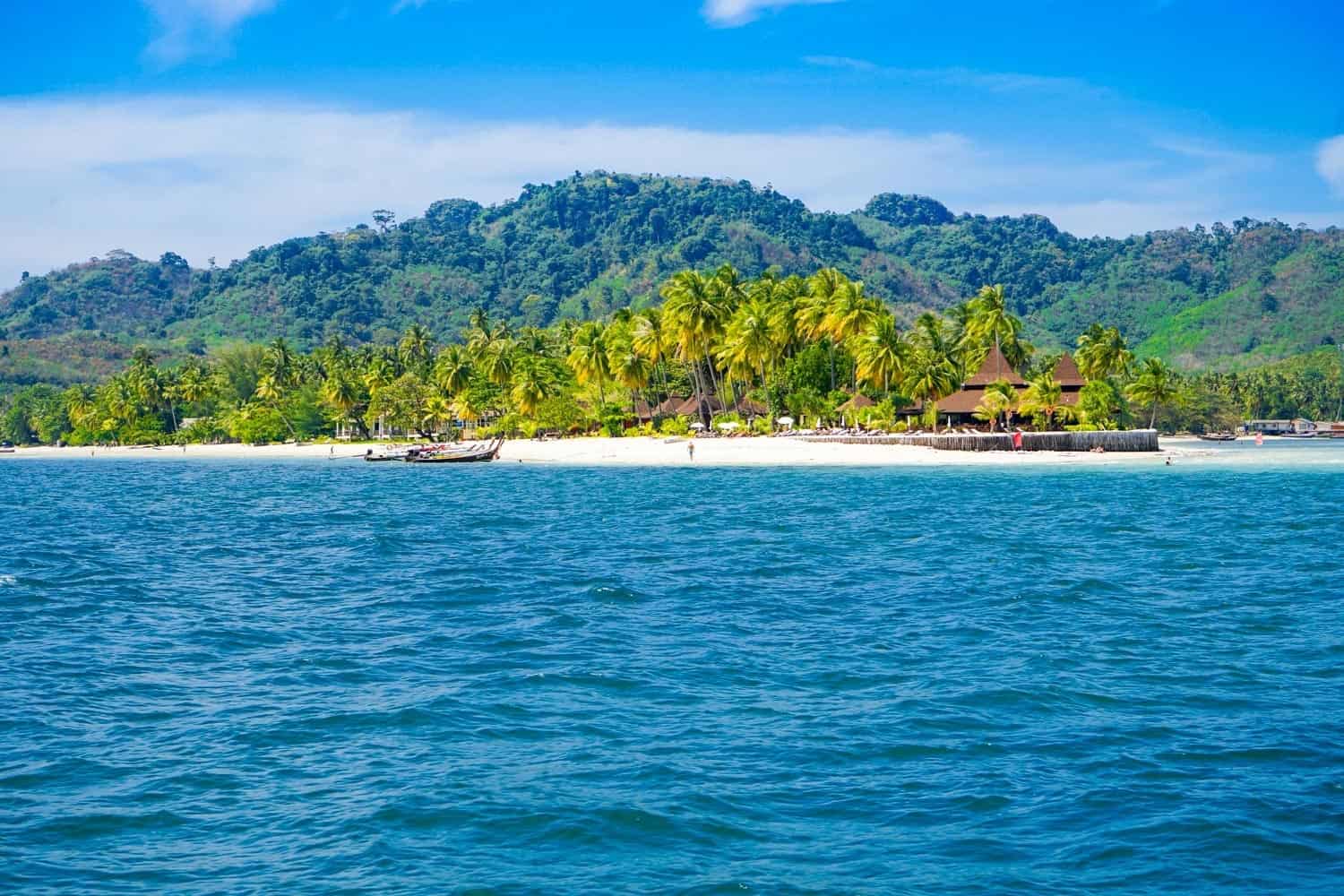 I'd loved the previous few days I'd spent on expensive Koh Ngai, but I was excited to move on. Island-hopping in Thailand is one of my favourite pastimes so the prospect of checking out a new spot always has me bouncing around a ferry with excitement.
Koh Mook was just a seven-mile journey from Koh Ngai, so we reached the island in around half an hour, pulling up to a super-long pier jutting out into the ocean. It was a sign that the water was going to be very shallow around these shores.
We climbed back on to dry land, and I have to confess I was a little disappointed.
Up close, the beach wasn't anywhere near as nice as the one we'd left on Koh Ngai. It was a little rocky and a little seaweedy, and longtails were littering the entire stretch of sand. Still, first impressions aren't everything, so I was willing to have mine shattered.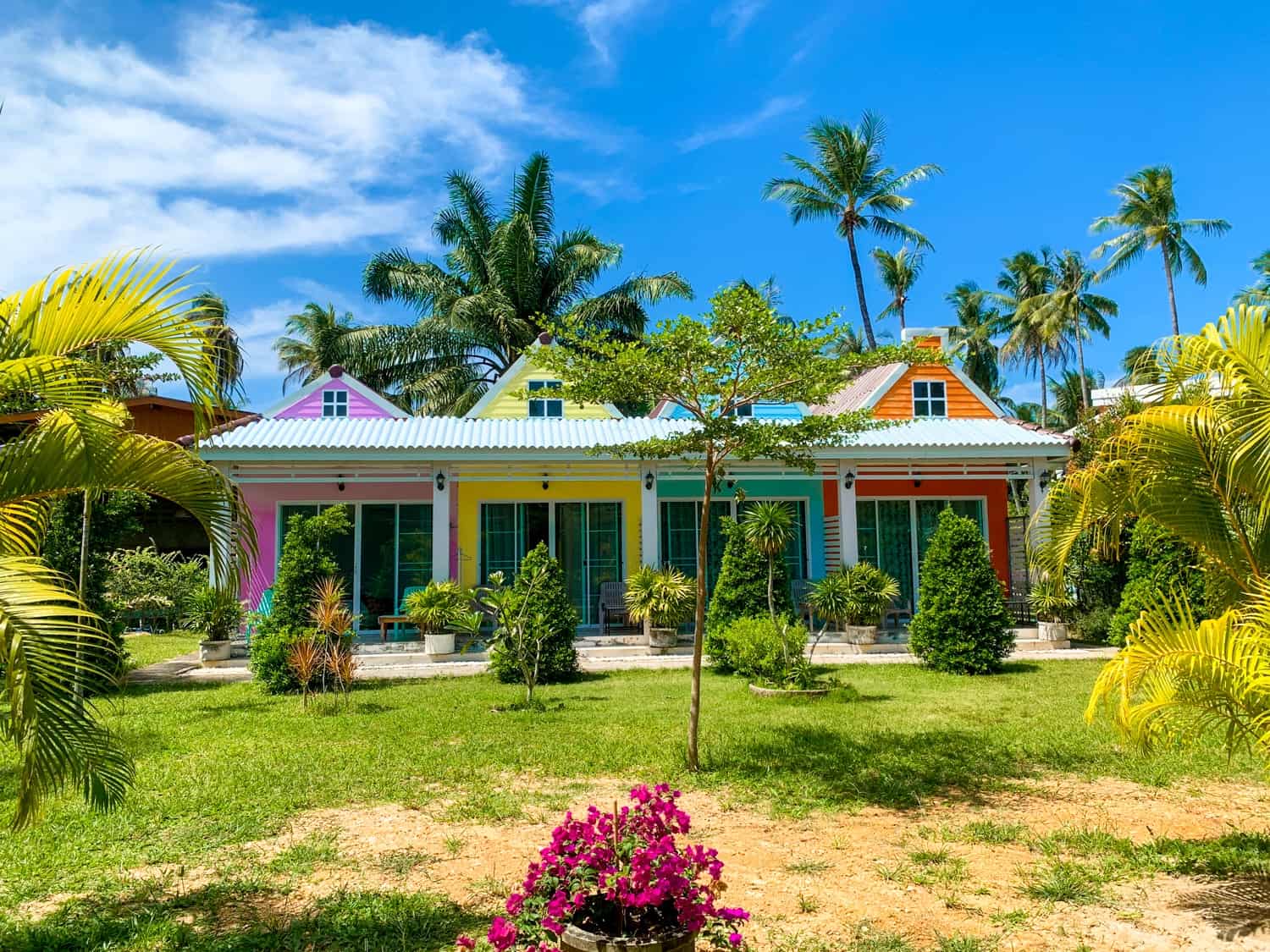 One of my least favourite activities in the world is walking in a hot, humid country with a heavy backpack on, so it was a relief to discover my guesthouse was a three minute walk from the pier.
Back when I had been researching Koh Mook, I had fallen for the photos of the guesthouse Mook Ing Lay online, swooning over the colourful, modern rooms in a palm-tree filled garden. Fortunately, they were just as adorable in person.
And so was the owner of the guesthouse. As we stepped into reception, she greeted us with a warm smile, encouraged us to sit down, and handed us a plate of fresh mango and watermelon, which we eagerly devoured.
After checking in, she showed us to our room, and I was delighted to find out that ours was the pink one. We had a small area outside to relax in and when we sat on the loungers on the terrace, we could hear the sound of crashing waves.
I was in Koh Mook to explore the island, not to spend all day relaxing in my room, so I dumped my bag and headed straight for the village.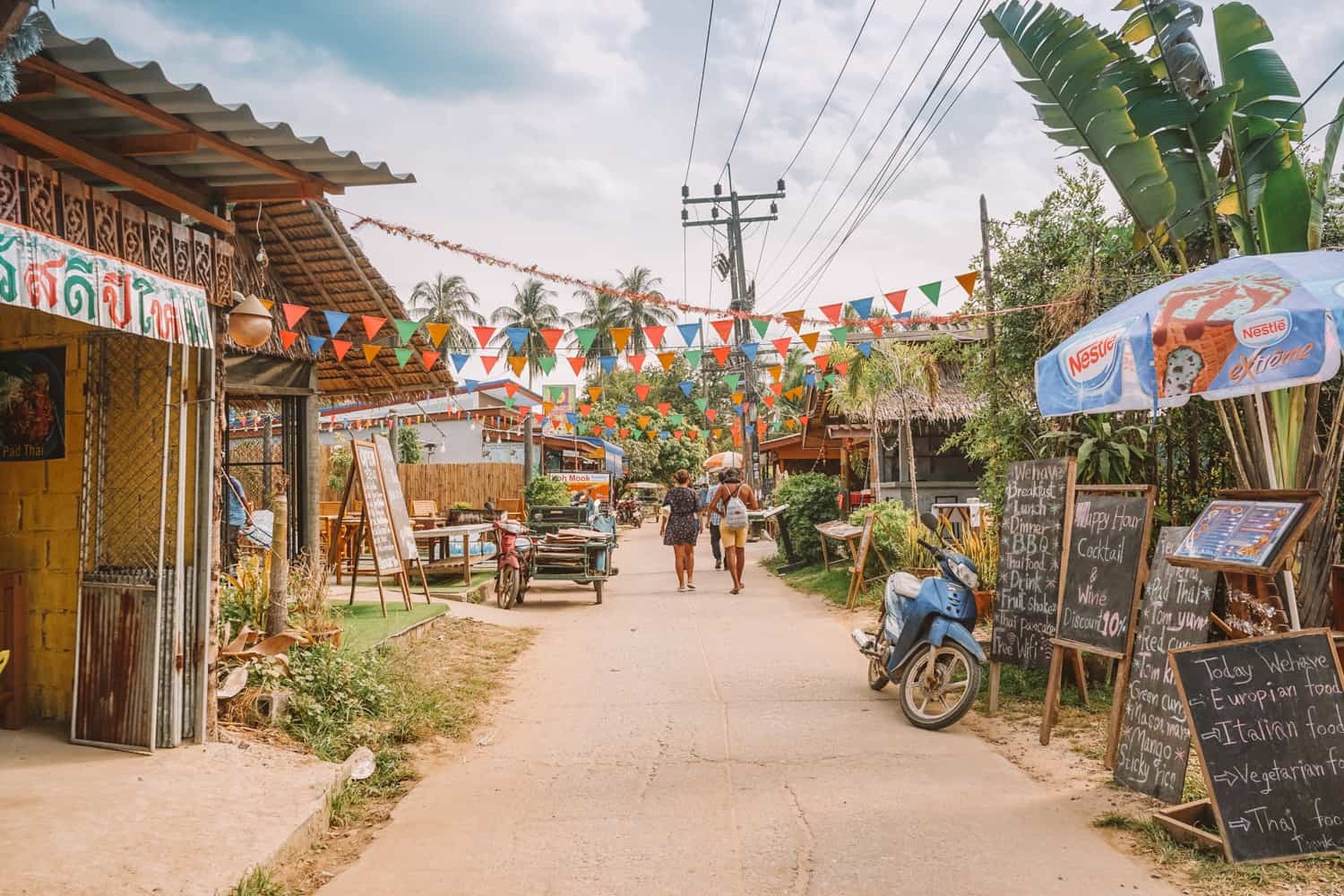 Unlike Koh Ngai, Koh Mook has streets and motorised transportation and restaurants that aren't all owned by resorts, and I immediately fell for its laidback vibe.
I grabbed a fresh pineapple shake from a stall — an activity I would repeat every day for the next five days — and wandered through the streets in search of something tasty for lunch.
Well, those first impressions of Koh Mook faded away; I had such a good feeling about this village.
Koh Mook felt like an island I could spend a lot of time on. It wasn't crowded or rammed with tourists, the locals were ridiculously welcoming, and the food was great, too. It was the most affordable of the Trang islands, in both accommodation and food, and its beaches, it turned out, were still pretty great, rocks and seaweed and all.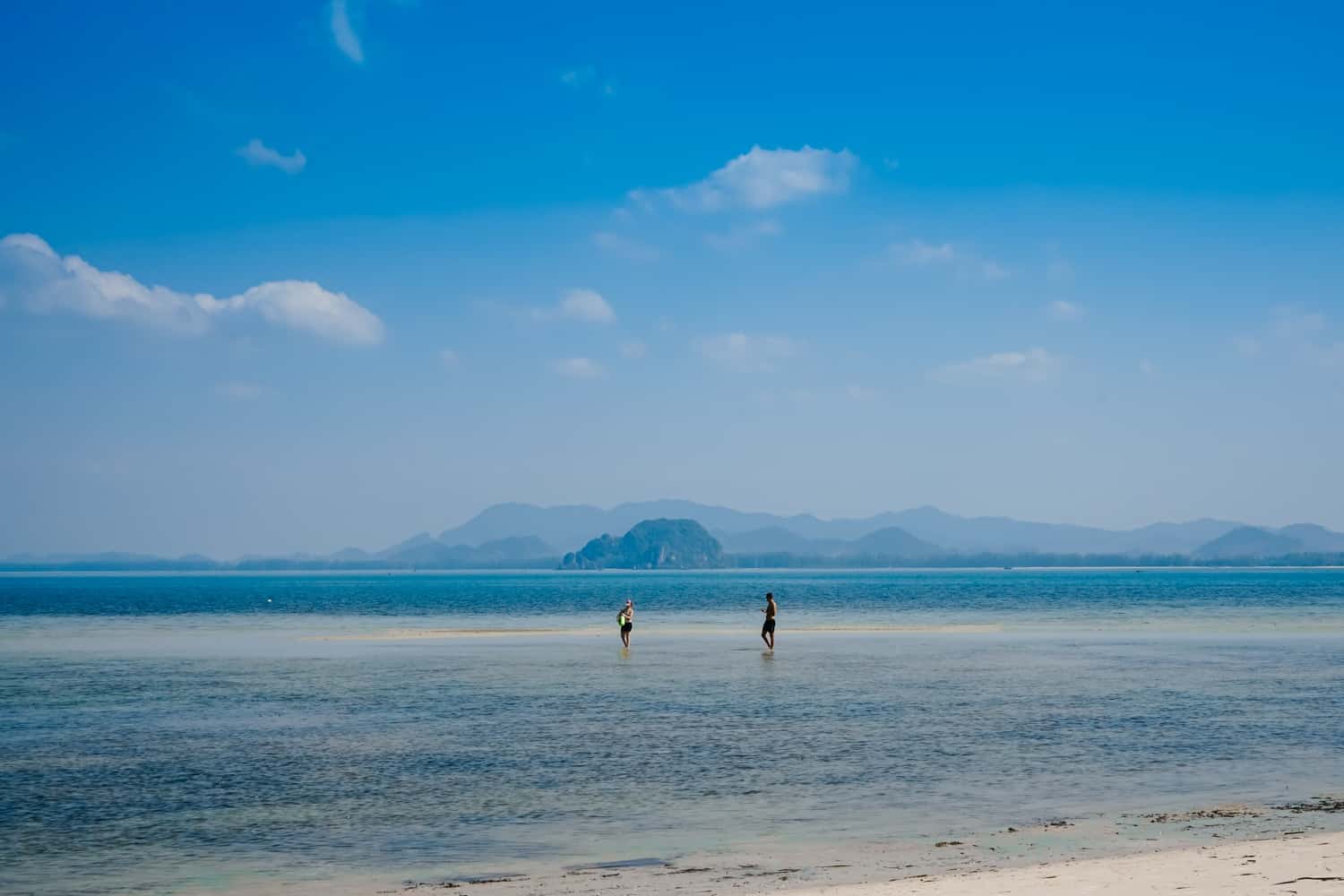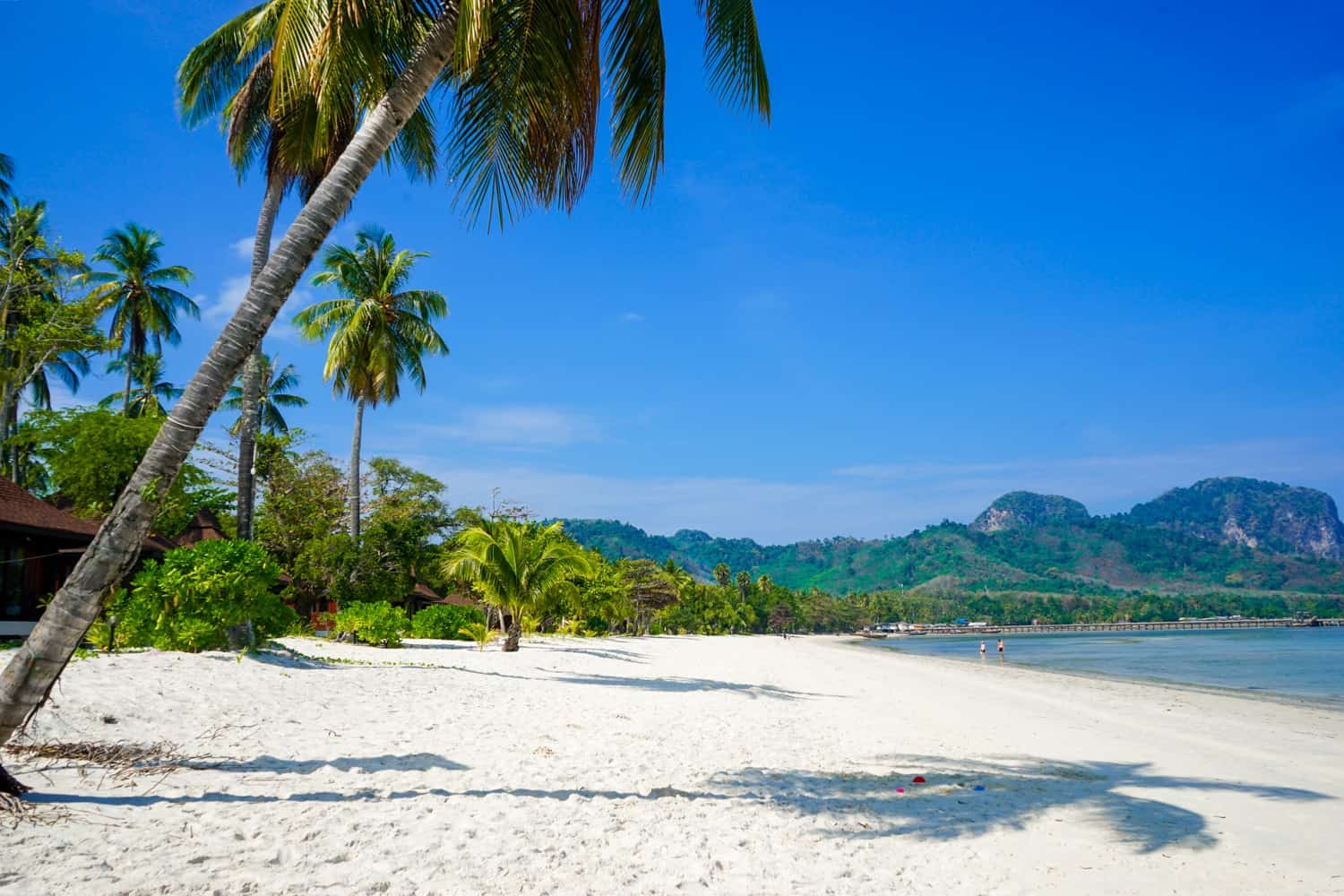 After a delicious lunch and stroll around the village, we ventured back to the guesthouse to grab our towels and hit the beach.
Sivalai Beach was the beach we'd spotted when we motored up to Koh Mook — peaceful, deserted, and a couple of minutes from our guesthouse.
As I'd suspected, the water here was shallow, and when we wandered down the sand, I suspected we were there during low tide. I watched with curiosity as a couple walked a hundred metres out to sea without getting their knees wet.
We set our towels down beneath the palm trees and read books in the shade, stopping occasionally to watch the longtails bringing the day trippers back in. It wasn't the most incredible beach I'd ever stepped foot on in Thailand, but it was still pretty damn great.
Most excitingly of all, we had the entire beach to ourselves for the next three hours. Once the couple on the sandbanks left, we didn't see a single other person the entire time we were there.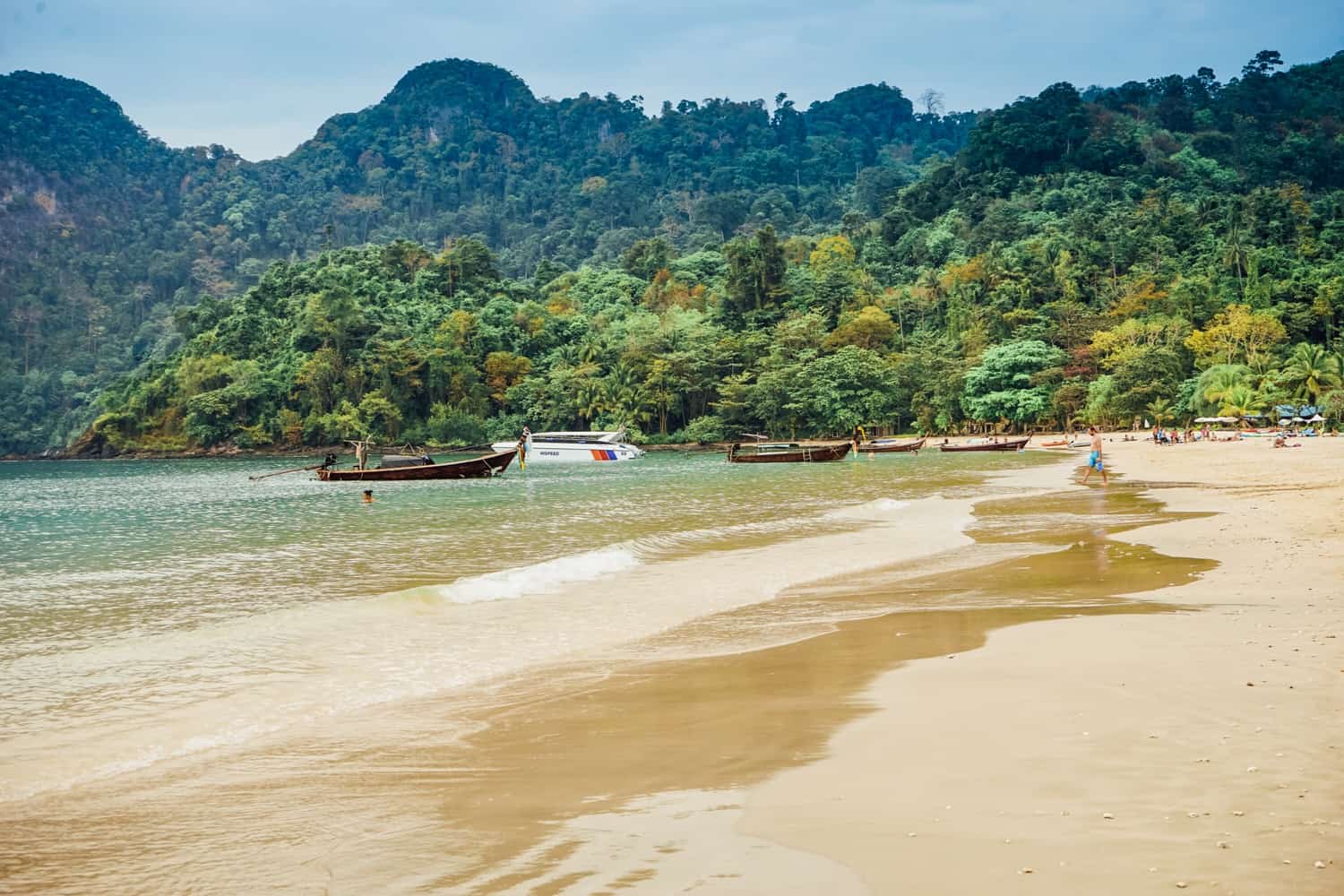 There are two main beaches on the island: Sivalai Beach and Charlie Beach, which was prettier, busier, and also known as Farang Beach, in case you were wondering about the clientele it attracts.
The two beaches are on opposite sides of the island, separated by a couple of miles along a quiet, winding road through the jungle. One morning, we decided to walk there.
It was, perhaps, not the best decision in hot and steamy Thailand, but it meant that once we arrived on the sand, thirty minutes later, we could drop our things, and immediately wade into the warm water.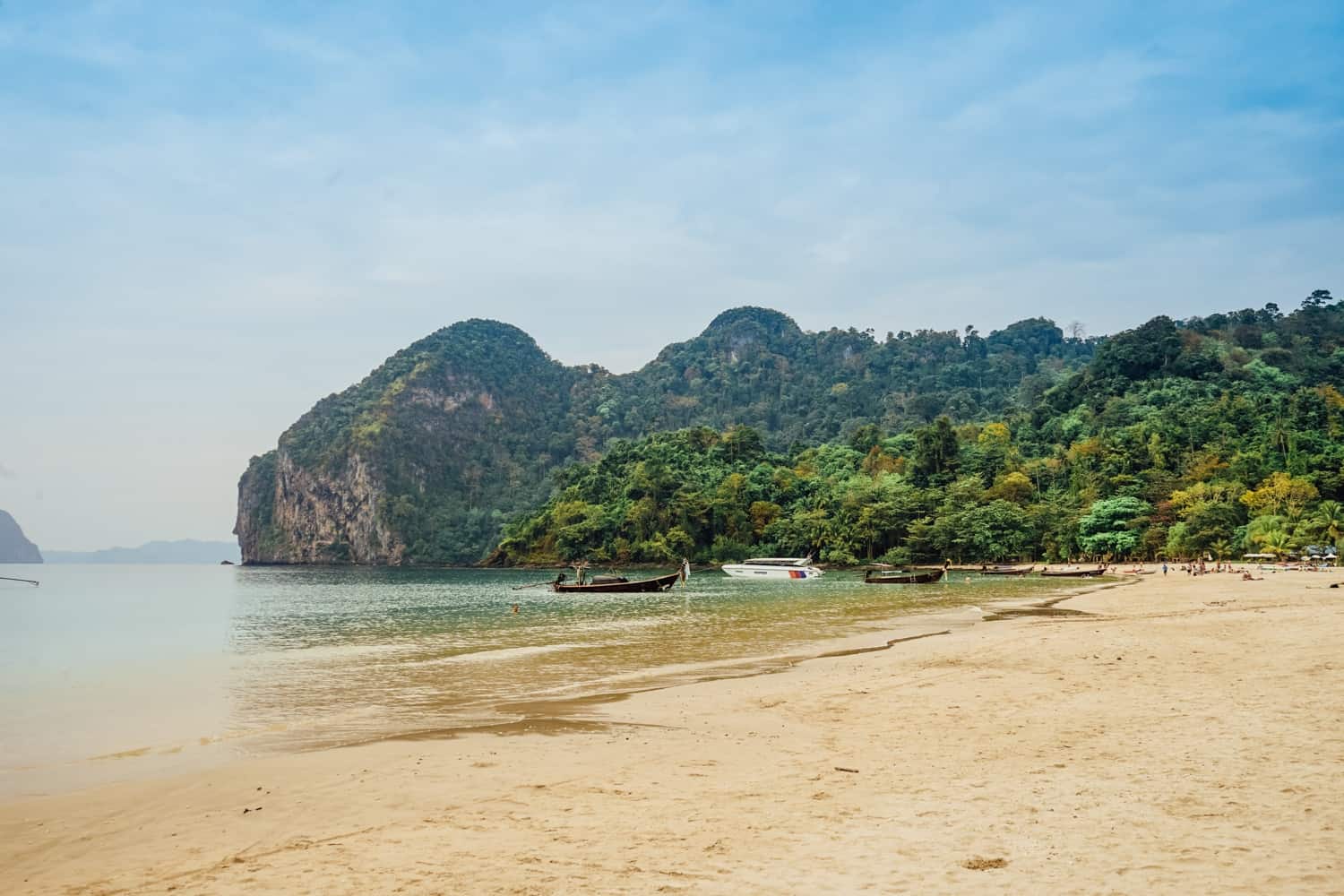 Unfortunately, we didn't pick the best day to visit Charlie Beach. It was overcast and grey, with moisture in the air, but sometimes those are the best conditions for beach days. It was still warm, but we didn't have to worry about getting sweaty, sunburnt, and uncomfortable.
It was beautiful, though, with limestone cliffs and jungle surrounding the sand, and still very few people for a beach in Thailand.
After a couple of hours, we decided to grab ourselves a couple of deckchairs at Mong Bar, where I had one of the best mango shakes of my life. It was made even better when the barman was happy to dump a couple of shots of vodka into the glass for me.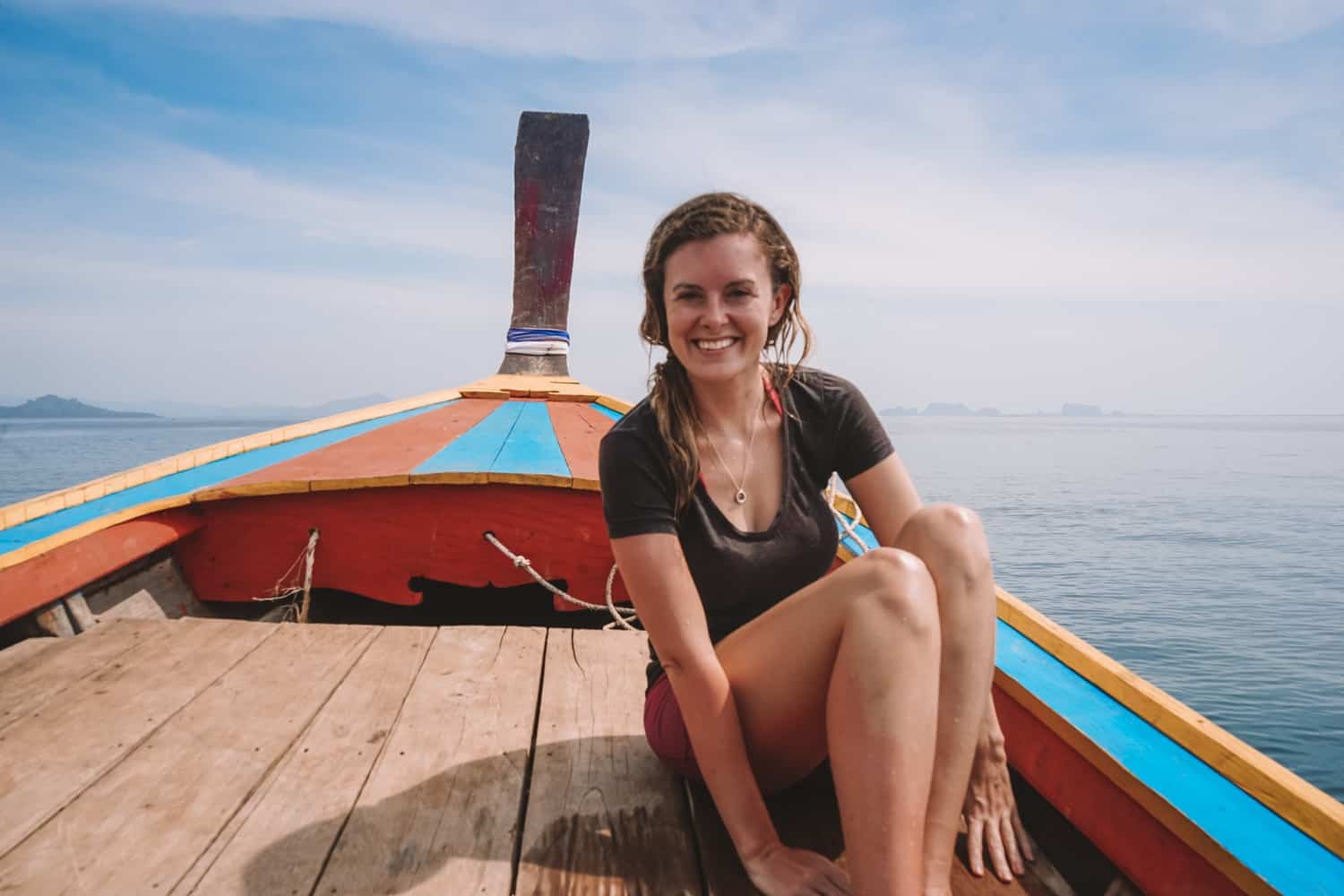 One of the very best activities on Koh Mook — if not all of Thailand — is visiting the Emerald Cave.
Just, wow.
Wow, wow, wow.
It was easily in my top three experiences I've ever had in Thailand.
The Emerald Cave is actually a sinkhole that can only be accessed from the sea. You need to hire a longtail boat to take you over to the west coast of Koh Mook and then you'll moor up outside a small dark tunnel.
Next, you'll jump into the water with a flashlight on your head and swim through a dark tunnel — around 70 metres or so — until you reach the other side.
When you emerge from the darkness, you'll be greeted by the most pristine white sand beach, surrounded by limestone cliffs and invisible from anywhere else on the island.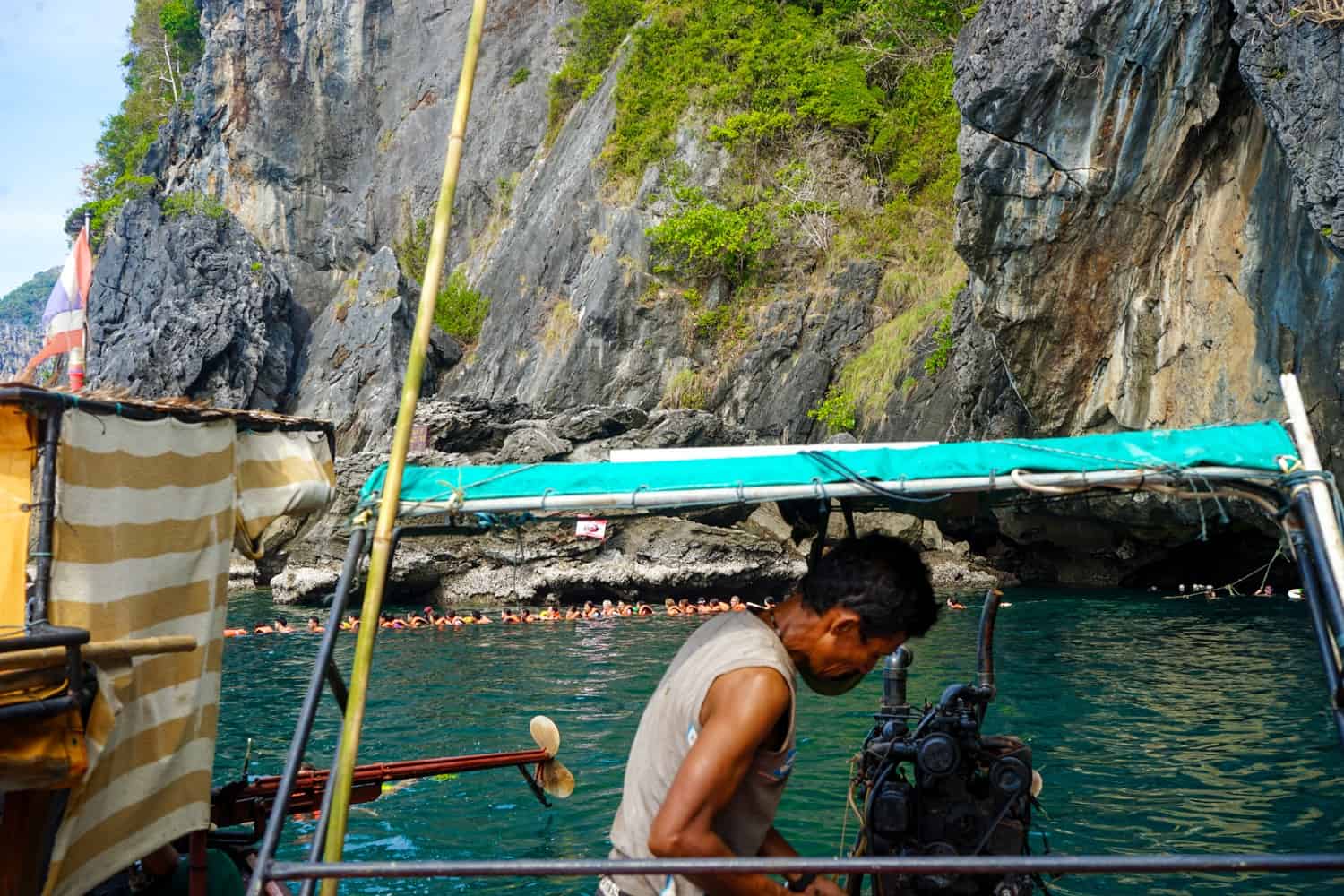 When we first reached the entrance to the cave, I cringed.
Oh no, I whispered, when I spotted the enormous queue of orange lifejackets emerging from the darkness. My fantasies of emerging from the cave and feeling as though I'd washed up on a beautiful desert island were quickly vanishing.
You see, the Emerald Cave is a major attraction for tourists in Trang province, and even if travellers don't choose to stay on Koh Mook, they'll nearly always opt to visit on a day trip.
When you combine those high levels of tourism with the fact that you can only visit at low tide, it makes it tricky to see the cave without anybody else around.
Still, at least these people were leaving rather than entering, so I crossed my fingers and leapt overboard.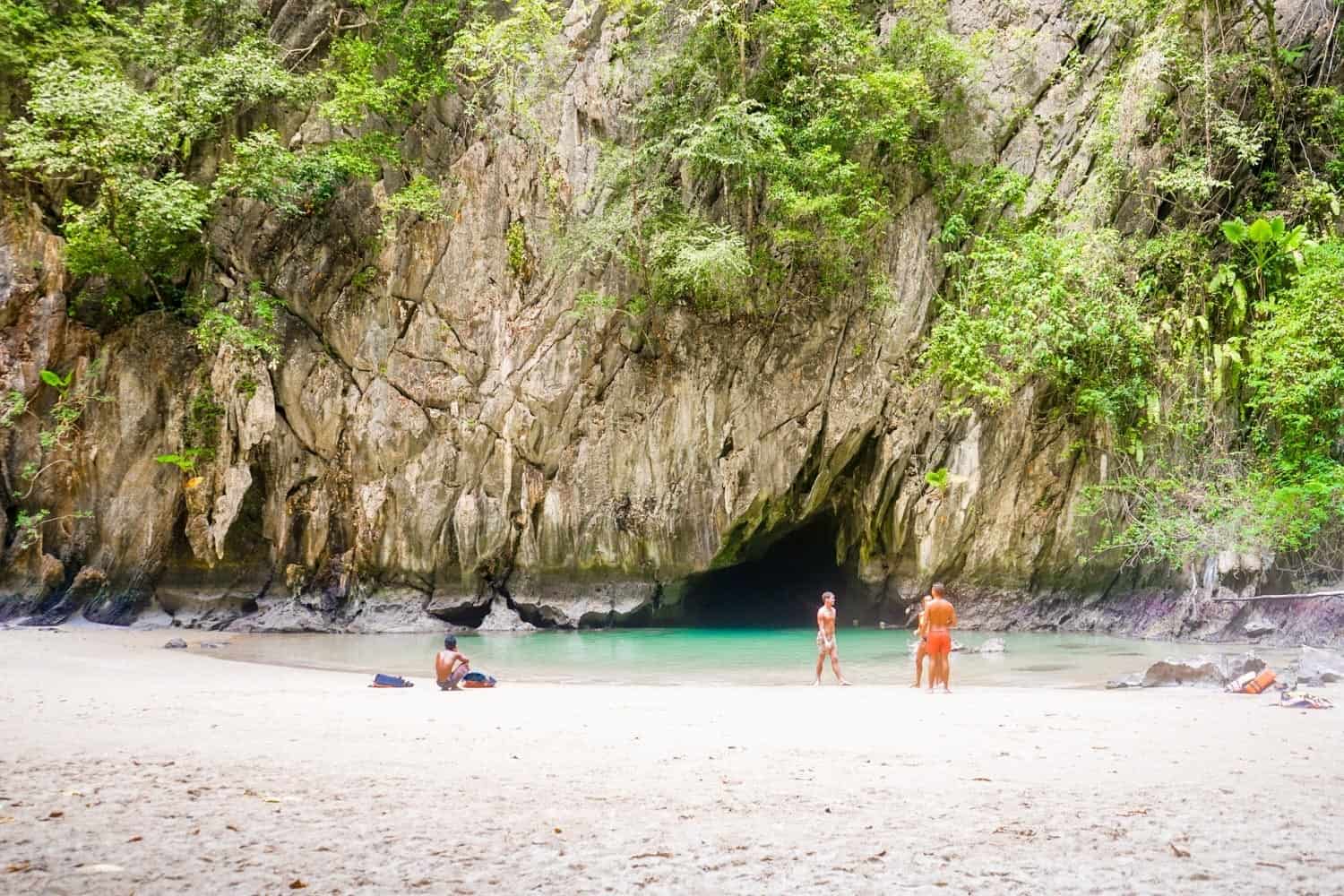 Swimming through the dark cave was a little nerve-wracking, especially when we decided to cover our flashlights to see how dark it truly was. Answer: very. With the torches on, I kept my eyes focused straight ahead, not wanting to discover just how many bats were hanging out overhead. Answer: too many.
When we turned a corner in the cave and saw a crack of light, I smiled.
When the scene ahead of us came into focus and I realised there were only three other people on the beach, I grinned.
How had we timed it so well?
Every photo you see online shows the beach as being packed with people, but we'd somehow managed to time our visit perfectly.
We paddled gently through the motionless turquoise waters until we could stand, and then waded up on to the most wonderful beach. I felt as though I was in Pirates of the Caribbean as I spun around in awestruck circles.
I looked skywards at the huge cliffs that were towering above us; at the blue sky overhead. Here's a short drone video of what the sinkhole looks like from above:
How incredible is that?
It was simply one of the coolest experiences of my life, and I was happy to have had those few special minutes where there was just a handful of people exploring that small patch of sand.
Of course, it didn't last long.
Within three minutes of non-stop marvelling at the scenery, a dozen people on a tour splashed their way into view. Normally, I'd take that as my cue to leave, but I was so impressed by this little isolated beach, that I stayed half an hour longer, paddling in the water, sitting on rocks, and swimming into and out of the dark tunnel in order to see the sand emerge from the darkness again.
If you're heading to Trang province, you must go see the Emerald Cave.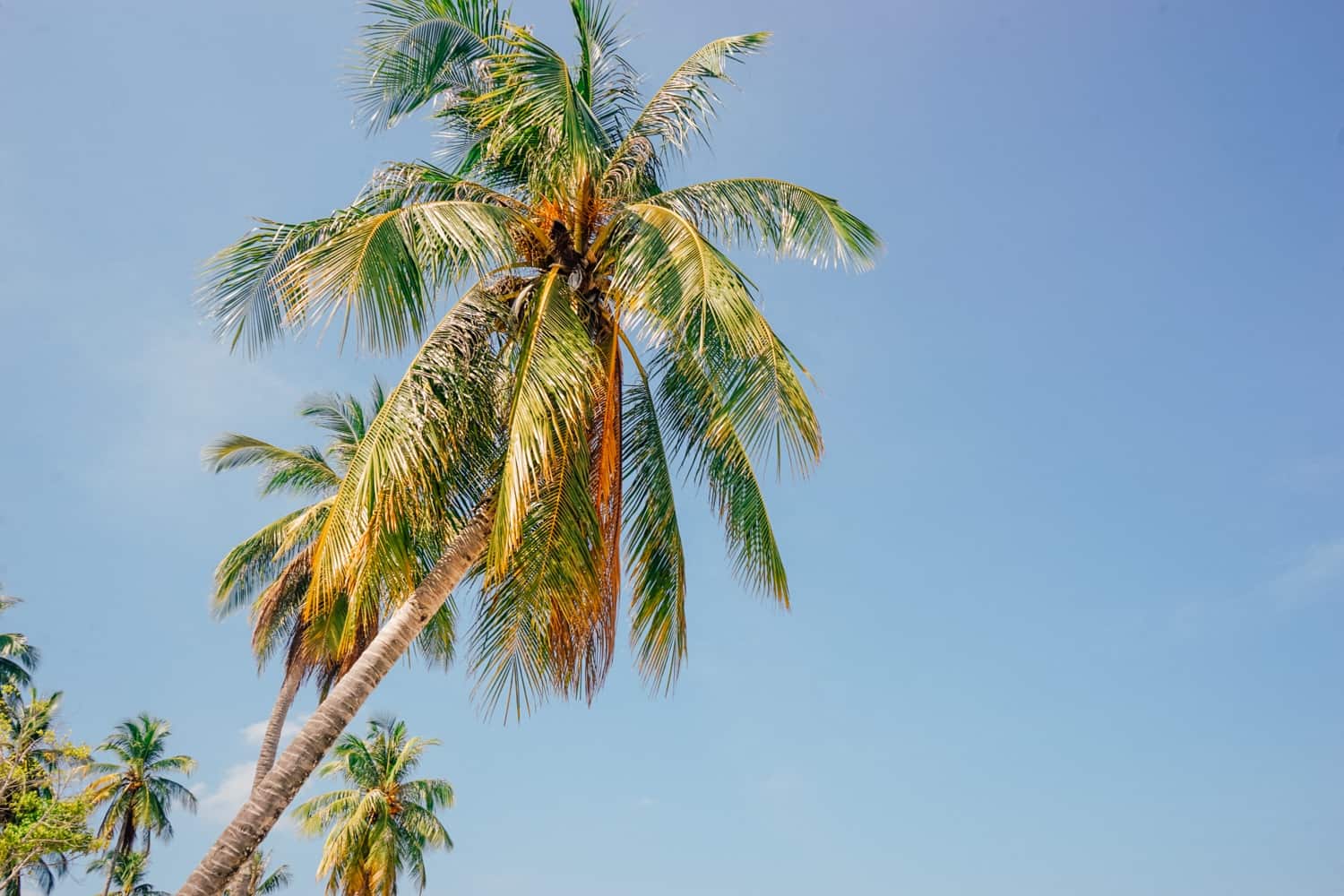 Back on Koh Mook, I quickly fell into a routine that had me declaring this island the best in Thailand.
There was a little French bakery on the island — Miss Island Bakery — that served up excellent breakfasts with its freshly baked bread, and it was always, always where we went for breakfast. Trust me: it's one of the best places to eat on the island.
After breakfast, we'd head to Sivalai Beach to relax, to read books, to bath in the sea, to watch the longtails cruise past.
Lunches would normally be at Sugar's — my favourite restaurant on the island. The food was so good and the staff so lovely that we'd usually return for dinners, too.
There was our favourite smoothie lady on the island who'd we visit in the middle of the afternoon — her stall marked on Google Maps as fresh fruit smoothie in Koh Mook — who always prepared a beautiful pineapple or mango shake for me and a coconut shake for my partner.
Each day, we'd stop and chat with the lovely woman at one of the travel agents who we'd made friends with after booking our trip to the Emerald Cave. She'd tell us stories about how Koh Mook used to be — that her dad had lived here his whole life and back in the 60s he was the first resident to get a TV. He used to charge residents of the island 10 Baht to come into his house and watch shows with him.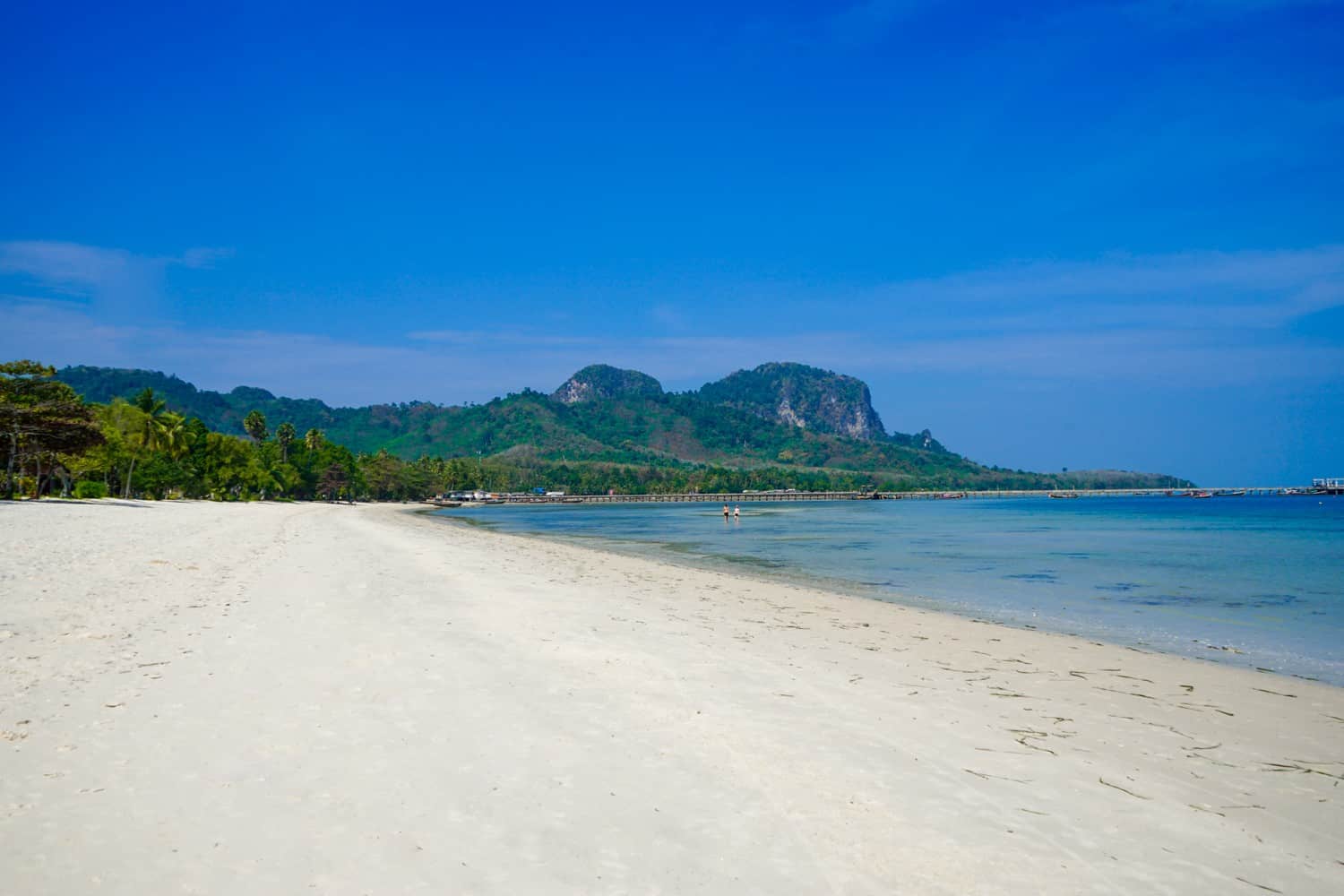 In the afternoons, we'd either relax in our guesthouse to take a break from the sun or head out for a walk around the island. There's a jungle hike that takes you into the north of the island to another deserted beach. There's a local fishing village that's always interesting to meander through. And, of course, there's always the option of grabbing a second fruit shake of the day.
In the evenings, we'd stumble into the quietest reggae bar in all the land, and often be the only guests — the party scene is subdued on Koh Mook — and then stop by the pancake lady for a nighttime snack. I'd usually opt for a banana caramel pancake that I'd take back to the room and eat outside while I  listened to the crickets buzz.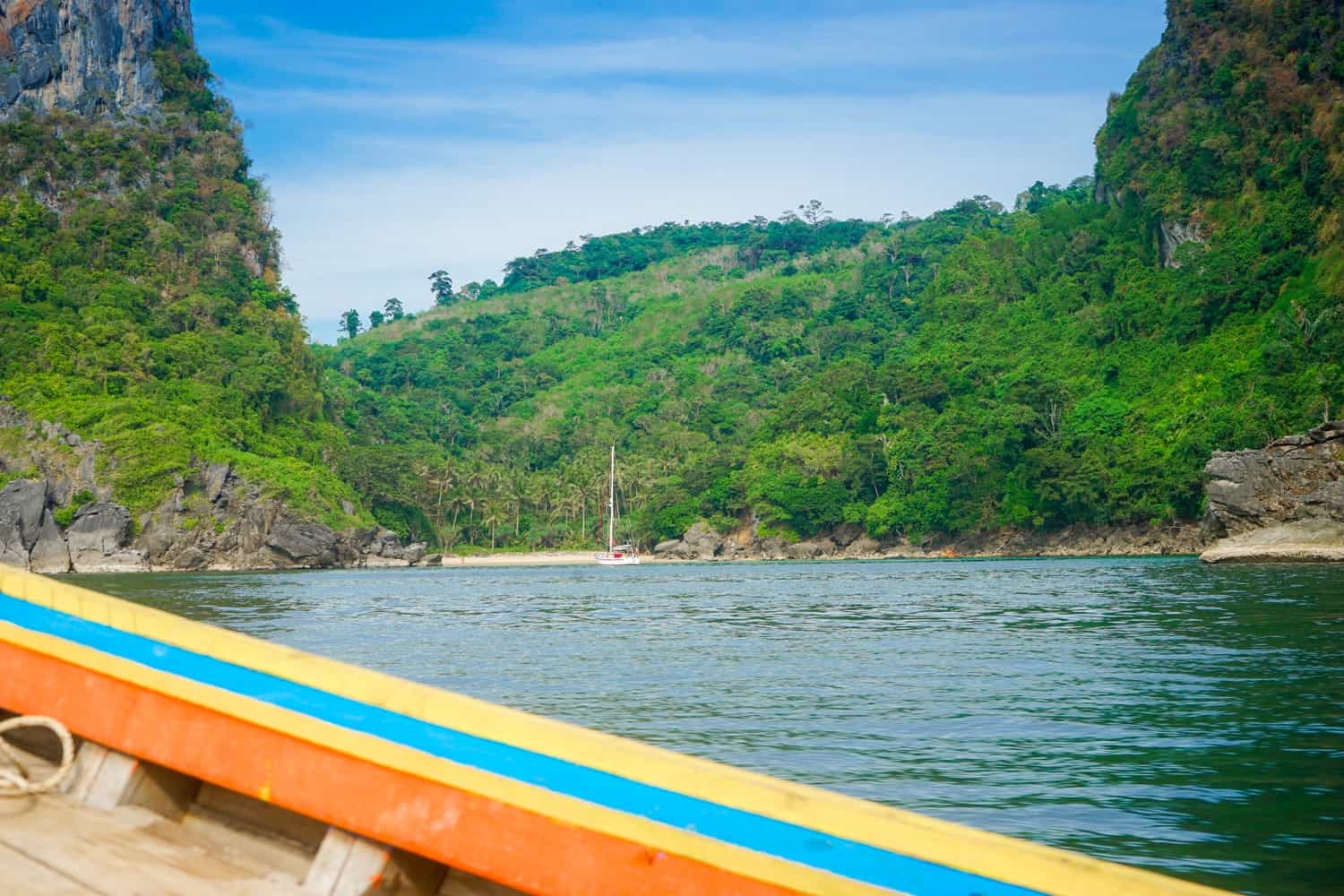 Before I spent time on Koh Mook, I used to say my favourite island was Koh Yao Noi. It was for much of the same reasons.
Neither of them are the prettiest islands in Thailand. They don't have the best beaches, the most breathtaking scenery, much opportunity for snorkelling.
But what they do have is a lack of crowds, a more laidback vibe, lovely locals, great food, and a distinct lack of a party scene. They're islands where you could spend weeks instead of days, feeling as though you're part of a community rather than visitors just passing through. They're places that feel like they could be home if you could just figure out a way to live in Thailand long-term. They're spots that feel welcoming, and when you spend time on them, you feel at peace and like you belong.
Yes, I loved absolutely everything about Koh Mook.
Does Koh Mook sound like the type of island you'd like to spend time on?