Koh Chang was the first Thai island I ever visited.
It was 2012.
Six months earlier, I had sold everything I owned, graduated from university, quit my job, and inched a tentative toe on board a plane. Though I had been terrified by the prospect of solo travel, my fears had gradually eased as I'd repeatedly left my comfort zone, and I was finally slipping into my travel groove.
After half a year on the road, I had travelled to 13 new countries, developed a strong sense of independence, and just slid into the DMs of the person who would turn out to be the love of my life. Not only that, but I had finally arrived in Southeast Asia: the region I'd long been dreaming of visiting.
I was giddy with joy as I worked hard on chasing down the life I had always dreamed of.
The world of professional travel blogging was becoming a big part of that life — my jaw repeatedly dropping as I built up my income from a couple of hundred dollars a month to a couple of thousand, and then I began to realise that maybe I wouldn't have to go home after all. I made friends with other bloggers, spent hours in front of my laptop, and lived the digital nomad dream in beautiful Chiang Mai, Thailand.
I always say that starting a travel blog is the best decision I've ever made.
A couple of these travel blogging friends were living in Bangkok while Dave and I were getting to know both Northern Thailand and each other. At the start of 2012, they invited us to explore the islands with them. I'd never even met them before this point, but I was starting to learn that online friendships were just as legitimate as real-life ones. That maybe it wasn't so strange to meet a stranger and immediately decide to travel with them.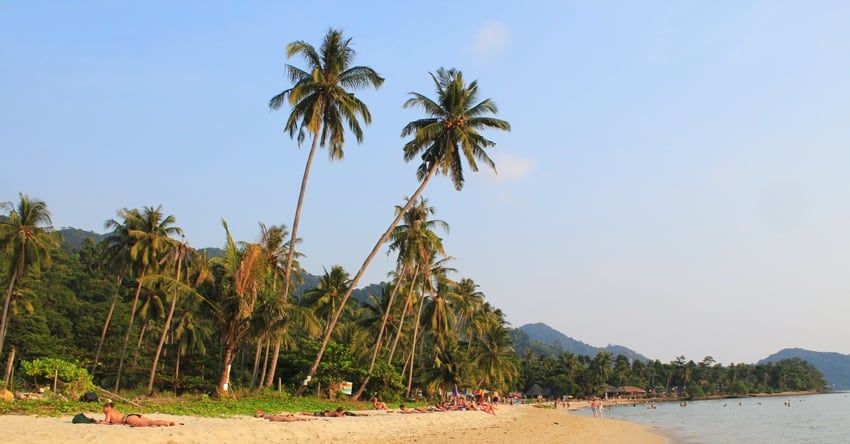 We settled on visiting Koh Chang, as none of us had been before, and I would have been happy exploring any island in the country. I'd yet to even step foot on a beach in Thailand, so I was just excited to see what people love about this country.
Koh Chang was everything I had dreamed a Thai island would be, and I began living out the ultimate backpacker fantasy.
Dave and I were staying in a rundown guesthouse close to the hippie-filled Lonely Beach for $6 a night. For that, we landed ourselves with a rickety fan, ants that woke me up each morning by biting my stomach, and loud music blasting through the cracks in the bungalow at night. I loved it, and we quickly settled into a routine of debauchery.
Mornings were for sleeping off the hangovers of the night before, as we dragged ourselves down to our guesthouse restaurant for chocolate banana pancakes as we pieced together the events of the night before. By the time lunchtime rolled around, we were hitting Lonely Beach for some sunshine, spending our time swimming in the warm waters, devouring fried rice and pineapple smoothies, and swapping travel tales.
And the evenings?
They were for buckets.
Sometimes we mixed our routine up, choosing to scooter over to a nearby resort to spend the day beside their pool, hike through the jungle in search of an isolated waterfall, or simply explore the other beaches along the coastline. No matter what we opted for, though, it was a life that was very different from the square-shaped one I'd resided in pre-travel.
It was kind of what I'd always hoped that travel would be for me. That it would get me out of my shell and stop me from fretting over everything that could possibly go wrong.
Because of that, I loved Koh Chang.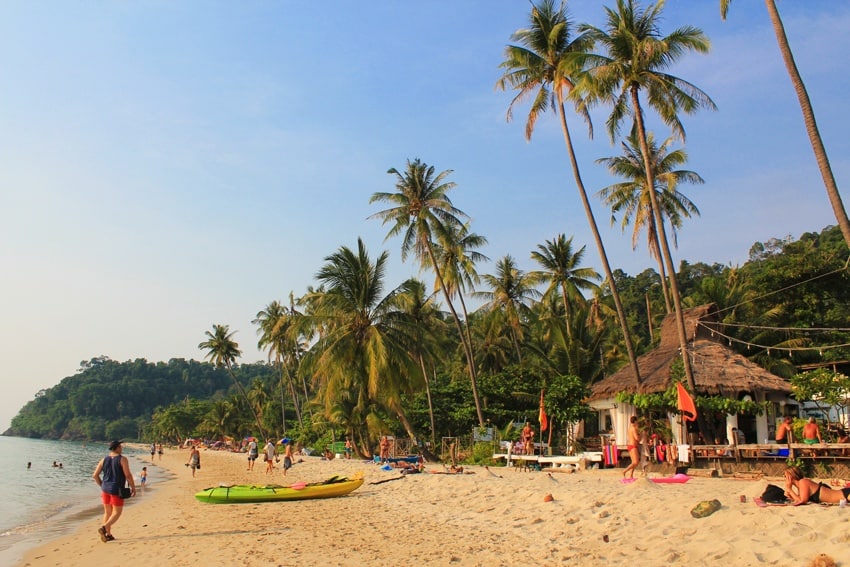 2012 was a long time ago, and these days, I'm nervous about returning to places I once fell for.
Sometimes it reconfirms in your mind that a place is just as incredible as you remembered. Sometimes, however, a destination has changed so irrevocably that you no longer warm to it, and it almost taints the wonderful memories you once held of it.
When I did return to Koh Chang, it was 2018 and I had just spent the past couple of weeks in Chiang Mai.
This city in Northern Thailand had once been my favourite place on earth. It was where I met Dave, where I first started to notice how much travel was transforming me, where I'd made friends, and turned my travel blog into a business. It was a place that showed me the life I'd dreamed of wasn't as unattainable as I'd once believed.
I've returned to Chiang Mai a dozen times over the past seven years, each time rekindling my passion for it. All it took was a glimpse of its moat to feel as though I was home, and that would usually be the catalyst for Dave and I choosing to extend our stay by weeks.
On this particular visit, I left convinced that I would never return.
Chiang Mai is now a city of digital nomads taken to the extreme. In cafes, you'd hear foreigners loudly complaining there wasn't anywhere that had stand-up desks for them to work at for free. Coffee shops were crammed full of laptops with no space for anyone else. An entire apartment building was packed full of location-independent nomads. In Nimmanhaemin, tourism felt out of control, with minivan tour buses down every street and visitors Instagramming every shopfront. There were so many gelato stores.
It felt like a bad omen to be travelling to Koh Chang afterwards.
How much could it have changed over the previous six years?
How much had I changed?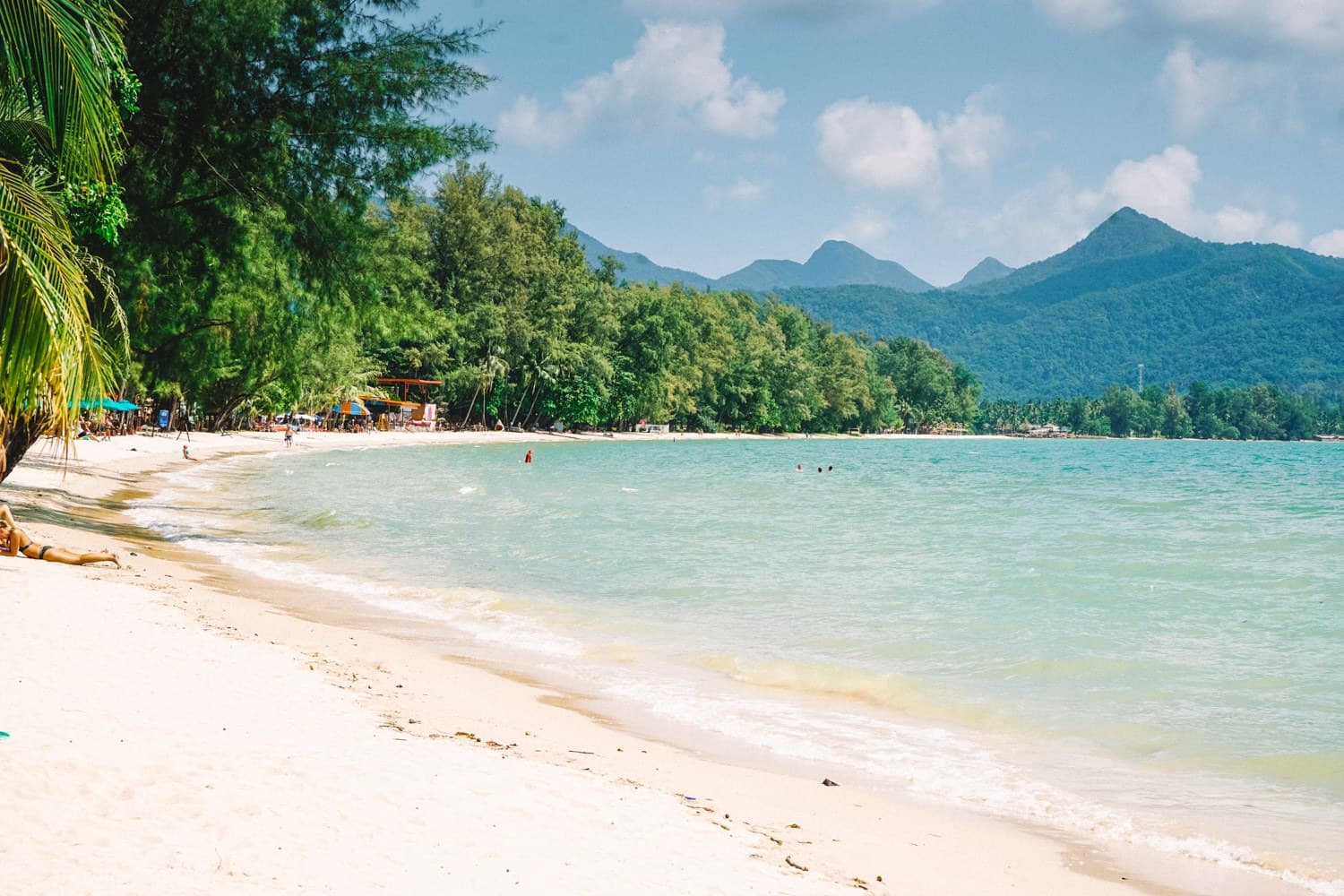 In an attempt to make the most of my time on Koh Chang, I opted to avoid staying on Lonely Beach. The idea of hanging out with hundreds of party-loving backpackers wasn't as appealing as it had been when I was 23, so I went in search of somewhere that was more my scene.
Klong Prao Beach had a reputation for being the prettiest stretch of sand on the island, with fewer crowds and a decent amount of restaurants and resorts to choose from, despite much of the beach remaining relatively underdeveloped.
Still, we decided to stay in a hostel because we're both budget travellers at heart. An exceptionally-rated hostel with clean private rooms will always capture me far more than a soulless resort ever could, so we booked ourselves in for five nights at Habitat Hostel.
It was in a great location, a five-minute walk to the beach, with plenty of accessible street food, restaurants, and bars. The hostel was clean, modern and newly renovated, and the staff were lovely. We paid $34 a night for a private room and I would happily stay there again on a future visit.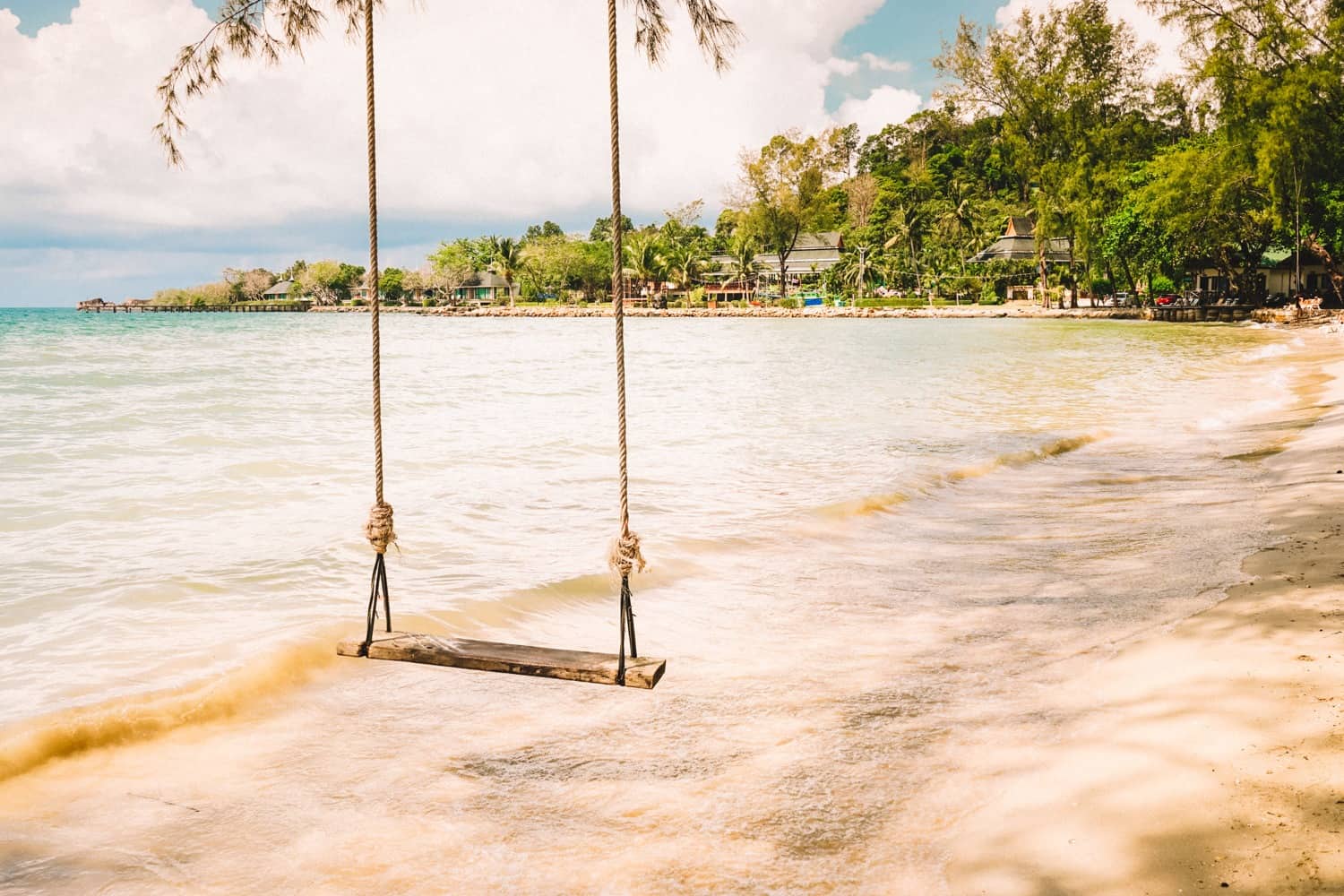 Because I can see there being a future visit. I loved Klong Prao beach!
The beach was clean, with soft sand and clear waters. It wasn't too crowded, and there were plenty of beach bars where we could cool off with a mango smoothie. If it wasn't for the occasional stray jellyfish bumping into my shins, I'd have declared it paradise.
We slipped into a comfortable routine that saw us splitting our days into thirds.
Mornings were for exploring.
We hired a scooter from a tiny store that offered any service you could think of, from ferry tickets to laundry, then hit the open road in search of adventure. Sometimes we'd pull up beside a different beach to have a look around; sometimes we'd wander into the jungle to hike. Sometimes we'd scooter all the way across the island to a Greek restaurant for lunch because our cravings for dolmades and feta were too great to ignore.
When the afternoon rolled around, we grabbed our towels and Kindles and wandered down to the beach. This was a time for relaxation: sunbathing, swimming, and reading, drinking fresh coconuts and waiting for the sun to set.
The final third of our day was for working. We'd usually wander into a nearby restaurant for some Thai food, then head out for a couple of cocktails from the cosy reggae bar nearby. Back in the room, we'd spend three or four hours writing blog posts and replying to emails, then unwind with a couple of TV shows before bed.
How could I not have warmed to Koh Chang with a routine like that?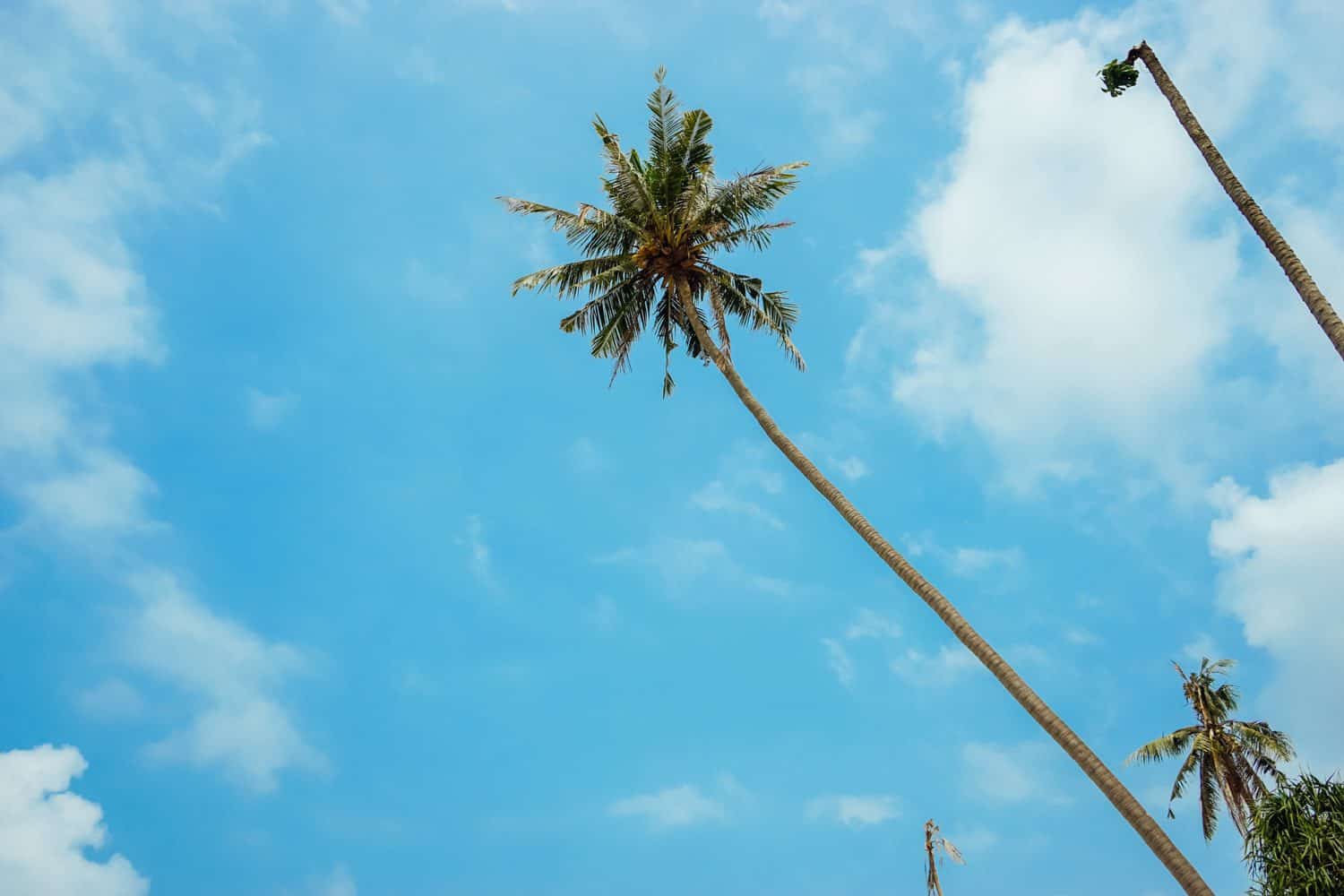 We waited until our final morning to return to Lonely Beach.
Putting off a visit to our former paradise, however, quickly proved to be a mistake. For the first time since arriving on the island, we found ourselves scootering beneath a sky of thick, grey clouds.
Still, as we weaved our way south along sweeping curves, we chatted about the restaurants we used to eat at, and laughed at the time I drunkenly attempted to show off my rap battle skills after one too many sips from a bucket. I couldn't stop thinking about the palm trees.
There's something about the sight of palm trees that never fails to get my heart racing, and I had always remembered Lonely Beach for its palm trees. It had been the first stop on my travels that had been full of them, and I think I spent roughly 70% of my time on that beach gazing up the the trees in awe.
I wondered out loud if it had changed.
Apparently it had, because we parked beside Lonely Beach, peered over at a stretch of sand, decided it wasn't the beach we once knew and loved, and walked away in a different direction. We then spent the next half an hour wandering in circles in search of it.
I wasn't sure if it was the cloudy skies or the disappointing reduction in palm trees, but Lonely Beach was unrecognisable.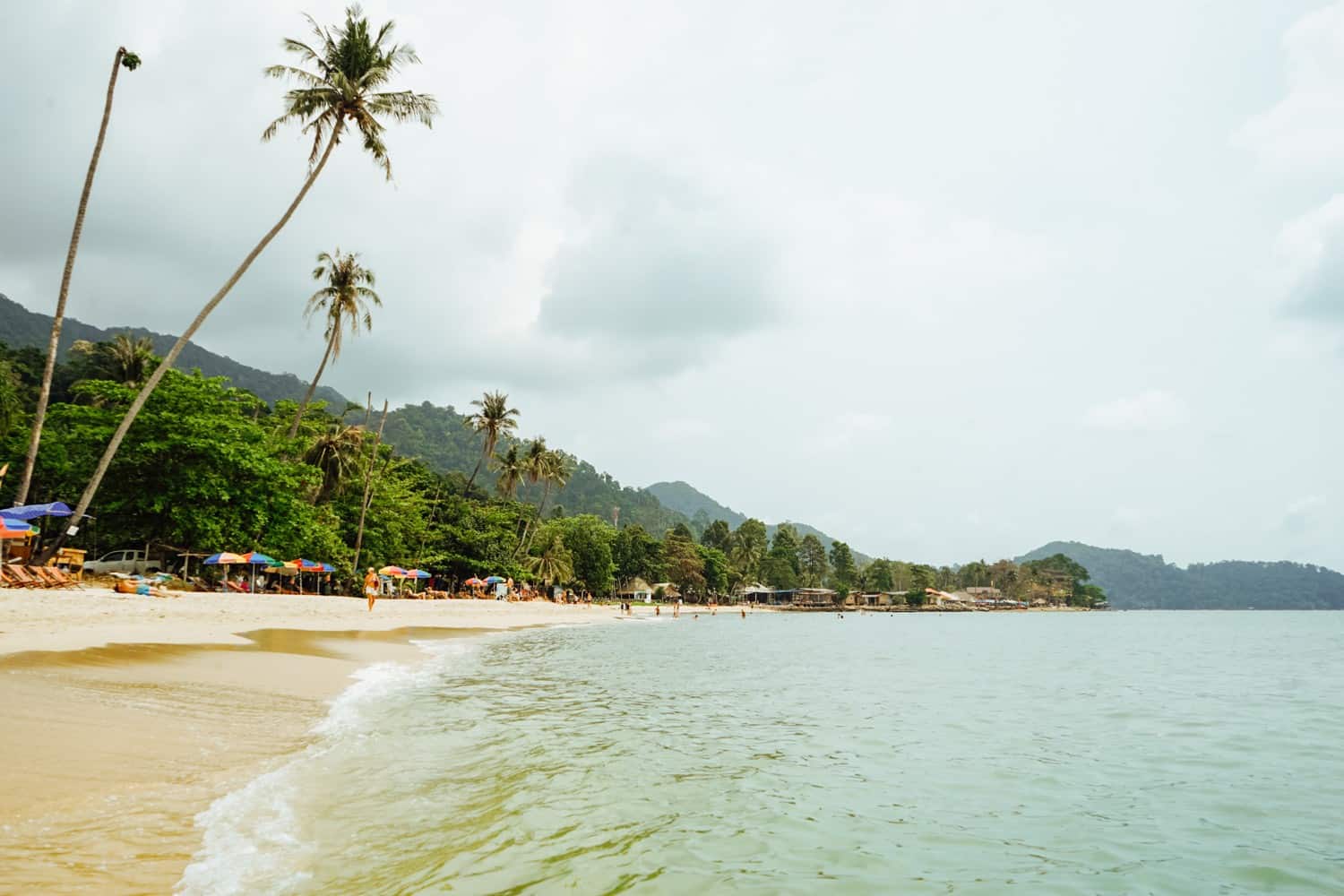 That doesn't mean I didn't like it.
After all, it's rare for me to stumble across a beach I don't immediately warm to.
The grey skies, however, were a bummer.
One of the first lessons I learned while travelling is to make the most of any situation that arises. While grey skies can always put a dampener on a trip, and it sucks that I wasn't able to take any photos I liked, I was still on a beautiful beach in one of my favourite countries. The best thing I could do was to take advantage of this opportunity.
I plastered a smile across my face, took Dave's hand, and led him to the bar we used to always drink at while watching the sunset. I grabbed us a couple of Singha beers, ordered some chicken wings and fries, and laid back on the deck to gaze out at the nearby islands.
After lunch, we laid out on the beach to read, interspersing our time on the sand with swims in the water, all while I kept the sharpest of eyes out for any wretched jellyfish.
While I was splashing around, I tried to remember how it felt to be in this exact spot six years ago. How I was brimming with wonder to finally be in Thailand. It's a feeling that's near-impossible to recapture once you've taken a dozen-odd trips to a country, but I pretended to be full of awe anyway.
Eventually, my pretence worked and I found myself grinning from ear to ear.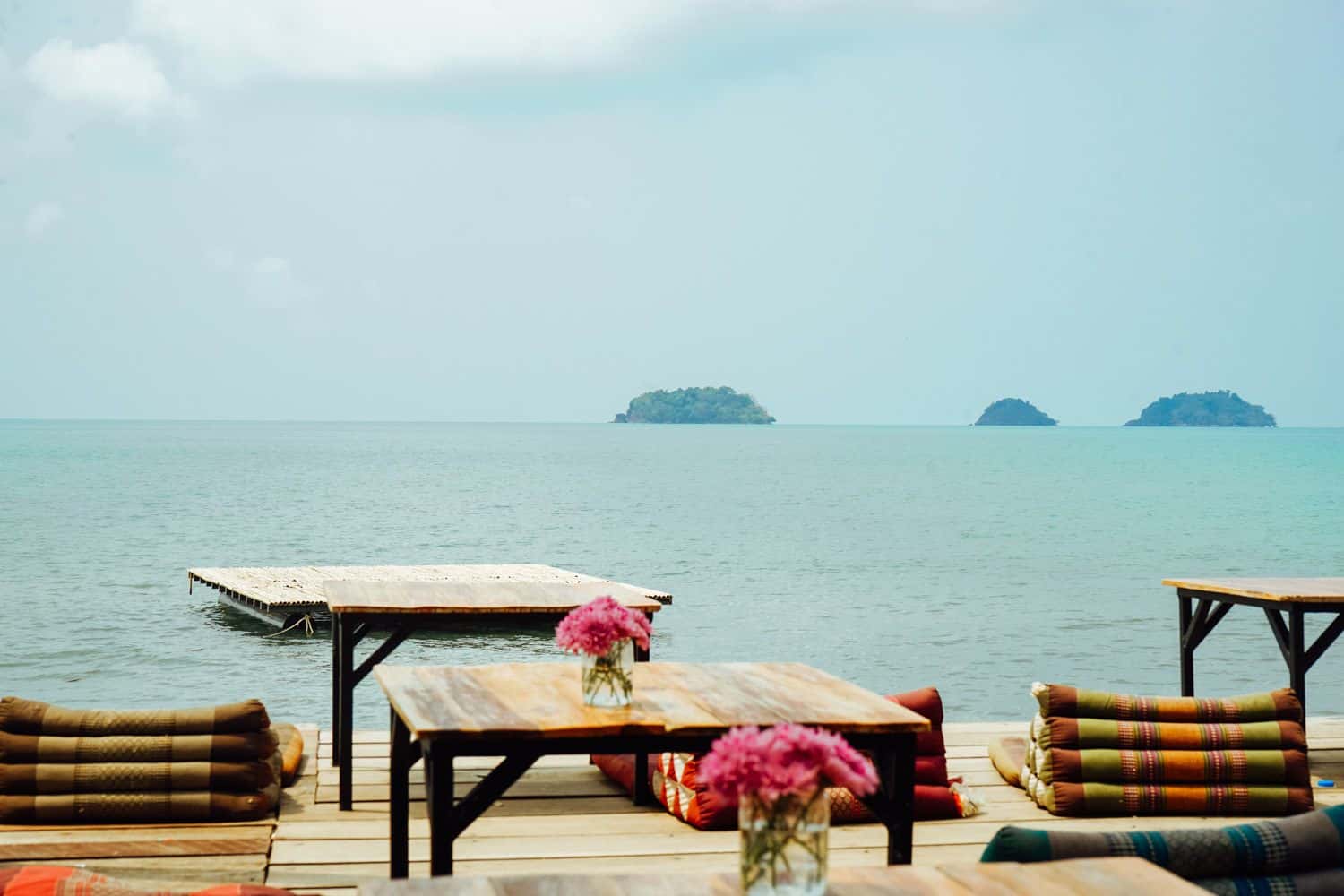 We returned to Klong Prao that evening to pack our bags and prepare for ten days of island-hopping.
My second visit to the island had been far calmer this time around, with no hangovers to sleep off, no rap battling to cringe over, and no banana pancakes to indulge in. I'd focused on relaxation and exploration over buckets and beers, and came away appreciating Koh Chang a lot more.
I wouldn't say it's the best island in Thailand — Koh Kood is still the clear winner for me — but it's a lovely island nonetheless. The beaches are clean and beautiful, there's hiking on offer and waterfalls to explore, and you can go diving if you're not a fearful loon like me. It's quieter than places like Koh Phi Phi and Koh Samui, but far from undiscovered, and it's still pretty inexpensive, which is a big bonus.
Sometimes returning to the places you once loved is absolutely the right decision.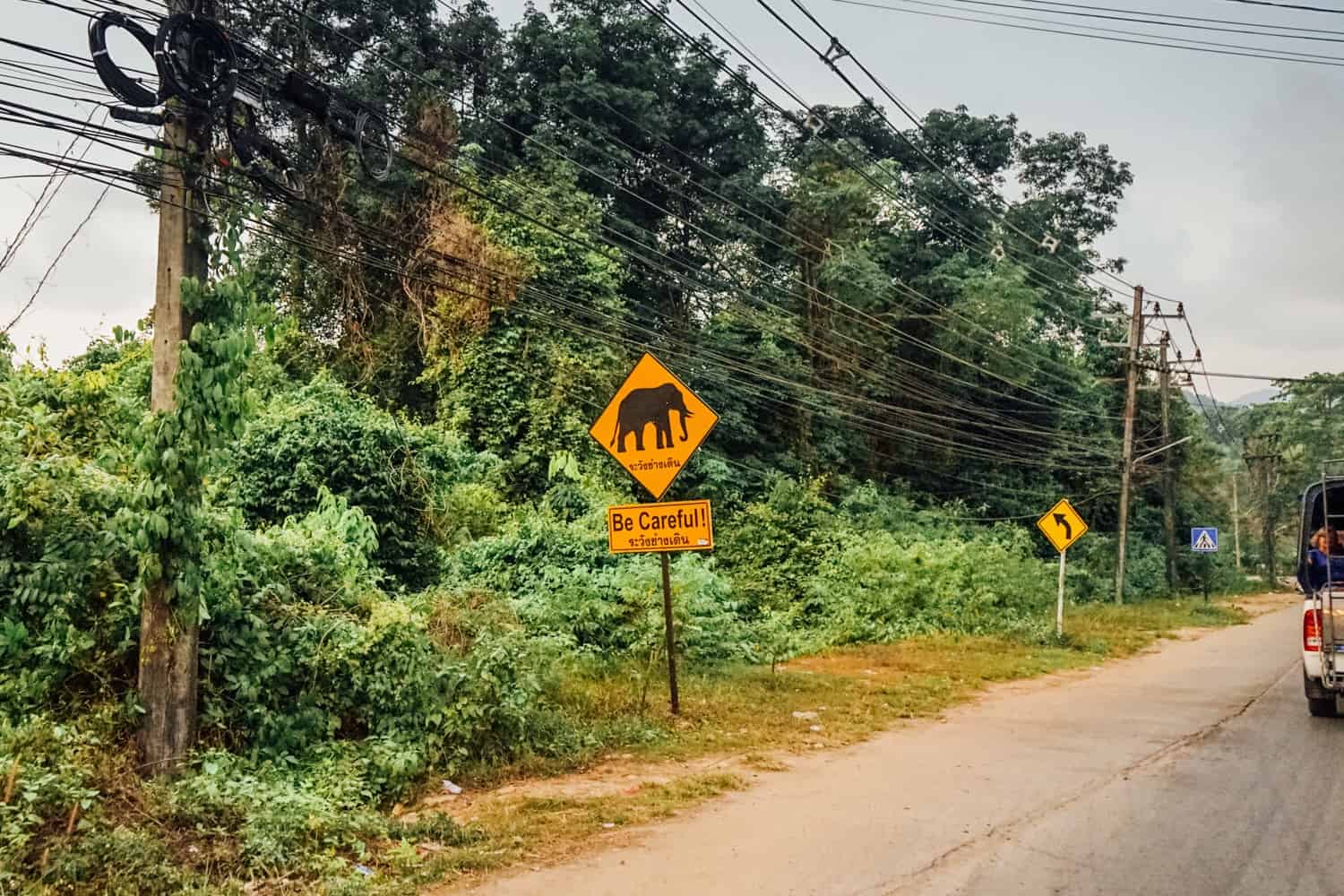 My Tips for Visiting Koh Chang
How to get to Koh Chang: It's super easy. If you're not flying into Trat (the easiest but most expensive option), you'll be looking at jumping in a minivan. From Bangkok, this is simple to do — I grabbed one from the arrivals hall at Suvarnabhumi Airport, and paid 600 Baht ($18) for the journey. The ticket price included a minivan-ferry-taxi combination that took me from Suvarnabhumi directly to my hostel on Koh Chang. You can book this advance from 12Go Asia.
Where to stay on Koh Chang: I really liked the private rooms at Habitat Hostel on Klong Prao Beach. We paid $34 a night for a private room, and the price of dorms start from $11 a night. If you're on a tight budget, the cheapest place to stay on the island that still receives decent reviews is Cafe del Sunshine on Lonely Beach, at $6 a night for a dorm bed.
As for the island itself, I'd recommend choosing to stay on Lonely Beach if you're in your twenties, on a budget, and want to hang out with other backpackers; Klong Prao Beach if you prefer a quieter scene with less partying; and White Sand Beach if you're looking to live that fancy resort life.
How to get around: Public transportation doesn't exist on Koh Chang, outside of songthaews, and it's a reasonably large island at just under 20 miles in length.
If you're comfortable riding a scooter, this is one of the best ways to see the island — the roads are quiet and well-paved, although there are many steep hills and sharp mountain turns to navigate, so you'll want to be a confident driver. I wouldn't recommend riding at night, as the roads aren't lit outside of the main towns. Keep in mind that if you don't have a motorbike license, your travel insurance provider won't cover you if you get into an accident. Obviously you should always wear a helmet. We paid 250 THB ( $7.50) to hire a scooter for day, which is about average.
If scootering isn't your thing, you can jump on a songthaew (a pick-up truck that functions as a shared taxi/bus) to get to your destination. Stand on the side of the road and when you see one of these pick-up trucks heading your way, flag them down, tell the driver where you want to go, and then squeeze in the back with the rest of the passengers. You shouldn't have to wait more than around 10 minutes before one passes, as there's quite a few on Koh Chang. A ride will cost between 50 and 150 THB ($1.50-$4.50) depending on how far you're going to be travelling. There are no metered taxis on the island.
Where to eat on Koh Chang: If you're going to be staying on Klong Prao beach, there are a few restaurants I can recommend.
We usually had our breakfasts at J & G Bistro, which was the best option we could find in town. Just a standard Western-style breakfast here, I'm afraid, with toast, fruit, pastries, granola, and yoghurt — the usual! Most places have a similar menu, but J&G did it best.
If we were hanging out on Klong Prao beach at lunchtime, we'd usually walk over to Kokomo Beach Bar for lunch, which is located on a quieter stretch of sand along the coast. They had great fruit smoothies, cold beer, and excellent Thai and Western options. I loved the Penang curry and also the — lol — bacon baguette. No shame — sometimes you've gotta skip the local options to satisfy a craving!
Goya Cafe is one of the busiest restaurants in Klong Prao, and it offers some seriously delicious Thai food. I'd recommend eating early (like, before 7 p.m.) in order to ensure you get a table, and also to prepare to wait at least half an hour for your food. The massaman curry and tom yum soup were both excellent — this is probably the best restaurant in this area.
My favourite bar in Klong Prao was Malibu Bar. A run-down reggae-themed hangout, I loved their strong cocktails, great music, friendly staff, and laidback vibe. It's definitely worth coming here for a couple of drinks one night, if not every night.
If by any chance you happen to get struck down by a craving for Greek food, we were impressed by Papa's Greek Restaurant near Kai Bae Beach. It's tough to find decent Greek food this far away from Europe, but Papa's had delicious aubergine, feta, and gyros to snack on. It's overpriced for Thailand, but a good option nonetheless!
And that was Koh Chang! I'm so glad I decided to check it out for a second time. Is there a place that you're nervous to return to? Share away in comments below!