I can't believe I successfully completed my first week-long walk.
I'm bursting with pride over my achievement.
This month, I walked 120 miles over eight days, following the length of the South Downs Way through Southern England. It was one of the toughest physical challenges of my life, so I'm delighted I managed to make it the entire way.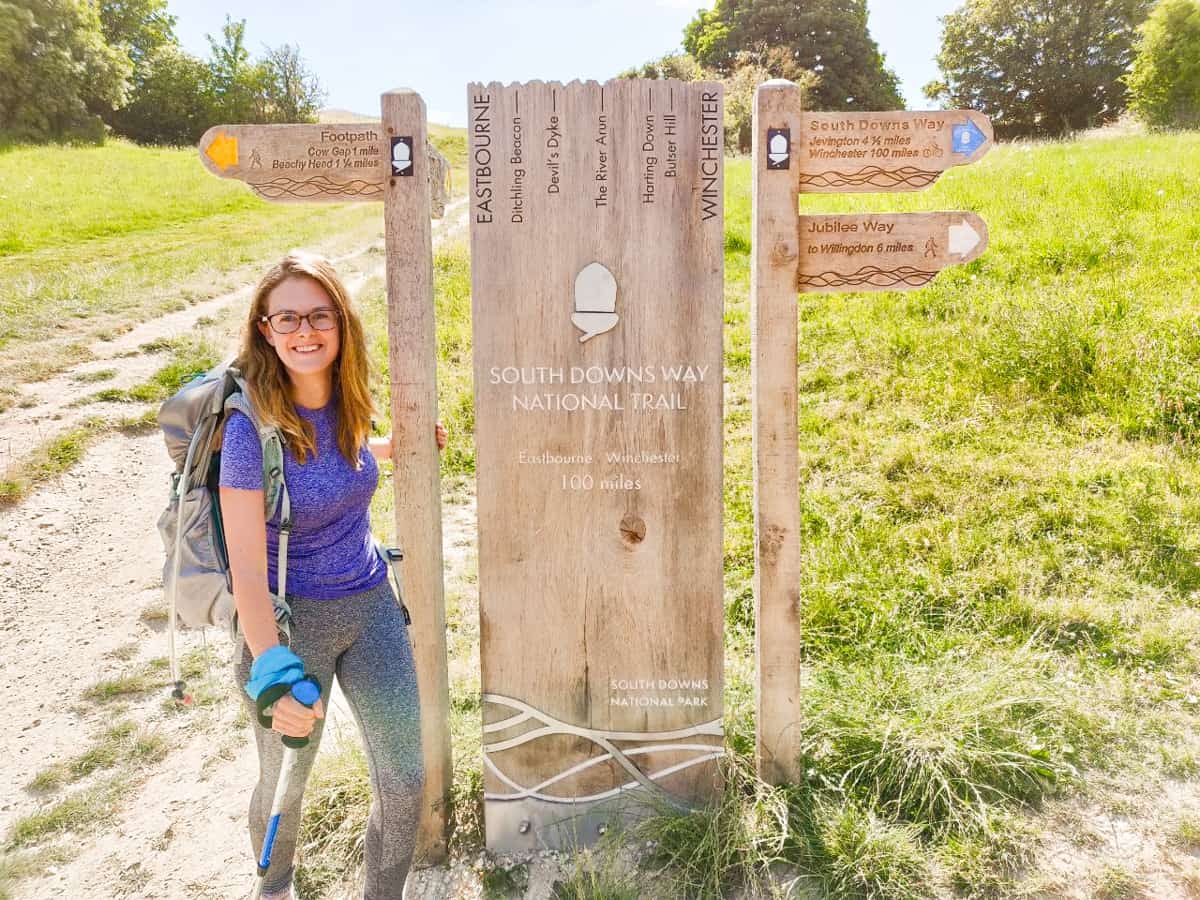 The first few weeks of July were chaotic in a way that was surprisingly boring. I recently found a new place to live in Bristol and had two weeks to start coming up with a plan of attack. I therefore spent much of that time packing my belongings into boxes, tidying up our apartment, and attempting to find a cleaner who would ensure we got our deposit back.
As I said: chaotic yet boring.
After a couple of days in London to see The Who (one of my favourite bands) and Eddie Vedder (one of Dave's favourite people) — it was like this concert was designed for us! — Dave and I were setting off on our big walk. I didn't feel ready.
With a great deal of apprehension, I pulled on my backpack and boarded a train to Winchester. From there, I'd be walking 100-odd miles to Eastbourne and I still wasn't certain I could do it.
I mean, sure, I'd been training for this challenge, but also, my training walks had never amounted to more than 13 miles in a day. I'd also yet to walk more than one day in a row when practicing. On the South Downs Way, I'd be tackling eight days of walking, with the longest distance amounting to 22 miles.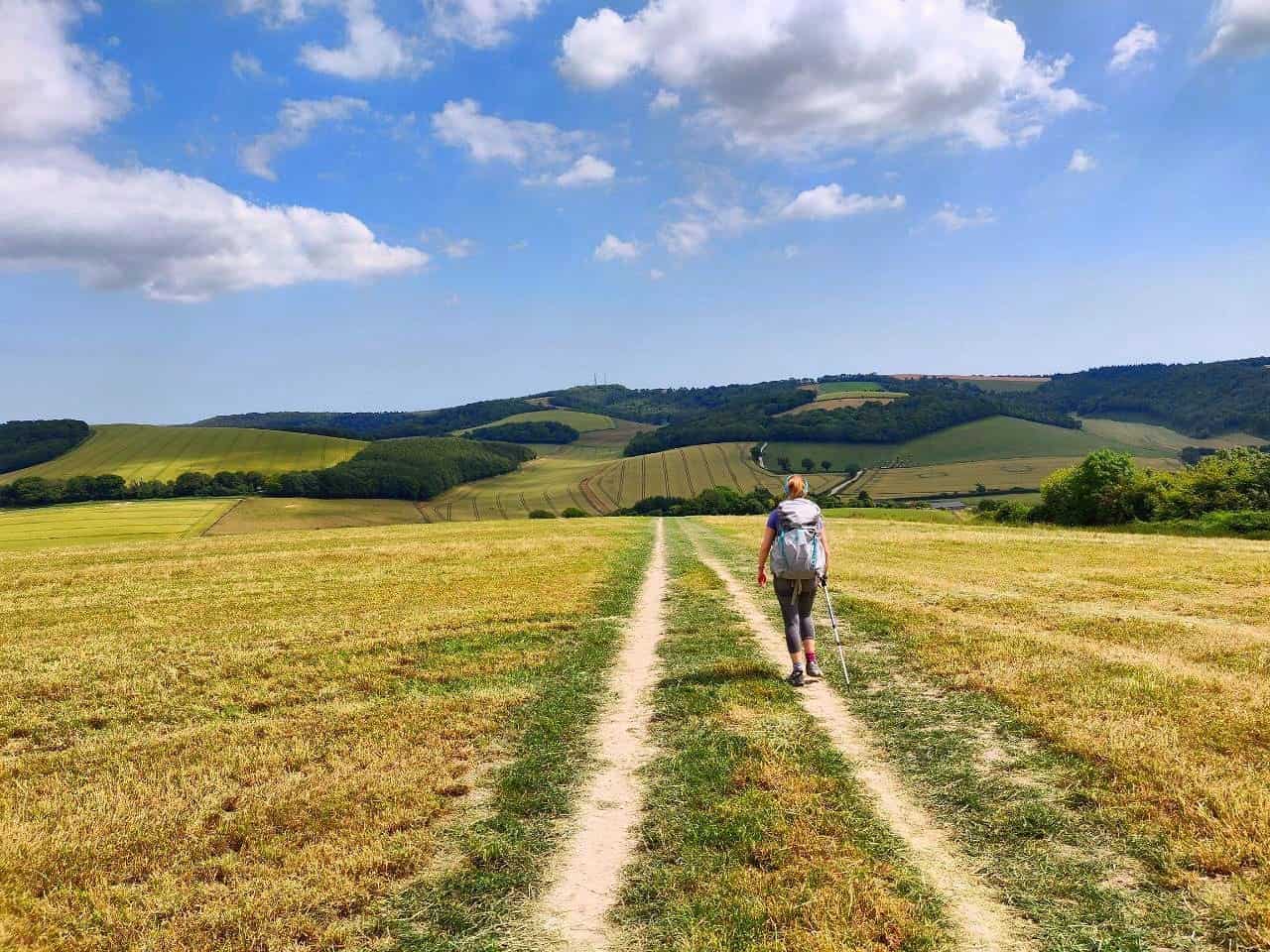 I'm flexing my fingers right now and getting reading to tell you that the first days were the hardest, but in reality, every day was difficult.
The early stages of the walk were challenging as I fought to get into the right mindset and slip into the habit of moving day after day. Once I started to find that groove, I came up against a 20- and 22-mile day, both of which were some of the hardest of my life.
I can't believe I walked 22 miles in a day.
35 kilometres.
58,000 steps.
It was exhausting.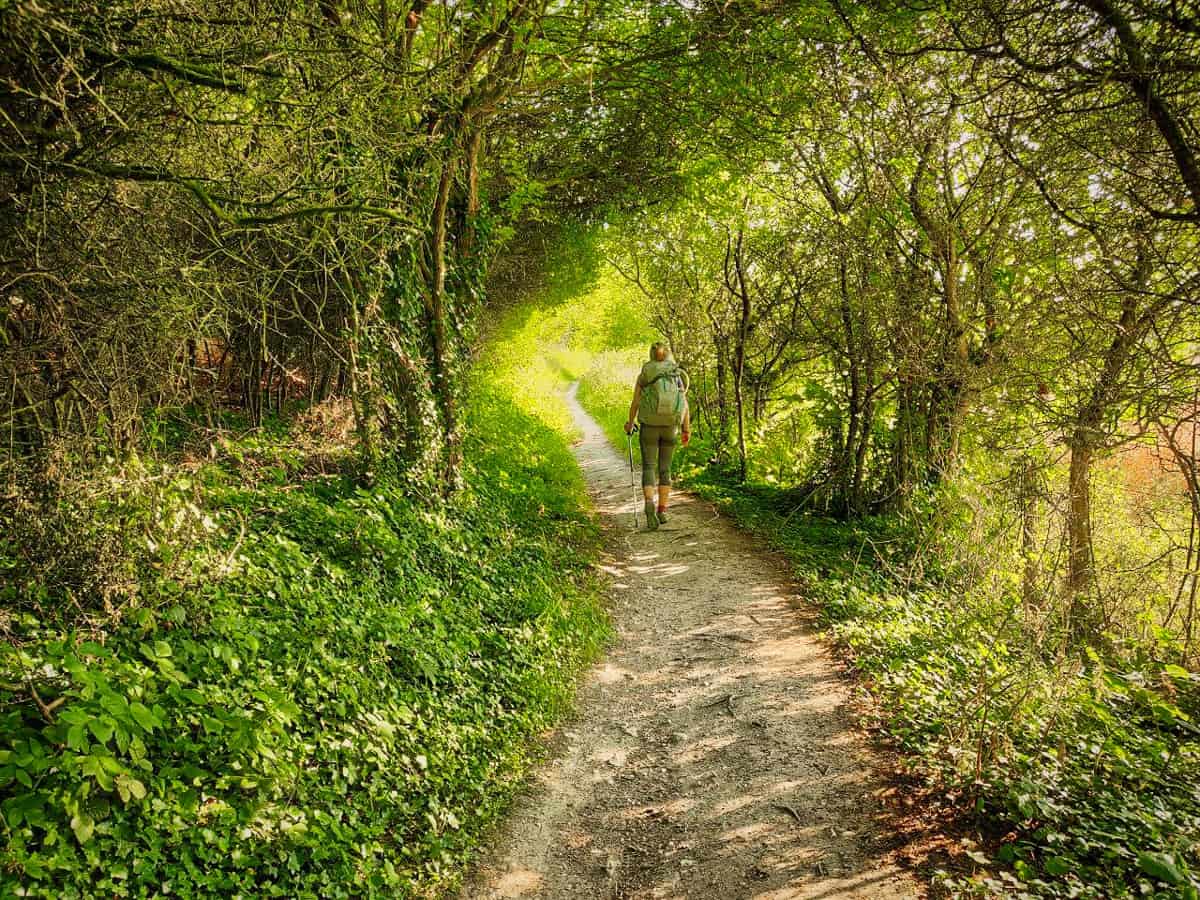 We walked the following distances on the South Downs:
Winchester to Cheriton: 8 miles/13 km
Cheriton to East Meon: 13 miles/21 km
East Meon to South Harting: 12.5 miles/20 km
South Harting to Amberley: 20 miles/32 km
Amberley to Steyning: 12.5 miles/20 km
Steyning to Kingston near Lewes: 22 miles/35 km
Kingston near Lewes to Alfriston: 13 miles/21 km
Alfriston to Eastbourne: 10.5 miles/17 km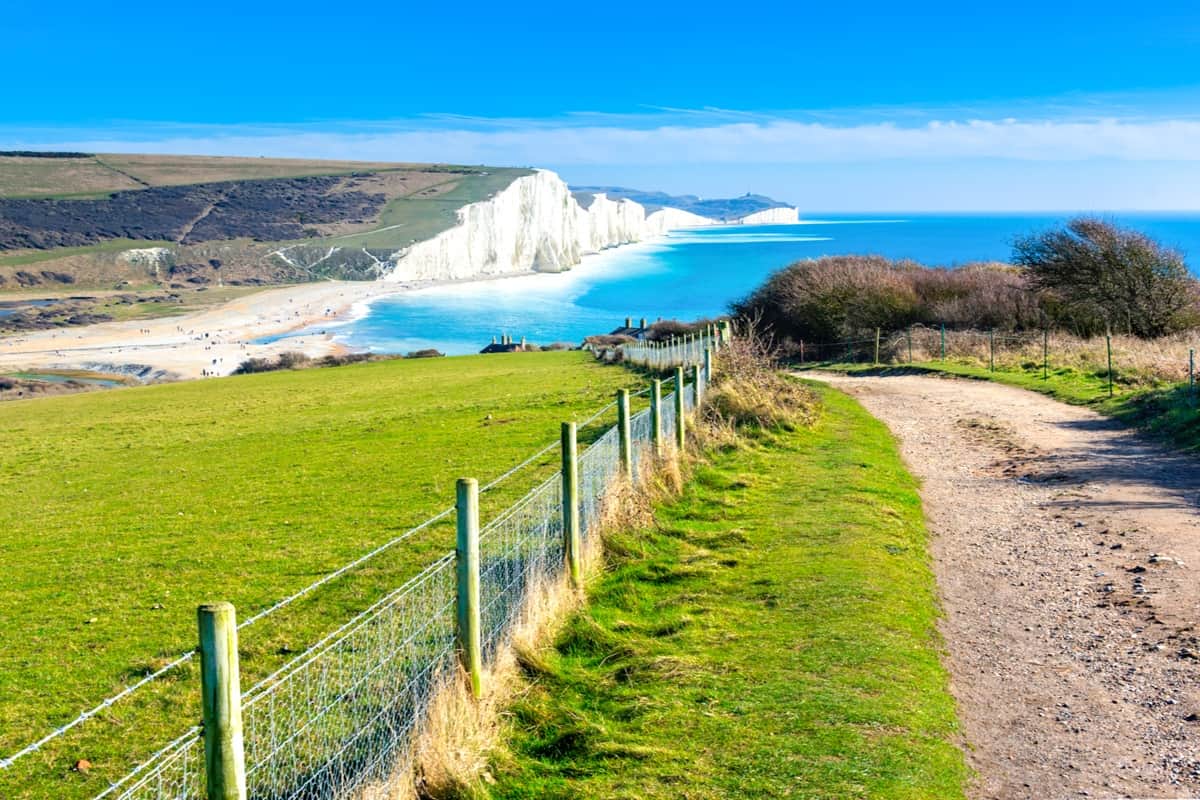 I struggled tremendously with blisters, unfortunately, and by the end of the walk, every toe had a bandaid wrapped around it. Several of them took a solid two weeks of rest to heal.
But blisters are fine.
Blisters I can walk through.
If you power through ten minutes of walking with blisters, they become numb eventually, and then you've just got to keep walking. The real problem I had to deal with was my flat-as-a-board feet. I wish I could show you the state of my toes, but the photo is too gruesome to share.
What I loved about this walk was how I felt my body transform over the week. By the end of the hike, I was bouncing along, feeling lighter, stronger, and more capable than ever, even though my toes were continually weeping into my shoes. I felt fitter than I ever have before.
I've written a bunch of South Downs Way posts for you guys, so I'll save all the good details for those. But needless to say, despite the pain, this was something I'm so proud to have done, and I can't wait for my next long walk.
Fortunately, I don't have long to wait.
When we returned to Bristol, all I wanted to do was rest my aching soles. Instead, I had to jump straight into action, as we had just a few days to pack up our things and move into our new home.
I wrote a post this week about the unbelievable year I've lived through in Bristol. I'm still not convinced I'll publish it, as I really want to focus on the positives in my life at the moment. But at the same time, I want to give you guys an explanation for my absence. Share more about the weird health problems I've hinted at. Explain why I haven't left the country for five months. Why I stopped publishing monthly summaries, and have barely written anything for over a year.
But I'll say this for now: my old apartment in Bristol did not do good things for me. I've suffered through one of the worst years of my life and it was all down to my living situation.
And so it was with a great deal of relief that I finally moved.
I said good riddance to my old place and significantly upgraded my life.
I live in a house now, rather than an apartment, have a garden instead of a balcony, and so much space that I don't even know what to do with it all. My place has great natural light and is peaceful, in a lovely, central neighbourhood, and I can't stop smiling whenever I spend time here.
But the move! Man alive, the move.
Moving is always stressful, of course, so I was filled with gratitude to be able to take a couple of weeks off work in order to arrange cleaners and movers and all of that good stuff.
Moving to a much larger space also meant buying a ton of furniture, and as someone who isn't in any way blessed with creativity, I was spending 15 hours a day reading interior design blogs, browsing Instagram and Pinterest, and learning the 5,000 rules for buying the perfect rug.
Oh, and then there's building the furniture! One of my favourite things in the world is putting furniture together, so as soon as anything arrived, I'd send Dave upstairs, grab the power tools, and start building. It's so funny how we've always shunned traditional gender roles in this family — he's always cooking and cleaning and carrying a bag whenever he leaves the house — I'm always building furniture, asking Dave to carry my things, and, um, making more money, haha.
I'm overwhelmed with love for our new home and am hopeful my luck is about to change. It feels so wonderful to be living in a place that isn't making me sick, and I hope I'll never take this feeling for granted again.
To round off the month, I jumped in the car and hit the road, heading out to Cornwall to explore a new part of the region. I last visited Cornwall back in 2015 and fell in love with its picturesque beaches and phenomenal food scene. I figured it was about time I made my way back to explore more of what it has to offer.
The Rame Peninsula is often referred to as the Forgotten Corner of Cornwall, as it's often bypassed by visitors, but in July, the beaches were still full of sunburnt Brits. Still, it's a beautiful part of the country and has a number of pretty walks to wander along.
While the weather wasn't particularly cooperative with our plans, we still managed to get out and visit some new spots — I checked out Fowey, Polperro, and Whitsand Bay for the first time, and loved pub-hopping my way through Cawsand and Kingsand.
Excitingly, Cornwall is just a couple of hours from Bristol, so I can see Dave and I making a trip like this every summer going forward. Hopefully next year it won't rain so much.
Highlights of the Month
Rediscovering my resilience: After I failed at walking Hadrian's Wall several years ago, I was left feeling disheartened. For a long time, I'd thought of myself as this stubborn as hell human who achieves everything she sets her mind to. Failing at a physical challenge like this knocked my confidence and made me feel as though I wasn't as strong as I thought. I convinced myself I gave up too easily; that I was a quitter.
When I showed Dave the state of my feet mid-way through the South Downs Way, though, he confessed that he'd seen multiple people quit the Camino with toes that looked only half as bad as mine. He told me he was shocked I was still walking. That he wasn't sure he'd be able to carry on with feet that were so messed up.
And yet, I'd decided I was going to finish this walk and I was going to do so even if it was agonising. Which it was at times. But that only made it feel like more of an achievement when I hobbled past the finish line.
Over the past few years, I've spent a lot of time googling how to build resilience — lol — and it was completing the South Downs Way that proved I have a hell of a lot more of it than I thought.
Lowlights of the Month
We missed the heatwave: Summer in the U.K. this year has been… not great. It's been pretty grey and damp and miserable in Bristol, so when I heard that a heatwave was on the agenda, I was thrilled to see it would coincide with our Cornwall getaway.
It turned out, however, that Cornwall was basically the only part of the country that was missing the sun. While Bristolians were getting their BBQ on and basking in 30-degree heat, I was wearing a rain jacket and trudging through drizzle in Fowey. It was kind of hilarious, really, and brought to mind every single British vacation I had as a child — it would always rain!
Incidents of the Month
I made a seriously silly decision on the South Downs Way: So here's the thing: I have the flattest feet known to man. Arches? We don't know her.
Like, if I place my foot on the ground, there is zero curve at all, my foot's as flat as the floor below me. My footprints are rectangles in the sand.
And I struggle with walking. It's only recently, as I've begun to delve into Camino forums, that I've started to wonder if my flat soles are the reason. I read post after post from people who had always walked with pain, tried on some Superfeet insoles, then had their best walk of their life. People adore these insoles and I started to wonder if they would change my life, too.
I ordered some for my walk, then set off with a fresh pair in my shoes.
This was a big mistake.
It was like buying a brand new pair of shoes and walking 120 miles in them from the shop you bought them in.
These insoles were forcing an arch into a foot that was used to living in Converses and it was doing so for hours and hours at a time, on one of the toughest surfaces I've walked on.
Walking the South Downs Way was excruciating. And on day three, it took me an hour to hobble the final mile into town.
The next morning, I ripped out the new insoles, put the original ones back in, and found walking far easier. I should have eased into wearing the insoles and slowly trained my feet to grow accustomed to them, rather than diving in at the deep end.
It meant that my walk was far more painful than it could have been.
My Next Steps
I can't believe I'll be walking the Camino de Santiago in just three freaking weeks.
I'm not ready! I'm not ready! I'm not ready!
Yes, at the end of the month, I'll be filling my backpack with two changes of clothes, a sleeping bag, hiking poles, a thousand bandaids, and a steely resolve.
Let's be honest, though: I'll probably forget that last one.
Before I begin my walk, I'll be spending time in two cities I've been keen to visit for a while now. Bilbao will mark my first steps in the Basque Country and I'm excited to not only visit its famous Guggenheim Museum, but to also eat all the pintxtos I set my eyes on. I'll be heading to San Sebastian next, for even more eating, as well as a little beach time before beginning my big trek.
I originally planned to walk the Camino del Norte from San Sebastian, but I've since decided to opt for the Camino Primitivo instead.
The Primitivo runs 230 miles (370 km) from Oviedo to Santiago and is known as the Original Way, as it was the path taken by the very first pilgrim back in 814 A.D. Not only is it said to be the prettiest of the Caminos, but it's also one of the most challenging.
There are lots of hills to contend with, surprisingly damp weather, and fewer walkers, as just 5% of Camino trekkers opt to walk the Primitivo. It'll take us around two weeks to complete, and we'll probably walk the additional three days to the coast after finishing in Santiago.
There are a couple of reasons why we decided to undertake a shorter walk (the Norte was going to take five weeks), but the main reason is that we adore our new home too much.
When I looked ahead at the coming months, I was starting to feel distressed over how little time we'd be spending here. It was looking like we'd move in, be here for three weeks, away for six weeks to walk the Camino, back for a month, then away for three months. I didn't want to be paying rent on somewhere I'm not spending much time in and I also wanted to maximise my days spent in such a lovely space.
And so, rather than a six-week stint away, it'll be more like three weeks instead. This feels like the right decision; I know that even a two-week walk is going to be a challenge after the South Downs Way. And after all, you're my wonderwall, I can always try walking the Norte next spring.
So, much of this month is going to be spent in training. I feel as though I'm already starting to lose the fitness I gained while walking the South Downs Way, as I've spent the past two weeks inside, buying furniture and decorating our home. It's time to get back on my feet. I'll be doing a ton of yoga in preparation, hiking every couple of days around the U.K. to keep my fitness levels high, and buying my last bits of gear.
It looks set to be a great month!
What do you have planned for August? Share away in the comments below!